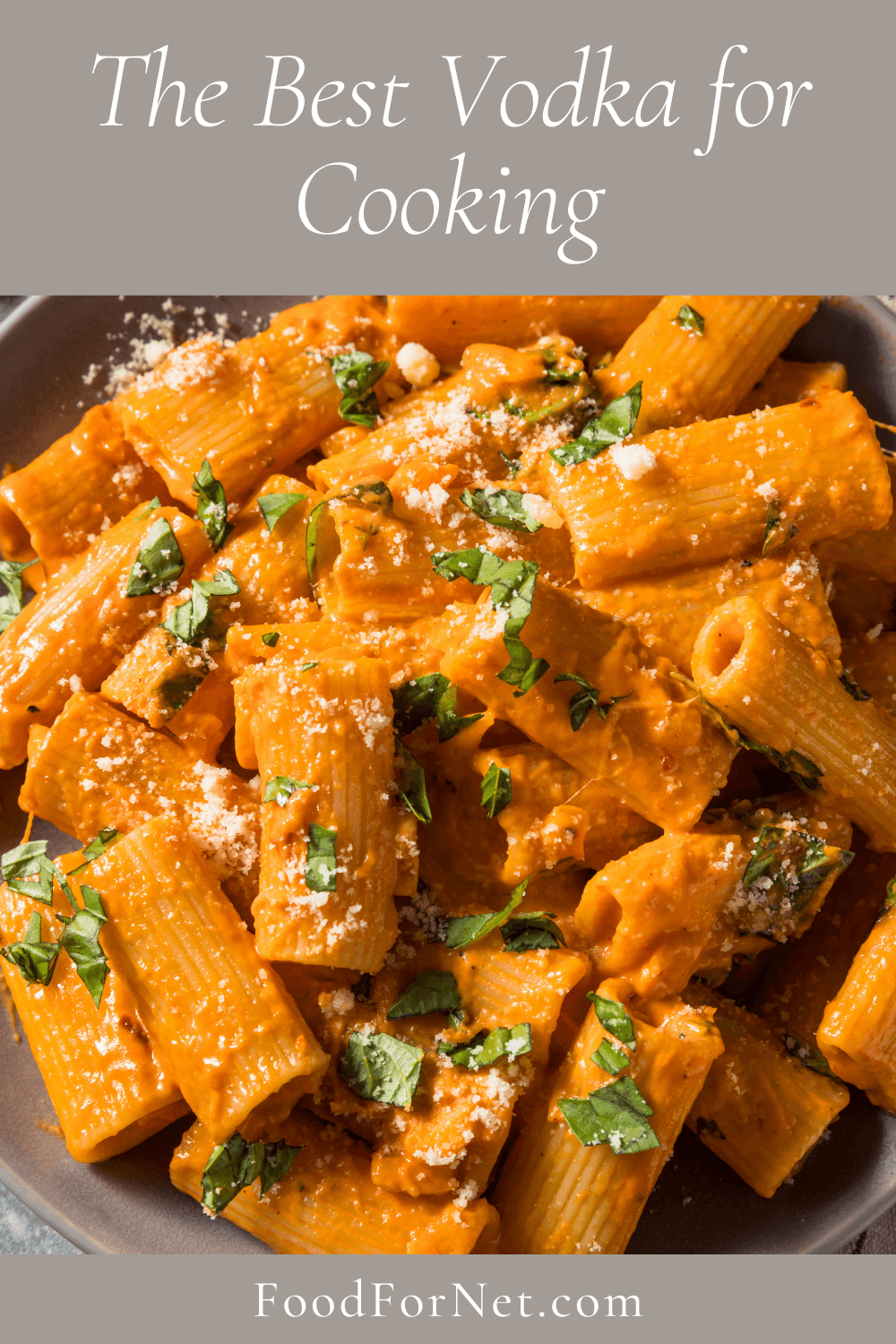 The benefits of cooking with vodka can be amazing. Vodka acts as an emulsifier that binds oil and water, leaving you with a deliciously creamy sauce when done well. Rather than adding or destroying the flavors in your dish, it enhances them. The best vodka for cooking is smooth, clean, and – usually – neutral. While you don't need to sacrifice your luxury bottle, you don't want to use harsh, cheap crap either. Overall, it's best to stick to middle-ground vodka.
Even if you've never tried them, you've probably heard of vodka sauces, seen recipes floating around, or noticed such meals on a restaurant menu. Perhaps you avoided the idea because it felt weird, or you wanted to avoid getting "buzzed" off your meal. This is a very common misconception when it comes to cooking with vodka. The actual alcohol burns off during the cooking process, often leaving none behind. It's generally safe for everyone of all ages, in this regard. Shorter cooking times may result in a small amount staying behind, but there are plenty of recipes that get rid of it all if that's what you're worried about!
If you're cracking open a bottle of vodka for eating purposes anyway, you can also try working it into some baked goods! Baking with vodka prevents many of the ingredients, particularly gluten, from breaking down. This produces a lighter, fluffier result. There are many specialty recipes out there for homemade goods and even boozy icings, but you can keep it simple if you want!
Try simply adding a splash of vodka to a pre-made baking mix. Reduce the amount of water used and replace it with vodka. Nothing else about the recipe has to change, and you'll notice the difference right away. It is important to note, however, that the alcohol in vodka doesn't evaporate quite the same way with baking as it does when you cook, so your boozy baked goods should be reserved for the adult table only!
The Best Vodka For Cooking (With Pictures!)
1. Smirnoff No. 21

No one can deny the waves Smirnoff has made in the world of vodka, quickly climbing to the top of the ladder. They've created many useful, innovative, and delicious expressions that are great for both sipping and making cocktails. Nothing quite beats the versatility of the original Smirnoff No. 21, though.
Triple distilled and filtered 10 times, each bottle is smooth, neutral, and top-notch. Perfect for mixing, perfect for cocktails, and in this case, perfect for cooking! The neutral nature of the drink means it won't overwhelm your flavors and the smooth finish won't add any sharp, overly harsh tones to the dish.
Since you don't need the whole bottle for cooking, try mixing some of it with lime juice and ginger beer for a quick, easy, classic Moscow Mule! If you don't have any ginger beer, any citrus soda on its own makes a nice spritzer to enjoy while you're cooking up dinner.
2. Svedka Vodka

Quality meets affordability when it comes to Svedka Vodka. It's an affordable bottle that's smooth, subtle, and wonderfully tasteless – exactly as traditional vodka should be. Distilled four times through a continuous distillation process, impurities are removed without stalling or pooling the ingredients.
Though there isn't much flavor to speak of, what you will notice is a clean, crisp, fresh taste that makes it one of the most versatile expressions in the category. Adding it to cocktails is a no-brainer – it won't overpower any of your desired flavors and the smooth finish means you won't have any harsh bite anywhere in the drink. You can also simply serve it on the rocks for a clean, crisp, refreshing sip each time.
It's these qualities that also make it an ideal choice for your vodka sauce needs, or any other dish you wish to make. You won't have to worry about any flavor or texture interruptions and you won't break the bank even when cooking for a large group. If you're cooking up a particularly hot dish, perhaps pour yourself a few ounces over ice and stay cool in the process.
3. Skyy Vodka

Skyy Vodka is the result of one man's quest to create the perfect martini. He was after the perfect version of this drink and was disappointed in all the vodka he found available to him, so he decided enough was enough and he made his own. This meant he could do whatever he wanted with the process and not stop until he reached his sky-high quality standards.
The result is a process with quadruple distillation and triple filtration through premium California limestone. Topped off with locally sourced minerals, the resulting vodka is as fresh and smooth as they come, with a subtle minerality on the palate that adds depth without overwhelming flavors.
There's no doubt this expression creates a top-notch martini and exceptional cocktails in general. In the quest for a perfect cocktail vodka, however, the master behind the Skyy brand also provided an amazing option for cooking. Smooth, fresh, deep, and subtle, you can't go wrong.
4. Tito's Handmade Vodka

Tito's Handmade Vodka is another classic when it comes to clean, versatile expressions. It won a unanimous double gold medal at its first-ever San Francisco Spirits Competition, beating out both Belvedere and Grey Goose.
Tito's goes against the grain a little and is created with yellow corn, instead of the more traditional use of wheat or even potatoes. This results in a mild and subtle sweetness on the palate, making it a wonderful addition to sweeter cocktails as well as a good one to serve on the rocks if that's your thing. It's distilled six times, which is not the most traditional number but it wasn't arrived at randomly, either.
According to Tito's founder, "five times isn't enough and the seventh time doesn't make a difference." He arrived at this conclusion after much studying and experimentation. Considering the success of the vodka in both competition and on the market, it seems he's on to something.
Its suburb quality and wonderful smoothness is what makes it an excellent choice for your vodka pasta sauce, or any other venture you make in the kitchen.
5. Absolut Peppar

Generally speaking, you want to seek out a smooth, neutral vodka for your meal. However, there's no rule that says you can't get a little adventurous, either. Absolut Peppar is an interesting, high-quality flavored expression from Absolut – who are already vodka experts.
While this is not a universal cooking vodka, it's the perfect expression if you're after a spicier sauce and/or want to add a little kick of extra flavor.
This peppery vodka was originally made to be the perfect Bloody Mary companion. It carries the same smooth finish and overall good quality that Absolut provides in all its vodkas, so your bases are covered. Once cooked, the pepper notes won't be overwhelming by any means, but they'll be present and it might just be the perfect finishing touch for anyone who loves a little heat on their plate.
6. Grey Goose

Grey Goose is another famous vodka expression, one that receives consistently positive reviews. It is a little pricier than you might like for vodka that you're cooking with, but the quality and flavor make this vodka worth every cent. Indeed, Grey Goose is one of the most well-known premium vodka and outperforms many in its price category.
The vodka was created in France using limestone-filtered spring water, plus wheat as the source of starch. The ingredients always come from France, including the fruits used to create the flavored varieties. Which such a focus on quality, it's no wonder that the vodka tastes so good.
You're going to want the unflavored expression for cooking, although even this has some noticeable fruit flavors. As a result, Grey Goose is best used in recipes that are enhanced by citrus flavors. For example, this would be an excellent addition to dishes where you'd normally add a squeeze of lemon juice.
Remember that you won't be using the whole bottle anyway. You'll still have plenty of vodka left for premium cocktails or for sipping.
7. Belvedere Organic Infusions Lemon & Basil Vodka

This addition from Belvedere might seem a little strange, as it is much more highly flavored than any of the vodkas we've featured so far. These flavoring ingredients mean that vodka certainly isn't as versatile as options like Smirnoff No. 21.
Still, the vodka does bring something very special to the table. Just look at the flavors – lemon and basil! This combination would be exceptional in some recipes. You'll need to experiment, as most vodka sauce recipes aren't created with flavored vodkas in mind, but experimenting is one of the best aspects of cooking anyway.
Vodka Pasta Sauce Recipe
Like anything dish, there are many ways to go about creating a vodka sauce. However, cooking with vodka does have a slight learning curve, so you don't want to get experimental right away. Start with this basic tomato sauce recipe. Once you've mastered that, you can adjust ratios, add spices, and experiment all you want. Maybe you'll even come up with your own signature vodka sauce!
Ingredients:
½ cup butter
½ onion, diced
½ cup vodka
1 can of crushed tomatoes
½ pint heavy cream
Instructions:
In a skillet over medium heat, sauté your onion in the butter until it's slightly soft and brown.
At this point, pour the vodka in and continue to cook for about 10 minutes.
Add the crushed tomatoes and cook for about 30 minutes.
Add the heavy cream and cook for another 30 minutes.
And that's it! This recipe makes approximately five servings, so remember to scale up or down to suit the number of people you're cooking for!
It's not too difficult, but remember that this is a very basic recipe. The onions add a little flavor but overall, it'll be pretty plain if you leave it as is. Minced garlic, vinegar, pepper, cheese, and fresh herbs are all popular add-ins, but they all create different flavor profiles.
What you add and how much comes down to a combination of personal preference and exactly what you're making. Start simple if you're new to vodka sauce, and don't get intimidated by the time it takes, either! The result is worth the effort.
Tips For Cooking With Vodka
So, a variety of vodka expressions work well for cooking. The following tips show how you can get the most out of your meal. After all, cooking with alcohol requires a few different considerations than normal.
Don't be fooled by the fact that vodka is flavorless. It can still dramatically change the taste and texture of your dish. Adding too much might even ruin the meal entirely, so stick to the recommended amount for your recipe.
Using vodka in your marinade has two major benefits – adding flavor and increasing tenderness. The tenderizing effect is particularly important if you're using a cheap cut of steak.
Be careful with the flame on your stove, as vodka can easily ignite. It's often best to remove the pan from the stove entirely when you first add the vodka, just to be on the safe side.
Adding vodka to a liquid generally decreases the boiling point. This is useful for many recipes, particularly soups and sauces. However, you'll need to be careful if your recipe calls for precise timing.
Vodka can easily curdle your sauce, especially if the sauce is very hot. Adding the vodka slowly and gently stirring it in can make a large difference here. You could also remove your sauce from the heat before adding any alcohol.
Vodka isn't just limited to recipes designed for the spirit. You can also use it in place of white wine in many recipes. You may also need to add some extra ingredients for flavor, like citrus juice, as vodka is more neutral than white wine. Keep an eye on your portions too, as vodka is stronger than wine. You shouldn't need as much in your meal.
Also, please avoid using bottom shelf vodka. Extremely cheap vodka is often very nasty indeed and those flavors will come through into your dish.
What About Baking With Vodka?
Vodka isn't just for pasta sauces, soups, stews, and similar recipes. It can also be used in baking.
In fact, baking with vodka is a fantastic way to change the consistency of your treats. For example, pastries baked with vodka tend to be flakier and often taste better too. Many people also use vodka in their pie crusts. Doing so makes the dough easier to work with and creates a flakier crust.
However, baking calls for precise measurements, so it's important to be careful with the amount of vodka you add. If you're new to the approach, look for recipes that already rely on vodka. This way you know precisely how much of the spirit to add.
What Does Vodka Sauce Taste Like?
The flavor of vodka sauce varies depending on the recipe you use, but the sauce is always delicious. It's typically very creamy, with a distinct sharp flavor from the vodka and tomatoes.
Think of the sauce as somewhere between alfredo pasta and a tomato-based pasta sauce – more flavorful than alfredo, but less than tomato sauce.
Related Content