While many love the flavor, ginger has a long history of medicinal use. For thousands of years, it's been used to treat things like colds, nausea, migraines, and more. It would often be infused as a tea or made into some other drink or elixir. Today, ginger liqueur is used as an ingredient in many fun cocktails that are purely for pleasure and enjoyment, but the original ginger liqueur was still the result of medicinal thinking.
The King's Ginger Liqueur is thought to be the first official ginger liqueur, and it was made to keep an old king healthy in a tough climate. It has, of course, evolved, but the health benefits of ginger still stand. The best ginger liqueur is made with nothing but fresh ginger. No additives are necessary when it comes to this bold, aromatic spice.
Quality bottles will also be well-balanced. Ginger is warm and spicy for sure, but it has a sweet side to it, too. Especially if you're using it in cocktails, you don't want the heat to take over. For the best possible experience, look for a ginger liqueur that is authentic and well-balanced.
The Best Ginger Liqueur
1. Domaine De Canton Ginger Liqueur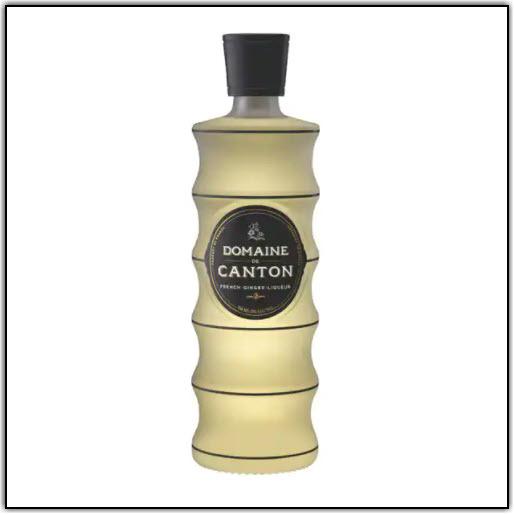 Domaine De Canton Ginger Liqueur loosely follows the French tradition of mixing sweet elixirs with eaux de vie and cognac. This expression uses baby ginger in a cognac base, creating a spicy and vibrant experience, whether you're drinking it neat or using it in a cocktail. It's especially useful in ginger cocktails because it brings the ginger flavor no matter what and there is no drowning it out.
That said, the cognac does a good job of mellowing the ginger just enough to keep it balanced and enjoyable, but not enough to take away its strong flavor and essence.
On the nose, you get spicy ginger notes right away with notes of vanilla, honey, and ginseng in the background. The aroma is heavy, bold, and strong.
The palate offers a good mix of ginger. The sweet notes are veering on candy-sweet while the spicy notes offer a pleasant heat on your tongue and in the throat. There's a touch of honey and vanilla in there, too, and it finishes with warmth and a touch of fruitiness.
2. Giffard's Ginger of the Indies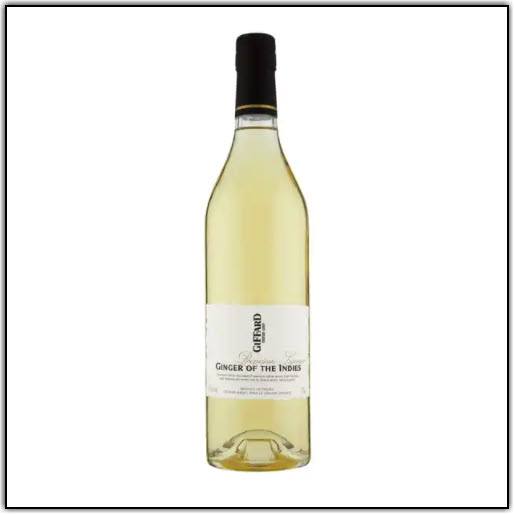 The "Indies" In Giffard's Ginger of the Indies refers to a series of South East Asian islands. The region is well known for its exotic and rare spices, including the particular type of ginger used to make this spicy expression.
Giffard exists specifically to enhance your cocktails. This has been their goal from the start. The family-owned company boasts an impressive portfolio of fresh and authentic liqueurs that truly bring cocktails to life.
While ginger is used in many drinks, the thought behind this liqueur was the infamous Moscow mule. Known for its use of ginger, this liqueur is a perfect choice for such a drink. On the nose, you get an immediate sense of ginger and coriander, with sweet vanilla and some citrus orange to balance it out.
The palate opens with gentle flavors before quickly intensifying with strong ginger notes with a touch of pepper and citrus. It's the perfect balance of sweet and spicy.
3. The King's Ginger Liqueur
We ultimately have King Edward VII to thank for this exquisite expression. It was the summer of 1903 and he had just recently taken over the throne at the age of 63. His health was already on the decline and his doctor expressed concern over his exposure to the cold, damp air on his morning rides around the countryside.
The doctor worked closely with one of the oldest and most prestigious wine and spirits merchants. Founded in 1698, Berry Bros. and Rudd had already been in business for quite some time. Together with the doctor, they created a special recipe to keep the King warm and stimulated on his drives. This was the beginning of The King's Ginger Liqueur.
In the beginning, it was only available to the highest nobility. After some time, though, it entered regular circulation. It was well-received and is still in circulation today.
The aroma features a combination of citrus and ginger, leading into soft and gentle ginger flavors on the front of the palate. This slowly transitions into hints of honey and citrus, with ginger coming back around to linger on the finish.
4. Stirrings Ginger Liqueur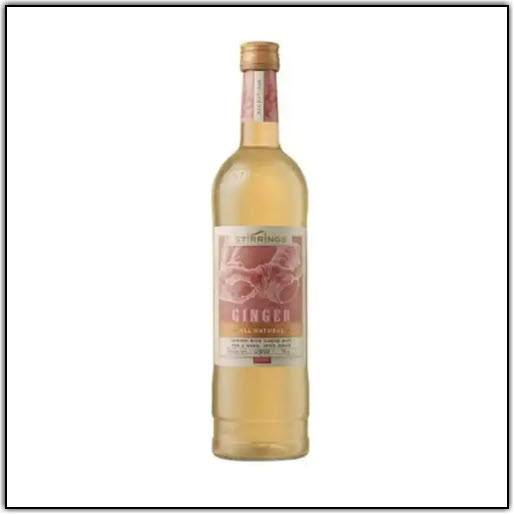 Stirrings is out to change the perception of ginger with their Ginger Liqueur. Ginger is so often associated with heat and spice, which is unsurprising given its punchy, spicey nature. In this expression, however, Stirrings aims to bring out the sweeter side of ginger and offer a fresh, authentic taste.
It's a unique sipper but it's also an incredible addition to many cocktails. It'll enhance the depth of any ginger-based cocktail and add the perfect combination of sweetness and heat to any new combination you can come up with.
The aroma is that of fresh-grated ginger with a warm, woody palate of earthy spices and gingersnap. The finish is a burst of sweet and spicy with strong notes of ginger.
5. Barrow's Intense Ginger Liqueur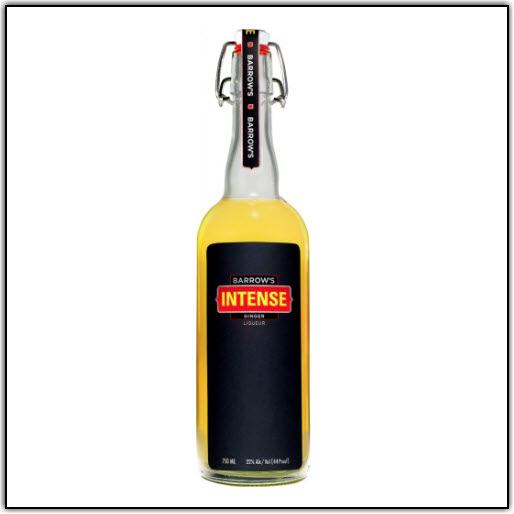 Barrow's Intense Ginger Liqueur is a bold, authentic spirit made for the true ginger fanatic. The recipe was perfected in creator Josh Morton's loft, where he spent years working on it. They only use the freshest possible, locally sourced ginger – of which 200 pounds goes into every batch.
This is what he prides himself most on – they use plenty of fresh, delicious ginger and nothing else. There are no extra sugars, added chemicals, or even extracts of any kind. Just ginger.
The result is a bold spirit all around. The amazing quality and wonderful taste are solidified by the score of 94 points from the Tasting Panel and an impressive platinum medal from the SIP Awards.
It's also a highly accessible liqueur, being gluten-free, vegan, and certified kosher. The bold, intense aroma is a balance of sweet and spicy. The palate begins with an initial subtleness but soon builds into intense, spicy notes of strong ginger, which linger through the finish.
Easy Ginger Liqueur Cocktails
The Moscow mule may be ginger's most popular cocktail but the sweet and spicy root has so much potential. You can pair with other spirits or make it the star of your drink – as long as your chosen liqueur has a good balance of flavors, the sky's the limit. Start with these easy recipes and go from there:
The Ginger Gold Rush
As long as you've got a good bottle of bourbon on hand, this one is as easy as it is delicious. You only need three ingredients and you'll be delighting in this flavorful sipper all night:
Ingredients:
1 ½ ounces ginger liqueur
1 ounce bourbon
½ ounce fresh lemon juice
Once the ingredients are gathered, it's an easy drink. Just combine the ingredients in a cocktail shaker with ice and shake well. Strain into a glass filled with ice and enjoy!
The "gold rush" cocktail is not limited to ginger, but a nice ginger liqueur adds both flavor and extra alcohol content. It's fairly strong as cocktails go, but still well balanced by the lemon. Lime juice can also be added for an extra citrus burst if you wish!
Ginger Beer Cocktail
It's not terribly often that beer makes its way into a cocktail, but it sure offers a unique experience when it does. Ginger beer itself has become a popular drink but is not, on its own, alcoholic, despite the name. It is, however, a popular ingredient in several cocktails.
This one, though, takes the name quite literally and creates for you a true, authentic, ginger beer! One with a strong ginger flavor, at that. If you love beer and you love ginger, this is the cocktail for you.
Ingredients:
8 ounces of beer, chilled. The recipe calls for Belgian wheat beer, but don't be afraid to try something else.
4 ounces of ginger beer, chilled.
1 ½ ounce of ginger liqueur.
Once measured, add all your ingredients into a cup and stir until well blended. Then, pour the drink into a 16-ounce glass filled with ice, and garnish with a wedge of citrus fruit if desired.
Ginger Martini
For another strong, simple cocktail, you can create the two-ingredient ginger martini. All you really need is 1.5 parts vodka and 1 part ginger liqueur, though the addition of lemon and/or lime juice adds a nice touch.
Whether or not you've chosen to add citrus, you'll need to shake this one especially well before serving to ensure the ingredients are well-blended. The extra shaking is worth it though as this is an ultra-refreshing, super-boozy drink that's strong on the ginger and beyond easy to make.
If you like it, mix it up with different vodkas and ginger liqueurs – each new combination will be similar but have its own unique touch to offer.