Ginger ale sounds like it should be healthy, right? We already know that ginger itself is linked to plenty of benefits. Ginger ale also provides us with water and has a reputation of helping to settle our stomachs. But still, the question remains, is ginger ale good for you?
In one sense, ginger ale is a little like tonic water. It sounds healthy, yet most versions are packed with sugar. There may be other additives too. Some versions of ginger ale don't even use ginger at all. They rely on artificial ginger flavoring instead.
Thankfully, ginger ale isn't all like that. There are some high quality brands too, ones that stick close to the real deal. Some of them even use real ginger and ferment the drink. These should be healthier, right? Let's take a look and see.
Is Ginger Ale Good For You?
Ginger Ale Versus Ginger Beer
The Benefits Of Ginger
Is Ginger Ale Itself Healthy?
Does Ginger Ale Settle Your Stomach?
Is Homemade Ginger Ale Good For You?
What About Diet Ginger Ale?
Ginger Ale Versus Ginger Beer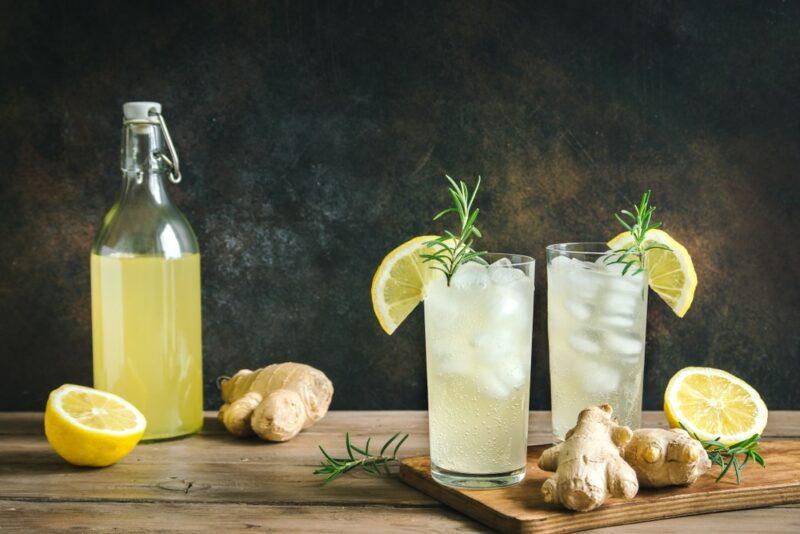 Before we talk much about ginger ale itself, we have to clear up one serious confusion – what's the difference between ginger ale and ginger beer? The two drinks do look and taste pretty similar.
In fact, you'll often notice more flavor variation between different brands of ginger beer than between ginger ale and ginger beer. So, what's going on?
Well… originally ginger beer was an alcoholic drink. It was made by fermenting ginger with sugar and water. You can still find alcoholic ginger beer, but most products are now alcohol free.
Fermentation isn't guaranteed either. Plenty of companies choose to artificially add carbonation, rather than fermenting their drink. You basically end up with ginger soda.
On the other hand, ginger ale was traditionally a non-alcoholic sweetened soft drink and still is today.
It's not surprising, then, that modern versions of ginger beer and ginger ale end up being pretty similar to each other. On average, ginger beer tends to have a stronger flavor and is often spicier, while the carbonation may be less.
However, those are just general themes. You'll find plenty of variation between products. Some ginger ale is even fermented, which just makes things more confusing.
The Benefits Of Ginger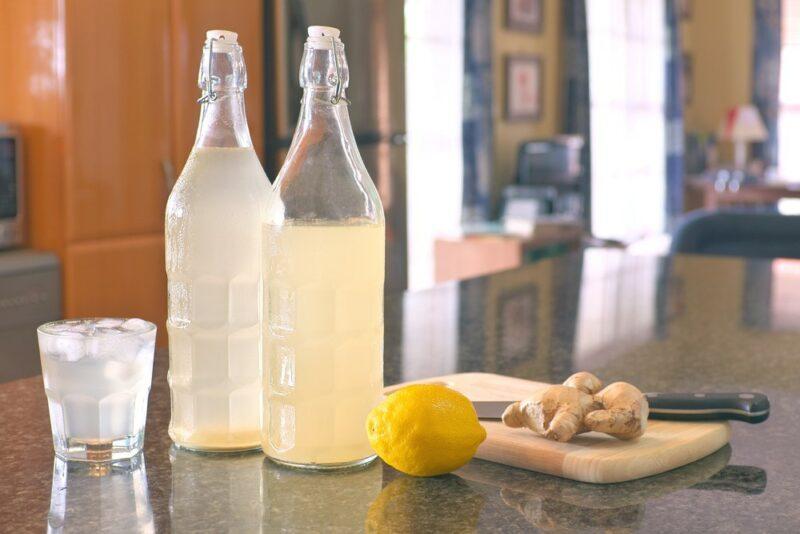 We also need to take a quick look at ginger. After all, the spice is the main reason that ginger ale is seen as healthy.
Ginger's most well-known for helping with nausea. It really does have this effect too, as long as you're not consuming excessive amounts.
Ginger is also an excellent source of anti-inflammatory compounds and antioxidants. These plant-based compounds can be powerful ways to promote your health. They might even decrease disease risk in some situations.
We cover those benefits, along with the risks of ginger, in more depth elsewhere. You can check out that article for more details about how ginger influences your health.
Is Ginger Ale Itself Healthy?
Potential Benefits
The benefits above make ginger ale sound amazing. There's a catch though – those benefits have been found for real ginger, not for ginger ale.
You could, potentially, see some ginger benefits from ginger ale itself. However, this isn't guaranteed at all.
What else then?
One benefit is the water content. Like all types of soda, ginger ale is mostly made from water and we know that water is essential for health.
Now, soda is sometimes said to be a diuretic, which means that it makes you lose liquid rather than gain it. This effect is mostly linked to the caffeine content. This gives ginger ale an advantage, as it tends to be caffeine free.
That diuretic effect is overstated anyway. Sure, you don't retain as much liquid from sugary caffeinated soda as you do from a glass of water, but you still retain a decent amount.
So then, ginger ale will still help to rehydrate you. It mightn't be as good as water, but at least it's easy to drink.
The lack of caffeine is useful too. Caffeine can be found in far too many drinks these days, which makes life difficult for anyone who is caffeine sensitive. Having a caffeine free option is always appealing, especially if you want something to drink in the evening.
You're Not Getting Much Ginger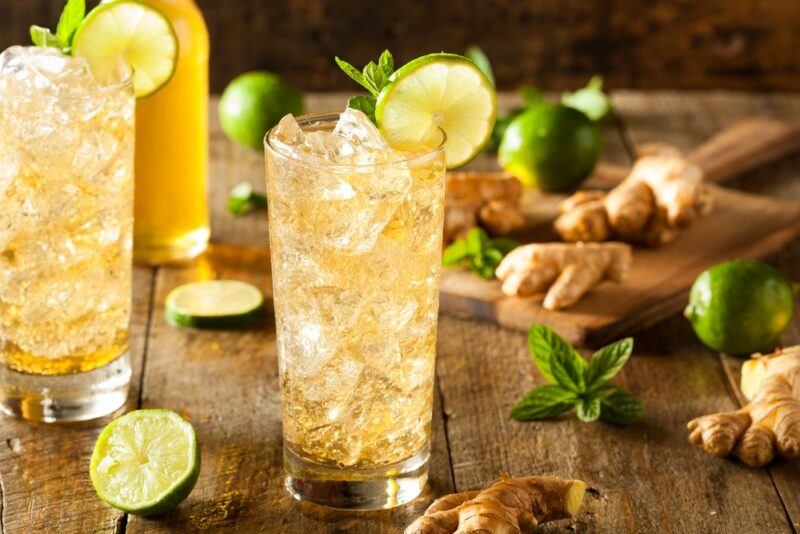 To be honest, ginger ale isn't as healthy as it seems. You may get some benefits from the ginger, but most products don't contain all that much ginger. Some don't even use ginger itself at all (they rely on flavoring ingredients instead).
You might find some ginger rich versions of ginger ale, but even then there's little way to know how much ginger was used. There's also the risk that some of the compounds are compromised during the processing steps.
This means that most of the ginger benefits that we discussed earlier probably won't be seen with ginger ale.
Here's another thing – even if a product used a decent amount of ginger, we're still often talking about processed ginger. Or, perhaps even compounds that have been extracted from ginger.
The health benefits from before? Those were researched based on real ginger. There's no telling what benefits, if any, the form of ginger in your drink actually offers.
It's Still Soda
Ginger ale sounds healthy because it's made from ginger. In practice though, we're simply talking about another type of soda, one that's packed full of sugar.
Seriously, the sugar content of ginger ale can be extreme. You might even get more sugar per serving than with Coca-Cola. You can help yourself by looking for low sugar ginger ale, preferably from a company that avoids additives and keeps processing to a minimum.
Even then, we're not talking about an amazing drink. There's still going to be some sugar and perhaps not all that much ginger.
Plenty Of Additives
Ginger ale sounds like a simple drink, one that should rely on ginger, water, sugar, and a few other ingredients. Reality is often very different. Many companies produce ginger ale by combining carbonated water with some type of ginger flavoring and either sugar or high fructose corn syrup.
Sometimes that flavoring comes from real ginger. Other types it doesn't.
Many companies use the term natural flavors on their product labels. This means that you never really know where the flavoring comes from.
There may be other ingredients too, like sodium benzoate and citric acid to act as preservatives, along with caramel coloring to make the drink look exactly right.
It Is Also Processed
Additives aren't the only thing to think about. Ginger ale goes through various processing steps. What this looks like depends on the product you choose, but there's often some form of heat treatment, not to mention the addition of carbonation.
You end up with a drink that isn't particularly natural at all.
Such processing steps can easily influence the nutritional properties of ginger ale too. Many of the antioxidants and plant-based compounds may be lost along the way, giving you a sugary drink that tastes like ginger, but may not have the same properties.
Does Ginger Ale Settle Your Stomach?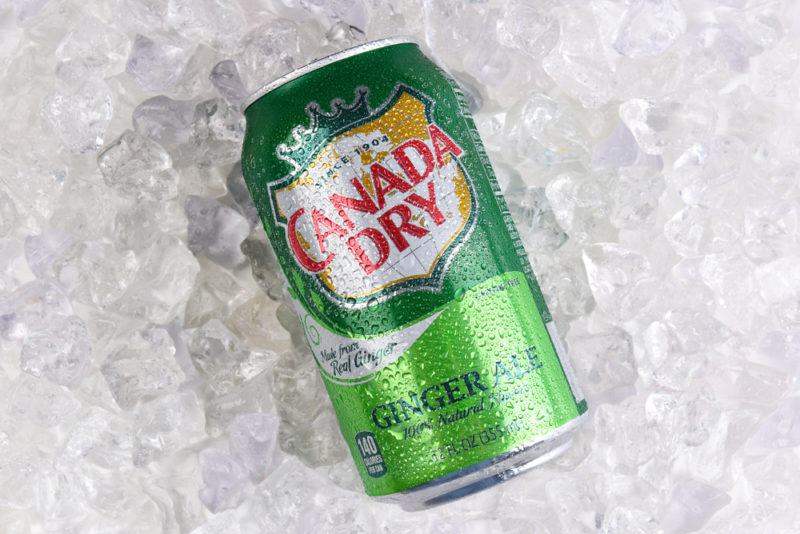 Despite all the processing, we're still told that ginger helps to settle our stomach. This may be partly because we assume there's a decent amount of ginger in the drink.
Yet, experts say that ginger ale isn't likely to help at all. After all, the drink is bubbly and is often high in sugar. Both of those features could easily make your stomach feel worse. The bubbles may give you gas too, which isn't what you need at all.
In fact, the sugar in ginger ale can promote inflammation and might harm your balance of gut bacteria. Those effects might make your digestive health worse, rather than improving anything.
Is Homemade Ginger Ale Good For You?
Homemade ginger ale should be healthier than anything you buy from the store. After all, you get complete control over the ingredients and the sugar content. You could even make a fermented version, which would give you some probiotics too.
It's true, this version of ginger ale could provide benefits.
Just remember that we're still talking about a sugary drink that might not contain all that much ginger per serving. As such, it's still best to see ginger ale as a treat, rather than something to promote health.
What About Diet Ginger Ale?
Many of the problems with ginger ale come from the sugar. This suggests that diet ginger ale is healthier. So, is it?
The simple answer here is no. Even if you skip the sugar, most ginger ales still don't contain enough ginger to make them that helpful. The most useful feature ends up being the water, but drinking water on its own would be much healthier than focusing on ginger ale.
Then there are the sweeteners.
Most types of diet ginger ale will use artificial sweeteners. You've heard all the controversy that surrounds those, right? There's the chance they'll make your health worse and they certainly won't improve things.
Natural sweeteners, like stevia, may be healthier, but they come with their own issues too. Many people even find that natural sweeteners give them side effects, including bloating and indigestion. That makes for an awful situation if you're using ginger ale as a way to decrease nausea.
Besides, even if the risks of sweeteners are blown out of proportion (which is possible), they still don't provide benefits. At best, they're a way to get sweetness without sugar. Why do this to yourself? You'd see more benefits and less risk by simply drinking water.
Final Thoughts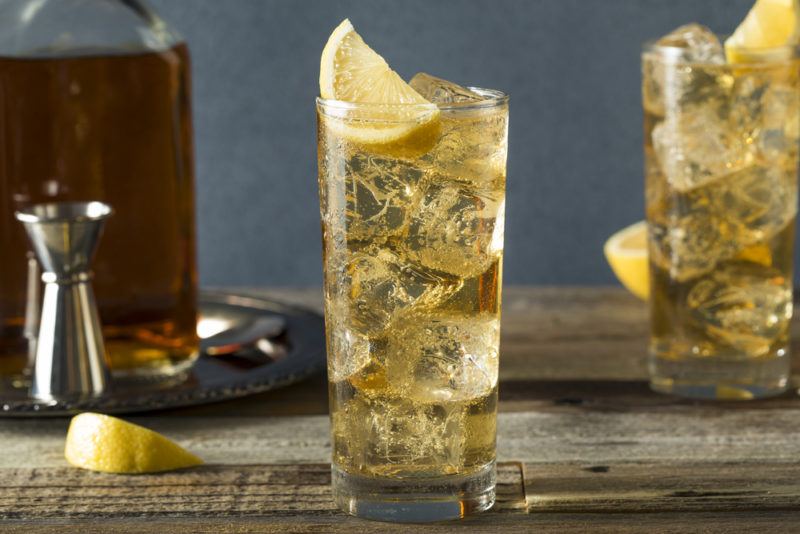 In the end, ginger ale sounds much healthier than it is. Many versions are packed full of sugar and mightn't even use ginger as an ingredient.
You'll see the most benefits by looking for a fermented version made using ginger root. This way you're getting plenty of probiotics, while keeping the sugar content to a minimum.
Even then, ginger ale mightn't be the greatest choice for health. If you're specifically interested in the benefits of ginger, you might do better to rely on ginger tea or some other ginger-based hot drink.
Doing so means that you're using more ginger per serving and there's no added sugar to worry about. Some of the best drinks with ginger use other herbs and spices at the same time, increasing your potential benefits.
If you're interested in ginger ale for the flavor, that's a different story.
While ginger ale is sugary and doesn't offer many nutrients, it can still be delicious. It's also an excellent mixer, one you might see combined with whiskey or even rum. The trick here is to choose a high quality ginger ale and to remember that ginger ale is a type of soda – not a health tonic.
Frequently Asked Questions
Does Ginger Ale Have Ginger In It?
Despite the name, many ginger ale brands don't rely on real ginger at all. Some companies use natural flavors and a little ginger flavor extract instead.
Others do rely on ginger, but only small amounts. This low ginger content means you're often not getting many health benefits from the ginger.
Does Ginger Ale Have Caffeine?
Ginger ale is naturally caffeine free. This is true for products made using real ginger, along with most that use artificial flavors instead.
The main exception is products that have other ingredients as well, like Canada Dry's Green Tea with Ginger Ale. This is hardly surprising though, as green tea naturally contains caffeine.
Is Ginger Ale Good For Acid Reflux?
While ginger is often linked to decreased nausea, ginger ale doesn't necessarily have the same effect. It could even make acid reflux symptoms worse, due to the carbonation and the high sugar content.
Also remember that ginger ale often doesn't use much ginger as an ingredient. There may not be enough ginger to have any effect on your acid reflux at all.
Is Ginger Ale Good For Weight Loss?
Not really. Most products contain a lot of added sugar, which makes them very sweet and high in calories.
You can find low calorie versions, but these rely on natural or artificial sweeteners. There are many debates about what these sweeteners mean for weight loss.
On one hand, the sweeteners might help if they decrease your overall calorie intake. Some people do find that effect, especially as diet ginger ale still allows them to enjoy their favorite drink. However, alternative sweeteners may lead to higher sugar cravings, which can easily contribute to increased calorie intake and weight gain.
Does Ginger Ale Dehydrate You?
Sugary sodas aren't the best for hydration, as the sugar has a slight dehydrating effect. Too much sugar can even lead to diarrhea, which won't help your hydration status at all.
That said, ginger ale does contain a lot of water, so you still end up gaining more water than you lose. This means that ginger ale never dehydrates you, but it's not the ideal way to hydrate either.