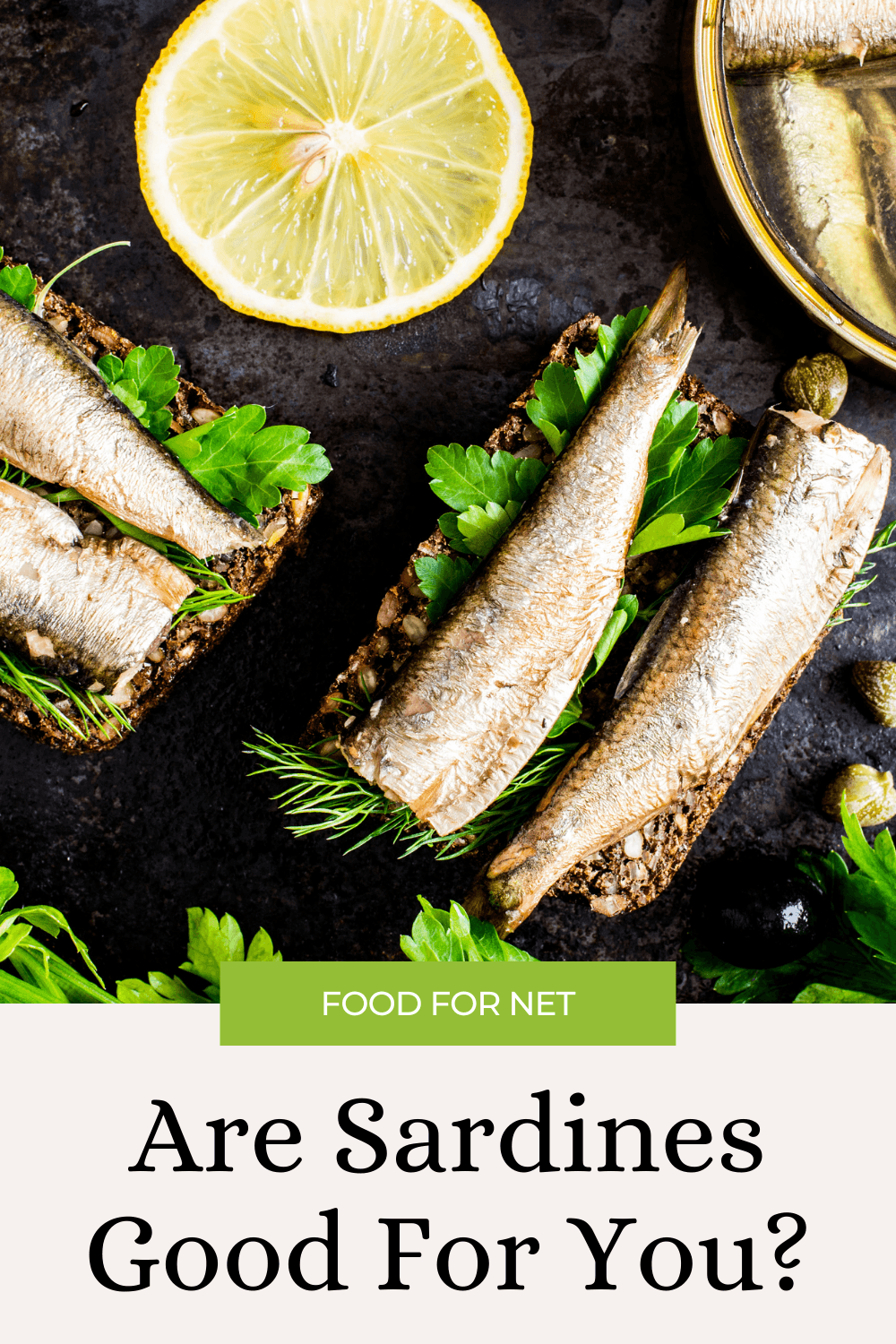 Everyone knows that fish is important for health. It acts as a rich source of omega 3 fatty acids and protein, a combination that can promote health in countless ways. There are also many amazing fish cookbooks and individual recipes, which show you how to turn fish into delicious meals. Many people are hesitant about eating sardines due to how they're portrayed in the media, but are sardines good for you?
There are more than 30,000 species of fish, including more than 40 types that we eat regularly. Not surprisingly then, there's plenty of variation. Some types of fish, like tilapia, are low in fat, making them excellent sources of lean protein, but not great choices for omega 3. Then there's tuna, which is excellent for omega 3, but is also high in mercury.
That brings us to sardines. These are small fishes from the herring family that are often canned in oil. While they seem like an unhealthy choice, this mightn't be the case at all. That's why, today, we're asking – are sardines good for you?
Are Sardines Good For You?
What Are Sardines?
Sardine Nutrition
Benefits Of Sardines
How Sardines Could Be Harmful
Which Canned Sardines Are Best?
Are Sardines High In Cholesterol?
Final Thoughts
What Are Sardines?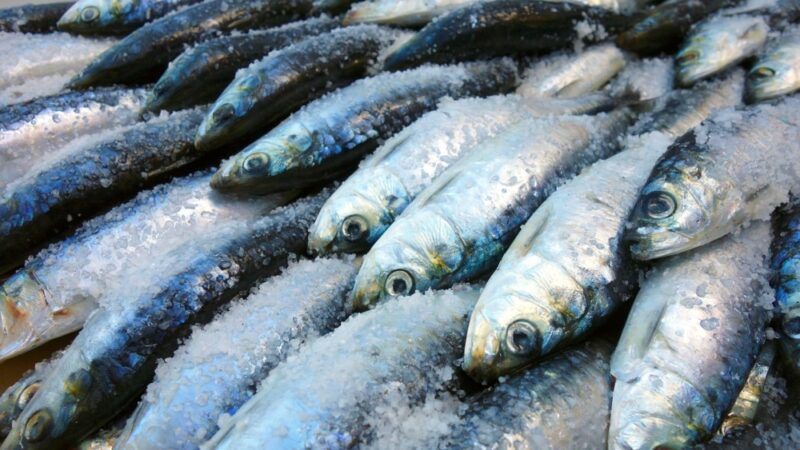 Sardines aren't a single type of fish. Instead, more than 20 different varieties are regularly caught and processed. These varieties are similar to one another, however, giving you an oily fish that's rich in omega 3s and can have a distinct fishy flavor. Don't worry though, while some people don't like the taste of sardines, the taste isn't nearly as strong as anchovies.
Most of the time, you'll find sardines sold canned (generally in water or oil). These days the heads are typically removed, so you're only left with the edible part of the fish.
Some products remove the small bones as well, while others leave them in. The bones are edible and tend to be soft from the canning process. They may even be helpful, as they provide a different balance of nutrients than sardine flesh.
Canned sardines are generally cooked or smoked, so you can eat them straight out of the can if you want to. You can also break them up and sprinkle sardine pieces over a salad or in with a pasta dish. The options are endless.
That said, you can find fresh sardines too, often at local markets. You can cook and serve fresh sardines just like you would any other type of fresh fish.
Sardine Nutrition
Sardines are surprisingly nutritionally dense. Honestly, the nutrients are reason enough to eat sardines regularly. So, for a cup of Atlantic canned sardines (bones included), the nutritional profile looks like this:
Calories: 310
Fat: 17.1 grams
Protein: 36.7 grams
Carbohydrates: None
Vitamin B12: 222% of your daily needs
Selenium: 112% of your daily needs
Vitamin D: 101% of your daily needs
Phosphorous: 73% of your daily needs
Calcium: 57% of your daily needs
Niacin: 39% of your daily needs
Iron: 24% of your daily needs
Impressive right? That's not even all of the nutrients. There are decent amounts of vitamin E, vitamin B6, zinc, magnesium, and manganese as well.
All the nutrients play vital roles throughout your body. They keep your systems working as they should and means you're avoiding nutrient deficiencies and all the symptoms that come with those.
While there are plenty of sources of vitamins and minerals, the nutrient composition in sardines really is exceptional – particularly for vitamin B12, selenium, and vitamin D.
Benefits Of Sardines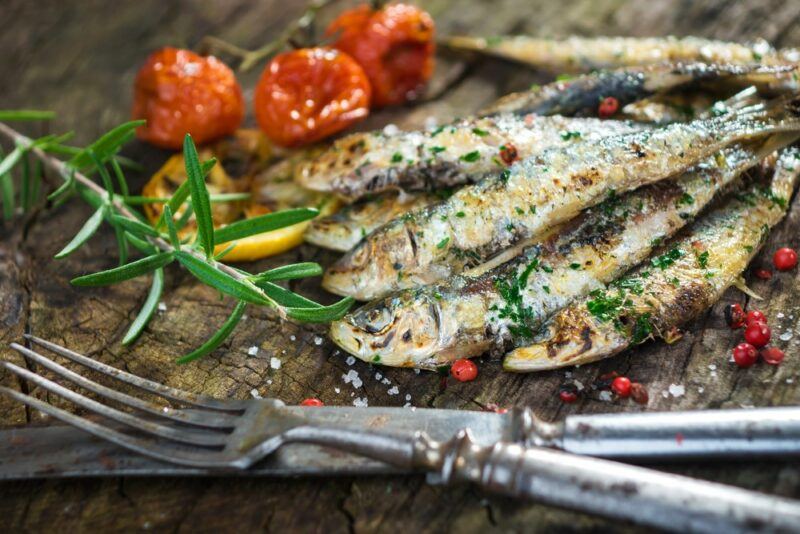 Naturally Low In Carbs
Like other fish and some shellfish, sardines are naturally low in carbs. In fact, they contain no carbs at all, making them ideal if you're following a low carb or keto diet.
Even if you're not following one of those diets, low carb foods can be helpful, especially as they won't spike your blood sugar in the way that higher carb foods will.
A Low Mercury Source Of Omega 3
Omega 3 fatty acids are one of the main reasons for eating fish regularly. These fats have been extensively studied and linked to many health benefits, including improved brain function, better mental health, and decreased inflammation.
That's not all. Omega 3s have also been strongly linked to improved heart health, helping to decrease many risk factors of heart disease.
The challenge is often balancing your omega 3 take with mercury, as most fish contain some mercury and this mercury can quickly become a problem. Indeed, the mercury content is one reason to stick to no more than two or three servings of fish per week.
Sardines, however, contain less mercury than most other types of fish. The low mercury content is because sardines are near the bottom of the food chain and just eat plankton, rather than consuming mercury-containing fish.
May Decrease Inflammation
Fish may also be a powerful way to decrease inflammation – an effect that largely comes from the omega 3s. Lowering inflammation is important, as chronic inflammation may increase the risk of many diseases, including diabetes, heart disease, arthritis, and even cancer.
Inflammation is also a serious problem these days, as many of the foods we eat are highly processed and increase inflammation. To stay healthy, we need to strongly focus on anti-inflammatory foods, including fresh fruit, vegetables, and fish.
They Support Your Bone Health
Sardines can be particularly powerful for bone health, due to their balance of minerals, along with their protein content. Sardines are even one of the few foods that's a rich source of vitamin D. The combination of calcium and vitamin D in sardines may be particularly powerful for your bones.
A key factor is that you're often eating the entire fish, rather than just the flesh. Doing so means that you're consuming more calcium than you would otherwise, along with plenty of other nutrients.
An Excellent Source Of Protein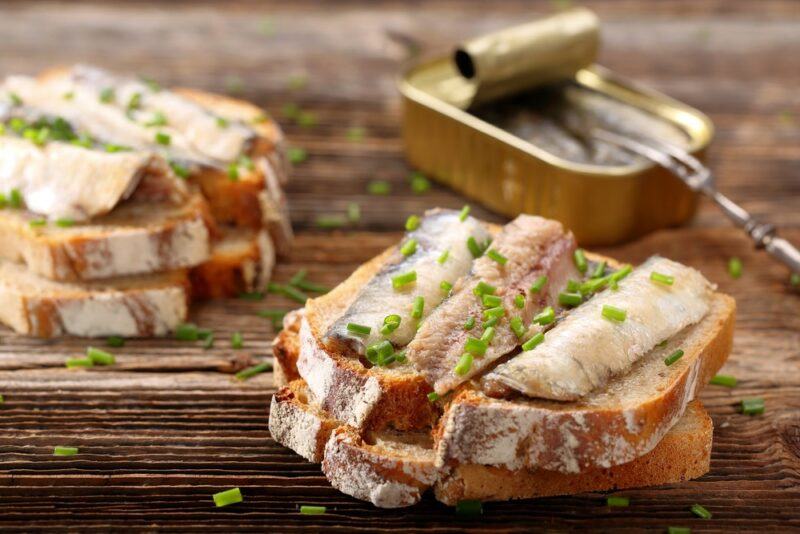 We can't forget about the protein either. Sardines are excellent for protein, with a cup of them giving you more than 35 grams of the macronutrient.
The importance of protein can't be understated, as it contains many amino acids, which act as building blocks throughout our body. Amino acids are essential for building and repairing muscles, for creating enzymes, and for many more things.
There's a reason amino acids are sometimes called the building blocks of life.
Now, most of us get plenty of protein from our diets already. But, increasing protein intake can be powerful – and not just for those of us trying to build muscle either. More protein can be helpful for the average person too, as protein helps us to feel satisfied for longer, so it can help us to feel full for longer, an effect that might lead to weight loss.
Could Lead To Many Health Benefits
Sardines have a lot going for them, including their omega 3 fatty acid content, the protein they contain, and all the nutrients. It's not surprising then that sardines could lead to many health improvements.
For one thing, the combination of omega 3 and nutrients in salmon may help with your heart health, with effects like stabilizing your heart rhythm and decreasing triglyceride levels. You'll see the most heart health benefits if you focus on low sodium canned salmon.
Sardines may help with nerve function too, particularly for seniors. This effect comes from the vitamin B12 present, as vitamin B12 deficiency is surprisingly common. A cup of sardines provides more than 200% of your daily vitamin B12 intake, making sardines one of the easiest ways to bring up your vitamin B12 levels.
How Sardines Could Be Harmful
Canned Sardines Are Relatively High In Sodium
Canned sardines are often high in sodium, as salt is a useful preservative. In fact, a single can of sardines might contain more than a third of your daily sodium intake.
This is concerning as too much sodium can increase your blood pressure levels and raise your risk of heart disease. Many of us are already consuming much more sodium than we need, so the goal is to cut down sodium intake, rather than add even more.
Thankfully, some companies do make low sodium products, including sardines that are packed in water with no added salt. You can help your health further by making sure that the rest of your meal is naturally low in sodium too.
You could also avoid the problem entirely by focusing on fresh sardines instead.
A Decent Source Of Purines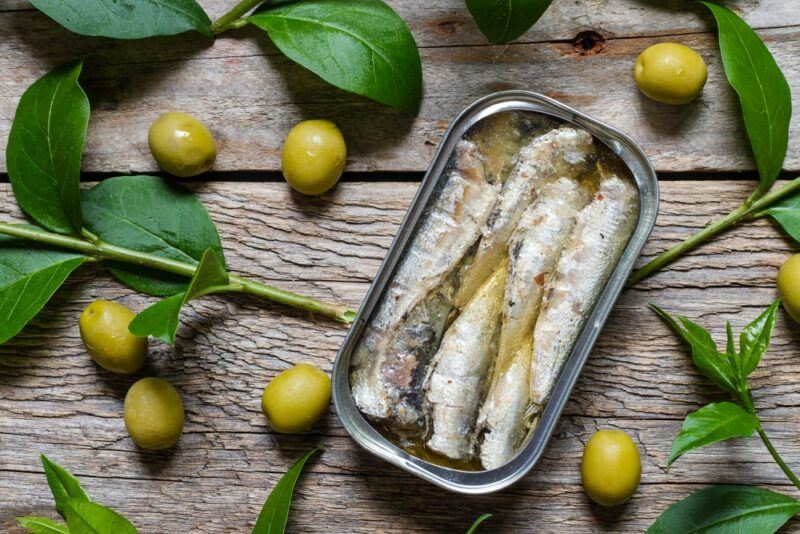 Despite all their benefits, sardines do contain a decent amount of purines. These naturally occurring compounds can create uric acid and uric acid buildup can lead to gout or increase symptoms for people who have gout.
That's not all. High purine intake can also increase the risk of kidney stones. The sodium in sardines isn't helpful here either, as sodium can lead to more calcium in your urine, which also raises kidney stone risk.
The purine content shouldn't be a problem for most people, but if you are sensitive to the compounds, you might need to skip the sardines.
The Impacts Of The Can
There's also the risk that some BPA from the sardine can leach into your fish. BPA could potentially cause significant harm, particularly if you're consuming canned foods regularly and using plastic water bottles.
However, this is a very controversial area. While some people are deeply concerned about BPA, manufacturers and regulators claim that BPA isn't particularly dangerous and the levels are too low to worry about anyway.
The outcry against BPA has led to many non-BPA cans being created, ones that use different compounds as linings instead. However, as one blogger pointed out, many of these new linings haven't been extensively tested. Some of the compounds used could easily come with unknown risks, ones that mightn't be discovered for decades.
Does this mean you should avoid canned foods entirely?
That's up to you.
One good approach is to focus on fresh foods whenever you can and only used canned foods as a last resort. This way you're not overdoing it with canned foods, but you're not being obsessional about avoiding them either.
Personally, this feels like the healthiest approach – as it's easy to get trapped in fear with food and start to avoid huge swathes of ingredients, giving yourself a limited diet in the process. Still, everyone needs to find the balance that is best for them.
Which Canned Sardines Are Healthiest?
Let's switch gears now. If you are going to buy canned sardines, which type is best for you? There are two general types here – sardines canned in oil versus those canned in water.
Sardines canned in oil don't just sound less healthy, they do have some notable problems. For one thing, when canned in oil, sardines end up being higher in fat – even once the oil has been drained. Some of the omega 3s from the fish may leach into the oil as well. This oil is typically discarded, so you lose some of the omega 3s from sardines.
Not surprisingly, sardines canned in water tend to be lower in fat and may be a better choice in some situations. After all, why consume extra calories if you don't need to? Sardines in water are often lower in sodium as well, making them useful for promoting heart health.
You can also look for other types of sardines, like ones canned in tomato sauce. These have some of the qualities found with sardines canned in oil, but may be lower in fat. Just watch out for the acidity, as some people are sensitive to this.
Of course, health isn't the only part of the equation here.
Many people find that sardines canned in water taste somewhat waterlogged. They don't have the rich flavor that's found with sardines canned in oil.
Regardless of the liquid used, it's important to look for high quality products. For example, some companies use the cheapest type of oil possible when canning sardines, while others rely on extra virgin olive oil. Not surprisingly, the extra virgin versions will offer the most benefits.
Don't forget about the can either. BPA-free cans are often the best choice, especially as companies that avoid BPA tend to have their customers' health in mind.
Are Sardines High In Cholesterol?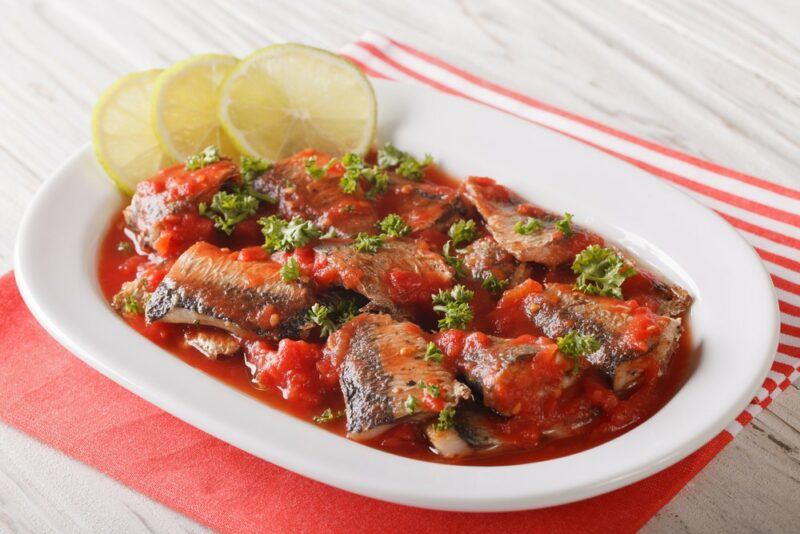 It's true. Sardines are high in cholesterol, with a cup of sardines containing more than 200 mg of cholesterol.
However, for most people, this cholesterol shouldn't be a big problem. Modern research shows that the cholesterol in our food doesn't impact blood cholesterol levels very much for most people. This is partly because our bodies can make cholesterol anyway, so cholesterol creation is adjusted based on our diets.
Even for people that do respond more strongly to cholesterol in their food, there's no evidence that this increases heart disease risk.
That said, you should always pay attention to the advice from your doctor. If they suggest that you should decrease dietary cholesterol, then you might need to avoid sardines for a while.
Final Thoughts
For a tiny fish, sardines are incredibly powerful. They're a rich source of protein, contain considerable amounts of vitamin B12, selenium, and vitamin D, and are lower in mercury than most other types of fish.
What's not to love?
The biggest problem is, of course, the sodium content, as most of us don't need any more sodium in our diets. Focusing on low sodium canned sardines can help, but be sure to read the ingredients labels carefully, as some products may contain more sodium than you expect.
Or, why not look for fresh sardines rather than canned ones? Doing so avoids all the challenges of sodium, along with the chance of BPA leaching from the can.
Frequently Asked Questions
Do Canned Sardines Have Bones?
Canned sardines do have bones, but this isn't a problem at all. In fact, the bones are soft enough that you can easily eat them, perhaps without even noticing.
What's more, the bones provide extra nutrients. This is one reason why canned sardines are particularly good for your health.
Are Canned Sardines Cooked?
Canned sardines have already been cooked or smoked, so they can be eaten straight from the can if you wish. Some people choose to grill them first, which gives them a bit of crispness and makes them even tastier.
Do Sardines Have Scales?
Sardines don't have scales on their heads, but do have some on their bodies, which is unusual for fish. However, as with the bones, the scales on canned sardines are soft and entirely edible.
If you're using fresh whole sardines instead, the skin needs to be removed before you eat the sardines (as is the case for most types of fish).
Are Sardines Good For Weight Loss?
Yes, sardines can be fantastic for weight loss, as they offer plenty of protein and omega 3 fats, but are still fairly low in calories.
That said, you still need to keep an eye on your calorie intake, especially if you choose sardines packed in oil rather than water.
Are Sardines Good For Diabetics?
Sardines are excellent for diabetics, as they're low in carbs and rich in protein. The omega 3s in sardines are relevant too, as these healthy fats can improve blood sugar control.