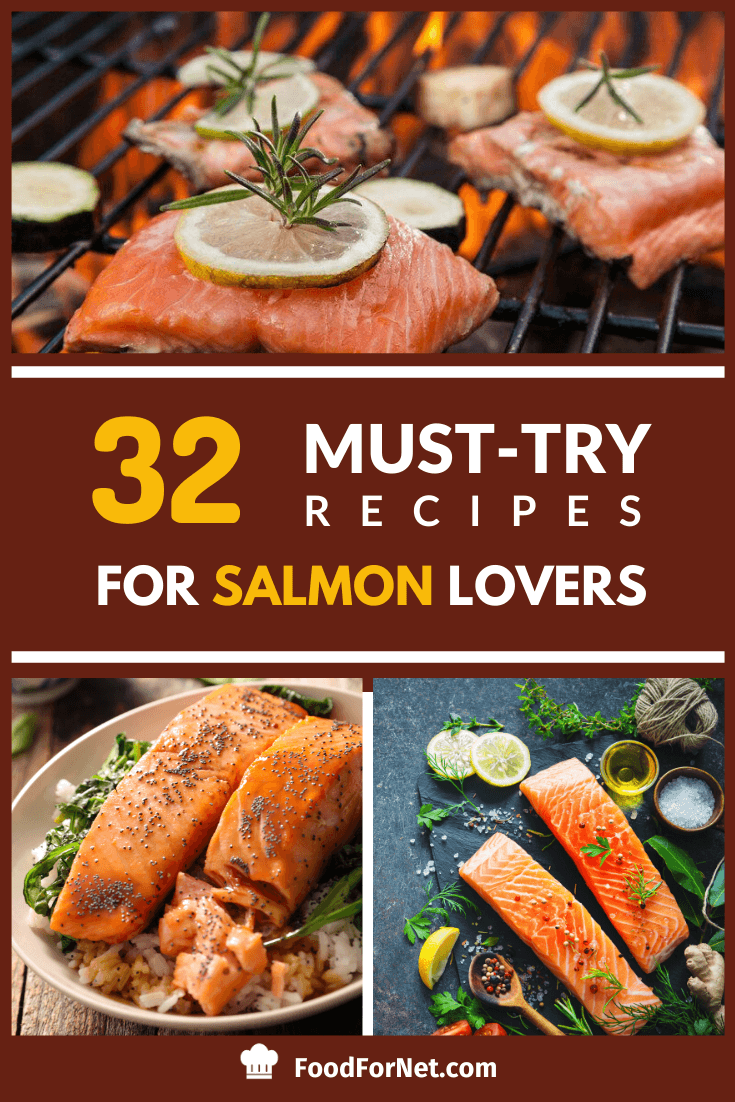 There are many of us out there that love salmon. I mean, what's not to love? Salmon is exceptionally healthy, offering high levels of omega-3 fatty acids and protein. It's a great way to get fish into your diet, especially as salmon tends to be meatier than most other types of fish. In fact, many people love salmon even though they aren't too fond of other types of fish.
But, how to do you take advantage of salmon?
This list focuses on a wide range of salmon recipes, including the simple and the complex. All of the recipes represent great ways to eat salmon, especially if you're looking for something a bit different.
So, take a little time and have a look. Let me know which recipe is your favorite. Personally, I like to cook my salmon using the sous vide method. Here's one salmon recipe we have on the site: Sous Vide Poached Salmon with Orange-Cilantro Beurre Blanc.
Sous vide salmon creates a more tender, buttery texture to the salmon. The flakey version you know from BBQ and baking is also lovely, and great for salads, but if you haven't tried sous vide salmon, you gotta try it (aim for a lower temperature, 104ºF)
Amazing Salmon Recipes
Citrus-Avocado Salmon Salad
Salads can often seem drab and a bit boring, but that's certainly not the case here. This salad, from cafejohnsonia.com, is presented as a heart healthy salad and I'm inclined to agree, particularly because of the salmon and the avocado.
The combination of flavors used for this salad is particularly great and I guarantee that the end result isn't going to taste like your typical salad. That's a good thing though and if nothing else, you're going to end up with an especially filling salad.
Salmon Breakfast Pizza
This pizza option is unique in quite a few ways. To be honest, that makes it hard to even know where to begin. I do love the fact that the pizzas are portion-sized. To me, that's a great selling point, especially if you live on your own.
The recipe itself is actually really simple, even though the pizzas end up looking so amazing. I particularly love the addition of egg. Using both salmon and egg in the same dish would give you a meal that's high in nutrients and is very filling. If you're interested, all of the information for this recipe is available at 84thand3rd.com.
Bacon Wrapped Salmon Cakes
Who doesn't love bacon? Okay, I'm sure there are some people out there that don't like bacon, but they are certainly the minority. Myself, I'm a big fan of bacon, which is what makes these salmon cakes from wellnessmama.com so appealing.
The use of bacon is also a great way to get kids eating salmon when they mightn't consider it otherwise. Don't be fooled though the recipe is still easy to make and even includes the information you need to do the zucchini and asparagus that you see in the image.
Garlic Roasted Salmon with Brussels Sprouts
I'm a big fan of one-sheet or one-pot meals. After all, who doesn't want a fantastic meal with minimal effort and cleanup? Sounds good to me. This recipe is a variation on classic baked salmon and it seems like a fantastic choice if you were trying to prepare salmon and vegetables for a large number of people.
I know that many of you mightn't be a fan of brussels sprouts, but as Katerina from diethood.com points out, it's probably worth giving them a try anyway, as they are actually more appealing than most people assume.
Smoked Salmon Chowder
I'm not actually a huge chowder fan, but I found this recipe at pinchofyum.com and couldn't resist including it in the list. This particular recipe takes advantage of smoked salmon, which can also mean less work on your end.
This chowder ends up being a creamy and good looking dish, which uses a range of ingredients to add in more flavor. I love the finished result, especially in the bowls that were used for the photography.
Smoked Salmon Pizza with Red Onion
When it comes to using salmon on pizza, smoked salmon seems to be the way to go. After all, smoked salmon is pretty easy to use and a pizza isn't going to use a large amount of salmon even if you load it up.
This pizza recipe is for a full-sized pizza, so it's an appealing choice if you are making food for your whole family (or if you want leftovers). I love the choice of toppings for this pizza and you would end up with a pizza that tastes great and is still healthy. In this case, you can check out the recipe at ibreathimhungry.com.
Farfalle with Fresh Salmon
Here's a fairly simple recipe for fresh salmon and pasta, which comes from leitesculinaria.com. Salmon isn't the most common addition to pasta dishes, but really, it should be. After all, salmon is a great source of protein and it imparts its own appealing taste to any dish.
I really love this particular pasta recipe because it is on the simple side but doesn't skimp on flavor. I always find that recipes like this are my favorites and they're great if you don't have all that many ingredients in your kitchen.
Beet Cured Salmon
Here's a unique salmon recipe and it comes from portandfin.com. If nothing else, the salmon in this recipe does end up looking quite different than salmon in most other dishes. Curing the salmon is surprisingly simple, even if you've never done it before.
The instructions with the recipe should give you all the directions that you need, even if you have never cured salmon in the past. If nothing else, this recipe is a great way to give guests or family a bit of a surprise.
Sweet Chili Salmon
This recipe is a cool option if you're looking for something a little different to go with rice. Of course, you don't have to serve the salmon with rice, it's just that sweet chili sauce does seem to naturally pair with rice.
This is another recipe that is much simpler than it first seems, which is fantastic if you aren't a genius in the kitchen. Bee, from rasamalaysia.com, also provides options for cooking the salmon in a skillet or in the over, so you could pick an approach based on your own preferences.
Paleo Weeknight Salmon Cakes
This salmon cakes recipe comes from everydaymaven.com and it is particularly significant because it is a paleo recipe. Even if you don't follow the paleo diet, this type of recipe can still be pretty appealing. After all, the recipe itself is still a healthy way of making salmon cakes. The recipe also has a huge number of comments on it, which suggests that it is very popular.
There are also step-by-step instructions for exactly what you should be doing and what it should look like at each stage of the process. If you make salmon cakes a lot, most of those images probably won't be relevant, but if you're new to this type of recipe, the images can be a lifesaver.
Bourbon Brown Sugar Salmon
As the name suggests, this recipe is on the boozy side, but you could make the same recipe without the bourbon if you wanted to. The recipe comes from thecookierookie.com and essentially it is a recipe for marinated salmon. Using marinade tends to make any meat better, even though marinade is fairly uncommon when it comes to salmon.
I suspect that is because marinating meat is also a way of tenderizing it, which salmon doesn't actually need. But, this particular recipe is a great way to impart some extra flavor to the salmon, regardless of whether you make it with or without the bourbon.
Salmon Quinoa Cakes
Here's another recipe for salmon cakes. With this recipe, quinoa is used as a binding agent to stop the cakes from falling apart. That's a fantastic approach, because quinoa is sometimes considered a superfood in its own right. Regardless of whether or not you agree with that claim, quinoa is certainly a healthy addition to any meal and it would impart an appealing flavor to the salmon cakes in general.
You can find the directions for this particular recipe at littlebroken.com, along with information about all of the ingredients.
Salmon Horseradish Pasta
This recipe is a little unusual in the combination of flavors that it offers, but don't let that put you off. The recipe relies on horseradish sauce to give the pasta flavor, along with the salmon to bulk it out and add protein.
The author notes that salmon and horseradish actually go together really well, even though this is not an especially common combination of flavors. I do also love the way the finished dish looks and the comments section suggests that this is also a popular recipe. You can check it out at tohercore.com if you're interested in giving the recipe a try.
Orange Rosemary Salmon
This recipe comes from paleoleap.com, so it is another paleo recipe. However, the nature of this recipe means that you probably wouldn't notice that at all, especially as there is nothing unusual in the ingredients list.
Personally, I was completely sold on the way this recipe ends up looking. In the photography, it just looks amazing. The recipe also gets around the issue that salmon sometimes ends up being dry, especially if you don't cook it all that often. Using a sauce like this one is a good trick for making sure the salmon is just perfect, even if you don't cook salmon very often.
Smoked Salmon and Avocado Pizza
I know I've mentioned smoked salmon pizza a couple of times already, but honestly, how could I leave this recipe out? This pizza recipe is an example of how you can make pizza in a really healthy way. I mean, the key ingredients are salmon and avocado, so you know the recipe is going to be healthy.
As you can probably tell from the image, this recipe doesn't use a traditional pizza sauce, instead, it has a white cream cheese-based sauce (but don't worry, there is still cheese on there). I personally love the use of white pizza sauces, because they are great at bringing out the flavors of the other ingredients. In contrast, traditional pizza sauce tends to have a very intense flavor and can drown out other ingredients.
If you're interested in giving this one a try, you can find all of the information you need at cafedelites.com.
Brain Power Salad
Superfoods are a big deal right now and they do offer many different nutrients. In fact, salmon itself is often considered a superfood, as are many other ingredients in this salad. This recipe is from gimmesomeoven.com and it's promoted as a brain power salad.
With all of the superfoods in the salmon, it's not hard to come to that conclusion. To be honest, I think the colors are what I love the most about this salad. Just look at it. The salad almost jumps out of page because of all those colors. So, it's got to be good for you.
Flaked Salmon with Sesame Noodles
This recipe, from framedcoooks.com, is perfect if you're looking for a slightly different approach for serving salmon. The meal itself is pretty similar, because it is basically just noodles, lettuce and salmon. That's not necessarily a bad thing though.
In fact, simple means can often work exceptionally well, especially if you find that you are short on time or energy. This recipe is also fairly easy to put together and that's another reason why you might want to consider giving it a try.
Asian Salmon Spinach Rice Bowl
The first thing I want to say about this dish is that the photography is absolutely amazing. The recipe comes from fortheloveofbasil.com and I've been impressed by a lot of the food photography on the site in the past.
But, photography aside, this recipe is also pretty cool. As the name suggests, the recipe strongly relies on Asian flavors. However, I think it would still be appealing to people who don't normally eat Asian food. The recipe also serves four people, which would make it a great choice for a family dinner.
Light Lemon Garlic Pasta with Salmon
Here's another pasta dish that takes advantage of salmon as a source of flavor and protein. This recipe actually reminds me a bit of spring or summer, because it uses a pretty light sauce. That is actually evident in the photo too, because you can barely see the sauce in the image.
I've always loved this type of pasta. In particular, pasta like this still ends up being filling, but it isn't as heavy as many other pasta dishes that you find. Once again, the recipe also makes this a simple dish to prepare, so it's great if you really can't be bothered.
You can find all of the details you need to try this at thecookingjar.com.
Quick and Easy Salmon Salad
Here's another great salad that takes advantage of salmon. This time, the recipe comes from thehealthyfoodie.com and the recipe specifically focuses on being easy to create. That's also true of salads in general. After all, a salad is often much faster to create than a cooked meal and the salad is often a healthier option as well. This particular salad recipe actually uses quite a range of ingredients, which would work well for giving you some extra texture and taste.
Smoked Salmon Spaghetti
The combination of colors in this pasta dish really seems to work well and I imagine that the same would be true of the flavors. The recipe itself comes from kellysiewcooks.com and in her discussion Kelly notes that a lot of people find the idea of spaghetti and salmon appealing.
To be honest, I had never even thought of that combination before I started this list, but I am starting to see the appeal. After all, salmon does seem to work well with many different types of sauces, especially when those sauces are creamy. So, smoked salmon could work really well with spaghetti, especially as this recipe does create a creamy sauce.
BBQ Salmon BLT Salad
Who says that a BLT has to be a sandwich? This recipe, from iowagirleats.com, is certainly a twist on the traditional idea of a BLT, but it is a twist that seems to work exceptionally well. There is also a lot of logic to the idea.
After all, a traditional BLT means that you are eating bread, which isn't always appealing. In contrast, this salad skips the bread altogether, but the addition of salmon still means that you have something that is extremely filling. Admittedly, the salad would be healthier without the addition of bacon, but where's the fun in that?
Flaked Salmon with Pasta and Mushroom
I did say that salmon and pasta seem to fit together naturally, didn't I? I certainly noticed a large range of different salmon and pasta recipes when compiling this list. In fact, there were many pasta recipes that I left out.
However, I did include this recipe from kosherinthekitch.com, partly because of how it looks on the plate. I love the idea of serving pasta like this, with the sauce over the top. Nevertheless, I suspect that most people would end up stirring it all together before eating the dish.
One Pan Lemon Pepper Salmon
I know a lot of people who love salmon and asparagus, so this recipe would be absolutely perfect for them. This is another recipe that works so well because it is exceptionally easy and requires very little cleanup. This recipe is also a great option for a family, because as you can see it does result in a substantial amount of food.
The combination of colors also works exceptionally well, so the meal would look pretty cool as you were serving it up. You can find all of the information that you need for this one at cookingclassy.com.
Salmon Burgers with Lemon Dill Sauce
I can't do a list of salmon recipes without including salmon burgers somewhere on the list, can I? To be honest, I love all of the ingredients in this salmon burger as much as I like the salmon itself. But, this type of burger really is a good idea. After all, a salmon burger has a lot of the same appeal as a thick beef burger and manages to be a lot healthier at the same time.
Plus, this type of burger won't leave you feeling quite so heavy at the end. The idea of a lemon dill sauce also seems like a perfect choice to go with salmon. You can find the recipe for this burger at jessicagavin.com. Be warned though, the sauce would make it a little messy to eat.
Thai Salmon with Ginger
This is another single pan recipe, but as you can see, it's also a little bit different. I love this recipe because it is a great way of adding flavor and moisture to baked salmon.
Doing this can work really well as baked salmon often ends up a little bit dry, even if you are trying to avoid that. In this case, you can find the recipe for the salmon at southernboydishes.com and I do recommend taking the time to check the recipe out.
Grilled Salmon Salad with Avocado
As flavor combinations go, salmon and avocado recipes seem to be especially common. That isn't too surprising and both of those ingredients are also good sources of healthy fats. To be honest though, I'm not entirely sure that this recipe can be defined as a salad. Instead, it feels more like salmon served on a bed of lettuce and dressing.
But, however you define it, the recipe does look delicious and I love the avocado salsa on the top. You can check this one out at the aptly named feastingathome.com.
Blackened Salmon Salad
Here's a salad with a bit of a twist. It does have some of the traditional salad ingredients, but it also has summer berries and candied pecans. That combination isn't extraordinarily unusual, but I do think this is the first time I've seen it combined with salmon.
Nevertheless, I imagine the flavors would work together pretty well. In particular, berries do have a tartness that would complement the fatty nature of salmon nicely. You can find all of the details for this particular recipe over at askchefdennis.com if you'd like to have a go at the recipe.
Broiled Salmon with Rosemary
This recipe is another one that offers an unusual combination of flavors. Here, the key flavors are lemon and rosemary, although there are some other flavors in the mix as well. This is a recipe that would work well with rice (as the image suggests), although you could serve it in other ways as well.
One interesting thing about this recipe is that it takes inspiration from Asian dishes. So, you get some of those flavors in there. All of the information for the recipe can be found at fiestafriday.net and it does look like an appealing way to eat salmon.
Fettuccine Pasta with Cream Salmon
Here's one more recipe that combines salmon with pasta and a creamy sauce. This recipe is different than the other pasta ones on this list because it is exceptionally quick to make and is also really simple.
Having a few simple and filling recipes at hand is always a good idea as you never quite know when you are going to need them. This recipe also presents quite well, which is another reason you might want to make it. All of the details are available over at cookingwithmanuela.blogspot.com.
Brown Sugar and Bourbon Glazed Salmon
Let's end our list with one boozy addition. I always love the use of alcohol in meals (or desserts), even though most of the alcohol typically gets burned off in the process. Alcohol just does something to the dish, changing the flavors and making the entire thing taste that much better. In this case, the alcohol in question is bourbon and the entire recipe is extremely simple to follow.
You can find the recipe at ahealthysliceoflife.com if you're interested in having a go. I will note that the recipe is for the salmon itself and not for the rest of the components of the pictured meal. However, it would be fairly easy to figure out good complements to go with the dish.
Honey Sriracha Salmon
Sriracha is a cool flavor choice for salmon and I love the way that this dish ends up looking in the pan and on the plate. Surprisingly, this is also a very simple recipe and doesn't even involve that many ingredients.
The creator even includes instructions for baking and frying the salmon, so you can pick your favorite approach. All of the details are available at chefsavvy.com.