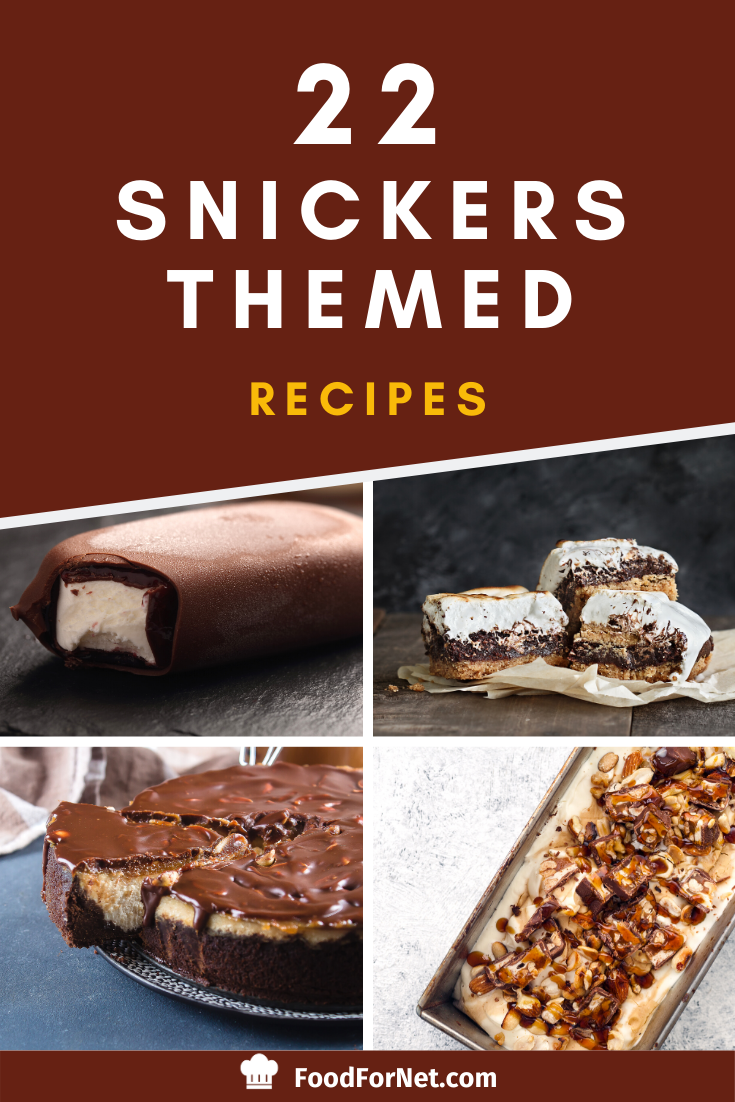 Snickers is simply, hands down, one of the all time top favorite candies of everyone without a peanut allergy. I've selected some of the best Snickers-themed recipes from around the internet just for you! Some would be great for football get-togethers, others for Halloween parties, or an incredibly popular dessert item at Thanksgiving. You might even be able to pair these with a variety of drinks.
There's also nothing wrong with making it for yourself and eating the whole thing. I won't tell anyone. It's the holidays! Raw, vegan, sugar free, and gluten free options have been included in this list for anyone with special diet restrictions.
Snickers Themed Recipes
22. Snickers Cake
Let's start this list off with a bang. This amazing Snickers cake comes from browneyedbaker.com, and features chocolate cake, nougat filling, salted caramel buttercream frosting, and milk chocolate ganache. It'll take some time and elbow grease to get this thing together but it's a perfect cake for special celebrations.
21. Home Made Snickers Ice Cream Bars
The cool thing about making your own Snickers ice cream bars is that you can choose any kind of ice cream that you want. The recipe from chocolatecoveredkatie.com calls for vanilla or caramel, but I think that anything with peanuts, or even a snickers blend would do well here. Whatever you choose, she's got a pretty clever way of getting these to look like real candy bars rather than a bowl of ice cream mixed with peanut butter.
20. Snickers Cupcakes
Dark chocolate cocoa was how Lindsay was able to achieve such a rich, dark looking color to these wonderful cupcakes. You can't see it here, but there's also a peanut/nougat filling inside as well, adding to the flavor authenticity. They're iced with peanut butter icing and drizzled with chocolate. View the full recipe at lifeloveansugar.com to find out the what and how much for these treats.
19. Snickers Brownie bars
They layers might be hard to distinguish from this picture, but all your Snickers ingredients have certainly been included in these Snickers brownie bars. The brownies of course are chocolatey already, but they also contain chocolate chips. The next layer is a mixture of marshmallow cream and peanut butter to form the nougat. Next, we've got real melted caramel chews and chopped peanuts, all topped with melted chocolate.
Amazing and decadent. Get the full recipe from thefoodcharlatan.com!
18. Snickers Cheesecake Pops
It's pretty genius how these are made, and you don't actually need to do any complicated cake-making to create this delicious snack. it's basically a piece of Snickers, wrapped in cheesecake, covered in chocolate, and dipped in Snickers again. You can see the full process over at homecookingmemories.com
17. Raw Homemade Snickers Bars
I had to include something for the raw foodies out there! Of course, a regular Snickers bar is definitely not even close to being healthy, but the unique spin on the caramel/chocolate/peanut/nougat mixture from damyhealth.com does a great job of recreating what a healthy version might look and taste like. If you are on a raw diet, or just want an alternative you don't have to feel guilty about eating, definitely hop on over to see how thi sis made.
16. Home Made Snickers Ice Cream
This is not just mixing snickers candy in vanilla ice cream! Using real cream, sugar, and candy bars, you can make your own home made Snickers ice cream. You'll need an ice cream maker for this, or know how to do the cream and icy salt trick. If you do, head on over to mommyhatescooking.com to see how its done.
15. Fudgy Snickers Brownies
This version of Snickers brownies goes all out with roasted peanuts, sea salt, and milk chocolate chips. Rather than using melted caramel chews, I like that this version uses a caramel sauce to give them more of a gooey texture. It's definitely something different! Get the full scoop of how to make 'em at thebakingchocolatess.com
14. Snickers Protein Shake
Moving back to a slightly healthier angle, this is a protein shake I can get behind. OK, this isn't something I'd drink right after two hours lifting weights (cuz I'd probably chug it), but it's definitely something to enjoy later in the evening for recovery.
Rather than be an "all or nothing" type of dieter, enjoy low calorie, low carb high protein snacks to keep cravings to a minimum. Try casein protein in the evenings for 'slow release' protein that your body can absorb over night, helping your muscles recover while you sleep. Get the recipe from dashingdish.com
13. Snickers Cupcakes (version 2)
Chocolate cupcakes, peanut butter frosting, caramel sauce…simple but effective. This is another spin on what could be endless combinations of classic Snickers ingredients turned into a cupcake. You could even flip things around and do a peanut butter cupcake with chocolate frosting, or chocolate cupcake with caramel frosting and peanut butter drizzle.
Anyway, I'm getting off topic. This recipe you can get from sallysbakingaddiction.com. Don't miss the link in her post to her other recipe for 7 Layer Caramel Snickers bars!
12. Raw Snickers Cake
Another raw version that makes a healthy treat for those on a strict raw diet, this cake can be frozen for several months and enjoyed later. So make a bunch, store them up, and use them whenever. I think you could potentially turn these into a popsicle, mini-cakes, or even snack bars. Get the ingredients list and recipe for all those layers from hearttoplate.com.au.
11. Snickers Cocktail Recipe
For the adults in the room, a Snickers cocktail is worth trying at least once. Although as a dude, you'll definitely receive a few snickers after ordering this, who cares. It tastes good.
10. Snickers Pie
According to me, in a Pie vs Cake competition, pie always wins. That's why I saved this one for later on in the list. That's a cream cheese and peanut butter pie filling and chocolate chip cookie crust you see there. This Snickers pie is probably my favorite on the list…What can I say. I'm pie biased. #justsayin Check out the recipe at notquitenigella.com
9. No Bake Snickers Chocolate Cheesecake Bars
Who doesn't love no-bake? Or cheesecake? Or snickers? Oh, and that's an Oreo crust. Surprisingly easy to make, can you can't really go wrong with ingredients like these. Why make them into bars at all when you could just mix everything in a bowl and eat it with a spoon? The original recipe is from hugsandcookiesxoxo.com, and that's where you can learn how to make these.
8. Raw Vegan Paleo Sugar Free Healthy Snickers
Another unique take on 'healthy' Snickers, these fit the bill for a lot of special dieters out there. They are paleo, gluten free, sugar free, raw, and vegan. The final result is pretty far removed from the original candy bar, but in principle the hit in all the important points: chocolate, nuts, caramel, and nougat. Get the recipe from thegoodfoodgoddess.com and find out why the outside layers have a purplish tint to them!
7. Snickers Popcorn
Sometimes for these recipe roundups I just type random things into Google to find interesting recipes to include. Snickers popcorn was not something I was expecting, but it totally made sense the instant I saw the picture above. I'll tell you what – I'd rather get fat eating this than that greasy buttery stuff. Perfect for game day or movie night. See how it's made at cookiesandcups.com
6. Snickers Pumpkin Spice Cake
Another unique recipe that's great for fall, this is a pumpkin spice cake topped with Snickers. The chocolate and caramel drizzle helps to marry the two main parts of cake and candy bars. This would be a perfect dessert to bring to any fall celebration including Thanksgiving, Halloween, Columbus Day, or Fri-Day! Instructions and ingredients can be found on frugralmomeh.com
5. Snickers Martini Cocktail
My favorite part of every recipe roundup is finding the alcoholic recipes to match. Where there's a love of a certain flavor combination, there's several versions of booze to be found. Though there's no snickers beer yet (I'm still trying to think of a homebrew recipe), there is an amazing Snickers martini cocktail recipe that you can get at theslowroasteditalian.com
I like this recipe because it really captures the flavor, while keeping it classy. I've seen some recipes that basically take Baileys with milk and garnish it with a candy bar. Lame.
4. Snickers Brownies (version 3!)
Another riff on the 'snickers brownies', this just shows you how versatile a Snickers candy combination can be. After writing this post I've had candy bars on the brain, and see that a there are endless combination. This version of the recipe takes a more traditional brownie, tops it with caramel and chocolate, and uses real candy bars. You can get the recipe from backforseconds.com
3. Snickers Pretzel Protein Shake
This is basically my own concoction based on two recipes I discovered while researching this post. The first one was the protein shake from Dashing Dish (above), and the second one was a snickers pretzel milkshake from ambrosiabaking.com. I didn't want to use ice cream (as their recipe calls f0r) because I'm on a diet and limiting my calories. Of course, I went a bit overboard adding caramel and peanuts…so may not have cut that many calories after all.
Actually, the magic behind this treat was blending the pretzels with the shake, which gave it a really nice texture. Adding a bit of salt also made a really nice salted chocolate caramel blend. Just be careful not to over-salt, because it's real easy to cross that threshold, and then there's no coming back!
2. Snickers Dream
Keeping it boozy, this one is more of a smoothie because of the thickness, but it's still alcoholic! I'm a little skeptical that you can really taste the chocolate since the drink is so icy, but it's worth a try. I mean, you've got Snickers and vodka…that sounds like a winning combination to me!
1. Snickers Cake Pops
This is a chocolate cake version of the Snickers cake pop, topped with peanuts this time. This is a style of baking that lends itself to creativity and you can substitute your own flavors to tailor the recipe to your tastes. I'm a huge fan of My Cupcake Addiction and she has another great recipe called the Giant Snickers Bar Cupcake.
Bonus: Weird Snickers Halloween Commercial
Ummm, yeah. This is pretty creepy, but I guess it's time to get ready for Halloween.
Related Content