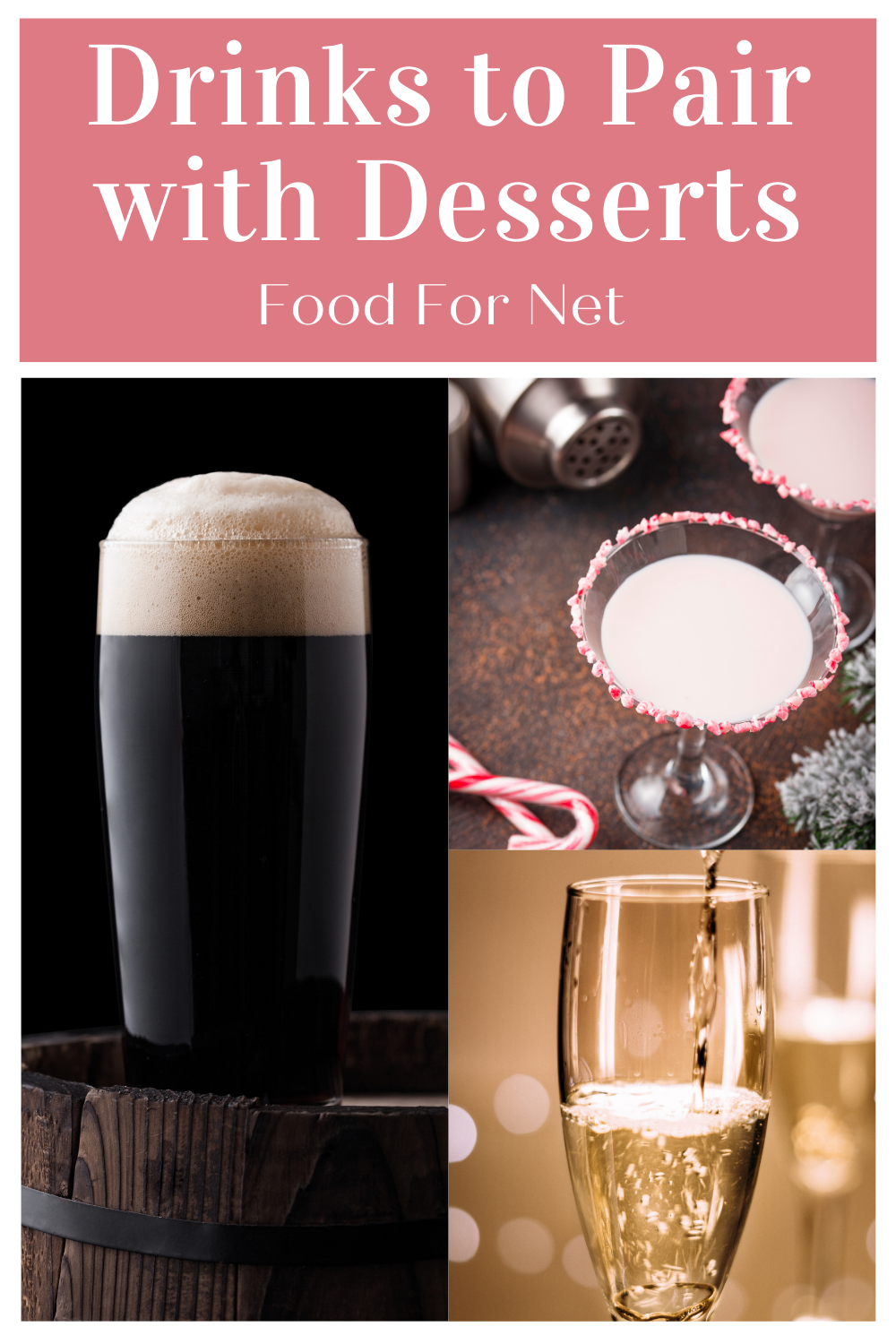 So, you have a delicious dessert in front of you. What are you going to pair it with? You could simply grab whatever is in the fridge or mix up your favorite cocktail, but doing that is always hit and miss. You could easily make your dessert taste worse, not better. Thankfully, there are many good drinks to pair with desserts.
We're not just talking about wine either. Other types of alcohol can be excellent with your desserts. Non-alcoholic drinks are sometimes perfect too, especially if you're the sober driver.
Needless to say, we're not going to cover every possible dessert and drink pairing in this list. But, we will cover many of them, focusing on the alcoholic options. Sometimes we'll talk about a specific dessert and a particular drink to match it with. Other times we'll focus on more general principles, like how a lager pairs surprisingly well with lime desserts.
This way, you have all the information that you need to discover new and amazing pairings of your own. And, if you do, please leave a comment to tell us what you found.
For more ideas, check out our list of finger food and wine pairing. Those combinations would be fantastic for a romantic picnic or perhaps a special celebration. You could also experiment with alcohol and unique desserts.
Drinks To Pair With Desserts (With Pictures!)
Wine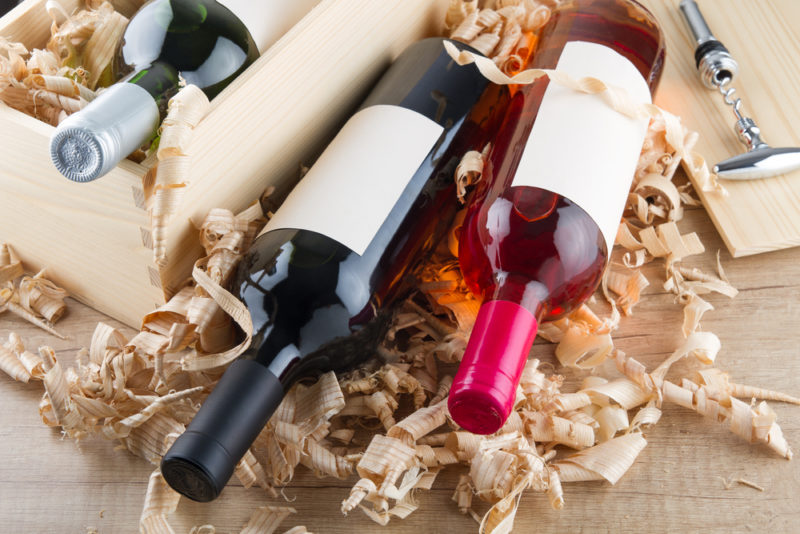 When you're pairing wine with desserts, you're normally trying to find a wine that is a little sweeter than your dessert. This matters because sweet food makes the wine taste drier than it is. So, if your wine was already dry, then it can taste pretty awful when paired with a very sweet dessert.
Acidity matters too, especially for sweet desserts. High acidity allows you to pair a sweet wine with a sweet dessert, without creating something cloyingly sweet. Of course, there is always some wriggle room – and some wine pairings end up tasting amazing even though they break every apparent rule.
The combinations that we're featuring here all work well. They're the perfect place to begin your own experimenting.
Champagne and Berry Tarts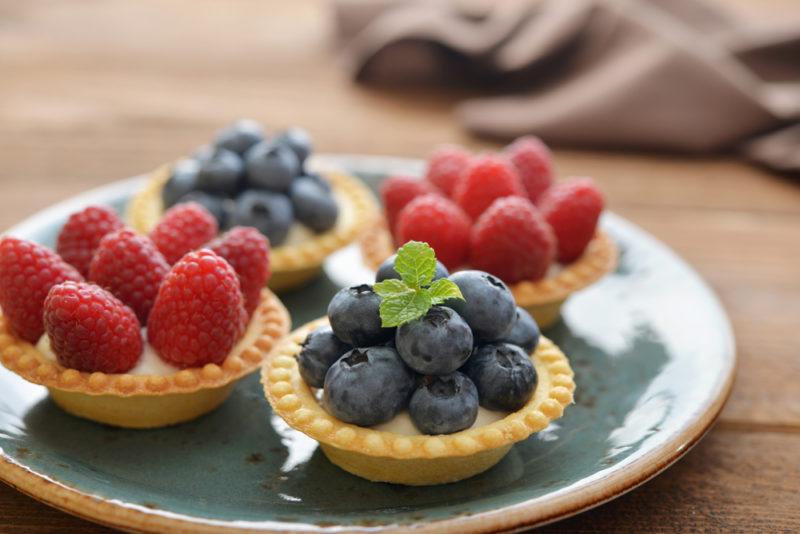 Champagne actually goes well with most berry-based desserts. The bubbles are a great contrast to the berries' natural sweetness, while there aren't any strong flavors to compete with your dessert.
Pairing the wine with a berry tart is an even better combination, as you get a contrast between the buttery crust and your wine. You don't need to stick with dry champagne either. A semi-sweet one can be just as appealing, if not more so.
If champagne doesn't do it for you, don't worry, you can easily swap out for another type of sparkling white wine. A prosecco from Spain is an excellent choice here, but really, almost any sparkling white will complement your tart.
Lemon Bars with Champagne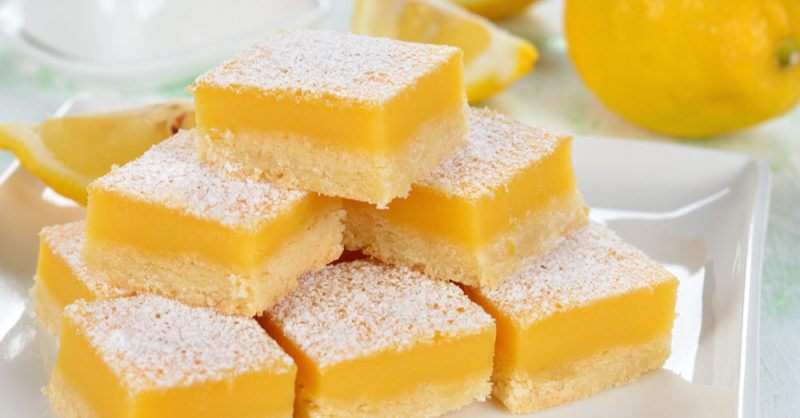 Lemon bars are exceptional with either a crisp white wine or champagne. Either choice helps to contrast against the sweetness of your dessert and cleanses your palate. This is fantastic, as lemon bars can often be very sweet, even with the tartness of the lemon.
You could make this pairing even better by relying on champagne and serving the lemon bars with berries. Berries and champagne are another popular pairing, plus they help to add another dimension to the flavors of your dessert.
An oaked chardonnay is an interesting alternative. Chardonnay tends to be richer than many other white wines and can take on vanilla and caramel-like flavors once it has been aged in oak. These flavors will complement the shortbread crust of your lemon bars well, as does the buttery tones of the chardonnay.
Champagne and Fruit Desserts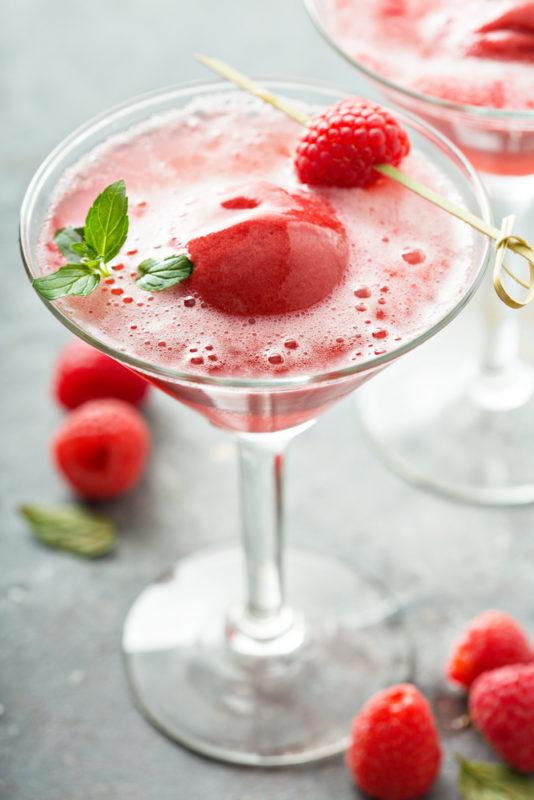 We could write an entire list of the desserts that champagne pairs with, as there are just so many of them. An excellent general rule is that if your dessert contains fruit, it will probably pair well with champagne (and, by extension, with many other sparkling white wines).
You can even pair champagne with fruity desserts that don't rely on actual fruit. Fruity macaroons, for example, pair with champagne just as well as lemon bars or berry tarts.
Fruit gelato makes an excellent pairing with champagne too. Try dropping some of this gelato into your champagne to create a fun and refreshing dessert.
And, of course, champagne naturally pairs with chocolate covered strawberries. This pairing is best when you're using strawberries dipped in white chocolate. Still, don't stress if you prefer milk chocolate on your strawberries – that combination tastes good too.
Wine and Chocolate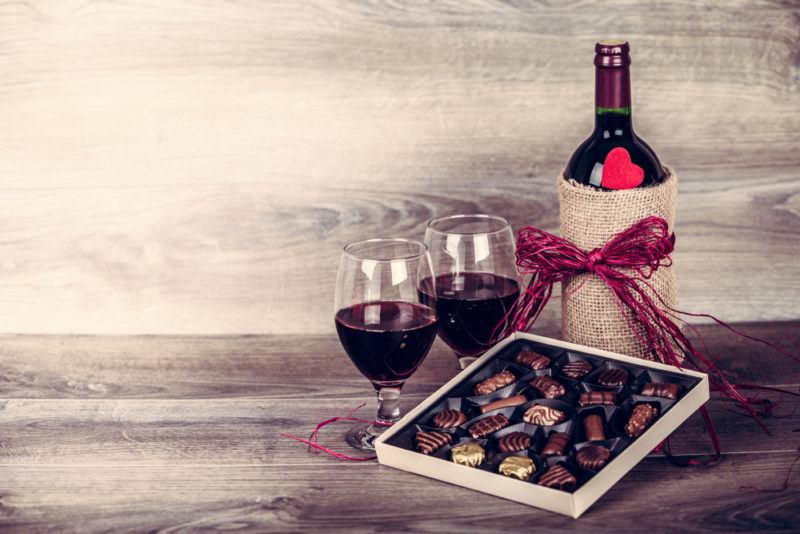 This is a huge topic. While wine does complement chocolate (and chocolate-based desserts) well, you need to pair your wine and chocolate well. The wrong combination might drown out the nuances in your chocolate or create an unpleasant balance of bitterness and polyphenols.
The type of chocolate will strongly influence the wine that you choose. With white chocolate, you're often looking for sweet wines, while milk chocolate can pair with a wider range of wines.
Dark chocolate can be trickier. You can often pair it with red wines or perhaps a port. Just watch out for dark chocolate and red wines with rich tannins. The tannins contrast against the polyphenols in your chocolate, creating a drying effect.
Some people do enjoy dark chocolate with a high tannin red wine, and some dark chocolate desserts have enough sweetness to work with this type of wine. Still, finding the right pairing takes work.
We won't dig into the topic much further here, as we've written an entire post that focuses on wine and chocolate pairing. You can find all the details that you need there.
Chocolate, Caramel and Port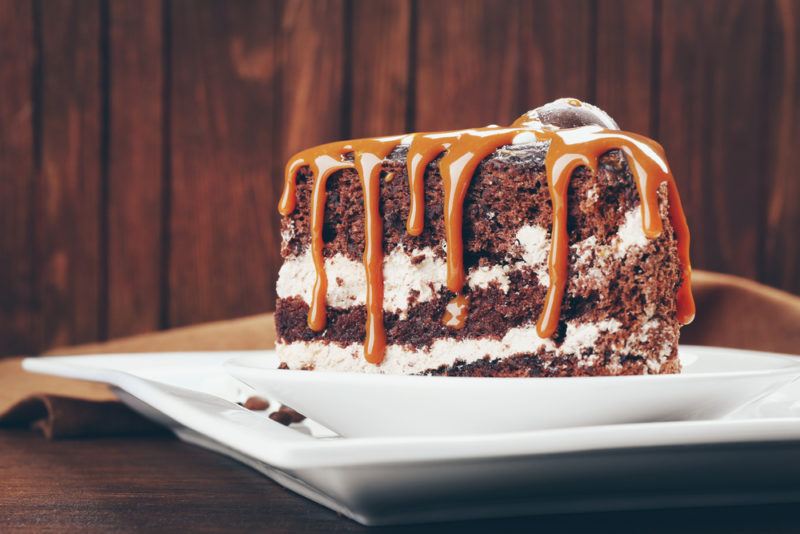 If your dessert relies on caramel and chocolate, then you can't go wrong with a port or a sherry. Both of these fortified wines tend to be sweet and have a rich flavor that naturally complements the chocolate and caramel of your dessert.
The combination could be even better if your dessert uses dark chocolate rather than milk chocolate. This way, there is plenty of sweetness in the wine and not all much in your dessert.
Peanut Butter Cups and Sherry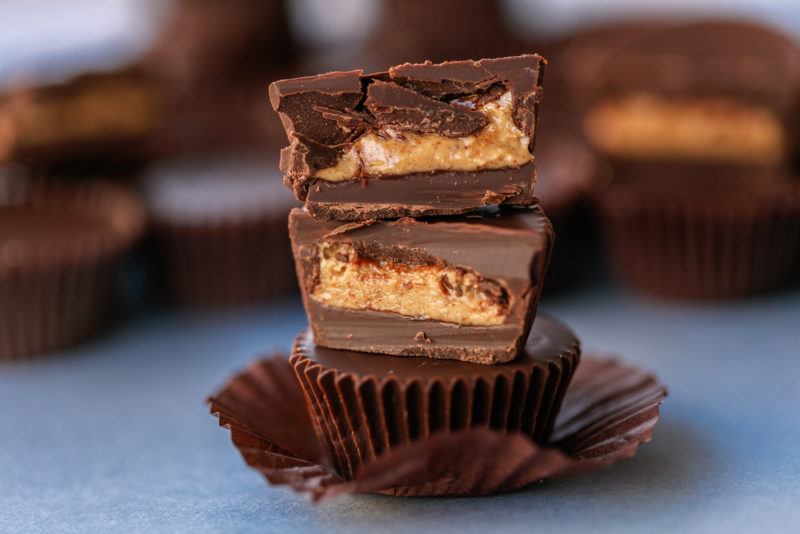 Here's a fun and unexpected pairing to try. Sherry is a surprisingly easy wine to pair and it works well with countless meals, desserts, and cheeses.
When it comes to peanut butter cups, sherry is just exceptional. It brings out the salty nutty flavors of your peanuts, while providing an interesting savory to sweet contrast. The trick is to find a sherry that isn't excessively sweet. Thankfully, many sherries are on the drier end of the spectrum.
Apple Pie and Gewürztraminer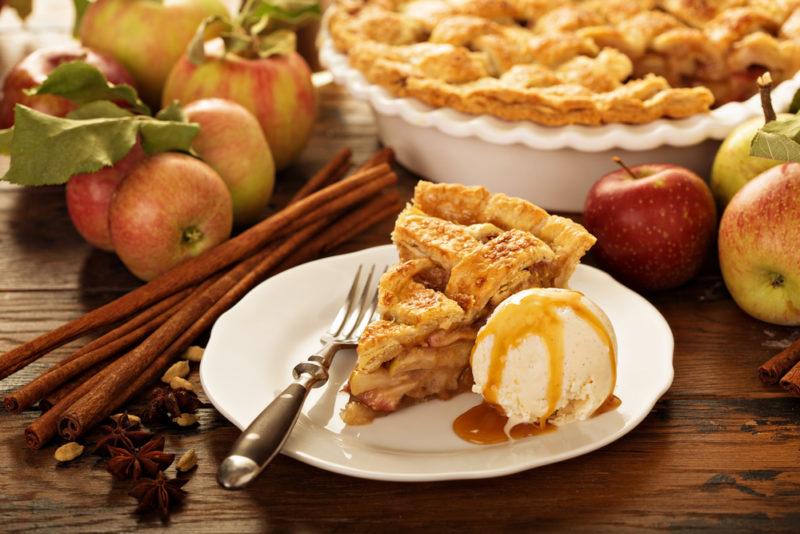 Gewürztraminer is a delicious white wine that has some spicy flavor notes while also being fruit heavy. Of course, apple pie has similar features, so it's not surprising that gewürztraminer and apple is such an easy combination.
You could try another type of white wine too, if gewürztraminer doesn't appeal to you. But honestly, it's tough to be a gewürztraminer here.
Carrot Cake and Fino Sherry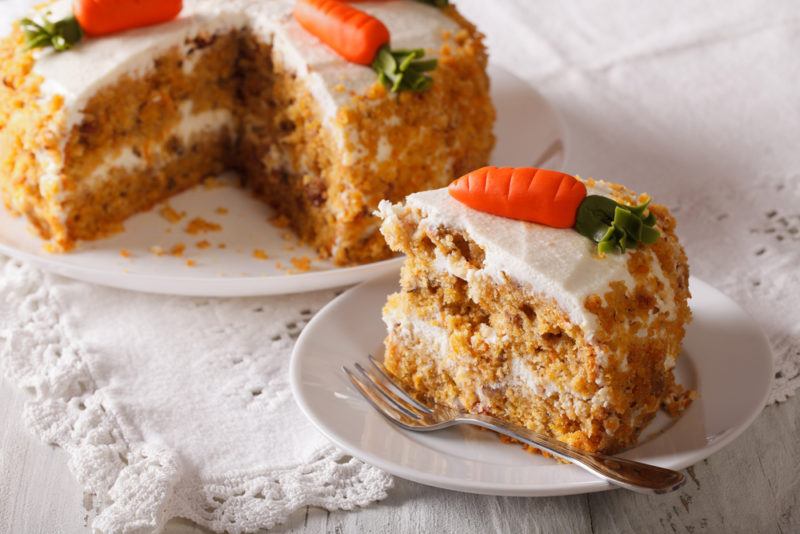 Fino sherry can be powerful for wine and food pairing, as it is drier than other types of sherries. The lack of sweetness allows the sherry's delicate flavors to shine. These flavors include notes of citrus and almonds.
The almond flavor notes are one reason that the sherry works so well with carrot cake. After all, carrot cake often uses nuts as well and has a nicely contrasting sweetness.
Peach Cobbler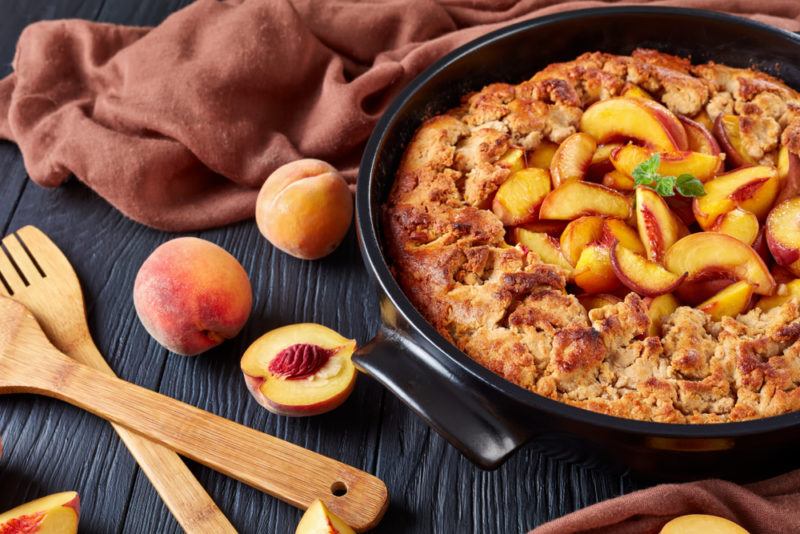 While many types of white wine can work well with peach cobbler, a riesling is an ideal choice, especially a dry riesling from Germany. There are multiple reasons that this pairing works so well, including the minerality in the wine, the way the dryness cuts through the sweetness of your dessert, and the citrus flavor tones in the wine.
Focusing on a German riesling also provides you with some earthy flavor tones. These are perfect to complement the crust of your cobbler.
Port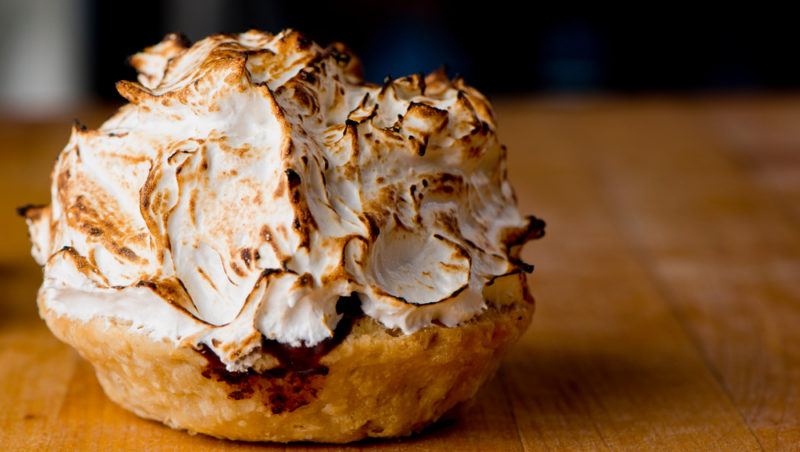 Port is a type of fortified wine, and it is delightful when sipped on its own or paired with food. You'll often see it matched with cheese, but you can pair port with desserts too.
An interesting pairing here is to serve tawny port with a baked Alaska. The sweetness of your port is an excellent complement to the dessert. The unexpectedness of this combination is attractive too. After all, port is often paired with more 'refined' foods than a baked Alaska.
You can also pair tawny ports with nutty desserts, such as pecan pie or nutty ice cream. Or perhaps try it with a sticky toffee pudding, as there are often toffee flavor notes in the port.
Ruby port is a little different, as this type of port tends to taste fresher and can have rich flavors of cherries and raspberries. Paring port with a sour cherry pie is an easy choice here. You could pair the port with chocolate truffles too, for an even more decadent combination.
Sparkling Wine and Popcorn

Sparkling wine is often an elegant treat that's reserved for special occasions. But, it can also simply be fun, especially when you're pairing it with low key desserts, like popcorn.
Popcorn and sparkling white wine work so well together because they contrast each other so much. The wine also acts as a palate cleanser between handfuls of popcorn.
We're not just talking about plain popcorn either. Sparkling wine also works well with flavored popcorn, including weird popcorn flavors and gourmet popcorn.
There are no strict rules about which wines to pair with which popcorn flavors, so feel free to experiment. However, contrast does work well as a starting point. So, for example, you might pair sweet popcorn flavors with extra dry sparkling wine. Or, you could serve spicy popcorn with sweeter sparkling wine.
Dark Chocolate and Port

We've already talked about wine and chocolate, plus pairing port with a chocolate and caramel dessert. Still, the combination of dark chocolate and port is worth mentioning, as it really is exceptional.
A young port works well here, as this offers plenty of fruitiness. That fruitiness nicely balances the rich flavors of dark chocolate. The pairing isn't limited to dark chocolate on its own either. You could also serve port with most dark chocolate flavored desserts.
Pinot Noir and Fruit Salad

Have you ever paired pinot noir with fruit salad? While the combination sounds a bit strange on paper, it's actually exceptional. It works because pinot noir already has fruity flavor tones.
The pairing is particularly good if you have some rich red fruits in your salad, such as cherries or strawberries. If your fruit salad mostly focuses on lighter fruits instead, like apples and pears, you might look for a white wine instead, like a pinot grigio.
Chocolate Cake and Cabernet Sauvignon

Here's another fantastic pairing. The richness of a chocolate cake works well with an intense red wine like cabernet sauvignon.
This pairing works so well that there are even some chocolate and cabernet sauvignon cake recipes (like this one from Food52). The cake provides you with all the same flavors, except that they're in a single treat rather than dessert and a drink.
Cocktails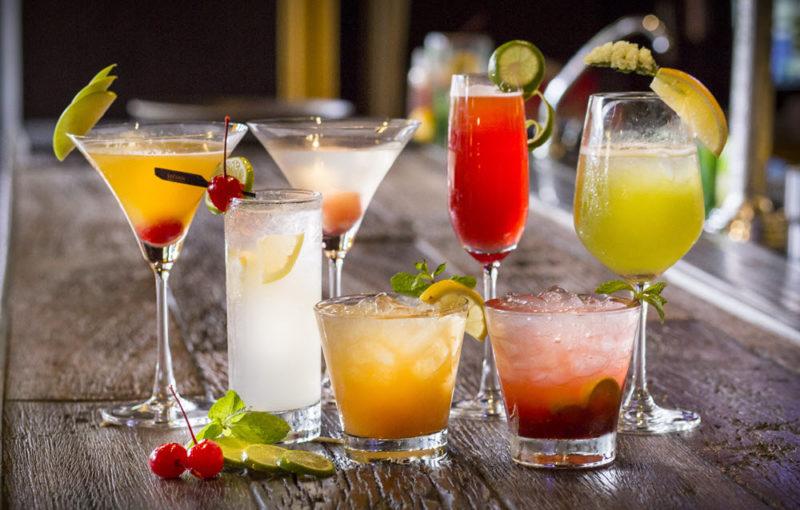 Pairing desserts with cocktails can be tricky. You often have a variety of flavors to work with, along with a strong hit of alcohol. The alcohol content can be a problem, as it numbs your palate somewhat.
Still, don't rule the idea out just yet. There are plenty of cocktail and dessert combinations that turn out perfectly, and some cocktails are surprisingly low in alcohol.
You have a serious advantage with cocktails too – they can be tweaked. You can add or remove ingredients from the recipe to create the flavor balance you're looking for. You can't easily do that with wine or beer.
Irish Coffee with a Molten Chocolate Cake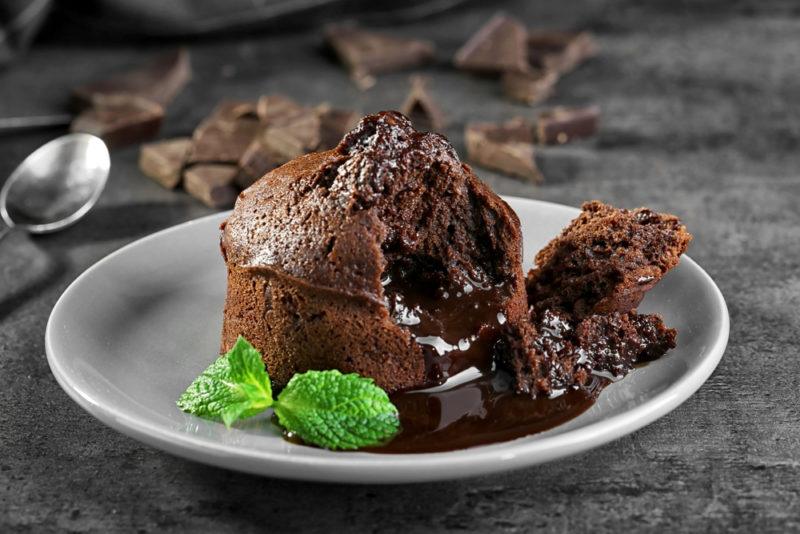 Here's a pairing that makes complete sense – a molten chocolate cake and an Irish coffee. This simple cocktail is made using Irish whiskey, hot coffee, sugar, and cream. Although, some people skip the drama and simply add whiskey straight to their coffee.
However you choose to make it, an Irish coffee naturally pairs with your molten chocolate cake. After all, the chocolate cake is rich and decadent, while the Irish coffee can have a slight spiciness from the whiskey, along with coffee flavors and some sweetness.
The flavors are similar to a mocha, but the dessert and coffee combination is so much better. Just make sure that your Irish coffee isn't too sweet, as you're getting plenty of sugar from the dessert.
Oh, and speaking of Irish coffee, the cocktail works surprisingly well with donuts too. That combination is ideal if you're looking for something casual.
Aperol Spritz With Strawberry Shortcake

An Aperol spritz is a fun cocktail when you want something tasty and refreshing. It has light citrus notes, which makes it perfect when paired with a relatively light dessert.
There are plenty of options here, so you can easily experiment. That said, a strawberry shortcake is the perfect starting point. This treat isn't too sweet and still gives you plenty of interesting flavors from the strawberries.
Espresso Cocktails and Chocolate Cake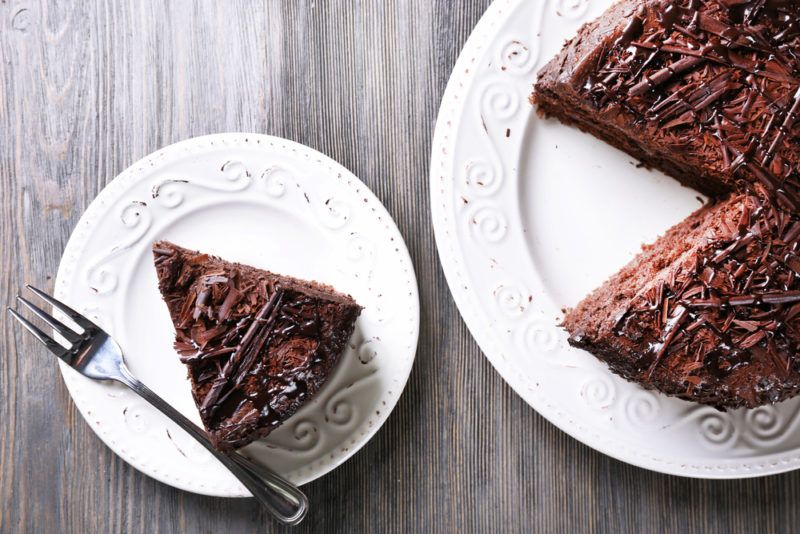 There are many espresso cocktails out there, including the ever classic espresso martini. Most of these will pair excellently with chocolate cake.
After all, coffee and chocolate are natural bedfellows. Any combination of these is certain to be a hit.
White Russian and Chocolate Chip Cookies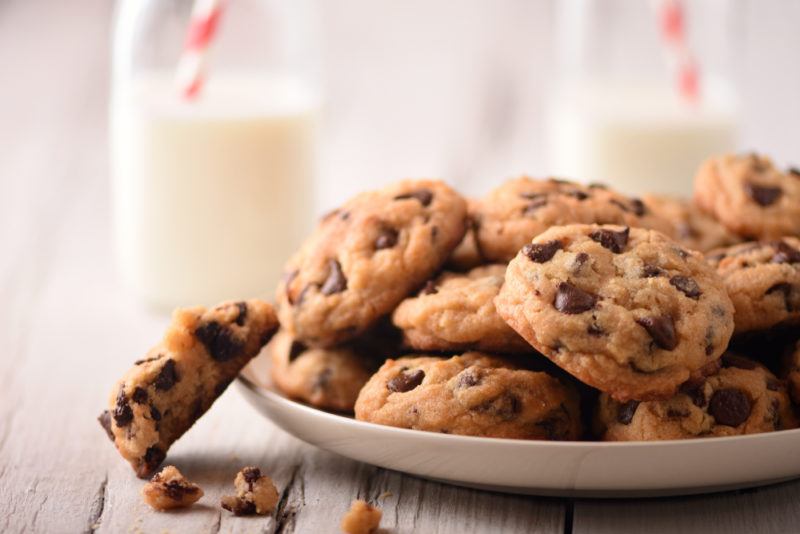 This combination sounds like an adult version of cookies and milk. After all, a white Russian relies heavily on cream, with coffee liqueur and vodka as the other ingredients. It is often served layered, but if you stirred it all together, your drink would even look a little like a glass of milk.
You could take the idea one step further and dip your cookies in your milky cocktail.
Regardless, this is another pairing that combines coffee and chocolate, so it's easy to see why it works so well. You could also sub out the chocolate chip cookies for any type of gourmet cookie.
Black Russian and Chocolate Cake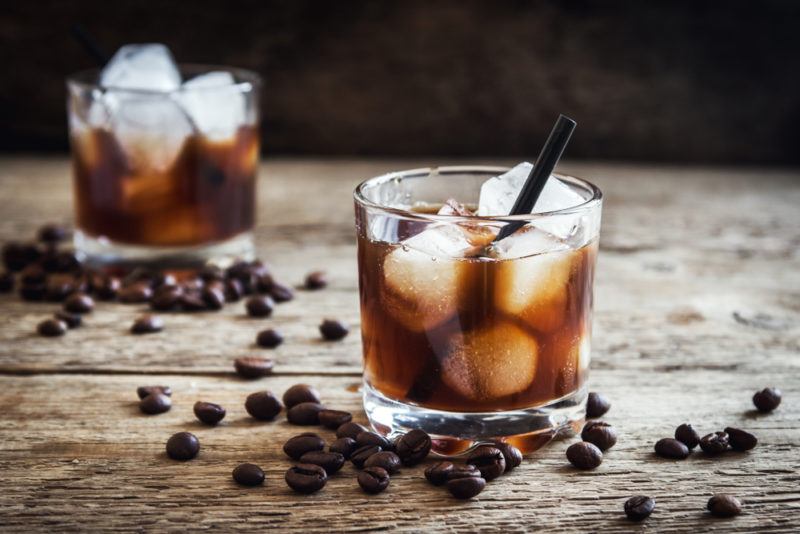 A black Russian is an even simpler cocktail, as you're just combining coffee liqueur and vodka. The drink can be topped up with cola, but it is much better when kept as a two-ingredient cocktail.
If you're not using cola, then the black Russian simply ends up being a coffee cocktail. It's not surprising then that the drink pairs so well with chocolate cake.
And honestly, you could pair this cocktail with most chocolate-focused desserts, like chocolate brownies and rich chocolate mousse.
Brownie with a Peppermint Martini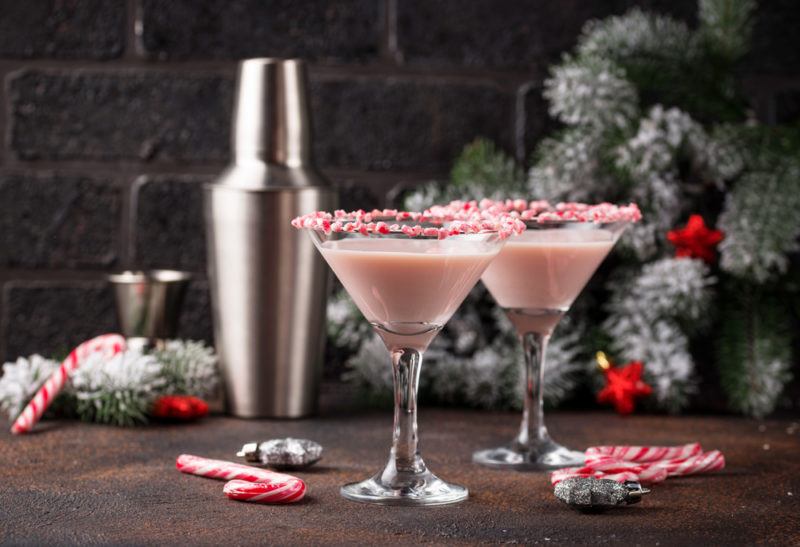 The pairing of chocolate and peppermint is as old as the hills, but it never seems to get boring. So, if you're going to have a chocolate-heavy dessert like a rich brownie, why not pair it with a mint-heavy cocktail?
There are multiple peppermint martini recipes to choose from. Some use cream as a key ingredient, which makes them rich and decadent. Others steer away from cream and rely on ingredients like white chocolate liqueur, peppermint schnapps, and flavored vodka.
You could look for more complicated cocktails too, like a peppermint brownie-tini, which can actually use brownie mix as an ingredient.
Beer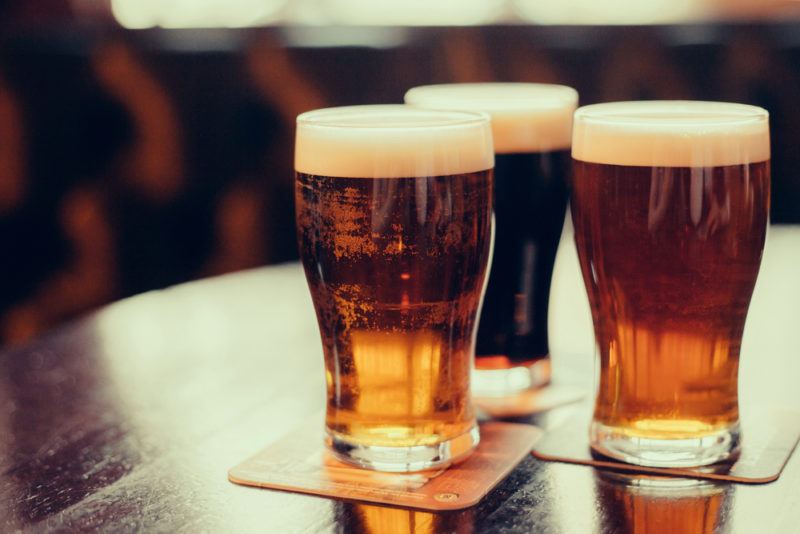 Beer isn't normally a dessert drink, but the right beer and the right dessert can really hit it off. The trick is to choose carefully. You'll often need to pay attention to the type of beer, as well as the specific flavor notes present. Both aspects will affect how the beer pairs with your dessert.
Mexican Lagers with Lime Desserts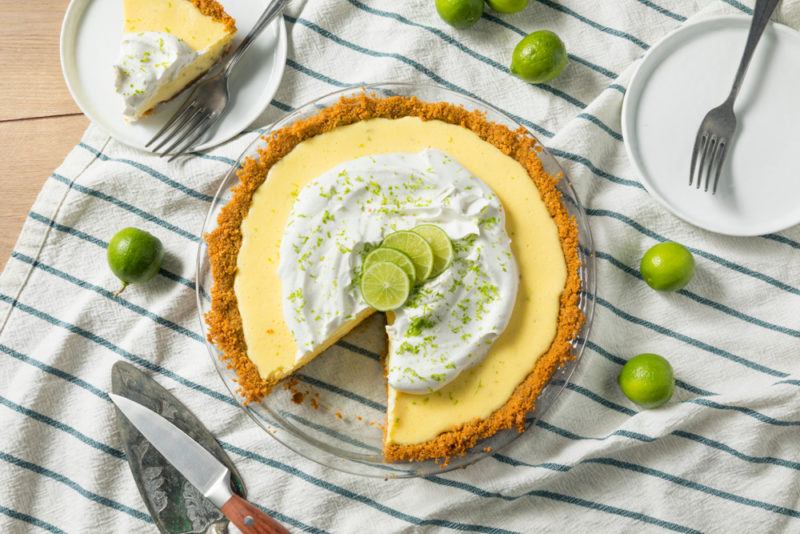 Let's begin by talking about pairing a larger with a lime-based dessert.
Mexican-style lagers work well here, as they are crisp, but their flavors aren't overwhelming. This means that the flavors of your lime continue to shine, while the beer provides a refreshing counterpoint.
Try a key lime pie and a Corona, for example. The beer doesn't even overtake the subtle flavors and textures of the graham cracker crust.
Belgian Beer and Apple Pie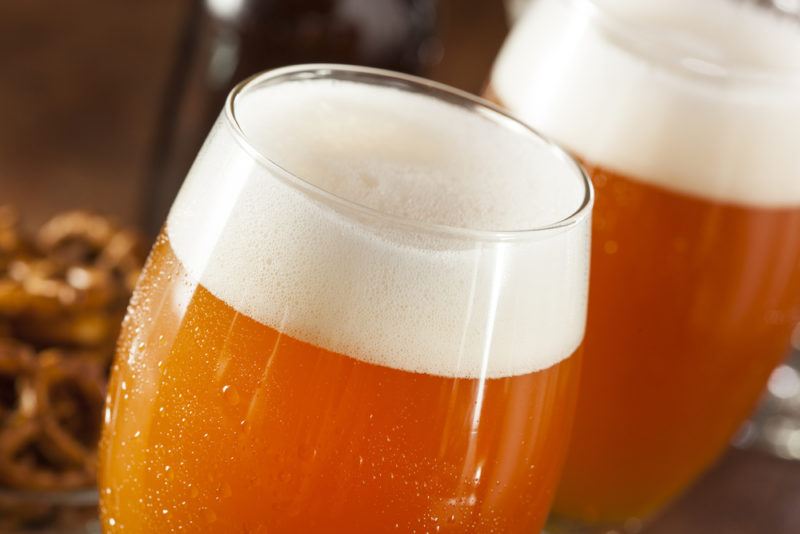 Apple pie might be an American food, but if you don't want to match cider to it, then a Belgian beer may be the next best choice. Belgian beers tend to be malty ales. They're often on the strong side too, which can be appealing.
When pairing the beer with apple pie, look for one that has some caramel flavor notes. You might consider a kwak or a tripel beer, although there are other appealing styles.
If you want something closer to home, some other types of beer can work too. The right IPA, for example, can easily complement apple pie, especially as craft IPAs often have some interesting flavor notes. It's easy to see how one that features caramel or apple notes would work well with apple pie.
And, of course, you could use the same types of beer for other apple desserts, like apple strudel or an apple tart.
Pumpkin Pie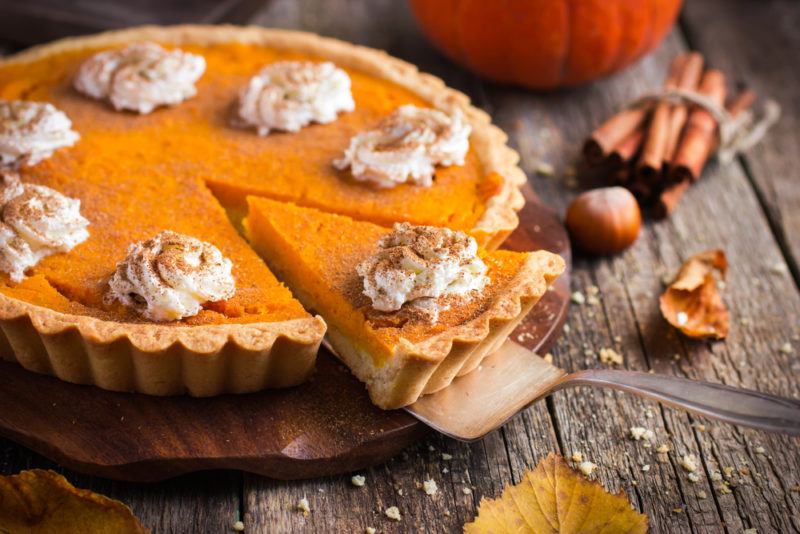 The classic approach for pairing beer with pumpkin pie focuses on using a beer that has pumpkin flavors itself. These are produced from time-to-time, especially in the fall. This technique of pairing like with like works well enough.
But, simply matching similar flavors can get a little boring. For something different, try looking for a winter warmer style beer. These beers often have a thicker consistency, along with spices like clove and cinnamon. The combination of texture and flavor is exactly right for pumpkin pie.
Brownies and Beer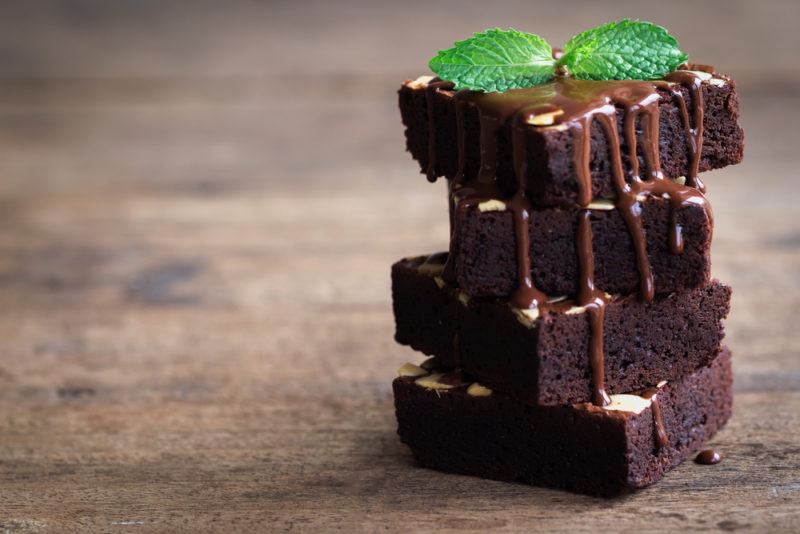 Here's another fascinating option. You can, and perhaps should, pair beer with brownies. But, the effect will vary depending on the beer that you choose.
This time, you want to be looking for a craft beer. Porters are a good choice here, especially those that have notable coffee or caramel flavors. These wines are exceptional if your brownies are rich and chocolaty.
Dark beers can be appealing too, especially if they have some smokiness to them.
And, of course, you could look for beers that have chocolate flavors. This type of same-same pairing is an easy way to avoid any clashing flavors.
Chocolate Cake and Black Chocolate Stout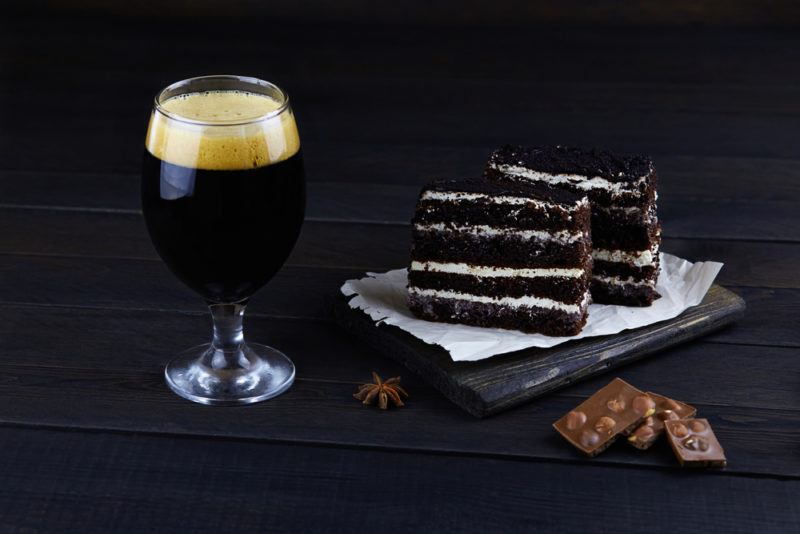 Many stouts will pair with chocolate cake, as stout already has some chocolatey notes from the roasted malt that is used. However, some breweries create brews that have an even more intense chocolate flavor profile.
Pairing a chocolate-focused beer with a chocolate cake might sound too obvious, but the combination simply works. If there's too much chocolate going on, you could look for a chocolate cake with some extra flavors, like a chocolate orange cake.
You can take an entirely different approach too. Rather than pairing your chocolate cake with a chocolatey beer, look for a beer with complementary flavors instead. Any flavor that is often included in chocolate will work well, like raspberry or cherry, which are both featured in some types of beer.
Caramel flavors are another obvious choice that should match well with your beer.
IPA and Carrot Cake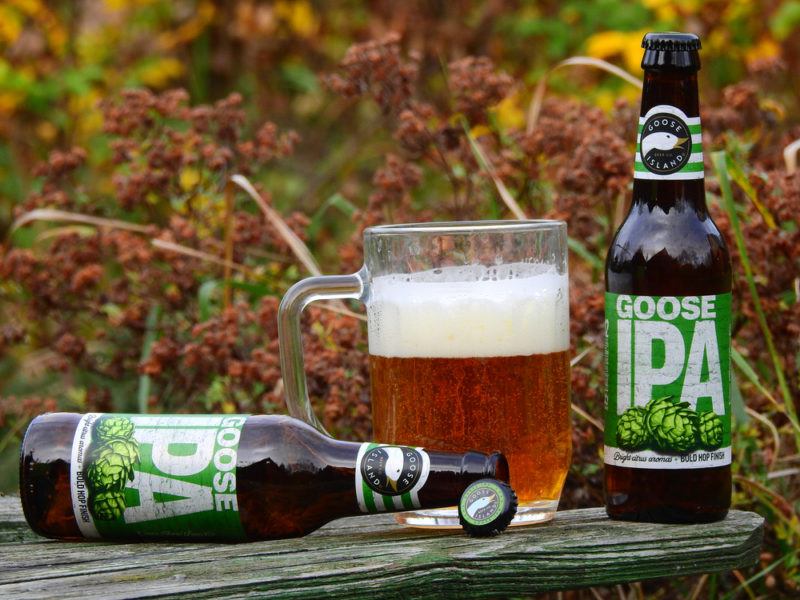 There's no doubt about it. This pairing is unusual. IPA doesn't seem like it should pair well with many foods and certainly not with carrot cake.
Still, the pairing is less strange when you think about it, as a carrot cake has some earthy and nutty flavors, along with a little bit of sweetness. The right IPA will naturally balance out those flavors, giving you an enjoyable experience all around.
Dark Chocolate Desserts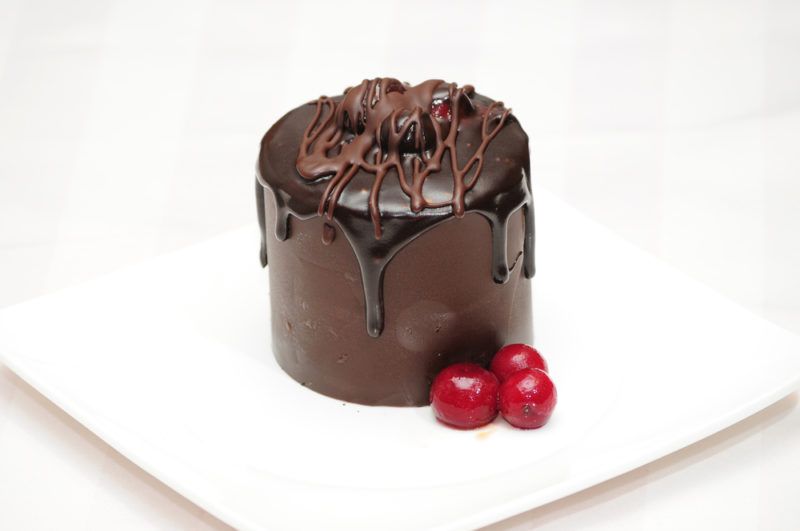 If your dessert relies on dark chocolate, then a dark and toasty beer will pair well. You get a melding of the bitter features of your beer and of your chocolate, which then creates an interesting flavor complexity.
Don't worry though, this combination isn't overwhelmingly bitter. You're getting enough bitterness to be interesting and refreshing.
Fruity Desserts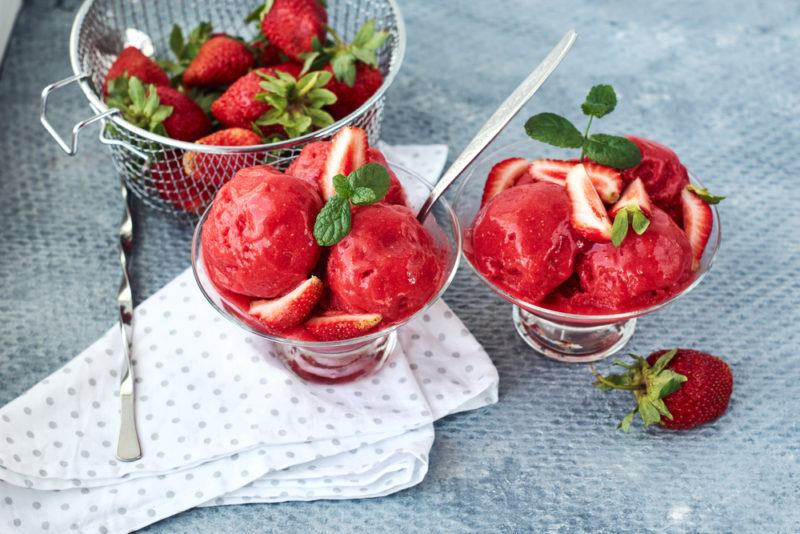 On the other hand, if your dessert is very fruity or sweet, then a fresh fruit-focused beer can help to cut through some of the sweetness. The beer also contrasts some of the acidity found in sweet fruit, which is appealing too.
Some combinations that follow this approach are as delicious as they are surprising. Try pairing a fruit beer with jam doughnuts, and you'll see what I mean.
So, in general, you're trying to match a sweet beer to a sweet dessert, and a bitter beer to a bitter dessert. Sound counterintuitive? Don't worry. Pairings like this taste amazing, even when they sound a bit questionable on paper.
Spirits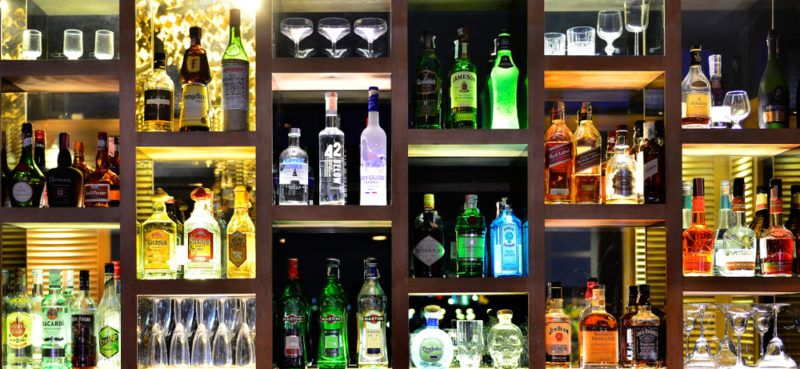 In the quest for perfect dessert pairings, straight spirits are easy to overlook. Yet, there are some exceptional pairings to be had if you keep your mind open to new ideas.
A Glass of Bourbon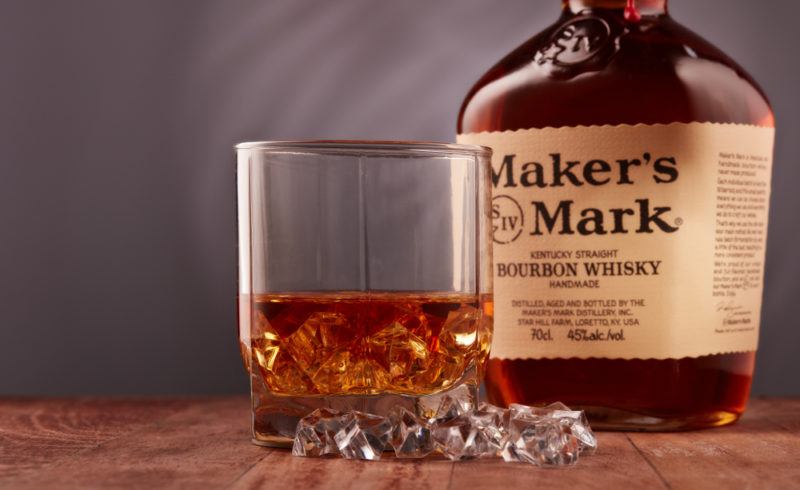 Consider a simple glass of Kentucky bourbon, served neat. The spirit has enough interesting flavors to complement a surprising array of desserts.
Pumpkin pie is a good dessert to start out with. It's easy to see how the smoky and caramel tones of bourbon easily work with this dessert, bringing it up to a whole new level. Other pumpkin desserts can be delicious with bourbon, along with most bread puddings.
You don't need top shelf whiskey to make this pairing work either. You just need something that tastes decent when you're drinking it neat. So, steer away from the cheapest of the cheap and look for something closer to the middle of the range.
Pairing bourbon with a chocolate dessert or fudge works well too. This time, you need a fairly robust bourbon or it will be overwhelmed by the flavor of your dessert.
Rum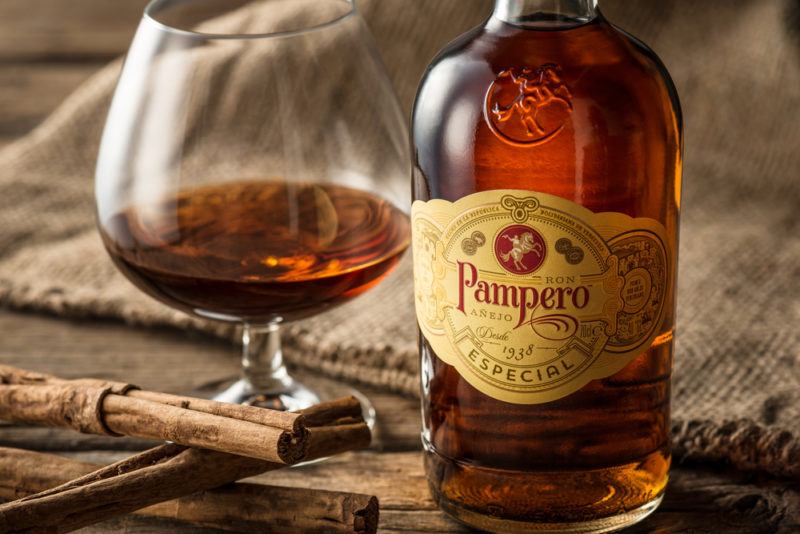 Neat rum can be used to pair with desserts too. Aged rum is the best choice here, as it offers complex flavors that can also be quite elegant.
As a starting point, try a small glass of rum with milk chocolate covered caramels. The combination should be even better than you expect. You could also turn to desserts that focus on milk chocolate and caramel. There are plenty of these to choose from.
Even just squares of plain milk chocolate will pair well with neat rum.
Japanese Whiskey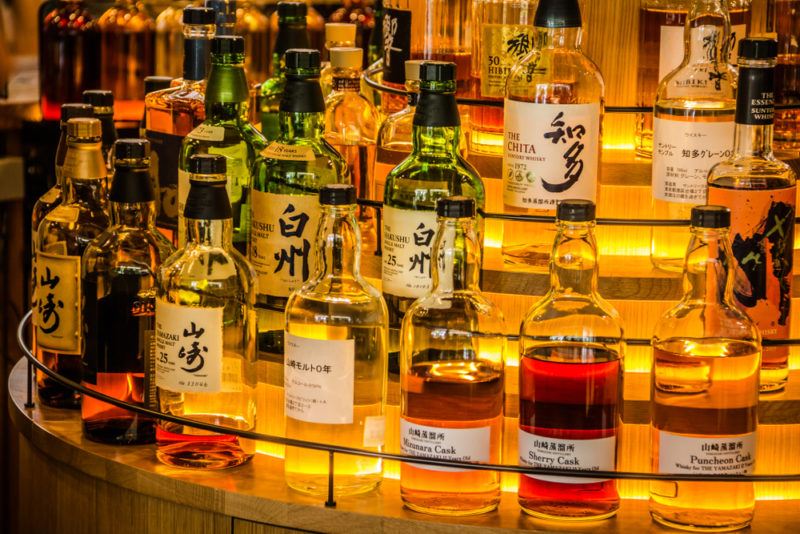 Japanese whiskey is still finding its feet in the U.S., but it is well worth trying. The style is a little like Scotch, but there are notable differences too. If you're trying the whiskey for the first time, pairing it with a dark chocolate and almond bar is as close to perfection as you can get.
Besides, pairing chocolate with whiskey is much easier than finding a good chocolate and wine combination.
If you don't have Japanese whiskey on hand, you could pair the same chocolate with a Scotch instead.
Any Whiskey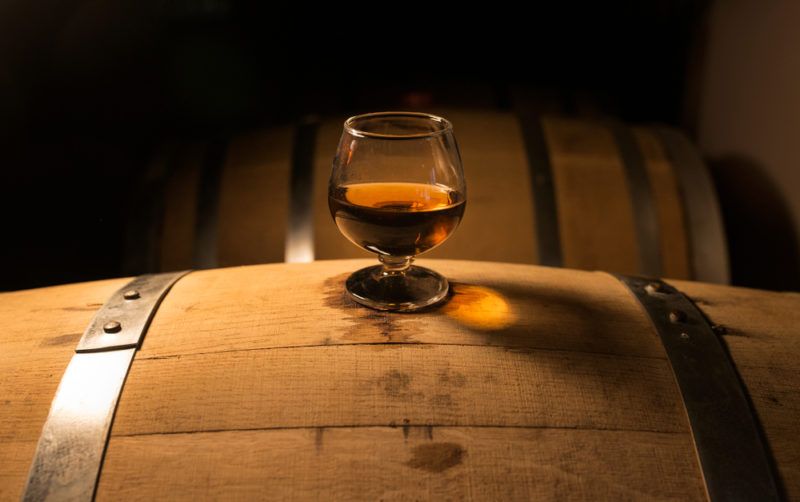 We've talked about bourbon and Japanese whiskey, but really, any type of neat whiskey is going to pair well with plenty of desserts. Dark chocolate with orange peel is a perfect place to begin. The combination ends up being simple, elegant, and surprisingly powerful.
This is also a simple option at the end of the day. You just need to break off a piece of chocolate and pour the whiskey. That's much easier than needing to make your dessert and perhaps mix a cocktail too.
Serving whiskey with bread and butter pudding works well too. You have plenty of complementary flavors to play with. You could even include whiskey in the pudding itself.
Irish whiskey may be the best choice here, but don't sweat it if you prefer a different type of whiskey instead.
Cognac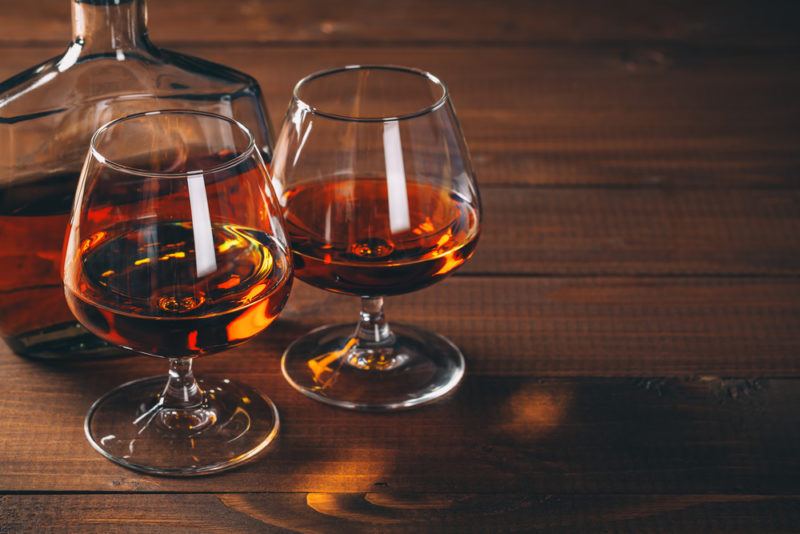 If you enjoy drinking a glass of cognac slowly, then fudge is the perfect counterpoint. Most types of fudge will pair well with most cognacs, but if you want to get creative, try choosing a fudge that matches the herbs and fruit tones in your cognac.
You could also try infusing your cognac with an herb and then matching this flavor.
For example, cognac infused with lavender is a good match for desserts that use rosemary, like rosemary shortbread or a lemon rosemary cake.
Gin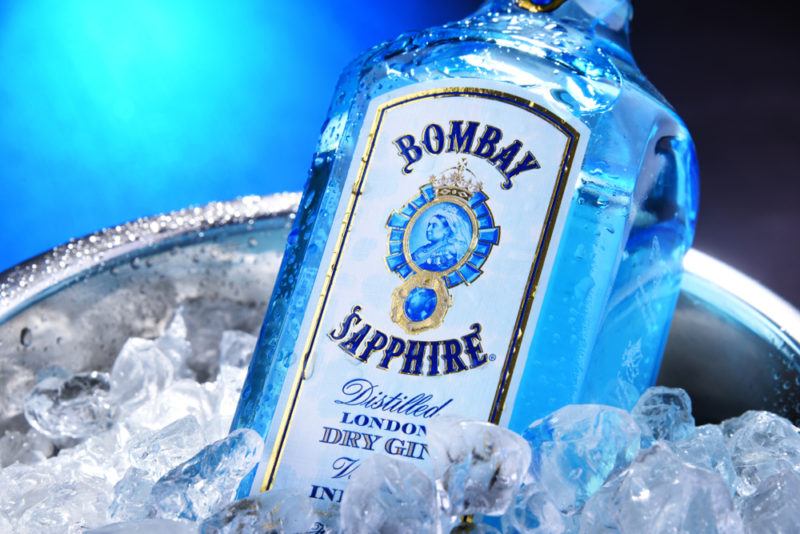 Gin is mostly served in cocktails, but you can sip it straight as well. Drinking gin neat is a fantastic way to experience the nuances of all the botanicals in your gin. You often miss some of those when you're using the gin in a cocktail.
While there are many desserts you can try here, a cherry pie is one of the best places to begin. The sweetness of your pie serves as a fantastic contrast to the savory nature of the gin. At the same time, you're able to savor all the complexity that your gin has to offer.
Gin can also pair well with white chocolate. This works because white chocolate tends to be sweet, so the floral nuances in your gin are a delightful contrast.
Vodka

Vodka might seem like an unusual choice, as the spirit is mostly flavorless. But, there are still some flavor nuances in vodka, especially if you're focusing on a high-quality spirit.
The right dessert will allow you to enjoy these flavors and stand up to the vodka's alcohol content. Lemon bars could be a good option here, as you have plenty of sweetness and vibrancy from the dessert.
Gingersnap cookies are another interesting, albeit entirely different, pairing that you can try.
Other Options
Warm Cider and Salted Caramel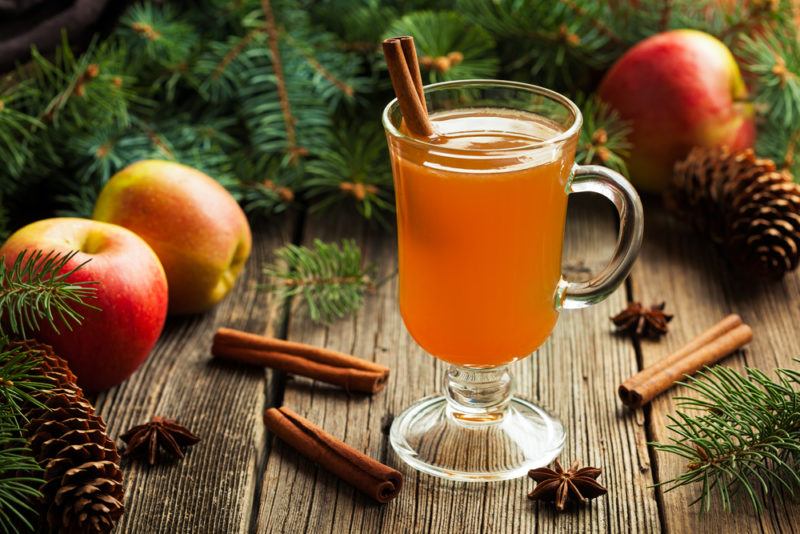 For a salted caramel dessert of any type, consider a warm apple cider as a pairing companion. The recommendation is easy to understand, as apples and caramel are often combined.
This choice has another advantage too – you can make it alcoholic or non-alcoholic. The difference is just in the type of cider that you choose.
You can pair warm apple cider with other types of desserts too. Look for ones that naturally complement apples, like a cinnamon-focused dessert. Or, how about pairing apple cider with an apple-based dessert, like apple compote?
Limoncello and Gingersnap Cookies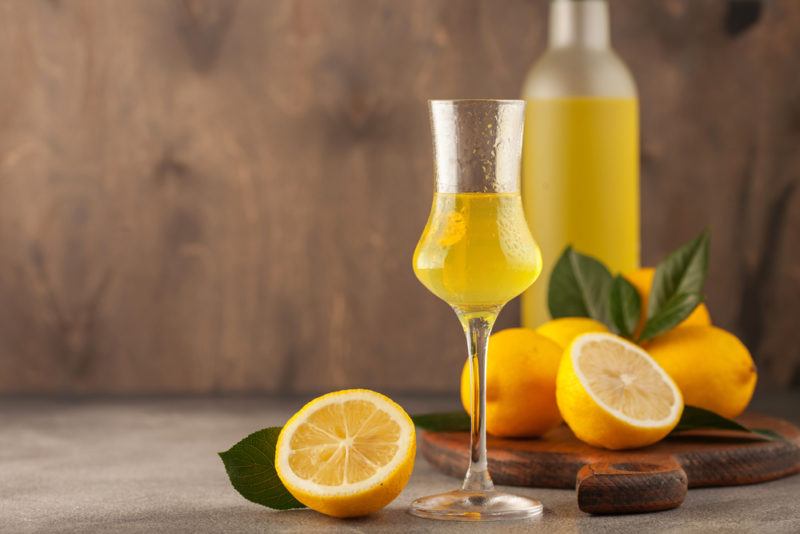 While dessert and drink pairings often rely on complementary flavors, this isn't always the case. This pairing focuses on a contrast instead.
And, more importantly, the limoncello helps to cleanse the palate between bites. This is particularly relevant if you're focusing on gingersnap cookies with plenty of spice. When your cookies are intense like that, cleansing the palate becomes critical.
Tea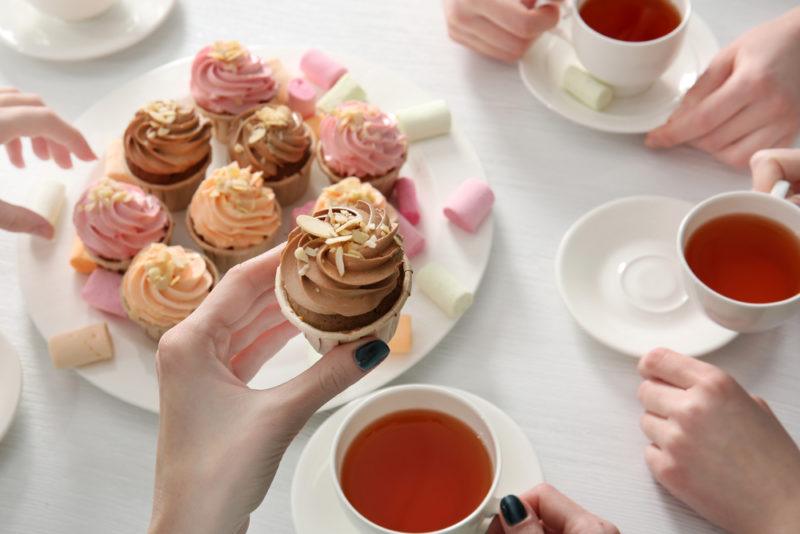 Did you know that tea can pair with desserts in the same way that wine can? Both types of drinks come in many styles and have both subtle and complex variations in flavor.
The catch, in both cases, is that you need to think about your pairings carefully. Some combinations of flavors will work exceptionally well, while others simply won't.
We're not going to dig into tea and dessert pairing much here because we've discussed this at depth in another post. We also have a post on tea and pastry pairings. Both of those posts can help you work out the best teas to serve with your desserts.
You can get started with a single idea – match the strength of your tea and your desserts to one another. If the tea has a robust flavor, it will need a dessert with just as much going for it. On the other hand, mild teas can easily be overwhelmed by strong desserts.
Chocolate Fudge with Hot Chocolate

Drink pairings don't always focus on contrasting flavors. Sometimes you can match flavors instead, like serving chocolate fudge with hot chocolate.
Honestly, why not? Chocolate is always amazing and a little more of it rarely goes amiss.
Chilled Lychees with Hot Jasmine Tea

Lychees and jasmine tea are sometimes combined in the same drink (like in a sparkling strawberry lychee jasmine tea), so it's clear that the flavors work well. Serving lychees with jasmine tea is simply the next obvious step.
Chilling your lychees first isn't at all essential. It's worth doing so though, as this approach provides a nice temperature contrast between your fruit and drink. Chilling the lychees also allows their flavor to pop even more.
Carrot Cake with Coffee

While coffee works well with many desserts, pairing it with carrot cake has to be one of my favorite options. This combination works well partly because coffee often makes us crave something sweet.
Carrot cake hits that need without being too over-the-top. The flavors of coffee and carrot work well together too, especially if your carrot cake includes a touch of cinnamon.
Chocolate Creme Roll with Peppermint Tea

The combination of chocolate and peppermint is tough to beat. This is why it features in so many desserts and sweet treats.
This means that you could really have peppermint tea with pretty much any chocolate dessert. A chocolate cream roll is particularly good, as you have some interesting texture contrasts going on.
Final Tips for Dessert and Drink Pairings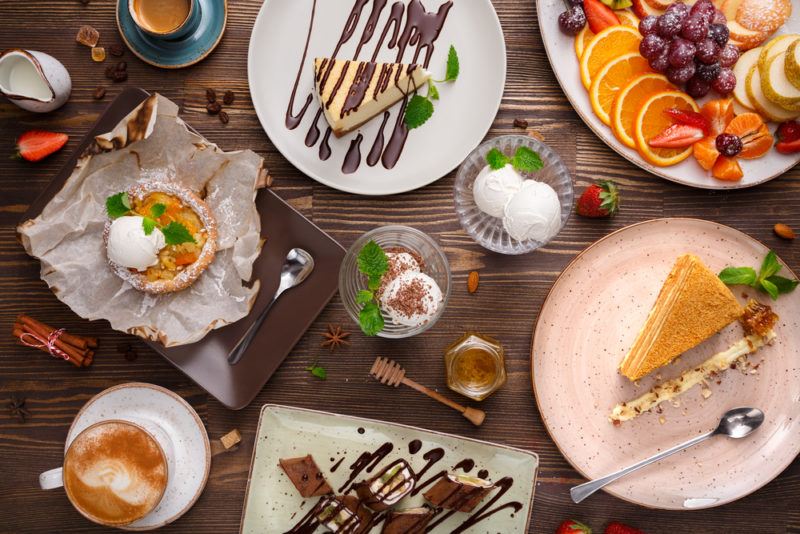 We've covered a lot in this post, and yet, we've also barely scratched the surface. There are countless other pairings of drinks and desserts that will work just as well.
So, we're going to leave you with a few tips and tricks for your own pairings.
The first is simple – go with what you like. We all have our own drink and flavor preferences, which influence what we enjoy. For example, if you don't enjoy wine, pair your dessert with a cocktail or some beer instead.
Who cares if your choice isn't 'correct'? All that matters is whether you enjoy the balance of flavors and textures.
This brings us to the second idea – experimenting.
Don't be afraid to try out new things, including combinations that don't seem like they should work. Some of the best food pairings are the ones that you never expected.
The final tip is to pay attention to flavor. The dominant flavors in your drink play a key role in the food and drink pairings that work the best. You're looking for flavors that complement or contrast one another. So, pay attention to classic pairings – like a pumpkin flavor in one item and spices in the other. Chocolate and coffee is another option.
You can probably think of many more.