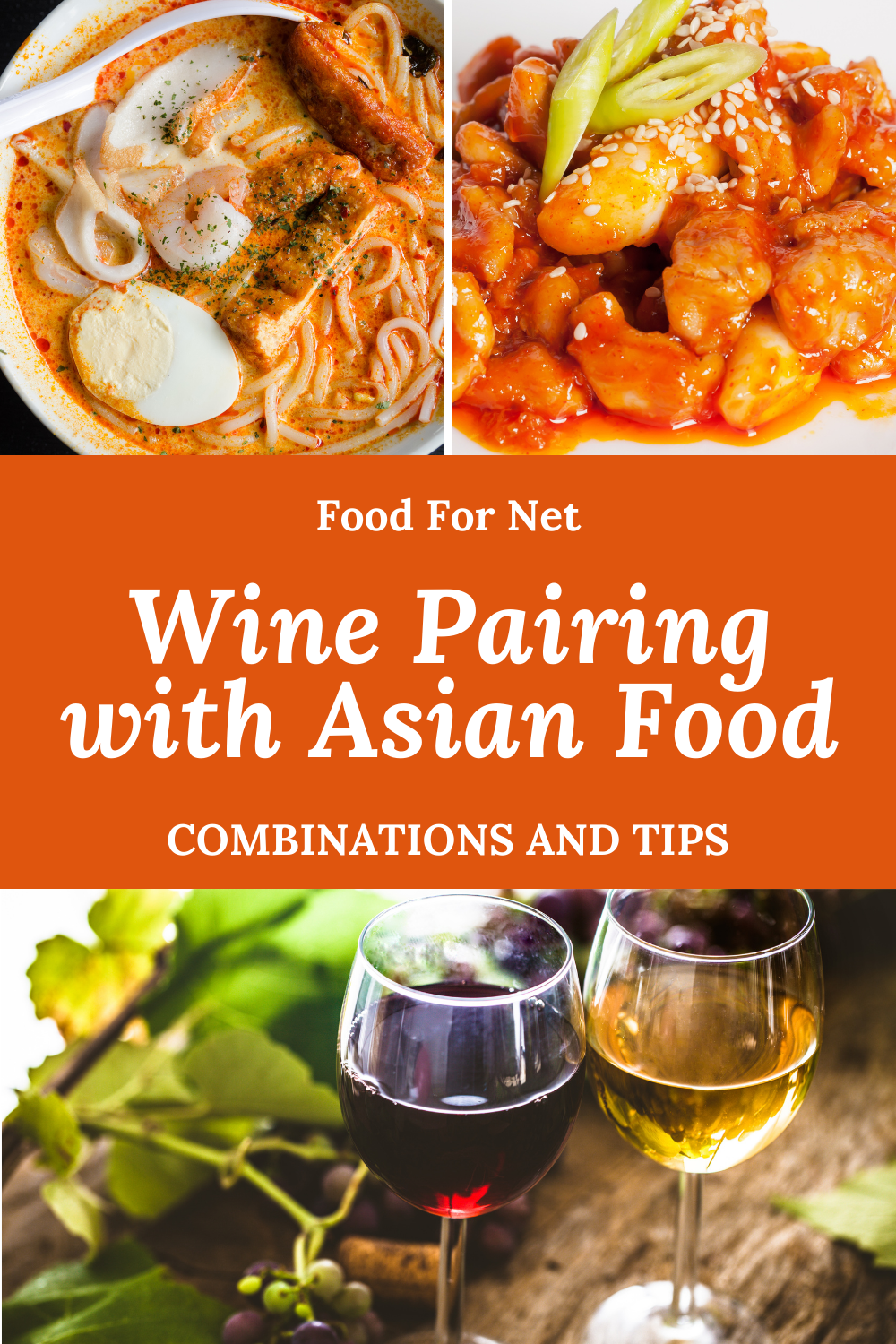 Wine can be served with countless meals, regardless of whether you're eating something that took hours of preparation or a meal that you threw together in five minutes. But, to get the best outcomes, you need to pair the wine you choose with your meal. With so many types of wine out there, trial and error often isn't going to be enough to help you find the perfect match. That's why today, we're talking about wine pairing with Asian food.
As you might imagine, the topic is a complex one. After all, we're not talking about a single type of food. We're looking at meals from multiple different cultures all at once, including Indian, Thai, and Chinese food, and each of these cultures offers a broad array of dishes and flavors.
That's not even counting all of the individual variations that you can make to Asian dishes. After all, meals like butter chicken or pad thai are always slightly different depending on who prepared them.
Thankfully, there are some general principles to follow, like the way that high acidity wines tend to pair well with most types of Asian meal, while aromatic wines are a good choice for aromatic dishes. Full-bodied or high tannin wines can be more problematic and need to be used with care.
We're going to take you far beyond basic principles with this post. We start off by talking about some specific wines that you can rely on, ones that will pair with many types of Asian food. When then talk about some specific types of food and how you can pair wine with these.
You can follow the advice in this post directly or you could use it as the starting point for your own experimentation instead.
Wine Pairing with Asian Food
The Wines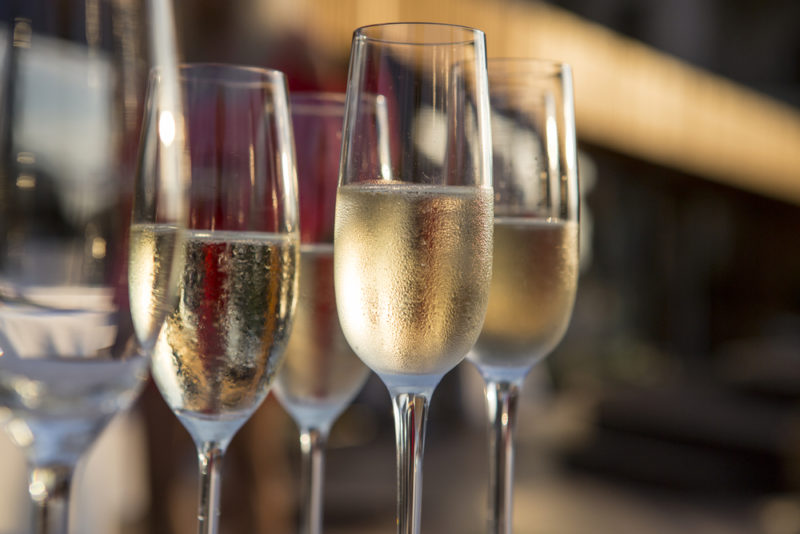 When we talk about wine and food pairing, we normally highlight specific dishes and go from there. While we will talk about some types of meals later on, we're going to start this post by talking about the wines. The reason is simple – there are so many different types of Asian meals to choose from.
Plus, the same wines will pair well with multiple dishes.
Starting with the wines gives you the chance to focus on types of wine that you already enjoy. After all, even the best wine pairing won't taste good if you hate the wine in question.
Besides, if you're part of a wine of the month club, you often won't know what type of wine you're getting each month. So, focusing on the wine first is the most powerful approach.
Gewürztraminer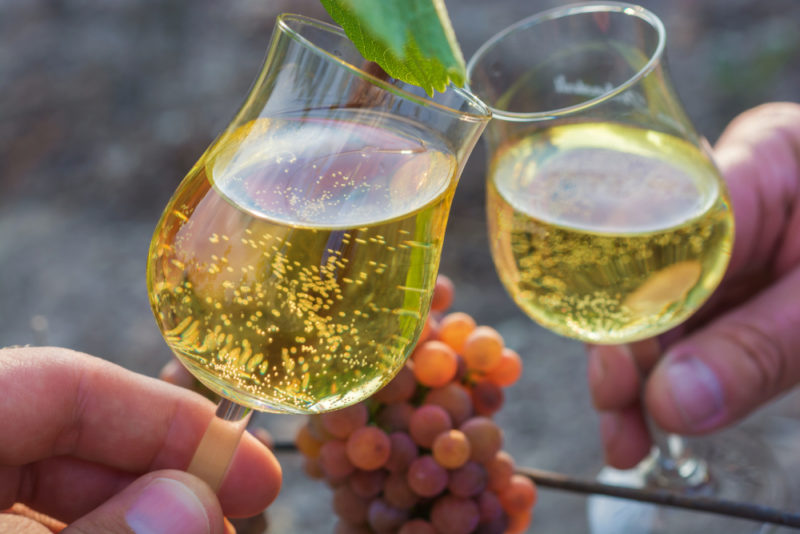 Gewürztraminer has some similarities to Moscato, as both are white wines that can be quite sweet. However, there are plenty of off-dry versions of gewürztraminer that you can turn to instead, which work well with Asian foods. In fact, off-dry white wines are one of the best starting places when you're looking at Asian food wine pairing.
With an off-dry gewürztraminer, you end up with a slightly sweet wine that has a notable aroma. It is strong enough to stand up to the flavors of your meal and balance them out, without getting overwhelmed in the process.
Other types of gewürztraminercan work well too, due to the acidity and flavor notes in your meal. You can even pair a gewürztraminer with a spicy Asian dish. This is a powerful feature, as many wines struggle when faced with a strongly-flavored spicy food, but gewürztraminer manages the balance with grace.
Riesling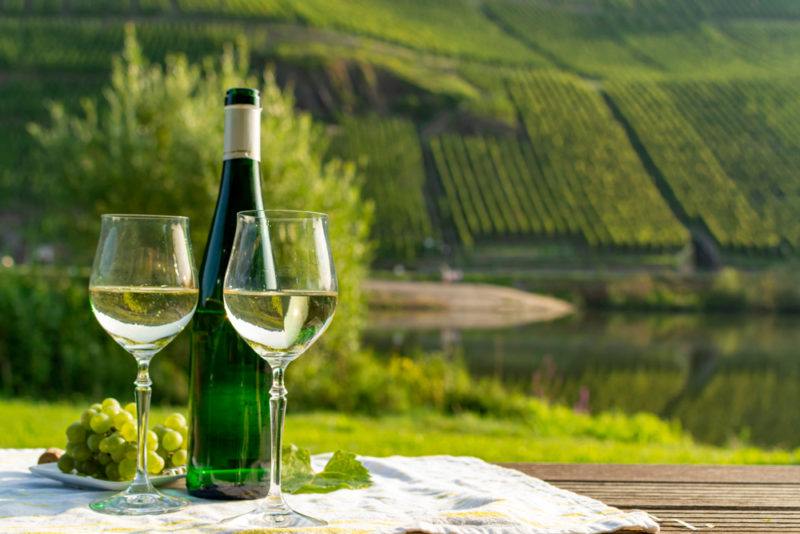 Riesling featured heavily in our lists of Chinese and Thai wine pairing, so it's not too surprising to see the wine here as well. Riesling is an aromatic wine of German heritage. It is well known for having strong orchard fruit aromas, along with notable acidity.
Riesling is often produced as a sweet wine, where the sweetness provides a perfect counterpoint to the acidity of the wine. However, dry and off-dry versions are common as well.
The wine works well with Asian food, as the acidity provides a nice contrast, while the wine remains vibrant and isn't too heavy. The balance of sugar and acidity can also be a natural contrast to dishes with intense flavors or some spiciness.
If you're pairing with a spicy or complex dish, like Kung Pao chicken, look for an off-dry riesling. The added sweetness here prevents your meal from seeming too spicy and provides a nice balance instead.
Asian meals that rely on coriander and chilies can be exceptional with a riesling too. Here, the riesling acts as a fresh and vibrant contrast to your meal.
German riesling is often recommended as the absolute best choice and the characteristics of the wine just cannot be beaten. While there are plenty of differences between German rieslings, you'll often find that these wines far outshine bottles of riesling from elsewhere in the world.
Sauvignon Blanc

Here's another wine that you'll often see featured and, like riesling, it's an easy type to find. However, there are some distinct differences between sauvignon blanc and riesling, differences that mean one type of wine sometimes works better than the other.
Sauvignon blanc is known for being a dry white wine that offers a combination of fruity and herbaceous notes. It often complements herb-based dishes well, along with vegetables. Sauvignon blanc can also help to enhance the citrus flavors of some meals, so you might use it in dishes that rely on lemons or lemongrass.
The wine is also excellent with some of the strong flavors in Chinese meals, such as ginger, garlic, and even soy sauce. You can even pair sauvignon blanc with some spicy meals, as long as the level of spice isn't too high.
Sauvignon blanc from New Zealand is often recommended, as this type of sauvignon blanc tends to have richer herbaceous notes, giving you the best possible outcomes.
Chenin Blanc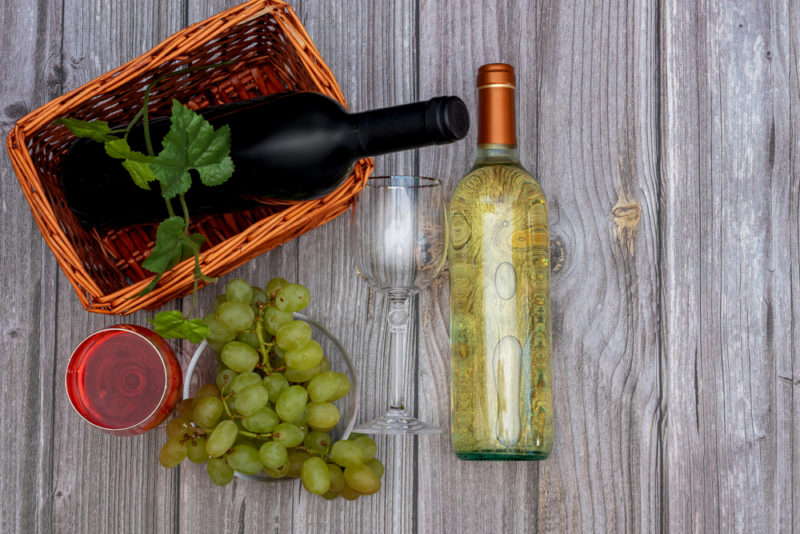 Chenin blanc is a white wine that is often planted in France and South Africa. It isn't nearly as well known as some of the more popular whites, like chardonnay and riesling, but chenin blanc is still delicious. It also makes a nice change from the more wine varieties.
A notable feature is that the wine is produced in many different styles. This includes dry and sweet wines, sparkling and still, and even some brandies.
The wine tends to have high acidity and a sweet flavor profile. It works exceptionally well with dishes that also have sweet and sour flavor profiles, which includes various Asian meals. Chenin blanc also pairs well with foods that are citrus-heavy.
Viognier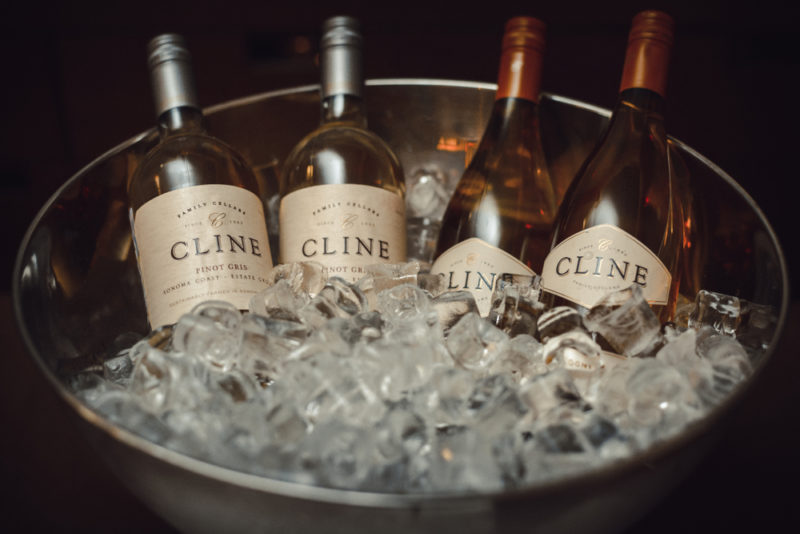 Viognier isn't commonly recommended for Asian food, as the wine is low in acidity and has a relatively high alcohol content. These features make the wine sound like a poor choice. Yet, viognier is also a fragrant wine, with notes of honeysuckle and sometimes white pepper.
The strong aromas and peppery notes of viognier bring much more to the table than wines like riesling. This can be a good thing if the dish that you're serving can handle it.
For this wine, you'll need full-flavored Asian dishes, such as those that rely on coriander root and peppercorns. If the meal is rich in flavor, then a pairing with viognier should be an excellent choice all around.
Rosé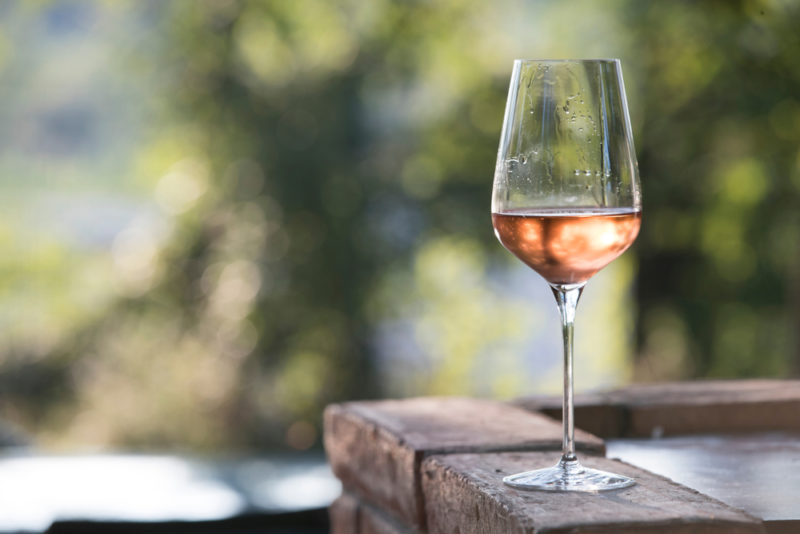 While rosé is a versatile type of wine, it pairs better with some Asian dishes than with others. It is best suited to dishes that use pork as the main type of protein, such as sweet and sour pork, pan-fried pork and dumplings, or roast pork meals.
Still bottles of rosé will normally be the best choice here, but some meals may be just as delicious with a bottle of sparkling rosé instead.
You can also pair rosé wine with a strong spicy Asian meal. This combination might sound a little strange, but a rosé does have enough body to pull it off. This time, a sparkling rosé can be an even better option than a still one.
Merlot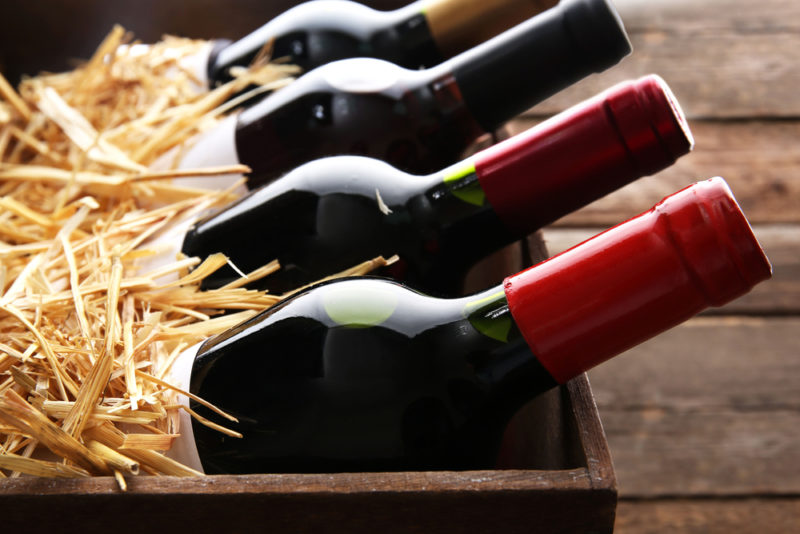 Red wines are a less common choice with Asian food, as the pairing can be more difficult. After all, you're working with meals that often have intense flavors, then trying to add in a rich wine that might be high in tannins. It's not surprising that many red wine and Asian food pairings simply don't work.
Still, there are exceptions, especially for meals that use beef.
Try turning to merlot for meals that heavily rely on soy sauce, like a beef stir-fry. The fruitiness in the wine makes for an excellent pairing here.
Beaujolais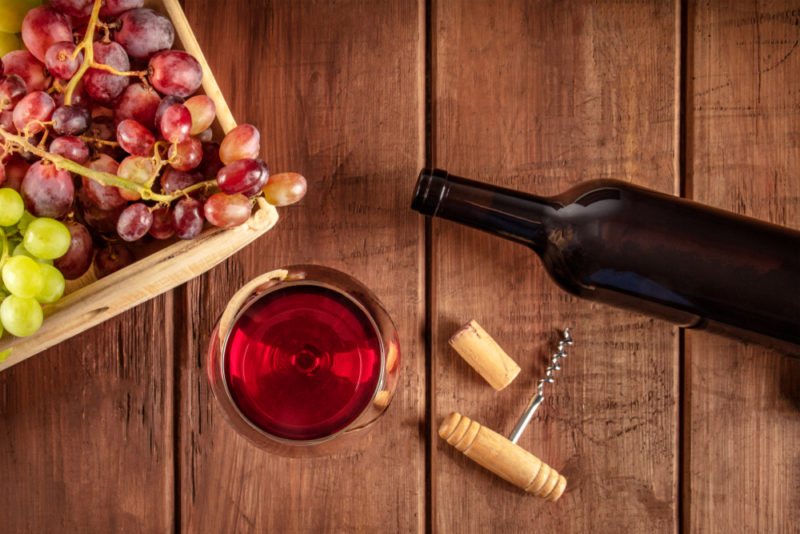 Beaujolais is a red wine that comes from the Beaujolais region in France.
The region is most well-known for Beaujolais Nouveau. This is a specific type of Beaujolais red wine, where vineyards aim to bring their wine to market very quickly. The fast turnaround between grape harvesting and wine bottling influences the quality of the wine.
Not surprisingly, Beaujolais Nouveau has a mixed reputation. Some people love the wine, while many others feel like it is a bit of a gimmick.
Regardless, other wines come out of the Beaujolais region too and some of these are better choices for pairing with Asian food. Look for wines that aren't labeled as Beaujolais Nouveau, ideally ones that have a strong fruity flavor profile. This fruitiness can be perfect for spicy meat dishes.
Syrah/ Shiraz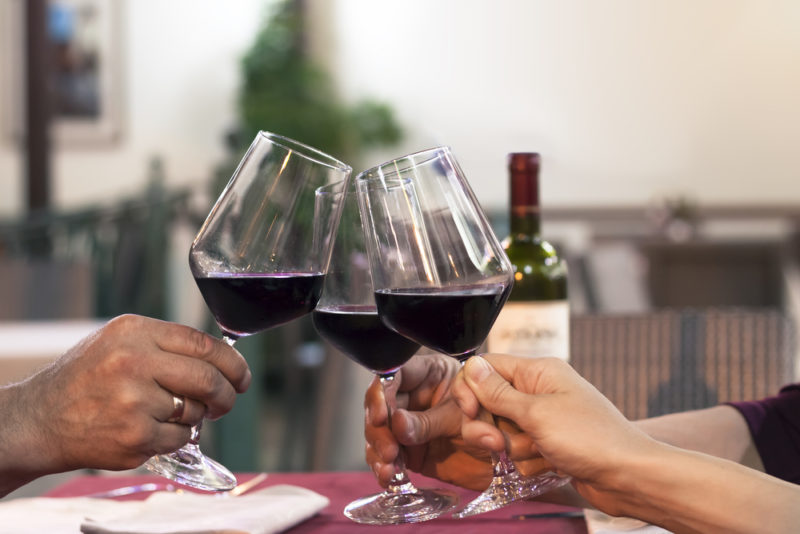 Syrah and shiraz are often seen as two types of wine, but they both rely on the same grape variety. Shiraz might be considered the more concentrated of the two, with a fuller body and riper flavors, while syrah can be more restrained, with floral aromas.
However, those are just generalizations. There are no clear-cut distinctions between the two types of wine, as you'll see more variation from one producer to the next than between the wines.
So, you can run with a syrah or a shiraz for this wine pairing. The wine is excellent when matched to a teriyaki-style beef dish. Korean meals can pair well with a syrah or shiraz too, especially those that use a smoky-sweet combination of spices, along with plenty of garlic.
Zinfandel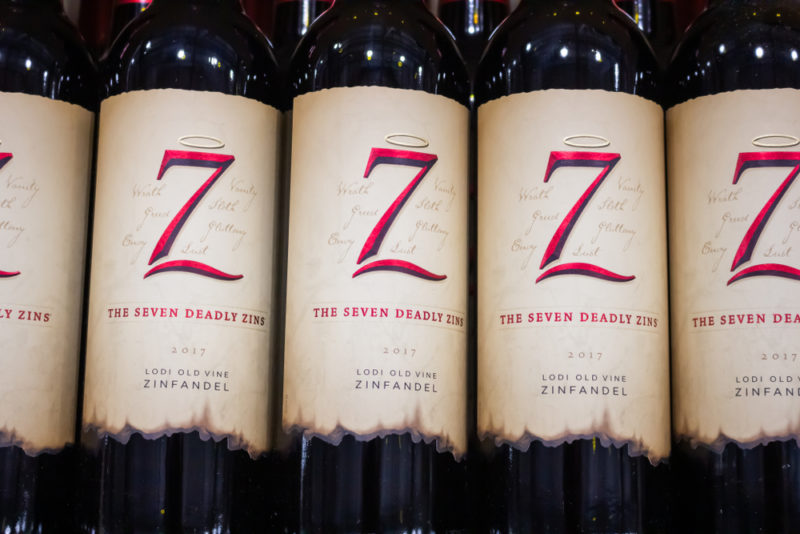 Zinfandel is a more intense wine, with notable tannins and spicy flavor tones. It also has a high alcohol content, which means that it won't pair well with many spicy or rich Asian meals.
The wine does, however, perfectly complement a select few dishes. Asian barbecued ribs is one example where you want to be pairing with zinfandel and nothing else. The wine can stand up against the spicy/sweet marinade, along with the fat of the ribs, and any charring from the barbecue.
Zinfandel even does the job well if your marinade is notably spicy, as the fruitiness of the wine helps to enhance the flavors of the marinade without competing against them.
Southern Red Wines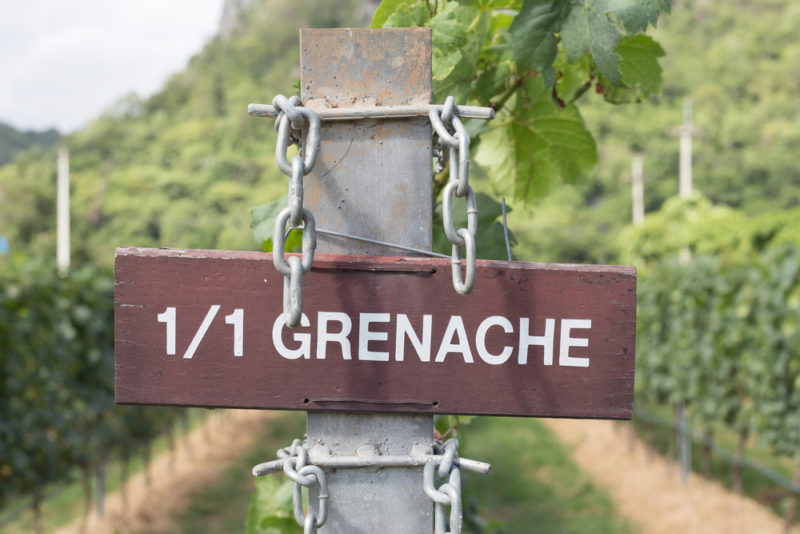 Syrah comes from the south of France and other wines for this part of the world can be appealing with Asian food as well. Grenache, for example, offers notable fruitiness, along with slight peppery flavors.
The red wines from this region do have their differences, but whether they're varietals or blends, many of them tend to have moderate tannins. This type of tannin balance is important, as strong tannins with Asian food risks making the wines taste bitter.
Round Italian Red Wines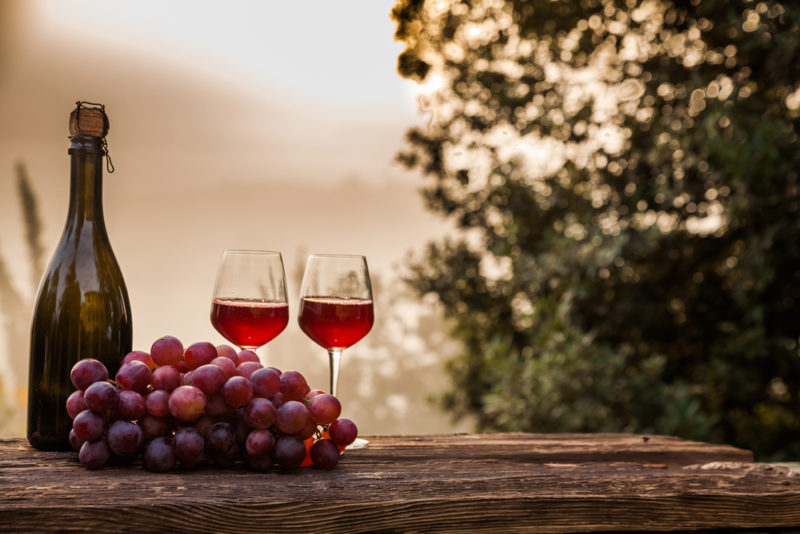 Here's another general wine style to consider. There are various options here too, including Sangiovese, Barbera, and Dolcetta. The wines all tend to have some notable acidity, while the tannin content remains on the low side.
These wines are especially good when you're pairing them with pork or beef hot pots. Look for meals that rely on garlic or peppercorns as well, as these flavors are excellent with the wines as well.
And, of course, many of these Italian red wine styles are produced in California as well. The Californian versions of the wines have some notable differences, but they're similar enough that you could easily focus on wines produced in California rather than in Italy.
Sparkling Wine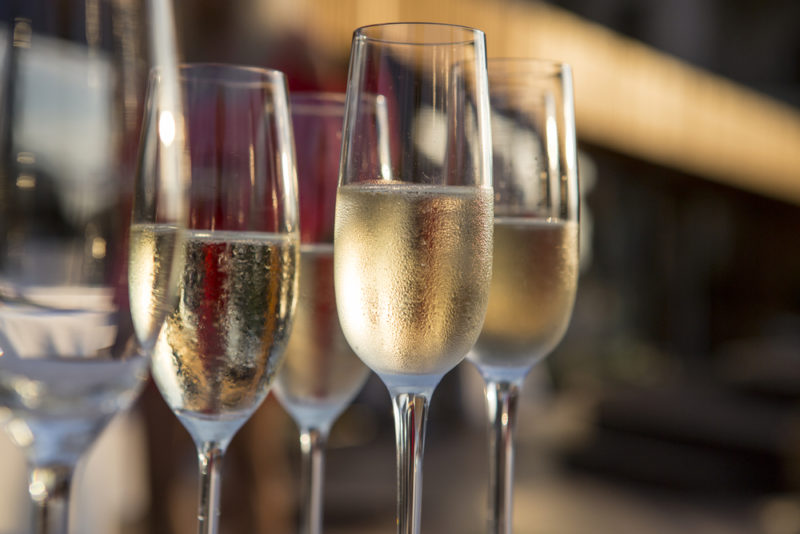 Sparkling wine does work with some Asian dishes, but you'll need to be careful, as the wine can strongly clash with other meals. In particular, try to avoid sparkling wines when you're serving Asian meals with complex flavors and those that are heavy on spice.
Lighter meals, on the other hand, are a perfect choice. Try pairing a sparkling white wine with sushi (even if you're eating the wasabi too). The sparkling wine is refreshing and helps to clear your palate between bites.
The Foods
Spicy Meals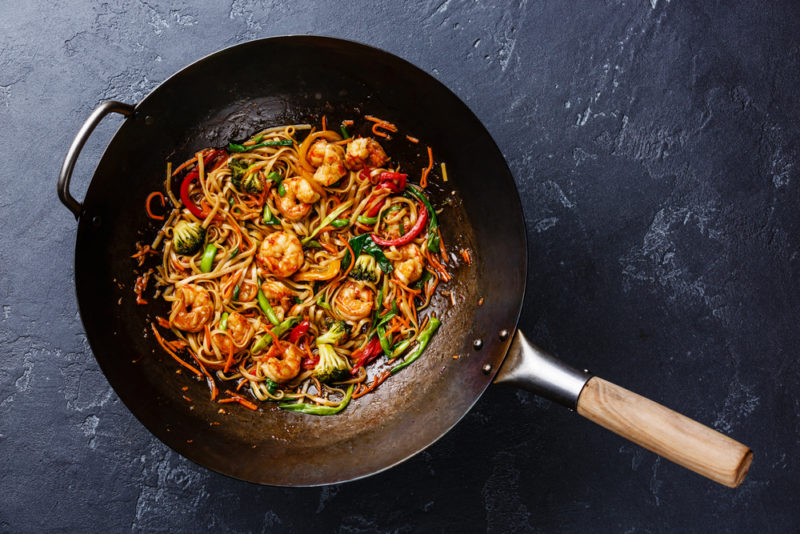 If your dish is spicy, then you'll generally want a vibrant wine, perhaps one that is also aromatic. This means that high tannin red wines tend to be a poor choice, as are rich white wines like chardonnay.
Many of the wines that we highlighted earlier will be excellent here. For white wines, consider a pinot gris, riesling, sauvignon blanc, or perhaps a gewürztraminer.
Red wines are harder to pair, but you could look at a pinot noir or a merlot. A Beaujolais can be appealing too if your spicy meal relies heavily on meat. The meat adds extra complexity of flavor to your dish, so it can handle a richer wine.
And, of course, don't forget rosé. This type of wine is a flexible pairing choice. It is exceptional with many meals, including some that you might not expect. This versatility makes rosé a fantastic choice if you're serving multiple dishes at the same time and there's little risk that the rosé will clash with the flavors of your meal.
Stir-Fries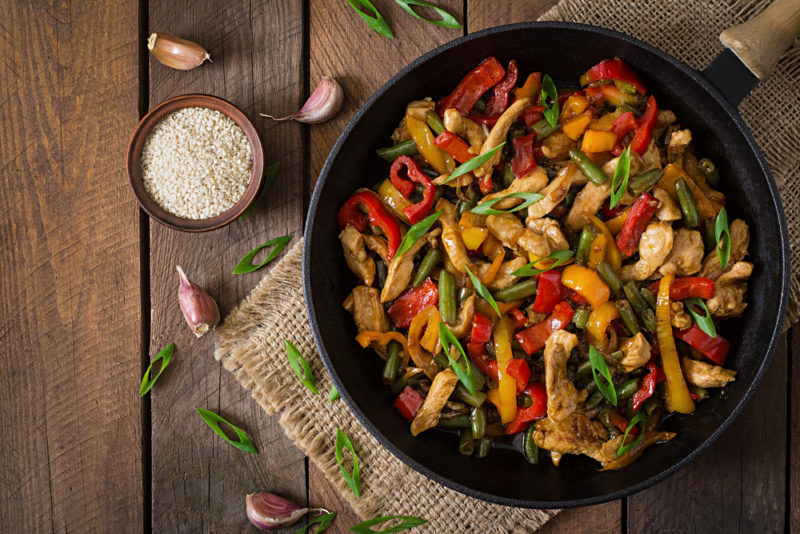 Stir-fries often rely on heavy sauces and strong flavors. This allows you to use a fuller-bodied type of wine, like chardonnay. Look for one that has a decent depth of flavor.
A chardonnay from California or Burgundy, France is the ideal option here. Both regions are known for their chardonnays, giving you something very special indeed.
Meals with Orange and Lemon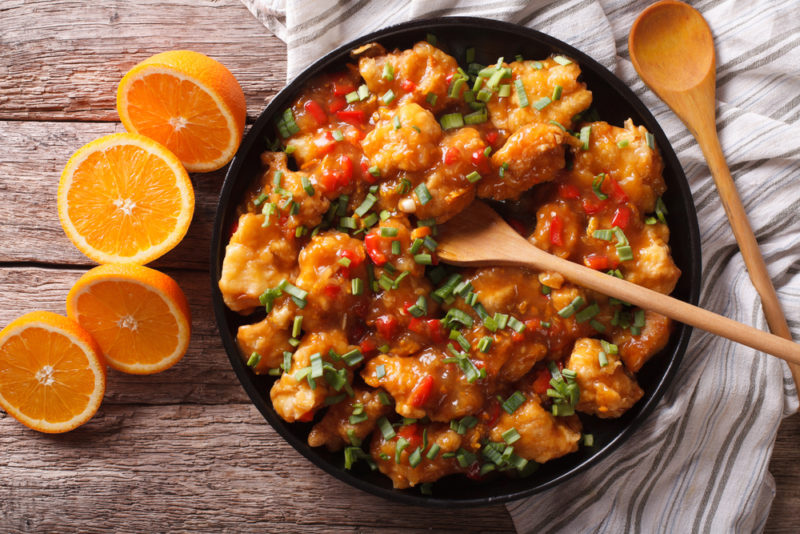 If your meal uses oranges, lemons, or lemongrass as key flavors, then look for wines that have citrus tones. Semillon wines are popular here, including young versions of the varietal wine. You can also look for a Semillon blend, like one that combines sauvignon blanc with Semillon or one that uses chardonnay and Semillon instead.
Riesling is another good choice, especially for dishes that rely on a lemon sauce. This is an easy combination because of the high acidity in riesling and the acidity of the lemon sauce. These two features complement one another nicely.
Curries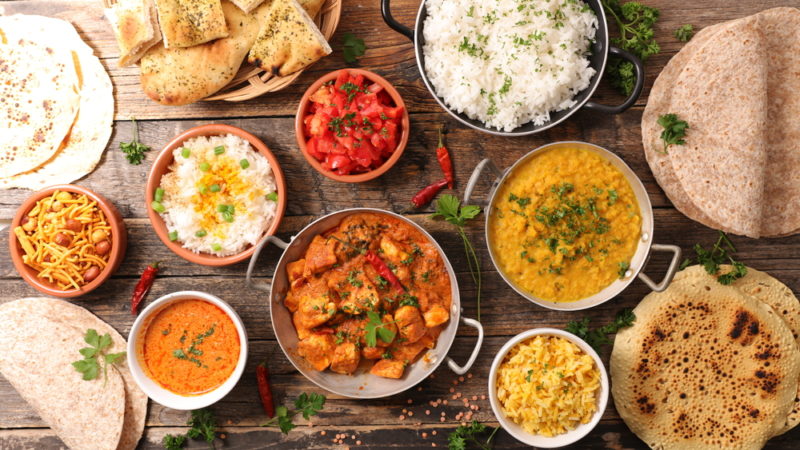 One of the main 'rules' of wine pairing is to match the strength of your wine to the strength of your food. So, if you're serving a rich curry with a thick sauce, you're going to need a strong wine to cope with it.
Red wines can be appealing here, including a syrah/shiraz or a merlot, but try to avoid red wines that have strong tannins or have been heavily oaked. Those characteristics will compete against the flavors in your curry, rather than complementing it.
Thai Foods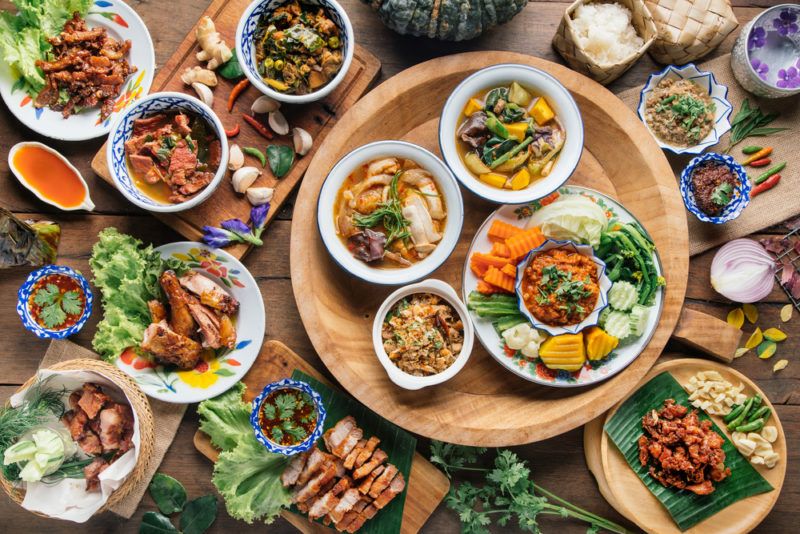 We've covered Thai food in a separate post, so we're not going to dig into the topic much here. But, in general, you're looking for wines that are fruity and are also dry. This style of wine is a natural complement to the balance of sweetness and saltiness that is present in many Thai foods.
An off-dry riesling is commonly recommended as well. The off-dry style means that the wine is a little sweeter than many other options. This can be ideal for dishes that have intense flavors or are spicy.
Chinese Foods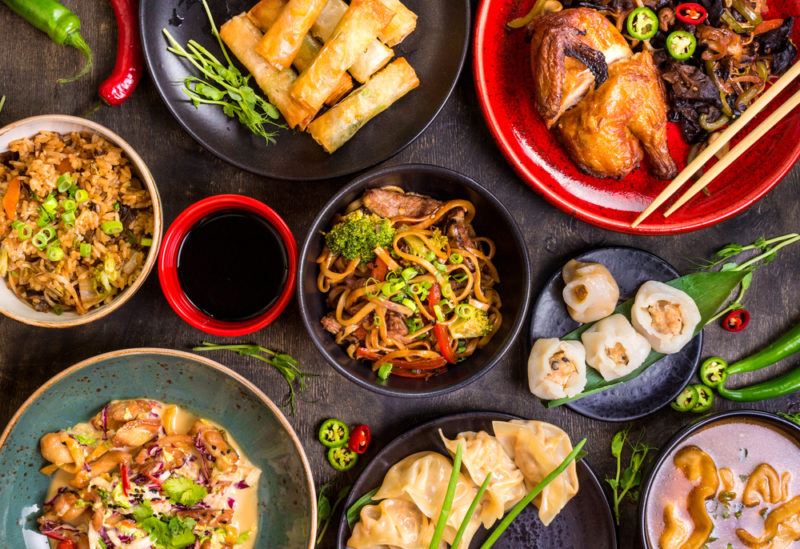 This is another topic that we've covered elsewhere. You can rely on many of the same wines that we've already talked about in this list, including options like riesling and sauvignon blanc.
Chinese meals can be delicate and perhaps a little sweet, which means that you can easily rely on a dry wine rather than an off-dry style.
You can even pair red wine with Chinese food, on occasion, although you'll normally be focusing on low tannin reds that are easy-to-drink. Pinot noir is the perfect place to begin here.
Japanese Foods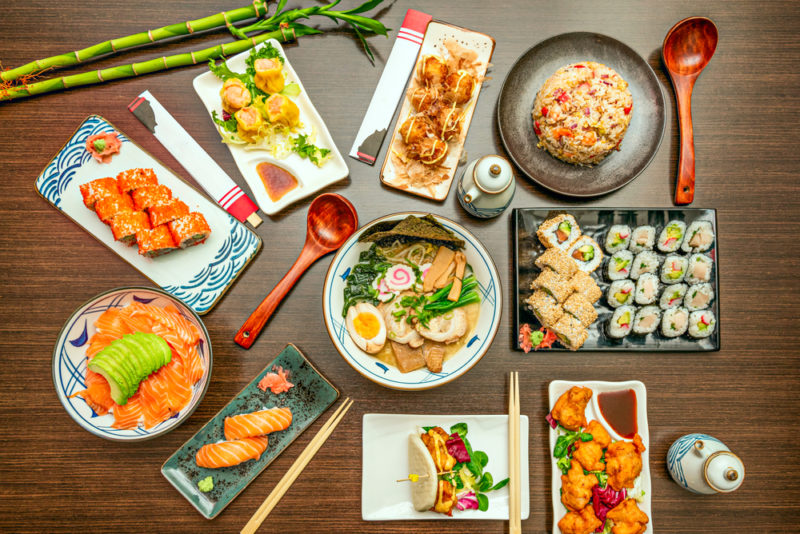 Matching wine to Japanese food can be a little more difficult, partly because there are often strongly flavored dipping sauces and related ingredients.
Thankfully, some of the same general principles do still apply and you can rely on the classics like riesling and New Zealand sauvignon blanc.
Sparkling white wine can be a surprisingly good match for Japanese food too. This includes champagne, along with less expensive sparkling white wines. Look for ones that have a decent amount of acidity, as this will contrast the food extremely well.
Red wines don't pair well with Japanese dishes. If you want a red, then a Beaujolais red is going to be one of the best options. The fruitiness and light body of this type of red wine is perfect, as you don't risk overwhelming your meal.
You could also look for a Grüner Veltliner. This is a relatively unusual type of white wine that is grown in Austria. It is a dry wine whose flavor profile can include green pepper and lime. These characteristics make it a good match to the bitterness and vinegar that is often present in Japanese meals.
Indian Foods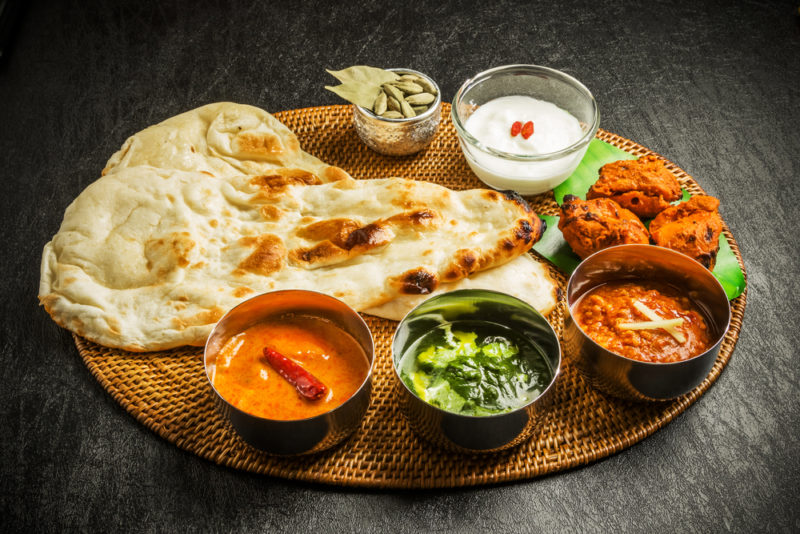 An off-dry riesling is a go-to choice for most Indian meals. This shouldn't be surprising, as we've already talked about this wine so many times. It remains the single best choice for Asian food in general, as the slight sweetness provides just enough contrast to your meal.
But, off-dry isn't your only option. You could focus on a sweet or a dry riesling instead. Both types work surprisingly well with Indian foods, especially as the wine isn't going to overpower your food.
A sparkling rosé is another style to consider. As we've highlighted before, rosé is always versatile. Sparking rosé has some extra advantages, as the bubbles provide a delightful contrast against the richness of your meal.
For those who would prefer a red wine, then a gamay is a fantastic choice. Gamay is a light-bodied red wine. It's similar to pinot noir in many ways, but gamay tends to have stronger floral aromas.
It can be easier (and cheaper!) to find a high-quality gamay wine compared to a pinot noir. This is another serious advantage. And, if nothing else, gamay wines are a nice alternative to pinot noir, which can get a bit boring after a while.
Taiwanese Foods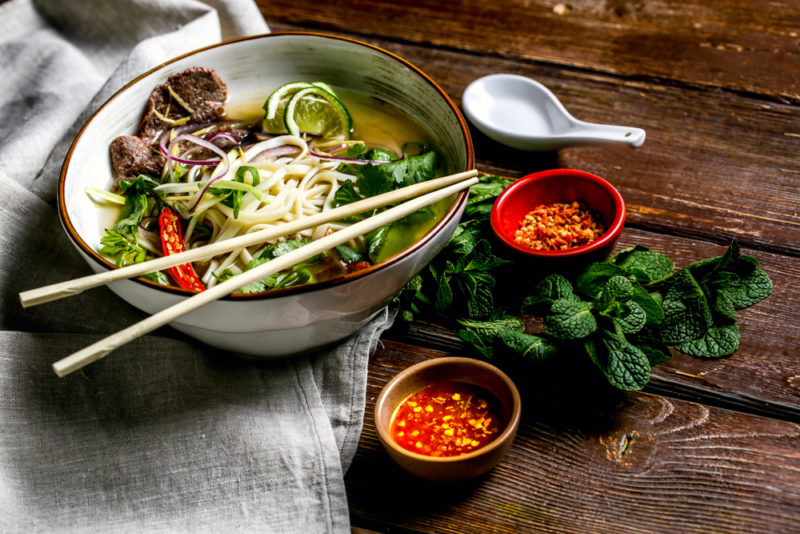 Taiwanese food, of course, covers a variety of flavors and styles. Many dishes end up somewhat salty and sweet, and there can be a bit of spiciness present too. Other flavors are notable as well, especially as key ingredients include ginger, soy sauce, and fermented sauces.
Dry white wines and sparking wines are often first choices for pairing with Taiwanese food, especially if you're focusing on seafood dishes. And, once again, an off-dry riesling is another one that you can turn to.
However, while these wines might be the obvious choice, they're not the best option. After all, the meals are strongly influenced by the sauce that is used and Taiwanese cooking often relies on soy-based sauces or other heavy sauces.
Because of this, you're better off to focus on either an acidic white wine or a light bodied red wine. So, a pinot noir could be an excellent choice, giving you an interesting flavor profile to complement the sauce of your meal.
A gamay wine could be appealing too for similar reasons.
Vietnamese Foods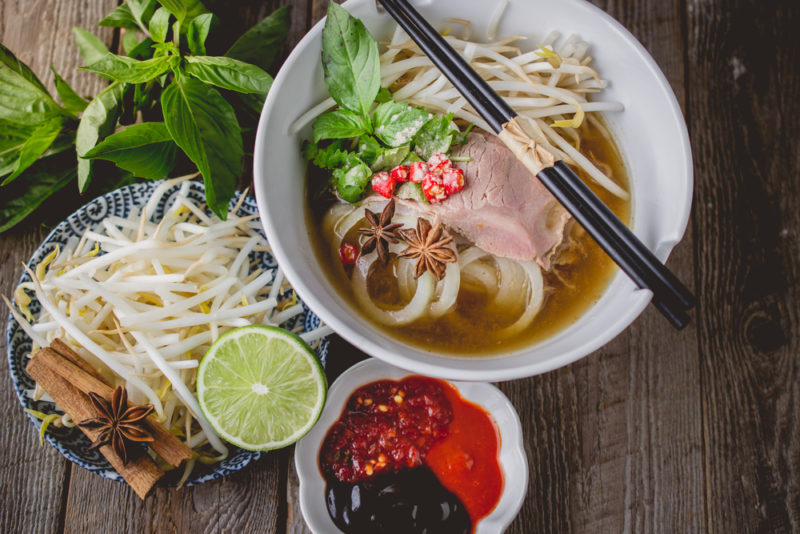 With Vietnamese foods, you're generally looking at flavors like lemongrass, lime, garlic, and chili. The sauce is often the most powerful aspect of the meal, so you need to focus on the sauce when you're making your wine pairing.
In particular, it's best to steer clear of any wines that are oaked or heavy in tannins. This means that an oaked chardonnay would be a poor choice, along with many rich red wines. Even an unoaked chardonnay might be too intense for your meal.
Sauvignon blanc is a good go-to instead, as the wine tends to offer herbaceous notes, along with bright acidity. These features complement your recipe. The wine may even mellow some of the intense flavors while making the meal seem fresher.
Tips for Asian Food and Wine Pairing
We've covered a selection of specific wines and types of food in this list, but Asian food is a broad category that covers many different styles, flavors, and textures. There are many more meals that we haven't covered, not to mention variations to them, so you'll probably need to find wine pairings on your own.
To do this, you'll need to know some general principles.
First. High acidity wines tend to work well. These wines are often clean and vibrant, so they'll contrast excellently with the flavors of your meal. Sauvignon blanc and pinot gris are two classic examples that you can rely on over and over again.
The focus on high acidity also means that sparkling wines are almost always a good choice, regardless of their style or where they come from.
Aromatic wines that feature fruit flavors can be appealing too, as long as your dish is also aromatic. Finding these wines can take a little more work, but there are good examples out there, including riesling from Australia or Germany.
Second, some types of wine simply won't be a good match. A chardonnay, for example, tends to have rich flavors can taste unpleasant when contrasted with the spices in Asian foods. High tannin red wines don't tend to pair well either, as you have a clash between the tannins in the wine and the strong flavors in your dish.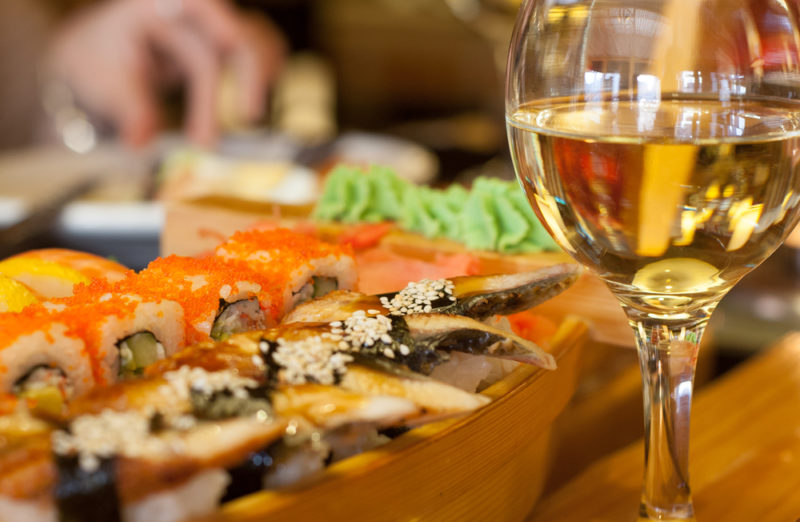 There are exceptions, of course. You will have seen some of those exceptions in this list.
Finally, be willing to experiment.
This is true for any type of wine pairing and is even more important when you're looking at Asian food. The dishes tend to have an array of flavors and textures, so it's never entirely clear which wines are going to be the best match. Trying out different combinations is how you'll find the pairings that you enjoy the most.
Focusing on the pairings from this list is a good starting point. While you're at it, prioritize the types of wine that you know you enjoy. After all, even the best combination of wine and food won't taste that good if you don't like the wine that you're drinking to begin with.
Related Content