Getting into the hobby of wine tasting may seem quite daunting at first. And why wouldn't it be? With all the different varieties, flavors, and intricacies that can only be spotted by a trained eye (or in this case, tongue) the hobby may not look like something just about anyone can try out and enjoy.
But for those reading this who are interested in the whole idea of wine tasting, you shouldn't worry too much about it. Almost everyone in the wine tasting community started off just like you – inexperienced yet hopeful and ready to learn. As with most hobbies, it takes patience and perseverance; the results, however, will be highly rewarding.
So to get you started in your wonderful wine tasting journey, we've compiled some of the most popular varieties in this red wine varietal list to give you a better understanding of wine tasting, and hopefully make learning about wine, in general, a little easier.
If you want to try a new red wine varietal every month, you should join a red wine of the month club.
Running List of Red Wine Varietals
This is an incomplete (but running) list, and I'll add more as I find them and have time to write.
Agiorgitiko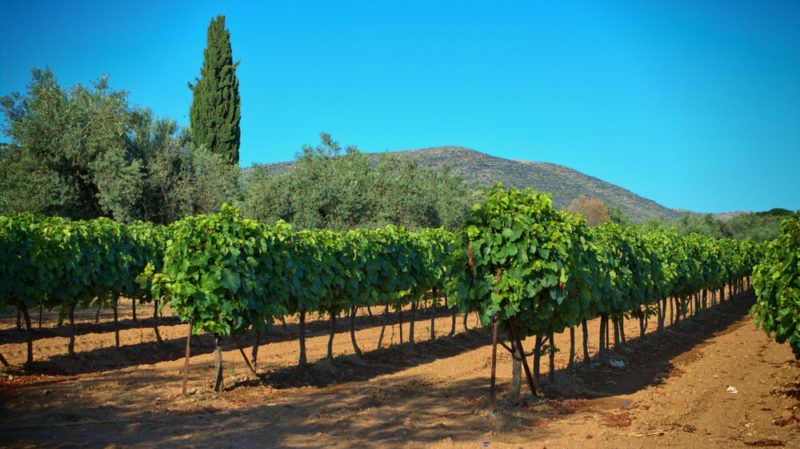 Agiorgitiko is a Greek red wine grape. It is most famously grown in the Nemea region, but can be found elsewhere in Greece as well.
Agiorgitiko is typically made as a single varietal wine, which tends to have notes of plum and a characteristic spiciness. Despite having good coloring, the wine is generally low in body and acidity.
The versatility of the grape means that many wine styles can be made using Agiorgitiko, such as rosés, easy drinking red wines and robust tannic reds.
The grape is also used to create blended wine. The most famous example is the table wine kaoti, which includes Cabernet Sauvignon as a component too.
Aglianico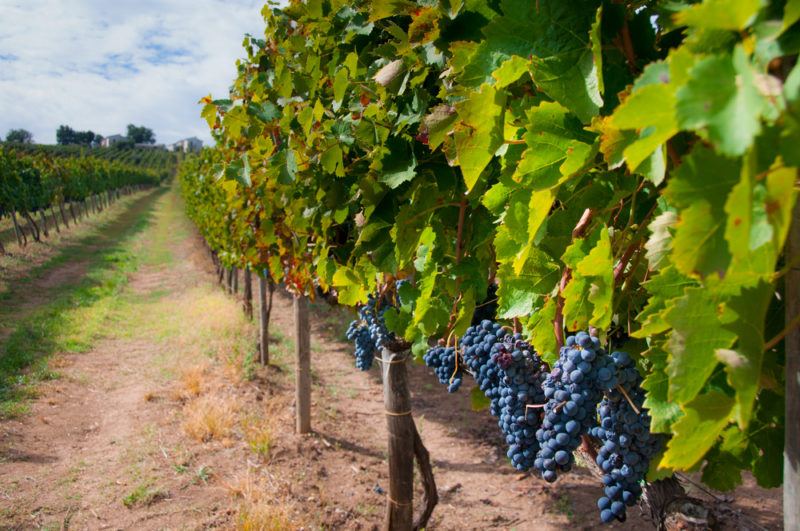 Aglianico is a popular Italian black grape. Varietal wines produced with Aglianico tend to be high in acidity with significant tannins, making the wine a good choice for aging.
Indeed, Aglianico tends to be highly tannic when it is young. Allowing it to age for a few years produces a better balance between the tannins and other components of the wine.
The wine is also known for a complexity of flavor and full body. It pairs well with gamey meals and rich meats like lamb. In the US, Aglianico can sometimes be an inexpensive choice for people who want a full-bodied red.
Alicante Bouschet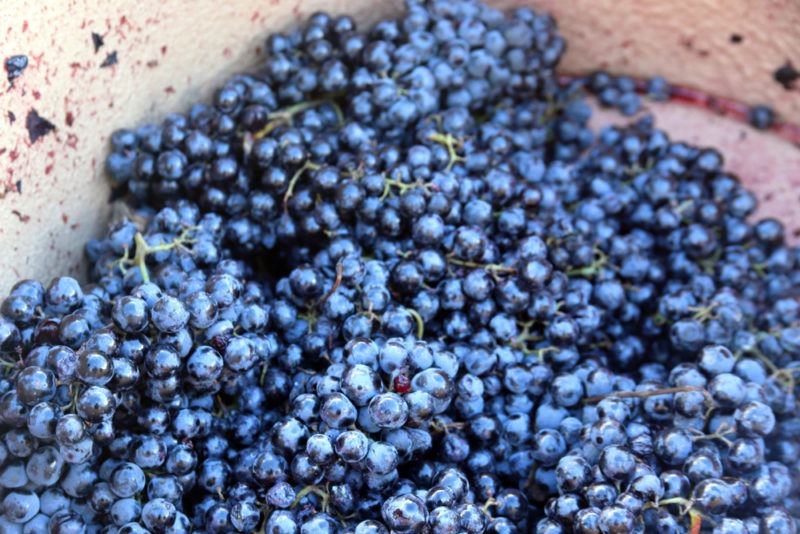 Alicante Bouschet is an unusual grape, one that has red flesh along with dark skin.
It has traditionally been a blending choice, used in various red blends created in Alentejo, Portugal. The red blends have included other local grapes, along with some international varieties, such as Cabernet Sauvignon.
As a blending grape, Alicante Bouschet can deepen the red color of wine and provide extra tannic strength. The blending characteristics are so good that the grape has been exported throughout the world.
More recently, there has been a shift towards producing single varietal wines from Alicante Bouschet. This is unusual, as Alicante Bouschet has previously been considered to lack varietal distinction.
Time will tell how well the grape stands up in this new approach, but if nothing else, Alicante Bouschet wines are an indication of how well good vineyards can do even when they're focusing on a relatively unimpressive grape.
Baco Noir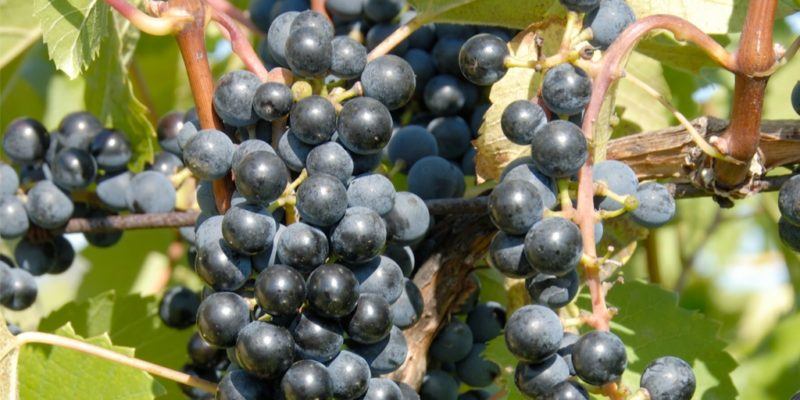 Here's a fairly unknown choice. Baco Noir is a French hybrid grape that is primarily grown in the midwestern and eastern US, as well as Ontario, Canada. One reason for these locations is that the grape is resistant to cold winters, making it easier to grow in colder climates.
While Baco Noir is most often used as part of a blend, single varietal wines are produced too. These tend to have a light to medium body, with high acidity. Key aromas include black fruits, with both earthy and smoky notes.
The vine is sometimes considered a Pinot Noir alternative, one that can be grown more easily. If nothing else, Baco Noir is worth trying because it is fairly uncommon and can be considered an American wine (which may appeal to anyone who his highly patriotic).
Baga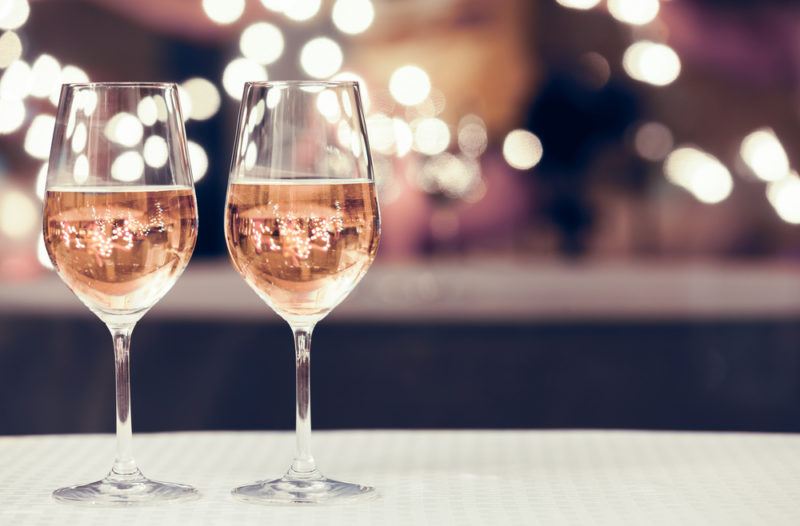 Baga hails from Portugal and is most commonly produced in the Beiras area, particularly Bairrada. The grapes are dark-skinned and small, leading to high acidity and significant tannin levels.
This combination means that the wine isn't the best choice for beginning wine drinkers. But, for the more experienced connoisseur, Baga can be a very appealing choice.
Baga varietal wines age surprisingly well, ending up as complex and elegant wines that pair well with fatty roasted meats. Sparkling rosés are also created using the grape.
Key components of the aroma include red cherries and berry fruits, along with coffee bean and tobacco notes.
Barbera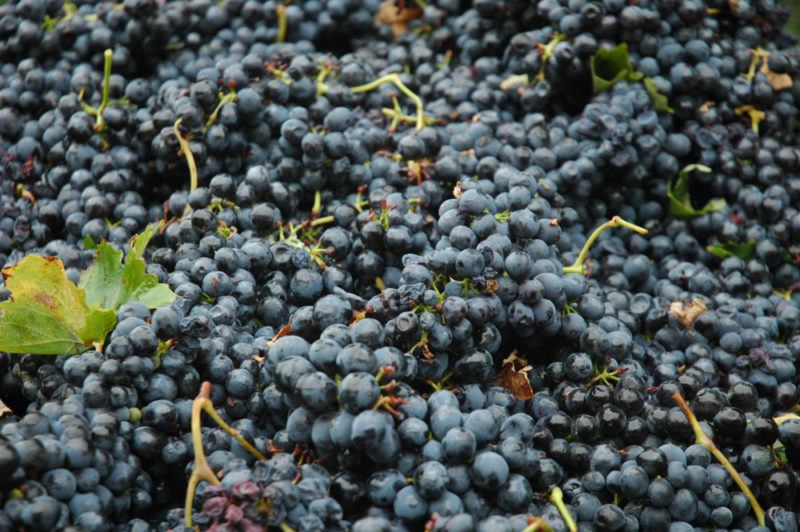 Grown in the vineyards of Northern Italy, Barbera is a grape that is known for its low tannin levels, just like Pinot Noir. The wine has an unusual balance of flavor, including a degree of richness and a light-bodied nature.
The wine varietal has been around for a while – ever since its first appearance in the 7th century. Don't let its age fool you, though – Barbera is still very much relevant in the wine tasting community and its wonderful acidity is loved by its many fans.
Barbera is generally enjoyed young. It is also an inexpensive wine, making it an ideal choice for the everyday wine drinker.
Blaufränkisch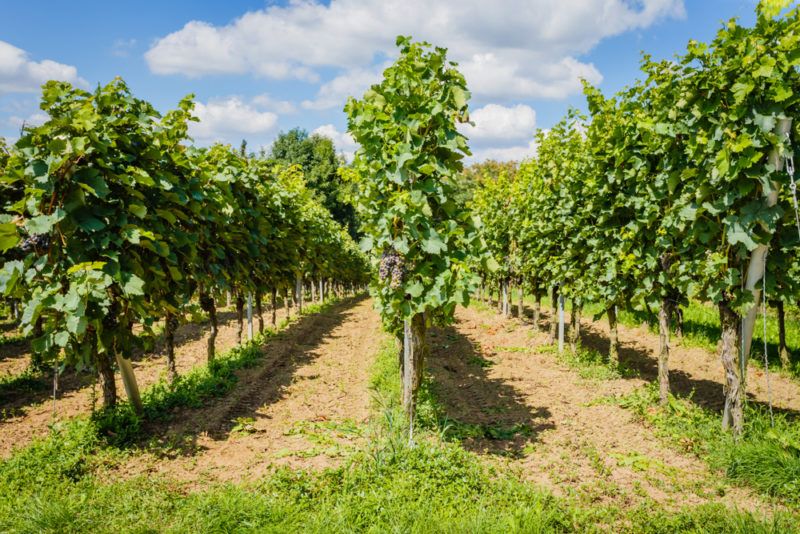 Blaufränkish is a late-ripening dark-skinned grape, which may originally hail from eastern Austria. The grape produces wines that are high in tannins with medium acidity and body.
Blaufränkish is now grown in many places across the globe, including Germany, Hungary, Australia, the US, Japan, and Austria.
Single varietals tend to have a notable spicy characteristic, which makes Blaufränkish easily recognizable. When blended with other wines, Blaufränkish provides structure and acidity.
Bobal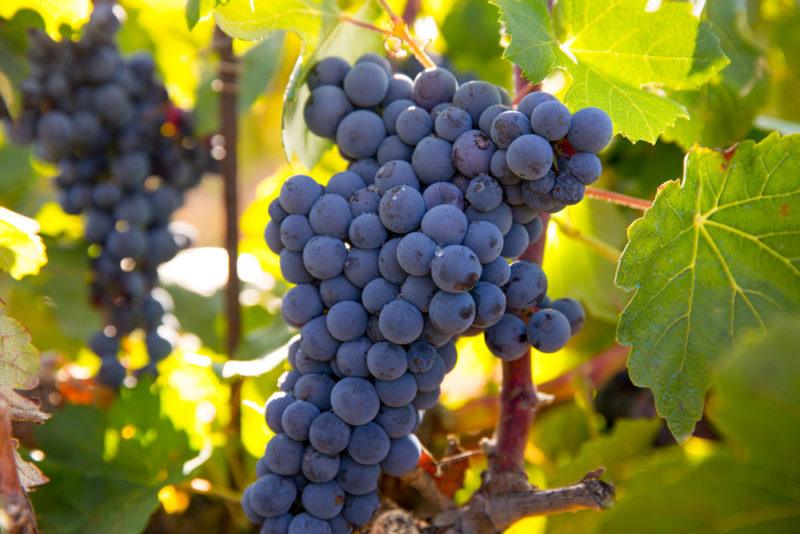 While Bobal is the second-most planted grape in Spain, it is a variety that many people are unaware of. For those that know them, Bobal wines are popular for their fruity flavors, gentle finish, and soft tannins.
Bobal is another grape that has mostly been used in blends, where Bobal provides color and acidity. There is now a movement towards creating Bobal varietal wines, which showcase the good tannic structure and intense color that the grapes offer.
A particularly popular approach is the creation of Bobal rosé. Winemakers have been able to reach high levels of complexity with this type of wine, suggesting high potential for the grape variety.
Bonarda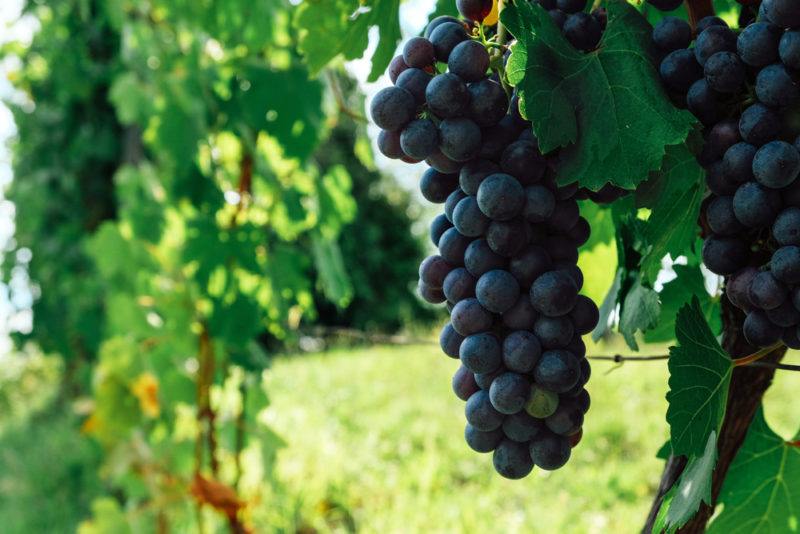 Like Malbec, Bonarda is an Argentinian grape variety, known for producing smooth and fruity red wines that tend to be light-bodied. The wine is best consumed when young, when the light and fruity features are at their peak.
However, some varietals are made using older vines and careful use of oak. This style creates more concentrated fruit flavors and a fuller body.
Bonarda features in blends too, where it best complements grapes with more structure and similar fruit-driven characteristics.
Bordeaux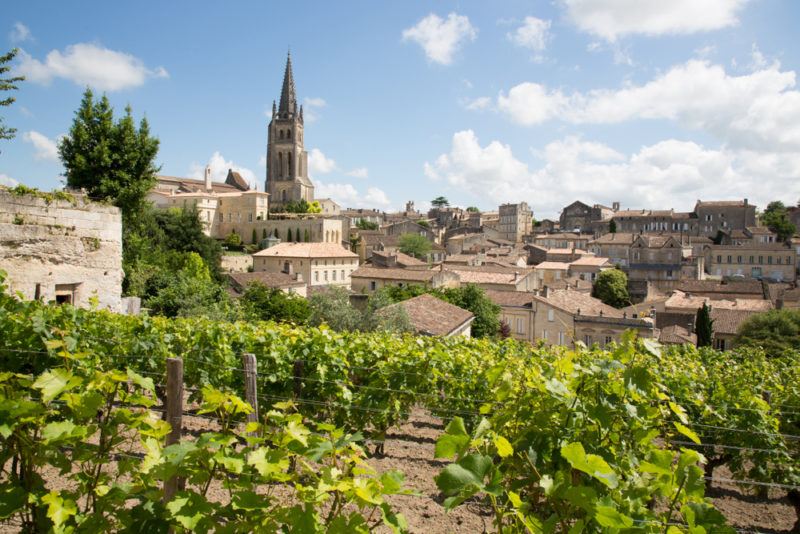 Bordeaux is one of the most well-known wine regions in France and is known for making some of the best wine in the entire country. In fact, Bordeaux wines are some of the most famous in the world.
Unlike the other entries in this list, Bordeaux wines are not single varietals. Instead, Bordeaux wine is quite simply wine that comes from the Bordeaux region. The vast majority of Bordeaux wine is red wine that contains a combination of Cabernet Sauvignon and Merlot grapes.
Other common grapes in Bordeaux reds include Cabernet Franc, Malbec, and Petit Verdot.
Red Bordeaux wines range from medium-bodied to full-bodied. The wines are typically high in tannins and will often age well.
Brachetto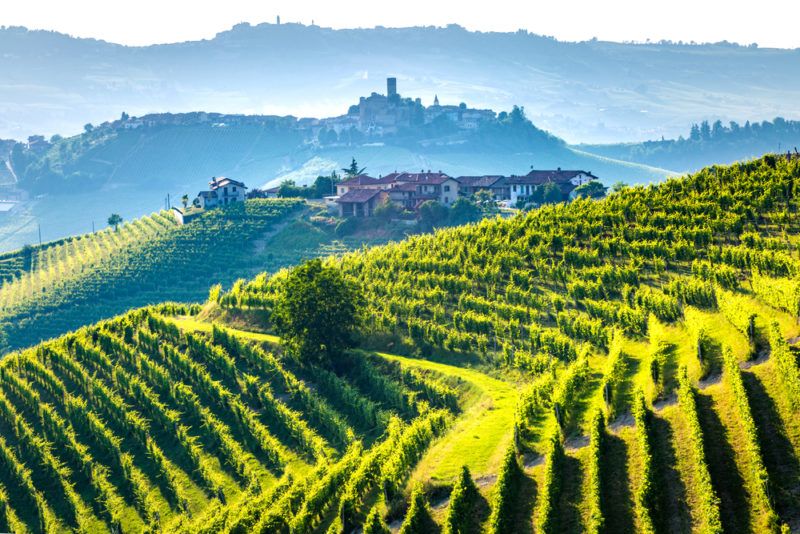 Here's an interesting variety. Brachetto is an Italian grape. It's most notable for the semi-sparkling frizzante sweet wine produced in the Brachetto d'Acqui DOCG. Other Brachetto d'Acqui reds also rely on the Brachetto grape.
Brachetto is normally used as a varietal wine only. Blends with the grape are rare and all Brachetto d'Acqui reds must use Brachetto grapes only.
Brachetto wines, particularly the frizzante, are often associated with romance. This is hardly surprising, as the wines tend to be aromatic with fruity notes.
Cabernet Franc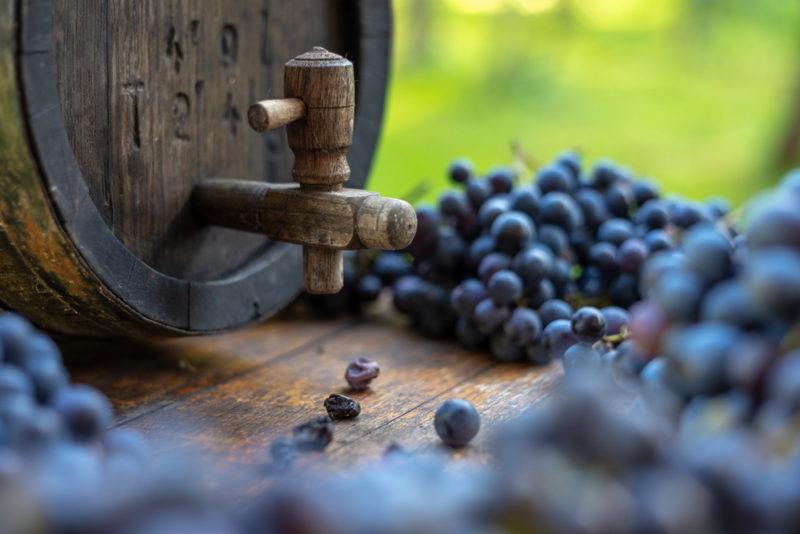 Not to be confused with the Cabernet Sauvignon, Cabernet Franc is a Bordeaux-made French wine that's commonly seen in single varietals.
The similarities in name with Cabernet Sauvignon is due to the two grapes being close relatives with one another (Cabernet Franc is the parent grape of Cabernet Sauvignon). However, there are a few key differences between the two.
For one, Cabernet Franc is a lot tougher than its Sauvignon counterpart – it can grow and ripen in colder temperatures, something Cabernet Sauvignon struggles with. This allows Cabernet Franc to be grown in a wider variety of environments.
The flavor balance varies with location. Warmer climates produce sweeter flavors in the wine, including strawberry notes, while cooler climates lead to higher acidity and tarter fruit flavors.
Despite being used in single varietal wines, Cabernet Franc is also blended, commonly with Merlot. Blends of Cabernet Franc and Merlot end up being some of the most well-known wines in the world.
Cabernet Sauvignon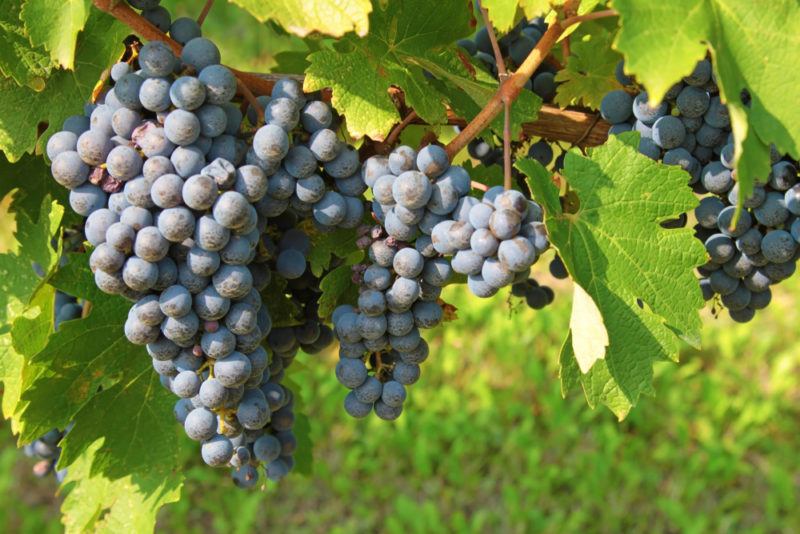 Here's a variety that you've almost certainly heard of before. Cabernet Sauvignon is one of the most popular red wine varietals in the world and is grown in most wine-producing countries. This full-bodied wine is known for its ability to age very well, unlike wines that only have a few years of shelf life.
Single variety Cabernet Sauvignon wines tend to be bold and have a high tannin content. As a result, the wine pairs well with rich meats and other dishes that are high in flavor.
The popularity of Cabernet Sauvignon and the frequency that it is grown at mean that there are many different types of Cabernet Sauvignon wines out there. Some of them focus on fruity flavors, while others highlight the smoky aspects of the fruit instead.
This variation occurs because of differences in where the grape is grown and how it is made into wine.
Cabernet Sauvignon is also commonly found as part of red wine blends, particularly Bordeaux wine blends. The grape variety performs well on its own or in a blend – which is a key reason why it remains so popular.
Carignan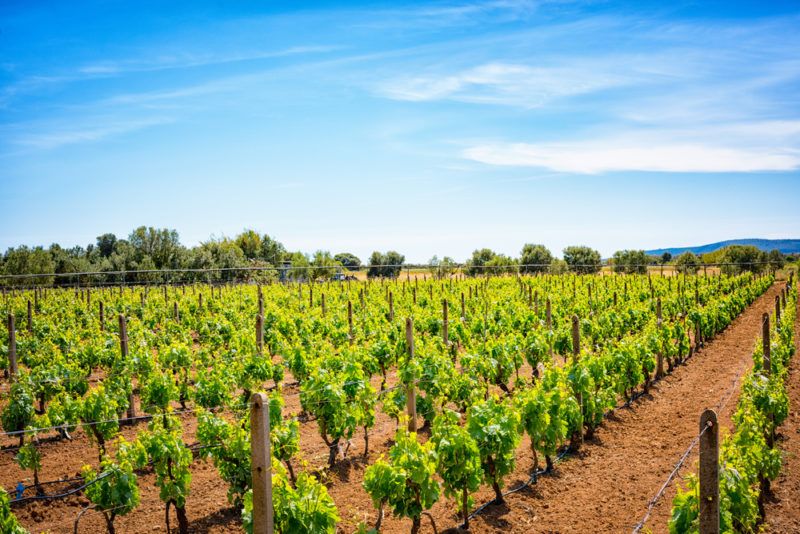 Carignan is primarily a blending wine, which is thought to be native to Aragon, Spain. The variety is commonly used along the Mediterranean coast and is blended with popular regional varieties like Grenache and Syrah.
Carignan's popularity in blending comes from the way the variety can add body and depth of color to a blend. While the variety was once popular, it is grown less often these days, as Carignan's high yields can make flavor concentrations difficult to obtain.
Despite the blending focus, Carignan is occasionally created as a single varietal as well. When made as a varietal, Carignan wine can show notes of dark fruits, along with pepper, licorice, savory, and spicy notes.
Carménère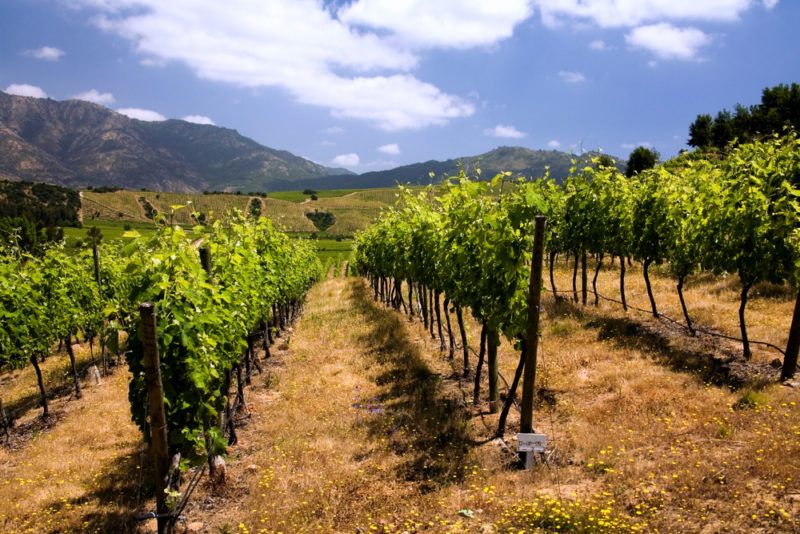 Carménère is a French variety with an interesting history. The grape was originally from the Bordeaux region and was almost entirely eliminated due to an insect plague towards the end of the 19th century.
However, Chilean growers had imported vines before that event and the variety is now almost exclusively grown in Chile. It has been rapidly increasing in popularity, partly because of the variety's history.
When grown in the right environment, Carménère grapes can have the plumpness often associated with Merlot and some of the underlying cedar notes found in Cabernet Sauvignon.
Carménère wines tend to have a velvety texture, with high tannin content and low acidity. While most should be consumed in the first few years, some of the better quality wines can be aged and develop complexity over time.
Castelao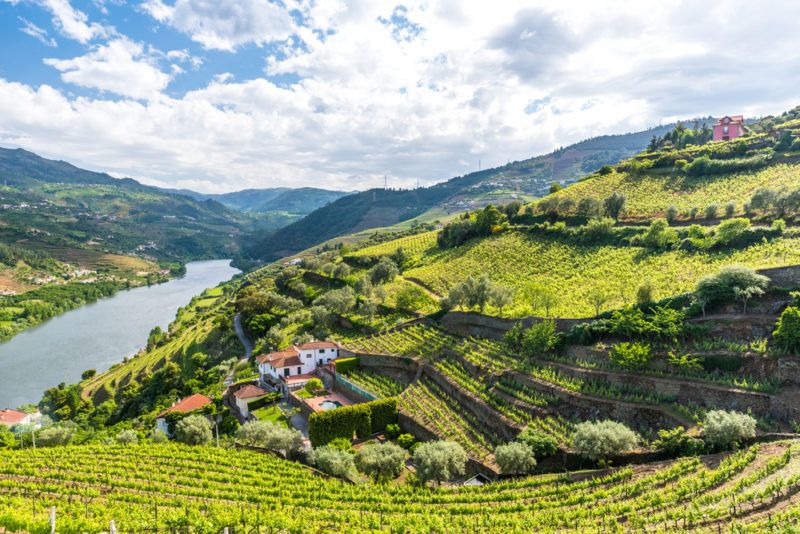 While Castelao is one of the most common dark-skinned grape planted in Portual, the variety has not received much attention in other parts of the world. The vine grows in many conditions but does best in sandy soils.
Varietal wines tend to have a full-bodied tannic nature, which softens with age. These features make Castelao particularly effective in blended wines too, where other varieties help to reduce Castelao's sharpness somewhat.
When grown in calcareous central Portuguese soils instead, Castalao tends to be fruitier and lighter, allowing it to be enjoyed with less aging.
Cinsault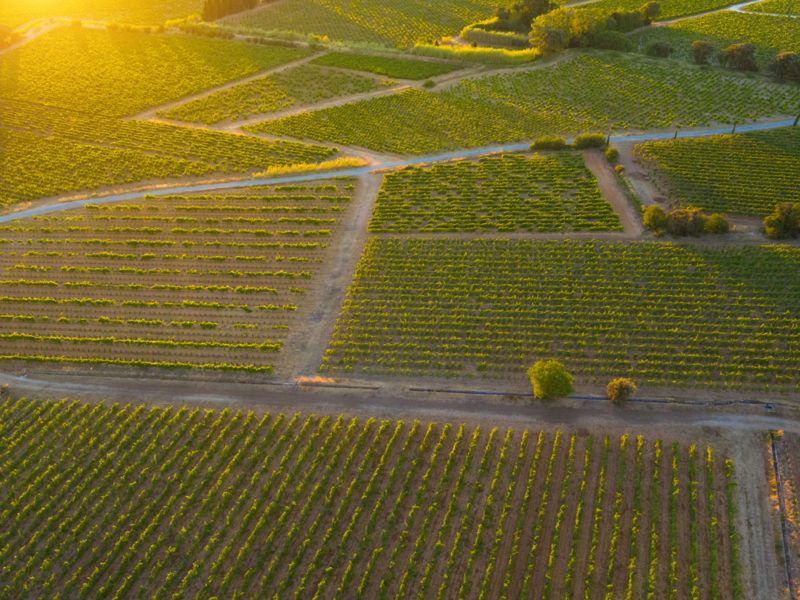 Cinsault is primarily a blending wine, often combined with Syrah, Grenache, and Mourvedre. It is also grown in France and can be a minor grape in the Chateauneuf-du-Pape blend.
As a varietal, Cinsault is mostly produced as a rosé. Here, the wine tends to have a light aromatic touch, creating a refreshing wine.
Cinsault tends to be low in tannins with high acidity. Blended wines and varietals are best enjoyed within a few years, as the wine does not age well.
Concord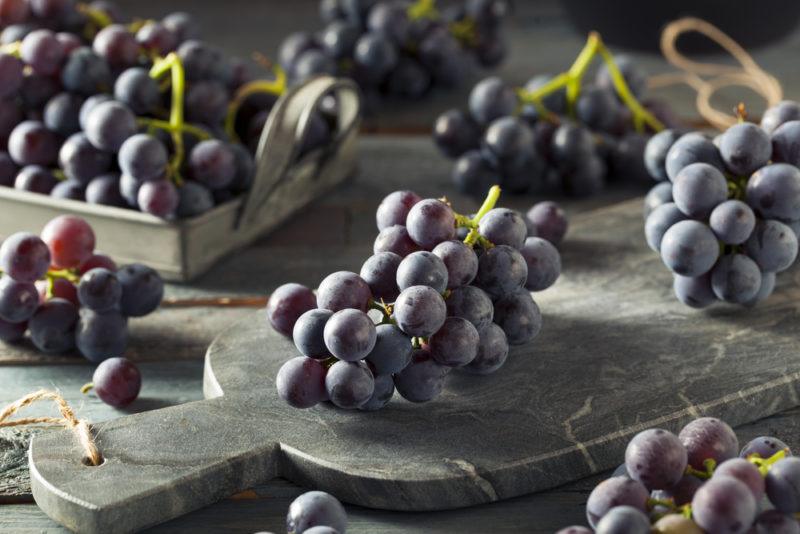 Concord grapes are incredibly well-known throughout America. This is an unusual type of grape due to the way the inner portion easily separates from the skin of the grape. This slip skin style makes the grape more difficult to use in wine making.
Concord grapes are widely grown throughout the US. Some of the grapes are used for wine making, particularly kosher wine, however much of the grape harvest is used for other purposes instead (like jam and grape juice).
Various styles of wine can be created from Concord grapes, including a medium-bodied red wine and a full-bodied wine with purplish coloring. Most Concord wine is produced as a varietal. The strong flavor makes it difficult to blend with Concord wine.
Interestingly, Concord grapes tend to be relatively low in sugar, even though Concord wines are often sweet. Sugar is often added to help balance the sugar and acid content.
Corvina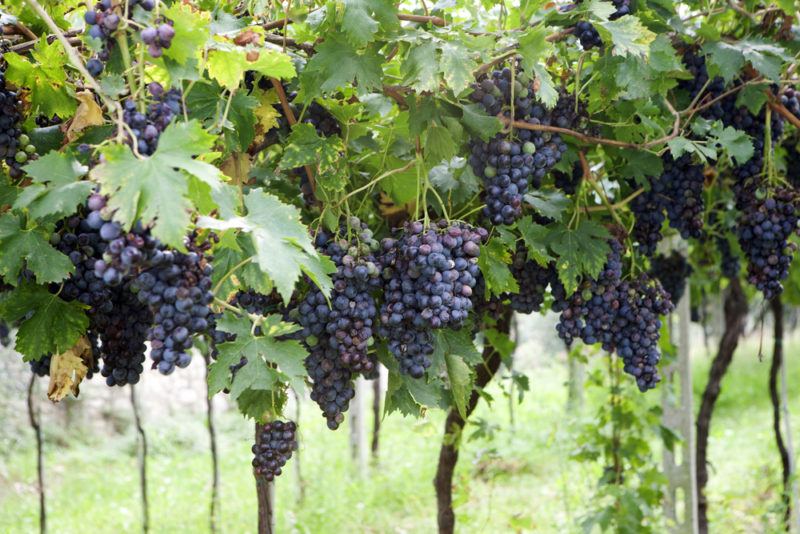 Corvina is an Italian red grape that is mostly grown in the Veneto region. Primary flavors include tart cherry, with cinnamon and chocolate notes.
The grape is often used for blending. It is featured in many Valpolicella wines, where it acts as the main grape, providing high tannin content and rich aromas. Corvina can also be seen in regional blends like Recioto and Bardolino.
When produced as a varietal wine, Corvina tends to have high acidity and is strongly fruit driven. A popular style is a dry to off-dry wine that takes full advantage of Corvina's fruit driven characteristics.
Barrel aging is sometimes used to add complexity to Corvina.
de Chaunac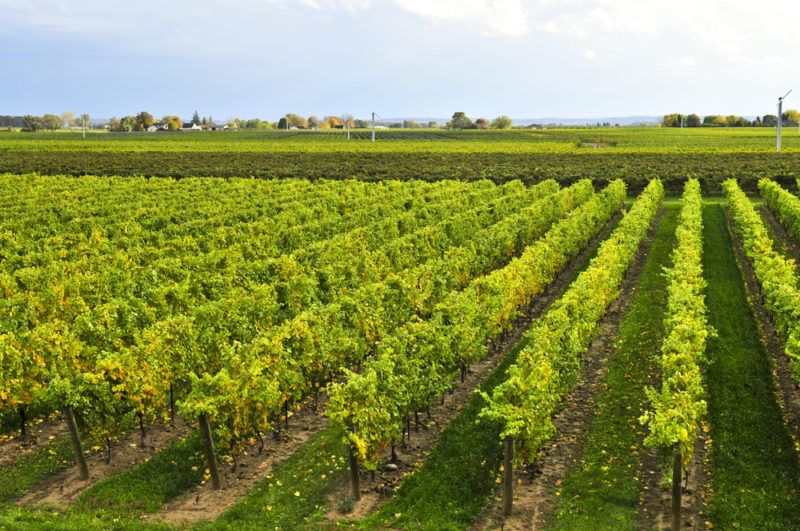 de Chaunac is a relatively obscure varietal wine, so you won't see it in many red wine varietal lists. The grape is a French-American hybrid and is grown in North America.
While de Chaunac is much less common than its popular relatives like Foch and Baco, well-made varietal wines are still produced. These can be more neutral than other types of wine, but can have an appealing bitter black cherry note.
Dolcetto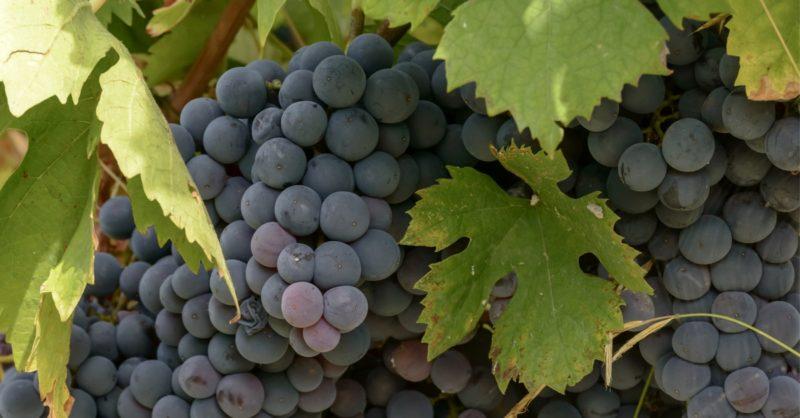 Here's another Italian wine. Dolcetto is primarily grown in Piedmont (although some vineyards in the United States and Australia work with the grape as well).
Dolcetto is generally considered less prestigious than Barbera and Nebbiolo, which can mean the grape does not get the best pick of vineyard locations. Nevertheless, Dolcetto is an easy grape to grow and can thrive in locations where Barbera and Nebbiolo would not.
While Dolcetto is a fruity and sweet grape, most varietals are not sweet wines. They tend to be soft styled instead. The wines typically do not age well due to low acidity levels. They're best consumed within a few years of vintage.
Dolcetto might not have the reputation of Nebbiolo and Barbera wine, but it still has appealing features. It is popular as an easy-to-drink everyday wine, one that is reasonably priced and pairs well with Italian food.
Frappato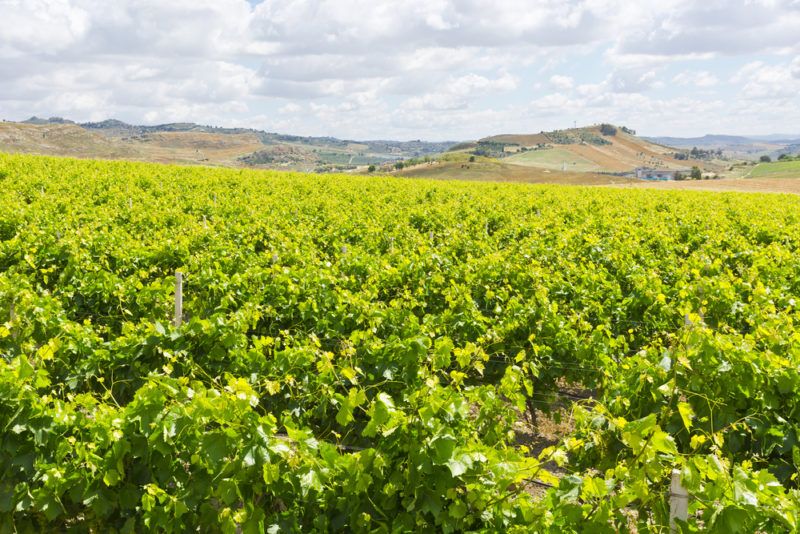 Grown mostly in Sicily, Frappato is an uncommon light-bodied grape. It is often blended with Nero d'Avola, as the two varieties have complementary color concentrations and body. This is the case in the wine Cerasuolo di Vittoria, which just consists of those two varieties.
When produced as a varietal, Frappato tends to be a light bodied wine with low tannins and medium acidity. It does not age well, so is best consumed within a year or two of vintage.
Freisa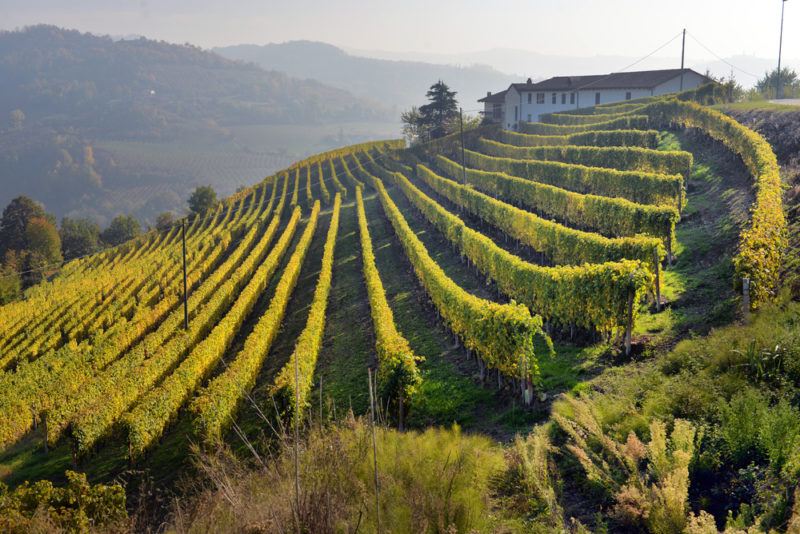 Freisa is another Italian grape and hails from the Piedmont wine region. There are two varieties of the grape: Freisa grossa and Freisa piccolo. These differ in their berry size, where Freisa grossa tends to have larger berries. While winemakers often distinguish between the two types, their relationship isn't fully known.
As a varietal wine, Freisa can be challenging. It is often heavy in tannins and has a bitter finish. Residual sugar is sometimes used to counter such effects, which may be unappealing as well.
Nevertheless, Freisa does have a fan base, with some people enjoying Freisa's challenging nature and finding it to be a refreshing wine.
Gaglioppo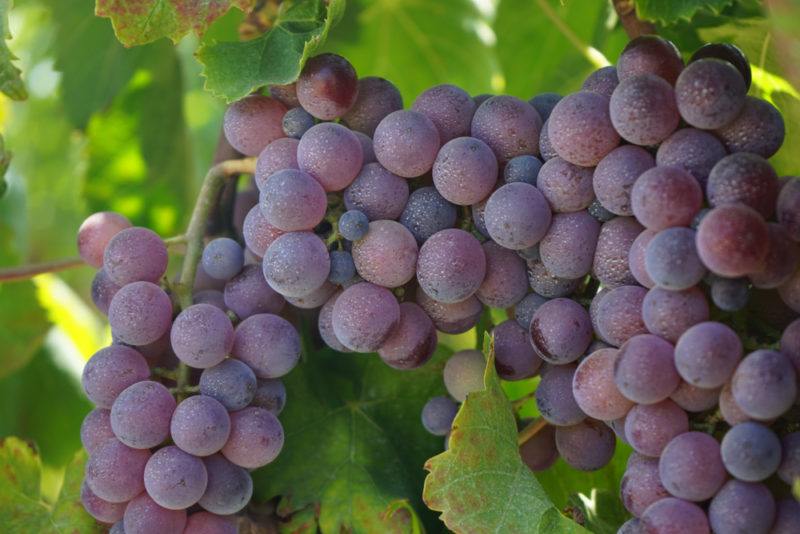 Gaglioppo is another Italian variety. This grape tends to be grown in the Ciro DOC, located in Calabria. Vines tend to be grown at high altitudes, which helps to protect them from the sun.
As a varietal wine, Gaglioppo tends to be soft. Berry flavors dominate, along with secondary spicy notes and notes of cherry. The wine tends to have a medium body and is typically dry.
In some case cases, Gaglioppo drinkers will chill their wine slightly before drinking it, which creates a refreshing drink for the hot weather.
Gamay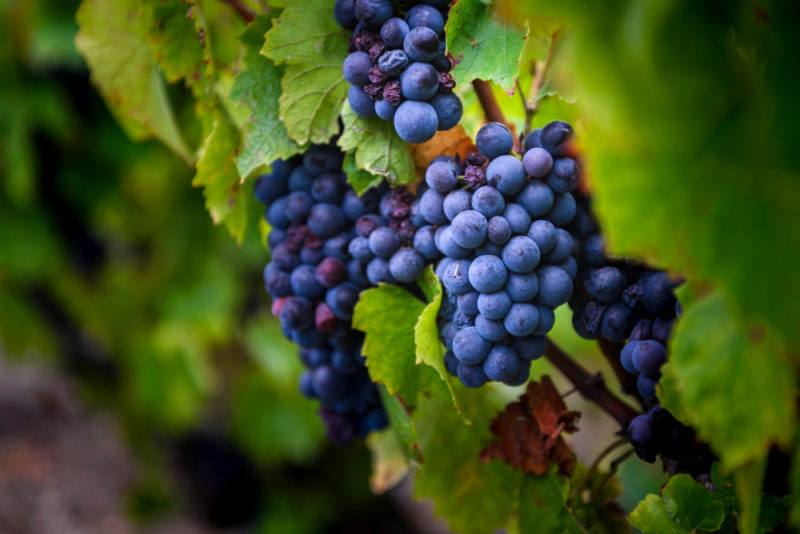 Gamay is grown in Beaujolais, France. It tends to produce fresh and fruity wines, with a light body. Such wines are easy to drink and are often enjoyable.
Gamay is particularly famous for its use in Beaujolais Nouveau wine. This type of wine is famously produced immediately after harvest with a large amount of marketing. The emphasis on fast creation means that the wines tend to be almost entirely tannin free with little body.
While Beaujolais Nouveau wine can be popular, some commentators feel that it has diminished the reputation of Gamay grapes, as the creation style does not allow for much complexity in the wine.
There has been a growing interest in producing more complex Gamay wines, including those that are aged in oak.
Grenache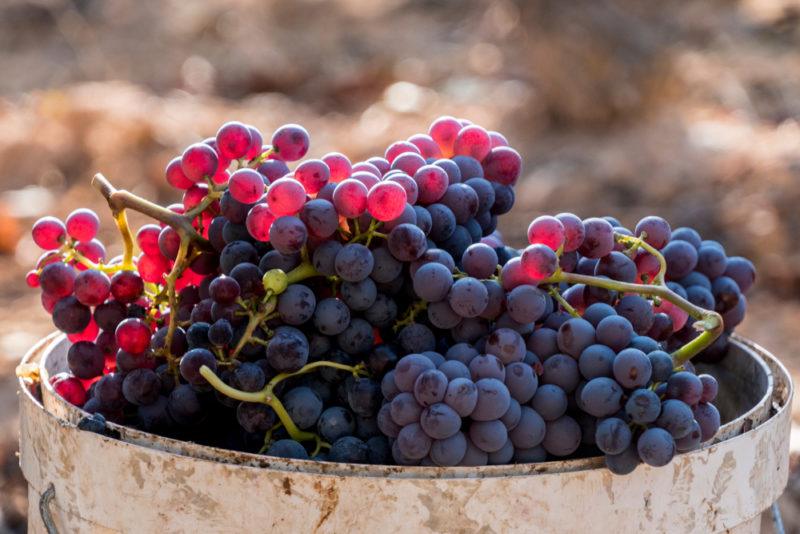 Grenache (or Garnacha) is thought to hail Spain, although the grape is now grown in many parts of the world, including southern France, California, Australia, and San Joaquin Valley. Key flavors include raspberry and strawberry, along with a note of cinnamon.
Once again, the flavor profile is strongly influenced by where the grape is grown. French Grenache often contains smokier herbal notes, while US Grenache is a fruit-forward aromatic wine and Spanish Garnacha often includes grapefruit notes.
Grenache is also a famous Châteauneuf-du-Pape. Most wines produced in the Châteauneuf-du-Pape AOC are blends that include Grenache.
Grenache is used in other wine blends too. It tends to add fruitiness and body to the wine blend.
Grignolino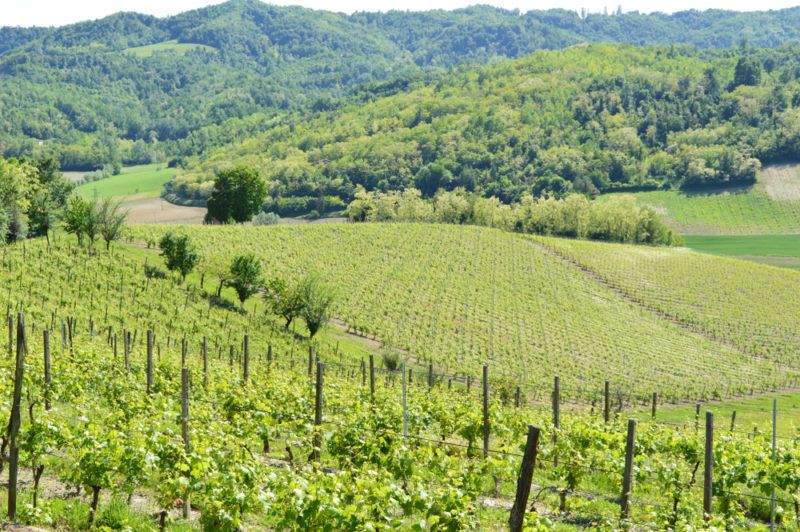 Grignolino is an Italian variety that is occasionally grown in California as well. The grape is most well-known for the production of pale red wine, which tends to have relatively little depth.
Like Barbera and Nebbiolo, Grignolino tends to have high levels of tannins and acidity. Despite this, Grignolino has not seen the same level of success as Barbera and Nebbiolo. The lack of success partly comes from the way that Grignolino lacks depth and warmth, making it less interesting all around.
Even so, some Grignolino varietals can be appealing. The grape is also a minor contributor to some red wine blends.
Kadarka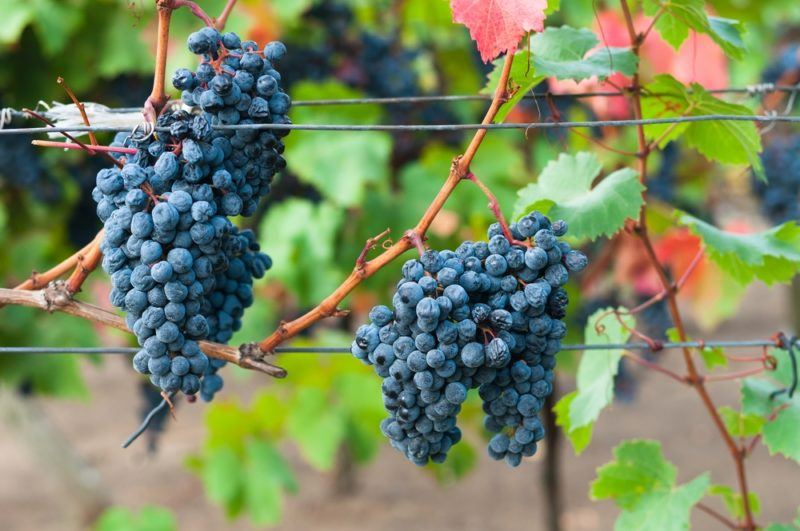 While Kadarka is relatively obscure these days, this red grape variety has a long history. It is thought to have initially come from Hungary and was once extensively grown. The grape is now much more difficult to find, especially as it is susceptible to many diseases.
However, there have been some notable success stories with the grape, including the Tonković Winery. The winery was founded in 2006, with the explicit goal of reviving Kadarka. Their first vintage was developed in 2011 and the company is still going strong.
Opinions on the variety are mixed. Some people enjoy the acidity of Kadarka, while others find that it is too sour. The grape can produce various types of wine, including structured reds that can be aged for upwards of a decade and vibrant light reds with a fruit driven focus.
Lambrusco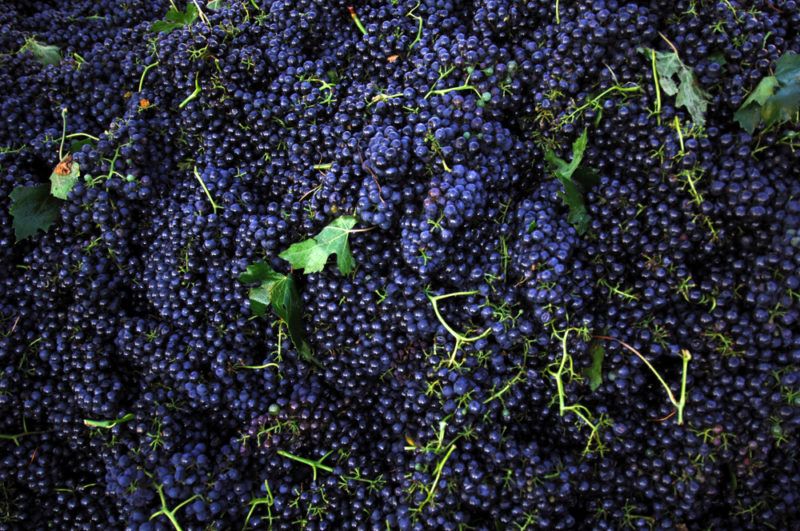 Lambrusco is a little unusual, as the name refers to a collection of grape varieties, rather than a single variety. Some of these sub-varieties have their own DOCs. Lambrusco grapes can be found in multiple Italian regions, including Basilicata and Piedmont.
An appealing feature is the ruby red color of Lambrusco wines. The wines can have intense aromas as well.
Lambrusco varietals may use multiple sub-varieties. There are also blended wines, where a small percentage of blending grapes are added, often for body, structure and/or color.
Sweet Lambrusco wines have been historically popular in the United States. This version tends to have notable berry flavors, along with high acidity.
Listán Negro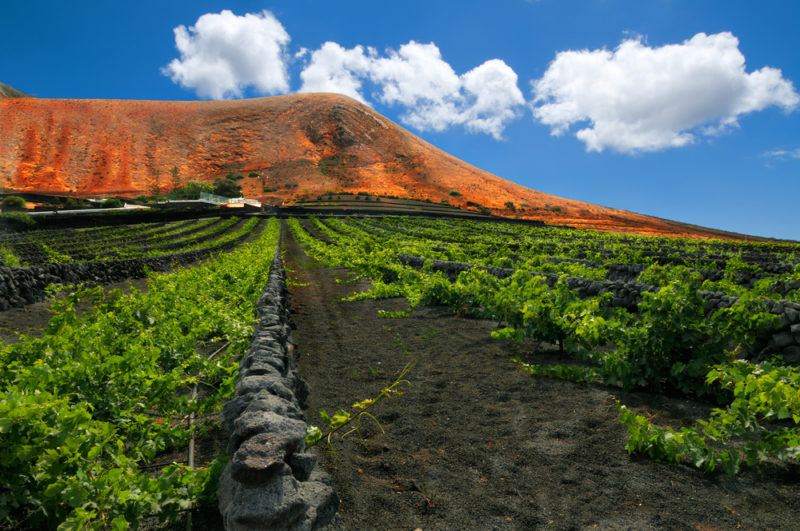 The Listán Negro is a black skinned grape variety that is found in the Canary Islands. This versatile grape can produce many different varietal wines and is also an element of blended wines (often with Tinta Negra Mole).
Styles of Listán Negro wine include rosés, light fruity reds with low tannins and aromatic medium-bodied wines. Some winemakers have also been using oak aging with the varietal.
Malbec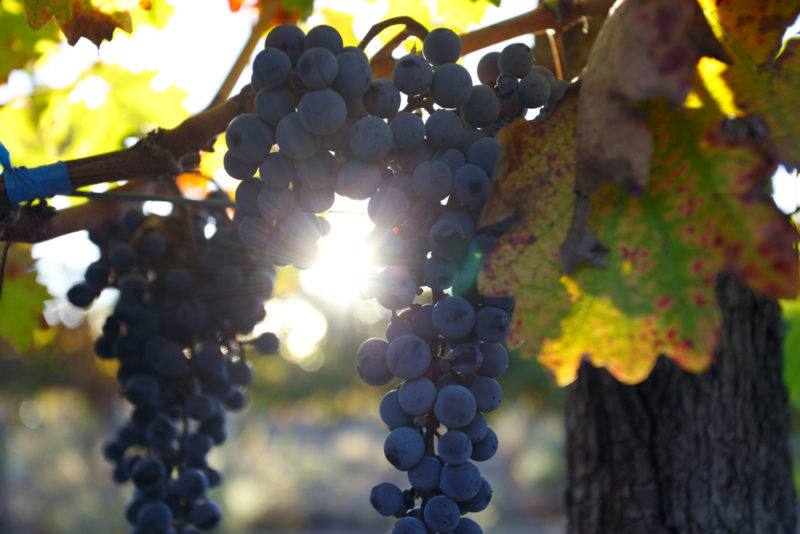 Malbec is a full-bodied varietal that produces a wine with medium tannins and medium-low acidity. The grape is mostly used for blending in France and is one of the six main red wine grapes used to produced Bordeaux-style wines.
On the other hand, Malbec has become incredibly popular as a varietal wine in Argentina. Malbec is often considered to be the signature grape of the region and the bulk of Malbec production is in Argentina.
As a varietal wine, Malbec has a shorter finish than Cabernet Sauvignon and tends to be easy to drink. The low acidity and blackberry-like flavor make Malbec a popular entry-level wine for those who literally want to get a taste of the wine tasting hobby.
Marechal Foch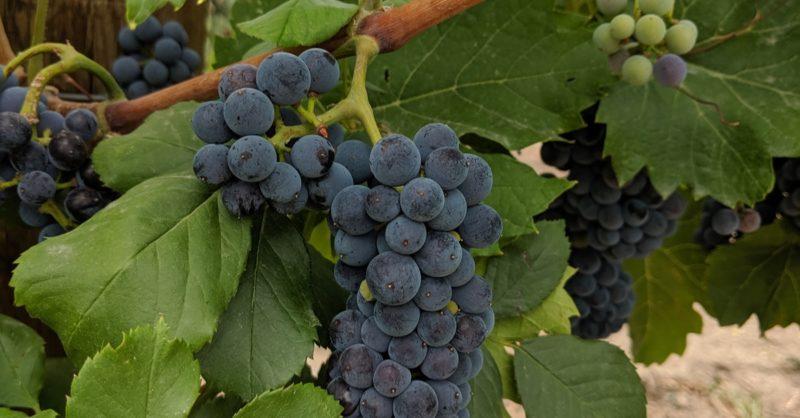 Marechal Foch is a hybrid grape from France. It is primarily grown in the midwestern United States and also in Canada. The grape's success is partly due to its resistance to disease and cold.
Unlike most similar hybrids, Marechal Foch avoids the foxy characteristics. It is known for having earthy tones as well, along with dark fruit flavors. Varietal wine tends to have a weighty quality and can age well in oak.
Interestingly, Marechal Foch is a teinturier grape. This type of grape variety has deep red flesh, along with red skin. The combination creates a deep red color in the wine.
Mencia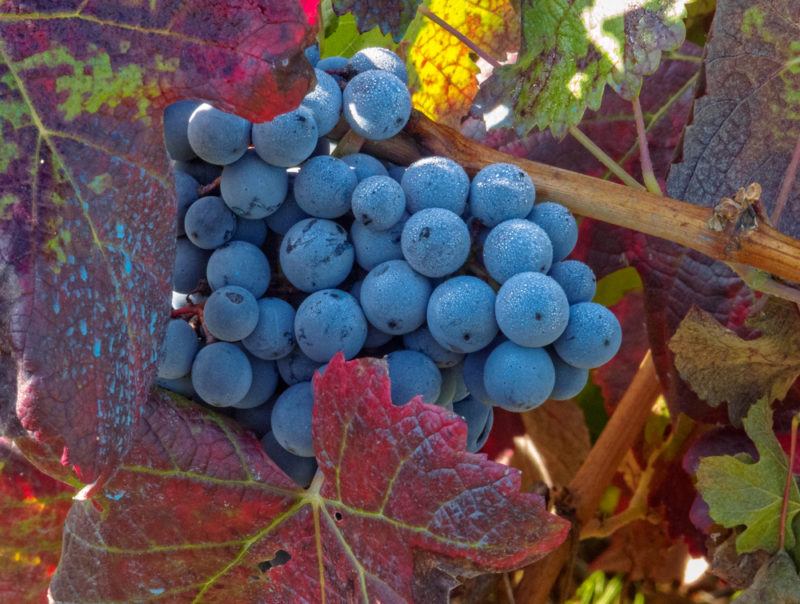 The Spanish grape Mencia is often considered a simple regional grape that is used to create table wines. However, there has been a movement towards more complex wines, where greater emphasis is placed on viticultural methods and quality of the wine.
As a result, modern Mencia wines often have a bright color, dark fruit flavors, and fresh acidity. An herbal dimension may be present too.
The flavor balance tends to be delicate, so any oak aging is carefully planned. The variety can pose challenges to growers too, as harvesting must be well timed or the recognizable acidity of the grape can be lost.
Merlot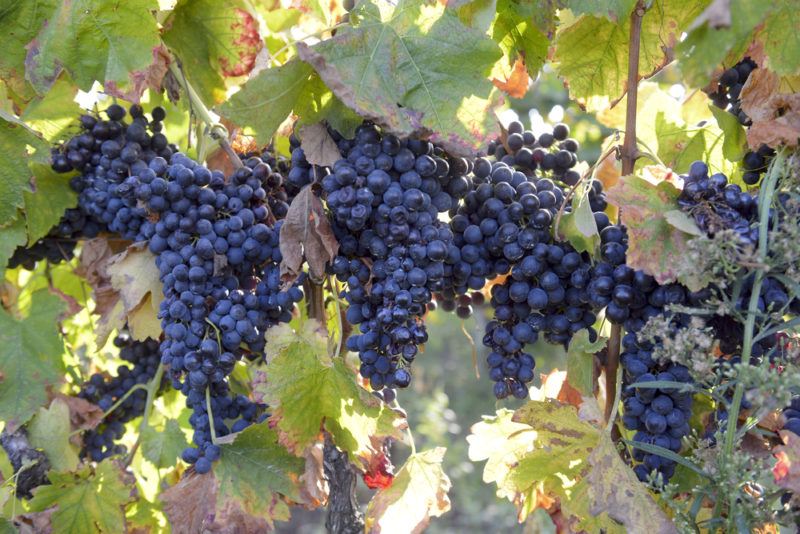 Merlot is another popular red wine varietal in the US, however many people (especially those who aren't familiar with wines) confuse it for Cabernet Sauvignon, and vice versa. The similarity isn't surprising, as the two types of wine are closely related.
Merlot is also the name of the grape that the varietal is made from and is found mainly in France. Merlot tends to grow in similar climates to Cabernet Sauvignon, along with Malbec and Cabernet Franc.
However, despite the similarities, there are notable differences between Merlot and Cabernet Sauvignon.
The main difference is the overall body of the wine – Cabernet Sauvignon is full-bodied with intense texture to it, while Merlot is gentler, with a smoother finish. Merlot is also lower in tannins, making it more appealing to many new wine drinkers.
Monastrell (Mourvedre)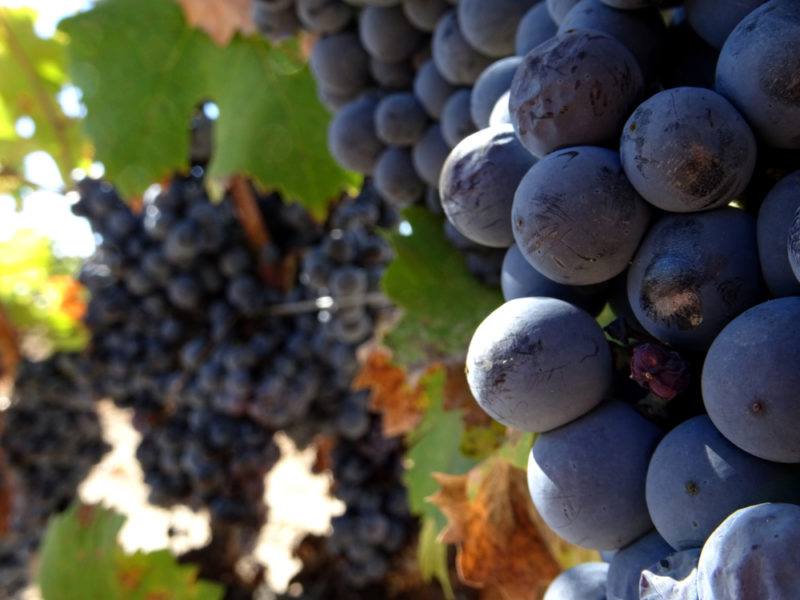 Monastrell is a native Spanish grape that is also extensively grown in France, California, South Australia, and the Iberian Peninsula. Like many similar grapes, Monastrell produces wines with high tannin levels and intense color.
However, the meaty herbal aromas of Monastrell are more distinctive.
The variety is generally used for blending. It is commonly combined with Grenache and Syrah. It may also be blended with varieties like Carignan, largely because of similarities in growing location and ripening times.
While Monastrell isn't often produced as a single varietal wine, some winemakers have begun experimenting with the idea.
Montepulciano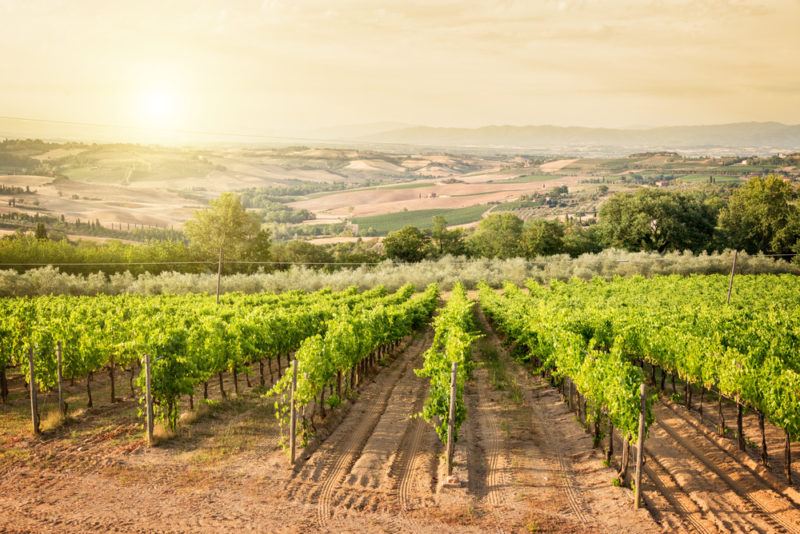 Montepulciano is an Italian grape variety. The variety is common in many wine blends produced in Italy (although, interestingly, Vino Nobile di Montepulciano wines do not use Montepulciano grapes). Sangiovese is the most popular blending partner of Montepulciano.
Most Montepulciano varietal wines can be considered dry red table wines. These tend to have medium-high levels of tannins and acidity, with black fruit flavors and a smoky finish. The wine responds well to aging and can be cellared for ten or more years.
Nebbiolo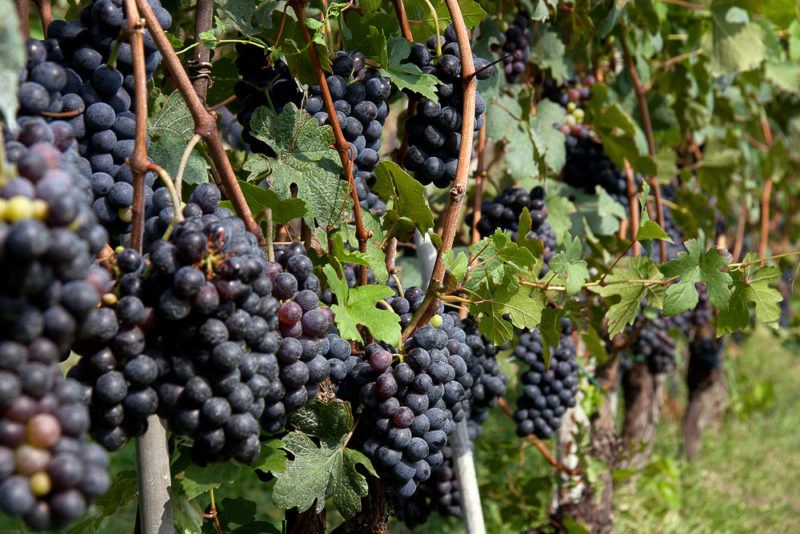 Nebbiolo is a less common red wine varietal, but this doesn't make it less important. The varietal is most commonly linked to Piedmont, Italy – particularly the regions of Barbaresco and Barolo.
Nebbiolo wines tend to be translucent, much paler than many other red wines. They're somewhat unusual, as the wines tend to be robust and high in tannins, even though the smell is delicate.
While Nebbiolo is sometimes seen as a single varietal, it is also blended with other grape varieties to create other types of wine. Doing so can provide additional color while helping to balance out the tannins.
Negroamaro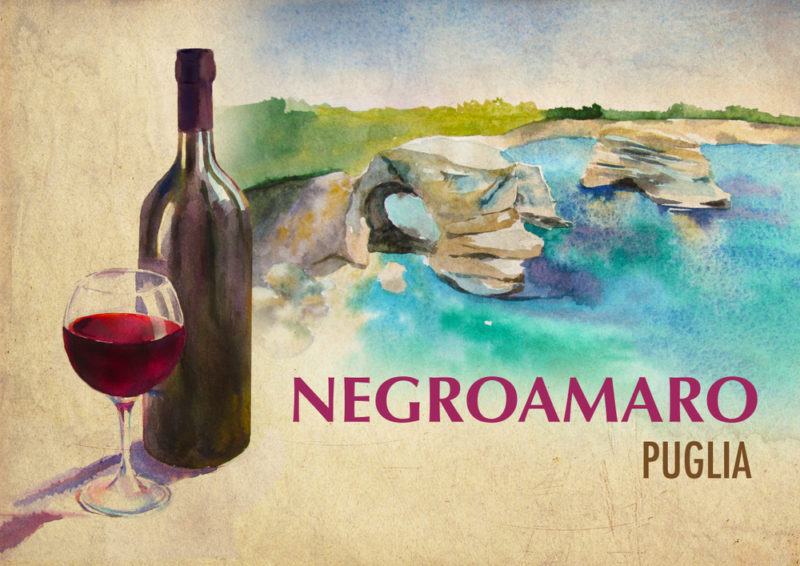 Negroamaro is almost exclusively produced in the Puglia region of southern Italy. It is another popular blending grape, sometimes combined with Montepulciano, Primitivo or Sangiovese.
Negroamaro has mild aromatic qualities and can include brown spice characteristics or a dried herb finish. As a varietal wine, Negroamaro tends to have dark berry fruit flavors, medium-full tannins, and a rich color.
The wine pairs especially well with caramelized foods. These tend to highlight the sweetness that the wine offers.
Nerello Mascalese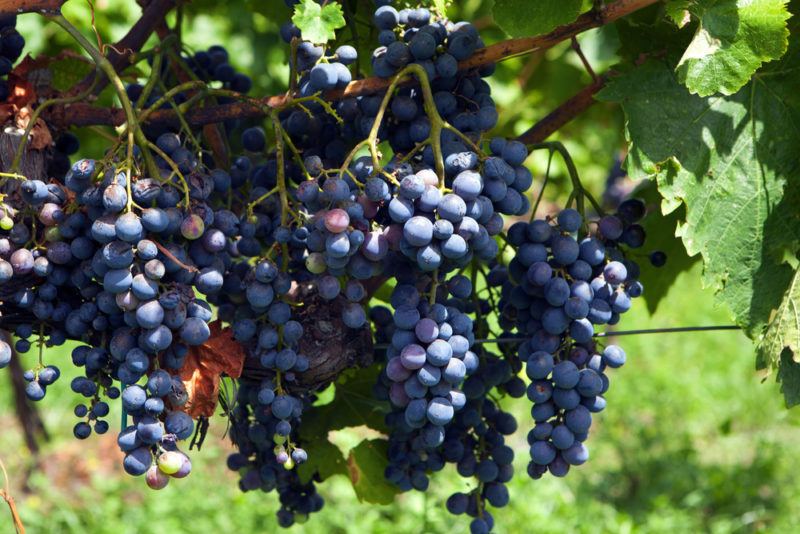 Nerello Mascalese is most commonly found in Sicily, growing on Mount Etna's volcanic slopes. Varietal wines tend to have strong minerality and earthly qualities. The aroma is often reminiscent of famous wines like Burgundy and Barolo, while the wine as a whole has similarities to Pinot Noir.
The wine pairs well with light meats like pork or poultry. It ages well too and can be cellared for ten years or more.
When blended, Nerello Mascalese is most often combined with Nerello Cappuccio.
Nero d'Avola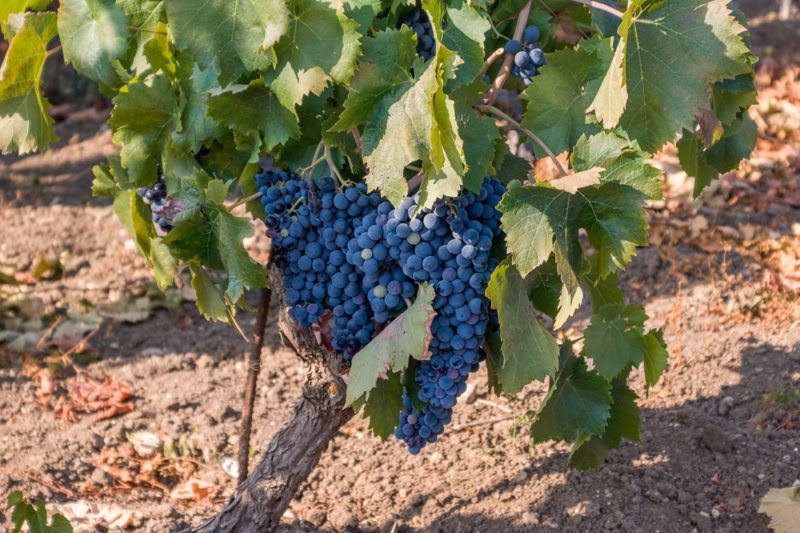 Nero d'Avola is an especially important Italian grape. The name comes from the town of Avola in Sicily, although the grape itself may not have originated there.
Nero d'Avola is often used as a blending grape. Its full body and robust nature make it ideal for fortifying less robust wines.
However, Nero d'Avola performs well in single variety wines too. These tend to have considerable fruit concentration and are full-bodied. Tannin content tends to be medium to high, while the acidity is low.
Black fruit flavors dominate the wine, complemented by a soft and velvety texture.
Variations in production techniques mean that a dense wine can be produced that ages well in oak, or fresh and young wines can be created instead. A rosé style is an alternative type that is sometimes produced.
Norton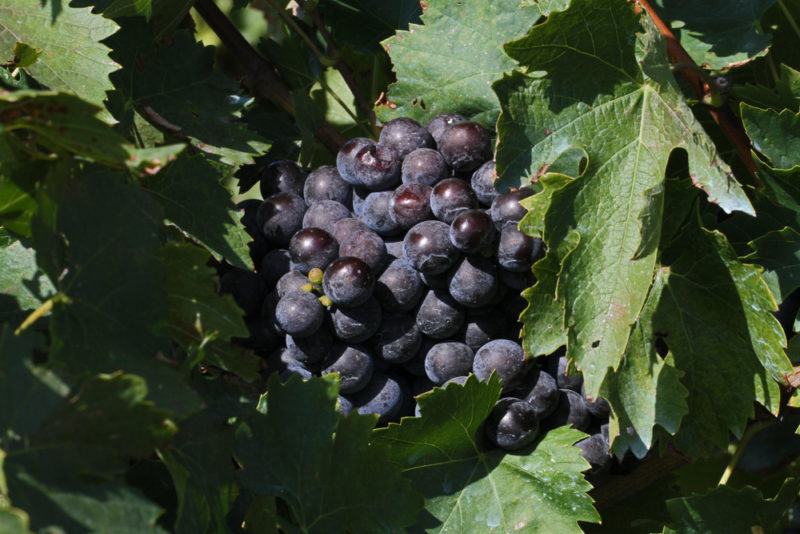 Norton is one of the more appealing hybrid grapes that is found in the United States, as it has minimal foxy aroma (which is much more prominent in other hybrids). Wines produced with Norton grapes tend to have red fruit qualities and pepper notes, while being medium- to full-bodied.
Wines can mellow with age, leading to a more complex array of flavors, including those that are reminiscent of the forest. Even so, most Norton wines are best within a few years of initial vintage.
The variety is unusual, as it is derived from Vitis aestivalis. In contrast, most modern wine varieties are derived from Vitis vinifera.
País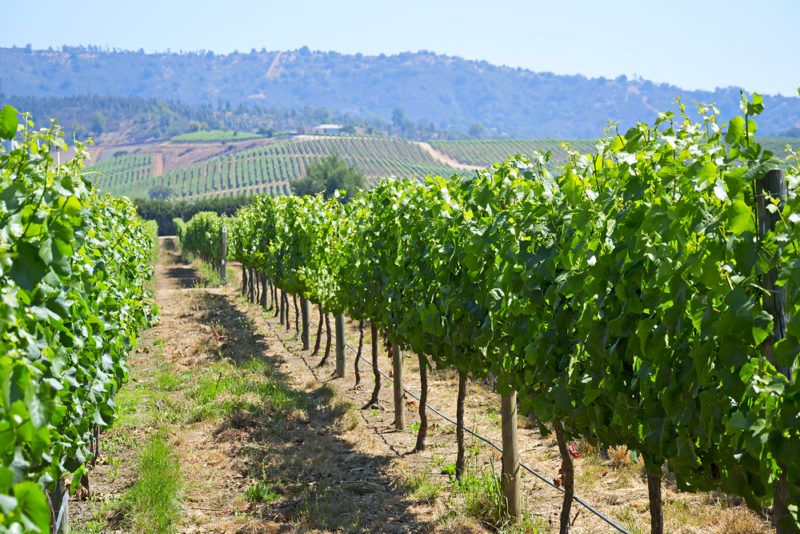 País is a variety that goes by many names, including Mission in North America and Criolla Chica in Argentina. País has an interesting history, as it was the first Vitis vinifera grape to be taken from the Old World to the New World.
Despite the grape's history, País is often not regarded as being a very high quality wine, partly due to weak coloration and high sugar content. Even so, some País varietals are still produced as a callback to history.
There are also examples of País being used to create rosé and some high-tannin reds that are tart instead of sweet.
Petite Sirah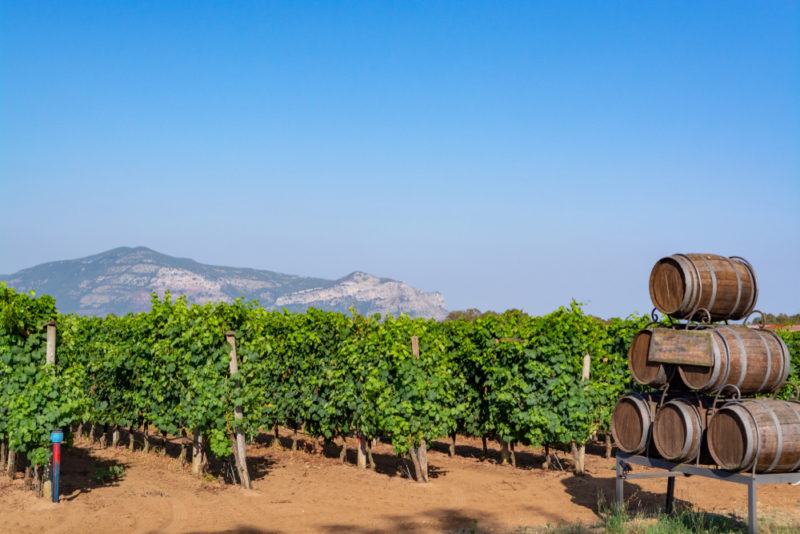 Petite Sirah also goes by the name Durif. The wine tends to have a full body and can be intense. Key flavors include blackberry and plum, along with smoky notes and a peppery edge.
Tannin content is high and the wine tends to have medium to high acidity as well. This combination means that a few years are needed for the wine's structure to soften.
Old Petite Sirah vines tend to make the best wines. These take the intensity of Petite Sirah to a new level, creating an impressive structure.
Petit Verdot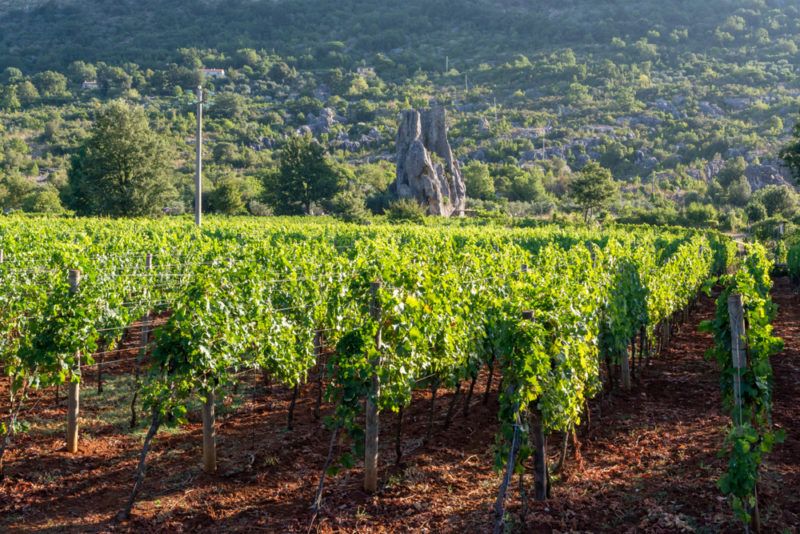 Petit Verdot is generally used as a minor blending grape in Bordeaux wines, as the grape has significant depth of color. However, there has been a movement towards single varietal Petit Verdot wines, especially in southern Europe, Australia, and the Americas.
The variety fares especially well in warm dry climates, where it plays a role in full-bodied smooth reds. These tend to have strong black fruit flavors and high tannin content.
The relatively short finish on Petit Verdot means that it pairs well with meats that have a pungent element.
Pinotage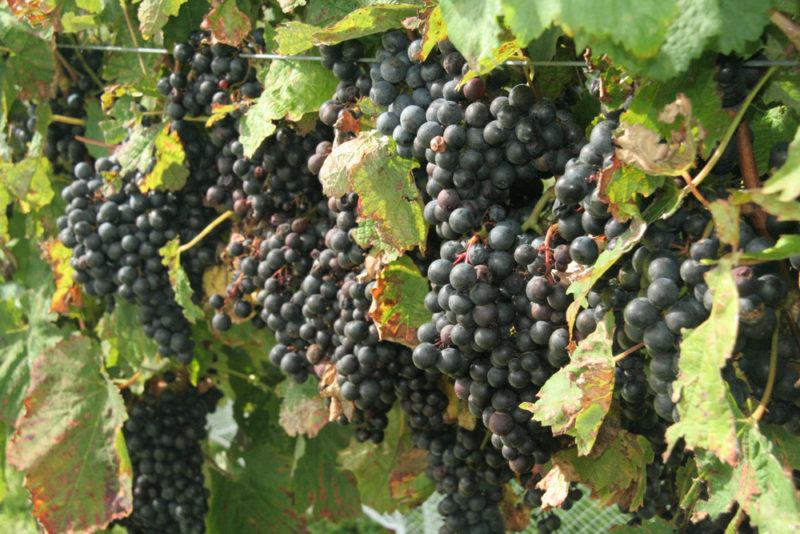 Pinotage is the signature grape of South Africa. It is used to create many different types of wine, including basic table wines and wines that are much richer and more concentrated.
The grape itself is the result of a cross between Cinsaut and Pinot Noir. It has a mixed reputation, with some people viewing Pinotage as being a low quality grape that produces uninspired wines. Modern winemakers are seeking to reverse this trend by encouraging the best outcomes from the grape.
Many Pinotage wines have a full body, with high acidity and medium tannin levels. They tend to include fruity aromas with violet, followed by berry and tropical fruit notes. There will sometimes be spicy notes present too, which help to give the wine complexity.
Pinot Meunier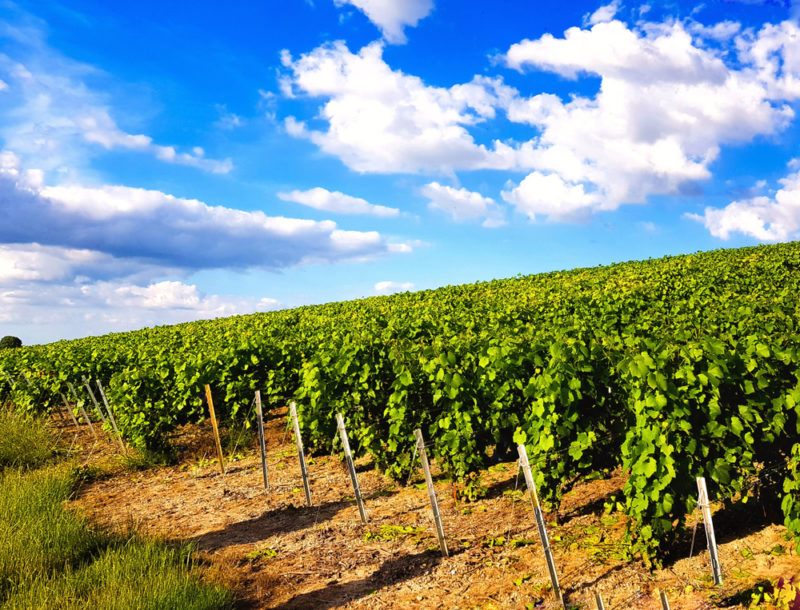 Pinot Meunier is an often overlooked third variety used to make Champagne (alongside Pinot Noir and Chardonnay). It tends to be acidic and fruity, with relatively low alcohol content.
Despite being most common in Champagne, Pinot Meunier is used to create varietal wine too, especially in New Zealand. New Zealand wineries have developed sparking and still varietals using the grape. The wines tend to have a slight jammy nature, with significant fruitiness, low tannins, and moderate acidity.
Pinot Noir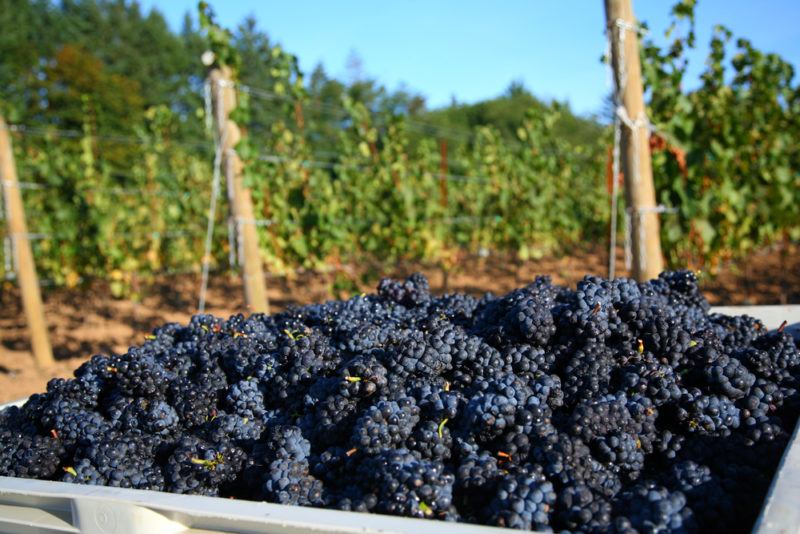 Pinot Noir is an incredibly popular red wine, even though it does not have the same rich and complex flavors that are found in many other varietals. In fact, the wine tends to be paler than other reds.
The popularity of Pinot Noir is partly because the grape is low in tannins. Tannins are a type of polyphenol that create complexity and bitterness in wine, while also giving it a dry taste.
Tannins in wine mostly come from the skin of the grapes (some can come from wood barrels as well), making tannins particularly common in red wine. While the complexity that tannins add can be appealing, many people don't enjoy them, preferring low tannin red wines instead.
The low tannin content and subtle flavors make Pinot Noir a perfect red wine for beginners. The wine also pairs easily with many types of food, including salmon and some rich meats.
Refosco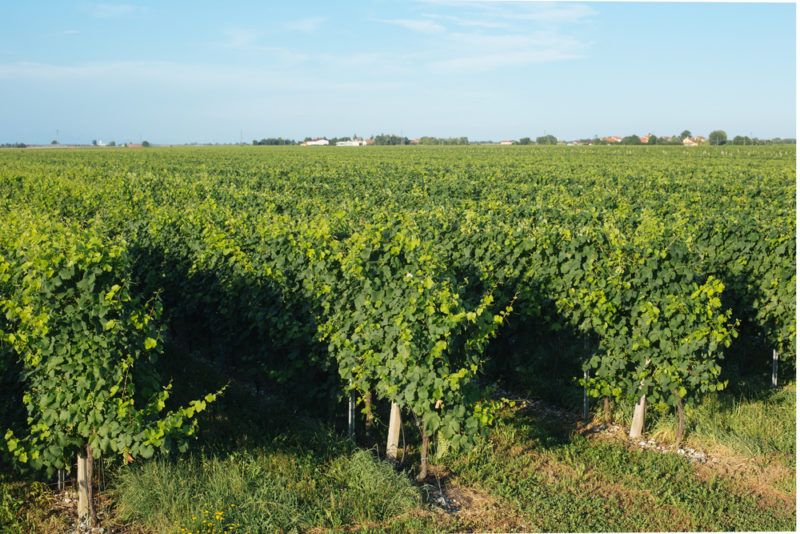 Refosco is another example of a family of grape varieties. These are primarily grown in Northern Italy, along with Slovenia and Croatia.
While there is considerable variation across the varieties, Refosco wines tend to have high acidity and deep coloring. Key flavors include plums and peppery spices. The wines can also have an almond skin finish.
Well-produced Refosco wines age well and can be cellared for upwards of ten years.
Ruby Cabernet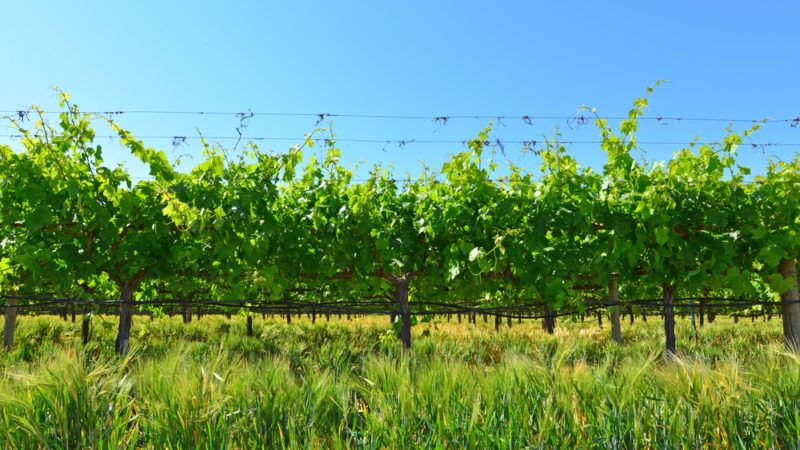 The Ruby Cabernet variety is a cross between Cabernet Sauvignon and Carignan. Popularity for the variety peaked in the 1960s and it has seen a decline since that point.
A key issue is that the variety tends to lack complexity. It is most commonly used as a bulk blending wine, where it can add earthy characteristics and a deep color to other varieties.
When created as a varietal, Ruby Cabernet tends to be fruity and deep in color, without the finesse that is found in Cabernet Sauvignon.
Sagrantino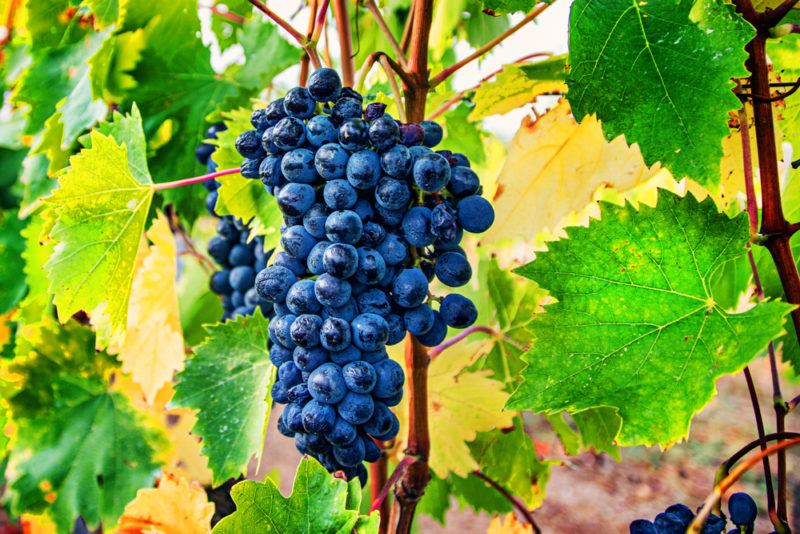 Sagrantino is an Italian grape variety that is well-known for producing high tannin wines. The variety is especially common in the Sagrantino di Montefalco region. Here wines need to contain at least 95% Sagrantino.
As a varietal, Sagrantino tends to be a dense and dark wine. It has a fruity profile that can include flavors from blackberry to black cherries. Secondary characteristics are common too, including earthy and spicy notes.
The wine often requires aging, with many being best consumed between five to eight years after their release. Versions that are higher in tannins can require even longer to fully mature.
Sangiovese
Sangiovese is another Italian grape. This one is strongly linked to the red wines from Tuscany and is the only grape variety used in the Brunello di Montalcino DOCG.
While Sangiovese is often produced as a varietal wine, the grape is commonly used in blending as well.
Historically, Sangiovese wines have dramatically varied in quality, with some being of relatively poor quality, while others are much more appealing. When well made, Sangiovese tends to have high acid content, along with firm tannins and an appealing overall balance.
Winemaking processes significantly improved in the 1980s, which contributed to more consistency in Sangiovese quality.
Schiava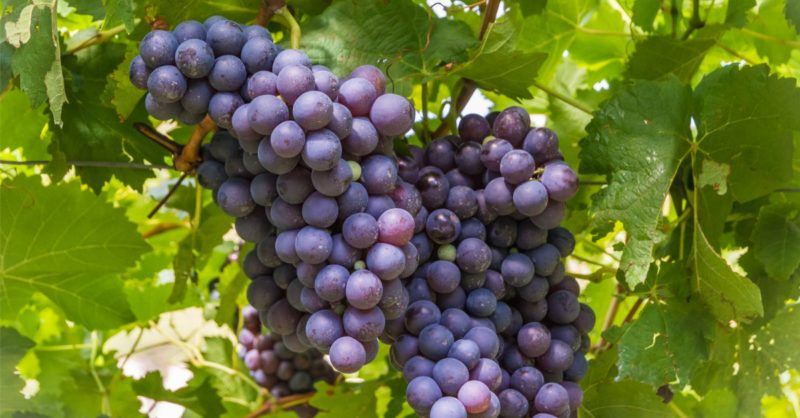 The term Schiava refers to several unrelated grape varieties that are grown in Italy and in Germany. Schiava wine tends to have a light body, low tannins and low to medium acidity, making the wine best when it is fresh and young.
The profile of the wine includes red berry aromas, along with notes of herbs and almonds. The finish has a bitter almond component and can be somewhat spicy, leading to an interesting and refreshing wine.
St. Laurent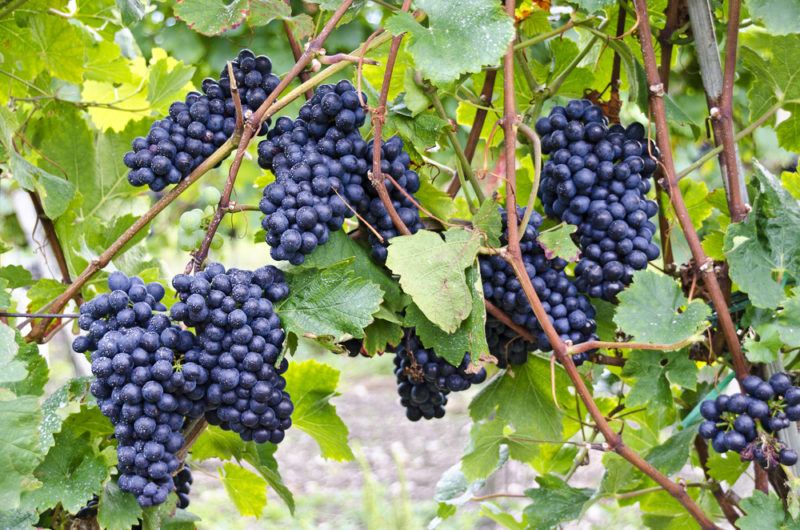 Also called Sankt Laurent in Germany, St. Laurent is an Austrian grape variety that may have initially come from France. The grape may be related to Pinot Noir in some manner, as there are many similarities between the two varieties.
St. Laurent varietal wines tend to have a medium body, medium to high acidity and low to medium tannins. The wines are typically best young, although there are some oaked versions that can be aged.
St. Laurent wines are often enjoyable, with an interesting combination of textures and flavors, including earthy and dark chocolate notes on the finish. When produced from old vines, the wines can be more interesting still, with extra depth of character and mineral aspects.
Syrah/Shiraz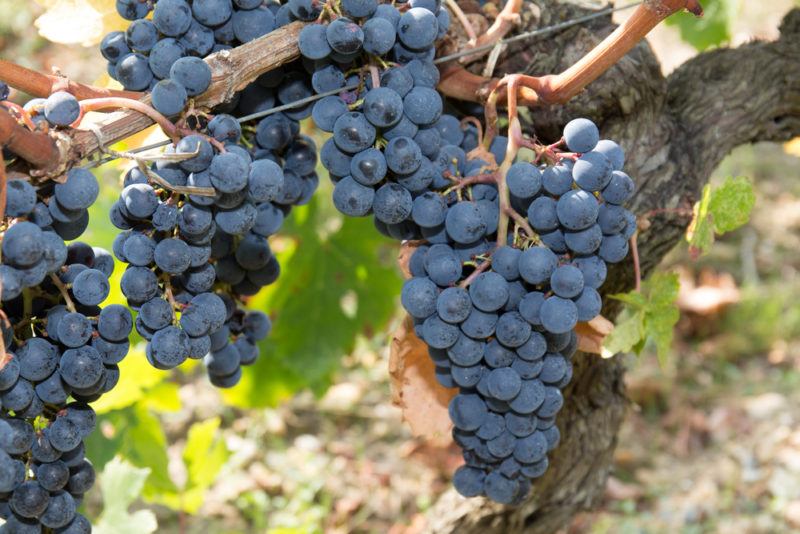 Many people enjoy tasting wine, but not many have the time-consuming hobby of aging wine. If you want to try it out for yourself, though, you can start off with some Syrah wines. Syrah is a grape that's highly ageable and is found in many varieties of wine.
As a single varietal, Syrah is one of the darkest red wines that you will find and has a strong flavor to match. If a full-bodied flavor is what suits you, Syrah might be your ideal wine variety.
Syrah is grown in many parts of the world, including California, Australia, and even Chile, not to mention France, Greece, and Spain. The wine varies depending on where it is grown. New World wines (such as those from Australia and the US) tend to be more fruity and peppery than Old World wines.
Syrah is often blended with grapes like Cabernet Sauvignon to create a more balanced wine that contains more mid-palate flavors.
The names Syrah and Shiraz are interchangeable and refer to the same grape. Shiraz is simply the regional name for the Syrah in Australia.
Tannat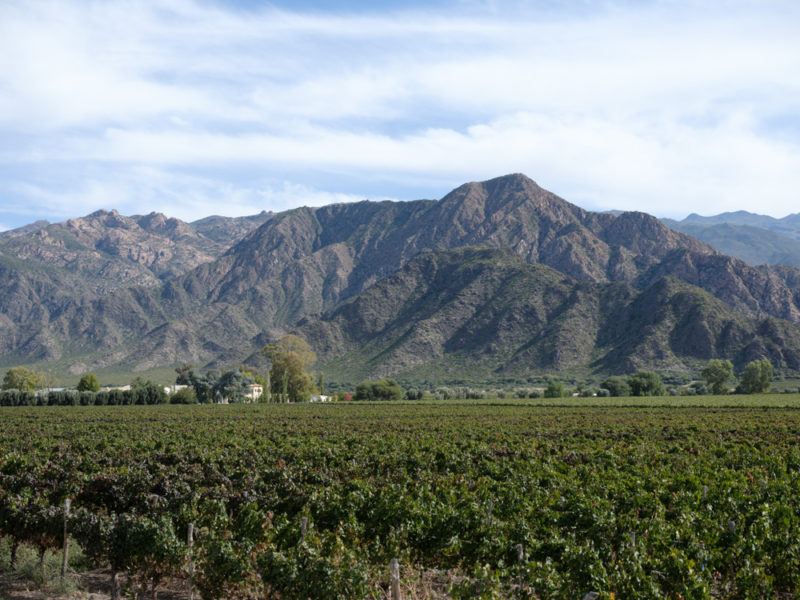 The Tannat variety is grown mainly in Uruguay and France, although other locations have been experimenting with the variety as well. Tannat wines tend to have deep and dark characteristics, while also being a fairly dry variety.
Some winemakers have been working with other approaches to make the wine more approachable. Oak aging and micro-oxygenation are both processes that can make the wine more complex, while offering structure and stability.
The wine is most well-known for having firm tannins, the ability to age well and an aroma profile that is somewhat similar to raspberry jam. Tannat is also used to create rosé wine, where there is an emphasis on limiting the tannin content. Even so, Tannat rosés tend to be fruity and full bodied.
Tempranillo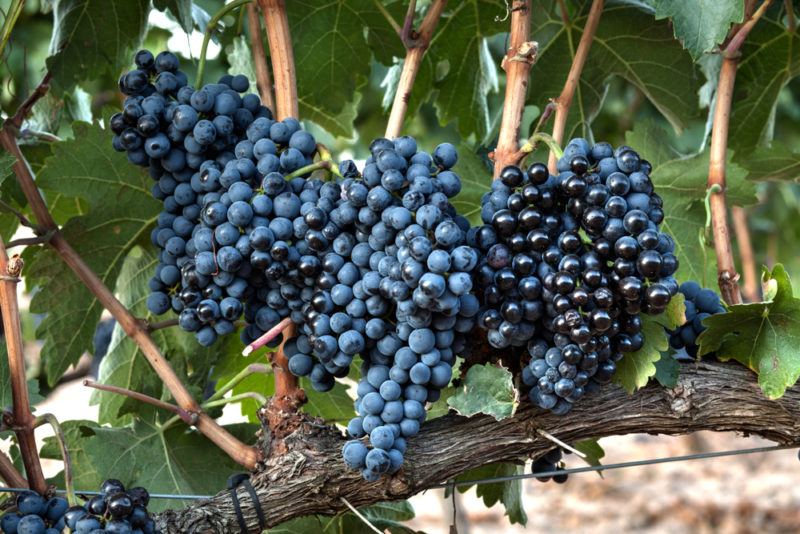 Tempranillo is often considered the main red wine grape in Spain and is one of the most commonly planted red grape varieties in the world. The grape sometimes goes by other names too, like Tinta Roriz in Portugal.
It tends to have high tannin levels and noticeable acidity. Tempranillo wine often has a complex profile, with multiple layers of flavor.
The quality of the varietal wine varies considerably. Cheap bottles can easily be found in Spain, while top level Tempranillo wine may be aged for decades and can easily sell for hundreds of dollars a bottle.
The grape is also dominant in wine blends from the Rioja region in Spain. It blends well as Tempranillo is not as aromatic as many other grape varieties.
Touriga Franca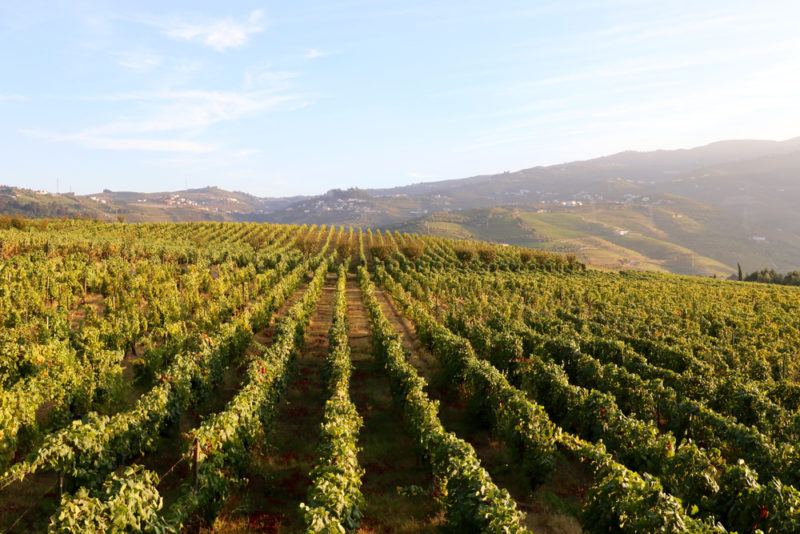 Touriga Franca is a Portuguese wine from the Douro region (despite the name, the grape does not have French origins). While it is more widely planted than Touriga Naçional, Touriga Franca tends to be less prestigious.
Touriga Franca has a lighter body and is more aromatic than Touriga Naçional.
Varietal Touriga Franca wines are uncommon. Most of the ones that do exist can be found in Portugal. The variety tends to be used in blended wines much more frequently, as well as in port production.
Touriga Naçional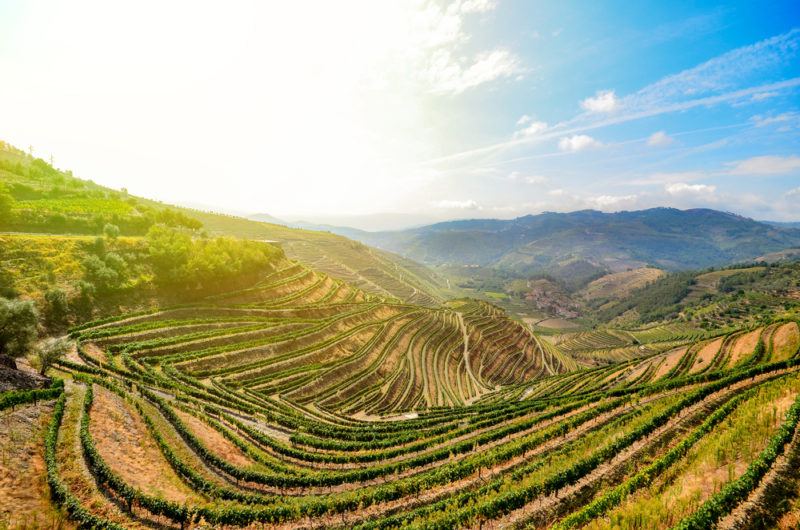 Touriga Naçional is a famous red wine grape from Portugal. It is most well-known as part of port blends but is now becoming popular in red table wine as well.
Touriga Naçional has the whole package – it's a full-body wine that's high in alcohol, tannins, acidity, and is extremely fruity. Taking a sip of one of these is a trip for your tastebuds. It's no wonder this wine's becoming the pride of the Portuguese winemaking community.
The grape is challenging for winemakers, as it requires aggressive pruning and careful training to keep it under control. Even then, the vine produces relatively few small bunches of grapes. The low yield is countered by the intense flavor of the wine and high tannin content.
Xinomavro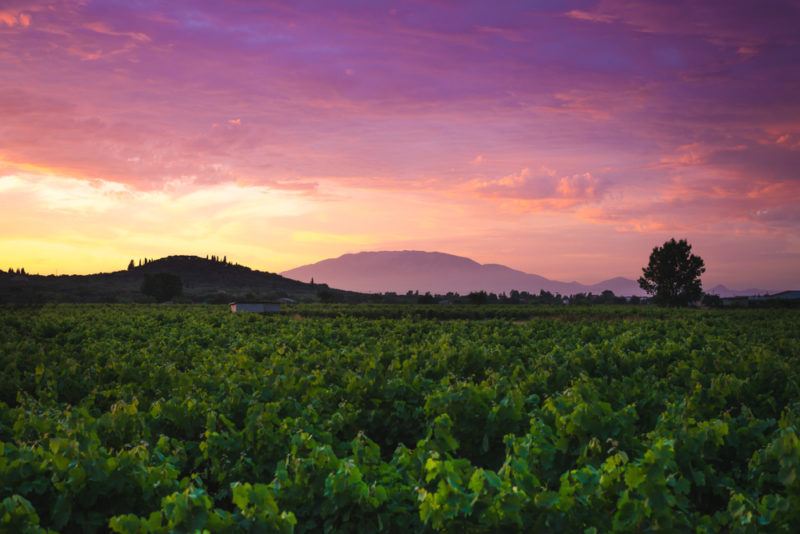 Xinomavro is a Greek grape variety (the name is sometimes spelled as Xynomavro). It is often considered the finest native Greek red wine, offering high levels of tannins and acidity. This combination means that varietal wines tend to have large structure and significant flavor.
Flavor characteristics include red and black fruits, along with sundried tomato and olive fragrances. Further complexity can develop with age, including licorice and clove aspects.
The grapes are most commonly used in a varietal wine. In fact, the Naoussa appellation requires wines to be created only using Xinomavro grapes.
Xinomavro wines are often compared to Nebbiolo wines, although the varieties do not appear to be related.
Blends are also created. These often involve combining the variety with international options like Syrah and Merlot. Such blends focus on softening the characteristics of Xinomavro and making it appealing to a broader audience. However, blending is met with controversy, as many people feel that the variety should not be diluted.
Zinfandel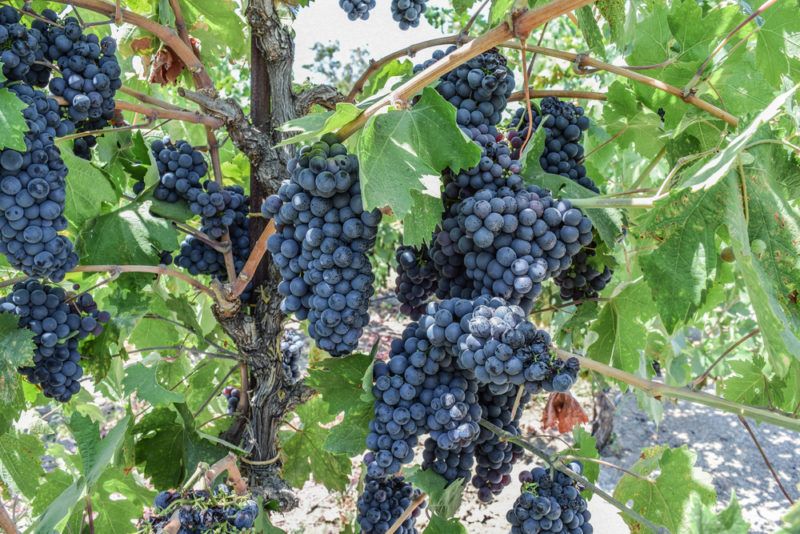 Zinfandel is a versatile grape that can be used to create many types of wines, including rosé, blush wines, and medium-weight reds. A rosé called White Zinfandel is the most popular use of Zinfandel grapes in the US, far surpassing red wine Zinfandel in sales.
Red Zinfandel tends to have moderate tannin content and high acidity, giving it a bold taste. This acidity means that Zinfandel can be used as a great base for warm mulled wine, as we explained in another article.
Research shows that the zinfandel grape is the same variety as Primitivo, an Italian grape. It is thought to have been brought to California in the 1960s.
Zinfandel is also similar to the Croatian grape Plavac Mali. However, this time analysis suggests that the two varieties are not the same. Instead, Zinfandel is likely to be one of the parent varieties of Plavac Mali.
Zweigelt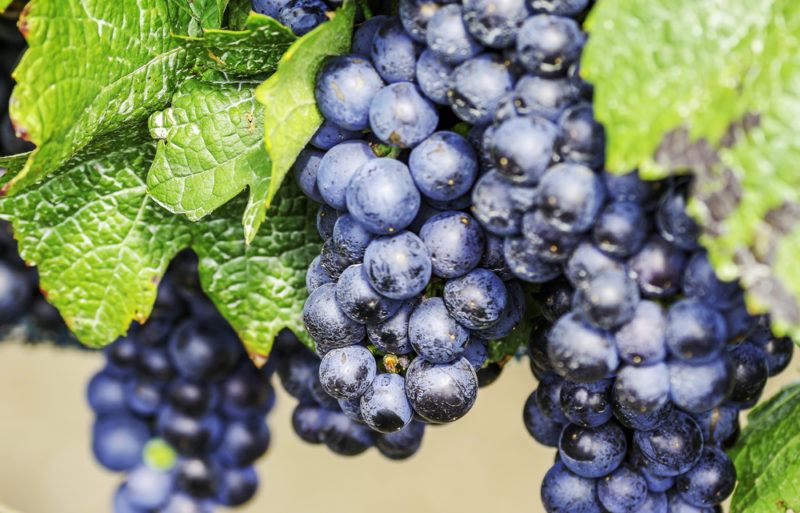 Our final entry is Zweigelt – an Austrian wine that was developed by crossing Blaufrankisch with Saint Laurent. The variety is incredibly popular. It is used to create a varietal wine, while also being a common addition to blends.
As a varietal wine, Zweigelt tends to have a rich color. Key flavors include raspberry and spiced cherry. The wine is often produced in a dry style, but sweet versions exist as well. Sweet Zweigelt wine is sometimes created using dried grapes, although the ice wine style is used as well.
Zweigelt wine tends to be low in tannins, with medium to high acidity. It is often compared to Pinot Noir, although there are distinct differences.
Conclusion
From popular varietals Cabernet Sauvignon and Merlot to more niche flavors such as Malbec and Nebbiolo, there are a lot of red wines you'll need to learn about (and eventually taste) to familiarize yourself with. And that's not even taking into account all of the existing white wines!
This list doesn't cover every single red wine varietal either. Doing so would be an impossible task, as there are many regional varieties that are not well-known on the global stage.
Nevertheless, we've aimed to cover all the major red wine varieties on this list. If we've missed one of your favorites, please let us know in the comments.
Above all, wine tasting is a journey – a slow and steady one at that. This list should hopefully acquaint you with the most well-known varietals to remember, as well as some unique flavors to keep in mind.