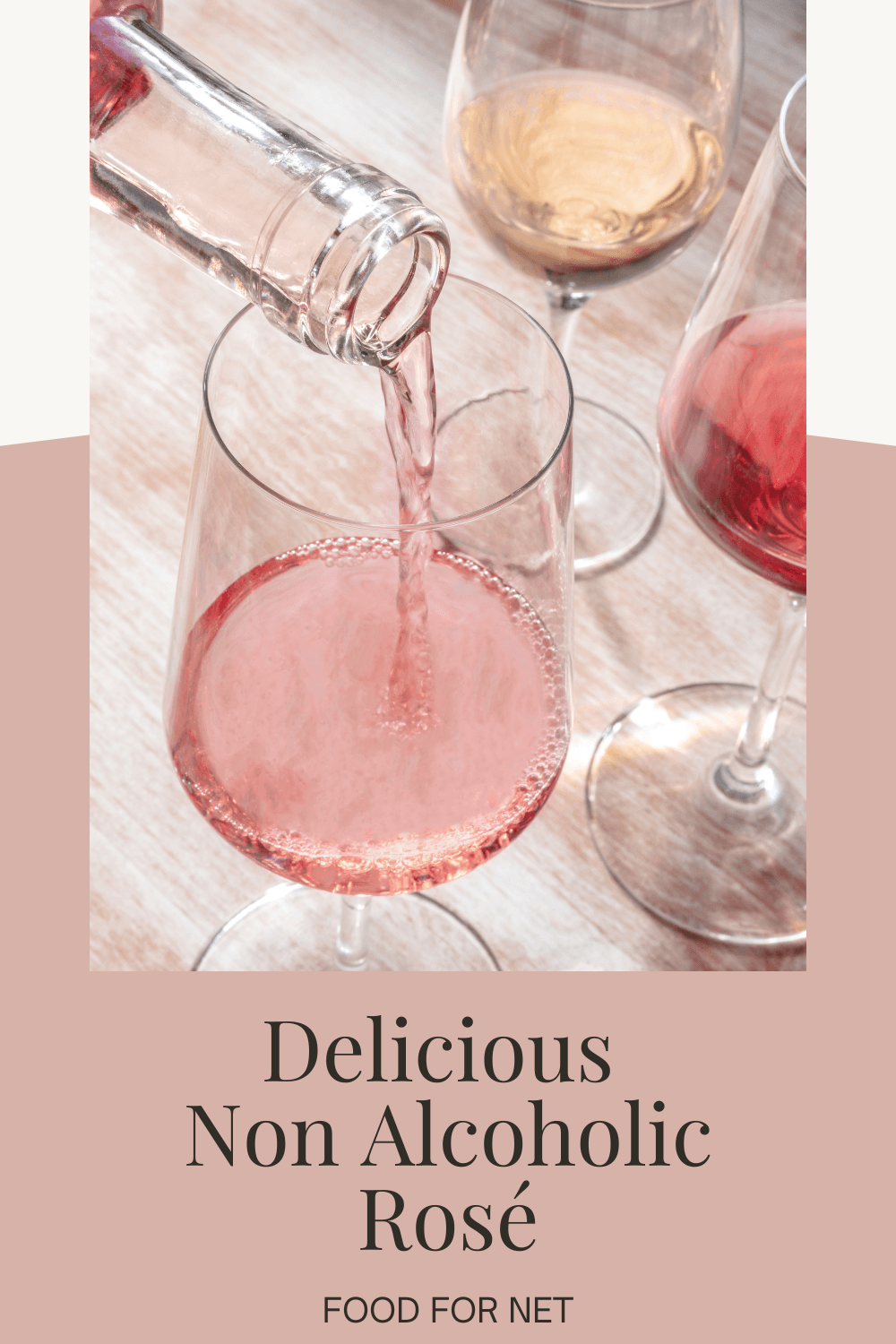 Alcohol free wine was once an unheard of idea. Now it's a trending one, giving you the chance to enjoy your favorite drink even when you need to avoid alcohol entirely. Most conversations on the topic focus on red or white wine, but there is plenty of non alcoholic rosé out there too.
Whether you choose red, white, or rosé, alcohol free wine almost always goes through the same vinification process as regular wine. The alcohol is then removed before the wine is bottled. Extra ingredients and additives may be included as well, to help offset any flavor loss.
Because of these creation steps, alcohol free wine isn't normally entirely alcohol free, but always falls under 0.5% alcohol. The flavor profile is often a little different too, as it's tough to exactly match the taste of wine without using any alcohol.
Still, many bottles of alcohol free wine are delicious. A few of them are even more enjoyable than regular wine, which is an impressive feat.
And, if these don't do it for you, there are plenty of other non alcoholic drinks. You might order some of these at a bar or buy a non alcoholic spirit or two and make your own versions at home.
Alcohol Free Rosé
Thomson & Scott Noughty Sparkling Rosé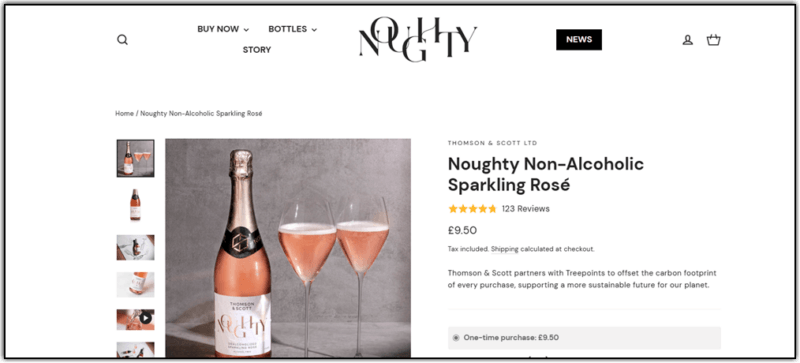 The Noughty range from Thomson & Scott is a great example of alcohol free wine done right. The company relies on organic grapes, uses minimal intervention, and ensures that all products are completely vegan friendly. The sugar content is kept as low possible too, which is a critical feature in any alcohol free wine.
The wine ends up being everything you'd hope for. It's light, bubbly, low in calories, and carries the scent of fresh berries. There's plenty of flavor, but the wine won't overwhelm your palate.
Studio Null Sparkling Rosé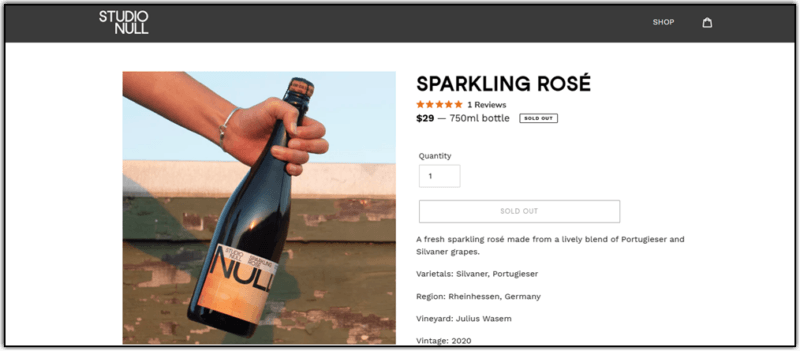 Studio Null is another company that focuses on sparkling rosé, rather than offering a still version. However, they are a powerful company, as they have a strong focus on quality and traceability. This means you know what to expect from the wine and where it comes from.
Studio Null also focuses on unusual grape varieties, with their rosé relying on silvaner and portugieser grapes. The flavor profile is exceptional, so much so that you might entirely forget you're drinking non alcoholic wine.
Giesen 0% Rosé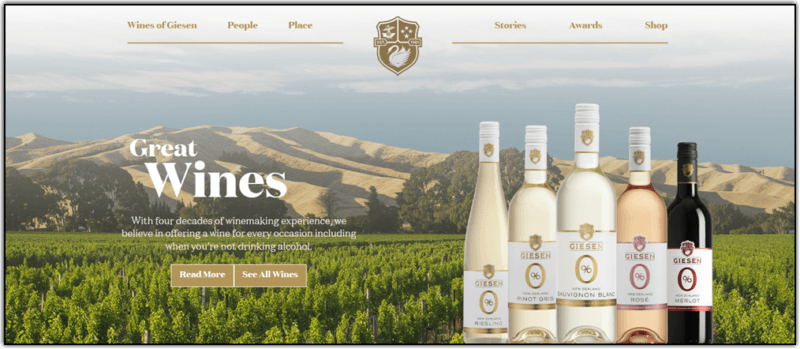 Giesen is a New Zealand winemaker with many popular wines. They've also extended their range to include alcohol free options, including their 0% rosé. Finding alcohol free options from a traditional winemaker like this is always powerful. After all, they already know exactly what they're doing with wine and have the processes down pat.
The wine is surprisingly dry, with aromas of strawberries, white peach, and apples, which should complement many meals. This rosé even scored 91 points in the 2022 International Wine and Spirit competition, earning a silver medal in the process.
Fre Wines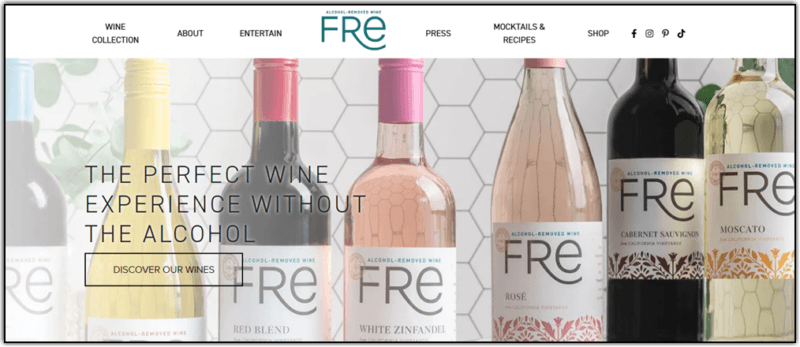 Fre Wines is exciting because they offer sparkling rosé and still rosé (plus a fruity rose-colored white zinfandel). Their selection suggests that they know exactly what they're doing and can produce a high quality product every time.
Part of the process involves a spinning cone column that removes the alcohol without damaging the flavor profile of the wine. Then, wine essences are added back in, coupled with the wine base and unfermented grape juice. This multi-step process ensures the wine gets as close to the real thing as possible.
The still rosé includes flavor notes of strawberry and citrus, complemented by plenty of berry notes. The sparkling version is similar, although the company has also focused on keeping the wine dry and refreshing.
Surely 0% Rosé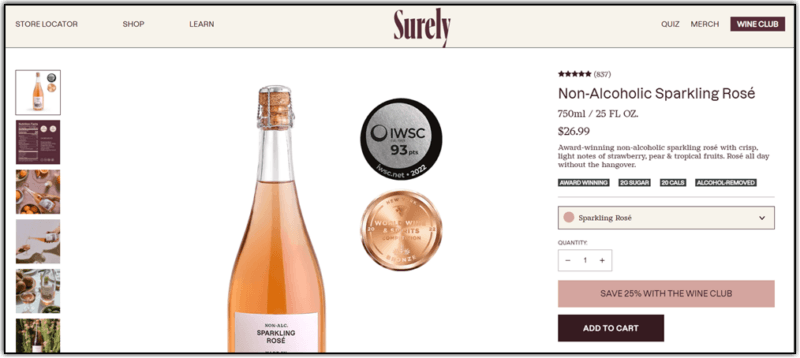 Surely focuses on sparkling wine, offering non alcoholic sparkling rosé in a classic bottle or a can. A single serving of the canned version only contains 1 gram of sugar, which is impressive for any alcohol free product.
There's plenty of fruitiness with the flavor profile, including notes of strawberry and raspberry, with a little guava for contrast. The color is light and perfect, making this an ideal choice for celebrations.
Surely did also offer a still version of rosé that received good reviews as well. However, this doesn't appear to be available any more.
Eins Zwei Zero Rosé

The Eins Zwei Zero Rosé comes from the German brand Leitz, which produces some excellent alcohol free wines. Their still rosé includes familiar notes of raspberries, strawberries, and citrus, which are laid over a mineral base. The finish is fairly dry (as dry as it can be for an alcohol free wine).
There is a sparkling version of this wine too. This has a similar color although there are slight differences in the flavor notes. The sparkling rosé would be excellent for celebrations – adding an air of elegance to any occasion.
Pierre Zéro Rosé


Pierre offers an alcohol free rosé that excels in every way possible. It has a perfect rosé color coupled with familiar red fruit flavors.
To achieve this, Pierre used 80% chardonnay grapes, balanced with 20% merlot grapes. The grapes are harvested at night when temperatures are lowest, which helps to maintain their quality and promotes the best possible wine.
The name Pierre Zéro highlights an interesting feature about this brand – that they try to truly reach 0% alcohol content. Many brands don't bother doing this and instead simply focus on getting under the 0.5% legal threshold.
Grüvi Bubbly Rosé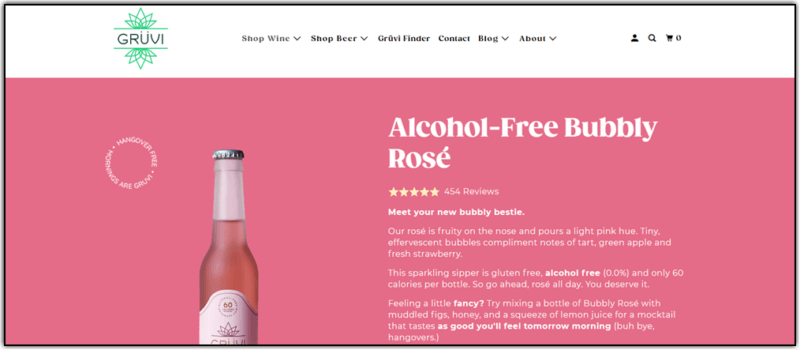 Grüvi offers an extremely unusual product. It mimics sparkling rosé in many ways but isn't an exact match, as this wine doesn't go through any fermentation at all.
Avoiding fermentation has allowed Grüvi to produce a rosé wine that's free from even trace amounts of alcohol. This is helpful, as some people do need to avoid alcohol entirely. The drink is also sulfite free and is both vegan friendly and Kosher.
The flavor profile includes tart green apples and strawberries, giving you a fresh and fruity drink that's easy to love. That said, the lack of fermentation means that this isn't as complex as other sparkling wines.
TÖST Rosé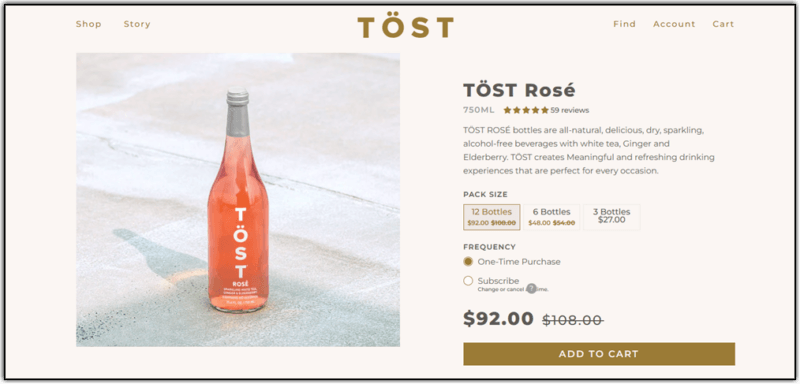 TÖST Rosé is similar to the Grüvi entry in that we're not talking about true rosé at all. Instead, the drink is designed to mimic the appearance and some of the flavor of rosé without ever using distillation.
TÖST Rosé does so in a more complex way than Grüvi, as the company uses white tea, ginger, and elderberry as ingredients. Using additions like these is a great way to set the wine apart and ensure it doesn't taste like grape juice.
Reviews are generally positive, with many people talking about the flavors being well balanced. There is a slight fizziness and not too much sugar as well, which makes the drink even more exciting. The big catch is that this doesn't really taste like rosé. It has a flavor profile all of its own, which can be disappointing if you want a true rosé replacement.
Proxies

Our final entry is Proxies. This brand follows the same style as the previous two, meaning we're not talking about fermented grape juice with alcohol removed.
Instead, these drinks have a complex laying of flavors, including grapes, other fruits, spices, and tea. There is some fermentation involved too, although the steps are different than with other products.
The combination of fruit juice, spices, and tea creates a rich and exciting flavor profile, one that's much more interesting than simple grape juice.
There are even some rosé-like flavors, including Pink Salt, Zephyr, and Alpenglow. However, as the names imply, none of these are trying to precisely replicate the flavor of rosé. Still, their complexity could make these more appealing than most alcohol free rosés.
Does Alcohol Free Rosé Taste Authentic?
Alcohol free wines always get mixed reviews, as they don't taste exactly like the real thing. But honestly, that's to be expected.
After all, these wines miss one key component – alcohol. The alcohol doesn't just get you intoxicated, it also influences the flavor profile.
Replicating this flavor profile without any alcohol is almost impossible. Alcohol free wine producers do everything they can to mimic true wine, but there will always be differences.
In particular, most alcohol free rosé will be sweeter than regular rosé and will be missing some of the expected flavor complexity.
Why Is The Wine So Expensive?
Alcohol free wine generally has an inferior flavor to real wine, yet it's priced similarly. Some products are even more expensive than regular wine.
This pricing means that you're paying the same or more for an inferior product. In some senses, you're just paying through the nose for glorified grape juice.
This isn't an easy issue to avoid, as alcohol free wine is complicated to make. Manufacturers still need to step through most wine making processes, including maceration and fermentation. Then they need to remove the alcohol and add extra ingredients to make the flavor profile work.
All these steps make non alcoholic wine expensive to produce. Companies may find ways to cut down their costs and create more affordable products, but even then, dealcoholized wine is likely to always cost more than simple grape juice.
Related Content