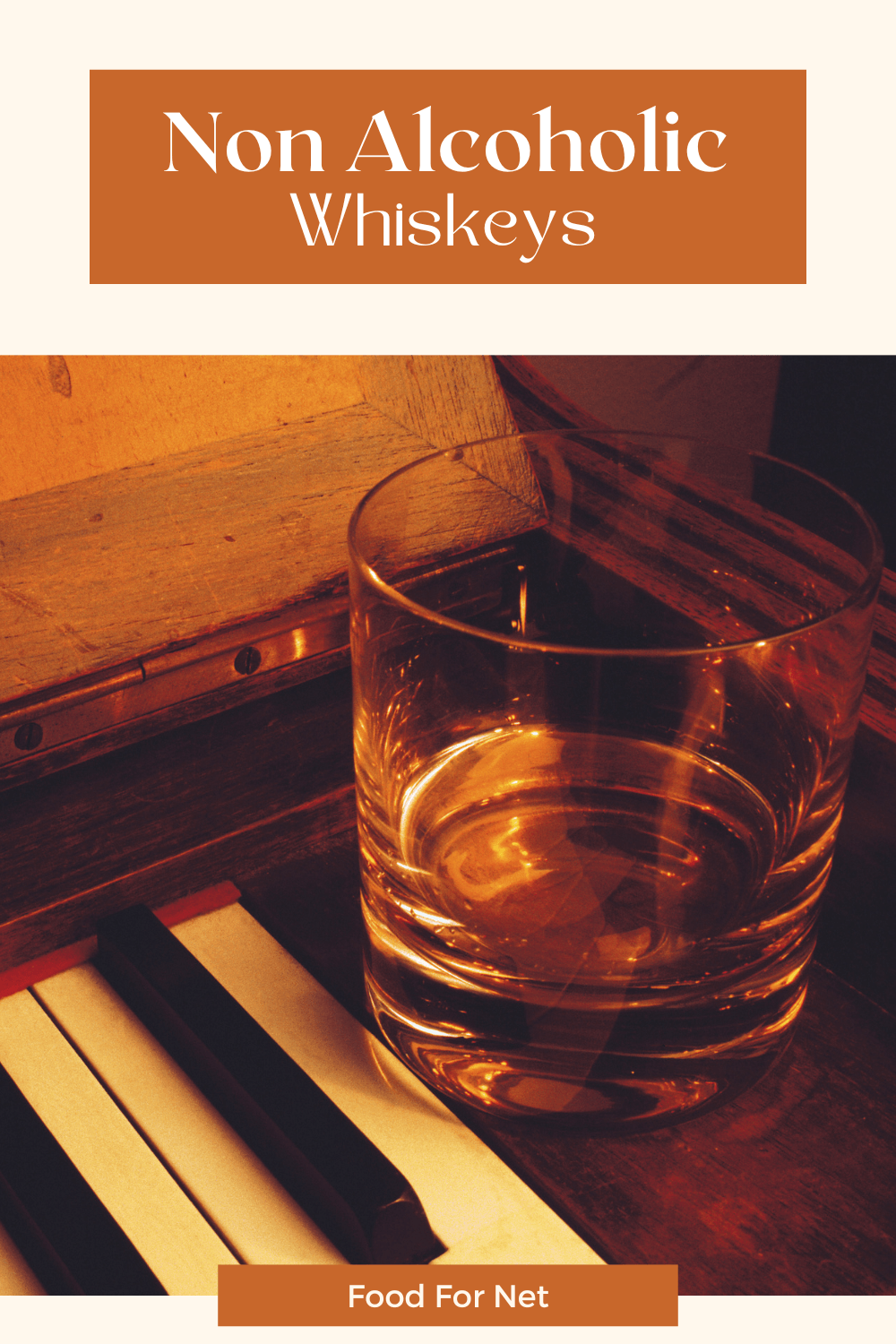 How do you have whiskey without any whiskey? That might sound like a trick question, but modern companies are getting surprisingly close to an answer – with their own non alcoholic versions. Now, non alcoholic whiskey isn't quite like the real thing. It can't even legally be called whiskey.
Don't let those issues stop you though. Alcohol free whiskey is designed to mimic the flavor and even the mouthfeel of your favorite beverage and can get surprisingly close. To do so, companies use high quality distillates and extracts, along with carefully designed processes to get as close as humanly possible.
The right product allows you to enjoy most of the sensory experience of drinking whiskey, with none of the inebriating effects of alcohol. This is particularly good for pregnant women or those who wish to remain sober. Besides, we all have some days where we just don't want any booze.
Many of these whiskeys can be enjoyed straight. You can also use them as part of a mocktail or to make a virgin version of your favorite drink. Why not experiment to see what new creations you come up with?
You could even follow these 'spirits' with whiskey chasers. Doing so isn't essential, as these products don't have the same burn as whiskey. Still, you might enjoy the flavor contrast.
Alcohol Free Whiskey
Barreled Oak by Gnista


Gnista Barreled Oak is an engaging smoky expression with a flavor profile that includes spices, chocolate, and oak. There's a surprising amount of sweetness too, which works perfectly in some cocktails and not so well in others.
In fact, the flavor profile means you can skip the mixers entirely and serve Gnista neat. This is partly because the company has such a strong emphasis on quality.
There's even an complex process in making the whiskey, which includes finding the distinct characteristics and the key flavor tones of the chosen spirit, then sourcing the perfect ingredients. This is followed by a variety of steps, like maceration, steam distillation, infusion, and filtration.
Gnista even employs a master blender to create their final product. Whiskey companies do this too, but the approach is rare among alcohol free whiskeys. The blending process creates a much more balanced product that always tastes delightful.
It's no wonder that Gnista produces impressive products that receive glowing reviews. If you're only going to try a single alcohol free spirit, this is the one to focus on.
Zero Alcohol Whiskey by Monday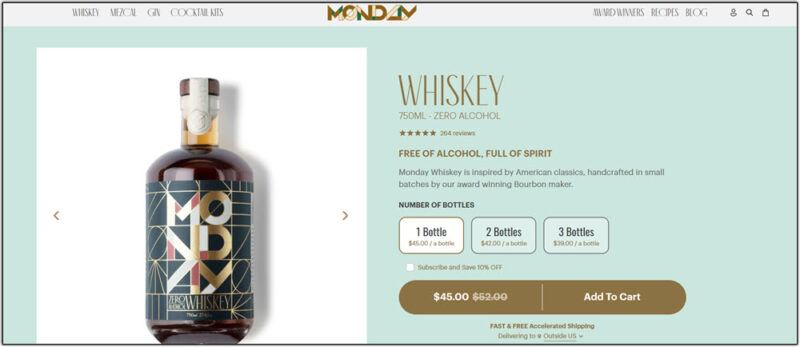 If you enjoy bourbon, the Zero Alcohol Whiskey by Monday is a fantastic choice. Not only was this expression inspired by classic American whiskeys, but it is even crafted by an experienced bourbon maker. What could be better than that?
This whiskey alternative also gets fantastic reviews. This one and Gnista are, arguably, the closest you can get to true bourbon whiskey. That's remarkable, as it's hard to completely mimic the flavors of whiskey.
What's more, this product is suitable for almost everyone. It's gluten free, keto, vegan, calorie free, free from major allergens, and even paleo friendly. Many people enjoy the whiskey alternative straight, but you can also include it in most bourbon cocktails.
Green Label Single Malt by Escape Mocktails


Escape Mocktails is one of the most prolific non alcoholic spirit companies, offering many varieties of bourbon, gin, rum, tequila, and even cognac, not to mention cordials and premixed mocktails. Their green label single malt is one of the best starting points for whiskey lovers, as it is mellow with a touch of bitters and limited sweetness.
This one is best used in cocktails. Many reviewers mention that the flavor profile isn't quite right when you drink it alone. Still, this is a common issue among non alcoholic spirits, as it's hard to get everything exactly right.
Mashville by Seir Hill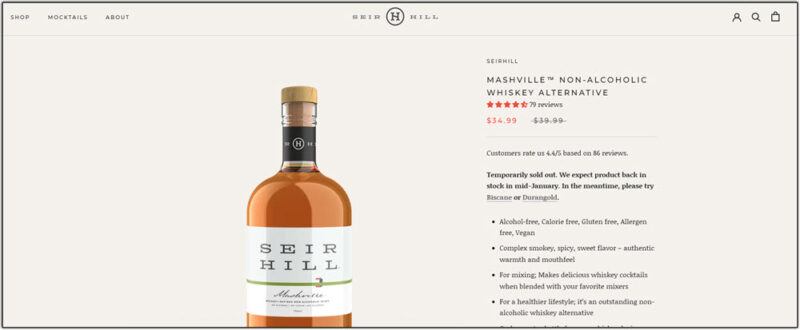 This whiskey by Seir Hill is so popular that it often sells out. It's a little unusual, as it was designed to be healthy, which includes being free from sugar, nuts, and being low in calories.
The flavor profile is amazing too, with notes of charred oak, cloves, and apple cider. It's a smooth drink with a familiar mouth feel. There's even a touch of alcohol-like warmth, which is striking for an alcohol free drink.
Actually, the spirit tastes a lot like the real thing, even if you're drinking it straight. Mix it in a cocktail and you mightn't be able to tell the difference.
Kentucky 74 by Spiritless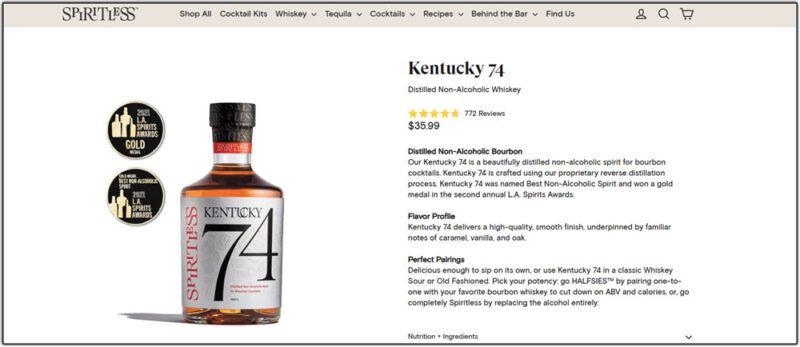 If you're a bourbon lover, then the Kentucky 74 from Spiritless is tough to beat. This alcohol free whiskey comes in a spiced and a regular version and is one of the top performing products on the market.
The drink's power comes from the fact that it starts with alcohol, which is infused with wood, then reverse distilled and blended. The wood infusion ensures the drink has all the desired flavor tones, while the reverse distillation strips away almost all the alcohol (the finished drink has an ABV of around 0.5%).
While Kentucky 74 can be sipped, it performs much better as part of a cocktail. Try it as part of a mint julep or an old fashioned – you won't be disappointed.
Cinnamon Fire Whiskey by Escape Mocktails


This second entry from Escape Mocktails takes a completely different approach. Think of it like the alcohol free version of cinnamon whiskey. This is an unusual style for an alcohol free spirit, as most try to keep things simple instead.
Interestingly, this is a popular entry in the Escape Mocktails lineup, with reviewers saying that the drink has plenty of cinnamon and a decent kick, despite being alcohol free.
Perhaps it's easier to get the right balance with flavored spirits compared to plain ones.
Ritual Whiskey Alternative by Ritual Zero Proof


The whiskey alternative from Ritual Zero Proof is most well-known for having distinct floral tones. These are complemented with a little sweetness and some spice. It's also a consistently popular alcohol free whiskey, so the company must be doing something right.
In fact, this is one of the few products that gets close to the flavor and feel of real whiskey. It's particularly good in an old fashioned and can be enjoyed neat as well.
Reviews of this one are interesting, as some people talk about it being almost the same as real whiskey, while others say it that has unique flavor notes that can be off-putting. This is the way of things though, as we all have completely different palates and preferences.
Friski Whiski by Sexy AF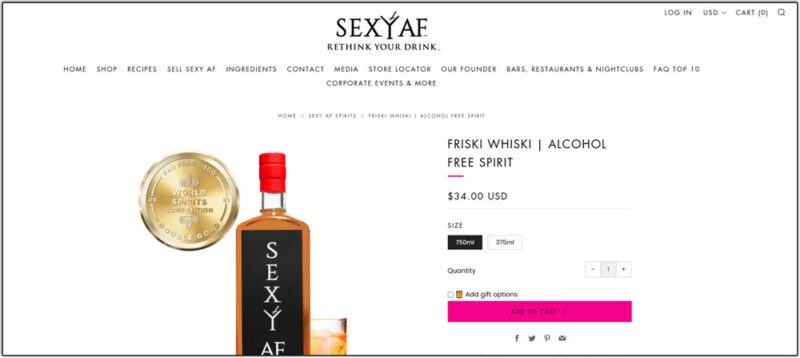 Sexy AF offers a selection of alcohol free spirits, but these are a little different than normal. For one thing, their spirits are all designed as cocktail ingredients, rather than as something to be served neat.
The main flavor notes include cinnamon, all spice, and (oddly) kola nut. But, the unusual style isn't a bad thing. The whiskey alternative has won awards and does work well in cocktails.
That said, the flavor profile is quite different from true whiskey. It's great in cocktails, but the flavor profile doesn't work well when you're drinking it neat.
Another fascinating aspect is the alcohol content. Most alcohol free spirits aren't literally 0% alcohol because they're made using reverse distillation. They can actually contain up to 0.5% alcohol and still be classified as alcohol free.
Sexy AF is different. The company doesn't use alcohol in any part of their creation process, so there's no alcohol at all in the finished product.
American Malt by Lyre's


Lyre's is a pretty stunning brand. They do everything they can to create truly delicious drinks, ones that capture the essence of your favorite spirits.
Their American Malt is their bourbon-inspired expression. It offers some herbal flavors, along with toasted nuts and vanilla. There are also notes of oak, honey, and sweet spices.
What's more, Lyre's has a strong focus on getting the taste just right. To do so, they use high quality natural essences and distillates, which are expertly blended and get the flavor perfect every time.
The Spirit of Bourbon by Free Spirits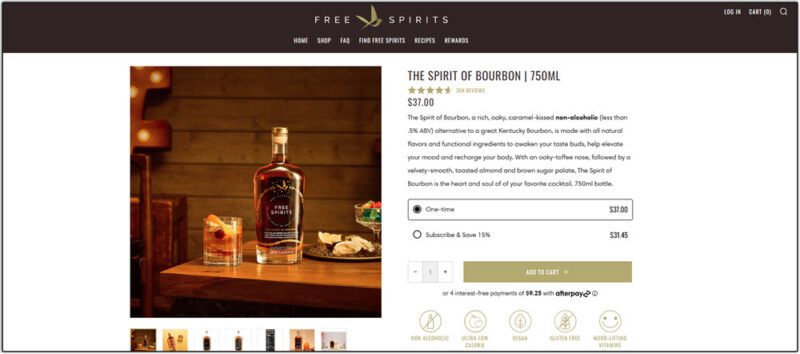 Here's another treat for every bourbon lover. With their Spirit of Bourbon, Free Spirits has indeed encompassed all the classical aspects of bourbon, including rich oak and caramel flavor tones.
This is a surprisingly healthy drink too, as it's incredibly low in calories, is vegan and gluten free, and even contains some vitamins. Free Spirits even manages to infuse a bit of alcohol-like burn into their products. This isn't quite as intense as the real thing, but it's still distinctive.
What's more, Spirit of Bourbon is often ranked highly in lists of top alcohol free whiskeys and bourbons. It's not just the taste that people love either – the spirit is also popular for its smoothness.
Other Whiskey Alternatives from Escape Mocktails
Escape Mocktails has an impressive collection of whiskey alternatives. We talked about two of these earlier – the green label single malt and the cinnamon fire whiskey. There is also a Tennessee whiskey, a white label single malt, a churro whiskey, a peanut butter whiskey, and Pete's blend (which includes bourbon and whiskey flavor tones).
That's not even the end of it. Escape Mocktails has a range of total of nine types of whiskey when you include their bourbons. Most companies just have one!
Arkay Whiskey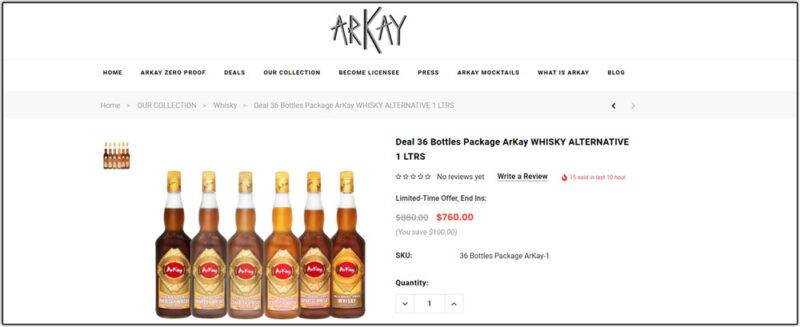 We've saved Arkay till last, as the company is lower quality than most of the others. They also appear to focus on simply using flavoring ingredients, rather than distilling and infusing their alcohol.
Still, the lack of distillation isn't all bad. This means the finished product doesn't even have trace amounts of alcohol. That's helpful if you need to avoid alcohol entirely. Making alcohol free spirits this way could also make it cheaper to experiment with flavors and styles. Perhaps this is why Arkay has such an extensive range.
For whiskey alone, their collection includes fire whiskey, Japanese whiskey, honey whiskey, and more. There are also the more familiar traditional styles of whiskey.
Another feature is the use of what they call their W.A.R.M. compound. This compound is meant to mimic the heat that alcohol brings to a drink. You don't normally get this heat with a non alcoholic substitute, so finding a way to replicate this is pretty exciting.
Arkay's whiskeys aren't incredibly close to the real thing, but they're close enough, especially if you include them in a cocktail.
Related Content