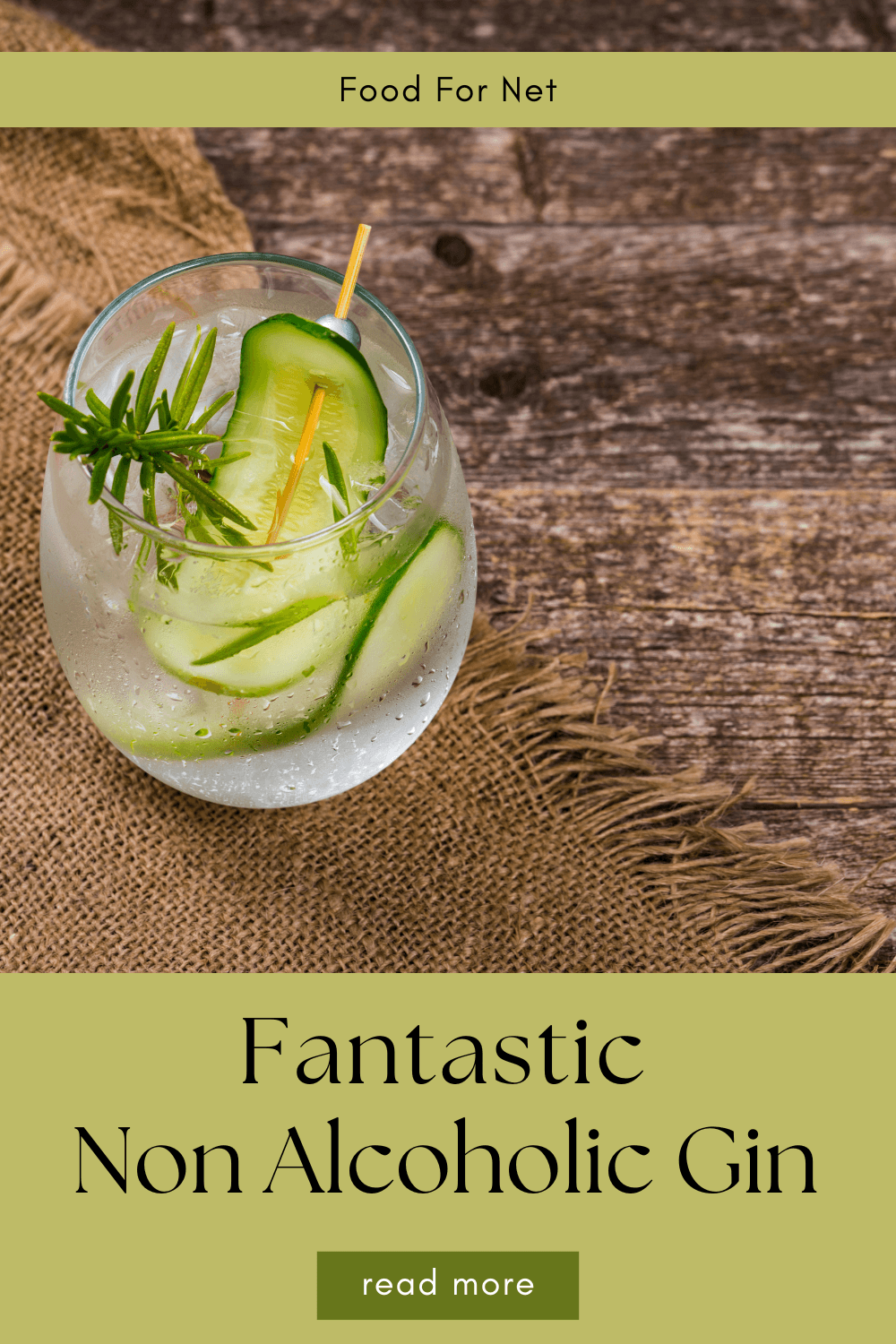 Have you ever wanted to enjoy the flavor of gin and gin cocktails, without the alcohol? This has become a growing area of interest, as people are becoming more focused on health or are avoiding alcohol for other reasons. There are now some amazing alcohol free options out there, including non alcoholic gin.
These spirits aim to replicate the flavor and mouthfeel of traditional gin and some get surprisingly close. Many companies include reverse distillation as part of their process. This means that some type of alcohol (often a clear spirit) serves as the base of their drink, then they build from there.
The alcohol is later removed through reverse distillation, which gives an almost alcohol free product. There may still be a little alcohol left, but this is always less than 0.5%.
Other companies avoid alcohol entirely. Their products often aren't as close to the flavor of true gin, but they're perfect if you need 0% alcohol.
P.S. If the gins on this list aren't your thing, there are plenty of other alcohol free drinks, including mocktails, and alcohol free alternatives to whiskey and tequila. Why not experiment with a few?
Non Alcoholic Gin
The Spirit of Gin by Free Spirits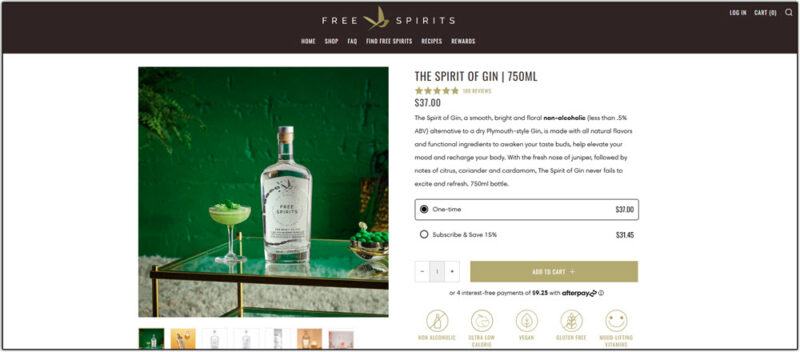 Free Spirits take an interesting approach to their gin replacement. Rather than using reverse distillation to remove alcohol, they build their own version of gin.
To do so, they use a Distillate Reconstruction process. This involves determining the distinct 'fingerprint' for gin, then finding the appropriate ingredients, distilling these, and reconstructing the spirit. While it's a complex process, Free Spirit is clearly onto something.
Reviewers even mention that the gin substitute has some of the same burn that you find with real gin. The flavor is similar as well, including juniper and other botanicals.
Dry London Spirit by Lyre's


As the name suggests, Dry London Spirit by Lyre's mimics the style of London dry gin. It includes the familiar juniper, along with earthy and citrus notes.
The gin alternative works well in many gin cocktails. Sometimes it's even difficult to tell the difference between this and real gin, which is seriously impressive.
Lyre's takes the crafting process for its drink very seriously. They start by identifying the individual flavor components of gin, then sourcing the related ingredients. These are then used to build an alcohol free version of gin.
Gin by Monday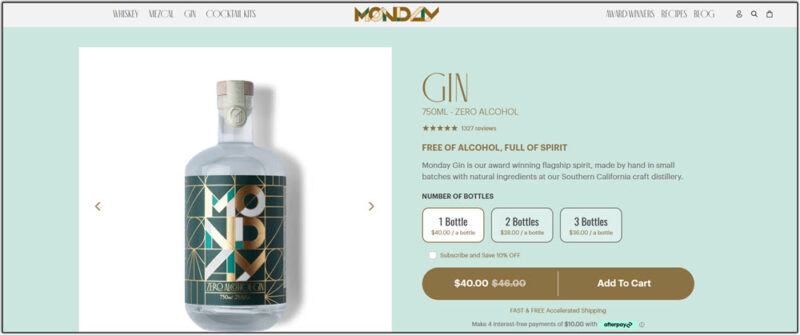 The alcohol free gin by Monday also follows the London dry style. It is a juniper forward expression, with notes of bitter coriander and grapefruit as well.
The flavor profile is familiar enough that you can easily make a simple gin and tonic using this spirit. Flavored tonics work well too. Or, you can get more elaborate and prepare a negroni or gin fizz.
Reviews consistently highlight this as one of the best alcohol free gins – if not the best one. The biggest complaints come from people who expected this to taste just like regular gin.
But, that's unrealistic. Alcohol free spirits can't ever exactly mimic the flavor and mouthfeel of true spirits. After all, they're using different ingredients and different processes.
Ritual Gin Alternative by Ritual Zero Proof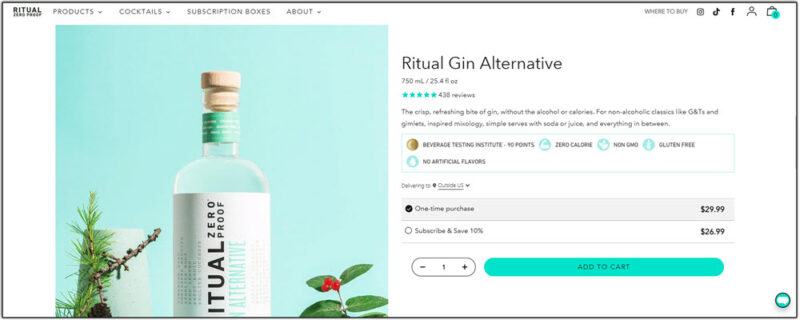 Ritual Zero Proof follows a familiar idea, focusing on a gin alternative that's free from calories and artificial flavors. It's gluten free too, which is a nice bonus.
Of course, the most important thing is the flavor. Ritual Gin Alternative is certainly similar to gin, but isn't as close as it could be. The difference is significant enough that you may need to rely on cocktails, rather than drinking the spirit straight.
A gin and tonic is the obvious way to go, although plenty of other cocktails will work too. One big limitation is that there's a distinct minty flavor to this gin, along with a spicy 'bite'. These flavors work well with some cocktails and clash with others. You'll need to experiment to find the best ingredient combinations.
If you're just getting started, it may help to focus on cocktails that already have mint as an ingredient. This way, there's little risk that your gin will clash with the drink.
Gin by Escape Mocktails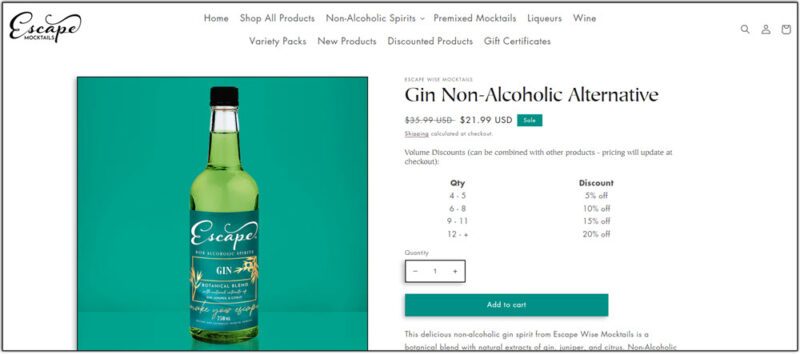 Escape Mocktails is one of the most prolific alcohol free spirit brands. There are so many different variations to choose from, including spiced rum, a variety of whiskeys, vodka, premixed cocktails, and even chocolate peanut butter tequila.
They keep things fairly tame for gin, with just one version. This relies on familiar botanicals, including juniper and citrus. The green color is unexpected, but should work well in many cocktails.
Escape Mocktails doesn't include many details about their processes, which suggests this product isn't as refined as many others. However, it's still a useful option.
Then there are the premixed cocktails. There are two gin-based ones – a dirty martini and a gin and tonic. The premixed cocktails should taste very close to the real thing, with many of the same flavor notes.
Dutch Juniper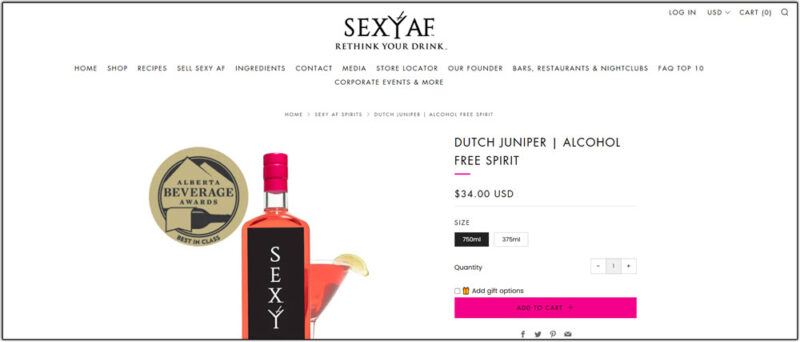 Here's an interesting addition. Dutch Juniper from Sexy AF is designed as a gin-like cocktail ingredient.
Unlike some other entries on this list, Dutch Juniper is literally alcohol free. This is because other brands often use alcohol and reverse distillation, while Sexy AF avoids alcohol entirely.
The spirit alternative still mimics the style of gin, with juniper leading the flavor profile, complemented by botanicals like cardamom, coriander, and more. What's more, this is a healthy drink, as it's free from gluten, allergens, and sugar. It's also low carb, kosher, and vegan friendly, which is an impressive list of features.
The fact that this isn't an exact gin match isn't really a bad thing. Sometimes it's nice to mix things up a bit and experiment with something new. You might even find that you enjoy this gin alternative more than the more classically flavored ones.
Pink London Spirit by Lyre's


We've already talked about Lyre's classic Dry London Spirit, but that's not all the brand offers. They also have a Pink London Spirit. This follows the style of a pink gin, complete with flavor notes of cherry, red berry, and rose.
The spirit also has a beautiful light pink color, which would look stunning in a cocktail or even if you served the spirit neat.
Then there's the flavor to talk about. The flavor notes in this gin are pretty strong, so the expression really stands out. This actually works well, as it gives the gin a life of its own. You might even stop comparing it to gin entirely and simply imagine it as a delightful alternative spirit.
London Dry by Drummerboy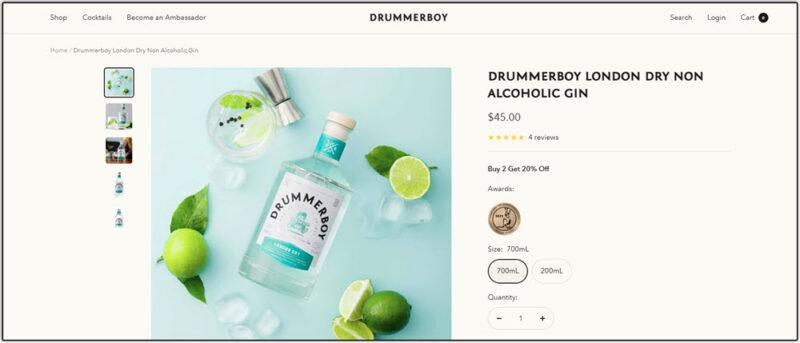 Drummerboy is an Australian brand that currently just ships to Australia, rather than U.K. or America. However, they do have plans to ship overseas eventually, so they're certainly a company to follow.
Their London Dry product mimics classic flavors, with distinct juniper and citrus tones. There is some peppermint too, which is unexpected, but helps to create a warm finish.
The flavor is fantastic for a product that doesn't include any alcohol at all. That said, it may be a little more intense than you're expecting, so it tends to be better in cocktails, as opposed to being served neat.
Gin Flavored Drink by Arkay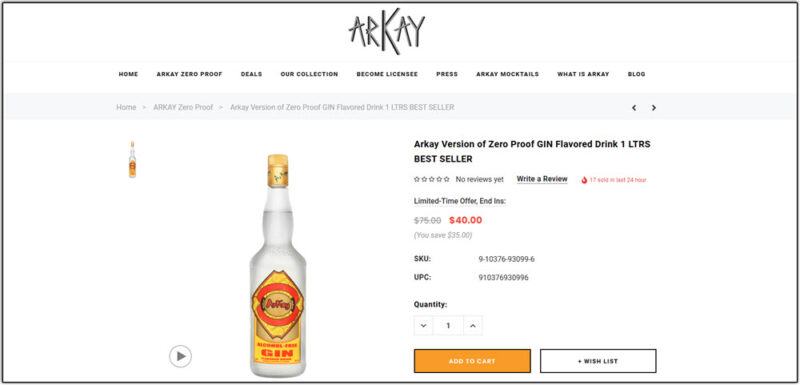 Arkay isn't our first choice for alcohol free gin and the product often doesn't make 'best of' lists. It's worth considering, though, because Arkay uses a so-called W.A.R.M. compound that gives the cocktail a burn much like a true spirit.
There are also some familiar flavors, including juniper and cucumber. Interestingly, Arkay mentions that this spirit can work as a vodka replacement in cocktails, although it should be just as good in gin cocktails.
The flavor profile isn't as amazing as other brands, making this product best as a mixer, rather than something to be enjoyed neat.
Ways To Use Non Alcoholic Gin
Instead Of Gin In A Cocktail
Cocktails are the absolute best way to use alcohol free spirits because there are plenty of other flavors in your drink. This means that any slightly 'off' aspects of your gin won't be obvious.
After all, none of the gins on this list taste exactly like the real thing. This makes sense, as it's tough to replicate the flavor and feel of a product when you're leaving out one of the main ingredients (the same thing happens with vegan meat alternatives or low carb noodles).
A gin and tonic is an excellent place to begin, as tonic has such a strong and distinctive flavor anyway. And, that's just one option. There are plenty of other delicious gin cocktails out there too, plus countless ways to riff on the classic gin and tonic.
That said – you'll need to experiment. Each of these gins has a different flavor profile and which will change their effect on your cocktail.
Try Half and Half
Instead of cutting alcohol out of your drink entirely, why not drop the alcohol content down? An easy way is to use a half measure of real gin and a half measure of alcohol free gin.
This approach still reduces your alcohol intake, but you also get some gin in the mix. This also means that your drink will have some of the traditional alcoholic burn.
A half and half mix should also make any flavor differences less noticeable. This is perfect for the products that don't really taste like real gin.
Drink It Neat
Some of the gins on this list can also be enjoyed neat. This normally means you'll be serving them over ice and sipping them slowly. After all, there's little point in drinking non alcoholic gin as a shot.
For this, you'll need a gin alternative that actually tastes good. The ones that have been distilled are best for this, as they tend to have complex and interesting flavor profiles. You could also branch out and try some unconventional non alcoholic distilled spirits. Some of these aren't designed to mimic real spirits at all. They have their own distinct flavor profiles instead.