Bourbon is a fast favorite for many people. It offers a rich flavor, with sweet and spicy notes, plus plenty of depth. It's no wonder people come back to the spirit time and time again. Many even choose it above any other types of whiskey. But, what if you want non alcoholic bourbon instead?
Well, technically speaking non alcoholic bourbon can't exist, as having an ABV of at least 40% is a criteria for bourbon classification. However, that's a technicality. Whether we call these drinks bourbon or not, they're still shockingly close to the real thing.
The companies behind these bourbons have gone to great lengths to mimic the entire sensory experience of your favorite spirit. You'll often be able to use the product in a traditional bourbon cocktail. Some of them can even be enjoyed on the rocks.
So, why not give one of these a try? While none of these are exactly like real bourbon, they're certainly a closer match than most other non alcoholic drinks, particularly sugary or overly fruity mocktails.
Non Alcoholic Bourbon
Kentucky 74 by Spiritless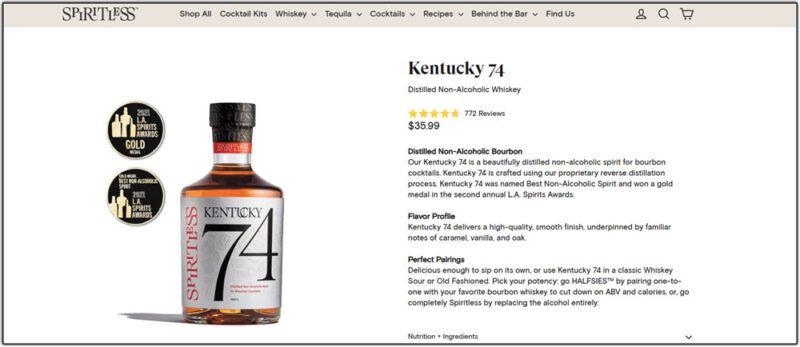 Spiritless is a well-known entry into the alcohol free spirit field, offering an alcohol free whiskey and an alcohol free tequila, along with a few cocktails. Kentucky 74 is their whiskey entry, which comes in a spiced and a regular version.
Kentucky 74 is seriously impressive, with familiar flavor notes of oak, caramel, and vanilla. It has even won awards and regularly features in 'best of' lists for alcohol free spirits.
Much of the excellence comes from the careful creation processes, which include thermal extraction, reverse distillation, and blending. The blending is particularly important, as it allows Spiritless to get a consistently better outcome than they could with a single batch.
Reviews are almost always extremely positive. The few negative perspectives are mostly from people who seem to have been expecting too much.
Kentucky Bourbon by Escape Mocktails


Escape Mocktails is one of the newest entries into the alcohol free spirits field and they've entered with a bang – offering 53 individual products, including spirits, cordials, and premixed mocktails.
They even have multiple bourbon expressions, starting with Kentucky bourbon. This product is infused with notes of almond, oak, and bourbon to make it taste authentic. It is best when included in cocktails, although some people enjoy it straight too.
This bourbon could be an excellent starting place if you love the classics. That said, it is lighter than many traditional bourbons, which could lead to slightly lighter flavors.
The Spirit of Bourbon by Free Spirits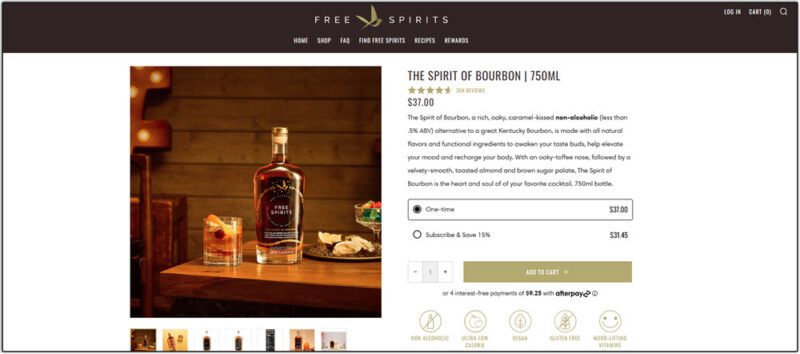 Free Spirits focuses on oak and caramel flavors in their bourbon, coupled with almonds and brown sugar on the palate. The company uses an approach they call Distillate Reconstruction to get the flavors exactly right.
The Distillate Reconstruction process involves first identifying the flavor structure of the spirit, along with the elements that contribute to it. These are then distilled to create natural flavors. Those flavors are then carefully blended and become the base of the bourbon.
Reviews talk about this product being smooth, sweet, and surprisingly close to the real thing. You can even sip this one neat, rather than including it in a cocktail.
Apple Pie Bourbon by Escape Mocktails

Apple pie bourbon is the second bourbon entry from Escape Mocktails. The flavor profile is obvious from the name alone and includes apple, brown sugar, graham cracker, and cinnamon flavor tones, not to mention distinct bourbon notes.
This could be an amazing bourbon alternative for fall-themed mocktails, particularly hot toddies. It's also a good alternative if plain non alcoholic bourbon isn't working for you.
Besides, it's always nice to have options. Why not play around with different styles and flavors? You might discover some new favorites along the way.
American Malt by Lyre's


Lyre's is another brand that's worth checking out. Their American Malt is dark and mature, designed to highlight the classic experience of drinking bourbon. It offers many familiar flavors, including toasted nuts, herbs, and vanilla.
They're another brand that deconstructs classic spirits and uses them to build their own version, sans alcohol. This style is always powerful, as it gives companies so much control over the finished flavor profile.
But, while Lyre's has plenty going for it, this is also a mild expression. It's best included as a cocktail ingredient, rather than being served on its own. Then again, it was designed for cocktails, so the mild flavor isn't that surprising.
Whiskey by Monday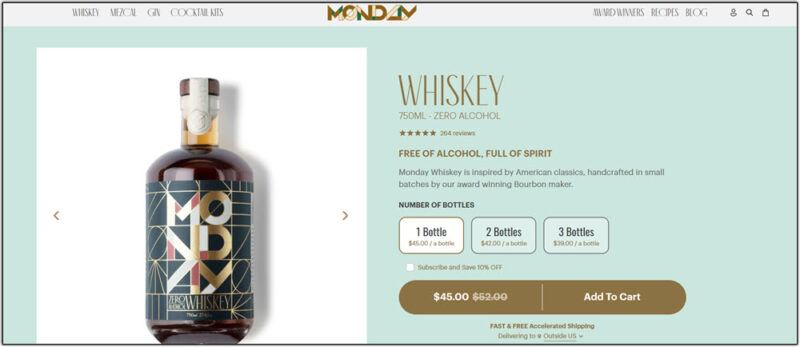 Monday Zero Alcohol Whiskey is only marketed as whiskey, rather than bourbon. However, it was inspired by American whiskeys and is even handcrafted by a bourbon maker. The spirit also has many familiar flavors, including molasses and caramel, there's even some heat on the finish.
The flavor is exceptional. This is even one of the most popular alcohol free whiskeys, as it tastes so close to the real thing. There are still differences, but that's a given – alcohol free spirits will never taste exactly like the real thing.
Monday's spirits are also gluten free, keto friendly, and suitable for vegans. So, everyone can enjoy them, regardless of their dietary needs.
Pete's Blend by Escape Mocktails

Here's one final entry from Escape Mocktails – Pete's Blend. This one is marketed as a bourbon and whiskey alternative, implying that the flavors are more blended than in the previous bourbon products.
Escape Mocktails doesn't provide many details about their processes. It's not even clear whether these have been distilled or produced in another way.
Still, Escape Mocktails has more varieties than most other companies and includes some flavors you won't find elsewhere. They even have a version of chocolate peanut butter tequila, which is incredibly unusual.
Alcohol Free Bourbon Whisky by Arkay

Arkay is an interesting edition to our list, not least because their labeling talks of this as a bourbon whisky flavored drink (and yes, they spell it 'whisky' despite the bourbon flavor). However, their alcohol free product does still provide most of the classic flavors, including smoky caramel and oak.
Arkay's products aren't very close to the mark flavorwise, so it's best to use them in cocktails, rather than shipping the whiskey replacement neat. However, there is one advantage – Arkay's W.A.R.M. molecule.
This molecule seems to be unique to Arkay and provides the same type of burn that you get with true whiskey. The burn can make your alcohol free bourbon cocktail seem much closer to the real deal.
American Dark by Drummerboy

Right now, Drummerboy is only relevant if you live in Australia. The company has plans to ship to America and the U.K., but they don't currently do so. Still, they're worth talking about, as Drummerboy does have some delicious alcohol free spirits.
As the name suggests, their American Dark version takes inspiration from bourbon. It has a lovely dark color and familiar molasses notes.
Some reviewers mention that a whiskey and coke or whiskey and ginger ale made with this spirit tastes just like the real thing. That's pretty impressive.
Frequently Asked Questions
Is Non Alcoholic Bourbon Truly Alcohol Free?
Some products contain no alcohol at all, as they're made using essences, extracts, and other natural ingredients. Other companies take a different approach, where they start with a base spirit and later remove the alcohol through reverse distillation.
The reverse distillation process removes most of the alcohol from the spirit, but not all of it. There may still be a tiny amount of alcohol left (never more than 0.5%).
0.5% alcohol is a tiny amount, especially when you're only using a shot or two of the spirit at a time. Still, there may be situations where even this is too much. If that's the case, you'll need to look for a product that doesn't use alcohol as an ingredient.
Does Non Alcoholic Bourbon Taste Like The Real Thing?
Some brands get surprisingly close to true bourbon flavors, but there are always some differences. In fact, even if you choose the best product on the market, you'll probably still know when you're drinking real bourbon and when you're not.
There's not much to be done about this. Companies are trying to recreate the flavor and texture experience of bourbon, while skipping one of the key components – alcohol. It's not surprising that they can't ever do so perfectly.
What's The Point Of Alcohol Free Bourbon?
For some people, alcohol free bourbon is a health decision, where they're trying to cut down their alcohol intake. Others find they need to avoid alcohol because of a health condition or medication.
There are plenty of other situations too, like being pregnant or focusing on sobriety.
Alcohol free bourbon is a fantastic way to get most of the experience of drinking, without actually consuming any alcohol. Products like these also help you to feel less left out if you're among a group of people who are drinking.
What Other Options Are There?
Alcohol free bourbon exists, so you can bet that there are other alcohol free spirits too, including rum, gin, and tequila. There are also some alcohol free whiskeys that don't follow the bourbon style.
Oddly, there are even alcohol free versions of vodka. Most of these are flavored, as vodka without flavor or alcohol would be pretty pointless.
But, that's not the end of it. Some companies have taken a different approach and distilled alcohol free products that aren't based on traditional spirits at all. Some of these are inspired by liqueurs instead, like amaretto, while others are unique creations all of their own.