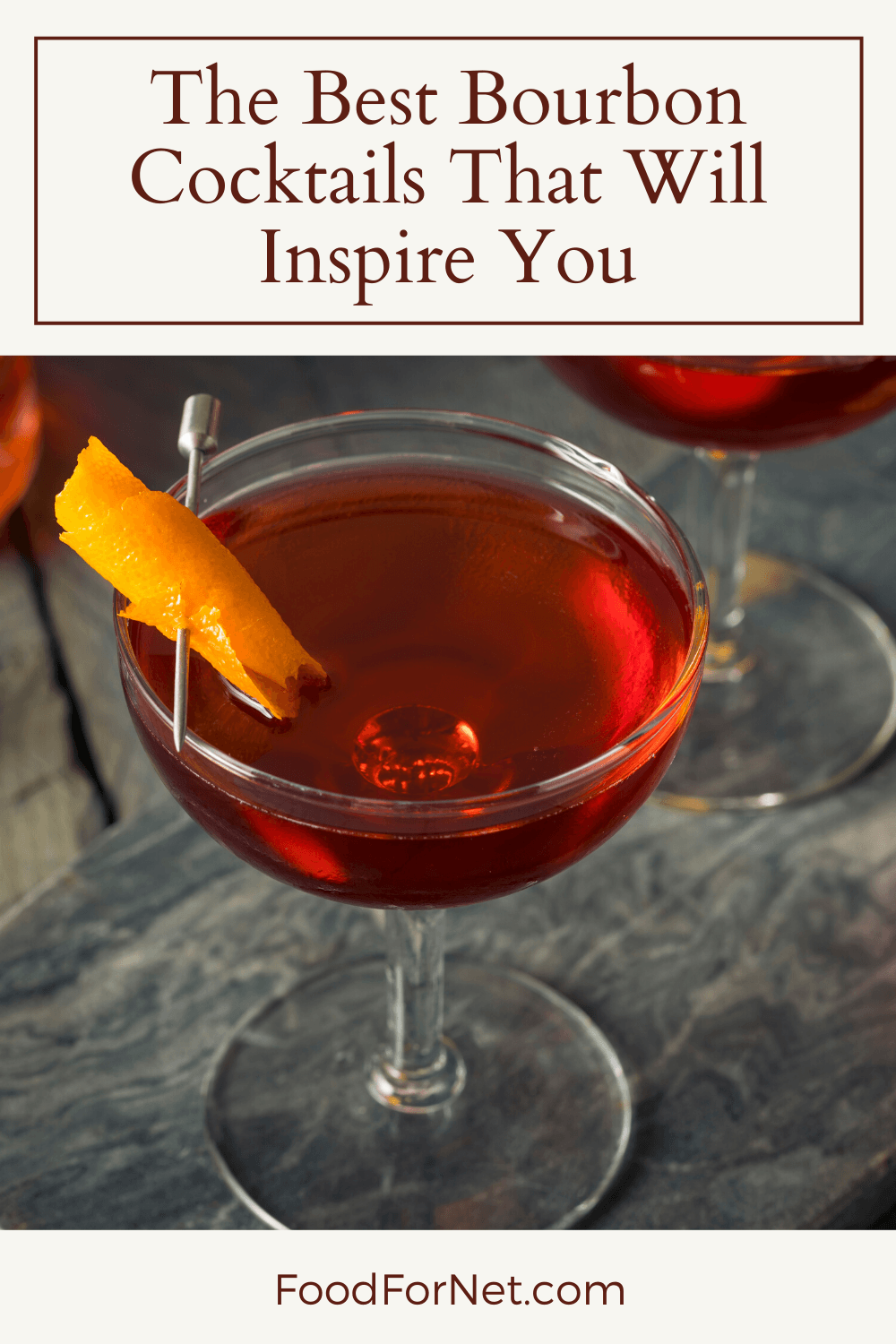 For those in the dark, bourbon is a specific type of whiskey and many legends surround its creation. Bourbon tends to be smooth, with notes of caramel, oak, and vanilla. It can be easily enjoyed on the rocks and in bourbon cocktails.
Various rules define what can and cannot be considered a bourbon. For example, bourbon must be made in the United States and contain at least 51% corn in its fermented mash. Even so, there is plenty of variation in the finished spirit, so the exact product you buy will affect the flavor profile of your drink.
Cocktail recipes notoriously vary. Even classic cocktails are often created differently depending on the person behind the bar.
For whiskey cocktails, the type of whiskey is a common difference. Some recipes call for any type of whiskey, others might say that you can use rye whiskey or bourbon, while yet others focus only on one specific type of whiskey.
With this list, we're focusing on recipes that tend to specify bourbon as the whiskey of choice, where bourbon is the perfect choice for the flavor profile. Of course, some versions will suggest bourbon and others will just call for whiskey. If you want more options, you could experiment with more general whiskey cocktails and use bourbon as your whiskey of choice.
Best Bourbon Cocktails
Millionaire
Boulevardier
Horsefeather
Gold Rush
Mint Julep
Don Lockwood Whiskey Cocktail
Blushing Betty
Suffering Bastard
Old Fashioned
Bourbon Milk Punch
Man o' War
Manhattan
Bourbon Sidecar
Kentucky Coffee
Revolver
Brown Derby
Bourbon Sour
New York Sour
Kentucky Mule
Paper Plane
Millionaire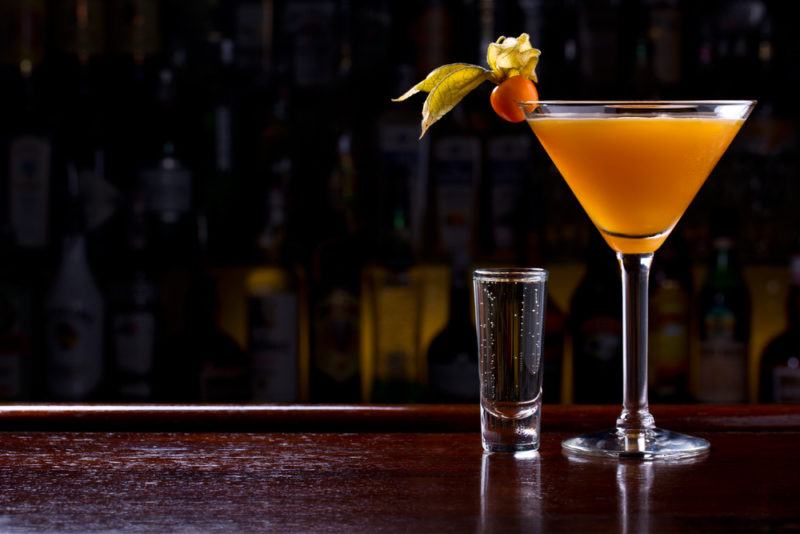 The millionaire cocktail isn't as well known as many other Prohibition-era cocktails. Even the name is confusing, as there are at least five different cocktails that have gone under this name, some of which rely on very different ingredients to one another.
A popular version relies on bourbon as the main spirit, with additional ingredients including Grand Marnier, Ricard pastis, grenadine, lemon juice, and an egg white.
The ingredients are shaken together in a cocktail shaker with ice and then strained into a chilled glass.
Boulevardier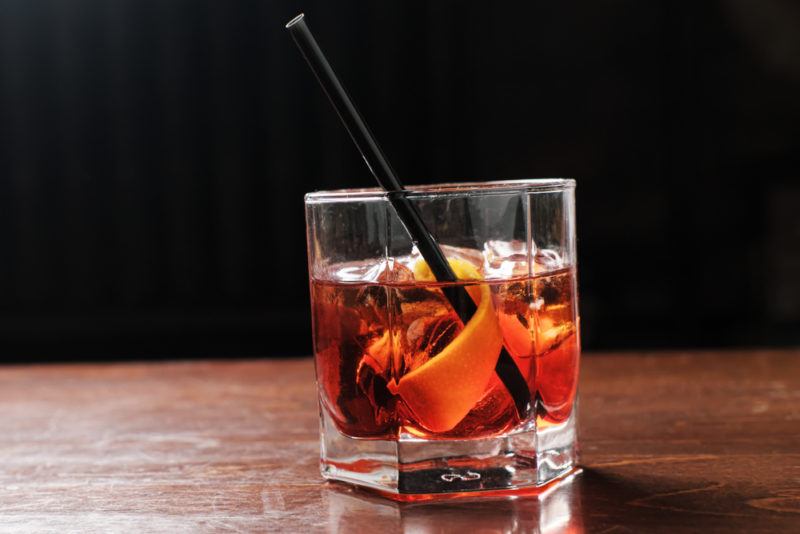 The boulevardier is often considered the winter version of a negroni. After all, the lightness of gin makes the negroni best in warmer months.
Besides that, gin doesn't appeal to everyone. If you tend towards bourbon instead, then a boulevardier could be exactly what you're looking for.
Like a negroni, a boulevardier cocktail is stirred and relies on sweet vermouth and Campari. The difference is simply that you're using bourbon or rye whiskey instead of the gin. The substitution creates a heavier and darker drink, one that has rich flavors.
Some recipes suggest equal measures of all three spirits, while others call for a different balance. For example, one recipe suggests using two parts bourbon or rye whiskey to one part Campari and one part sweet vermouth. That approach highlights the flavors of the bourbon.
Horsefeather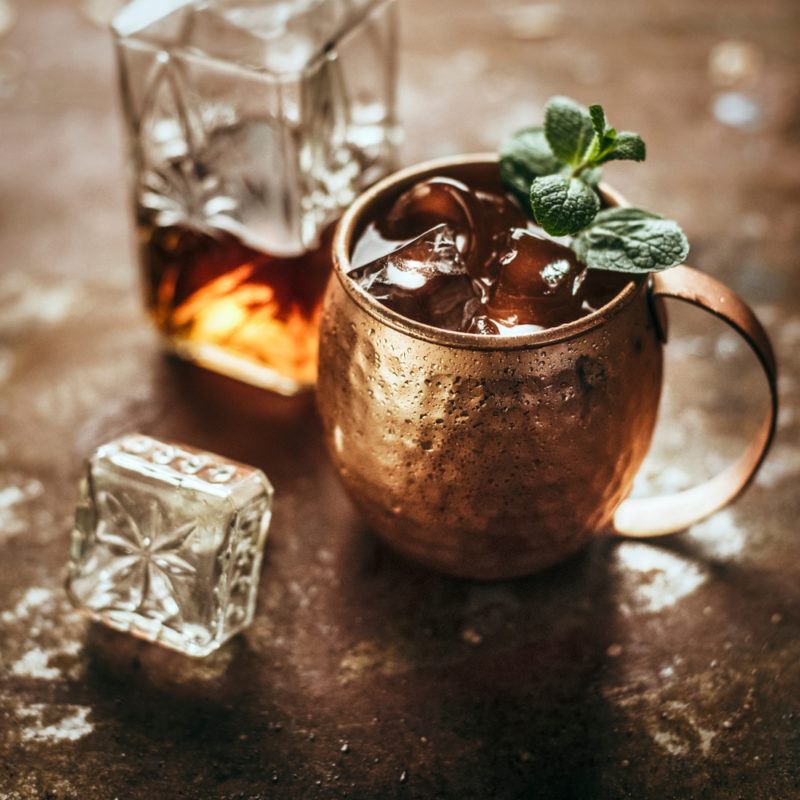 This cocktail is similar to a Moscow mule, except that you're using whiskey and adding in a few splashes of bitters. While any type of whiskey will work with the cocktail, bourbon is arguably the best choice, as it creates the perfect flavor profile.
The horsefeather tastes fantastic and also happens to be easy to make. You simply fill a glass with ice, add the ingredients and stir. That's it.
Gold Rush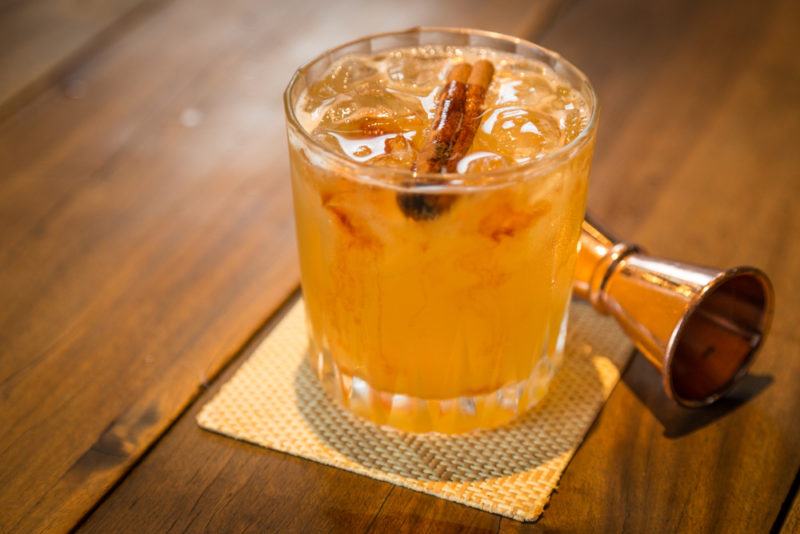 Gold Rush is another fairly easy drink to make, as you only have three ingredients to worry about – bourbon, lemon juice, and honey. The catch is that you need to make sure the honey mixes in well, which can require more shaking than with other cocktails.
You can make the process easier by using honey syrup instead. Honey syrup is something that you make at home in the same way as simple syrup. Making the syrup first helps you avoid any issues with the honey dissolving.
Either way, the drink ends up tasting a little bit like a hot toddy, except that it is cold rather than hot. The bourbon that you choose will influence the flavor of the entire drink, so make your selection wisely.
Mint Julep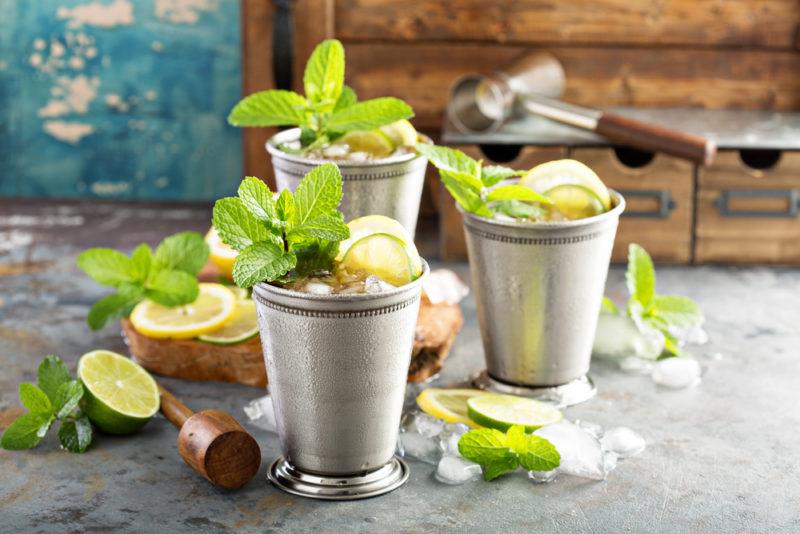 If you want a simple and flavorful bourbon cocktail, then it's hard to go past a mint julep. This cocktail is often considered the official drink of the Kentucky Derby, although you'll pay through the nose if you order the cocktail at the event itself.
Thankfully, this is an easy cocktail to make at home. All you need is bourbon, mint leaves, crushed ice, and simple syrup. Some variations use seltzer water and sugar instead of the simple syrup, but the end result is much the same.
A key aspect of the recipe is to muddle together the mint leaves with the simple syrup or sugar at the bottom of the glass. This brings out the flavors from the mint leaves. Once you've done this, you can add the rest of the ingredients, stir and then serve.
Don Lockwood Whiskey Cocktail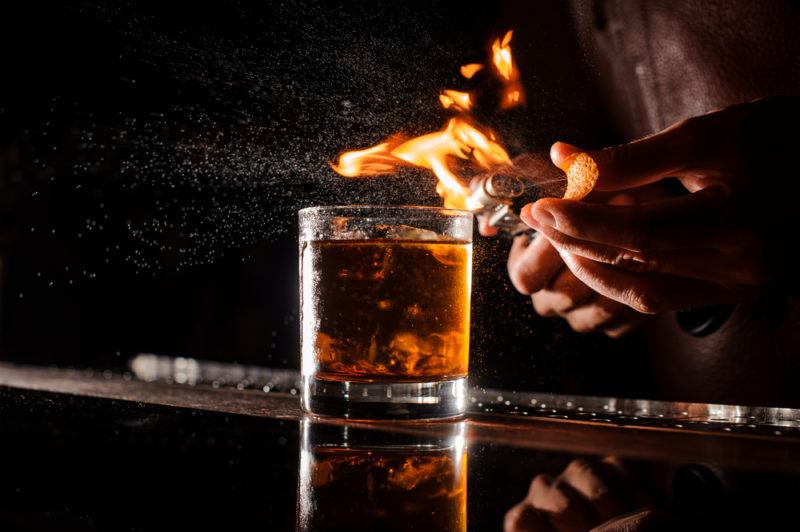 This cocktail mightn't be a classic that is enjoyed time and time again, but it is still a good one to add to your repertoire. You end up with an interesting balance of sweet and smoky flavors, especially if you choose a smoky Scotch whiskey as one of the ingredients.
Yes, I said Scotch, even though this is a list on bourbon cocktails. The reason is that the Don Lockwood whiskey cocktail uses equal measures of bourbon and Scotch whisky.
These make up the bulk of the drink. Other ingredients include Angostura bitters, chocolate bitters, and maple syrup. The chocolate bitters will be the hardest ingredient to find, but the cocktail won't taste the same without these bitters.
Blushing Betty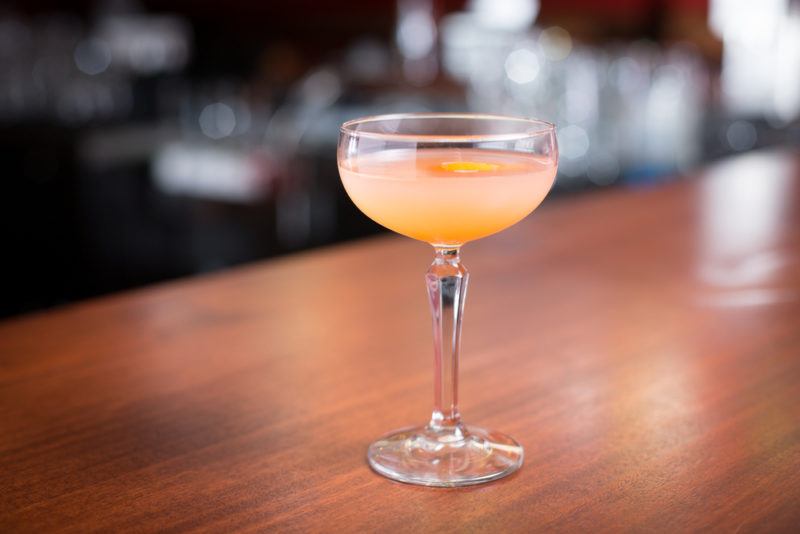 This cocktail is ideal if you want something refreshing and not overly complicated. There are only three ingredients to consider – pink grapefruit juice, simple syrup, and bourbon.
With these ingredients, you end up with a sweet-sour flavor profile. The cocktail looks good in the glass too.
Suffering Bastard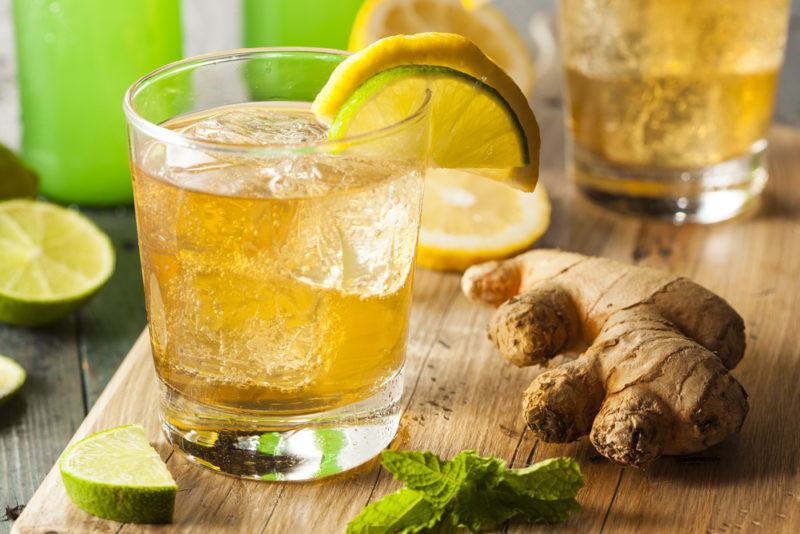 As the name suggests, this drink was originally developed as a hangover cure. It uses two spirits – bourbon and gin, along with lime juice and Angostura bitters.
This combination is then topped up with ginger beer, giving you a refreshing cocktail that might even actually help with a hangover. Of course, the cocktail would be just as enjoyable as a drink in its own right. There's no need to reserve it for the morning after.
Old Fashioned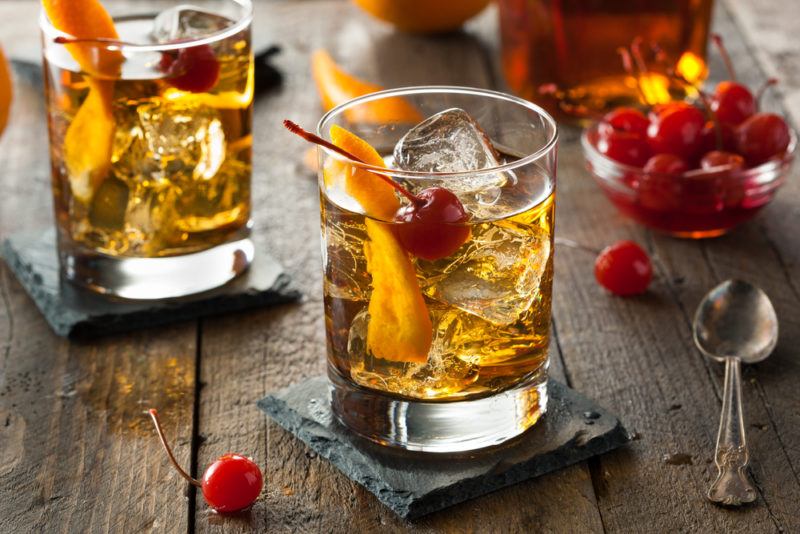 This drink, occasionally called a bourbon old fashioned, is one of the classics that is often ordered at a bar. When made well, an old fashioned is a simple drink. You're basically drinking a shot of whiskey that has been sweetened and seasoned a little.
Aside from the bourbon, the main ingredients in the cocktail include a little water, some Angostura bitters and half a teaspoon or so of sugar. The sugar, water, and bitters are combined in the bottom of a glass until the sugar is almost entirely dissolved.
After this, ice cubes and bourbon are added, then the whole mixture is stirred. An extra step is to use the oil from the orange peel over the rim of the glass. The orange peel can then be dropped in.
Bourbon Milk Punch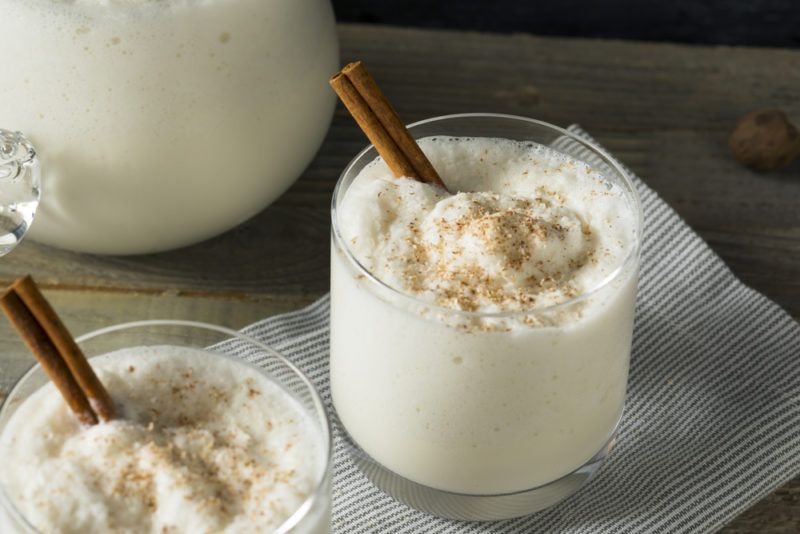 This milky cocktail could be a nice and relaxing drink in the evening. It includes vanilla extract and uses grated nutmeg as a garnish, giving you a classic fall balance of flavors.
The other ingredients are all easy to find. You just need bourbon, whole milk, and simple syrup. Everything can just be thrown in a cocktail shaker and shaken over ice. No barmanship skills needed at all.
Man o' War

There's no denying the impressiveness of this drink. The name alone makes it stand out.
Then there are the ingredients. Bourbon whiskey we already know about. The other entries are sweet vermouth, lemon juice, and either orange curacao or triple sec.
Triple sec and orange curacao will each have different effects on the final flavor, but both versions are worth trying out.
Manhattan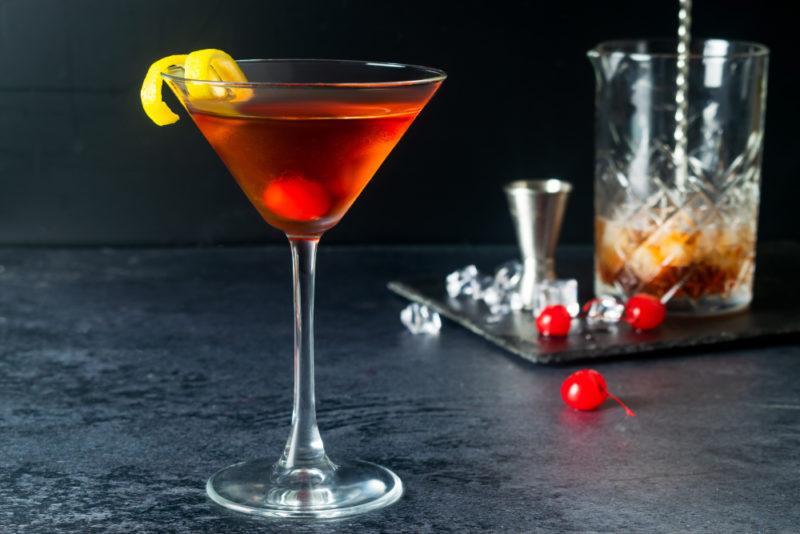 The Manhattan is a classic cocktail. There's no doubt about that.
The drink's popularity may be partly linked to how easy it is to make. There are just three ingredients – whiskey, sweet vermouth, and Angostura bitters.
Bourbon is a common whiskey choice for the cocktail, but it isn't the only one. Some recipes call for rye whiskey or even occasionally Canadian whiskey instead.
Bourbon Sidecar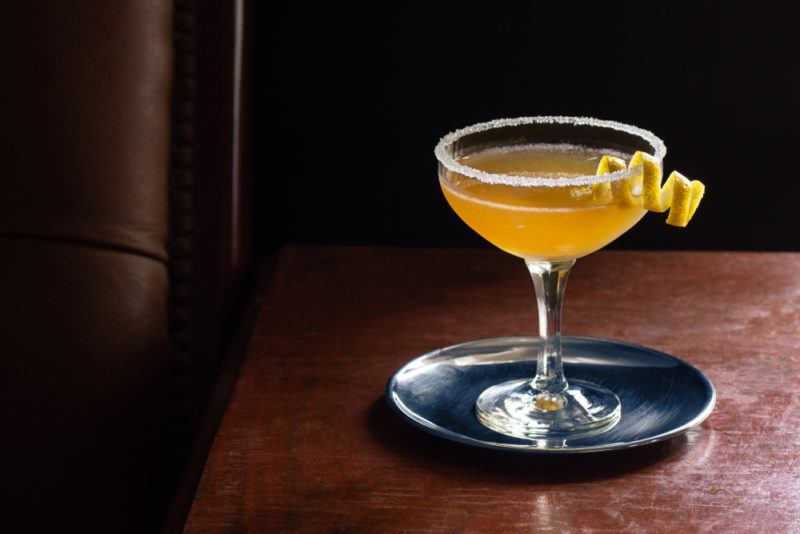 While a sidecar might be a classic brandy cocktail, you can create something similar using bourbon instead. With it, you're shaking together the bourbon, Cointreau (or another orange liqueur), and lemon juice.
The drink ends up being on the sour side, a feature that many people enjoy. The addition of a sugar rim can take the edge off the sourness a little.
Kentucky Coffee

This cocktail is similar to an Irish coffee, but just a little bit different. For one thing, you're using bourbon as the base spirit.
The recipe also calls for some honey liqueur. This liqueur provides some added sweetness to the drink, while also increasing the alcohol content.
Revolver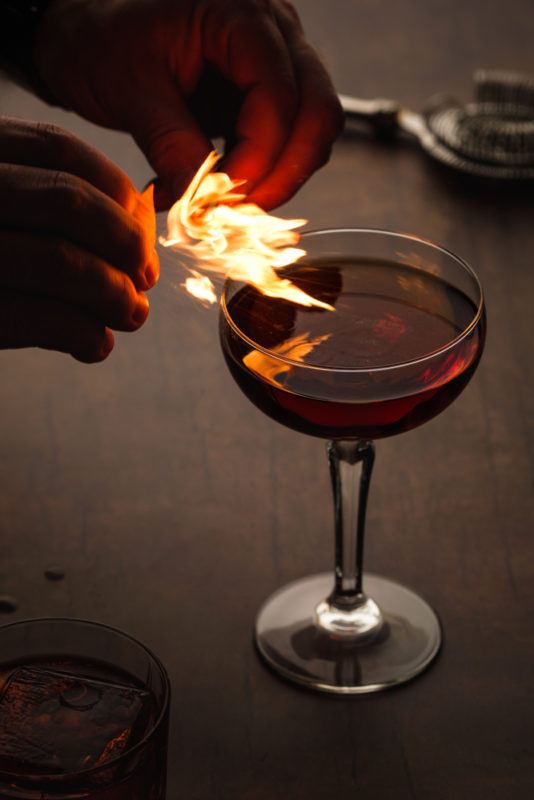 Here's a good cocktail for anyone who wants something a little different. The drink was developed in 2004, with the creator focusing on Bulleit bourbon as a key ingredient.
This bourbon is the base ingredient in the cocktail. You're also using roughly half an ounce of coffee liqueur and a few dashes of orange bitters. While the combination might sound a little strange, the finished drink does taste good.
Finishing the cocktail off is its unusual garnish – a flaming orange twist. The orange twist is more for effect than for any flavor that it imparts. Still, the idea is a fun way to impress guests.
Brown Derby

A brown derby cocktail might be simple, but it does use an unusual combination of ingredients – featuring pink grapefruit juice and maple syrup. The maple syrup naturally complements the flavors of the bourbon, while also balancing out the sourness of the grapefruit juice.
The grapefruit also provides a refreshing edge to the drink, making it an enjoyable choice at any time of the day.
Bourbon Sour

A bourbon sour is simply a whiskey sour that is made using bourbon. The sour family of cocktails has an enjoyable sweet and tart flavor. This balance works with many spirits and is especially well-suited to bourbon.
The sours generally use an egg white as one ingredient. The egg is important for the finished texture of the drink, but it isn't essential. Some people choose to skip the egg entirely. After all, including a raw egg in your evening tipple isn't going to be the best choice for everyone.
Interestingly, a bourbon sour made with the egg white is sometimes called a Boston sour.
New York Sour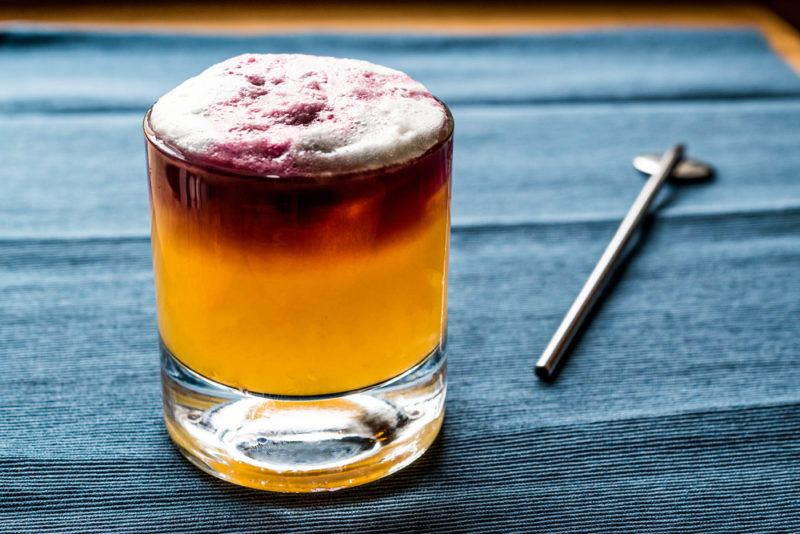 A New York sour is much like a bourbon sour. You start off exactly the same way (with or without the egg white, that one is up to you).
Once you have the bourbon sour made, a small amount of red wine is poured on top. Pour this carefully over the back of a spoon and you should end up with a layer of red wine floating on top of the bourbon sour.
The cocktail ends up looking stunning. Plus, the red wine adds nuance to the flavor profile, creating a complex and delicious drink.
Kentucky Mule

A Kentucky mule is a variation on the Moscow mule. The difference is simply that you're using bourbon instead of vodka – a substitution that was probably obvious by the cocktail's name alone.
The cocktail is an easy one to prepare, as it just relies on bourbon, lime juice, and ginger beer. You can choose the ratio of ginger beer to bourbon based on how strong you want the cocktail. It will taste delicious regardless of the ratio you go with.
Paper Plane

The paper plane is a fairly new cocktail. It relies on bourbon, amaro, and Aperol. You'll mostly be using equal measures of those three ingredients, along with a similar amount of lemon juice.
The lemon juice is perfect for imparting a tart flavor, while the other ingredients ensure that the tartness isn't overwhelming. Some versions of the recipe add in a little passionfruit juice too. This juice balances out the lemon, making this an easier drink to enjoy.