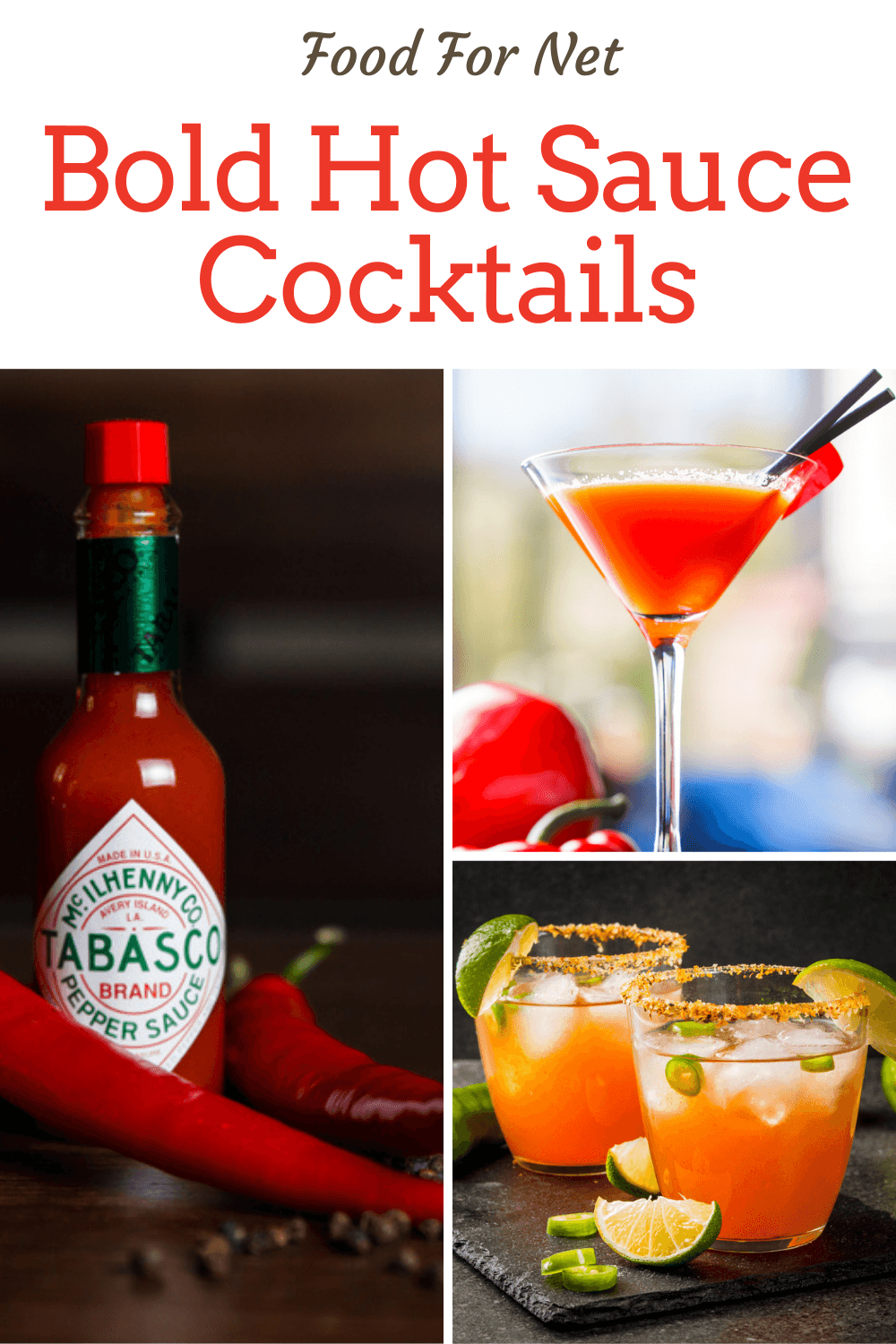 Looking for something a little out there? If so, it's hard to go past cocktails with hot sauces. These all pack a punch, plus they're often more interesting than a cloyingly sweet or overly alcoholic cocktail.
Don't worry though, while these cocktails all feature hot sauce, they're not overpowered by it. You'll still be able to taste the other ingredients.
The cocktails are also easy to customize, especially if you're making them at home. You can easily change the type of hot sauce you're using and even the amount that is being included. You might even use honey hot sauce in some of these, rather than straight hot sauce.
This could be perfect if you're in a hot sauce of the month club and want to try your new acquisitions in a cocktail.
Cocktails With Hot Sauces
Bloody Mary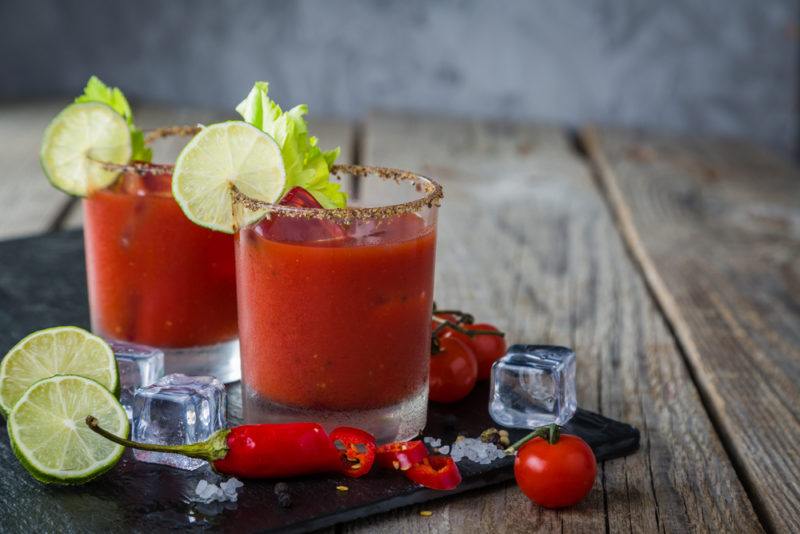 The bloody Mary draws plenty of attention. Some people love the savory nature of the cocktail, along with the many flavors it offers. Others can't stand it.
Then there are the garnishes. The cocktail is sometimes served with just a stick of celery or perhaps celery and a grilled shrimp, but there are some outrageous garnishes too, including some bars that serve an entire burger as part of the cocktail's garnish.
The cocktail itself uses a variety of ingredients – and there is plenty of room for flexibility. The official IBA version of the cocktail uses vodka, tomato juice, lemon juice, Worcestershire sauce, Tabasco sauce, celery salt, and black pepper.
Of course, with that many ingredients, making the cocktail by hand can be a pain. You can buy a bloody Mary mix instead. This often gives you everything you need for the cocktail, except the vodka. While the cocktail will always taste better if you make it from scratch, using a mix is a good way to save some time.
Bloody Maria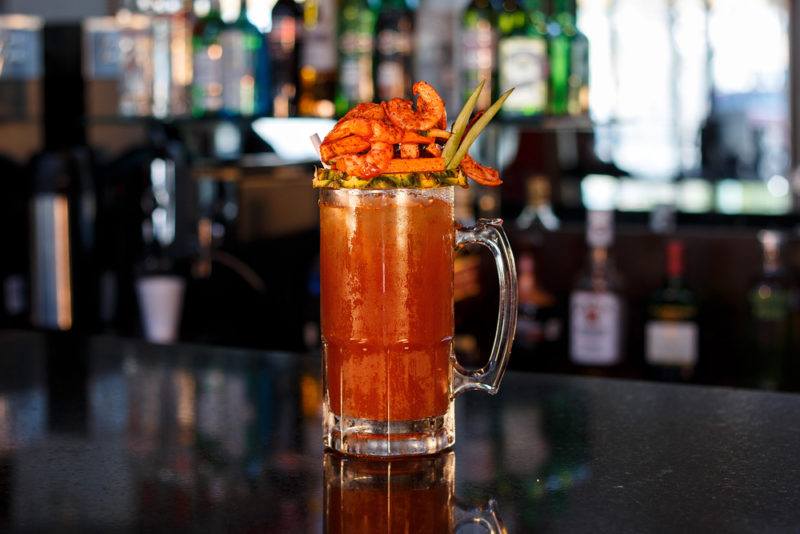 Not surprisingly, a bloody Maria is a twist on the classic bloody Mary. There's just one difference – the bloody Maria uses tequila, while the bloody Mary uses vodka. Swapping vodka for tequila adds a little extra complexity to the cocktail, which can be perfect.
Because the recipe is almost the same as a bloody Mary, you're getting hot sauce in this cocktail.
Other Bloody Mary Variations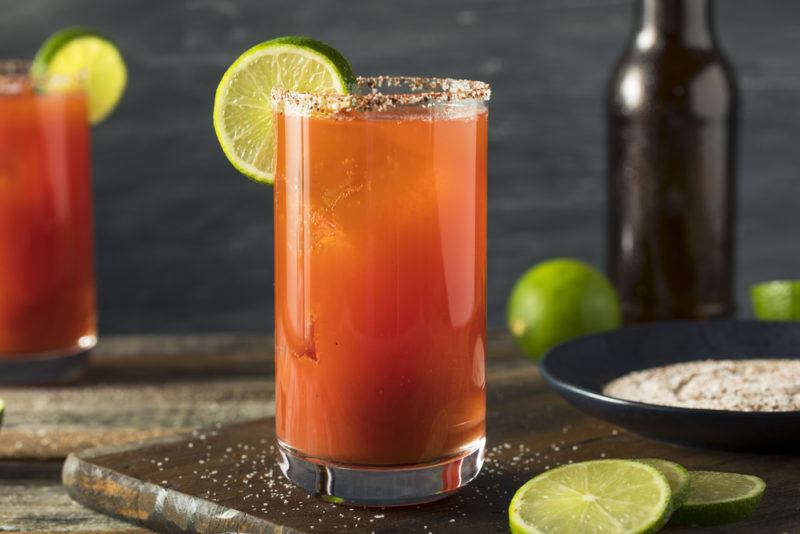 The bloody Mary can be varied in other ways too, giving you different drinks. Most of these contain hot sauce too.
One is the Caesar or bloody Caesar. It uses vodka like the bloody Mary, but also adds a surprising ingredient, clam broth, to the mix. Tabasco sauce wasn't one of the classic ingredients for this cocktail, but it is often added in.
There's also the Michelada, which is popular in Mexico. This cocktail can be made in many ways, but the flavoring is often similar to a bloody Mary. Once again, hot sauce features in most versions of the recipe. This time, however, the cocktail uses beer as well.
The red snapper is another interesting version. Like the bloody Maria, the cocktail is simply a bloody Mary that uses a different spirit. This time, you're using gin instead of vodka or tequila. Gin is a particularly good choice too, as it plays well with the vegetal flavors of the cocktail.
Prairie Oyster
This cocktail is certainly unusual – and contentious. Some people enjoy the drink, while many others think it sounds simply horrible.
The traditional version of the drink involves a raw egg, bourbon, Worcestershire sauce, hot sauce, table salt, and black pepper. It's prepared by breaking an egg into a glass and keeping the yolk intact. The other ingredients are added and the drink is then quickly swallowed.
When made like this, the egg's texture is similar to an oyster, which is where the drink gets its name from.
Some people add tomato juice to the cocktail. Doing so makes the egg less noticeable and gives you a drink that's similar to a bloody Mary.
The prairie oyster is sometimes seen as a hangover cure, partly because of the cysteine contained in the egg. But, there's little evidence that the drink works to cure any hangover. You'd be better to focus on healthy hangover foods, which could include just cooking an egg or two.
Besides, the cocktail is bad enough at the best of times. Drinking it when you're hungover with a heaving stomach does not sound like fun.
Hot Mexican Hooker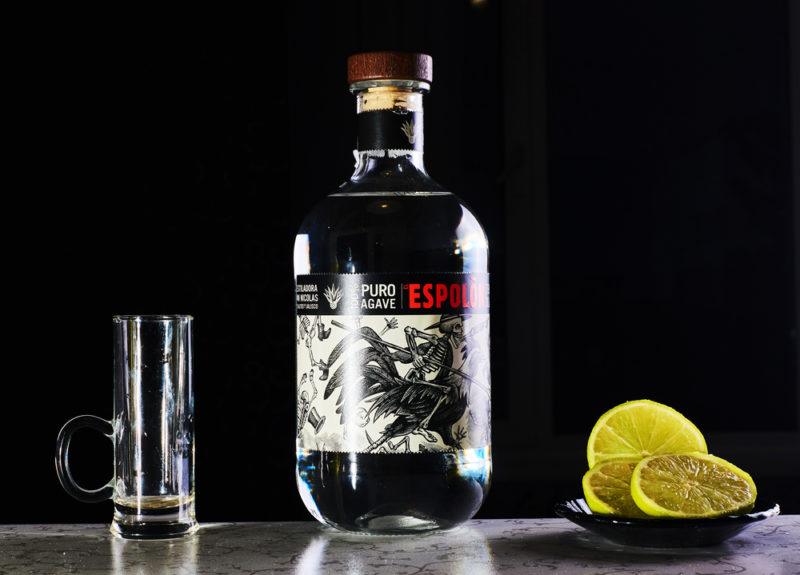 This shot has a horrible name and an similarly horrible recipe. It combines equal parts of tequila and tuna fish juice, along with a few dashes of Tabasco sauce.
I don't know who thought of including tuna fish juice in a cocktail, but the idea is truly gross.
Tapeworm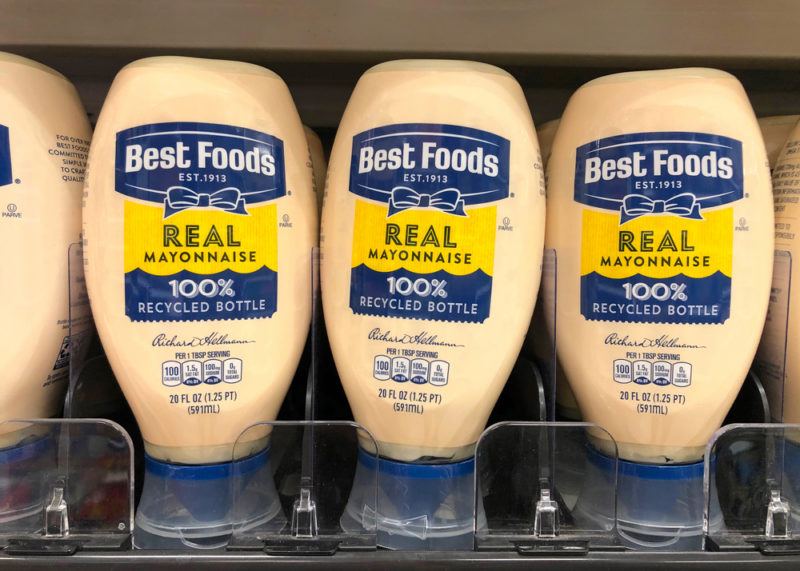 This shot is just as bad as the previous one. No, it might be worse. This time, you're using equal measures of vodka and mayonnaise, along with some black pepper and Tabasco.
The mayonnaise is squeezed into the drink and ends up looking a lot like little worms.
Surprisingly, some people say that the shot itself is tasty, as the sweetness from the mayonnaise nicely contrasts with the Tabasco sauce.
Spicy Bacon Martini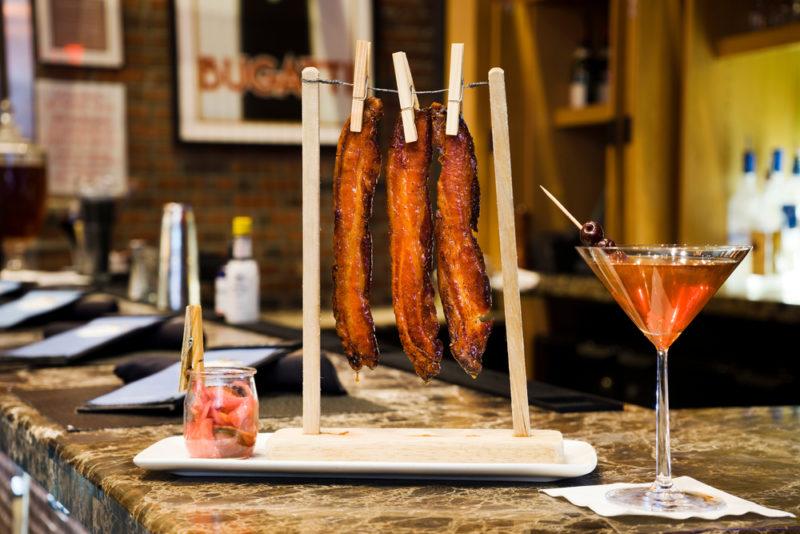 This martini variation is a more delicious way to enjoy hot sauce in a cocktail. It starts off traditionally, with vodka and dry vermouth. Then two more ingredients are added: bacon syrup and hot sauce.
The bacon syrup is the most unusual product here. The easiest option is to look for Torani bacon syrup, which is used to flavor cocktails, coffees, and many other things. You could make your own bacon syrup too. The process is similar to creating an infused sugar syrup, although you're using fatty bacon, which complicates matters a little.
This drink would be the perfect candidate for a bacon garnish. It would also be fantastic for any bacon lover.
Red Pepper Martini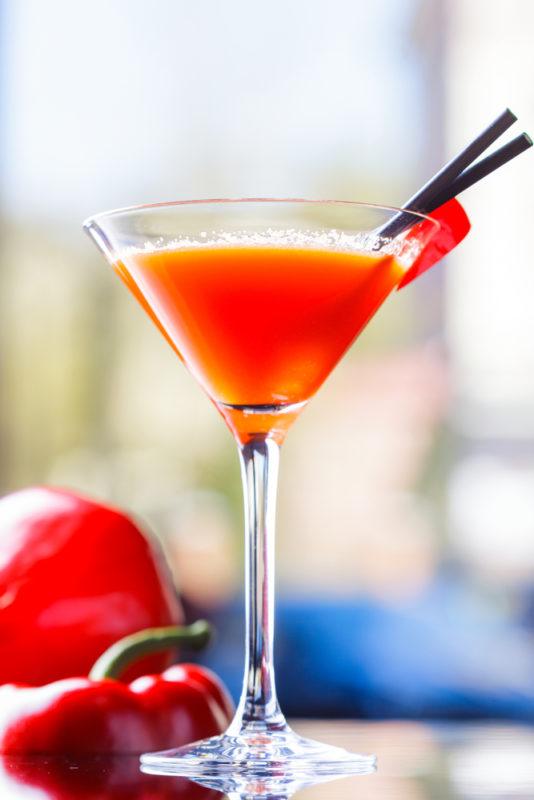 Bacon isn't essential in a spicy martini recipe. This red pepper martini shows that peppers have more than enough flavor on their own.
It's an exciting cocktail too, as it includes some fresh jalapeno pepper and fresh bell pepper, as well as the hot sauce. There's a variety of other ingredients too, which give the cocktail a sweet and spicy balance of flavors.
As written, the recipe isn't really a martini, as it only uses vodka, rather than including vermouth too. While you could try the recipe with vermouth if you wanted, just using vodka is a logical choice. After all, vodka doesn't have much flavor, so it helps the other ingredients to stand out.
Lagniappe
This modern cocktail isn't well-known, but that doesn't make it any less appealing. Rye whiskey is the base ingredient. Then you're adding in some lemon juice, blackberry syrup, and a couple of dashes of hot sauce.
The blackberry syrup gives the drink a distinctive color. It's something you can easily make yourself if you wanted, just using water, sugar, lemon juice, and fresh blackberries.
While you can buy blackberry syrup too, making your own will always give you a more delicious and fresher cocktail.
The Bone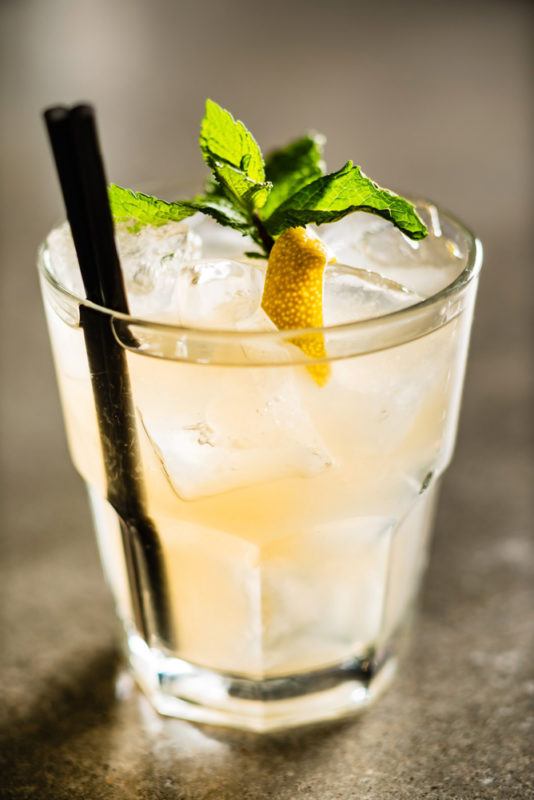 This cocktail follows a similar idea as the previous example – relying on rye whiskey and hot sauce in the same way. This time though, lime juice is used instead of lemon juice and simple syrup is the final ingredient.
You end up with a delicious sweet-sour balance that's a little similar to a whiskey sour. The choice of ingredients makes it easy to taste the nuances of your hot sauce.
As such, this would be a fantastic cocktail to try with different types of hot sauce.
Ghost Pepper Rye Sour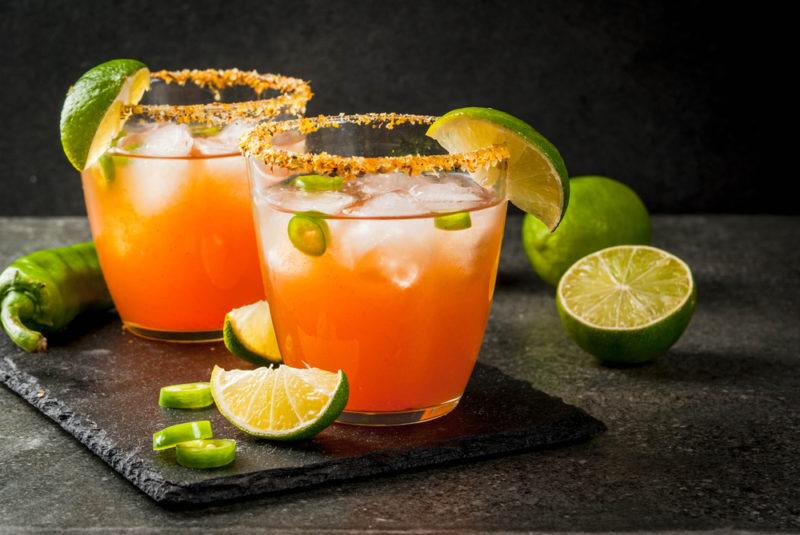 Here's an even bolder hot pepper cocktail. The recipe is a tweaked version of the previous example. Once again, you're using whiskey, lime juice, and simple syrup.
The difference is in the hot sauce. The recipe's author recommends a hot sauce called Lethal Ingestion. This is thicker than Tabasco and is made from ghost peppers (hence the cocktail's name). The choice of hot sauce makes this a much more intense cocktail than the other types.
Even so, this isn't a cocktail to be savored. Drink it fast, then enjoy the afterburn.
The Heat Step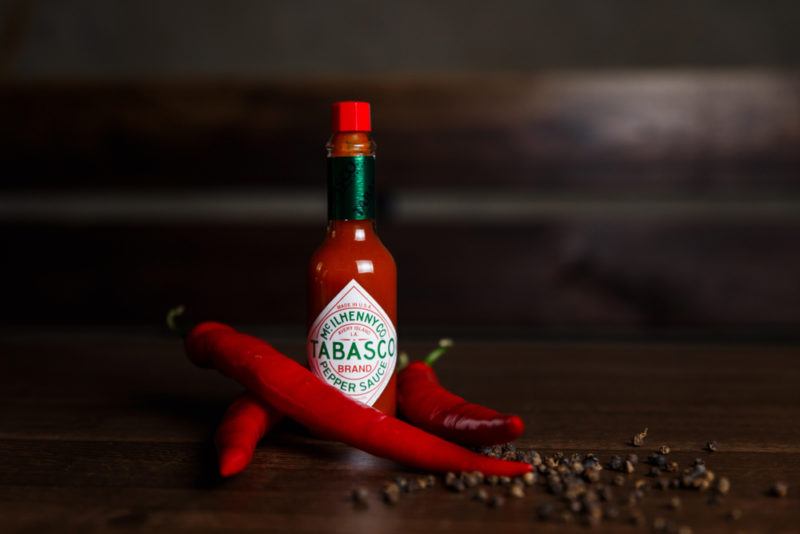 This is another modern cocktail that you won't find served in many bars. You'll need to make it yourself instead, which isn't necessarily a bad thing.
This time, the cocktail combines an ounce of bourbon with half an ounce of Campari and half an ounce sweet vermouth. But, that's not the end of it. Along with the hot sauce, this cocktail also adds in 12 ounces of lager beer.
The beer changes the cocktail dramatically. It gives you a refreshing drink, but doesn't drown out the flavors of the other ingredients.
As with most of these cocktails, you'll need to play around with the amount of hot sauce you use. Personal preference strongly influences the amount of heat that you enjoy in a cocktail. Start off with just a dash or two of hot sauce and increase from there.
Don't forget that the type of hot sauce will influence your cocktail too. Many hot sauces have their own distinct flavors and can make the finished cocktail taste quite different.
Bloody Smoke Tequila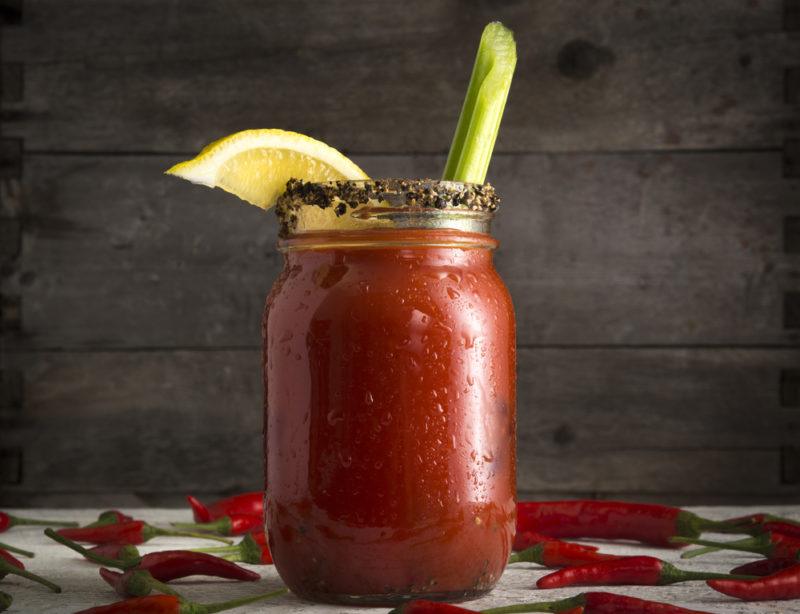 This cocktail is a variation on the bloody Maria, so it's a tomato-juice based tequila cocktail. And, just like the bloody Maria, hot sauce features as an ingredient. But, you don't need to stick to Tabasco sauce. You could try another type of chipotle sauce instead.
To this combination, you add a little soy sauce and some fresh lime juice. The final ingredient is the tomato juice, but there is a difference here. You're using beet-tomato juice rather than regular tomato juice. The beets give the juice and earthiness and depth of flavor that you don't get with straight tomato juice.
Hot Sauce Hot Toddy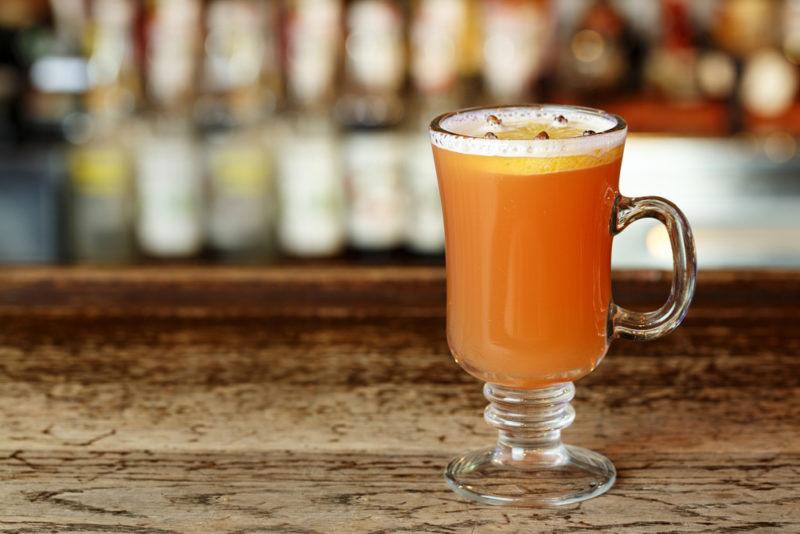 Why not make your hot toddy a little more interesting by adding some hot sauce to it? You don't need much. Even a teaspoon of the sauce will be enough to completely change the flavor of your cocktail.
Plus, a hot toddy is a flexible cocktail. You can choose the ingredients and quantities that you want to use. Lemon juice, honey, whiskey, and ginger often feature, while some people use tea as well. The tea gives the drink a bit more body.
S'mores 'n' Smoke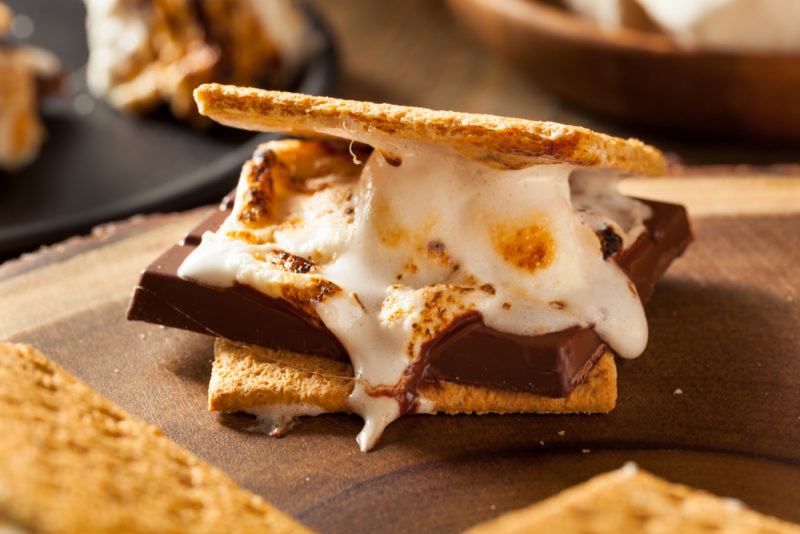 If you want something unusual, check out this cocktail, which was actually created by Tabasco itself. The drink uses bourbon whiskey, a few dashes of Tabasco sauce, marshmallows, and chocolate bitters. If you don't have chocolate bitters on hand, you can use Angostura bitters and add cacao powder as a garnish.
Interestingly, you're not just using the marshmallows as a garnish for the cocktail. The recipe suggests that you toast two marshmallows and allow them to partly melt. These are then added to the bourbon to infuse it with a marshmallow flavor.
There isn't much mixer in this cocktail so, for the most part, you end up with bourbon that taste like slightly spicy s'mores.
Spicy Espresso Martini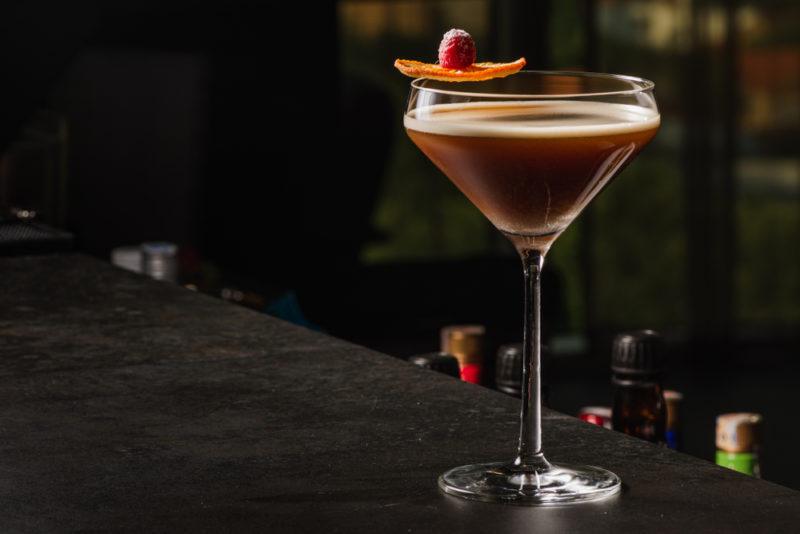 The Tabasco website offers a variety of recipes, including plenty of cocktails. The company seems to think that adding hot sauce to most recipes just makes things better. They might be right too. While we're not going to feature all of their creations on this list, we do want to talk about their espresso martini.
This drink follows a familiar idea, as it relies on cold brew coffee, coffee liqueur, and dark rum. The recipe makes suggestions for each of these ingredients, like the flavor notes to look for in your rum. However, you could easily stick to your personal favorites.
Raspberry cocktail syrup is used in the recipe too. This adds some sweetness, which is important. Without this, the cold brew could easily make this cocktail too bitter. You could easily make your own raspberry syrup by using fresh raspberries, water, and sugar. Or, failing that, just add some raspberries and simple syrup to the cocktail.
The final ingredient is a few dashes of Tabasco chipotle syrup. This should give the cocktail a little kick and make it more enjoyable all around.
Vato Loco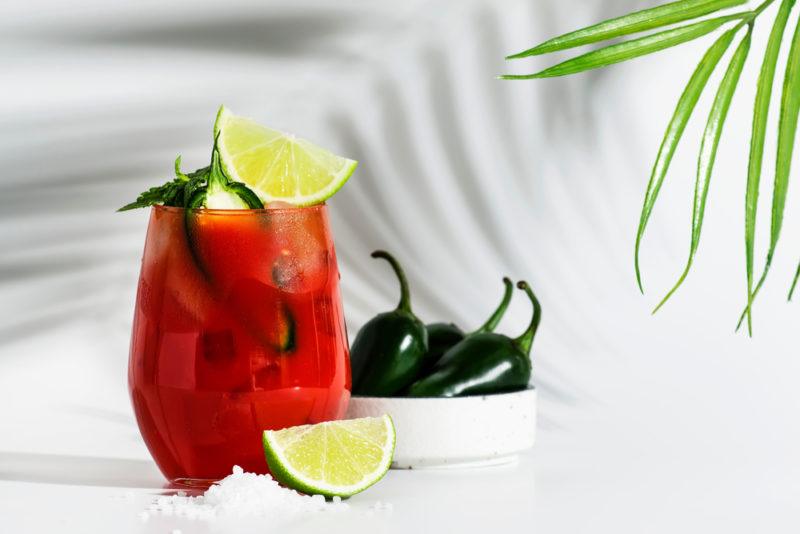 This cocktail is featured on a variety of sites and is sometimes called The World's Hottest Cocktail. The phrase is meant literally, as the cocktail is incredibly spicy.
Some of that spiciness comes from the hot sauce, but you also need to rely on fresh peppers as well. The recipe has multiple parts, as you need to infuse tequila with ancho chiles, create a syrup from arbol and chipotle chili, and create a puree from pineapple, habanero, and serrano.
With all these ingredients, it's not surprising that the cocktail packs a punch. It's not for the faint hearted. But, if you're a heat lover, then the drink is worth trying at least once.
Millimallikas
This is also known as a jellyfish shot and it's not for the faint of heart. The name seems to refer to the texture of the drink, which doesn't look all that appealing. Some people swear never to try it again, yet end up going back to the shot.
Because the cocktail is the specialty of Valli Baar in Tallinn, Estonia, it's not well-known and the ingredients aren't common knowledge. But, we know that the shot relies on strong tequila, sambuca, and Tabasco sauce.
With that mix of ingredients, it's not surprising that this is a controversial cocktail.
Red Dog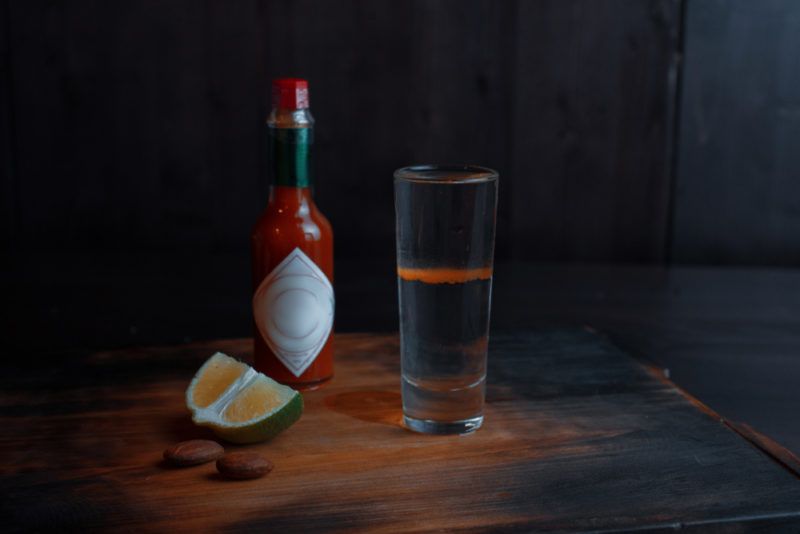 Here's another shot to try. This one involves carefully layering the Tabasco sauce on top using the back of a spoon, giving you an interesting red layer. The other ingredients are sambuca and silver tequila.
The way the cocktail looks is the best thing about it. And, you are drinking the shot in a single gulp, so the flavor combination shouldn't matter too much.
Primavera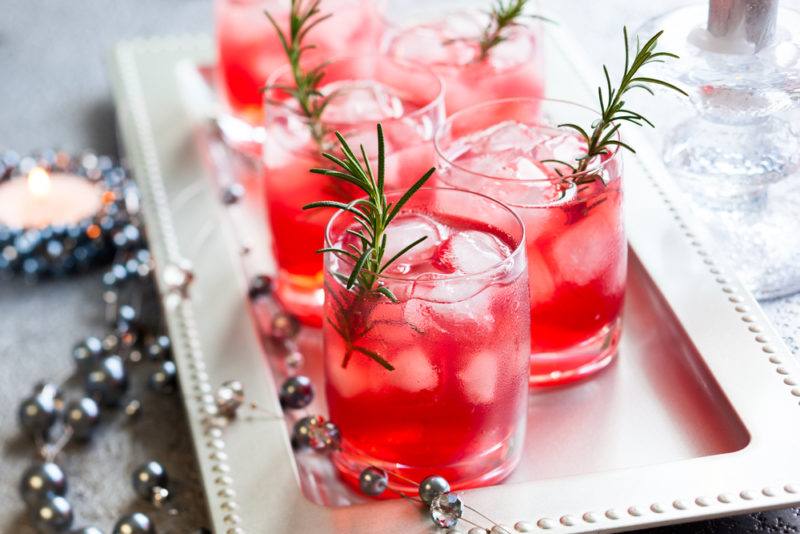 The color of this cocktail could make it a great choice for serving during the holidays. Like the previous shot, this drink uses silver tequila and Tabasco sauce. But, you're not using sambuca at all.
Instead, the main other ignredient is blueberry jam. This unusual addition changes the color of the drink and provides a little sweetness. You're also using rosemary and orange zest as garnishes, which influence the flavor of the drink too.
Related Content