If you're a fan of rum, you know who Bacardi is, that's just a fact. Dating back to the 1800s, the founder put his heart and soul into the creation of Bacardi and he was successful in locking in his legacy. Bacardi is a true household name and their collection is vast and impressive.
It began with one expression and now, there are sometimes too many to even choose from. While they all derive from the master, there's no doubt that some stand out more than others. In addition to creating some of the most enticing aromas and exquisite flavor profiles, Bacardi does a good job to cater to every category.
At the bottom of their range, we have young, light rums that make for incredible cocktails. With light-bodied, easygoing flavors they are versatile, cheap, and well-loved. Moving up, we get rums that spend longer in the barrel and offer a wider array of colors and flavors. The best Bacardi rum sits at the top with decades of aging and some of the most sippable flavors around.
It's not surprising that Bacardi is the world's best-selling rum as the company has a long and involved history of hard work and cooperation. The company is still in the family, currently on its seventh-generation owner, and many tricks, techniques, and full-on rum-making secrets remain inside the close-knit community that is Bacardi.
The founder used his self-taught knowledge to refine rum as an overall drink, wanting more people to give it the respect he knew it deserved. Before Bacardi, rum was considered a throwaway drink at best. For sugar producers, figuring out what to do with their leftover molasses was a hassle more than anything. Eventually, someone figured out how to ferment it but even then it was not a classy drink.
It took the founder of Bacardi seeing something in the spirit that needed development. Once he set his mind to it, nothing would stop him from not just achieving but exceeding his goal of elevating rum. Whether you want a delicious cocktail or a well-balanced sipper, the masters at Bacardi have something for everyone and every budget.
The Best Bacardi Rum
Bottom Shelf Bacardi Rum
1. Bacardi Superior White Rum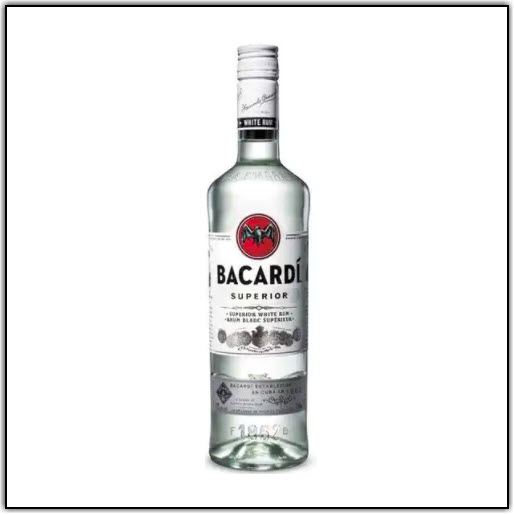 Bacardi Superior is the company's flagship effort and though it was where they started, it remains a classic. Distilled for the first time in 1862, the rum greatly contributed to the wild success the brand would soon see, though not before some obstacles.
The Cuban revolution did force the distillery out of the country, but they came back hard once settling down again in Peurto Rico where they still remain.
This expression is well-balanced with a light, subtle taste of citrus, ginger, and coriander. The flavors come from the premium sugar cane and special strains of yeast that are only found in the Caribbean. It pairs perfectly with mint and lime, making it great for a mojito, among other cocktails.
2. Bacardi Anejo Cuatro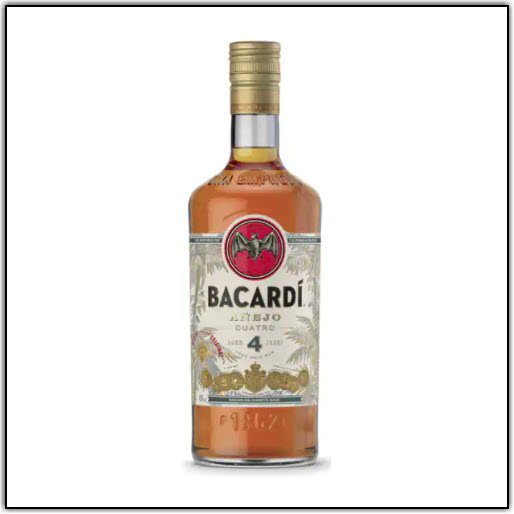 Aged for an average of four years, this expression sports a burnt copper color thanks to the oak barrels. It gets much complexity from the barrel aging but is given even more shape and character as it's filtered through a special, top-secret blend of charcoal.
On the nose, this Bacardi Anejo Cuatro is filled with oak spice, butterscotch, and vanilla. The palate follows with a burst of orange peel along with cinnamon, clove, and other baking spices. The flavors are well-rounded and the mouthfeel is a smooth one as some five and six-year-old rums are included in the blend.
3. Bacardi Black Rum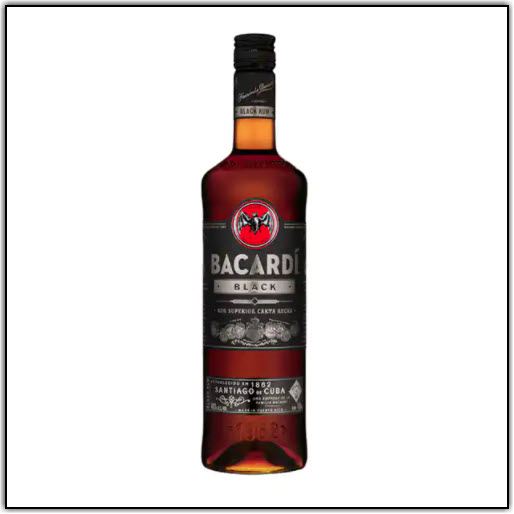 Bacardi Black Rum is quite dark in color after its aged in heavily charred oak barrels. This one is also put through the secret charcoal filtering to give it even more depth and complexity. Though dark in color, it is a more medium-bodied spirit with light, mixable flavors.
On the nose, it offers sweet aromas of butterscotch, molasses, and vanilla with a touch of candied caramel. In the background are hints of maple, licorice, and sweet fruit. It offers quite the aromatic experience if you're paying attention.
The front of the palate is quite sweet with a blend of tropical fruits, vanilla, and buttery caramel followed by a smoky finish of licorice and molasses.
Middle Shelf Bacardi Rum
1. Bacardi Gran Reserva Diez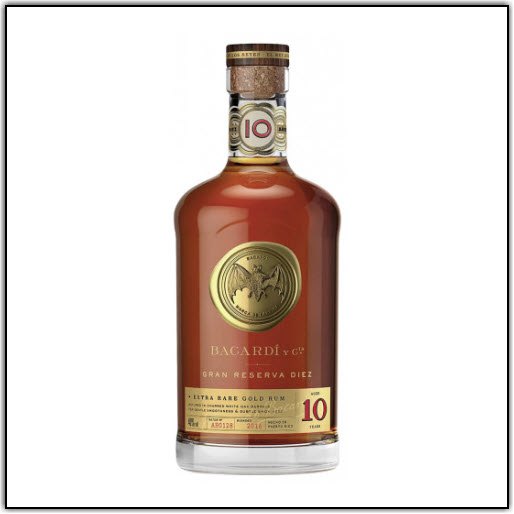 Moving up in Bacardi's wide range of rums, we get the Bacardi Gran Reserva Diez which spends at least ten years in charred oak barrels. This makes for a full-bodied drink with a velvety smooth texture.
Charcoal filtered and bottled at 80-proof, this expression offers a beautiful golden amber color and a sweet, smooth experience. On the nose, you'll find prominent notes of caramel, vanilla, oak, and candied fruit.
The palate follows with tropical fruits including pears, bananas, and kiwis. It's a great sipper for anyone with a sweet tooth and it's an amazing addition to any sweet, fruity, tropical cocktail.
2. Facundo Eximo Rum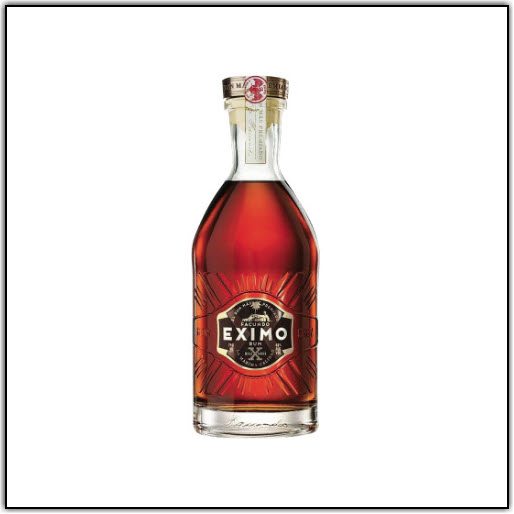 This premium and exclusive expression is a unique member of the Facundo collection. It's the only one that's blended before entering the ex-bourbon barrels and aging for ten years.
The Facundo branch of Bacardi rums had the family themselves pulling from their private reserves to offer the public the very best of the best.
Because Facundo Eximo Rum is blended before aging, there are some rums in there that are even older than the stated ten years. This gives its profile that much more complexity and character, making it a true stand-out even among the many luxurious options available at Bacardi.
The aroma offers a striking, immediate burst of oak that's soon joined by vanilla, honey, toffee, banana, and brown sugar. The palate follows with pepper, nuts, vanilla, coffee, chocolate, and cinnamon.
The finish is extra-long with notes of oak, cocoa, and fruit that linger for quite some time.
3. Facundo Neo Rum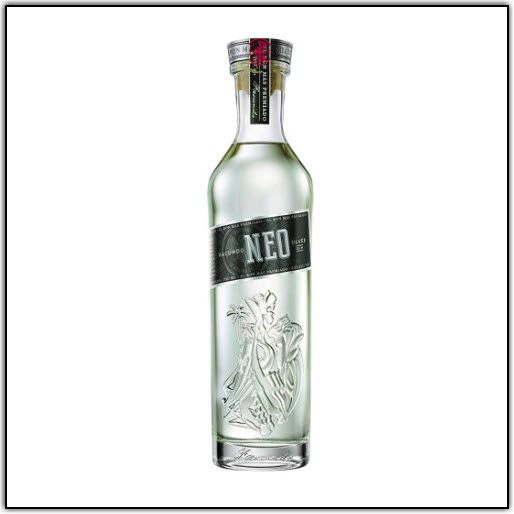 On the low end of the premium, Facundo line is their Facundo Neo Rum. This one is a blend of rums aged up to eight years. This makes it one of the oldest options on the market within its category.
It's also unique in that despite its age, it's a clear rum. This is achieved through much charcoal filtering after aging to remove all its color. Beautiful in presentation and a delicious entry point into the Facundo collection, this rum stands out.
On the nose, you'll find a strong burst of banana that is balanced with vanilla and sweet sugar cane. The palate is fruity and smooth with notes of oak, spice, and a bit of nuttiness. The finish is clean and crisp with notes of nuts and vanilla.
Top Shelf Bacardi Rum
1. Facundo Paraiso Rum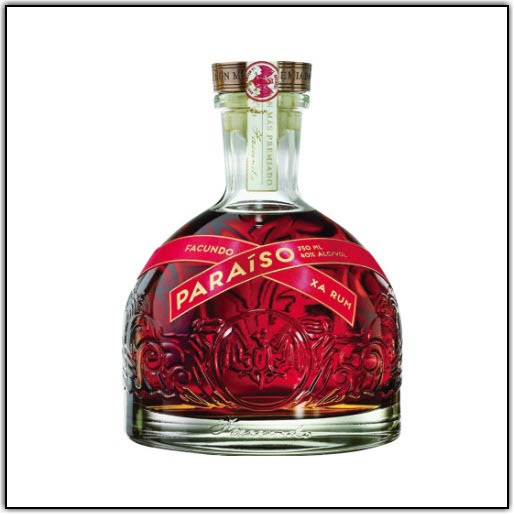 The Facundo Paraiso Rum offers quite a jump from the mid-level spirits with a blend that's aged between 15 and 23 years and finished in French XO cognac barrels. It's a delightful experience and truly one of the best.
On the nose, this one offers rich layers of cinnamon, herbs, vanilla, and banana. The palate follows with a pleasant sweetness brought on by raisins, caramel, dried fruit, tropical fruit, ginger, caramel, cinnamon, and ginger. The finish is quite long with notes of orange zest and more dried fruit that lingers.
It's an elegant expression that's so expertly crafted that it's sure to appease even the most critical and demanding rum aficionados.
2. Facundo Exquisito Rum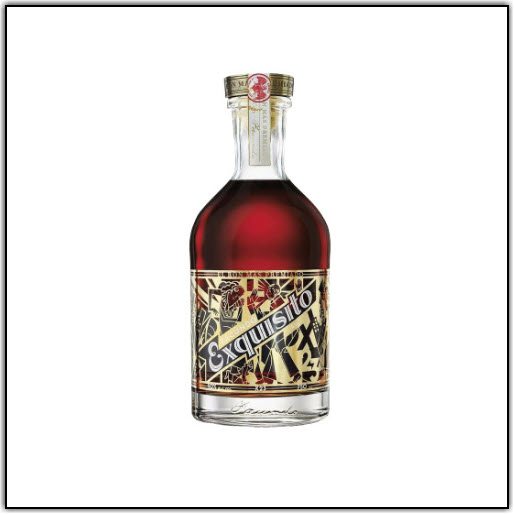 Facundo Exquisito Rum is an interesting and diverse blend of rums aged as little as seven years and some as long as 23. Finished in sherry casks, the rum is extremely well-balanced with a layered profile of aromas and flavors.
On the nose, you'll find brown sugar, dark fruit, dried fruit, vanilla, and a hint of oak. On the palate, you get strong sherry notes and prominent raisin flavors. Notes of caramel follow as well as a peppery touch of spice. The finish is oaky and sweet with lingering notes of dried fruit.
This one offers a unique balance of sweet and spicy that come together in a harmonious way, creating an excellent base for many premium and complex cocktails.
3. Bacardi Gran Resera Limitada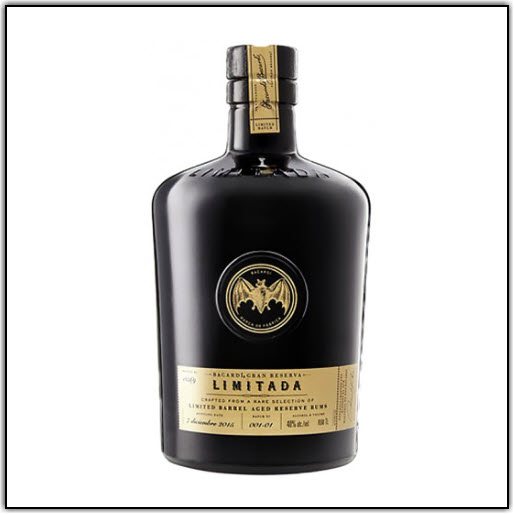 Last but not least is the Bacardi Gran Reserva Limitada. This one contains a blend of rums that have been aged for up to 16 years. To date, this is not only the rarest expression from Bacardi but is often considered the most luxurious.
The marriage of young and old rums in this bottle creates a perfect balance and the barrel aging gives it an exquisite flavor profile.
To begin, the aroma is light and soft with notes of vanilla, brown sugar, fruit leathers, and oak. The palate tastes strongly of caramelized vanilla, dried fruits, brown sugar, cinnamon, roasted almonds, oak, caramel, coffee, and tropical floral notes. This long list of flavors work surprisingly well together to create an exceptionally layered tasting experience. The finish rounds out the sip with lingering smoothness.