Finding the best cocktail for an event is surprisingly difficult. Part of the problem is that there are just so many options. Even if you narrow it down to a single type of alcohol, like rum, you'll still be left with a large list of possible options. That's why today we're focusing just on holiday drinks with rum.
There are no set criteria for these drinks. Many of them use the flavors of the season, like cranberry for Christmas or perhaps the spices you often see as fall is beginning.
Others don't have a strong seasonal link, but they're no less appealing. After all, guests will get sick of the same cocktails from one event to the next. So, check out these holiday drinks. You never know, you might find your next favorite on the list.
Holiday Drinks Made With Rum
Spiced Rum Hot Toddy
Eggnog
Christmas Punch
Sangria
Pina Colada
Strawberry Daiquiri
Royal Dock Cooler
Rum Hot Chocolate
Evening In Kingston
Dark And Stormy
Rum Alexander
Dark Rum Caramel Hot Chocolate
Mojito
Coconut White Hot Chocolate
Spiced Rum Hot Toddy
You might not serve hot toddies at a party, but the drink is a perfect way to warm up on a cold winter's night. The traditional version of the cocktail relies on whiskey, lemon, honey, and various spices – but you can also make it with rum.
The rum version of this drink isn't just delicious. It might also be more authentic.
Authenticity aside, the ingredients in a hot toddy pair as well with rum as they do with whiskey, so why not switch things around?
You can actually use any type of rum. White rum adds to the sweetness of the drink, while aged rum provides extra depth. But spiced rum is easily the most powerful. The spices in your rum perfectly complement the ones in your drink, bringing the whole thing up to the next level.
Eggnog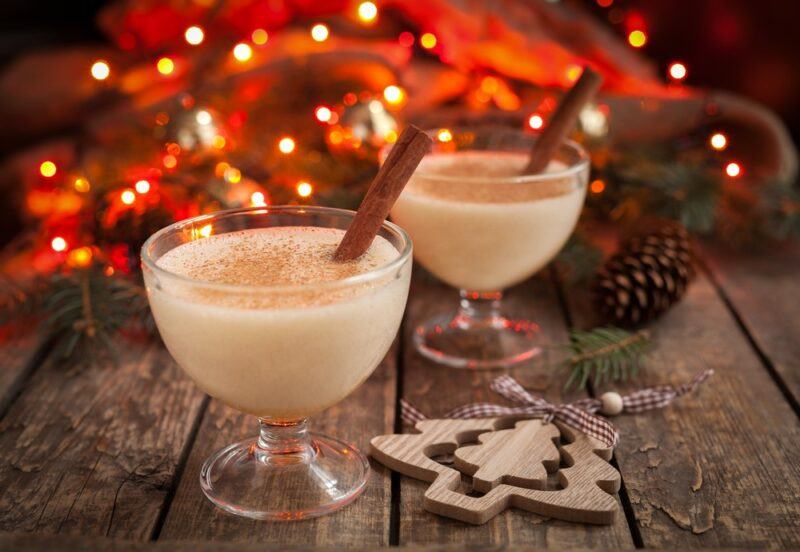 We can't forget eggnog. This classic drink always gets rolled out when the holiday season comes around.
If you want an alcoholic version, you have two options – either buy eggnog from the store and spike it with rum, or make eggnog yourself at home. The latter approach will give you a fresher and tastier drink. Still, spiked store-bought eggnog can be surprisingly good, as long as you choose your brand well.
Brandy, rum, and whiskey are all good choices for eggnog, each bringing different flavors to the table. Rum is useful as it often provides a subtle flavor, plus some sweetness that contrasts against the eggs.
However, you'll need to choose your rum carefully. Skip the white rum entirely, as you won't even taste it in the finished drink. Instead, you need something richer and more intense, like an aged rum or spiced rum.
Christmas Punch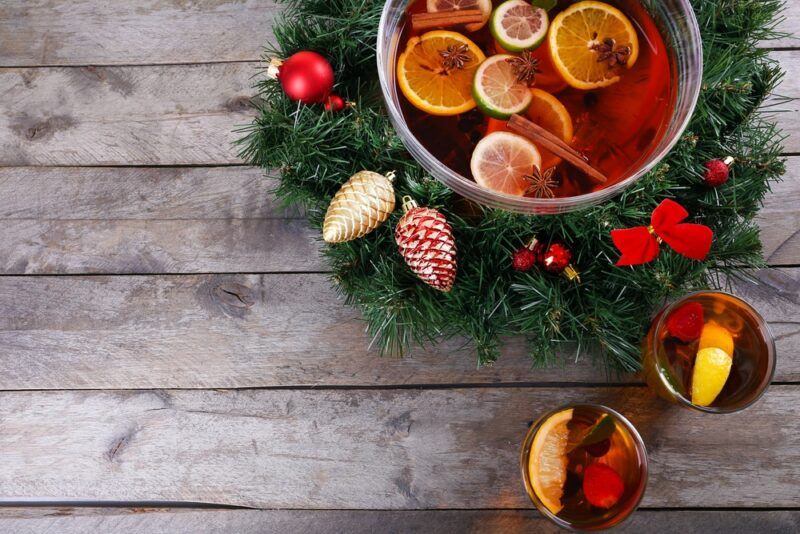 Punch might feel boring, but it remains a classic party choice. That's not too surprising, as punch is a flexible drink that makes many servings all at once. After all, who wants to spend the entire event making cocktails for everyone? With punch, you're just throwing the ingredients together at the beginning of the night, then all the hard work is done.
As a general rule, you want some fruity ingredients and some fizzy ones, plus at least one type of spirit.
Orange juice and cranberry juice are some of the classics, especially during the holiday season. You can play around with others too. For example, a little lime juice adds some tartness to the punch, while pomegranate juice makes the flavor richer and more complex.
As for the spirit, white rum works well. This adds a little to the flavor profile, without being overwhelming.
Or, you could take a completely different approach and make spiced rum punch instead. This type of punch leans into the spiced tones of the rum, which often means changing up the other ingredients. Examples include a Spiked Apple Cider Rum Punch from Sailor Jerry and a Spiked Pineapple Rum Punch from the site Pineapple & Coconut.
Sangria
While we're talking about classic holiday drinks, how can we forget about sangria? This drink is similar to a punch, except that you're using red wine along with the fruit juice and soda.
The addition of red wine gives you a richer drink, one that's also a little fruitier.
Did you know that you can serve sangria cold, warm, or even hot? The hot version ends up being like fruity mulled wine, so it's very delicious.
Rum isn't a traditional sangria ingredient, but this doesn't mean that you can't use it. Adding some spiced rum gives your sangria more complexity. The spices in the rum are just what you need if you're serving the drink over the holidays.
Pina Colada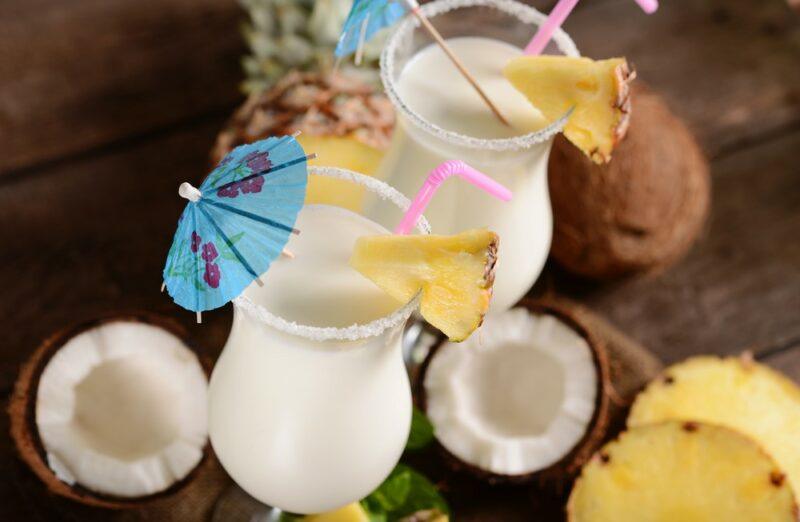 For anyone having a holiday in the sun, a pina colada is an easy choice. The drink is refreshing and creamy. It is also delicious, as the cocktail relies on coconut cream, pineapple juice, white rum, and dark rum.
Combining two types of rum like this gives you a complex flavor that you won't want to miss. Still, don't worry if you only have one type of rum on hand – you can still make a pina colada, it will just taste slightly different. These rums are all fantastic choices.
Even though the drink uses two types of rum, the ABV isn't high. That's because it's a tall drink that mostly relies on coconut cream. The low alcohol content makes this an ideal drink for parties. After all, you often want your guests to be a little mellow, rather than getting too drunk.
Strawberry Daiquiri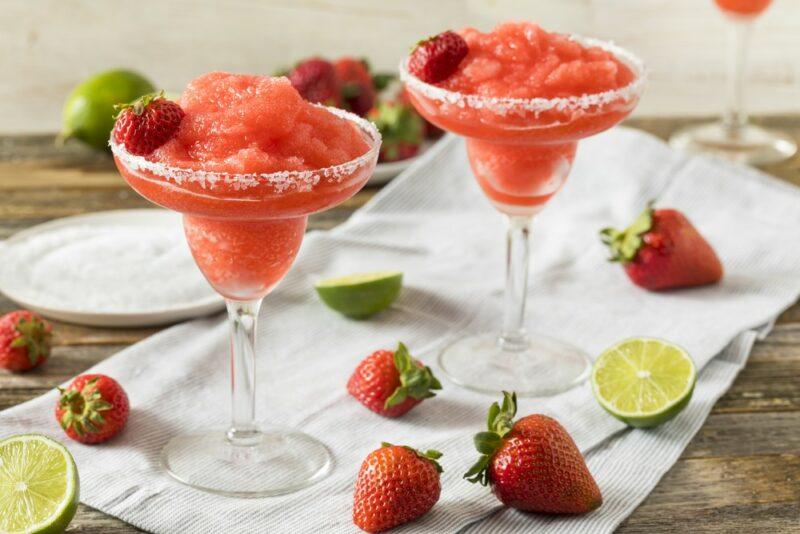 A strawberry daiquiri would be an exceptional Christmas drink if you're in the Southern hemisphere and Christmas is in summer, as the cocktail bright red and is often served as a slushie.
It's also a surprisingly easy drink to make, as there's only a handful of ingredients. While you can use ice to turn the drink into a slushie, it ends up being even better if you turn to frozen strawberries instead.
You can play around with the type of rum used in this cocktail. White rum has a subtle flavor and helps the strawberry in your drink to pop even more. A dark rum will provide more depth to the drink, while spiced rum adds some unexpected flavors.
Royal Dock Cooler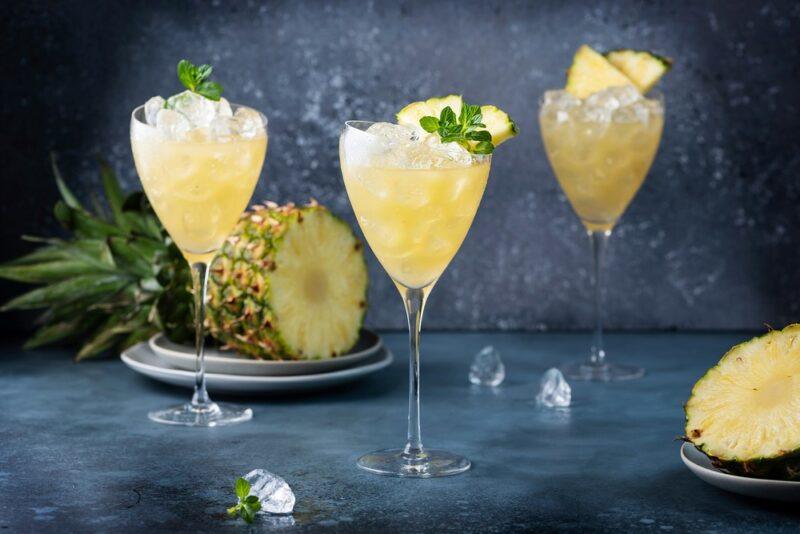 Here's a fun party drink for when you want to impress. The Royal Dock Cooler includes the unexpected combination of pot still rum, pineapple syrup, grapefruit juice, and earl gray tea.
The pineapple syrup and grapefruit juice give the cocktail plenty of vibrancy, while the rum adds all the kick you'll need. You may, however, need to play around with the ratio of ingredients, as the original version of the recipe is extremely rum-heavy.
Rum Hot Chocolate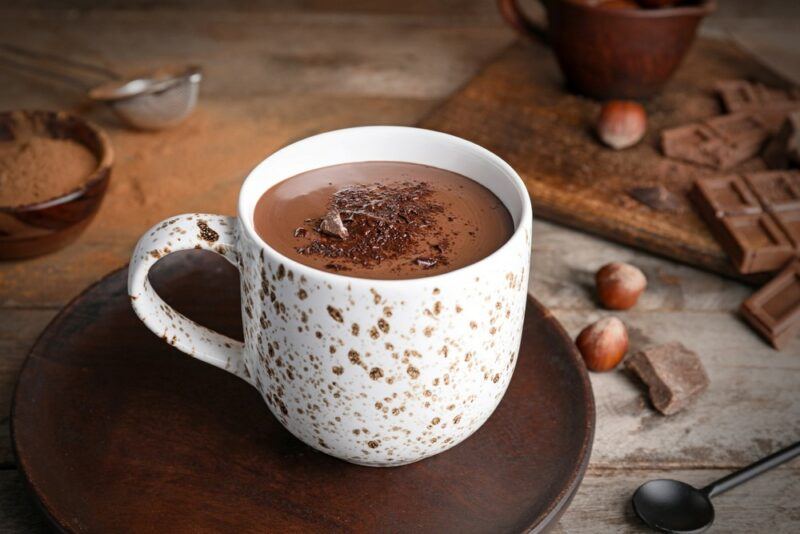 Are you a hot chocolate fan? If so, adding some rum to your drink can take it to the next level. You're not just getting an alcohol hit either, as the rum also provides extra complexity.
The simplest option is to make hot chocolate just like you would normally and then pour in a shot of rum at the end. Even this version would be impressive enough to serve at a party.
Or, why not take the drink one step further and create an even more exciting drink?
For example, you could include a selection of spices like cinnamon, nutmeg, and star anise when you're heating the hot chocolate, then strain them out before serving. This would give your drink a spicy kick. Using spiced rum would highlight the flavor of the spices even more.
You could make the hot chocolate richer too, like by using milk instead of water when preparing it and perhaps adding some chocolate liqueur at the same time. Cream even features in some hot chocolate recipes.
Evening In Kingston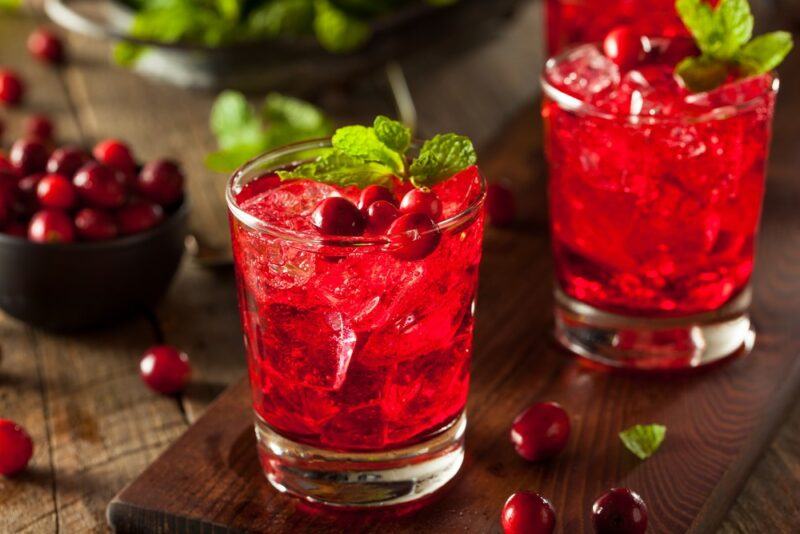 This cocktail is a fantastic variation on the negroni. It has the same complexity of flavor but relies on some different ingredients.
To make the cocktail, you'll need Campari, sweet vermouth, sparkling wine, and rum. We're not just talking about any old rum here. For your Evening in Kingston to truly shine, you'll need to turn to amber rum.
Unlike most cocktails, this one is best when it's prepared ahead. Mix the rum, Campari, and sweet vermouth together and chill for at least a couple of hours. Chilling the combination for a full day is even better.
Then, when it's time to serve, pour two ounces or so of the mixture into the bottom of each glass and use sparkling white wine (chilled, of course) to top the drink up.
Dark And Stormy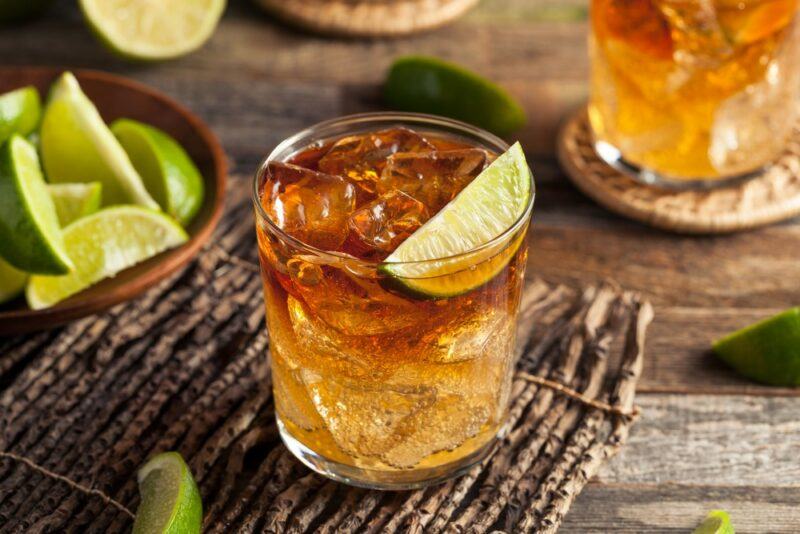 Want a holiday drink that's fast and easy? A dark and stormy might be exactly right. This cocktail simply relies on ginger beer, dark rum, and lime juice.
While the lime juice is an optional ingredient, it's too good to leave out. Trust us, the drink won't taste the same without it.
The dark and stormy is the official cocktail of Gosling's Black Seal rum (they write it Dark 'n' Stormy), so you're not technically making a dark and stormy if you use any other type of rum. Still, most of us use whatever dark rum we have on hand and still end up with an excellent drink.
Coquito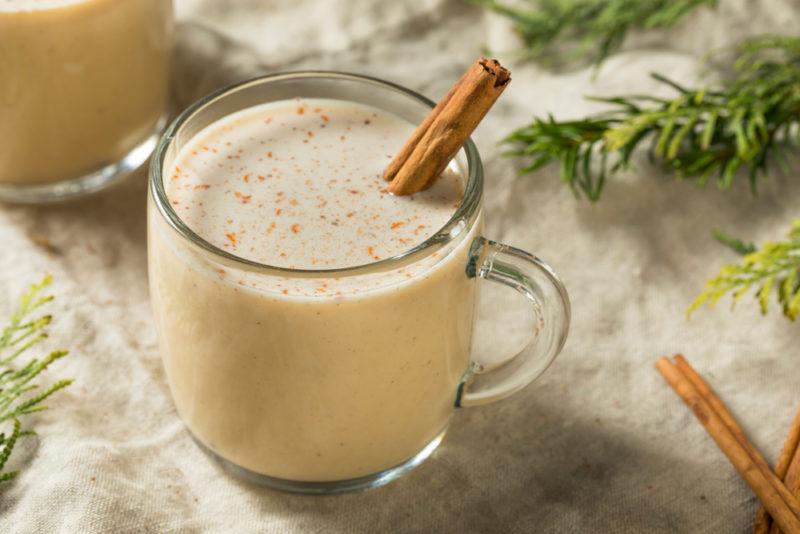 The coquito cocktail hails from Puerto Rico. It's a little like eggnog, although there are some differences too. For one thing, a coquito relies on coconut water, coconut milk, or coconut cream as the base ingredient. This provides a coconut flavor to the entire drink.
The ingredients are similar to egg nog and cinnamon is often used to provide spice. And, of course, there's plenty of room for variation.
You can even experiment with the rum that you use. While white rum tends to be the go-to option, even dark rums can work well some of the time.
Rum Alexander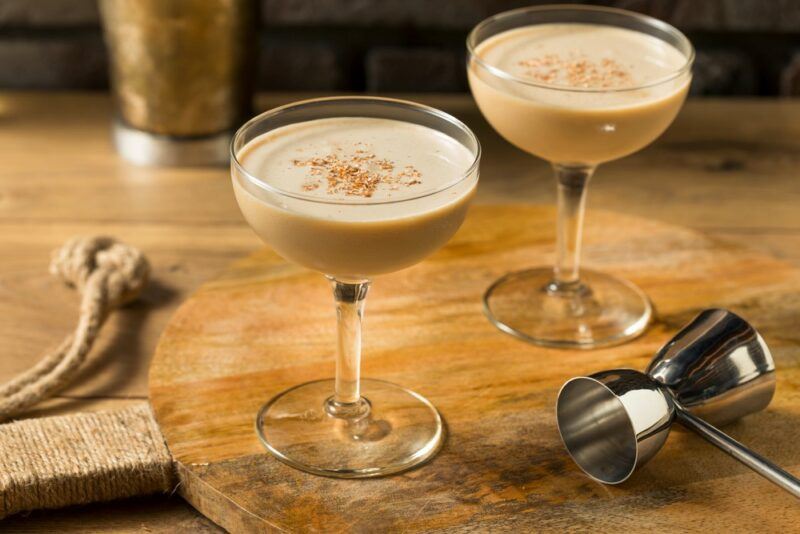 You've probably heard about the brandy Alexander, which is a classic creamy cocktail that relies on crème de cacao liqueur, brandy, and cream. There's an original version too. That one is less well-known these days and uses gin as the spirit of choice.
Not surprisingly then, you can make an Alexander cocktail with other spirits too, including rum. The drink is as simple as combining two parts of rum with one part crème de cacao, one part heavy cream, and perhaps a little simple syrup. Or, to change things up, swap out the crème de cacao for coffee liqueur instead.
An aged rum works amazingly well in this recipe, giving the cocktail plenty of depth. You can also try spiced rum to add a little extra kick to the drink.
Dark Rum Caramel Hot Chocolate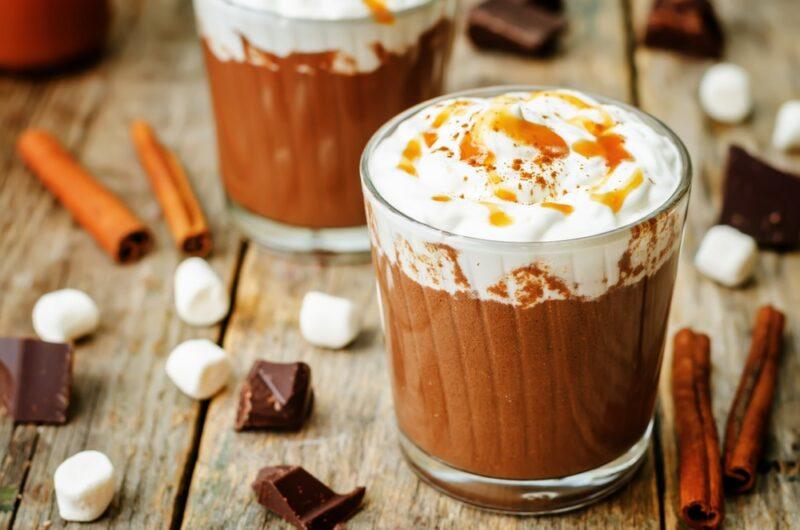 Want to take your hot chocolate to an entirely new level? This version achieves that goal – and then some. It's a very simple recipe too. You just need whole milk, milk chocolate, and dulce de leche. If you don't have dulce de leche on hand, another type of thick caramel will be almost as good.
While you can use any type of rum in this cocktail, dark rum is the best choice by far. It gives you an unparalleled depth of flavor. Go on. Why not try the cocktail for yourself?
Mojito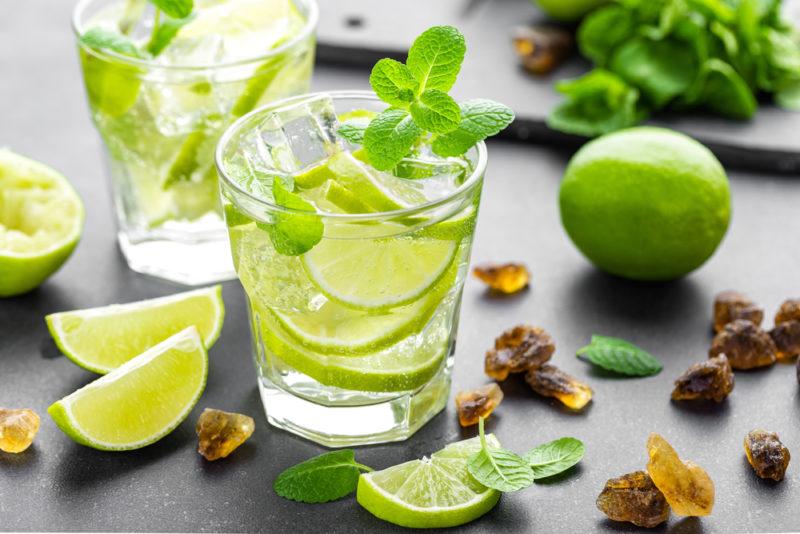 How can we go past the mojito? It's such a classic rum cocktail, which is reason enough to serve it during a holiday. Besides that, who doesn't love the combination of lime, white rum, and mint – all served with refreshing soda water?
The cocktail is beyond perfect for warm days when you're trying to stay cool and refreshed. If you're serving it early in the afternoon, why not cut the amount of rum in half? This would give you a less alcoholic cocktail that's still just as delicious.
Coconut White Hot Chocolate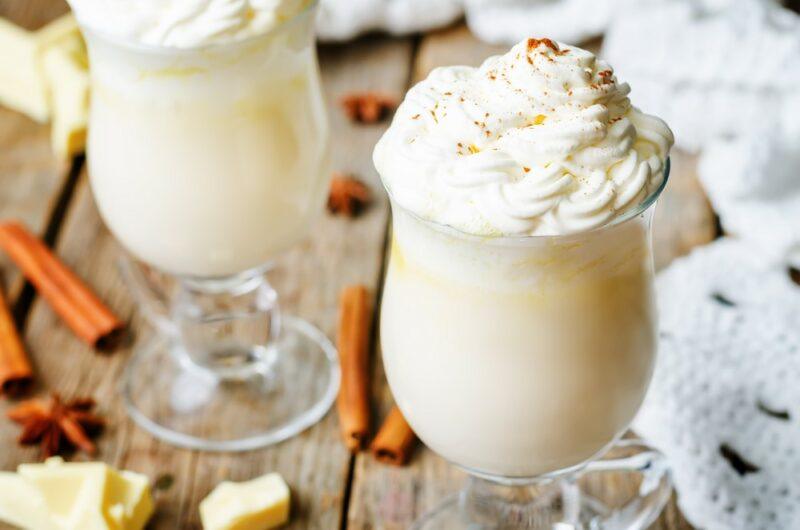 Spiking hot chocolate is an easy way to get a delectable boozy holiday drink, but why stick with regular hot chocolate when you can make the drink much more interesting?
A coconut white hot chocolate is one way to mix things up. You can make the white chocolate portion of this easily enough by using a white hot chocolate mix or by melting white chocolate into warmed milk. Then, just spike the drink with coconut rum.
Another trick would be to use coconut milk instead of regular milk. This increases the coconut flavor and allows you to avoid dairy. Then, you could use coconut rum for an even stronger coconut taste or just stick with unflavored rum.