Cold cocktails served on the rocks are fine in the summer, but when we get to the winter holidays, they're much less appealing. Hot holiday drinks are a much better choice. These aren't just warming, they're also delicious and there are some for every preference.
Don't believe us? Why not check out the list and find some new favorites?
Most of these drinks are alcoholic cocktails, but you can always drop out the booze for a non-alcoholic version. Don't forget to experiment too. Most cocktails can be easily tweaked to give you a different balance of flavors and textures. You might make a version that's even better than the original.
Holiday Drinks That Are Perfect Hot
Hot Toddy
Hot Buttered Rum
Mulled Wine
Cranberry Hot Toddy
Eggnog
Christmas Mule
Hot Buttered Gin
Italian Coffee
Rum White Hot Chocolate
Rum And Caramel Hot Chocolate
Irish Coffee
Eggnog Latte
Milk Punch
Pomegranate And Vermouth Mulled Wine
Spiked Pumpkin Spice Latte
Boozy Chai Latte
Hot Rum Punch
Hot Toddy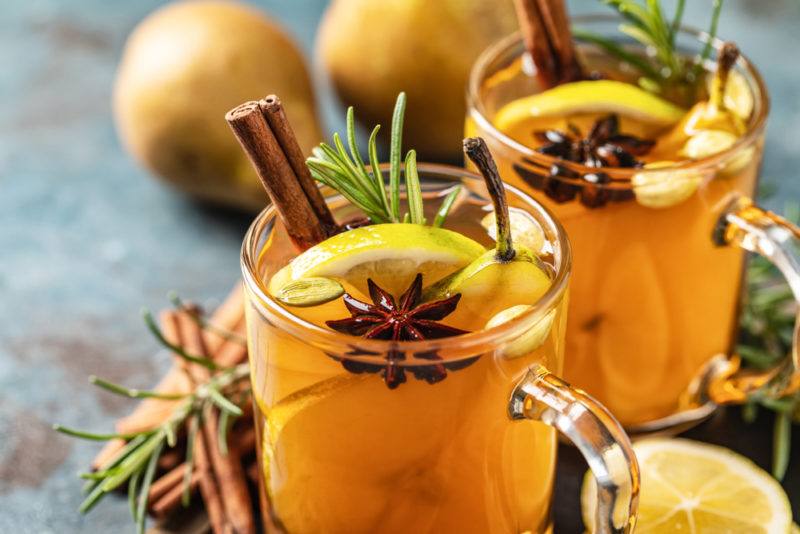 The hot toddy is one of the most classic hot drinks. It's an excellent one for the holidays too, as many versions already use the flavors of fall, like apple cider and cinnamon.
This is also an endlessly varied cocktail. Seriously, there are countless choices for the ingredients that you can add or removed to give you a customized drink.
The most basic version relies on honey, lemon juice, plenty of hot water, and some type of whiskey. Throw a slice of lemon and a cinnamon stick into the drink before serving, then you're good to go.
Even with this recipe, there's plenty of room to play. Increasing the honey will give you a sweeter drink, while increasing the lemon juice creates something tarter.
You can get more creative too. For example, one version skips the honey and uses apple cider as the drink's base, which can be delicious. If doing so gives you an overly sweet drink, try using half apple cider and half water.
Or, if sweetness isn't your thing, load up on the spices. Some people even use tea rather than water when making the hot toddy. This gives the drink a much more complex flavor and you're getting some benefits from the tea too.
Hot Buttered Rum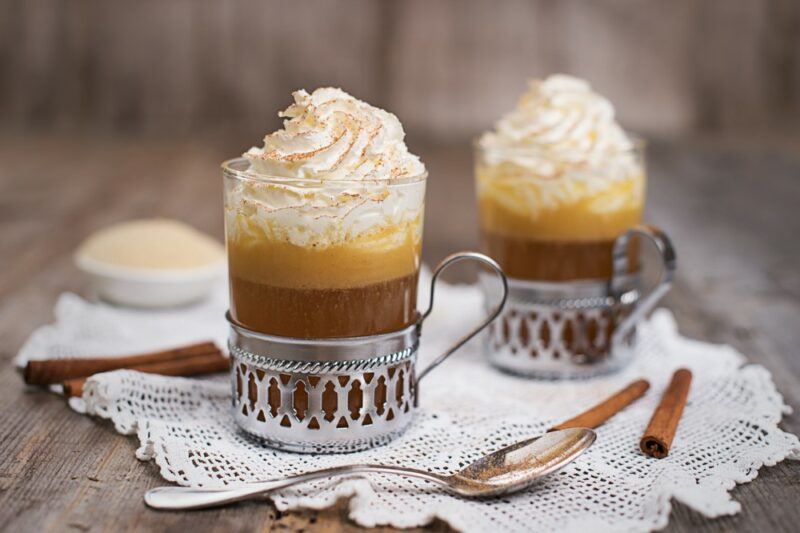 Here's another classic – hot buttered rum. The name says it all really, as the hot drink relies on rum, butter, hot water, and some spices. You can even make a non-alcoholic version by using rum extract instead of actual rum, but that version isn't nearly as good.
Like the hot toddy, this hot drink is best on cold nights or for mellow events, where everyone is slowing down and taking their time.
Hot buttered rum is an unusual drink, as you start with a type of batter that you use to make up the drink. The best versions use a combination of seasonal spices, like nutmeg, cinnamon, and ginger. The batter also includes butter and brown sugar.
You can make the batter ahead of time and then simply combine it with your rum and hot water. What could be simpler?
Mulled Wine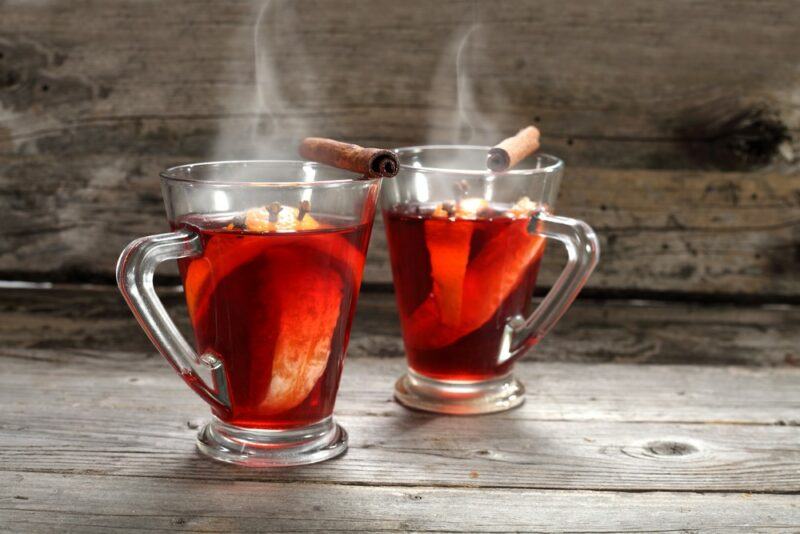 What's better than a glass of mulled wine on a cold night when you have some friends over? Not only is the wine delicious and warming, but it's also a very easy drink to prepare.
Want to make the whole thing even simpler? Why not make your mulled wine in a slow cooker? Heat it on the lowest setting for a few hours. This gives your spices time to infuse into the wine. Even just an hour may be enough.
You can serve the mulled wine straight from the slow cooker too, so that it keeps warm until it's time to enjoy the drink.
Cranberry Hot Toddy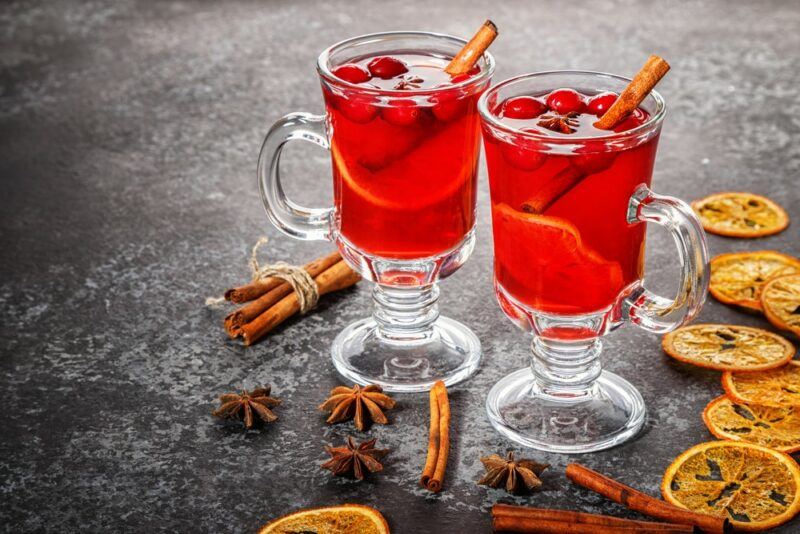 Lemon may be the classic flavor for a hot toddy, but it isn't your only option. You can change up the recipe in plenty of ways to make it more interesting and enjoyable.
Apple cider is a common hot toddy addition, as the apple complements the other ingredients well. So, why not take the same idea and go in a completely different direction?
That's what we're suggesting today. A cranberry hot toddy is pretty similar to the original approach. You're just using cranberry juice instead of water. By doing so you get a more complex drink with a delicious sweet-tart flavor.
One word of warning – be cautious with adding any sugar or honey. While cranberry juice is tart, it does still contain a decent amount of sugar. It's easy to end up with a cloyingly sweet cocktail that doesn't taste good at all.
Eggnog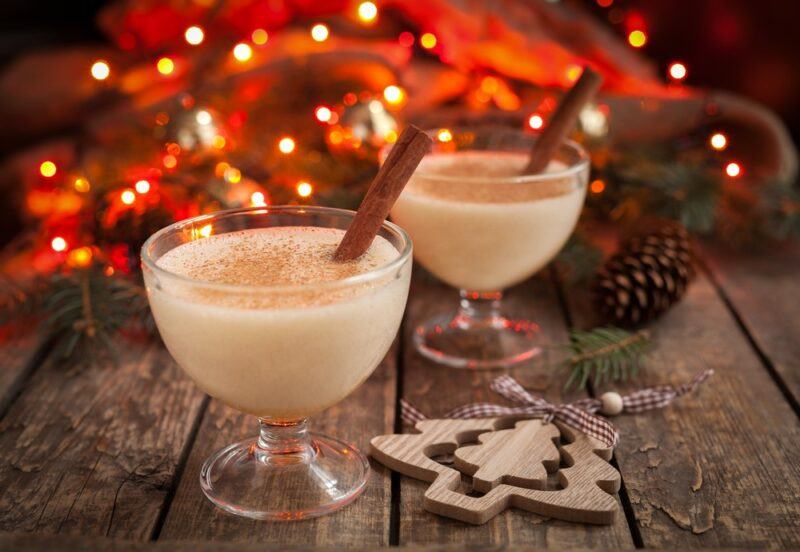 Seeing eggnog on this list might be a surprise. While the drink is a classic holiday choice, it's usually served cold rather than hot.
But, here's the twist – you can easily serve eggnog warm or hot. The simplest approach is just to take regular eggnog and heat it in the microwave or in a pot on the stovetop. You'll need to be a little cautious here, as too much heat will ruin the cocktail.
You could also look for a recipe that's designed to be served hot, like this one from Wine Enthusiast. Recipes that focus on hot eggnog should have a better texture than simply taking cold eggnog and heating it. Remember that eggnog can easily be spiced with whiskey, rum, brandy, or all three.
Christmas Mule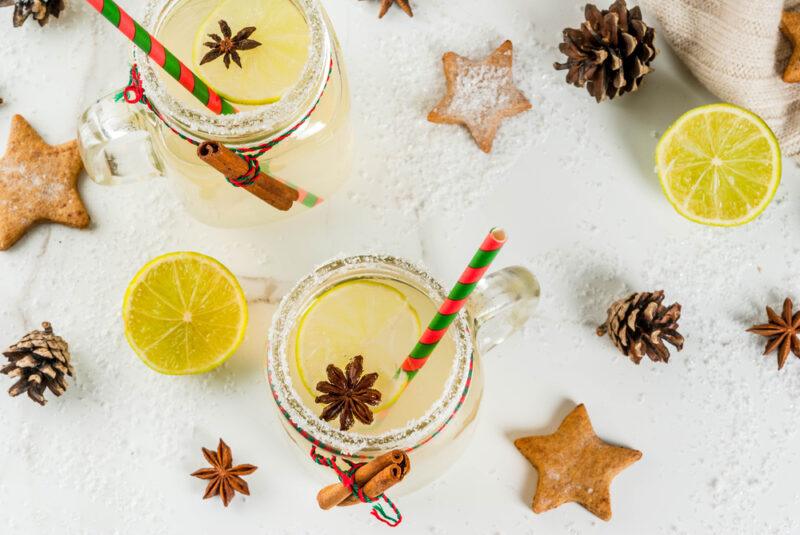 This seasonal recipe takes the traditional Moscow mule and mixes it up a bit. For one thing, you're using pear vodka rather than regular vodka, which adds in some extra sweetness and changes the flavor profile.
And, unlike other mule cocktails, this is a hot cocktail. To make it, you need to heat the ginger beer – gently. If you heat it too much or too fast, the ginger beer will lose its fizz and the cocktail won't be nearly as good. But, get it right, and you have a warm cocktail that's delicious and bubbly.
You can finish the whole thing off with a stick of cinnamon. The cinnamon is more than a garnish, as some of the flavors from the cinnamon will end up in your drink too.
Hot Buttered Gin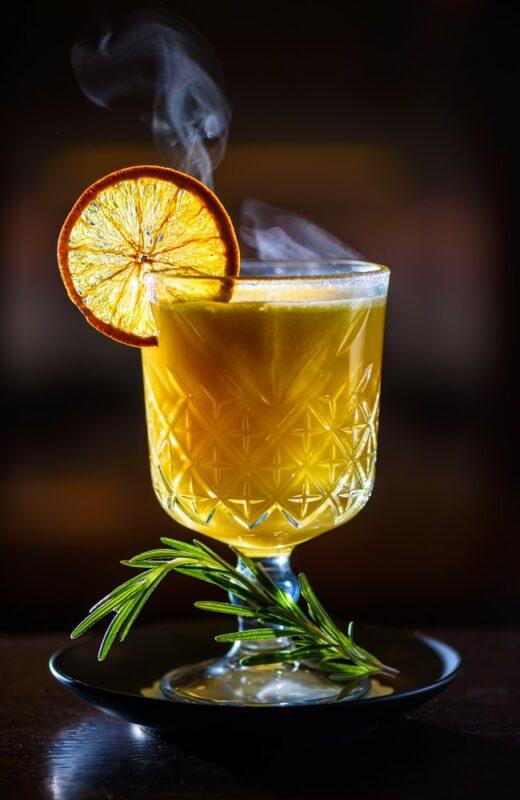 This cocktail combines several different ideas at once. It's a little like hot buttered rum because you're including butter. It's also similar to a hot toddy, as you're using a lemon, honey, and ginger concentrate as an ingredient.
The recipe itself was developed by SHOTT Beverages, which creates the lemon, ginger, and honey concentrate used in the cocktail.
Don't worry if you can't find the product locally. You can easily make the hot drink by just using fresh lemon, ginger, and honey instead. The homemade version would probably taste better anyway.
Italian Coffee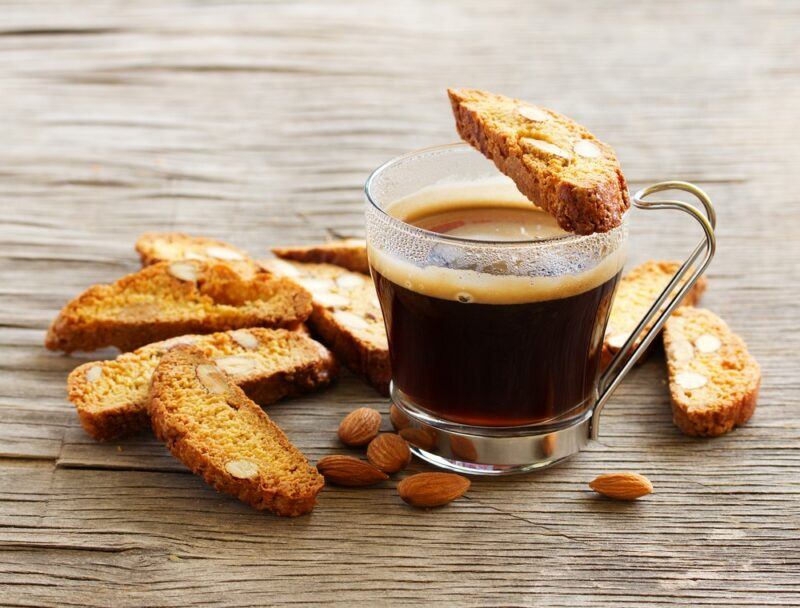 This cocktail is a little like an Irish coffee. The difference between the two comes down to the alcohol used. While an Irish coffee relies on Irish whiskey, an Italian coffee uses Strega instead.
Strega is an interesting Italian liqueur with a bright yellow color. The color comes from saffron, but that's not the only flavor. In fact, there are around 70 different herbal ingredients, making this a complex liqueur.
Combining this liqueur with coffee gives you an interesting and complex drink, one that you won't forget any time soon.
Rum White Hot Chocolate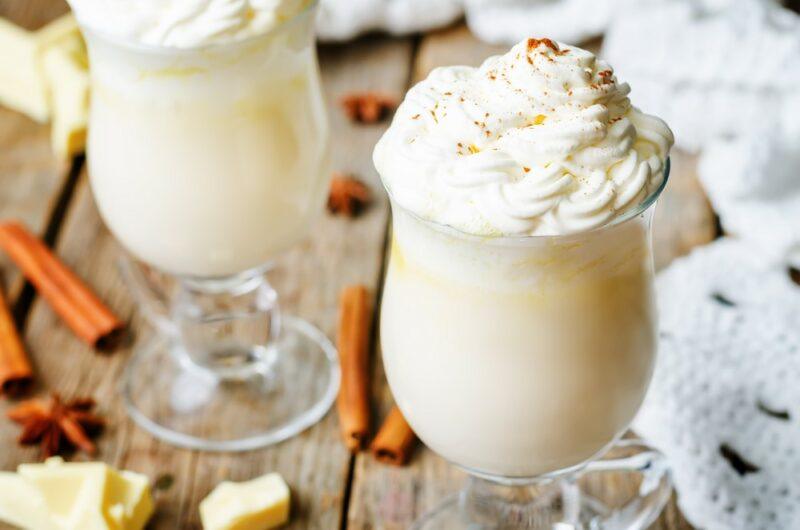 Why add alcohol to regular hot chocolate when you can make a spiked white hot chocolate instead? White hot chocolate can often be a more delicious drink anyway, as it's subtle and creamy, without an overbearing chocolate flavor. Rum is exceptional as the spirit to use, adding just the right amount of complexity.
To create an even more amazing drink, try using coconut rum. This gives you white hot chocolate a coconut undertone that perfectly complements the rest of the drink. You could even use coconut milk rather than dairy milk to increase the coconut flavor further.
Rum And Caramel Hot Chocolate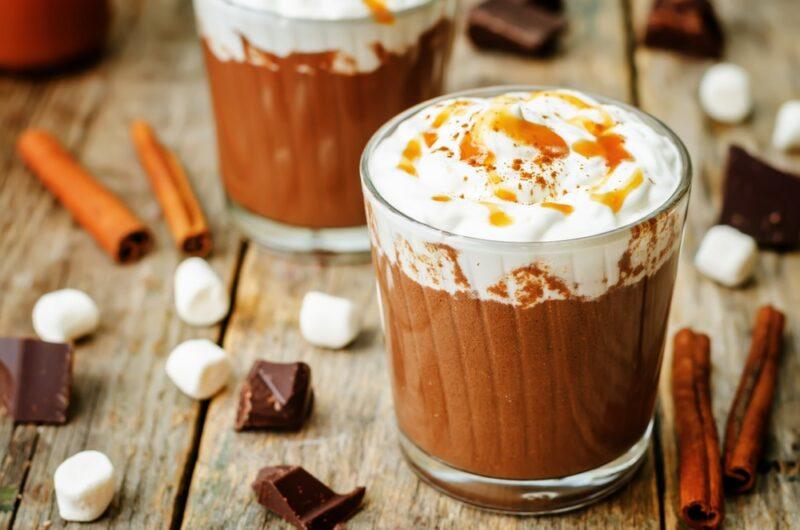 Here's another twist on the hot chocolate that you can try. This time you're using thick caramel as an ingredient (like dulce de leche or something similar). You don't need many other ingredients either, just some whole milk, milk chocolate, and dark rum.
While you could easily make an alcohol-free version of the cocktail, the rum really brings the whole thing together.
Irish Coffee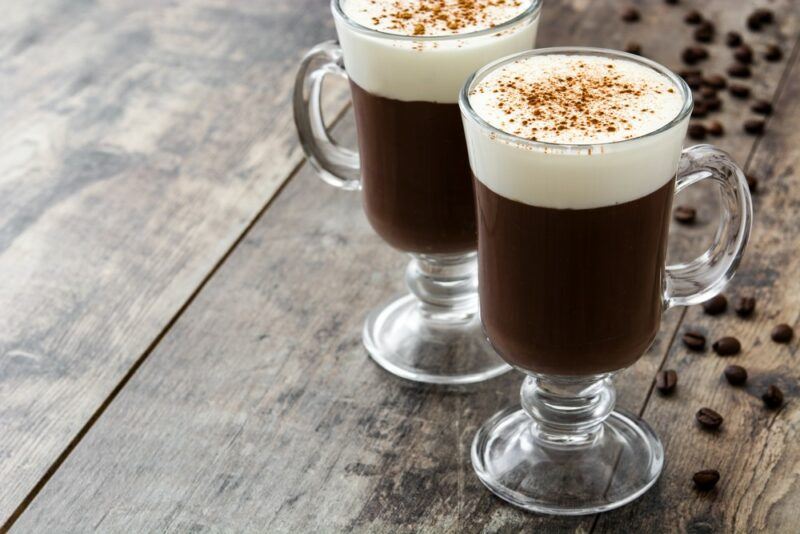 We can't go any further without talking about the Irish coffee. This is one of the simplest cocktails out there. You're just adding a shot or two of Irish whiskey to your coffee. It doesn't need to be any more complex than that.
Of course, you'll see plenty of more involved versions of this cocktail. Adding whipped cream to the top is a common option. You can make the cocktail more seasonal by sprinkling cinnamon or nutmeg on top of the cream.
Mulled Gin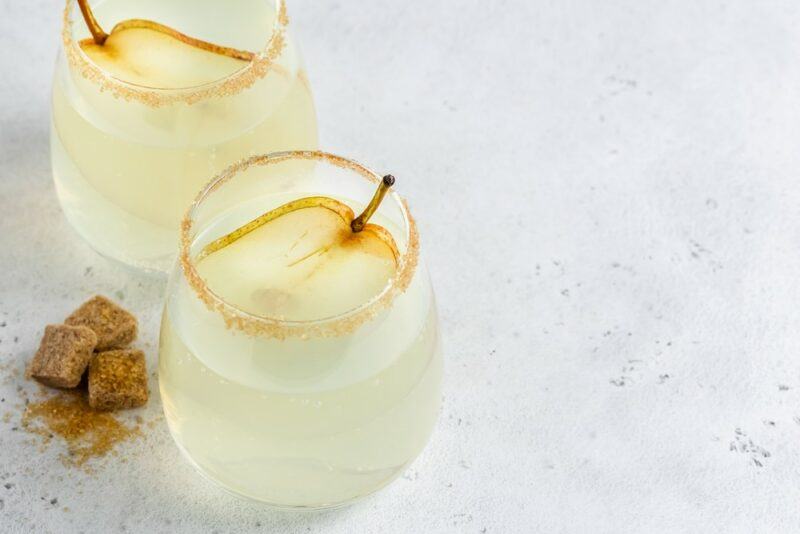 With the popularity of mulled wine, it's easy to forget that you can do something similar with other ingredients too. A mulled gin cocktail takes this approach.
Don't worry though, the cocktail doesn't just rely on gin. You're also adding apple cider, some honey, and a variety of spices. The flavor from those spices gets infused into the gin and cider, giving you a delicious seasonal drink.
You could stick to classic mulled wine ingredients or play around with other options. Juniper berries, for example, can be an excellent addition, as they complement the juniper in your gin.
Eggnog Latte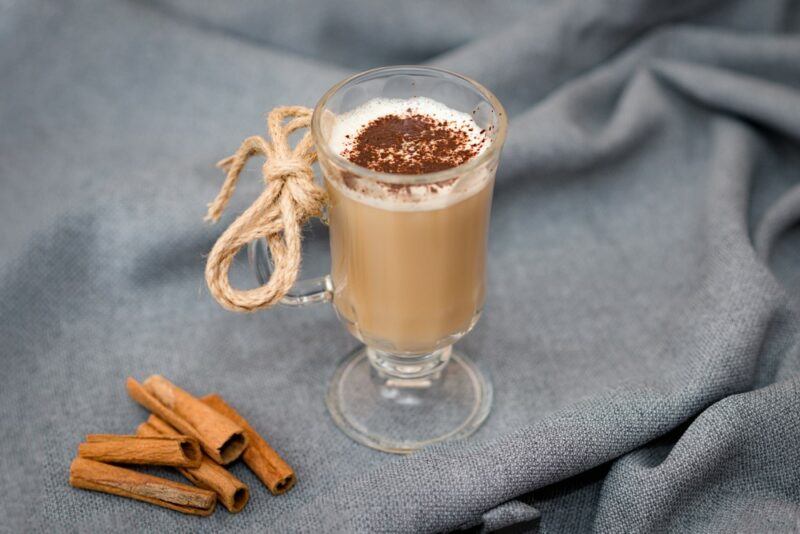 While eggnog is delicious, it can also be a bit intense. If you don't enjoy regular eggnog, then an eggnog latte could be a perfect choice.
As the name suggests, this drink combines a latte and eggnog, so you're using eggnog, milk, and espresso as ingredients (plant-based milk would work just as well as dairy milk).
And, just like regular eggnog, an eggnog latte can be spiked with alcohol. Brandy and rum tend to be the most popular choices, but whiskey is surprisingly good too.
Milk Punch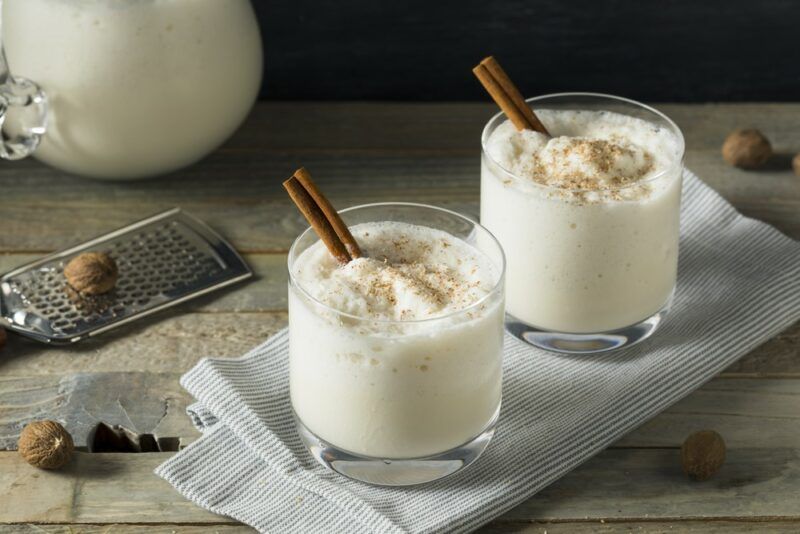 A milk punch is another option. This is like eggnog with one obvious difference – no eggs.
Leaving out the eggs gives you a drink that's easier to prepare, isn't as thick, and tends to be more mellow. Plus, you can easily create a vegan version by simply using plant-based milk.
You can create an interesting drink by infusing a variety of spices in the milk, then spiking the milk punch with whiskey or spiced rum. The alcohol provides a much needed kick and complements the flavors of the drink well.
Pomegranate And Vermouth Mulled Wine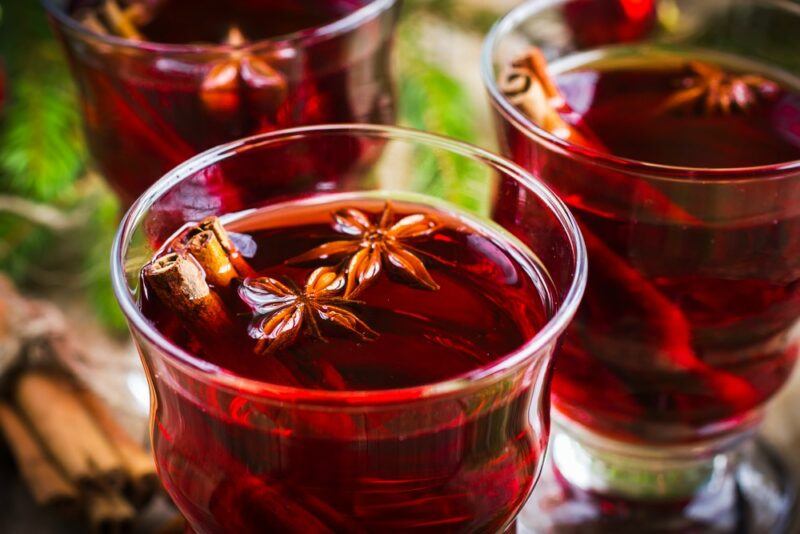 Here's a fantastic choice if you find mulled wine to be too intense. The recipe comes from BBC Good Food and uses a combination of pomegranate juice, red vermouth, and red wine, plus the typical spices for mulled wine.
The vermouth is important here, as it provides a nice contrasting flavor while preventing the whole drink from becoming cloyingly sweet. You could easily tweak the amounts of pomegranate juice, vermouth, and wine until you find a balance of flavors that works well for you.
Spiked Pumpkin Spice Latte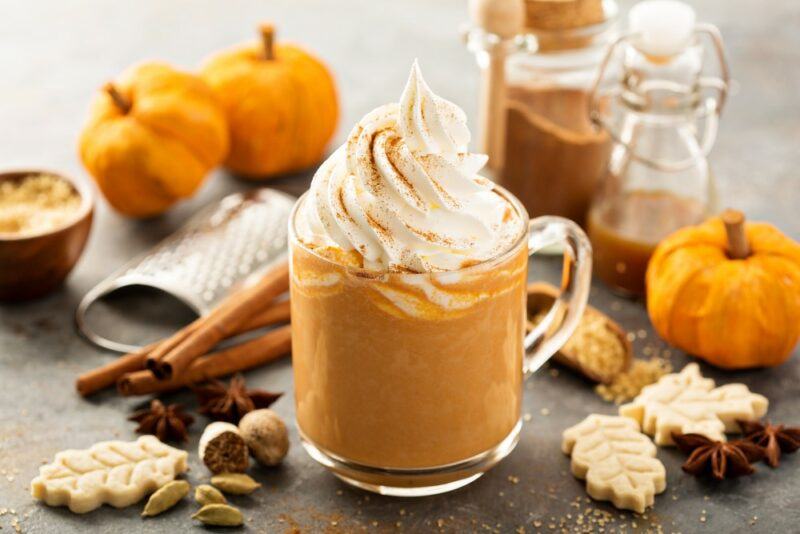 Pumpkin spice lattes seem to never go out of style. They remain a popular choice every time we roll around into fall. So, adding alcohol to your pumpkin spice latte just makes sense.
One approach is to use a combination of vanilla vodka and cinnamon whiskey. Both ingredients offer fantastic seasonal flavors and you can use them in plenty of other cocktails too.
Or, if you don't want to get that specialized, try using some bourbon in your pumpkin spice latte instead. The rich flavor of bourbon works nicely with the spices in your latte, giving you a delicious drink.
Other possibilities include Bailey's Irish Cream, Kahlua, or rum. You might find a completely different option with a little experimentation.
Boozy Chai Latte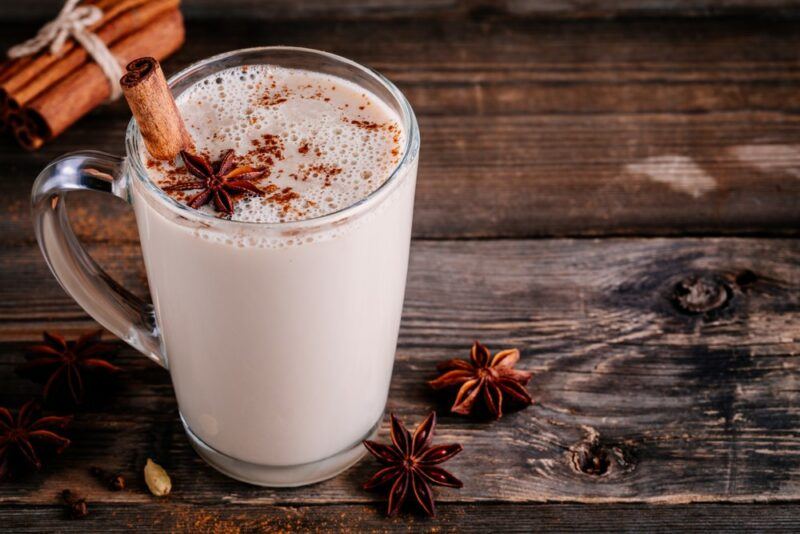 Speaking of spiking hot drinks, what about spiking a chai tea latte? The drink is already milky, spicy, and warming, so adding booze just makes sense.
There are plenty of options here too, but spiced rum is easily the most popular. This isn't too surprising, as the spices in the rum are an easy complement to the chai tea.
Just be careful if you're making your drink using chai tea concentrate. While there are some good brands out there, many products are laden with sugar and don't even contain that many spices.
Hot Rum Punch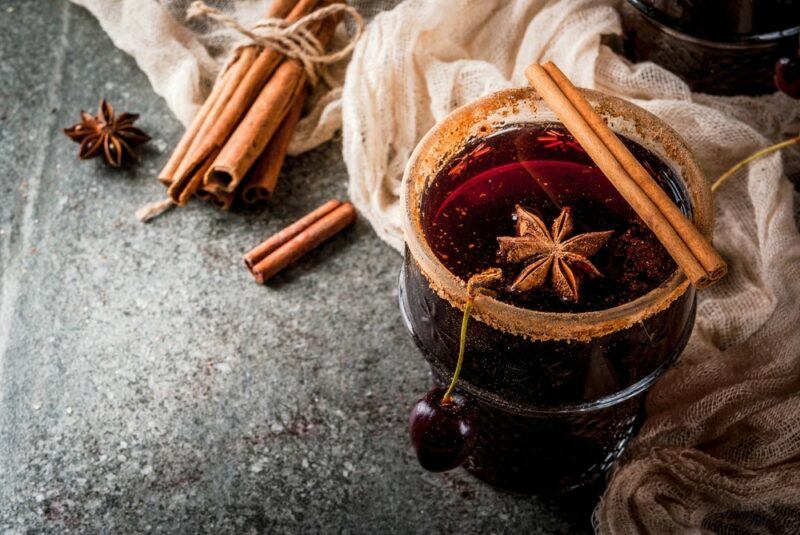 Punch doesn't need to be a cold drink. Some hot versions are just as delicious, like this hot rum punch. It's a potent cocktail that's best served in small measures, as you're using golden rum, cognac, and sherry, with minimal mixers.
The main problem is that you're using fino sherry, which isn't the easiest to find ingredient. Still, if you don't have this on hand, you could always experiment and see what other spirits work well. You might even discover a brand new recipe of your own.
For example, another type of rum punch uses dark rum, brandy, lemon juice, and brown sugar. This one is still potent, but it's easier to make at home, as the ingredients are all commonplace.