While many high-profile distilleries go back a century or more, High West Distillery was just founded in 2006. Despite their young age, though, they've grown to be quite the name in the world of whiskey. The distillery was founded by David Perkins and his wife. David was working as a biochemist and it was that work that inspired his dive into whiskey.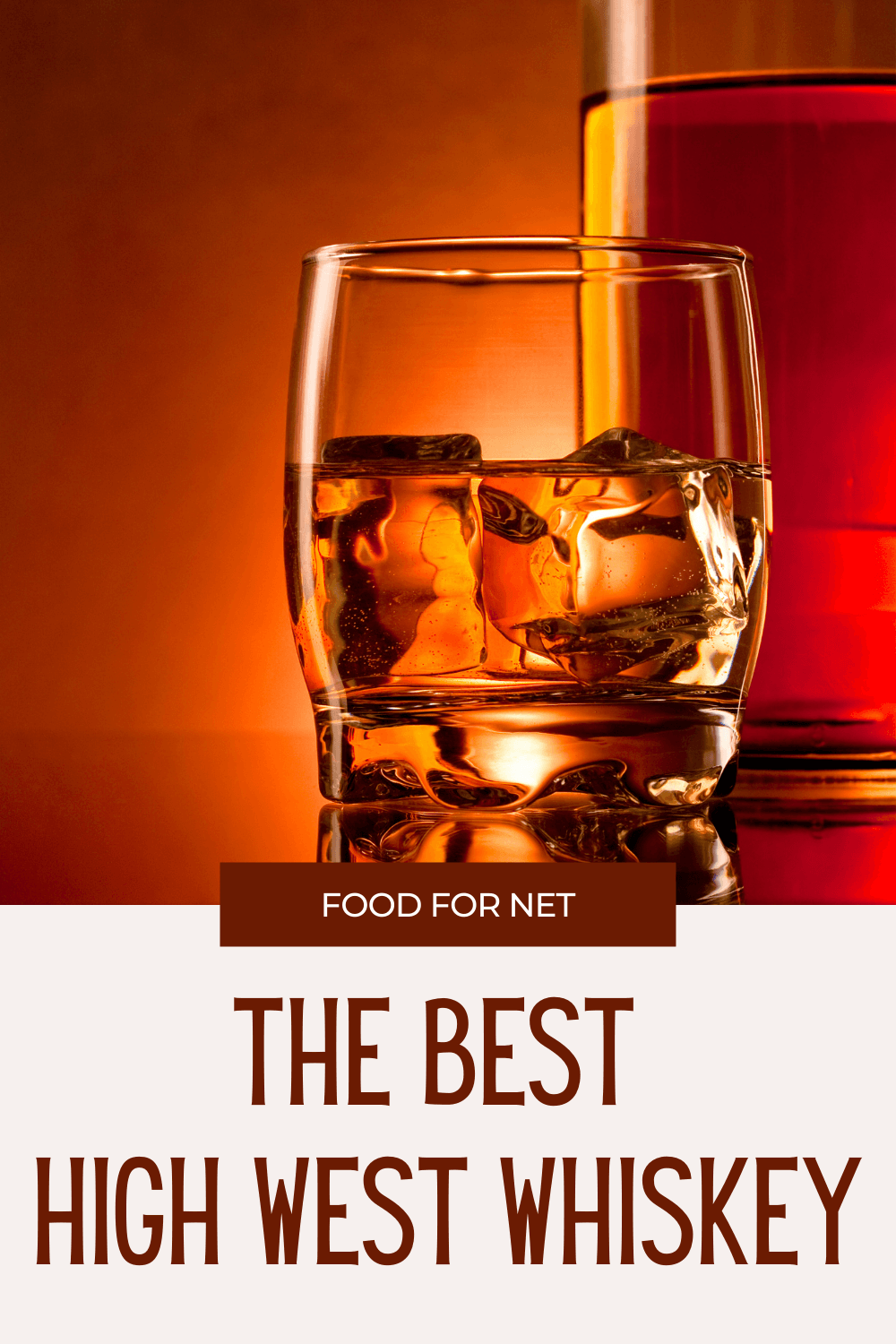 He saw the parallels between the distilling process and his own work in the chemistry field when he took a tour of Maker's Mark distillery. While Maker's Mark has a rich history of its own, High West is now a competitor of its own inspiration!
High West began slow and small, with a 250-gallon still in a livery stable. Today, the brand has grown to international recognition and has four locations. The best High West whiskey is hard to judge, but there are definitely a few standouts. The distillery itself as well as its whiskies have won many awards over the years and were even named the Distiller of the Year by Whiskey Advocate in 2016.
Give one of their most popular expressions a try and see what the most loyal customers are raving about!
The Best High West Whiskey
1. High West Double Rye Whiskey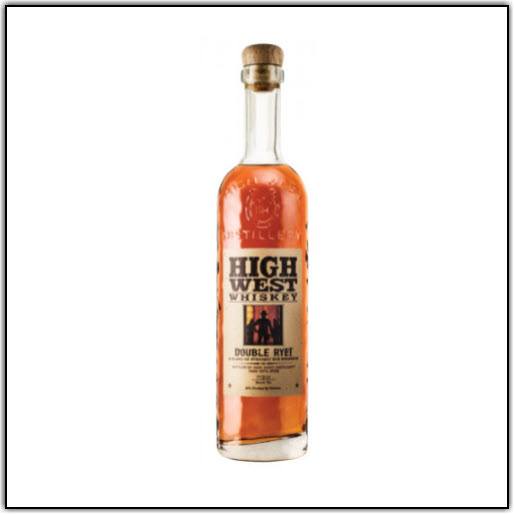 High West Double Rye Whiskey is an interesting blend of sixteen-year-old and two-year-old straight rye whiskies. The maturity differences create a unique flavor that Whiskey Advocate called a "must-try for rye whiskey aficionados."
The two-year-old whiskey is fermented with High West's proprietary strain of yeast and the sixteen-year-old rye is wonderfully smooth. They keep the exact recipe for this wonderful combination a secret, but that hasn't stopped it from garnering much recognition. In addition to naming it a must-try, Whiskey Advocate awarded it a score of 90 points, whereas American Craft Distillers gave it 97 points, and it was called "superb and outstanding" by The Sour Mash Manifesto.
On the nose, this expression offers notes of cloves, cinnamon, mint, and pine nuts. The palate opens with fresh herbs and follows with mellow caramel, pistachio, and vanilla. The finish is long and spicy woody notes of lingering peppercorn and a touch of rye flavor.
2. High West a Midwinter Night's Dram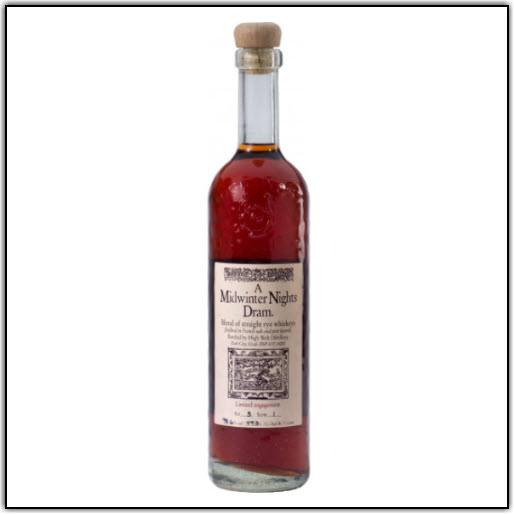 A unique and popular expression from High West, A Midwinter Night's Dram is a blend of whiskies aged for six and sixteen years and finished in French oak casks and port barrels once married.
The spirit is aptly named as it's been compared to "a proper Christmas plum pudding" thanks to the medley of delicious spices on the profile. Both the French oak and port barrels contribute their own notes to the aroma and flavor, resulting in a beautifully complex final result.
The rye itself creates a base of vanilla, caramel, and cinnamon with the port barrels adding fruity notes and the French oak giving it some spice.
On the nose, you'll find a bold aroma of cherries with vanilla, caramel, and cinnamon undertones. The aforementioned Christmas plum pudding is apparent on the palate, along with dried fruits and mulling spices. The finish is long and fruity with the cherry notes coming full circle. It's perfect for a cold, crisp, snow-covered winter night.
3. High West American Prairie Bourbon Whiskey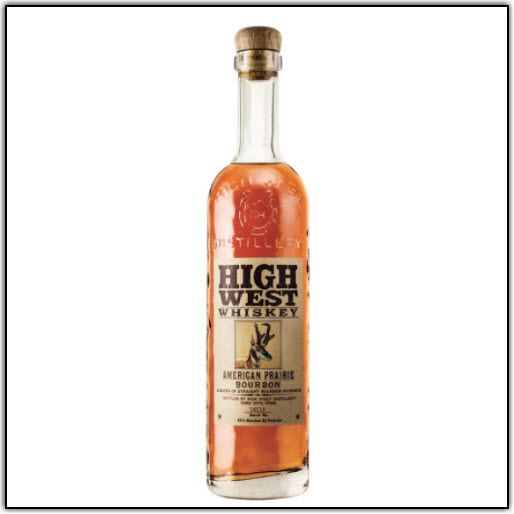 High West American Prairie Bourbon is another blend, this one consisting of two, three, and thirteen-year-old bourbons. This expression is a follow-up to their American Prairie Reserve, which was said to be one of the ten best new bourbons, according to Men's Health.
This spirit was made and named to honor the expedition of Meriwether Lewis and William Clark who trekked through the Great Plains, along the Yellowstone Rivers, and to the beaches of the Pacific, where they found the Grain Plains filled with bison, antelope, deer, elk, and copious flocks of beautiful birds.
The bourbon is made with a secret recipe that is finished in American white oak casks. The casks feature a #2 char on the heads but a #4 char on their stave. This particular detail imparts some incredibly unique flavors to the resulting whiskey. It's also worth noting that ten percent of the profits from each of these bottles is donated to the American Prairie Foundation who is creating America's biggest wildlife preserve. Once complete, this will be a safe haven for many of the magnificent species that so desperately need a place to thrive and survive.
The aroma is sweet with notes of honey nougat. Strong notes of vanilla, blood oranges, caramel, and dark cherries are on the palate, complementing each other wonderfully and offering a deep, rich, and complex sipping experience.
4. High West Campfire Whiskey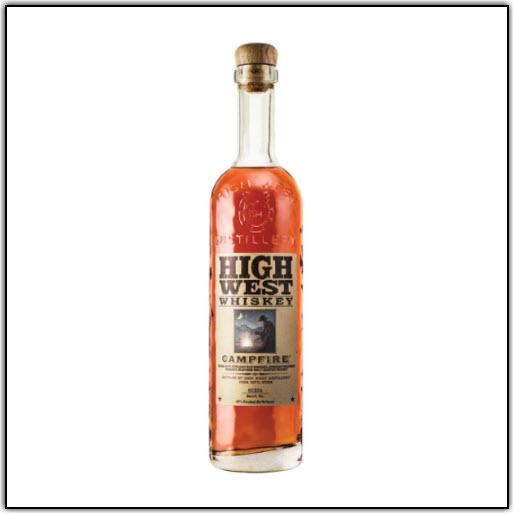 High West Campfire Whiskey is a unique, extra-sweet whiskey modeled after a special Scottish dessert. The dish was enjoyed by High West owner David Perkins while touring a distillery in Scotland. He was served honeydew drizzled in peated syrup and described it as one of the most unusual but delicious flavor combinations he'd ever tasted.
The campfire whiskey is Perkins' attempt to recreate the flavor of his wonderfully unique dessert. The expression is made from a secret recipe consisting of five-year-old rye, six-year-old bourbon, and an eight-year-old Scotch. This results in a well-blended profile with the perfect mix of sweet, spicy, and smokey.
The bourbon brings sweet, rich notes to the palate which are well-balanced by the spicy rye and smokey Scotch. Notes of roasted nuts, fresh corn, baking spices, and oak lead into a long, smooth, smokey finish.
5. High West Rendezvous Whiskey

Last on the list is High West Rendezvous Whiskey which is named to celebrate the very first gathering of American frontiersmen in the Cache Valley in Utah. This Rendezvous was a place and opportunity for them to trade weapons, pelts, supplies, and even homemade spirits.
Rendezvous is a rye whiskey made from a blend of two whiskies – one new and one old.
The rich and aromatic sixteen-year-old rye is blended with the bold and spicy six-year-old resulting in a wonderful combination of sweet and spicy.
The aroma offers bold notes of cinnamon, fennel, and mint with soft, rounded notes of rye toast in the background. Sweet notes of vanilla, caramel, and macaroons appear on the palate, balanced by woody spice and a warming finish.
Whiskey Dessert Recipes
It's no secret that whiskey is a great base for countless cocktails. These are enjoyed at bars, at dinner, with friends, or at home alone. If you want to mix things up a little, though, why not try a whiskey-infused dessert? High West's notorious Campfire Whiskey was directly inspired by a Scottish dessert and the flavor does a good job replicating the real thing. In honor of this unique High West expression, here are some yummy desserts with a touch of whiskey.
Bread Pudding and Whiskey Sauce
Warm, spicy cinnamon and sweet peaches and apples come together with your favorite whiskey to create an amazing after-dinner dessert. Apples and cinnamon are common flavors within whiskey itself, so it's no surprise this dessert works so well. The original recipe was meant to serve a group, so it makes about 14 servings. You can scale it back as necessary.
Ingredients:
3 eggs, beaten
2 ½ cups whole milk
1 ½ tsp ground cinnamon
½ tsp ground nutmeg
4 peaches peeled, pitted, sliced
4 apples, peeled, cored, sliced
6 cups day old bread cubes
6 tbsp butter, cut into pieces
3 cups white sugar
1 pound butter
1 cup whiskey of choice
Instructions:
Coat a 9×13 baking dish with some cooking spray and preheat the oven to 350°F
In a large mixing bowl, combine eggs, milk, cinnamon, nutmeg, and one cup of sugar and stir until smooth.
Add in peaches, bread cubes, and apples. Mix until bread is well-coated.
Pour mixture into your baking dish and scatter six tablespoons of butter on the top.
Bake in preheated oven for one hour until set.
To make the whiskey sauce, combine the whiskey, two cups of sugar, and a pound of butter in a saucepan over medium heat. Stir until the sugar dissolves and everything is smooth.
Serve bread pudding warm with warm whiskey sauce.
Rice Whiskey Treats
This is a quick, fun treat that you may remember from childhood. It's sweet and simple, and now you can have an even more fun adult version!
Ingredients:
4 tbsp salted butter
4 cups of mini marshmallows
3 tablespoons bourbon whiskey
4 cups of brown rice crisp cereal
Flaky sea salt
Instructions:
Prepare a baking dish with light grease or parchment paper
Melt the butter over medium-low heat in a saucepan until golden and foamy
Turn off heat and stir in marshmallows
Once the marshmallows are melted, stir in bourbon
Fold in cereal until it's all evenly coated
Pour the mixture into your prepared pan and press down with a spatula
Sprinkle the top with the sea salt and let it cool for about an hour before cutting it into squares
With only a few ingredients and a quick process, this dessert is sweet, sticky, and perfect for sharing!
Related Content