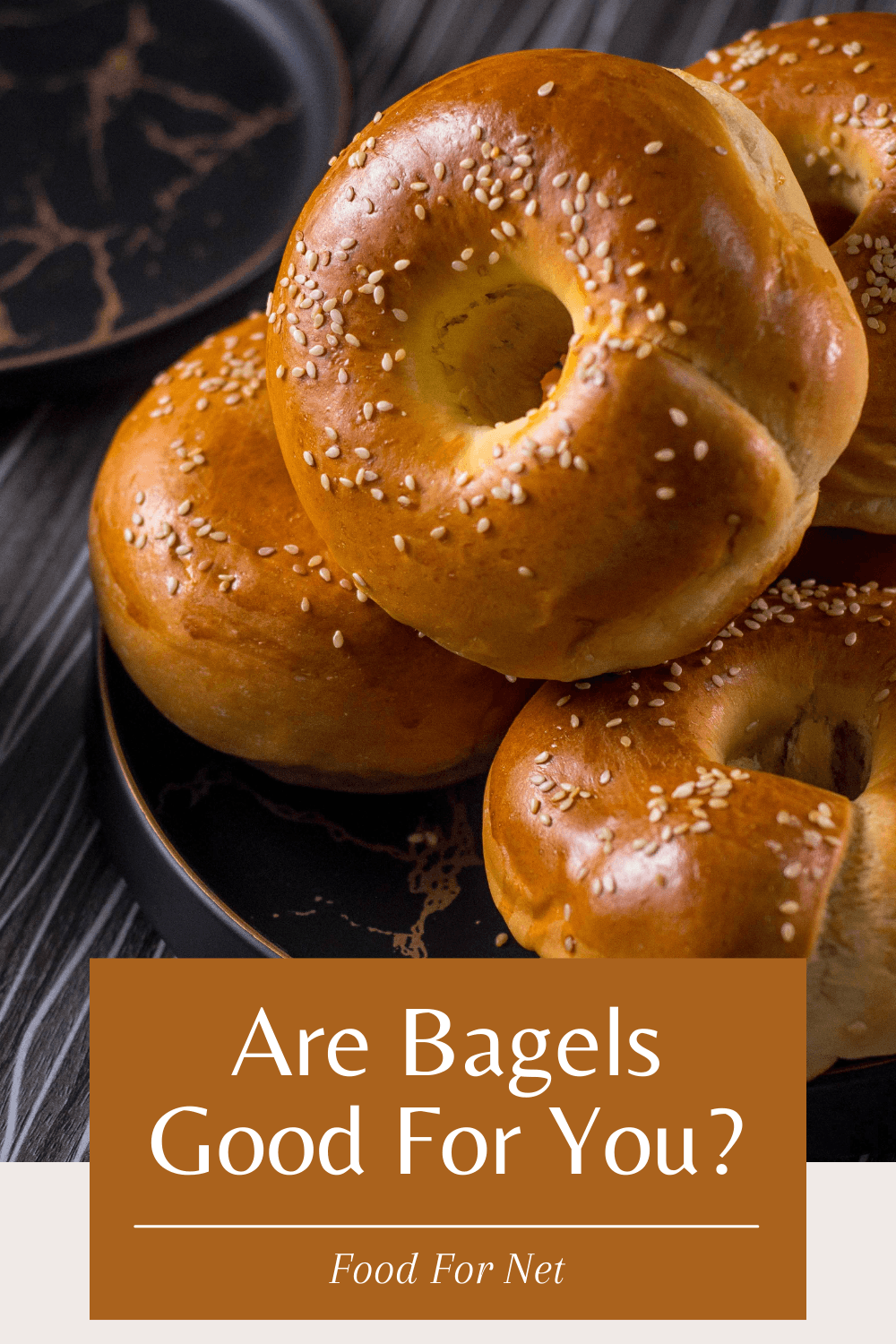 Bagels are delicious, especially when you load them up with all types of amazing toppings, like salmon and cream cheese. Or, perhaps you build an entire sandwich on them, relying on fillings like spinach, tomatoes, radishes, and cucumber. It's easy to see them as being healthy too, especially if you are relying on vegetables as toppings. Is that true though? Are bagels good for you?
Or are there some underlying issues that make them a poor choice?
After all, bagels are pretty similar to bread and bread is certainly controversial these days. Some people even avoid it entirely, partly because of the carb content. So then, let's dig into bagels and see where what they have to offer.
Are Bagels Good For You?
Bagel Nutrition
Bagels Versus Bread
Benefits Of Bagels
Downsides Of Bagels
How To Get The Most Out Of Bagels
Final Thoughts
Bagel Nutrition

Bagels vary a lot. There are different sizes, flavors, and ingredients, not to mention all the toppings you can use. These differences all influence the nutritional profile.
However, for a generic large bagel (the whole thing, not just a half) that's made with white flour, you're looking at this breakdown:
Calories: 346
Carbohydrates: 68 grams
Fiber: 2.1 grams
Sugars: 11 grams
Protein: 13.8 grams
Fat: 1.7 grams
Some nutrients are also present, such as B vitamins, magnesium, calcium, and even iron. The nutrients largely come from wheat, so you tend to get more of them in whole wheat bagels compared to white bagels.
Bagels made with whole grains tend to be higher in fiber as well. However, they're still high in carbs.
Bagels Versus Bread
While bagels seem pretty similar to bread, there are some distinct differences. For example, a two slice serving of white bread has the following profile:
Calories: 150
Carbohydrates: 28 grams
Fiber: 0 grams
Sugars: 2 grams
Protein: 4 grams
Fat: 2 grams
Once again, the nutritional profile does vary from product to product. Still, it's clear that bagels tend to be much more calorie and carb dense than bread.
Benefits Of Bagels
Some Bagels Contain Whole Grains
Some bagels rely on white flour and tend to be low in nutrients, while others use whole grains instead, which increases the fiber and nutrient content. You may also find grains or seeds used on the outside of the bagel, like a poppy seed bagel.
Despite the controversy around grains and carbs, whole grains do still offer a whole host of benefits. Eating whole grains regularly can even help to decrease your risk of heart disease, diabetes, and other concerning health conditions.
That's not all. Grains and seeds are also a decent source of fiber. Fiber, as we well know, is linked to many different benefits. It helps to keep you regular, promotes blood sugar stability, and even decreases cholesterol levels.
Of course, you'll need to choose your bagels carefully to see these benefits. Look for ones that use whole grains, ideally those that keep some of those grains intact. You could even experiment with making your own version, like these 5 Ingredient Sprouted Bagels.
They're A Vehicle For Healthy Ingredients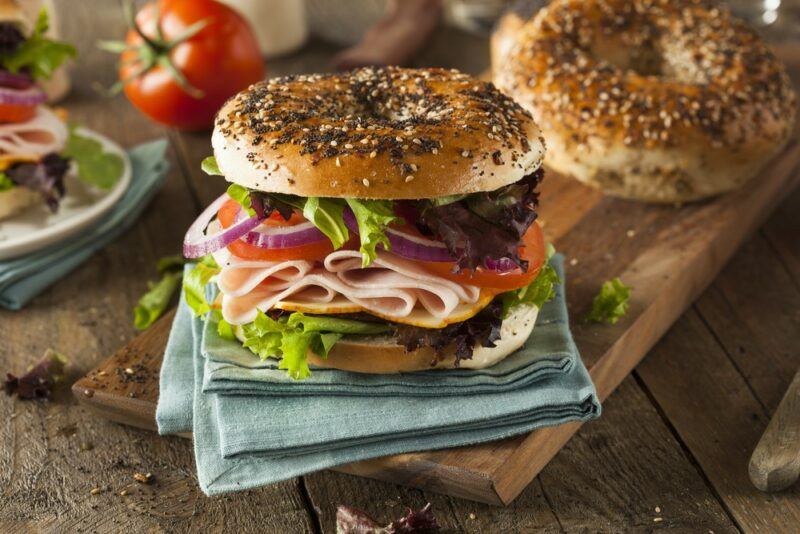 When we talk about the benefits and risks of particular foods, it's easy to gloss over the way that we use them.
Think of it like this… you're not generally eating a bowl of rice, a slice of bread, or half a bagel on its own. Instead, carb rich ingredients like these are normally paired with sources of protein and fiber.
In the case of bread and bagels, you might be using plenty of fresh vegetables, along with a healthy source of protein like salmon or chicken breast. Doing so gives you a meal that's both nutritious and filling.
The trick is to pay attention to your ratios. For example, two bagel halves with a ton of cream cheese and salmon is going to be high in fat, carbs, and calories. On the other hand, a single bagel half with a little cream cheese, lettuce, sliced tomatoes, and cracked pepper, is much lower in calories and provides plenty of nutrients.
They Provide Energy
Bagels are high in carbs. This is often seen as a bad thing, but carbs have some advantages too.
In particular, carbs provide us with a fast source of energy. Sometimes this is exactly what we need, especially first thing in the morning.
To take advantage of this, you need to use other toppings too. Otherwise, you'll end up with a burst of energy and a crash too soon. Adding some protein and healthy fats can balance out the carbs, while also helping you to stay full for longer.
There Is Some Protein Too
It's easy to focus on the carb rich nature of bagels, but they do also contain some protein. You may even be getting more than 11 grams of protein in a whole bagel.
This might not seem like a lot, but the protein helps to make the bagel more satisfying, especially if you're loading it with healthy toppings.
Downsides Of Bagels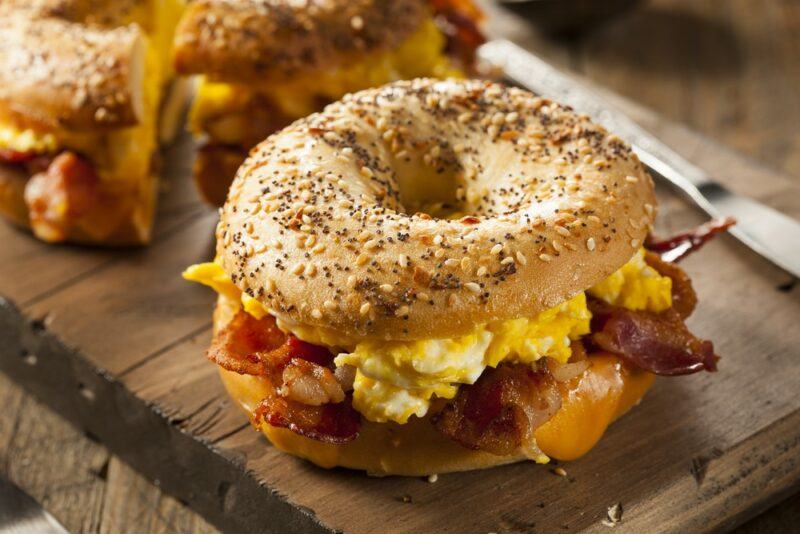 The Calorie Content
Bagels are surprisingly high in calories. For just a plain regular-sized bagel, you're looking at more than 250 calories. The calorie content is much higher for large bagels or flavored ones.
That's just the calories for the bagel itself, which is a problem, because who eats bagels on their own? At the very least, you're going to add some butter or perhaps cream cheese.
You might go even further, perhaps with fruit as a topping, jam, salmon, or other ingredients.
The calorie density is surprising, given that a piece of bread only contains around 80 calories. It's far too easy to go overboard, especially if you have lots of delicious toppings.
There's another problem too, the size of bagels. Bagels have been gradually getting larger and larger. Some of the ones that you find in delis or grocery stores are seriously massive.
Large bagels make it even more difficult to keep your calorie intake in check. After all, it's easy to simply eat the serving that's put in front of you.
High In Carbs
Bagels are a decent source of carbs too, with a full bagel often giving you more than 60 grams of carbs. This is similar to around four slices of bread – and bread is pretty high in carbs too.
Carbs are controversial, especially these days. We now realize that high carb diets can cause considerable harm, particularly if many of those carbs come from refined foods.
Indeed, refined carbs can increase blood sugar levels and insulin resistance, factors that can both raise type 2 diabetes risk. The carbs may contribute to inflammation as well. This is also an issue, as chronic inflammation can increase the risk of many health problems, which is the last thing you need.
The Gluten
Bagels are generally made using wheat flour, which means that they're also pretty high in gluten. This won't be an issue for most people, but if you have celiac disease or are sensitive to gluten, then you might need to avoid gluten entirely.
After all, eating gluten when you're sensitive to it can cause plenty of issues, including stomach cramps, fatigue, and bloating. None of these are appealing.
The issue can be avoided by looking for gluten free bagel recipes. These will often rely on almond flour or brown rice flour, rather than wheat flour. You can even buy gluten free bagels at bakeries and in local stores.
Gluten free bagels don't have quite the same flavor and texture as those with gluten. Still, they're a good alternative if you don't want to avoid bagels entirely.
They Can Spike Your Blood Sugar Levels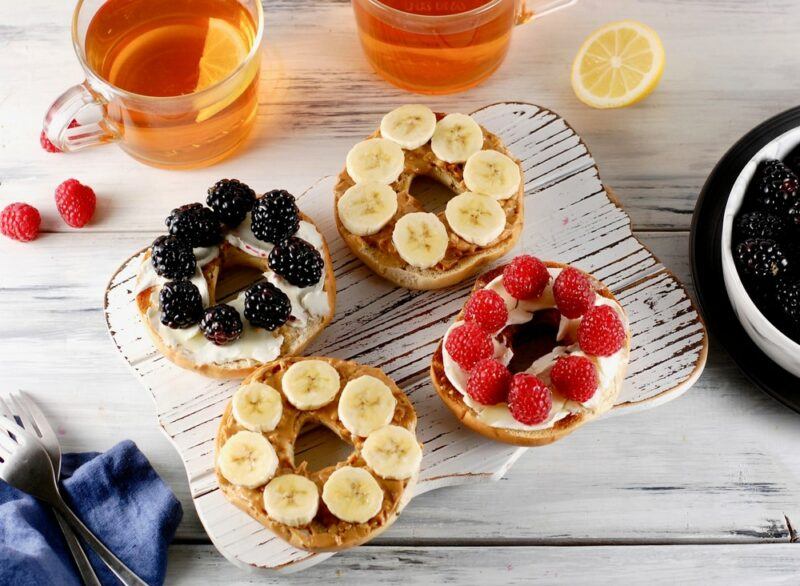 Bagels can be awful for your blood sugar too, causing a sudden blood sugar spike. This isn't ideal for anyone and is particularly bad if you have diabetes or are prediabetic.
This effect partly comes from the carb content of the bagels. It's amplified by the fact that the grains in bagels are often ground to make flour. Grinding grains leads to a faster blood sugar impact.
Whole grain bagels have a lower blood sugar impact than white bagels. But, even then you'll need to be cautious with your portion sizes and toppings.
How To Get The Most Out Of Bagels
Bagels can be good for you. They can also be incredibly unhealthy. Thankfully, there are a few tricks that can make them better.
Watch Your Portion Sizes
Bagels are carb and calorie dense. So, you need to be careful with the amount you eat.
To begin with, try having half a bagel at a time, rather than a full one. You could even make an open face sandwich. This allows you to load up on the toppings and still just eat half of the bagel.
Focusing on small or medium bagels rather than large ones can help as well. Some companies also create thinner bagels. These contain fewer calories and carbs per servings, making them incredibly helpful.
Some people choose to scoop out the middle of the bagel. Doing so means you're mostly eating the crust, which decreases the amount of carbs and calories.
Pay Attention To The Type
The type of bagel matters as well. The best rely on whole grains and are often topped with seeds. Be cautious with any sweet bagels, including chocolate chip bagels. These are often much higher in calories than plain bagels.
It's helpful to read the ingredients label as well, as some companies add high fructose corn syrup when you're not expecting it. This is frustrating, as you don't need added sugar to make your bagel taste good.
Choose Toppings Wisely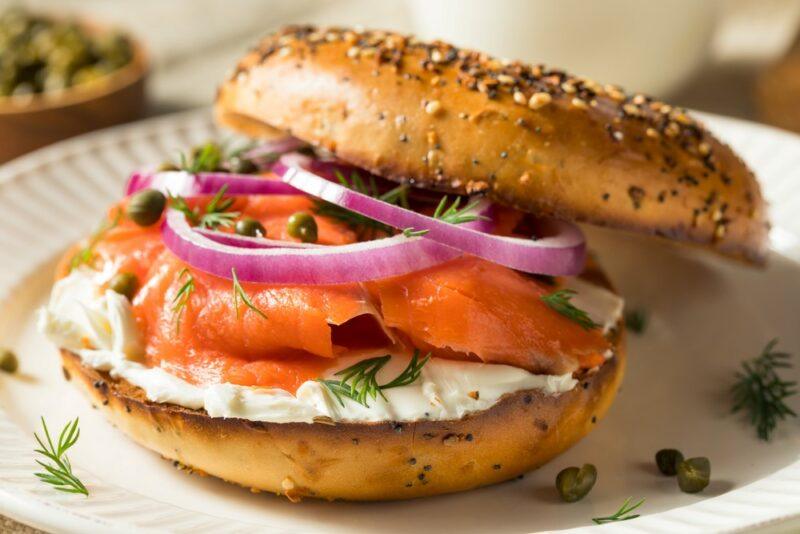 Toppings are another thing to think about. Nutrient dense toppings are the way to go, including those that contain a decent amount of protein and/or healthy fats.
Salmon, avocado, tuna, and eggs are just a few options. You could complement these with some greens or other veggies for extra fiber.
Toppings like these work well, as you end up with a balanced meal, rather than one that relies almost exclusively on carbs.
However, you'll still need to keep an eye on your calorie intake. After all, ingredients like avocado, eggs, and salmon are certainly healthy, but they're also calorie dense.
Try An Alternate Recipe
There are also alternate bagel recipes that get around some of the problems we've discussed here. For example, you can make low carb bagels using fathead dough. These bagels are keto friendly and gluten free, so they work well for many people who can't eat regular bagels.
Sprouted bagels are another fun style to try, like the Sourdough Bagels with Sprouted Wheat. Sprouting grains increases their nutrient availability, which is always a good thing. You're also getting plenty of whole grains in the mix.
Final Thoughts
Bagels aren't all bad. They do provide a fast source of energy and they're a fantastic vehicle for healthy ingredients.
The problem is that they're incredibly carb and calorie dense – much more so than is obvious. It's easy to go overboard with them and consume more calories than you mean to. Eating bagels regularly could even make you gain weight or increase your diabetes risk.
To use bagels well, it's essential that you keep an eye on the amount you consume. Try to stick to small bagels or perhaps just use half a bagel at a time, rather than the full thing. Paying attention to the toppings helps as well. With the right toppings, you can end up with a meal that's delicious, filling, and packed with nutrients.
Frequently Asked Questions
Can Diabetics Eat Bagels?
Regular bagels aren't a great diabetic choice due to their high carbs and high glycemic index.
The type of bagel makes a huge difference, though. Some people focus on thin bagels, particularly those that are high in fiber and protein. Keto bagels are even better, as they avoid the problem entirely by cutting the carb content right down.
Don't forget about the toppings either. High protein and high fiber toppings help to offset the carbs, leading to a reduced blood sugar effect.
How Long Do Bagels Last?
If you keep them at room temperature, your bagels should last anywhere from two days to a week. That said, they'll normally taste best if you consume them within five days. Keeping them in a sealed bag is essential unless you want to eat them in the first day or two.
There's no need to put bagels in the fridge. Doing so just dries them out and makes them much less appealing.
To store the bagels longer, they're best kept in the freezer. Frozen bagels should last anywhere from four to six months, giving you plenty of time to use them.
Are Multigrain Bagels Healthy?
Multigrain bagels still have most of the issues we've highlighted in this post, including a high calorie content, plenty of carbs, and gluten. The big difference is that they're made using whole grains, which means they contain more fiber and more nutrients.
As a result, multigrain bagels are healthier than their white counterparts, but they're not amazing. You'll still need to watch your serving size and the toppings you use.
Do Bagels Contain Eggs?
The basic bagel recipe is entirely vegan friendly, relying on just flour, yeast, sugar, salt, and warm water. So, they are completely egg free.
You'll need to keep an eye on the ingredients though, as bagels don't always follow that basic recipe. Some versions do have extra ingredients, including eggs, honey, or even milk. Other bagels use an egg wash to help the toppings stick.
Can You Eat Bagels Cold?
Many of us always eat our bagels warm. Sometimes this means they've been freshly baked, but mostly we've toasted them instead.
Doing so isn't essential. Many people eat cold bagels instead, saying that the flavor and texture is much better. This is particularly true for bagels that were baked that day, rather than those from a grocery store.
Honestly though, there are no hard and fast rules. You can eat your bagel however you want to. It's going to be safe and tasty no matter what.