Bread has been around for around 30,000 years and is the food most consumed in the world. What makes bread the most popular food in the world is because it is versatile, compact, and easy to pack for traveling. What's surprising is that most people wouldn't think there's more than one bread of the month club that fresh, gourmet bread to your home!
Some of the most common bread types are:
Flat Bread
Fruit Bread
Leavened Bread
Biscuits
Brioche
Soda Bread
Corn Bread
Quick Bread
Bread is the ultimate multi-purpose food. It can be the main course such as bread pudding or french toast, or it can be a delicious side such as dinner rolls or toast.
Additionally, bread comes in different shapes and sizes, anything from the small dinner roll to the large loaf of brioche. It can also be as plain as the white cotton bread found on the grocery store shelves or as ornate as a crown loaf.
Another reason bread is the most consumed food in the world is that almost every culture has its own traditional style of bread. Some of the different regional bread are:
Baguette – France
Bagel – Eastern Europe
Chapatti – South Asia
Ciabatta & Foccacia- Italy
Naan – Northern India
Lefse – Norway
Tiger Bread – Netherlands
Tortilla – Mexico
With so many delicious varieties of bread available, it's hard to know where to start if you want to try and sample a large variety of them. The best way to taste a variety of bread to join the bread of the month club. But if you are looking for a personal yet novel gift try one of the bread subscription boxes below.

Bread of the Month Clubs
Bakerly
Boudin
Eli Zabar
Bread America
Zingerman's Mail Order
Crooked Tree Breadworks
Zehnders
Crust
Bakerly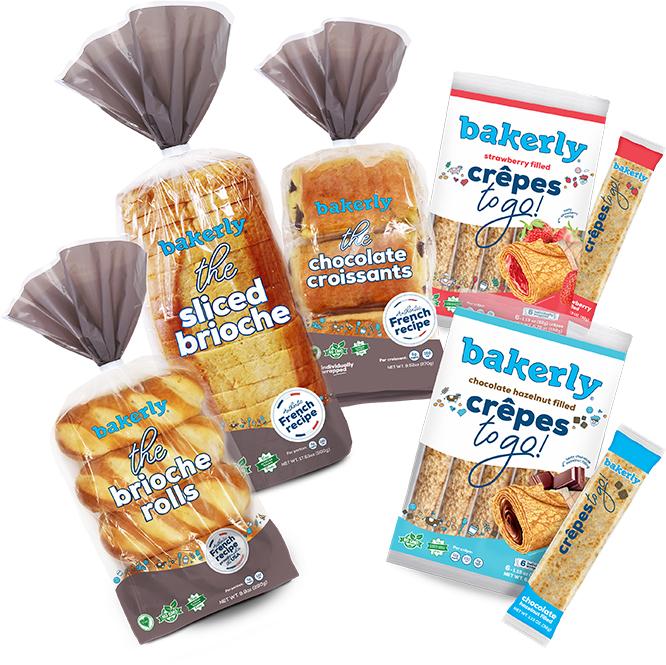 Bakerly has French origins and was started by Julien and Fabian, the former has decades of experience under his belt manufacturing bakery products while the latter was known for making one of the best crepes in Brittany, France. They set forth to provide only high-quality bakery products that are reminiscent of what they used to enjoy as young children and offer them to American families.
They pride themselves with hight quality tasty products with no preservatices, artificial flavoring, or high fructose corn syrup. Through this, they aim to build a lasting relationship, funded in trust and loyalty, with their customers. Among their 'yummy products' are:
brioche bread
crêpes to-go!
French pancakes to-go!
They also offer:
variety packs
bakerly book
gift cards
With their 'bake and send' subscription program they will auto bake your favorite products without you having to reorder them plus you'll get to enjoy a recurring 5% discount. Simply select the auto bake option and then set how often you would like to receive your reorders or if you want to change the products in between orders.
Their bestsellers include:
the sliced brioche @ $32.83/case, 7 loaves of bread
the brioche rolls @ $40.41/case, 9 packs
the hand-braided brioche @ $32.83/case, 7 packs
You may cancel your subscription at any time. There is also no minimum order value, however, they offer free shipping on orders of $30 or more.
Boudin

Boudin is the oldest company still in operation in San Fransisco. It all started back in 1849 when Isidore Boudin opened Boudin Bakery. Boudin's love and talent for the art of baking come from his parents, who were master bakers in France.
Though sourdough originated long before Boudin created his first loaf of bread, his was the first sourdough bread to contain Lactobacillus sanfranciscensis, a lactic acid bacteria specific to San Fransisco. It wasn't long before Boudin's bread became a local favorite.
Over the years, the Boudin bakery has suffered through hard times, including the earthquake and fire of 1906 and transitional times of new locations and owners. However, the mother dough survived all of these changes and is still part of the Boudin bakery.
One of the best ways to experience the flavors of Boudin's bakery is signing up for one of their bread of the month clubs. They have six membership options available. The prices below are per month and do not include shipping charges.
12 Month Seasonal Bread Club ($23.95) – Each month the recipient will receive two 1 pound sourdough loaves of bread, each shaped to fit the season.
12 Month Specialty Bread Club ($22.95) – This subscription includes two loaves of bread 1 sourdough and 1 specialty bread that changes each month.
7 Inch Sandwich Roll Club ($18.95) – 12 Rolls sent out each month for 3, 6, or 12 months
16 Oz Sourdough Round Club ($15.95) – 2 Rounds per month for 3, 6, or 12 months
Sourdough Long Loaf Club ($15.95) – 2 Long Loaves per month for 3, 6, or 12 months
Sourdough Sampler Club ($25.95) – 1 Long Loaf, 1 round loaf, and three 7-inch sandwich rolls per month for 3, 6, or 12 months
Eli Zabar

The Zabar family name is associated with some of the best delicatessens in New York. Eli Zabar founded the Eli Zabar market in 1973. Eli's grocery, inspired by the markets found in both London and Paris, is independent of the family's west side shop.
Eli Zabar's market located on Manhatten's Upper Eastside sits across town from his childhood family home and store. The market carries a little bit of everything:
Artisan Cheeses
Meats and smoked fish
Breakfast Foods and Coffees
Desserts and Candies
Additionally, Eli's offers:
Catering
Gift baskets
Grocery Delivery
Various Monthly Food Subscriptions
Amongst the different clubs, they offer a bread of the month membership.
Bread of the Month Club

The first shipment includes a greeting card, a bread knife, and a note informing the recipient of the future bread selections.
Each month will include 2 different types of bread with the exception of March which consists of one Paris Loaf and June and August which will be a dozen rolls.
Includes a variety of sweet and savory bread
4-months $150, 6-months $220, and 12-month $400 membership options
Bread America

Bread America's signature bread is their ciabatta bread which they have created a multitude of varieties. Their bread is fully baked then "blast" frozen to seal in the freshness and delicious flavors. Before enjoying the bread, remove it from the freezer and allow it to thaw for a few hours before baking or bake from frozen at 375F.
There are over forty different types of bread to choose from, some of the varieties offered are:
Organic Flax Seed
Organic Sprouted
Olive Dinner Roll
Walnut Raisin Dinner Roll
Classic Red Pepper and Onion Sandwich Bun
Classic Olive Sandwich Bun
Traditional Demi-Baguette
Jerusalem Sesame Bagel
Multigrain Curved Croissant
Chocolate Babka
In addition to their large variety of bread, they also offer an array of condiments and dips, to accompany the bread, such as:
Chickpea Hummus
Roasted Eggplant Smoky Spread
Spicy Chili Red Peppers
Babaganoush Eggplant Spread
Kalamata Olive Tapaede Spread
Preserved Lemons
If you're not in the Fort Lauderdale area, but still would like to try their amazing bread, try their bread of the month club, there are six options to choose from, starting at $36 per delivery, orders $40+ will receive free shipping.
Variety Pack of Demi-Ciabatta – 12 Demi-Ciabatta Laves per order- You can choose from Olive, Original, Walnut Raisin, or Whole Grain, in any quantity combination
Organic Artisan Loaves – 4 organic loaves per package – Spelt, Flax Seed, Sourdough Wheat, and Sprouted
Ciabatta Loaves for Carving Station – 4 loaves per delivery – Choose from Kalamata Olive, Original, Rasin Walnut, and Whole Wheat in any combination
Ciabatta Bites Ships every 3-months – 5 dozen per bag, choose from Original, Olive, Whole Wheat, and Red Pepper Onion
Sandwich Panini Bun – 12 6-inch Buns per order
Dinner Rolls – 1 Dozen of each of the following 4 flavors – Original, Olive, Whole Grain, and Walnut Raisin.
Zingerman's Mail Order

Zingerman's Mail Order is part of a community of entrepreneurial food-related shops located in the Ann Arbor, Michigan area. Some of the Zingerman's shops include:
Mail Order Online store
Delicatessen
Bakehouse
Roadhouse
Creamery
Catering and Events
Coffee Company
Candy Manufactory
Zingerman's Cornman Farms
Food Tours
Amongst the many things that Zingerman's Mail Order carries is a Bread Club subscription. There are a variety of clubs to choose from:
The first option is a single loaf of bread subscription, which is available in 3, 6, or 12-month memberships. The Bread included in this Selection Are:
Month 1:Roadhouse Bread, Bread Magnet
Month 2:Paesano Bread
Month 3:Chocolate Sourdough
Month 4:Farm Loaf
Month 5:Sourdough
Month 6:Jewish Rye Bread
Month 7:Cinnamon Raisin Bread
Month 8:Onion Rye Bread
Month 9:8 Grain 3 Seed Bread
Month 10:French Mountain Bread
Month 11:Pumpernickel Bread
Month 12:Pecan Raisin Bread$275

The second club option includes 2 loaves of bread for 3, 6, or 12-months. And, consists of the following bread:
Month 1:Roadhouse Bread, Sourdough, Bread Magnet
Month 2:Paesano Bread, Black Olive Farm Bread
Month 3:Chocolate Sourdough, Farm Loaf
Month 4:Country Miche, Jewish Rye Bread
Month 5:8 Grain 3 Seed Bread, Cinnamon Raisin Bread
Month 6:Pecan Raisin Bread, Onion Rye Bread
Month 7:Rustic Italian, French Mountain Bread
Month 8:Sesame Semolina, Peppered Bacon Farm Bread
Month 9:Cherry Chocolate Bread, Dinkelbrot
Month 10:Challah Square, Sourdough Batard
Month 11:Caraway Rye Bread, Farm Loaf
Month 12:Pumpernickel Raisin, Paesano Bread
The third and final option consists of three loaves of bread, available in 3 or 6-month options and consists of:
Month 1:Cinnamon Raisin Bread, Bread Magnet, Sourdough, Roadhouse Bread
Month 2:Paesano Bread, Caraway Rye Bread, Black Olive Farm Bread
Month 3:8 Grain 3 Seed Bread, Chocolate Sourdough, Farm Loaf
Month 4:Jewish Rye Bread, Parmesan Pepper Bread, Pumpernickel Raisin
Month 5:Chernushka Rye Bread, Pecan Raisin Bread, Sesame Semolina
Month 6:French Mountain Bread, Onion Rye Bread, Dinkelbrot
Crooked Tree Breadworks

Crooked Tree Breadworks, located in northern Michigan, provides hand-crafted quality artisan bread to the local communities of Harbor Springs, Petoskey, and Little Traverse Bay.
Crooked Tree Breadworks creates a variety of items like:
Granola
Cookies
Gift Boxes
Scones
Fruit and nut spreads
Sweet Snacks such as orange balsamic pecans, herb garlic crostini, and chocolate biscotti
In addition to shopping on their website, they also have an interesting blog plus various recipes using their bread.
Although they do offer a large variety of items, the main attraction is their bread, which they highlight in their bread of the month club.
The bread subscription is easy and straight forward, six months of bread for $230, including shipping. Each month includes two different loaves of bread, with the first month also containing a bread linen.
The six delicious months will consist of:
Month 1: Breadworks Sourdough / Honey Almond / Bread Linen
Month 2: Cherry Pecan / Rosemary Olive
Month 3: Locals' Loaf / Breakfast Bread
Month 4: Pepper Parmesan / Farm Bread
Month 5: Roasted Seed / Deli Rye
Month 6: Multigrain / Brioche
Zehnders

Zehnder's first opened in 1948 in Frankenmuth, Michigan, as a small family restaurant. Over the years of continued success, Zehnder's continued to grow, adding on a retail section that later became a multi-million dollar business venture.
Later in 1984, they expanded their bakery, which was recognized by Bakery Magazine as the nation's top retail bakery. But Zehnder's didn't stop there. Over time they have evolved into the world's largest family restaurant.
Zehnder's restaurant boasts seating for 1500 guests, 18-hole golf course, and a 50,000 square foot hotel and water park.
In 2005 they opened up their online retail shop making their renowned baked goods available nationwide. Amongst, the many options they offer, they also have a bread of the month subscription.
There are three options, each choice includes two loaves of bread.
3 Months $100
6 Months $200
12 Months $350
After choosing the duration of your subscription you can choose which month you want the membership to start.
Some of the bread included over the months are:
Cinnamon Walnut Log
Banana Nut Bread
Cherry Pound Bread
Apple Raisin Bread
Cobblestone Bread
English Muffin Bread
Sourdough Bread
Lemon/Orange Pound
Stollen Fruit Bread
Marble Rye Bread
Strawberry Pound Bread
Pretzel Bread
Black Russian Bread
Frosted Yule Fruit Bread
Crust

Crust opened in February of 2012, by the same family that owns the prominent restaurant, The Laundry, in downtown Fenton, Michigan. By 2017 Crust had more than doubled its kitchen space to accommodate their overwhelming popularity.
By 2018, Crust received Michigan's Best Bakery award from MLive. Today, Crust is not only a retail bakery, but also sells wholesale, online, and has added a full-service restaurant featuring their bread.
Besides bread, Crust also sells a variety of other baked goods such as:
Artisan Pies
Cinnamon Rolls
Coffee Cakes
Brownies
Cookies
Dog Treats
Scones
Granola
Coffee
Gift Boxes
Additionally, they offer Two-Loaf Bread of the Month Club. Monthly subscriptions available are 1, 3, 6, 12, 18, 24 months, or ongoing, prices start at $29.95 and includes the cost of shipping.
Bread types included in the subscription are:
Saskatoon Batard
104 Sourdough Pan Loaf
Downtown Brown Pan Loaf
Hammonton Round
Bowery Rye Batard
Blueberry Oatmeal Walnut Pan Loaf
Iced Cinnamon Raisin Pan Loaf
Garlic Rosemary Potato
Henry Street Provincial
Cranberry Walnut
In addition to the bread, you have the option to include add-ons, for a nominal fee, complements available:
Sea Salt Butter
Bars
Brownies
Finally, you get to choose the date you want the first shipment to arrive, and then deliveries will continue to ship in 30-day intervals, until the end of your subscription.