Artisan products are ones that have been created using a significant amount of skill. They're typically made by hand or through traditional methods – no mass processing allowed. Buying this type of product supports local businesses, helping people to keep on doing what they love. Gourmet food of the month clubs give you access to these types of artisanal products without the hassle of getting down to the farmers market each week!
Artisan subscription boxes have another benefit too. They allow you to try foods from many different small producers throughout the United States (and possibly the world). You would never have found these products any other way. After all, why pay for a subscription box if you could easily source the food yourself?
There are many different styles of artisanal products, but this post is mostly focusing on artisanal foods. The selection includes products like olive oil, cheese, cured meat, and much more. Some subscriptions focus on a single type of product, while others contain a significant variety. Check out this list to find out which ones are worth trying for yourself.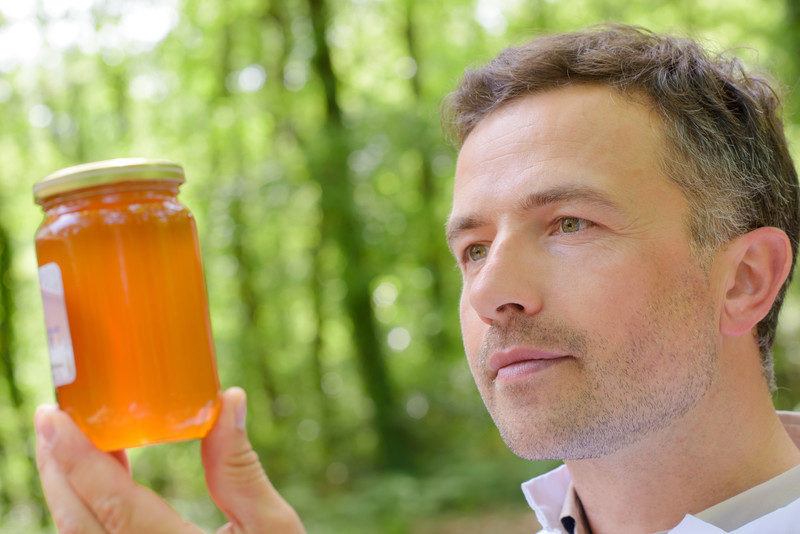 Gourmet Food Monthly Clubs
My Honey Crate
Farm To People Tasting Box
Indie States Of America
Kizuna Box From Japan
The Gourmet Subscription
Jackie's Chocolate
The Batch Nashville Subscription
My Texas Market
Try The World
Wisconsin Ice Cream Of The Month Club
Carnivore Club
Mantry
Gourmet Chocolate Of The Month Club
Not Pie Cupcake Of The Month Club
Chocolate Couriers
Jerky Snob
Irish Taste Club
JerkyGent
The Wine Down Box
Keto Delivered
Bacon Of The Month Club
Bac'n Monthly Club
Heritage Foods Bacon Subscription
Candy Club
My Russian Box
Made In France Box
PS. I've been doing a lot of research and actually found some really cool wine subscription boxes that fit with the "gourmet" theme of this list.
PPS. The charcuterie of the month clubs are worth looking at too. You can't go wrong with cheese, meat, wine, and gourmet snacks 🙂
My Honey Crate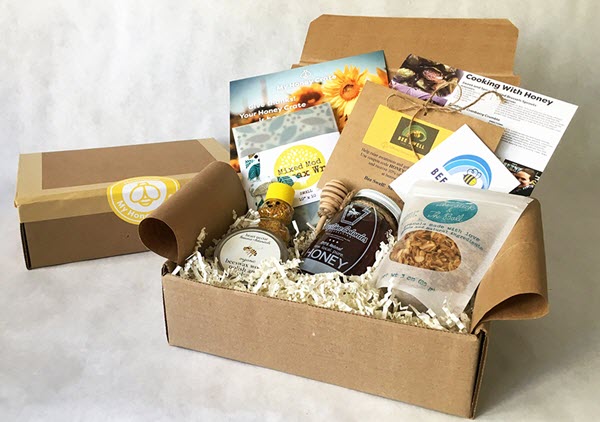 If you want something unusual, My Honey Crate is an interesting subscription to consider. The subscription offers hand-harvested and raw honey each month, along with related products from hives. It's a fun idea, especially as there aren't many subscription boxes in this field.
There are currently 2 subscriptions to choose from. The first is The Original Honey Crate. This contains a container of small-batch honey, along with 3 or 4 related products. You're paying $29.95 per crate. The other option is My Honey Mini. This is a cheaper option, just costing $14.95. It contains a jar of raw honey, along with a single bee-friendly item.
The company's website has a section of previous honey crates. This is the perfect way to see what you can expect and figure out whether the subscription is right for you.
Farm To People Tasting Box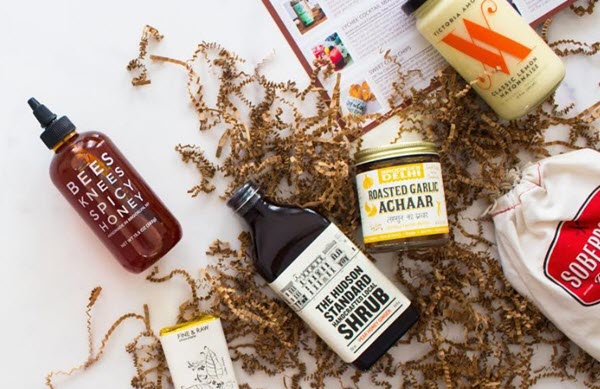 Farm to People offers a wide range of artisan products and gifts, including food-related items and various other items. Their Tasting Box provides the chance to try unusual products every month, including ones that you would never see otherwise. Each month follows a different theme, so you'll always be in for a surprise.
There are 2 different sizes to choose from. The Casual Foodie provides 3-4 different products each month, while The Food Critic has 5-8 products instead. You can expect many interesting items, like Roasted Garlic Achaar, Classic Lemon Mayonnaise and Bees Knees Spicy Honey.
Indie States Of America


If you want some unusual items in your subscription box, this Indie States of America subscription might be perfect. The box offers 4 to 5 different products each month. Each of them comes from a different part of the United States, so there is plenty of variety to be had.
The box can be ordered on a 3, 6 or 12 month plan. It starts at $60 per month. You save 5% for the 6-month version and 10% for the 12-month. You can also check out the site itself for artisan products and gifts. Mouth.com does have a wide selection to choose from.
Kizuna Box From Japan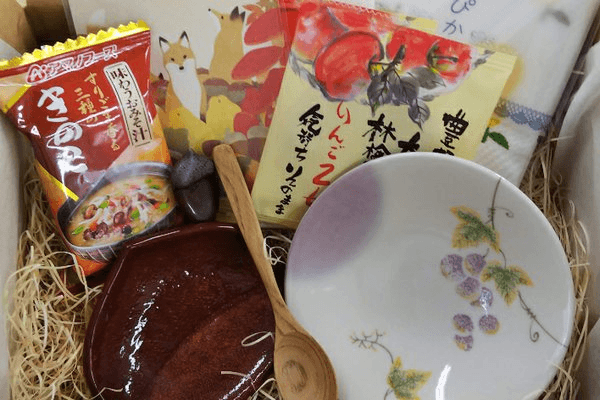 The Kizuna Box from Japan is another interesting artisan choice. The subscription stands out from other Japanese boxes, as the company focuses on culture, festivals and seasons. To do this, they source many of their snacks from artisans, providing you with a selection that you won't see elsewhere.
Your main option from this company is the Kizuna Snack Box. It costs $29.99 per month and contains an impressive selection of 17 to 20 individual snacks. There are also 1 or 2 lifestyle or cultural items included, like ceramic bowls. Even if you've never considered a Japanese subscription box before, this version is seriously worth trying out.
There is also a Kizuna Healthy Box to consider. As the name implies, this box focuses on healthy snacks. These tend to be low in calories and fat, compared to other Japanese snacks. The box does cost $34.99 and only contains 10 to 15 snacks. Even then, you're getting a decent amount for the price. Few other companies even bother with a healthy version of their box.
Get even more options from these Japanese snack boxes!
The Gourmet Subscription

The Gourmet Subscription is a fun subscription choice from Taste Trunk. Each box includes 4 or 5 different items from various brands. There is a strong focus on unusual products – you won't find any grocery store brands here. While there is no monthly theme, the items are always chosen so that they complement each other.
Another cool part is the packaging. Boxes from Taste Trunk always look amazing and this subscription is no exception. The style makes it feel like you're receiving this amazing treat each month. The boxes cost roughly $33 a month and can be ordered as a 3, 4, 5 or 6 month subscription.
Jackie's Chocolate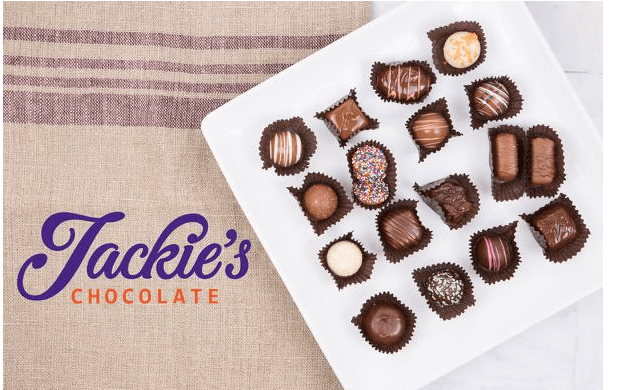 As you can probably guess, Jackie's Chocolate is a chocolate subscription. It contains a selection of handcrafted chocolates from the chocolatier. Your monthly box will always contain a variety of chocolates, including options like chocolate caramels, soft center chocolates and chocolate truffles.
There are 3 different versions of the subscription to choose from: A Little Taste (¼ pound of chocolate for $9.95/month), Let's Indulge (½ pound of chocolate for $19.95/month) and Enough to Share (1 pound of chocolate for $39.95/month). Each version can be ordered month-to-month or prepaid for 3, 6 or 12 months.
A great thing about this subscription is that you're trying out various flavors from Jackie's Chocolate. If you find some that you're particularly fond of, you could easily order that flavor from the company.
The Batch Nashville Subscription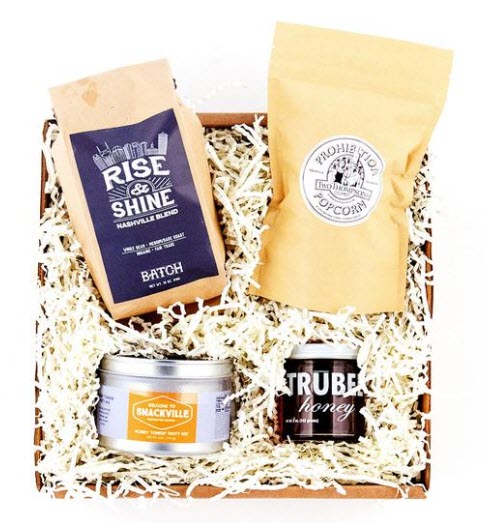 While Batch doesn't have an active subscription box at the time of writing, their Nashville Subscription is beginning in January 2019 and is too good to ignore. The subscription box was what initially made Batch famous, so it's exciting to see the company returning to its roots.
The box itself offers 3 or 4 locally made artisanal products from Nashville. These are typically full size and can include items like honey, coffee and popcorn. They're well presented too, making this subscription a great gift choice.
If you sign up month-to-month, you're paying $35 for your subscription. There's also a 10% discount if you pay for 3 months at the beginning. If you pre-pay for an entire year you get 2 months free.
My Texas Market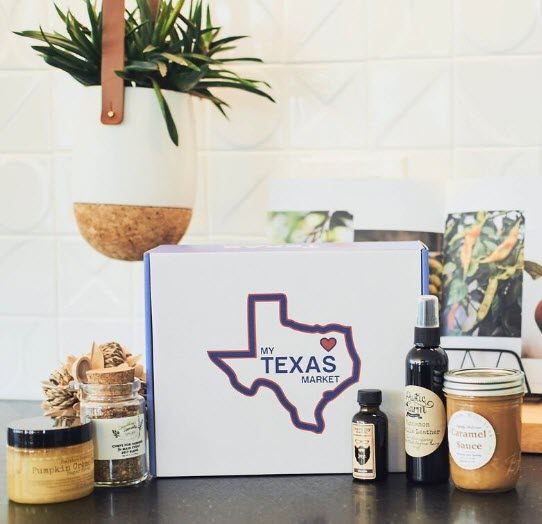 As you can probably guess, My Texas Market offers various artisan products that are all created in Texas. The box has a different theme each month and contains 4-6 individual items. Many of these are food, but you'll also find some home products and skincare items.
The themes are announced ahead of time, so you'll always have something to look forward to. The box costs $39.99 per month if you order month-to-month. Prepaying for 3, 6 or 12 months decreases the per month price.
Try The World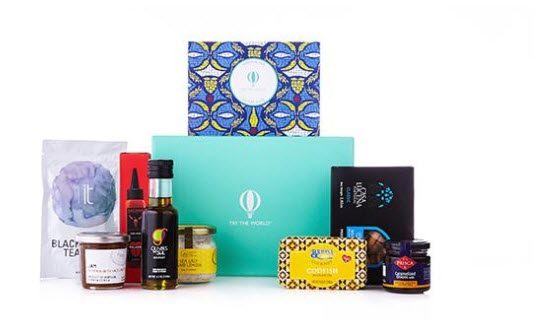 The main subscription from Try The World is their Countries box. This costs $39 per month. It contains various gourmet foods, snacks, ingredients and drinks from different places around the world. You'll find plenty of items that you've never tried before, including some unusual foods.
If that's too much, there is also a Snacks box. This starts at $19 per month. It contains a combination of savory and sweet all-natural snacks. There are 6 snacks in each box and they all come from different countries.
Wisconsin Ice Cream Of The Month Club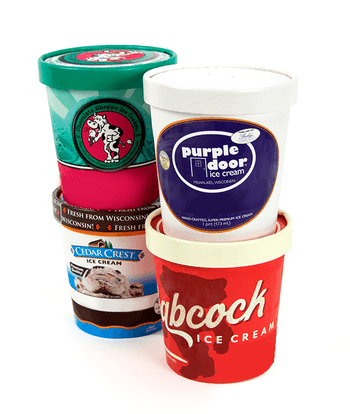 This Wisconsin Ice Cream of the Month Club is a particularly good choice, as the company focuses on artisan ice cream from various producers. Ice cream subscriptions are such a powerful idea. They give you the ability to try many different ice cream flavors. Besides, there's something simply fun about having ice cream delivered to you.
This gives you the fantastic chance to experience the differences between ice cream companies and the products that they make. The ability is particularly powerful in this case, as we're talking about small companies that are dedicated to their craft.
You're not just getting a few pints of ice cream either. The subscription provides you with 8 pints of ice cream every month for 3 months. That's more than most other clubs. The membership costs $263.90. That averages to a little under $90 per month.
One other thing to mention is repetition. The club aims to provide a variety of flavors and brands every month. Even so, you may get some brands more than once. This is particularly true if you choose to rejoin the club after your 3 months has finished.
Plus, this is not the only club like this. There are more and more ice cream of the month clubs popping up each year.
Carnivore Club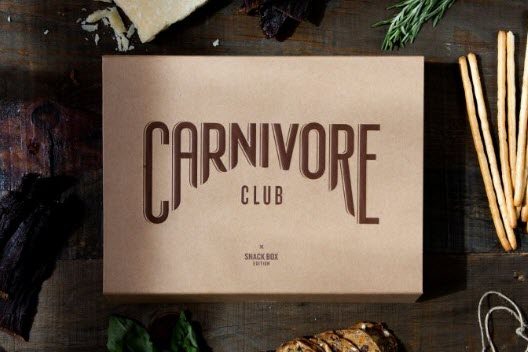 It's hardly surprising that Carnivore Club is a popular subscription, among other meat of the month clubs. The club provides high-quality meat products from a range of producers throughout the United States. There are 2 distinct boxes that you can choose when you join the club: The Snack Box ($24.99/month) and the Classic Box ($39.99/month).
The Snack Box comes with 4 to 6 different meat snacks. This includes items like meat sticks, biltong and jerky. The Classic Box still has 4 to 6 items, but it focuses on cured meat instead. With it, you'll receive items like salami, bacon and prosciutto.
Both boxes are popular, getting consistently good reviews. They also contain products and flavors that you simply won't find in a local store.
Mantry

As the name suggests, Mantry is a program designed with men in mind. The monthly box comes with 6 individual full food items (always full size). These come in a wooden crate, making the subscription truly special. You're not just getting random snacks either. There is an emphasis on gourmet and artisan products.
The basic plan costs $49 per month. You can also order a 12-month plan for $294, which is a considerable discount. The 12-month version also comes with a free jerky kit.
When that 12 months runs out, you can try these other manly food subscription boxes.
Gourmet Chocolate Of The Month Club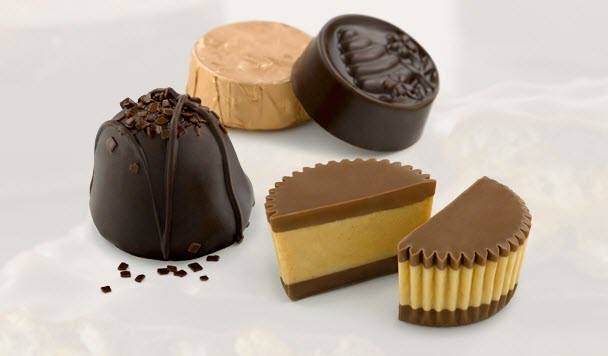 One of the best things about this Gourmet Chocolate of the Month Club is the variety, as with many other chocolate of the month clubs. You receive roughly 1 pound of chocolate each month, but that chocolate always comes from a different artisanal producer. You're also provided with details about the producer and notes about the chocolates that you receive.
The exact chocolates you receive will vary depending on the chocolatier. Some may provide just a few products, which will often be their best work. Others provide a wider selection, such as chocolate boxes with many different flavors.
The subscription is a fun way to try out what the chocolatiers have to offer. You could even start to purchase chocolates from some of them directly, as you're given all the details that you need.
Not Pie Cupcake Of The Month Club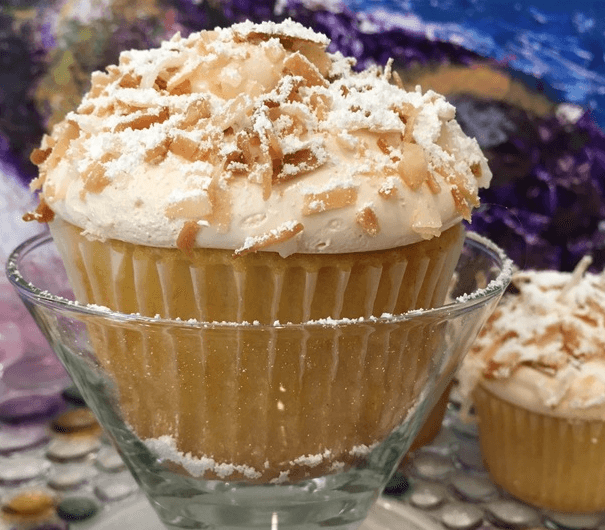 Most artisan clubs focus on packaged goods, including chocolate, sweets and snacks. The Cupcake of the Month Club from Not Pie is a little different – as the emphasis is on cupcakes instead. The cupcakes in question are pretty spectacular too. The company creates exotic flavors and uses signature marshmallow to create high-quality desserts.
A monthly subscription provides you with 6 cupcakes each month. These are packaged well to make sure they survive transport without an issue. If you pay month-to-month, then the subscription costs $29 per month. You can also pre-pay for your subscription, which does decrease the monthly price.
There are 2 different versions to consider. The first is regular cupcakes. Members of this subscription may also see some exclusive flavors, ones that aren't available elsewhere. An alternative is the vegan cupcakes.
For these, Not Pie offers a flavor of the month, so your 6 cupcakes will each be the same. That's not a bad thing, especially when the flavors include amazing examples like Brooklyn Black-out, French Opera Cake or Peppermint Mocha.
Oh, and don't forget to try more cupcake of the month clubs from this list.
Chocolate Couriers

Chocolate Couriers is another choice for chocolate lovers. The subscription focuses on artisan crafters from around the world. Boxes will typically contain bars from multiple companies, giving you plenty of variation each month.
The focus on chocolate bars means that you have a rough idea of what to expect, even though you won't know the flavors or brands ahead of time. Regardless of the producer, all of the included chocolates are high-quality. Chocolate Couriers tastes them ahead of time to be sure of this. They also focus on fair trade and organic chocolates.
There are 2 different versions of the club. The Original Chocolate Box costs $25 per month and includes 3 bars of chocolate. You can decrease the monthly price by using the 3-month prepay option, which costs $68. The other version is The Chocoholic Chocolate Box. This costs $45 and contains 5 bars of chocolate, rather than 3.
And when the newness wears off for this club, you've got all these other chocolate subscription boxes to try out.
Jerky Snob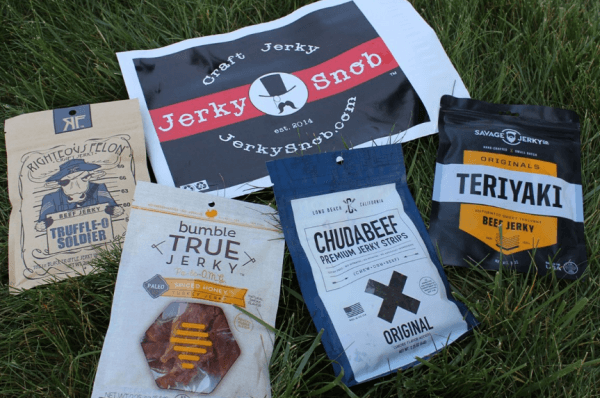 As the name suggests, Jerky Snob provides you with jerky every month. The company doesn't just provide common jerky. They focus on products from small artisan producers. With their selections, you can be certain that you're getting the best of the best each month.
The focus on small companies also means that you receive a wide selection of jerky flavors and styles. This is ideal if you want to expand your horizons. Previous jerky choices include Tex's Tangy BBQ from Uncle Andy's and Carne Seca Limon from People's Choice.
An interesting feature is the shipment size. You can choose between 2 bags, 4 bags or 8 bags of jerky per month. These cost $15/month, $27/month and $54/month, respectively. You can also choose a month-to-month, 3-month, 6-month or 12-month plan. The price per month is roughly the same regardless of duration, so you can just select whichever style works best for you.
If you like jerky, you might like these charcuterie of the month clubs.
Irish Taste Club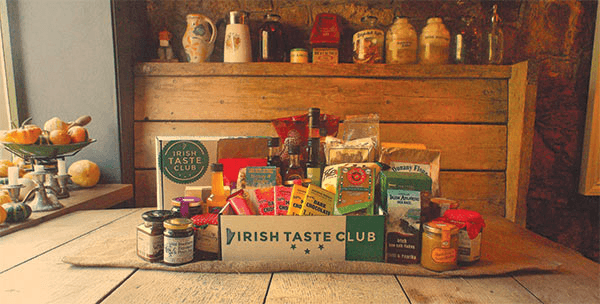 The United States isn't the only country that produces fantastic artisan products. This Irish Taste Club shows that some of the best choices aren't from within our nation at all. The box focuses on independent producers who rely on small back processes.
Each box contains 6 to 9 Irish food items. Examples include chocolate, condiments, chutneys and even baking mixes. The subscription costs $49 per month if you order month-to-month. As you might expect, the monthly cost decreases if you pay for a longer duration up-front.
Love Irish stuff? Try these whiskey month clubs!
JerkyGent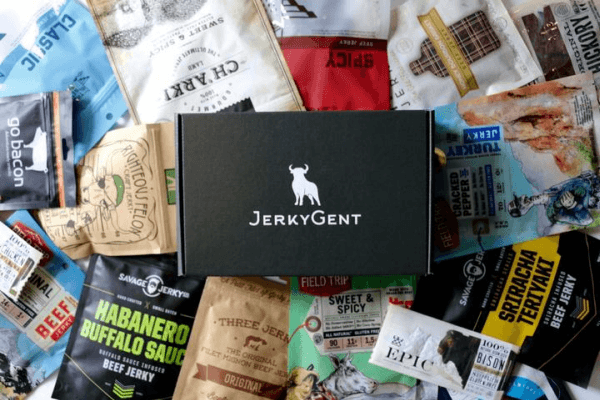 While there are plenty of jerky clubs out there, JerkyGent has some powerful advantages for anyone who loves artisan food. The company goes to lengths to seek out unusual and tasty jerky from crafters across the United States. All jerky is tasted and evaluated by team members. Only the best products are included in the monthly subscription.
The subscription box provides members with 4 bags of jerky on a monthly basis. These typically come from different producers and you can expect some flavor variety too. Membership is simple, just costing $29.99 each month. You're billed on a month-to-month basis. This makes it easy to cancel the club, or skip a month, any time you want to.
JerkyGent also provides more control over your subscription than normal. You can select a spiciness preference (the options are mild/medium and hot/spicy) and a flavor preference (the options are traditional and non-traditional). You can also leave these sections alone, which will provide you with all spice levels and types of flavor.
Don't forget there are more manly subscription boxes too!
The Wine Down Box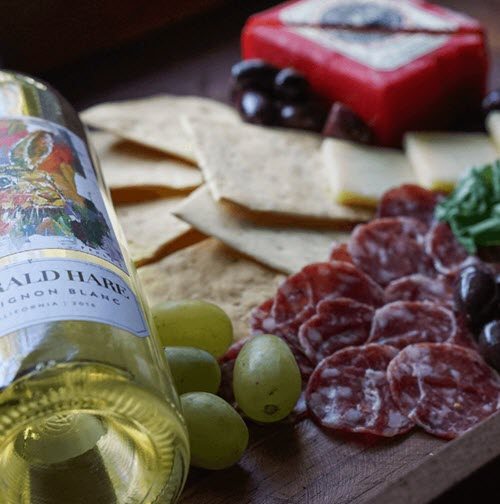 The Wine Down Box is another option for artisan food. It includes a bottle of Californian wine, which tends to be from a small batch. The wine is complemented by artisan cheese, charcuterie and crackers. It's a wonderful combination of products, providing you with wine and the associated snacks.
There is also a strong focus on wine pairing. The company makes sure that the wine and cheese always complement one another. They even include a sheet that provides information about the wine and cheese pairing.
The only significant limitation is the wine. The Wine Down Box doesn't provide you with any options about the wine you receive. Reviews suggest that you'll get red wine some months and white wine other months. That could be an issue, as some people prefer red and others prefer white.
I've personally tried this club, and you can read the full wine down box review to see if this is the type of club you'd like to join.
Keto Delivered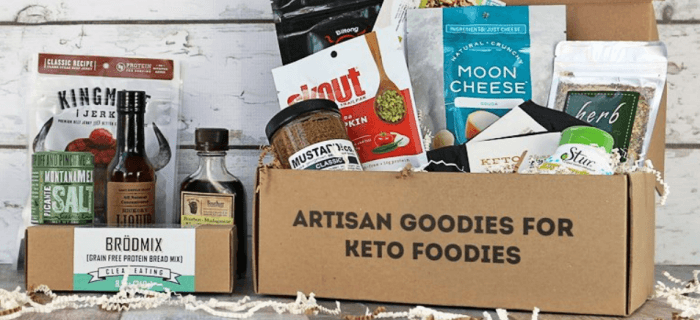 There are many keto boxes on the market, but Keto Delivered is a little different. The company focuses on artisan products, ones that come from small producers throughout the United States. The style makes the items unique. You won't find a similar selection in any other keto box.
The keto style is an advantage too, even if you're not following a keto diet. In general, keto foods are high fat, moderate protein and low carbs. They tend to avoid many concerning ingredients that you find in modern foods. They're often less processed too. This makes them healthy snack choices, ones that can even be good for weight loss.
This particular box costs $39.99 per month. You simply sign up on a month-to-month subscription, there are no other options. You're then able to cancel whenever you feel like it. You'll receive 5 to 7 new keto products each month, including some that you won't have heard about previously.
Here's the full list of keto box clubs available, and I've done reviews of My Keto Snackbox as well as The Keto Box to check out.
Bacon Of The Month Club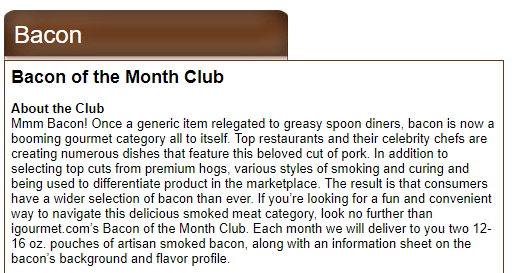 If you're looking for artisan products, an option like this Bacon of the Month Club is hard to ignore. The subscription comes from iGourmet, which is a powerful choice for gifts and subscriptions anyway.
This time, the club provides 2 packs of bacon per month. These are between 12 and 16 ounces each. The bacon comes from artisan producers, giving you an amazing experience every time. You're paying $42.99 per month for the subscription on a 3-month or a 6-month plan. You can get a 10% discount for signing up for 12 month instead.
The club also comes with a monthly newsletter. This provides in-depth information about the company that produced the bacon. The newsletter can include details such as the smoking techniques used, the breed of pig and the company itself. Information like this can be a fun way to learn more about the bacon that you're eating.
Bac'n Monthly Club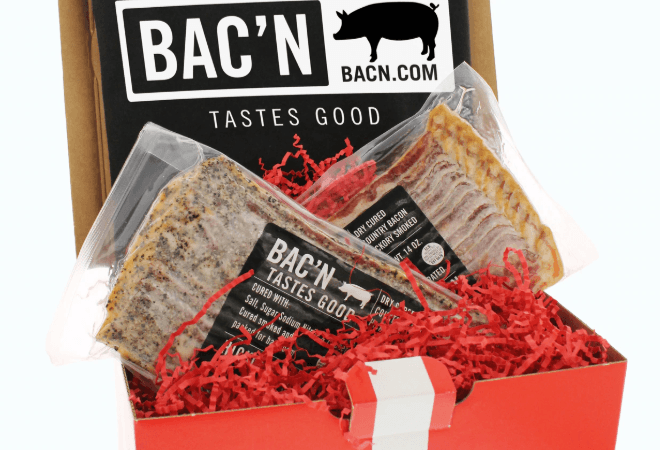 Bac'n offers another choice for artisanal bacon, with their Bacon of the Month Club. The club has some advantages over the previous example, as all of the bacon comes from a single company. This helps ensure that you're always receiving a high-quality product.
You're not just getting a single flavor either. Each shipment contains 2 packets of bacon, which are always different flavors. These are chosen from the 12 individual flavors that the company offers. If you sign up for the 3-month subscription, you also get the chance to choose between regular, no pepper and nitrate free bacon.
There are 3 different club durations to select from. These are 3, 6 and 12 months long. They calculate out to around $50, $45 and $40 per month, respectively. You also receive a Bac'n logo black t-shirt with your first month's subscription.
Heritage Foods Bacon Subscription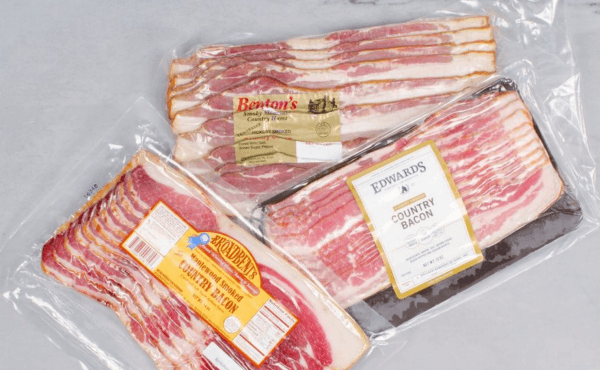 A third, and final, artisan bacon subscription is the option from Heritage Foods. Like iGourmet, this subscription aims to provide bacon from a selection of different producers. Some of these producers are new to the industry, while others are not – a style that gives you even more variety.
With this club, you're receiving 3 packages of bacon each month. This normally gives you around 3 pounds of bacon. The amount would be perfect if you feel that 2 pounds isn't quite enough.
The signup process is simple too. You just pay $59 each month for the subscription and cancel whenever you want to. There is no pre-paying to worry about and no need to select between multiple subscription options.
Here's the full list of bacon clubs to check out.
Candy Club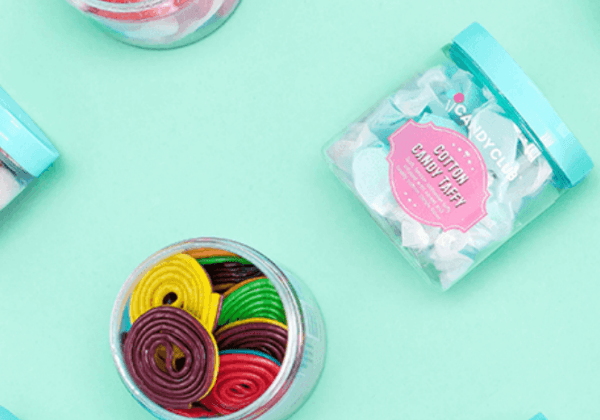 Most candy boxes simply round up a collection of prepackaged items from different companies. The Candy Club takes a completely different approach. With their subscription program, you receive 6 individual cups filled with candy. The candy comes from artisans and specialized companies. The style gives you a completely different selection of candy than you would normally get.
The tubs can include items like Lemonade Straws, Chocolatey Caramel Corn and countless other variations. You can also develop a taste profile to influence whether you are sent mostly sweet or mostly sour candies.
The basic version of the club is their Fun Box. It includes 6-ounce cups of candy. You're paying $29.99 per month for the box, although the first one only costs you $9.99. The other option is their Party Box. This version contains 13-ounce cups, giving you more than twice the amount of candy. It costs $49.99 per month and the first box is only $29.99.
Even if you're not convinced, the discount on your first box makes the club worth trying out.
Here's the full list of candy clubs available right now.
My Russian Box

My Russian Box is another style to consider trying out. As the name implies, all of the items in the box are from Russia. That's not all. Each month's box is themed around a specific area, such as a region or a holiday. This gives you a unique chance to learn more about Russia.
The boxes aren't limited to food either. The main version from the company includes various crafted items as well. Examples have included dolls and a ceramic tea cup with plate. It's an impressive selection, one that you won't find from many other companies.
This version of the subscription costs $99 per month. While that might seem like a steep price to pay, the combination of items truly is worth it. There is also a SnackBox version to consider. This skips the crafts and just provides you with treats. The subscription costs $49 per month, making it much more affordable.
Made In France Box


The Made in France Box is another way to try out products from a different part of the world. This time, all of the items are from France. There is a strong focus on small local producers. The individual boxes are regionally themed, a style that helps provide you with a wide variety of products.
One of the most interesting things with this box is location. Many European boxes import the products that they need. The Made in France Box doesn't do this, as the creators are located in France. Because the boxes are shipped from France, the people compiling the box have access to a wider range of manufacturers, including small companies that would be tough to find otherwise.
There is just a single subscription option, which costs €35 per month. You can pre-pay for 3, 6 or 12 months, although the discount for doing so is very small. The boxes always contain 8 different items for you to enjoy.
You'll find a lot more options in our international snack subscription box list!