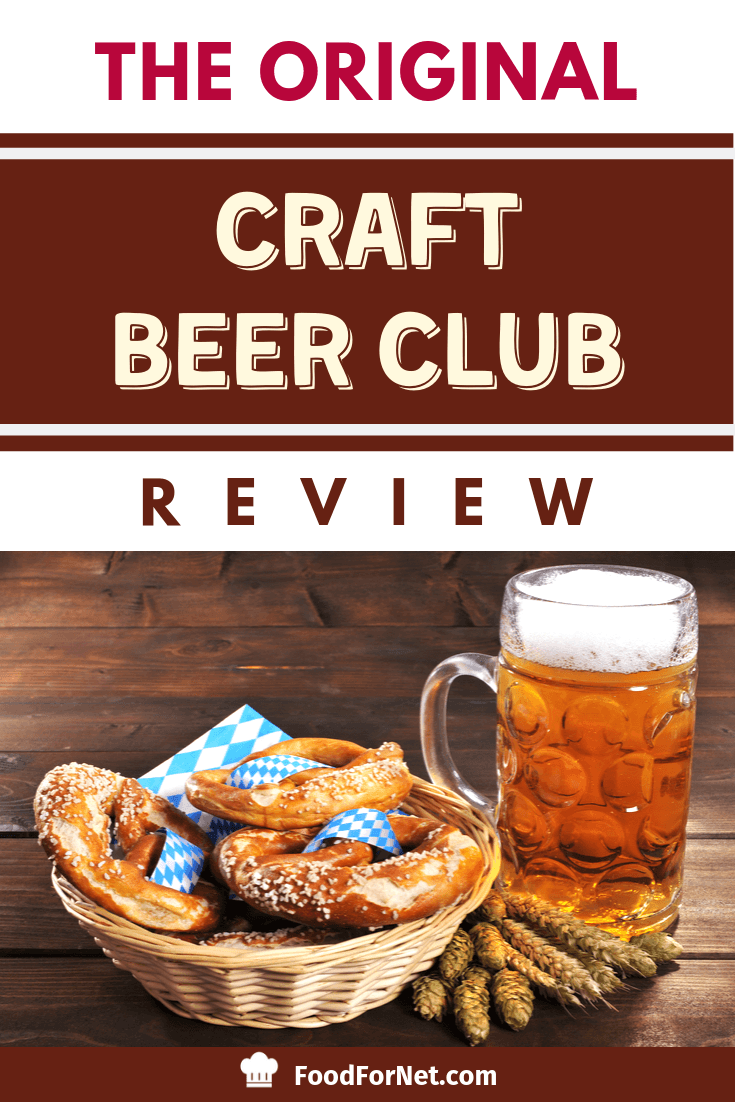 The Original Craft Beer Club Review
Beer Selection - 87%
Price - 90%
Order & Delivery - 88%
Customer Service - 92%
Club Features & Quality - 94%
The Craft Beer Club was easy to join thanks to their intuitive website design. Ordering and shipping was easy too. The beers I received were delicious, albeit a little "boring" for my tastes. However, some beer drinkers would probably prefer their beer this way! This would be a great gift idea for any craft beer lover in your life, or for yourself if you are tired of local selections.
Cost: $42/month (free shipping)
$25 discount On 12-month membership!
12 US micro craft beers per delivery
2 breweries, 4 styles, 3 beers each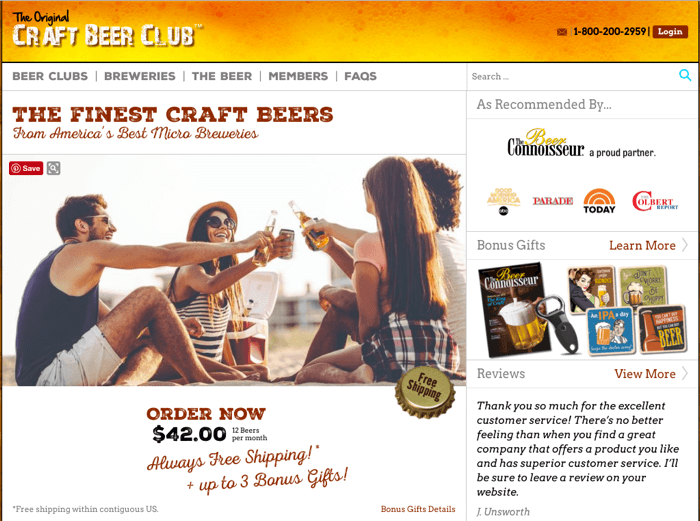 Signing Up For The Original Craft Beer Club
Picking a beer of the month club can be confusing. Just so we're clear on which club this is:
Their domain name is: CRAFTBEERCLUB.COM
Their company name is: THE ORIGINAL CRAFT BEER CLUB
Their club name is: BEER OF THE MONTH CLUB
After dealing with some of the crappy websites from other craft beer clubs, The Original Craft Beer Club surprised me and actually had a decent design with an intuitive user experience (aside from the confusing naming system). I was able to clearly see their prices, and toggle options between number of shipments, and how often I want them shipped.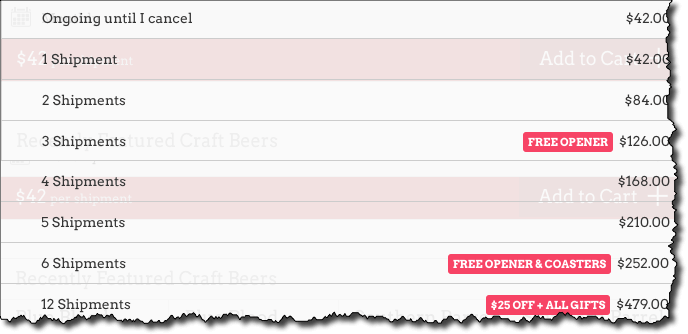 For example, I could get 4 shipments, and have one shipped every quarter. Or I could get 12 shipments and have them sent monthly. Alternatively, you can just let your membership run until you cancel. This is a nice customization feature, since beer clubs like ClubsGalore [LINK] require a 3 shipment minimum.
I ordered a 3 month shipment to be sent monthly, and got a free beer opener. Not a very exciting gift, but it was high quality.
One thing I really liked about their website is that you can see past breweries they have featured as well as past beers they've sent. This was super important to me! Unlike beer of the month clubs like Clubs of America, you can get an idea of what to expect before joining.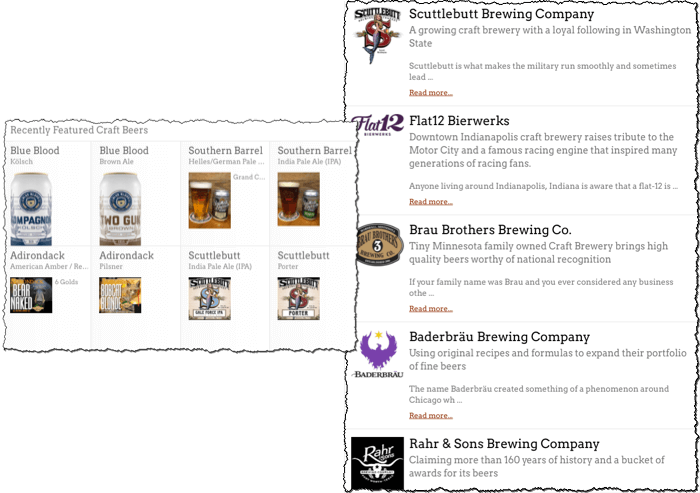 Delivery of Craft Beer Club's Beer
The beer arrived quickly, and all the bottles were in good shape (no broken bottles!). My only complaint is that they use a company called GSO out in California, which has a weird delivery system. They try to deliver once, and if they miss you, you have to call them back and schedule for the next time. The GSO phone system sucks and is frequently busy.
This is different than UPS which will automatically attempt a second time, or you can customize your shipment with the UPS app. If you're not in California, you may not have to worry about this point, but you should keep in mind that someone has to sign for the alcohol. Getting it delivered to work, a neighbors house, or a local pick-up office should be considered!
In the package they also included some papers with short descriptions of the beer and even some recipes to pair with. As of today, on their website I see something called "Beer Connoisseur Subscription" which I don't recall during my shipments.
But the info I got about each beer was interesting to read. Perhaps they are the same thing. I like to know about the breweries and beer I'm drinking. That's part of the fun of drinking micro craft beer from around the US.
Beer Selection & Quality
For my first month I go to two two breweries: Monocacy Brewing Co (AKA Brewers Alley) and Real Ale Brewing Company. I hadn't heard of either of them, but enjoyed all the beers they made.
Included in this shipment was a blonde ale, a helles, an APA (American Pale Ale), and a Kolsch. My favorite was the APA. The others were good, but it was summer, and I was feelin' something dry and hoppy.
The beers were good tasty, for sure!
Personal Opinion About The Beer
Though the beers were good, and I enjoyed drinking them, they weren't something to get super excited about. I realize a lot of beer drinkers just like plain beer and complain about things like too many hops, chocolate, coffee, and fruit in their beer, but that's what I like.
I like the weird stuff. Even in terms of "standard styles", I felt that my shipments from The Original Craft Beer Club were a little bland. A blonde ale and a kolsch in the same package?
It wasn't a themed box, so I felt they could have put more variety in this box. What about a stout, or an Irish red, or a fruit beer? All 4/4 beers were light drinking and yellow!
I accidentally deleted the rest of my photos and notes from the subsequent two shipments, so will update after I rejoin the club and get more photos of the beers they send.
Pros
High quality beers
Can see past beer selection
$1 cheaper than other clubs per month
$25 discount for 12 months order
Small gifts for multiple orders
Good information on each beer/brewery & recipes too!
Customizable beer delivery schedule
Shipping included
Cons
Not very exciting brews
Average cost $3.50 per beer
Only discount available for 12-month membership
Who Is This Club Best For?
As with most of the other clubs that I've reviewed, for me, this is just a short term test. For an avid craft beer drinker with lots of selection available near me, it's cheaper and more satisfying to just pick my own stuff in the store.
For a $10 six-pack I'll pay $1.60 per beer, which is less than half the cost of the what I'm paying with the club. Plus, I have the option of buying a 4-pack of high gravity beers, or getting a couple bombers of some limited release stuff.
But this club is great as a gift. Would I turn down the beer included in my membership to The Craft Beer Club? No way? I drank everything that was sent to me.
Most were very "sessionable" (can drink a lot of), and go great with all types of food. They were great daily-drinkers. If you are think of getting a membership to this club for someone you know that enjoys craft beer, they will certainly love this gift.
Another person this would be great for is if you don't have access to craft beer in your area. I'm lucky in that I live in California, so have lots of options with BevMo, Total Wine, and small bottle shops that curate their own craft beer collections. If you live in a small town in the Midwest, your options may be more limited!
So if you are tired of your local selections and want to branch out to discover new breweries, styles, and flavors, then The Craft Beer Club is a great way to do so.
Comparison To Other Clubs & Links
The Original Craft Beer Club is slightly cheaper than most other clubs, even if by just $1 (once you factor in shipping). The only one that is cheaper is AmzingClubs.com, which I haven't tried yet. I'll update when I do! But considering it's so cheap, the Original Craft Beer Club is a great club to start with if you're on a budget.
For myself, I enjoyed the beers from the Microbrewed Beer of the Month Club and the International Beer Club the most. Considering that the international club is about $10 more expensive per month, it's not everyone. It's also a different category of beer.
So to fairly compare two similar clubs, I prefer the Microbrewewed Beer of The Month Club from MonthlyClubs.com. I thought their selections were more interesting, and the information they provide on each of the beers was more interesting/extensive. It was more of a "craft" beer enthusiasts club.
Have you tried this club? What did you think of the beers and the cost?