Nothing beats food smoked with charcoal. Who can resist that smoky delicious flavor? Some people prefer this to the results that you can get from propane or electric smokers. Before you purchase a new backyard cooker, you should consider all your options.
The best portable charcoal smokers will give you the freedom to acquire a smoky taste without having to be stuck at the house. Load it up in your truck and smoke all afternoon at your friend's house, a cabin, or campground. If you like being at home while smoking, using a portable charcoal smoker will help you find more convenient places to store the unit so that it doesn't rot from sitting outside during a rainstorm.
Charcoal smokers are at the top of the totem pole for outdoor cooking units because they offer the convenience of using a cheap, easy-to-find fuel source, while still giving you delicious flavor. Along with wood and pellet grills, charcoal grills produce that authentic smoky flavor that you associate with outdoor cooking.
To help you select the right smoker, here is our list of the top 5 best portable charcoal smokers.
Top 5 Portable Charcoal Smokers
Char-Griller 2-2424 Tabletop Charcoal Smoker Grill
Char-Broil Tabletop Charcoal Grill & Smoker
Weber 711001 Smokey Mountain Cooker Charcoal Smoker
Weber 711001 Smokey Mountain Cooker Charcoal Smoker
Cuisinart COS-116 Vertical Charcoal Smoker
1. Char-Griller 2-2424 Tabletop Charcoal Smoker Grill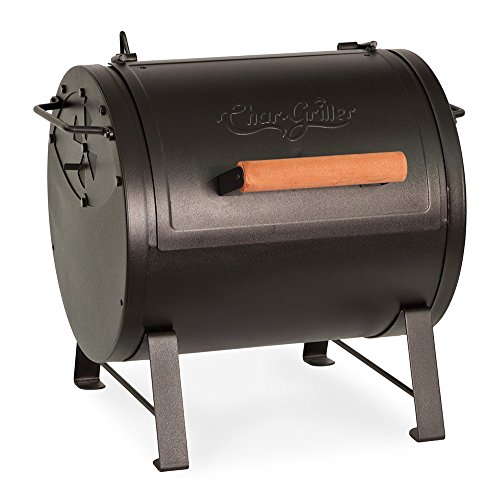 The Char-Griller 2-2424 tabletop charcoal smoker has everything you need to get that smoky taste wherever you go. With short legs and three handles, you can pick this smoker up and place it in your car trunk with room to spare.
This versatile grill offers multiple uses. You can use it as a grill or a smoker. You can also use it as a traditional tabletop unit or turn it sideways like a vertical charcoal smoker.
The heavy-duty construction ensures durability, for years of use. There are also cast-iron cooking grates that make up the 250-square inch primary cooking space.
Cleaning charcoal smokers and grills can be redundant after a while. Luckily, this smoker comes with a removable ash pan to easily dump the remaining coals.
The Char-Grill is #1 on the list because it offers a lot of value and doesn't take much out of your wallet. This inexpensive portable charcoal smoker grill can go anywhere and give you the char taste you've been looking for.
Positives
Very compact for easy portability

Easy to clean up

Can also be used as a traditional grill

Durable steel construction

Sliding drawer makes it easy to access coals

Heat resistant handle

Inexpensive
Negatives
Doesn't come with instructions

Hard to control temperature
2. Char-Broil Tabletop Charcoal Grill & Smoker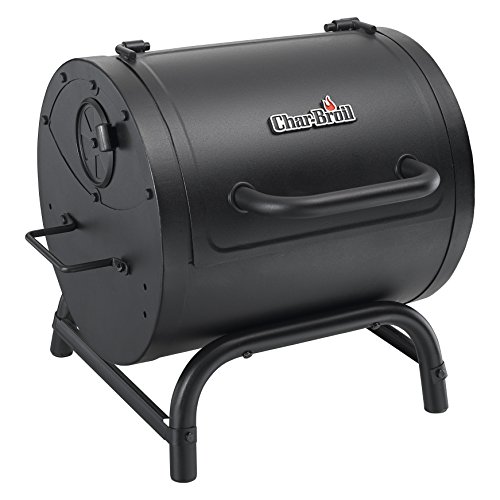 This portable, compact charcoal smoker is great for camping, picnics, or tailgating. There are 225 square inches of cooking space to work with. You might think that's somewhat on the smaller side, but portable smokers don't generally have large cooking spaces so they can remain portable.
The carrying handles will make it very easy to pick up the unit and place in a trunk or shed. This smoker has a slide-out charcoal drawer to easily empty the coals or add more charcoal.
This smoker is versatile, primarily because it can attach to the side of other Char-Broil units as a side smoker. There is also a tube frame which is used for stability. It will keep your smoker still regardless of what type of surface you're on, though it is designed to be used on a tabletop or picnic table.
Price won't be an issue with the Char-Broil tabletop grill & smoker. You can easily find this smoker for under $100, which is a true deal. Overall, this smoker comes in as a close #2, while strongly resembling the #1 smoker.
Positives
Compact

Easy to clean

Durable
Negatives
Temperature is inconsistent and hard to control
3. Weber 711001 Smokey Mountain Cooker Charcoal Smoker

The Weber brand has been known for their superior grills and it's no different when you look at their smokers. Monitoring the temperature can become one's biggest concern when using a charcoal smoker, so the Weber 711001 Smokey Mountain Cooker has a built-in thermometer.
The Porcelain-enameled water pan will help add steam to the smoking process, so your food doesn't become dry and inedible.
The fuel door is made of a rust-resistant aluminum that will make adding charcoal easy, along with air dampers that will help control airflow. The air dampers help tremendously because the amount of air absorbed by the charcoal determines how the temperature fluctuates.
While the small frame and weight of this charcoal smoker make it portable, the lack of handles will make it slightly more difficult to carry. Keep this in mind when making your final decision.
The Weber is on the higher end of the price spectrum compared to the other portable charcoal smokers on the list, but you are paying for quality.
Positives
Built-in thermometer

Durable
Negatives
On the pricey side compared to other smokers
4. Cuisinart COS-116 Vertical Charcoal Smoker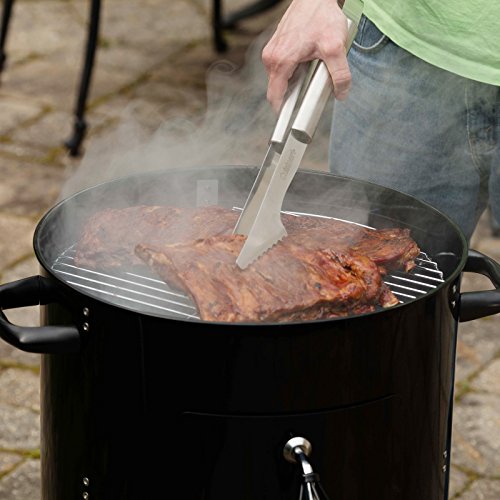 Just because Cuisinart excels at making indoor cooking appliances doesn't mean that they can't produce quality smokers. The Cuisinart COS-116 vertical charcoal smoker is great if you're looking for a low priced high-quality smoker that you can use anywhere.
This smoker has the largest cooking space available on the list, at 402 square inches. This surplus of space contains two 16-inch stainless-steel racks that will help cook your food to perfection and expedite the cleaning process.
The porcelain-enameled water bowl provides steam that ensures the cuts of meat stay hydrated. The dual air vent system will also help control the temperature. There is also a temperature gauge right on the lid, so the exact temperature will always be displayed.
You can take the Cuisinart COS-116 anywhere, thanks to the two side handles. These handles will also help you comfortably pick up the lightweight vertical smoker without any difficulty.
This is one of the more affordable options, but it doesn't hold a lot of charcoal. If you plan on smoking your meats for hours, you may need to keep an eye on the coals. The benefit is the extra space available to cook a large batch of meat.
Positives
Inexpensive

High amount of cooking space

Dual air vent system
Negatives
Doesn't hold a lot of charcoal
5. Char-Broil American Gourmet Offset Smoker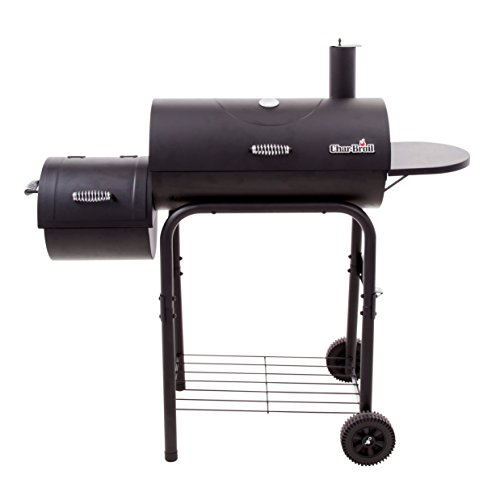 Last on the top 5 list of portable charcoal smokers is the Char-Broil Offset Smoker. This serves as an offset smoker, a charcoal grill, and barbecue for those who embrace variety.
There is about 290 square inches of cooking surface in the main chamber, as well as 140 square inches in the firebox chamber, for a total of 430 square inches. People with large families and groups of friends can make wonderful use of this surplus cooking space.
Charcoal grills and smokers have been known to be difficult to clean, but this smoker makes it easy. The clean-out door allows for quick ash removal with an adjustable built-in damper.
The smoker also has an adjustable height steel fire grate that will put you in control when it comes to how close you want your meat to the heat source.
Due to the size of this outdoor smoker, you may wonder how its considered portable. There are two large wheels on the bottom, so you can put it on an angle and wheel it into your storage shed or garage. The treads on the wheels are thick, making it easier to roll this smoker grill combo anywhere it needs to go.
The large size is due to the stand with legs and wheels. While this is convenient for wheeling the smoker around the park or backyard, it makes it difficult to place this smoker in your vehicle.
Positives
Very cheap

Easy to clean

Can be used as grill and smoker
Negatives
The larger size won't be good for storage or transportation
Buying Guide for Portable Charcoal Smokers
With portable charcoal smokers, it can be hard to find the perfect addition to your outdoor cooking experience. The first thing we're going to consider is size. If you don't want a portable unit, you should examine the best vertical charcoal smokers. For portability, the top 5 listed above are among your best options.
Before even looking at a portable charcoal smoker, figure out what you're going to use it for. Cooking for a family reunion or outdoor birthday party? Need something to bring to the big game, but you'd rather use a smoker? If you're cooking for a lot of people, look for a lot of cooking space.
Temperature control is very important, especially for charcoal-fueled grills. Finding a charcoal smoker with a thermostat or temperature gauge will help you in the cooking process. Smokers that are made of a heavy steel are likely to do the best job at insulation; keeping heat from leaking.
The portability of the smoker is also important. Consider the overall size and where you plan on storing the outdoor smoker. Handles and wheels are often included to help with transport but are not built into every smoker available.
The bottom line is that you need to consider the features that are most important to you. This includes the cooking surface, portability, overall size, temperature control, ash removal, and versatility – such as grill/smoker combos.
About Portable Charcoal Smokers
Grilling enthusiasts love the flavor that charcoal applies to their food. That's why having a charcoal smoker on the go is one of the more popular options for outdoor cooking.
Smokers that are fueled by charcoal are typically at the top of the list for desired smokers. While they might need much more attention to temperature compared to other smokers that use propane, pellet, or electric, it will be worth it when you taste the result.
The reason you'll need to monitor the unit closely is that the temperature can fluctuate; making a significant difference in the texture of your food. If the temperature is too low, it'll take forever to cook, and your food might not be cooked evenly. If you cook your food with the temperature being too high, it will dry out and taste like rubber.
Unlike electric smokers where you need to be near a source of power, you can use portable charcoal smokers, anywhere, especially in the woods or the park. Just make sure you can properly light the smoker and you will be in the right position to eat well-cooked food.
A plus about portable charcoal smokers is that they don't break the bank. You won't have to spend hundreds of dollars on an efficient smoker. While there are some exceptions, portable charcoal smokers are generally affordable, which will be great news for those who don't want to spend too much money.
The term 'portable' may be different for charcoal smokers compared to grills and other vertical smokers. When you think of a portable cooking device, you're probably thinking about a small unit that you can throw in the backseat or trunk of your car. Larger units are also considered portable if they have the features needed to wheel or carry around, but may not easily fit in a small car. So, if you plan on traveling with your smoker, make sure it can fit in your vehicle.