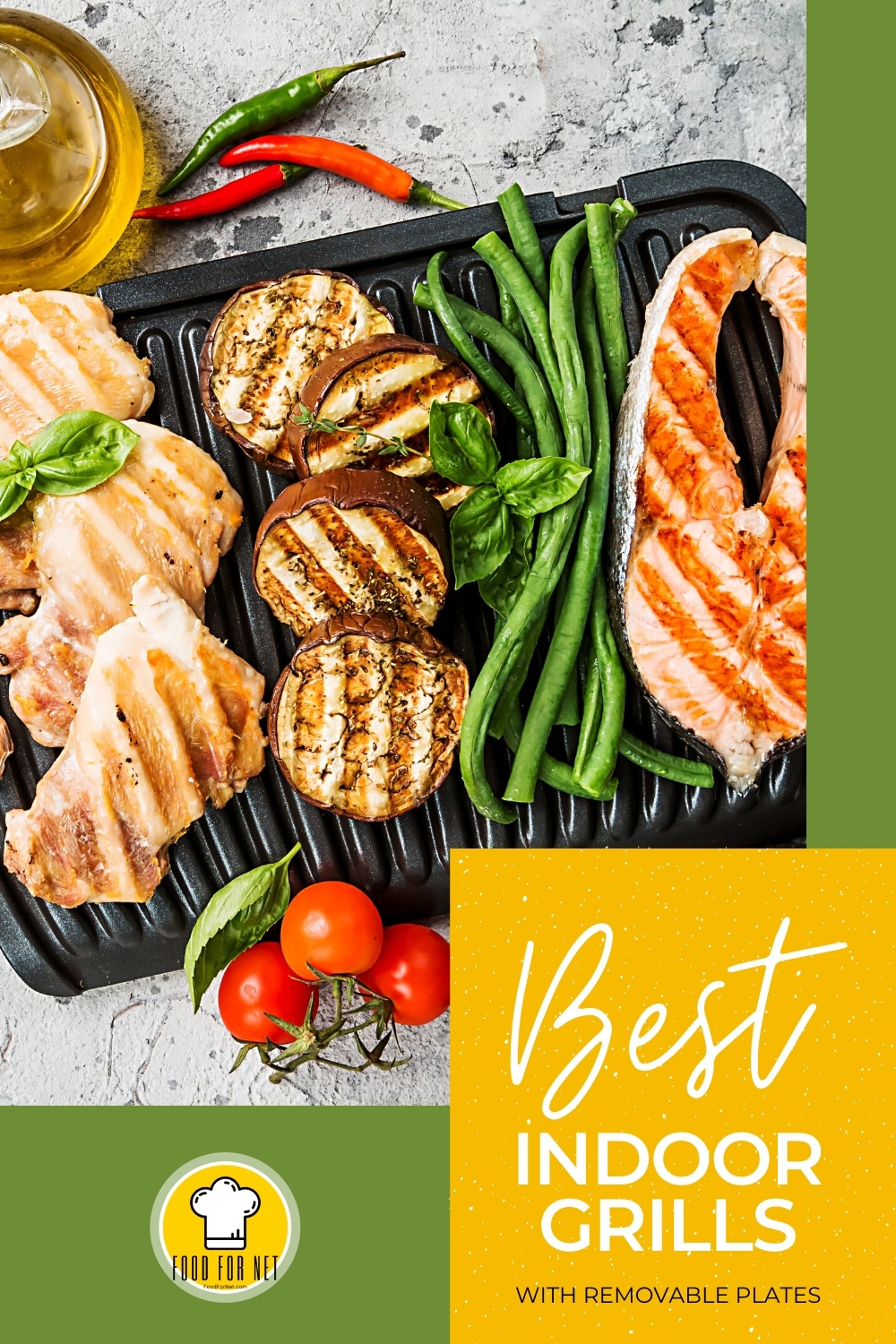 Cooking on an indoor grill can create a nightmare cleanup scenario. I used to cook steaks on my George Foreman grill, then would spend 20 minutes just softly cleaning off the junk to protect the non-stick coating and not leave chunks of meat to spoil overnight. That's why having the best indoor grills with removable plates will make your life much easier.
It might not be the same experience as outdoor grilling, but this method is the next best thing when cooking inside. These grills are a safe alternative to other methods such as charcoal or gas, especially for being indoors. Being indoors means you'll be using electric as an energy source, something that is consistent and doesn't take much monitoring.
Having an indoor grill with removable plates will allow you to enjoy grilled food, while having more ways to cook.
There are bunch of options in my list below, but a clear winner in terms of reviews and number of times bought is the Hamilton Beach Electric Indoor Searing Grill.
Sale

Hamilton Beach Electric Indoor Searing…
Locks in juices and flavors:Adjustable temperature control ranges from 200° to Sear at 450 degrees to grill at lower heat for optimal grilling results
Enjoy grilling all year long: This indoor grill with hood has a high searing heat that locks in juices and flavors, and lid closes to give you signature grill marks; Serves up to 6 with 118 square inch grilling surface
Easy to clean: Indoor grill hood, plate, and extra-large drip tray are all removable and dishwasher safe
Less mess: Extra-large drip tray catches juices so they don't spill on your counter and it's dishwasher safe for easy cleaning
Power and preheat lights: Eliminate guesswork while using your electric grill
I think the best feature for me is that it actually has a grease/juice trap build into the grill. I really don't like the George Foreman style grill where the juice trap sits in front of the grill. I like this all-in-one style from Hamilton beach, and 2,000+ reviews on Amazon agree with me.
When you're done cooking, clean up is simple. You can remove the plates and not waste 20 minutes carefully cleaning the grill. You can either separate the plate from the base and wash it yourself or put it straight in the dishwasher.
If you want to enjoy the convenience of indoor grills with removable plates, take a moment to review these 5 options.

Top 5 Indoor Grills with Removable Plates
Cuisinart GR-4N 5-in-1 Griddler
George Foreman 4 Serving Removable Plate Grill
Hamilton Beach 25360 Indoor Grill
T-fal GC702 OptiGrill Indoor Electric Grill
Breville BGR820XL Smart Grill
1. Cuisinart GR-4N 5-in-1 Griddler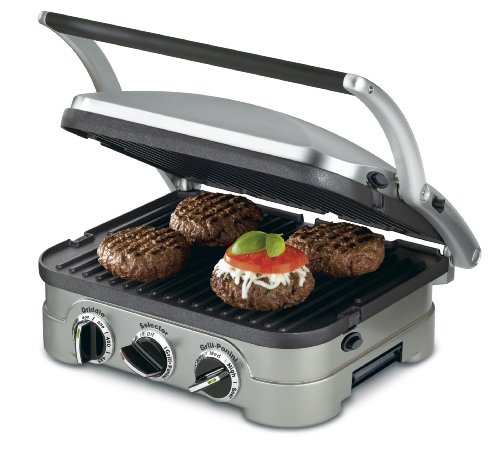 The Cuisinart GR-4N 5-in-1 Griddler is the top choice, thanks to the 5-in-1 design. You get a full grill, griddle, panini press, half grill/half griddle, and contact grill. This gives you much more freedom to cook different styles of food with the same grilling unit…while indoors!
The two removable plates can be detached with the push of a button. It also comes with a cleaning tool that can be used to scrape between the grill surface to get the hard-to-reach areas.
Compared to a majority of electric grills for indoors, this grill heats significantly quicker and reaches hotter temperatures. The grill has temperature control knobs and indicator lights. The lights let you know when the grill is ready to cook.
This 5-in-1 appliance also has a durable stainless-steel finish. With proper care, this device should offer years of use. With the 5 cooking methods, it will also likely become one of your favorite appliances.
Positives
Provides 5 different ways to cook

Indicator lights make cooking easier

Cooking plates drain grease

Durable stainless steel finish
Negatives
Cleaning can be annoying if you don't have a dishwasher
2. George Foreman 4 Serving Removable Plate Grill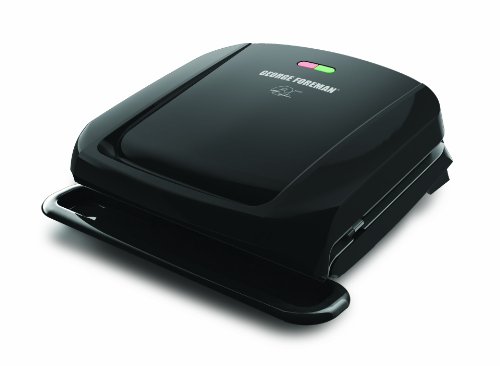 This compact indoor grill is simple, convenient, and fast. The GRP1060B is another efficient indoor grill from the recognizable George Foreman brand, but it can heat up about 35% faster than other George Foreman models.
The grill comes in two colors – black and platinum. You'll likely notice the George Foreman signature logo below the indicator light. The light is red when the grill is heating and then changes to green when you can start cooking.
The grill is relatively small, but can cook about 4 burgers at once. Luckily, you can keep cooking additional servings without dealing with an unstable heat source – such as charcoal or wood.
The two removable plates are dishwasher-friendly, making it easy to remove the food particles. Other advantages include the price and the durability. Despite the low price tag, this grill shouldn't break down easily.
Positives
Small size makes it easy to move and fit on your counter

Durable

Dishwasher safe cooking plates

Affordable
Negatives
No temperature controls

Not the best option for large groups of people
3. Hamilton Beach 25360 Indoor Grill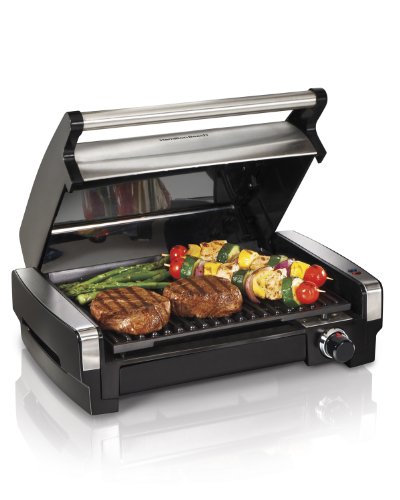 The Hamilton Beach 25360 indoor grill comes in two versions: one with a stainless steel lid and a second version with a window right in the middle of the lid to watch the meat cook. The temperature controls are fairly easy to use. All you have to do is slightly turn the knob, and depending on what direction you turn, the temperature will increase or decrease.
The nonstick removable plate, the lid, and the drip tray are all dishwasher safe, which simplifies the clean up process. Simply dump the grease from the tray and place in the dishwasher. No need to waste time hand washing your plate when the dishwasher can do it for you!
While stainless steel is pretty durable compared to other materials used for grills, there will be times where it accumulates fingerprints and other random marks. By having a lid that's dishwasher safe, you can keep your indoor grill looking brand new.
Positives
Dishwasher safe

Adjustable temperature controls

Extra-large drip tray makes cleaning much easier
Negatives
4. T-fal GC702 OptiGrill Indoor Electric Grill

The CG702 OptiGrill indoor electric grill has plenty of options to meet your needs. You will find this grill in two sizes: 4 servings and 8 servings. The amount of people you typically cook for will likely determine the size you decide to go with.
This grill includes 6 different automatic cooking programs for burger, poultry, sandwich, red meat, fish, and sausage; the settings determine the temperature, which is automatically set. The preheating indicators will signal to the user that the grill is ready to cook, as well as when the meat hits rare, medium, and well-done temperatures. This will help beginners learn how to cook their meat at different levels.
In addition to 6 cooking programs, there are 2 cooking modes that are meant for different types of foods. One mode is for frozen food, while the other is a manual mode that puts you in control. This is very useful for frozen foods because you won't have to wait for your meat to defrost in order to cook it properly. Cleaning afterwards will be a breeze thanks to the two dishwasher safe removable nonstick plates.
Positives
6 automatic cooking programs

Durable aluminum frame

Adapts grilling cycle depending on size of meat
Negatives
5. Breville BGR820XL Smart Grill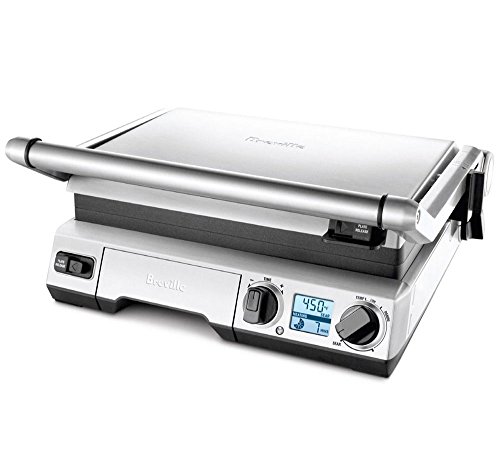 If you think having an indoor grill is convenient, try having a smart grill. The Breville smart grill has a 1800-watt heating element that will cook your food quickly.
The temperature will vary depending on what mode you use: low, panini, or sear. The average temperature measurement when used in these modes is roughly 310 to 450-degrees Fahrenheit, which is more than enough heating power to cook meat thoroughly.
This unit has a small orange screen in the middle of two knobs; one used as a timer, the other for temperature control. The screen displays the exact temperature as well as the minutes left on the timer. This makes it very easy to keep track of how hot the grill is and how much longer you'll need to cook your food.
A disadvantage to this grill is the price. This grill is by far the most expensive grill on the list. Some people also claim that this grill doesn't always cook food evenly, something that can become annoying after a while, but if you use the press while cooking and keep your eye on the temperature gauge, you shouldn't run into this issue.
Positives
Has 6 adjustable heights

Opens flat

Dishwasher safe removable plates
Negatives
Very high price compared to other grills

Some say it doesn't cook evenly
Buying an Indoor Grill with Removable Plates

Selecting the grill for you depends on a few things, including how experienced you are with grilling, if you want to cook a variety of foods, and your willingness to clean. What you should usually look for is: easy accessibility to the cooking plates, easy temperature controls, and plates that can be used in more than one way.
The T-fal OptiGrill is a great beginner's grill, primarily because of the heating guide it has for cooking meat.
This grill will walk you through the cooking cycle, allowing you to cook your meat anywhere from rare to well done. By using this grill, you'll be able to get an idea of how long you will need to cook a piece of steak to get it to medium rare.

When looking for a long term grill, especially one that makes excellent paninis, the Cuisinart GR-4N Griddler will deliver.
This grill has the durability needed for long term use, as well as the tools required to make a variety of food and clean up properly. This indoor grill also heats up faster than most other grills, so you won't have to wait long to get things started.
In addition to the GR-4N Griddler, those who are looking for a slightly healthier cooking process will enjoy the Hamilton Beach indoor grill and the George Foreman 4 serving grill. The only reason you might have an issue with the George Foreman is because it lacks temperature controls. The Hamilton Beach Grill only has one cooking plate, but you'll be able to gradually monitor the temperature for an even cook.
These grills may cook smaller quantities of food, but at least they take out the grease from the meat and separate it. Also, remember that these grills are electric, which are great for outdoor cooking on apartment balconies with overhangs!
About Indoor Grills with Removable Plates

Indoor grills that have removable plates will give you more freedom to cook your food how you want and they are typically easy to clean.
After using a charcoal or gas grill, food residue or other particles will be present on the grates, demanding that you clean by hand almost immediately unless you want to scrub the grates until the end of time. The indoor grills with removable plates can be detached from the grill unit and placed in a dishwasher.
Another reason why people like indoor grills with removable plates is that they offer different ways to cook your food.
Most grills come with one or two cooking plates, which also have a cooking surface on the other side; offering 4 different surfaces to cook with in total. Electric grills typically start faster, so it won't take long to get the food on the cooking plates.

All 5 of the grills on this list use electricity as a heating source. Other fuels, such as charcoal or gas, can become extremely dangerous to your environment if you're indoors (gas grills are ok for open balconies).
The bottom line is that indoor grills with removable plates give users more opportunities to cook different types of food and makes it much easier to clean up afterwards. No one wants to stick around the grill for over an hour cleaning, especially after they spent a significant amount of time cooking.