Charcoal grills may seem like a thing of the past, but they are actually still pretty popular today; as some prefer to use them over gas grills. People who use charcoal grills typically get that smoke-like taste when they eat their food, which is an appealing factor when compared to gas grills.
Though everyone has their own preference, there are a lot of grilling enthusiasts that strongly believe that charcoal is the way to go for the grill. While some people might consider them "old school", there are a lot of advantages to having a portable charcoal grill.
A charcoal grill is easy to use and with proper care they can last for years. There are no electronic components – you just need charcoal and a flame. This makes them great for any setting. You can take them camping, set them in your backyard, take them tailgating, or grill at the park.
The following options are the 5 best portable charcoal grills. They are compact and built to last. So, if you want a simple, affordable solution for outdoor cooking, consider these five options:
5 Best Portable Charcoal Grills
Weber Smokey Joe Grill
Weber Go-Anywhere Charcoal Grill
Cuisinart CCG-190RB
Char-Broil Tabletop Grill
Cuisinart CCG-100 GrateLifter
1. Weber Smokey Joe Grill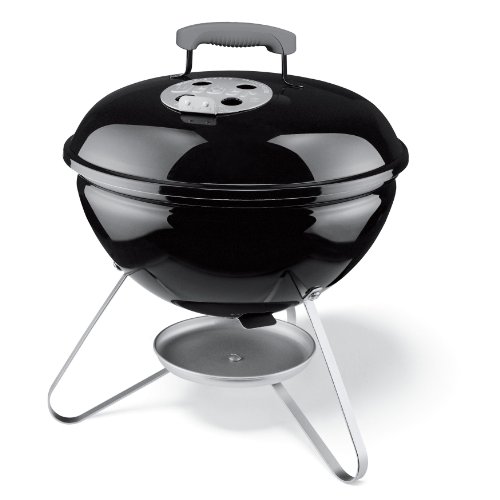 Between size, price, and durability, The Weber Smokey Joe grill is the top portable charcoal grill on the list. There is 160-square inches of surface area; enough to cook about six hamburgers for you, your friends, and family. The cooking grate is triple nickel-plated, and measures about 14.5-inches in diameter. This large cooking platform is great news for people who love to cook a lot of food!
Similar to the Weber Go-Anywhere charcoal grill, this grill has a glass reinforced handle made out of nylon. This handle allows you to remove the lid while grilling, though some consumers have claimed that the handle gets too hot and you often need a glove or oven mitt.
Despite that one disadvantage, this grill is still a great choice, considering the the 10-year limited warranty. Whether you are going to a family reunion, a camping trip, tailgating a football game, or just hanging out in the backyard, the Weber Smokey Joe is one of the best portable charcoal grills available.
Positives
Fair price
Durable
Long term warranty
Negatives
No locks to secure the lid
Difficult to control temperature
2. Weber Go-Anywhere Charcoal Grill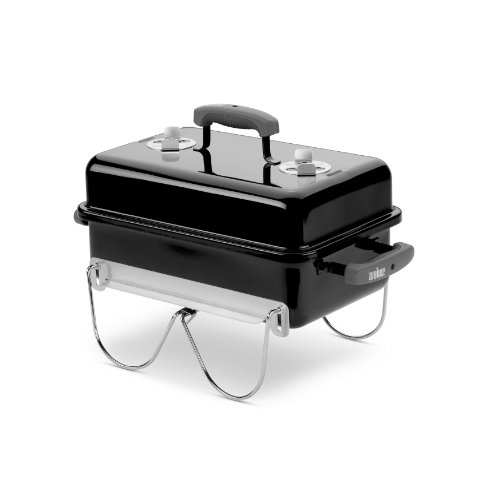 The Weber Go-Anywhere grill is literally meant to go anywhere. This grill is likely to last long based off of the materials it is made out of. With portable grills, the toughness of the product will be tested, as you will be taking it from one place to another.
The porcelain coating used on this grill will help prevent color fading and rust from accumulating. The lid has two dampers that contain three air holes for ventilation. These can be used to manipulate the grill's cooking temperature to cook food efficiently.
This is likely to be one of the smallest charcoal grills you can find. The advantages of having a small grill are evident. The small size in addition to the rectangular shape will allow you to easily find an area to fit the grill, whether it be in the closet or the back of your car.
Putting the grill away is fairly simple. The steel legs fold upward; covering the top lid. This secures the lid so that it doesn't fall off or move around while you are carrying it. There is also a glass-reinforced handle made out of nylon, which is strong enough to carry the weight of the grill and won't heat up during cooking. The are also two handles on the side (one on each side) that can be used during transportation and storage.
Positives
Durable
Easy to transport and store
Folding legs provide stability and secure the lid
Negatives
Very small in size
Grate height isn't adjustable
3. Cuisinart CCG-190RB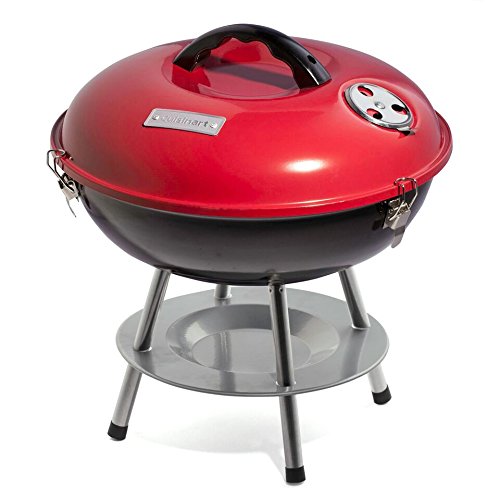 The Cuisinart CCG-190RB focuses on convenience and features an ash catcher underneath the grill unit. This metal plate will intercept any ashes that are created from cooking on the grill.
The 14-inch chrome plated grill surface will give you about 150-square inches to cook with. This surface area should provide enough space to cook seven hamburgers at one time.
Cuisinart also gives people options and is available in two colors – black and red. The affordable price of this grill will be very appealing to potential customers looking to save some money..
You can easily transport the grill anywhere it needs to go thanks to the lid latches. There are three lid locks located on the bottom half of the grill; used to keep the lid closed at all times with no signs of any ash or small food particles. Simply lock the latches and grab the handle at the top. Weighing in at a reasonable two pounds, most people shouldn't have much difficulty lifting or moving the grill.
The grill's dual venting system will give you the ability to control the amount of airflow within the inside of the grill, as well as the overall temperature. Needless to say, if the lid and venting system are closed, the inside will become hotter, ultimately cooking your food at a faster pace.
Positives
Available in two different colors
Affordable price
Lid latches secure the grill
Easy to assemble
Negatives
4. Char-Broil Tabletop Grill
The simplistic Char-Broil tabletop grill is the ideal portable charcoal grill. For those who are looking for an easy to use, affordable, and easy to clean portable charcoal grill, this item deserves consideration.
The grate is coated with porcelain, so you won't have too many issues cleaning the grates once you're done cooking. One ongoing issue with the Char-Broil tabletop grill is the deep pan that holds the charcoal. Some users found this part of the grill to be way too shallow, affecting the cooking temperature.
The main advantage of this grill is that it is very easy to take with you whenever you need to go somewhere. The folding legs lock the lid in place, so no leftover ashes or food particles will leak out of the grill while you're carrying it. There is a handle on the top of the lid which will let you hold the grill effortlessly. In addition, there are two side handles that you can use the carry the grill if you are moving it with charcoal inside.
In the end, this grill is best for someone who wants to simply grill their food with charcoal, instead of having all the fancy features that other grills tend to offer.
Positives
Reasonable price
Easy to transport
Conveniently control temperature
Negatives
5. Cuisinart CCG-100 GrateLifter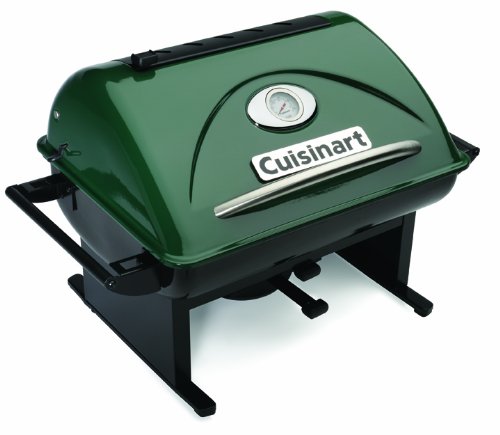 The fifth best portable charcoal grill on this list is the Cuisinart CCG-100 GrateLifter. One of the most unique parts of this grill is the lift system. Cuisinart gives the users of this grill a chance to get to the coals without interacting with the grate.
With 240-square inches of cooking area, there will be more than enough room to cook for more than a handful of people. This grill comes in a green/black color combination which is sure to grab the attention of those around you. There is also a porcelain enamel cover that is very durable.
Cleaning the grill is fairly straightforward. There is an ash collection bin underneath the grill. Instead of having a mess within the grill, or underneath on the ground, this bin will catch the ashes so that you can dump them afterwards.
The grill's wide base will provide a sense of stability as you cook your food to perfection. There is a temperature gauge located on the lid, as well as a precision airflow system which is used to produce an accurate temperature so you know exactly how hot the grill is. This system will make sure you cook your steaks just right and deter you from overcooking as well.
Positives
Airflow system helps with temperature
Easy to clean
Comes with three year warranty
Easy to monitor the temperature with gauge on lid
Negatives
Pricey
Difficult to set up
Choosing the Right Portable Charcoal Grill
When choosing the portable charcoal grill that is best for you, it is important to think about what you are going to use it for as well as how often you plan on using it.
If cleaning up is an annoying chore to you, purchasing a grill with an ash collector tray is your best option. The Cuisinart CCG-100 GrateLifter, the CCG-190RB, and the Weber Smokey Joe all have trays underneath the grill that will make maintaining the grill that much easier. Using charcoal can get messy, so it's best to prepare for those types of situations.
Most of these grills are made with porcelain, which will help preserve the lifespan of the product. It is interesting that stainless steel is not incorporated in these grills, which likely has to do with the nature of the heat source.
People that grill in small groups will appreciate grills like the CCG-100 Gratelifter, the Char-Broil tabletop grill, and the Weber Go-Anywhere grill. These portable charcoal grills are small in size, but have enough heating power to keep cooking for hours.
The person who usually grills with a large family or a group of friends will be better off with grills like the Smokey Joe, CCG-190RB, or the CCG-100. These grills have more surface area that can be used to heat up a lot of food.
Stability is something that often gets overlooked when finding the right portable charcoal grill. Having the right stand makes a difference. The Weber Smokey Joe, Cuisinart CCG-100, and the CCG-190RB all have reliable stands. These grills will remain stable even on bumpy terrain.
On the other hand, the Weber Go-Anywhere grill and the Char-broil tabletop grill have thinner stands that might not be able to handle unstable surfaces, but do a solid job at securing the top lid when the cooking is over with. Don't forget, there are lots of styles of camping grills, so if you don't like what you see on this page, be sure to explore the rest of our site.
All You Need to Know About Portable Charcoal Grills
There are plenty of reasons why buying a portable charcoal grill is a good idea. In comparison to portable gas grills, the charcoal grills typically cost less. Some of the most popular portable infrared grills cost well over $100 and can go up into the hundreds. For the most part, you can find a small charcoal grill for anywhere from $25 to a few hundred dollars at the very most.
Charcoal grills often emit an abundant amount of heat in comparison to gas grills. Most grills that are heated by charcoal can reach an astounding 700-degrees Fahrenheit!
Another reason why people like having a charcoal grill on hand is the unique taste it gives your food. There are a lot of people who truly look forward to this smoky "char" taste; adding extra value to having a charcoal grill.
Sure, there is a lot of upsides to a portable charcoal grill, but there are also other factors that should be taken into consideration. One possible issue with charcoal is that is takes longer to start up compared to simply pushing a button on a propane gas grill.
There are two types of "fuel" used to get the grill started: briquettes and coal. In order to get the grill ready to cook, users have to stack the coals and spread them throughout the base of the grill. Next, they should apply lighter fluid to the coals so that they can burn easily.
You can tell that the coals are ready to use when they start to turn grey, which can take 15 to 30 minutes. Besides using the standard briquettes, you can use briquettes that have lighter fluid already applied to it, which will expedite the ignition process. While this option will save time, you can still expect it to take a while for your grill to be ready.
While cooking, you will begin to notice that the burning charcoal produce ash. Certain grills have a tray underneath that is meant to collect the ashes for easy disposal. You just take the tray and empty it into a garbage unit. Other grills take a bit more work. For the ones that don't have a tray underneath, you'll have to remove the grate and then empty the grill.
Keep these details in mind as you consider your options. Everyone has different preferences, so remember to think about the size of the grill, the cooking surface, and the ash disposal system. Good luck and good grilling!