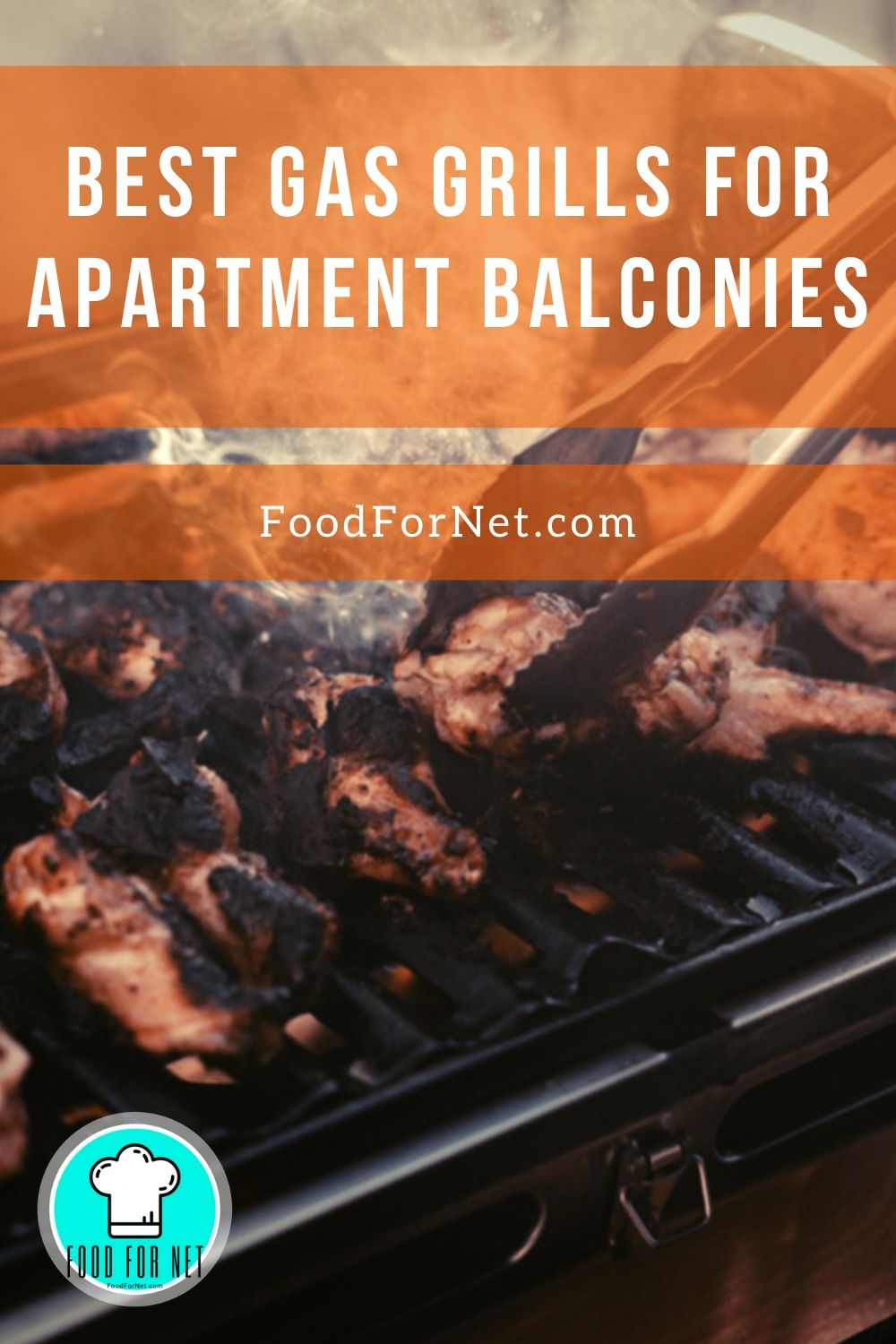 So, you're in a congested city, and you want to enjoy the weather by grilling food, but you don't have a backyard? Just because you live in an apartment building doesn't mean that you can't enjoy the outdoors with some quality barbecue food. Gas grills for apartment balconies make this possible.
Those with an apartment balcony are in luck. You won't have to leave your apartment and head to a campsite or park to use your grill, while still enjoying the benefits of being outside in nice weather.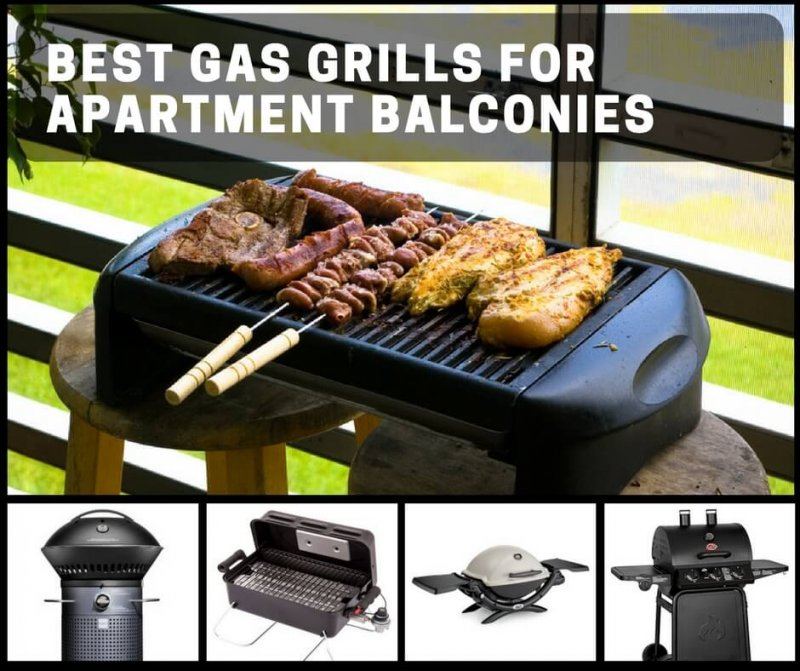 Finding the right gas grill for your apartment balcony comes down to a few things. First, you'll need to analyze your balcony and see how much space you have available for your grill. You should also consider how many people you'll be cooking for and your budget. With these thoughts in mind, begin exploring the top gas grills for apartment balconies.
The top seller from this list, and my personal favorite is the Fuego Element. It's tall & skinny, so it's great for low-volume outdoor spaces. Plus, you don't need a tabletop because of its tall design.

Fuego F21C-H Element Hinged Propane Gas…
45° durable porcelain enamel lid to prevent reaching over the hot fire.
New easy to clean porcelain enamel firebowl with drop through residue removal system allows for grease to drop straight through to the residue tray
Upgraded 23,000 BTU/hr. dual zone burner system for direct and indirect grilling. 500F in just 5 minutes and temps up to 650F overall
346 sq. In. Cast iron grilling grate with optional griddle and pizza stone kit
Compact 21″ X 21″ (Lid closed) footprint perfect for the Small patio/balcony
There's actually a bunch of cool stuff about this grill. It's round, so you can grill pizza on it (requires a pizza stone). You can buy a clip-on shelf for setting utensils and seasonings. The propane tank is hidden inside so the design looks clean. Also, it's got wheels so you can move it around very easily.
Top 7 Gas Grills for Apartment Balconies (With Pictures!)
1. Weber Q1200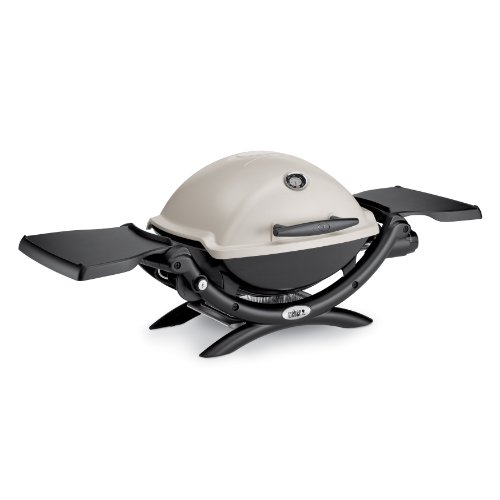 The Weber Q1200 gas grill has everything you need when you're cooking on your apartment balcony. It has a stainless steel burner that emits about 8500-BTUs per hour; heating up the 189-square inch cooking area quickly.
You can easily control the grill's heat because of the easy-start electronic ignition, as well as the burner valve controls. The ignition will start the grill up within a matter of minutes, and the valve controls will allow you to adjust the temperature to your liking.
One of the biggest advantages of the Weber Q1200 is that it comes fully assembled right out of the box. No need to waste time putting the grill together while reading instructions that never seem to make sense. All you have to do is take the grill right out of the box and connect it to a propane cylinder.
This grill is also available in a variety of colors, including black, blue, green, orange, red, and silver. This grill can be used directly on the ground or with a small table, depending on your preferences.
Overall, this grill is at #1 on the list because it has a very convenient size for an apartment balcony and provides more than enough heating power to cook for a full family.
Positives
Convenient size
Comes in 6 colors
Easy to start
Comes fully assembled
Negatives
The control valve is not always consistent
2. Cuisinart CGG-180 Gas Grill

The Cuisinart CGG-180 won't take up much space on your apartment balcony. This gas grill can perform as a tabletop grill, OR, you can extend the legs and have a freestanding grill.
It's got a 5,500 BTU burner, and you'll be cooking on porcelain enamel-coated cooking grates for even heat distribution. The stainless steel construction is easy to clean and will avoid rusting.
Starting up the gas grill is a straightforward process. All you have to do is use the Twist-Start electric ignition and watch the grill start up. The temperature gauge is conveniently located on the lid so that you can monitor the temperature of the grill.
For an ANY sized balcony, the CGG-180 works great. Best of all, you can pack it inside when you're done, so if you live in cold-weather or salty air climates, you won't have to leave it outside.
The best feature of this grill is definitely the fact that the legs can move in and out, for portability. You can also pack this sucker up and take it camping, or take it to the park on the weekends.
Positives
Easy to clean
Starts quickly
Folding side shelves used for preparation
Negatives
Small cooking area
Lacks durability
3. Char-Broil Portable Gas Grill Deluxe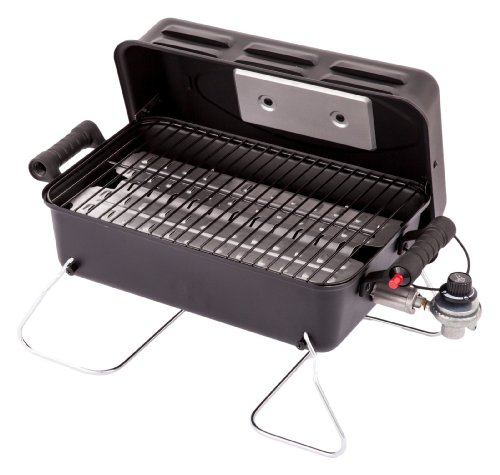 The Char-Broil Portable Gas Grill Deluxe is perfect for anyone who wants a nice burger but has minimal space on their balcony. The cooking surface consists of 190-square inches; not the biggest space on the list but just enough to cook a few hamburgers at once.
With the help of either a 14.1-ounce or 16.4-ounce propane cylinder, the grill's burner will disperse 11,000 BTUs onto the cooking platform so that you can cook your food at a fast pace.
The firebox is made with a high quality rust-resistant steel that will elongate the lifespan of the grill. This will make it easier to leave outside during harsh weather conditions if you choose, although the lightweight nature of the grill and small size will make it virtually effortless to store the grill in a closet or kitchen cabinet.
Speaking of storage, when you're done using this grill, the metal legs that create a sturdy platform for the grill will fold over the lid; locking it in place. The heat-resistant handles allow you to transport the grill almost immediately and put it away wherever you would like.
If you don't have much to spend, this gas grill is a great choice. You can easily spend less than $50 on this grill, although you will have to consider the price of the propane cylinder. This is very reasonable for a grill that cooks food evenly without much hassle.
Positives
Compact size can fit anywhere
Affordable
Deters rust
Negatives
Inconsistent ignition button
Takes longer than expected to clean
Could be too small for some situations
4. Char-Griller 3001 Grillin' Pro Gas Grill

If you want a traditional stationary grill, you will be pleased with the Char-Griller 3001. This grill can emit well over 40,000 BTUs onto the 438-square inch main cooking area. Included with this large amount of cooking space is a 192-square inch warming rack, as well as a 12,000-BTU side burner that will help you cook plenty of food at once.
The durable steel construction will avoid rust from accumulating over time. There is also a side shelf on each side of the grill for an organized workspace that can be used to prepare food and let the food cool down after being on fiery cast-iron grates.
Just because this grill has a large frame doesn't mean it isn't mobile when it needs to be. There are two wheels on the left side that can help you easily take it from one place to another, although you probably won't need to move the grill much since you'll be on an apartment balcony. Keep in mind that this frame is larger than some of the other options, but it should still fit on most apartment balconies.
Positives
Large cooking area
Durable
Large side shelves
Negatives
Propane compartment is small
5. Fuego Element Gas Grill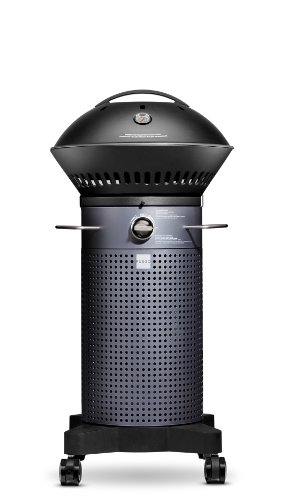 Designed by the former Chief Designer at Apple, the Fuego Element gas grill has an innovative shape that will make cooking on your balcony that much easier. This narrow gas grills heats up to 500-degrees Fahrenheit in approximately 5 minutes; which is astounding for any type of grill. This grill's patent pending dual zone burners push for high efficiency; with a single fuel tank lasting at least 20 hours. Cleaning won't be an issue either, thanks to the residue tray that simply collects the food residue while you're cooking.
The 15-pound Fuel Element grill has a durable porcelain-enamel cast iron grate that is easy to clean and provides the perfect sear to any type of meat with temperatures ranging from 250-degrees Fahrenheit to 500-degrees Fahrenheit.
There is about 346-square inches of primary cooking area available; enough space to cook roughly 16 quarter-pound hamburgers at one time! This is perfect for large families that want to enjoy the good weather on the apartment balcony.
A grill like the Fuel Element is a great choice, but be prepared to pay for it. The efficient technology used in this grill explains why it is one of the higher priced items on the list.
A unique feature of this grill is the hinged door that is used for propane tank storage. No more having to lug around a huge, heavy propane tank, just store the propane underneath the grill. In addition, the impressive anti-lock wheels will ensure that the grill will stay in one spot.
Positives
Heats up very fast
Made with durable material
One fuel tank lasts a long time
Negatives
Expensive compared to other grills
6. Weber Spirit II Liquid Propane Grill

Weber has plenty of excellent products to choose from, including the Q1200 that we featured earlier. However, the Weber Spirit II E-210 deserves a special mention as well. This is a relatively small grill as well (it's actually one of the smallest that Weber offers), but it still has a surprising amount to offer.
The small size is great for balconies, especially as this is still a two-burner grill, with 360-inches of cooking space. There's a hinged lid that lifts up easily – although you'll need to allow enough space to have it fully open.
The left hand table of the grill folds up, making it easier when space is tight. While the grill isn't cheap, Weber is known for its high quality products. Reviews also suggest that this and similar grills from Weber last a long time, while functioning well throughout.
Positives
Small
Offers most of the features of a larger grill
High quality from a reliable brand
Negatives
Not as portable as it looks
7. Coleman RoadTrip 285 Standup Gas Grill

The Coleman RoadTrip 285 Standup Gas Grill is certainly designed to be portable (you can even fold it up and wheel it behind you). It also comes from Coleman, which is a reliable company with a long history of making amazing grills.
This one is interesting, as it's designed to be as versatile as possible. This includes having interchangeable cooking surfaces and a variety of hooks for hanging tools. There are three burners, for a total of 20,000 BTU. Quite impressive, right?
That's not all. It's even possible to create two separate cooking zones on the grill. You have 285 square inches of cooking area to play with, making this a versatile and interesting grill.
The portable nature of the grill means that you don't just need to keep it on the apartment balcony. You could easily bring it to events or perhaps even picnics.
Positives
Comes in five different colors
Three burners
Precise temperature control
Folds down and is designed for transport
Negatives
The low profile means you can't cook large items, like a whole chicken or roast
Surprisingly heavy, coming in at more than 50 pounds
Buying a Gas Grill for Your Apartment Balcony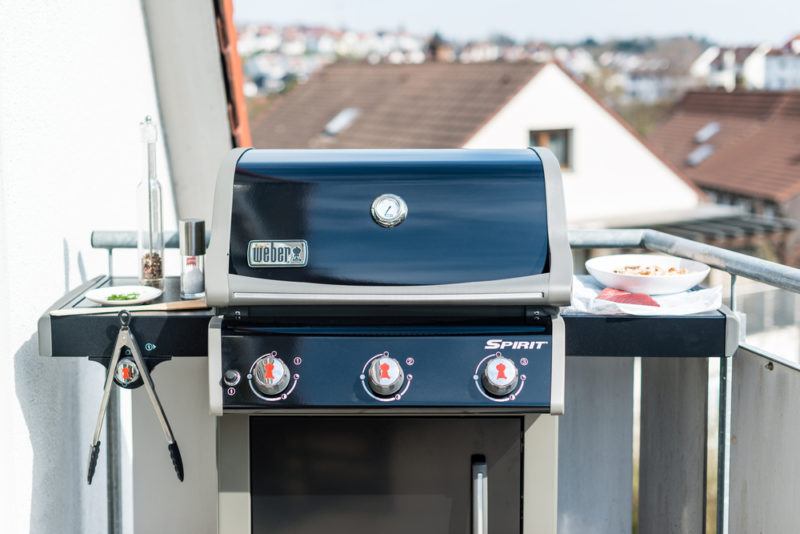 Before going out and spending money on a new grill for your balcony, the first thing you should do is consult with your property management or landlord to make sure that you are allowed to use a grill.
Also be sure to check your local laws about where you can use a grill and what you need to avoid. Yes, really. Some areas do have surprisingly strict laws about grilling, like whether you can do so on a wooden deck and the size of gas tanks you can have on rooftops.
Good to go? Great.
The gas grill you purchase will ultimately come down to the size of your apartment balcony. The size of your balcony may determine the size of your gas grill. If you have a lot of space available, a larger grill like the Char-Griller 3001 Grillin' Pro would suffice.
Most of the time, people have limited space throughout their apartment balconies, so buying a compact gas grill makes the most sense. The Fuego Element grill and the Char-Broil portable gas grill are the epitome of small gas grills that can fully cook high quantities of food without taking up a lot of space.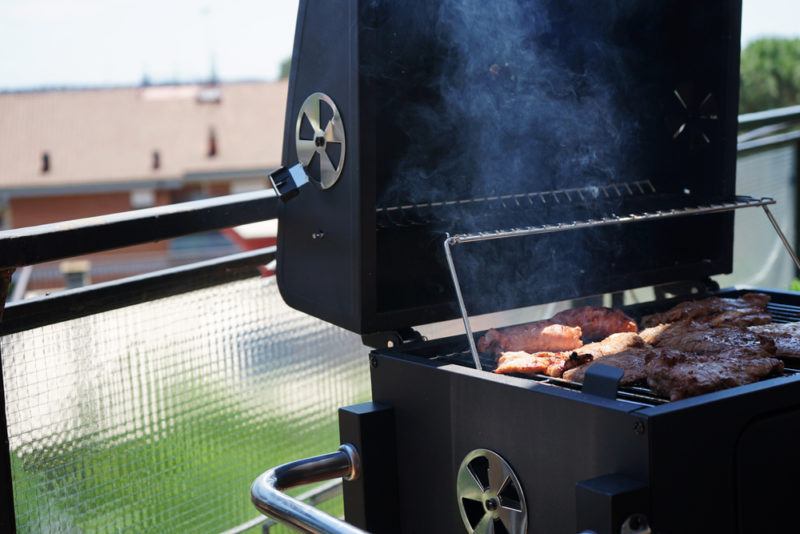 The remaining grills on the list: the Weber Q1200, the Cuisinart CGG-240, and the Char Griller 3001 Grillin' Pro are larger grills, but they offer buyers a stable platform to cook their food with.
Unlike the two grills mentioned earlier in this section, these grills have side shelves that can help with food preparation. You can place food, seasoning, and even drinks on the side shelves and keep things organized as you're ready to get the grill started.
Every balcony is a different size, some bigger than others. It's your responsibility to find the right sized grill that will satisfy your craving for grilled foods without harming yourself or those around you. While cooking, one must be conscious of the smoke and/or odors that typically occur with grills. The last thing anyone wants is an irritated neighbor upstairs who is overwhelmed with a strong smoky smell.
Along with the overall size of the grill, remember to consider the cooking surface and extra features, such as portability and easy-start ignition.
About Gas Grills for Apartment Balconies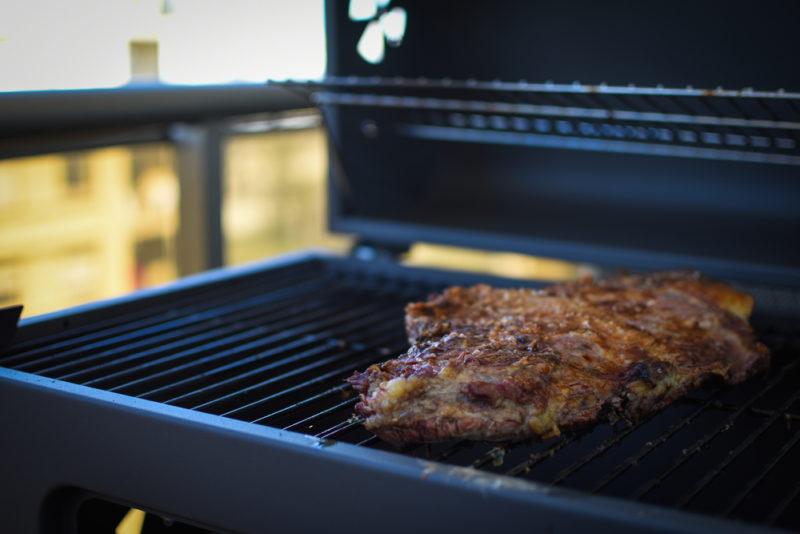 Cooking on your apartment balcony with a gas grill will let you enjoy your view of the outside while getting ready to eat some quality food. Learning about the pros and cons of having a gas grill will make it easier to make the right selection.
What are the benefits of using a gas grill as opposed to other types of grills? Compared to charcoal and electric grills, gas fueled grills tend to start up much faster and cook food quite evenly.
Grills that have a large surface area with high amounts of BTUs per hour will be able to cook a large quantity of food in a short period of time. Unlike grills that use wood or charcoal, gas grills will start almost instantly, though they can still take a little while to heat up.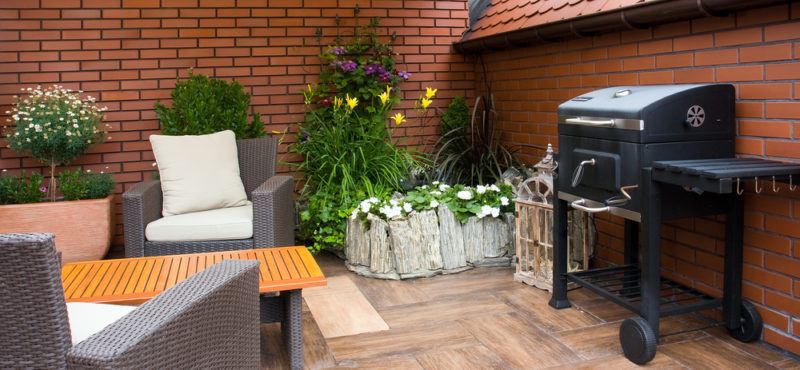 There will be a few instances where you won't be able to bring your grill into storage, resulting in you leaving it outside on the balcony. Depending on where you live, this can shorten the overall lifespan of the grill.
If this applies to you, it's important to make sure that your potential gas grill is made with durable material so that it can handle the rigors of being exposed to poor weather conditions such as rain or snow. Grills made with a stainless steel material such as the CGG-240 will be able to avoid rusting by any means, keeping your grill fresh.
Ease of storage, thus increasing lifespan of the grill is one reason why some folks choose electric grills for apartments. Another advantage of a gas grill is that some apartments will not allow an open flame on their balconies. In these situations, you'll need a gas-powered appliance.
Potential Issues With Gas Grills On A Balcony
While gas grills can do some great things on an apartment balcony, there are a few potential issues to consider when using these grills outside your living space.
The biggest danger to using a gas grill near your apartment is the release of carbon monoxide. This should encourage you to be very careful when using a propane-fueled grill and to make sure that it is shut off when you are finished using it. Carbon monoxide poisoning can be fatal for you and your family members and/or roommates, so it is crucial to always check the grill when turning it off.
Other issues that some people have with gas grills is that they doesn't directly aim the heat toward the meat on the grill like infrared grills. This is not a major issue, but can mean that it may take a few minutes longer to cook large quantities of food.
The issues discussed shouldn't keep you from getting a gas grill, as they do have their strengths, such as ease of use and affordability – which is part of the reason that they're the perfect addition to your apartment balcony!
Safety Tips For Using Your Gas Grill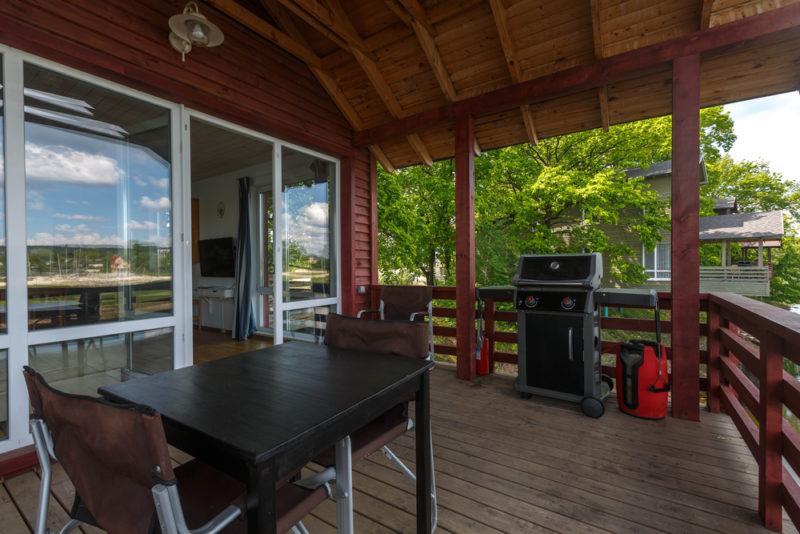 Before you rush out and buy one of the grills on this list, there are a few crucial safety tips to consider.
First, the grill shouldn't be too close to anything flammable. This includes deck rails and low hanging tree branches, as they can sometimes catch fire.
Be sure to check for any leakages before using the gas grill, even if you've used it recently.
You should also avoid using the grill if your apartment balcony is enclosed. This is crucial, as dangerous gases like carbon monoxide can accumulate.
Grilling is possible if the balcony has a canopy that's at least eight feet tall and is open on one or more sides. However, even here, it's best to stick with light grilling. Long and intense grilling sessions could still be dangerous and can also lead to smoke and cooking odors getting trapped in the canopy material.
Finally, you should always have a fire extinguisher handy or easy access to water (ideally both). This is crucial, as fires do happen, often when you least expect them.
Alternatives To Using A Gas Grill
Electric grills are the most obvious alternative to gas grills for cooking on a balcony. They get around many of these issues, including the release of dangerous gases.
An electric grill could even be your only option if the laws are strict in your local area. Of course, you'll still need to find a way to plug the grill in. The cord matters too, as this can easily become a tripping hazard.
While electric grills don't give you the same experience as using a propane or a gas grill, they're still much better than nothing. Plus, many of them can easily be used indoors and outdoors, giving you a great option if the weather isn't playing ball.