Offset barrel charcoal smokers are one of the most popular home-smoking cooking devices. Basically, they're horizontal barrels with a smoke box (known as the "firebox") attached. This holds the charcoal that you use for cooking.
An offset firebox lets you slow-cook with indirect heat, giving your meat a strong, smoky flavor. The slow cook also breaks down the meat fibers, creating that famous falling-off-the-bone tenderness.
Some readers may wonder why you might choose a charcoal smoker over a pellet smoker. Novice barbecue chefs may not notice the differences in flavor, but many grilling connoisseurs say that the thick charcoal smoke produces a better taste. To add extra flavors, you can burn different types of wood along with the briquettes.
Also, pellets can get pretty expensive. You need to burn more to get the same heat and temperature that you'd get with charcoal.
Top 5 Best Offset Charcoal Smokers
Char-Broil American Gourmet Offset Smoker
Dyna-Glo DGO1176BDC-D Vertical Offset Charcoal Smoker
Royal Gourmet Charcoal Grill with Offset Smoker
Char-Griller 1224 Smokin' Pro Charcoal Offset Smoker
Landmann USA Vista Barbecue Charcoal Grill with Offset Smoker
1. Char-Broil American Gourmet Offset Smoker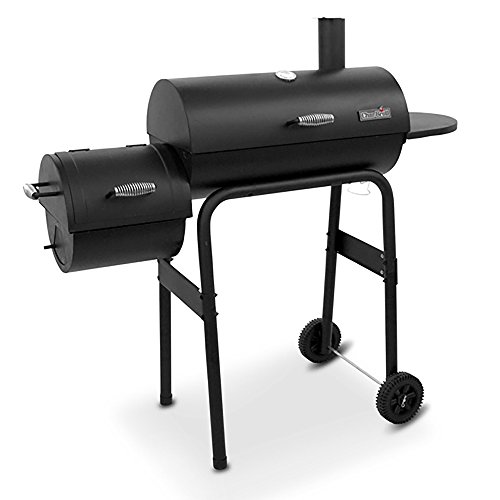 The Char-Broil American Gourmet is arguably the most popular offset charcoal smoker on the market today. This combination offset smoker, barbecue and charcoal grill comes with all the essentials you'll need for outdoor cooking.
This offset unit has a smoker attached to the grill on an angle. It gives you 430 square inches of cooking area: 290 sq.in. in the main chamber and 140 sq.in. in the firebox. Its adjustable steel fire grate lets you cook certain foods indirectly while you smoke and grill your cuts of meat.
The American Gourmet smoker has a clean-out door for ash removal. It also had a built-in adjustable damper to help with airflow control. The Char-Broil American Gourmet Offset Smoker provides exceptional value for its price, offering three different ways to cook your food.
Positives
Good Price

430 square inches of cooking space

Easy to clean
Negatives
Leaks from time to time

Has potential to rust
2. Dyna-Glo DGO1176BDC-D Vertical Offset Charcoal Smoker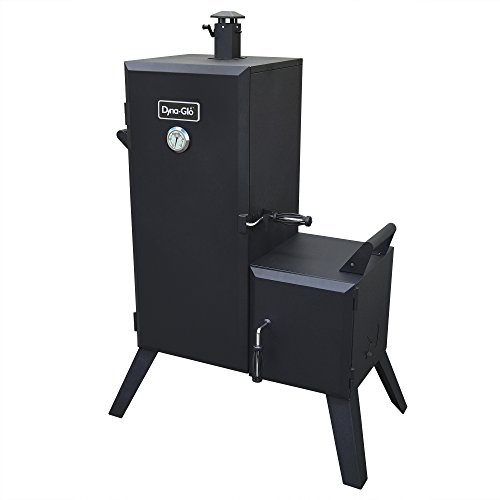 The Dyna-Glo Vertical Offset charcoal smoker's large cooking area lets you grill heaping portions of food. Made with heavy, porcelain-enameled, powder-coated steel, it's built to last a long time. Large carrying handles let you move the unit easily. Its offset design holds heat inside and applies smoke across all your food.
With 1,176 square inches of cooking area, the Dyna-Glo lets you cook virtually anything. It can smoke up to 150 pounds of food at one time. The temperature gauge on the door will help you keep the heat at the proper level. The height-adjustable cooking grates will allow you to use both direct and indirect heat on meat of any size.
Positives
A lot of cooking room

Heavy steel construction

Easy-to-read temperature gauge
Negatives
Some parts don't last long

Small frame
3. Royal Gourmet Charcoal Grill with Offset Smoker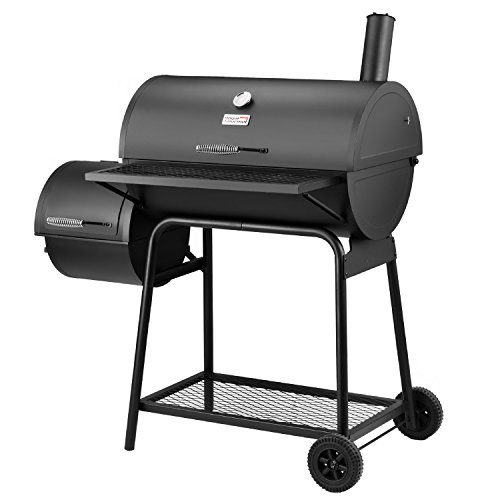 Royal Gourmet probably isn't the first name you'd think of when it comes to offset smokers (or any grilling device, for that matter). Nonetheless, this grill earns a spot on this list. Unlike other offset smokers, this one has a front table as well as a bottom shelf for storage.
This Royal Gourmet Charcoal Grill with Offset Smoker has 782 square inches of cooking space. It has porcelain steel cooking grates inside the main chamber and offset smoker as well as a chrome warming rack. The lifting handles let you adjust the charcoal's height and give you full control of the temperature at all times. The unit also has a removable charcoal pan, which lets you add charcoal when needed and dump the ashes when you're done. Two 6-inch wheels next to the storage space let you move the grill anywhere without straining yourself.
Positives
Side door makes it easy to add charcoal

Easy to clean

Convenient thermometer

Lifting handles enhance portability

Extra storage space underneath
Negatives
Smoke sometimes escapes

Durability is questionable
4. Char-Griller 1224 Smokin' Pro Charcoal Offset Smoker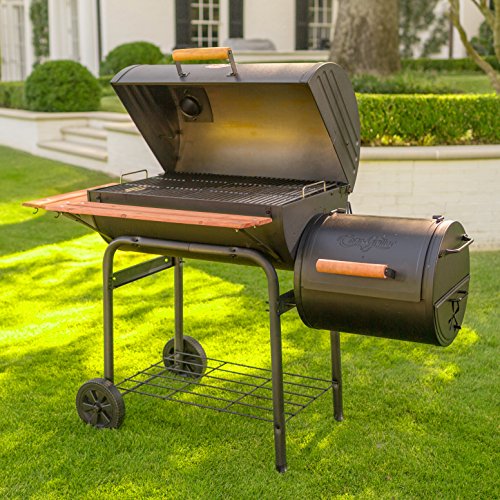 The 1224 Smokin' Pro offset charcoal smoker from Char-Griller has a cooking area of 830 square inches: 580 for the primary cooking area and 250 in the firebox. You'll be able to grill and smoke food in a wide range of sizes.
Not only does the Char-Griller 1224 have lots of cooking room, it gives you plenty of helpful features. It weighs 146 lbs., but two wheels on the bottom make it easy to move. Also, its removable drawers let you add charcoal for more heat and dump the ashes easily.
Positives
Easy to transport

Storage rack

Generous cooking space
Negatives
Durability is questionable

Assembly can become difficult
5. Landmann USA Vista Barbecue Charcoal Grill with Offset Smoker

This Landmann grill and offset charcoal smoker may surprise you too. It lets you smoke and grill food at the same time. If you want, you could have burgers, steaks, smoked fish and ribs at the same time.
It's easy to control the temperature on this unit, which lets you cook food properly. The Landmann smoker's easy-access charcoal grate has an adjustable dial that lets you turn temperature up or down. It won't take long to clean the unit either: You can just empty the ashes from the bottom rather than wipe down the entire grill.
The Landmann has a foldable bottom shelf and side shelf for preparing food. You can place extra food, seasonings and small bags of charcoal on them and still have room left over. Speaking of room, the smoker gives you 733 square inches to cook on, enabling you to cook a variety of your favorite meats simultaneously.
Positives
Easy to clean

Large wheels enhance portability

Plenty of room to cook with
Negatives
The Offset Charcoal Smoker Buying Guide
There are a few things to consider when buying an offset charcoal smoker. Let's start with durability. See how strong the legs of the smoker are and how thick the steel is. Charcoal smokers with thicker steel have a better chance of keeping temperatures stable and retaining heat. The ideal thickness of the steel is 1/4 inch–this allows the smoker to hold up under different weather conditions.
Next, think about mobility. While this isn't an absolute must, it comes in handy when you need to move these bulky hunks of heavy metal. Having large wheels on your smoker will make it much less of a pain to take it in and out of storage or to and from your friend's house.
A temperature gauge is another helpful feature. You don't want to keep opening the lid to check the temperature: You'll lose smoke and need to cook meat for longer. If you're having to open the lid every time you want to check the temperature, you're losing smoke and delaying the cooking time of your meats. The Dyna-Glo vertical offset charcoal smoker has an easy-to-see temperature gauge, which lets you keep heat inside and finish cooking faster.
Finally, come up with a realistic budget. Sure, the more you spend on a smoker, the more you're likely to get from it. What kind of financial commitment can you reasonably make, though? That's for you to decide.
About Offset Charcoal Smokers
Over time, the offset smoker has become more and more popular. They can produce smoked meats at a very high quality.
Offset smokers have two connected sections: A smoker and a firebox. The firebox is positioned lower than the larger container because it pushes the smoke onto the food. Unlike electric and gas grills, which let you control the temperature with a dial, smokers have exhaust vents and air openings. Also, they almost always have a chimney that lets excess smoke leave while providing more airflow.
What makes the offset smokers on this list unique are their fuel method. Food cooked over charcoal has a special smoky taste embraced by many grilling enthusiasts. Charcoal usually produces much hotter fires than gas or even wood can, although it also takes a while for the fuel to get hot.
Cleaning the offset charcoal smokers on this list won't be very difficult. They each have a designated door for adding loads of charcoal. You can also use the opening to dump ashes when you're done.
This type of smoker requires more attention than gas grills or even traditional charcoal grills do. It can take a lot of time and patience to build a stable fire: You'll need at least an hour to get an offset smoker ready for cooking. This can dissuade some people from buying these units. Still, it's hard to beat the taste that they deliver. If you're serious about cooking your meat, these five charcoal smokers are all solid options.