Offset barrel charcoal smokers are one of the most popular home-smoking cooking devices. These smokers are basically horizontal barrels that have a smoke box attached to them, known as the firebox, this is where the charcoal is burned to produce the smoke necessary for cooking. This will be the heart of your smoker; providing just the right temperature for cooking the perfect smoked brisket, rack of ribs, or even things like pies and cakes.
Why use an offset firebox? The indirect heat will slow-cook your meat, getting the most smoke possible, into the flesh for maximum flavor. The slow cook also means that it breaks down the meat fibers to produce the famous "fall off the bone" effect. Tender meat with full smoky flavor is what we're looking for here.
Why choose charcoal over a pellet smoker? For the novice barbecue chef, the differences in flavor will be negligible, but for experienced meat eaters, many say that the smoke produced by charcoal will be thicker and thus have more flavor to it. You can then burn a few chunks of your favorite type of wood to impart specific flavors on it.
Pellets can also get quite expensive, since you can use a whole back for just a single brisket! Charcoal is pretty cheap in comparison, and you can buy (or find) a few pieces of wood for a single smoking session.
When preparing the best rack of ribs or a pork shoulder, one must use a top of the line charcoal smoker so that these meats acquire flavors that can only be found from burning charcoal. Offset smokers will indirectly apply the heat from charcoal and get your cuts of meat cooked to the absolute highest quality. Offset charcoal smokers are your ideal cooking unit when it comes to smoking food outdoors.
Top 5 Best Offset Charcoal Smokers
Char-Broil American Gourmet Offset Smoker
Dyna-Glo DGO1176BDC-D Vertical Offset Charcoal Smoker
Royal Gourmet Charcoal Grill with Offset Smoker
Char-Griller 1224 Smokin' Pro Charcoal Offset Smoker
Landmann USA Vista Barbecue Charcoal Grill with Offset Smoker
1. Char-Broil American Gourmet Offset Smoker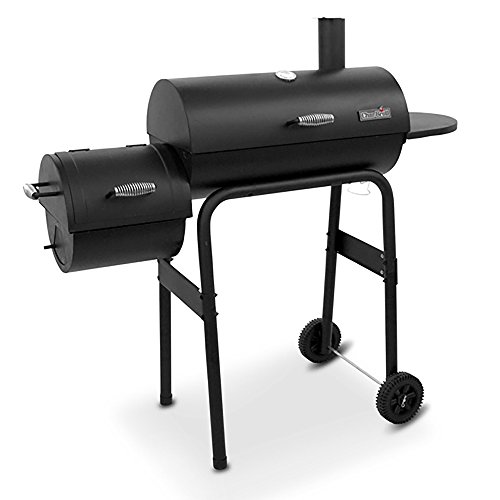 At #1 on the top 5 list, the Char-Broil American Gourmet is arguably the most popular offset charcoal smoker in the market currently. This combination offset smoker, barbecue, and charcoal grill is fully loaded with the essentials needed to cook outdoors. You'll notice right away that this is an offset unit because of the way the smoker is attached to the grill on an angle. With a total of 430 square inches of cooking area, you'll have 290 square inches available in the main chamber, as well as 140 square inches in the firebox area. The adjustable height steel fire grate will help you cook certain foods indirectly as you are smoking and grilling the rest of your meats.
There is also a clean out door that is used for ash removal when it starts to build up. Keeping the grill clean can be a pain at times, that's why it's convenient to have an offset smoker that makes the process easier. There is also the adjustable built in damper that will help with airflow control. If you want to consider price, you'll soon realize that the Char-Broil American Gourmet Offset Smoker provides exceptional value as it offers about three different ways to cook your food.
Positives
Fair Price

430 total square inches of cooking space

Easy to clean
Negatives
Leaks from time to time

Has potential to rust
2. Dyna-Glo DGO1176BDC-D Vertical Offset Charcoal Smoker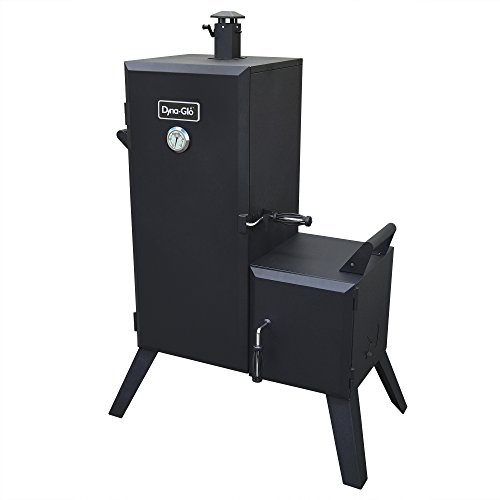 The Dyna-Glo Vertical Offset charcoal smoker is the ideal offset smoker with a surplus of cooking area that can grill high volumes of food. This Dyna-Glo offset smoker is made with a heavy, porcelain-enameled steel that is expected to last a long time. The powder-coat finish displays long term durability. When it's time to move the smoker, you'll be able to find heavy carrying handles that will help you move the unit easily. With the offset design, heat will stay down and applies the smoke across all the food within the smoker.
In total, there is 1,176 square inches of cooking area available so that you can cook virtually anything. This offset charcoal smoker can smoke up to 150 pounds of food at one time so that you can feed friends and family all in one shot. With such a high amount of food to work with, it's best to monitor the temperature so that everything cooks properly. The temperature gauge on the door of the smoker will help you monitor the smoker temperature without any issues. Don't forget about the height-adjustable cooking grates. These grates will allow to you use both direct and indirect cooking no matter how big or small the cut of meat is.
Positives
A lot of cooking room

Heavy steel construction

Easy to read temperature gauge
Negatives
Some parts don't last long

Small frame
3. Royal Gourmet Charcoal Grill with Offset Smoker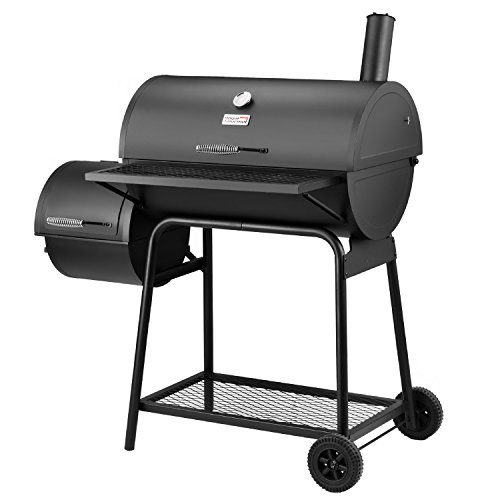 It's more likely than not that the Royal Gourmet brand isn't the first name you think of when you are visualizing an offset smoker, or any grilling device for that matter. After looking at this grill, the Royal Gourmet Charcoal offset smoker will be in the running for sure when you're out and ready to make a purchase. Unlike a select type of offset smoker in the market, the Royal Gourmet charcoal offset smoker has a front table as well as a bottom shelf for much needed storage. Whether it's condiments, a bag of charcoal, or just uncooked meats, this amount of storage will be extremely helpful for any griller.
This Royal Gourmet charcoal offset smoker has a total of 782 square inches to cook with. This cooking surface consists of porcelain steel cooking grates within the main chamber and the offset smoker, as well as a chrome warming rack! The lifting handles will be able to adjust the charcoal's height so that you'll be able to have full control of the temperature at all times. In addition, there is a removable charcoal pan that helps you add charcoal when needed and lets you dump the ashes when you're finally finished. Luckily for those who like to move the grill around often, there are two 6 inch wheels right next to the storage space so you can move the offset smoker anywhere you'd like without straining yourself.
Positives
Side door makes it easy to add charcoal

Easy to clean

Convenient thermometer

Lifting handles enhance portability

Extra storage space underneath
Negatives
Smoke sometimes escapes

Durability is questionable
4. Char-Griller 1224 Smokin' Pro Charcoal Offset Smoker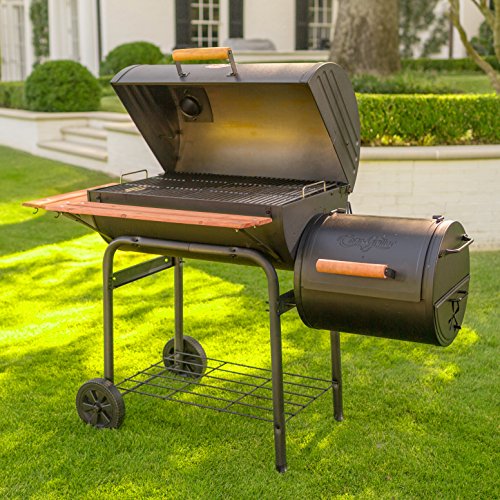 Of course Char-Griller had to be in the conversation! The 1224 Smokin' Pro offset charcoal smoker made the list at #4 thanks to its useful features. When preparing to cook, you'll quickly notice the overall area you have to cook. The primary cooking area is measured at about 580 square inches, whereas the side fire box is 250 square inches. With a total of 830 square inches, there possibilities are endless when it comes to the variety of food you can grill and smoke at once. Not only does this offset charcoal smoker have plenty of cooking room, but it also gives you the tools needed to haul the offset smoker around with you. There are two wheels that make it very easy to move the Char-Griller 1224 when on an angle. Those who like to grill on the move will be satisfied with this feature, although the offset smoker is naturally large in size at a weight of 146 pounds.
Access to the heating source will be as easy as it gets. There are removable charcoal drawers within the Char-Griller 1224 that allow you to add charcoal for more heat and dump the ashes when all's said and done. Between a large amount of cook area, an easy to clean process, and wheels used to move the grill around, considering the Char-Griller 1224 is a no-brainer.
Positives
Easy to transport

Storage rack

Generous cooking space
Negatives
Durability is questionable

Assembly can become difficult
5. Landmann USA Vista Barbecue Charcoal Grill with Offset Smoker
Another brand that typically goes under the radar, this Landmann offset charcoal smoker will surprise you. With the ability to smoke food and grill at the same time, having burgers and steaks with smoked fish and ribs couldn't be easier. Another factor that is extremely easy is controlling the temperature. This is very important because the overall temperature emitted by the offset smoker will reflect how your food is cooked. The easy-access charcoal grate has a dial on it that can be adjusted and in result the temperature can go up and down depending on your desire. The cleaning process won't take very long either, as you can empty the ashes from the bottom instead of wiping down the entire grill clean.
Food preparation will be at your convenience with the foldable bottom shelf and side shelf. With these shelves, you can place extra food, seasonings, and small bags of charcoal in the area and not worry about running out of room. Speaking of running out of room, you'll never hear this term thanks to the large cooking area provided. The Landmann USA Vista offset charcoal smoker offers 733 square inches to cook with, so you'll be able to cook a variety of your favorite meats at once.
Positives
Easy to clean

Large wheels enhance portability

Plenty of room to cook with
Negatives
The Offset Charcoal Smoker Buying Guide
So, it's finally time to buy your offset charcoal smoker? You must be wondering what features you'll need to focus on the most. If you haven't realized by now, offset charcoal smokers are generally best for those who want to cook their food in a variety of ways while still having that consistent smoke taste. The following features should make or break your final decision when buying an offset charcoal smoker:
Let's start with durability. You should question how strong the legs of the smoker are, as well as the thickness of the steel. Offset charcoal smokers that feature thick steel have a better chance of creating stable temperatures and retaining heat. The ideal measurement of your smoker's metal should be about ¼ inch because it is way less likely to be bothered by rigorous weather conditions. How are the doors moving? Can they take a beating? These are the questions to ask yourself so that you truly know that your offset smoker can take a beating.
Next, think about mobility. While this isn't an absolute must, it does help tremendously when using these offset smokers made with heavy steel. Having large wheels on your smoker will make it much easier to take from one point to another, whether you're headed to storage or a friend's house.
What about a temperature gauge? If you're having to open the lid every time you want to check the temperature, you're losing smoke and delaying the cooking time of your meats. You need to find the brand that will provide you with the temperature at a convenient location, like the Dyna-Glo vertical offset charcoal smoker. Find a designated place to put your smoker before buying it so you know you have enough room, otherwise you'll be moving it around aimlessly throughout your backyard.
Finally, come up with a realistic budget. Sure, just like most products, the more you spend on it the more you're likely to get out of it, but can you make that financial commitment? This is for you to decide and a very important factor to consider before buying the best offset charcoal smoker for you.
About Offset Charcoal Smokers
As time has progressed, the offset smoker has become more and more popular. These smokers are very capable of producing smoked meats that are cooked at a high level. Here are the ins and outs of offset charcoal smokers:
Let's get back to the basics. What is an offset smoker? After all, the name isn't necessarily obvious. Offset smokers are two cooking units that are aligned right next to each other, with the smoker, typically called the firebox, on a lower angle. The firebox is positioned lower than the larger container because it is supposed to push the smoke onto the food there before exiting. There are exhaust vents and air openings that are used to control the temperature, compared to an electric or gas grill that typically has dials to maintain an accurate temperature in fahrenheit. There is almost always a chimney that is used as a way to let excess smoke leave while providing more airflow.
What makes the offset smokers in this top 5 list different is their fuel method. Food cooked over charcoal is known to have a unique smoke taste to it, a taste that many grilling enthusiasts truly embrace.  Charcoal usually heats up at much higher temperatures compared to gas or even wood, although it also takes a while for the fuel to get hot. Offset smokers have been known to have multiple shelves used to house a variety of different meats, from ribs, to brisket to chicken and steaks.
Cleaning offset charcoal smokers won't be very difficult with the units on this list. They each have a designated door that can be used to maintain the bunches of charcoal. This opening is also used to dump ashes that are a result of burning coals.
The biggest cons to using an offset charcoal smoker is that you'll probably have to tend to the grill more often than you would with gas grills, or even traditional charcoal grills. Building a stable fire will take a lot of time and patience. You'll need to start the offset smoker at least an hour prior to cooking your meats. This will be enough time to maintain a consistent temperature that will allow your food to cook to the fullest. While this isn't the ideal process of starting a grill, it will be worth it when you get to taste the unique taste of smoke within your food. Some people use a meat thermometer to make sure that their food is cooked properly, although this isn't required.
If you want a durable long lasting offset charcoal smoker, you're gonna to need something made with heavy steel. Needless to say, the offset charcoal smoker will be extremely heavy. Luckily for those who are frequently on the go, most, if not all of the offset charcoal smokers on the list have large wheels that can be used to move the smoker around without much effort. Whether you're lugging the smoker across the backyard or taking it to the park, you won't have to potentially strain your back because you're trying to pick up a unit weighing over 100 pounds.