The idea of cooking your own pizza has really taken off and, why not? After all, making your own food is always better, especially as you can control the flavor and the ingredients. Personally, I can't imagine a more appealing idea, especially for anybody who is passionate about cooking. But, even if you're not much of a foodie, making pizza in your own backyard doesn't have to be difficult and it can be very fun.
As popularity for home cooked pizza has grown, so too have the options for making it. Right now, there are probably hundreds of different pizza ovens on the market, all of which offer their own advantages for making your own pizzas. Many of these are extremely practical and are easy to afford, even on a limited budget.
In this list, we're focusing on one specific way to cook pizza, which is with propane pizza ovens for your backyard. This type of pizza oven is often a great choice because the models tend to be very portable, allowing you to take them with you if you move to a new house or if you want to cook pizza while tailgating or camping.
More than that, propane pizza ovens are simply a great entry point because they're so much less expensive than wood fire alternatives. Plus, they take up less space overall, so what's not to love?
Cuisinart Portable Pizza Oven

One interesting pizza oven option is this model from Cuisinart. In many ways, it looks like an indoor product but it is actually designed to work outdoors. The pizza oven includes a 13-inch pizza stone, along with a 12-inch pizza peel (metal). There is also a warming drawer and a smoker cup. Of those two components, the smoker cup is particularly interesting, as it lets you get a similar flavor to that of wood fire cooking, even though you're not actually burning wood.
The style of this pizza oven also makes it very convenient, especially as it has handles that make it easy to carry. There is also a stand that you can get which folds up and down. That addition would be great if you don't have a countertop in your backyard or if your counters are simply at the wrong height.
= = > Get The Cuisinart Portable Pizza Oven Here
Pizzacraft PizzaQue Outdoor Pizza Oven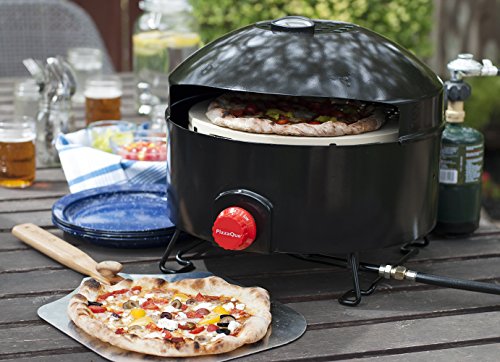 This is one of the best entry level propane pizza ovens, simply because of the price. The pizza oven is less expensive than most other models on the market but it still performs exceptionally well and gets good reviews.
The pizza oven heats up in around 15 minutes, taking roughly 6 minutes to cook a pizza. Those times would vary somewhat depending on the outdoor temperature and what you're cooking but they do offer a rough indication. There is also a separate leg kit that you can buy, which can make the pizza oven freestanding.
= = > Get The Pizzacraft PizzaQue Here
Pizzacraft Pizzeria Pronto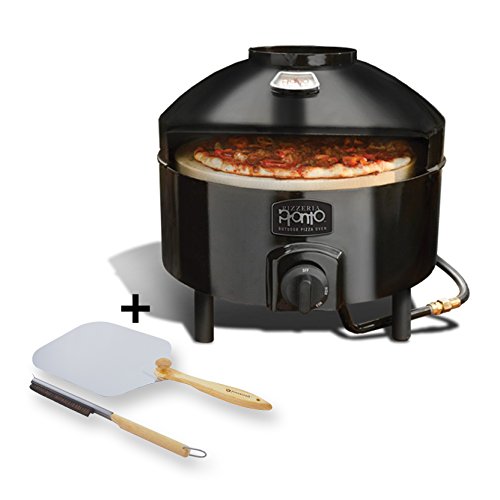 The Pronto is Pizzacraft's other main pizza oven and it has most of the same advantages. In particular, it is a simple to use pizza oven that is easy to transport. However, this product is also more powerful, allowing it to preheat faster and cook pizzas more efficiently.
You can buy a leg kit with this model as well, in addition to a side table. Those options can work well if you want something a little more permanent in your backyard. Although, simply using this as a countertop model works well too, especially if you plan to move it around often.
Both models allow you to cook 12-inch pizzas. That size should be enough for most situations and it is fairly similar to what other companies and products offer. Additionally, you are cooking pizzas very quickly, so you can easily serve a group of people.
= = > Get The Pizzacraft Pronto Here
Camp Chef Artisan Pizza Oven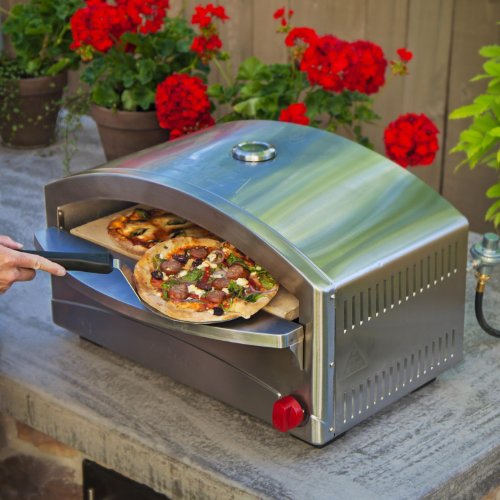 Unlike the Pizzacraft models, the Camp Chef pizza oven is a rectangular shape and is also a little larger overall. The maximum pizza size is still around 12 inches with this model but the style does offer more flexibility. In particular, the product has a rectangular pizza stone and gives you the ability to cook two pizzas at once.
The information on Amazon suggests that you can easily make two 10-inch pizzas at the same time with it – or two wider oval pizzas. This aspect is one reason to seriously consider this model, even though the Camp Chef brand doesn't specialize in pizzas. Additionally, the pizza oven does tend to get good reviews overall, so it's clear that it performs well.
= = > Get The Camp Chef Pizza Oven Here
Mont Alpi Table Top Pizza Oven
This is another pizza oven option and it is slightly different again. The item is still a propane pizza oven and it sits on the countertop. However, in this case, the oven itself is significantly bigger than most similar products. The shape is also more similar to a traditional pizza oven, which can be an advantage. For one thing, the shape makes it easier to cook other foods, like bread, as you don't have a low ceiling to worry about.
Despite this, there are some disadvantages to the style as well. The first is simply that you don't get to make larger pizzas. This is because you end up with a fairly large oven that still contains a 12-inch pizza stone. The size of the door also makes it impossible to get a significantly larger stone in there.
At the same time, the height of the oven can cause problems with heating. Often this means that the top of the pizza doesn't crisp fast enough because there is so much excess space. As a result, you may find this less effective for pizzas than other models.
Whether or not it works for you would strongly depend on your needs. If you want the best pizza oven possible, this model probably isn't the answer. But, if you're also interested in cooking other types of food (like bread) as well, then this product is more versatile than most.
Mr. Pizza Pizza Oven

While we're talking about slightly unusual pizza ovens, here's another one. In this case, the model has two separate functions, acting as a pizza oven and also as a grill. Basically, the top of the pizza oven flips back when you want to grill. The concept sounds like it should work well, although there aren't enough reviews to know what this looks like in practice.
More than anything, this design might work well for a small backyard (or balcony), where you don't have the space for a grill and a pizza oven. As with most of the other models, there is also the potential to buy a stand to go with it, which allows the pizza oven to be freestanding.
While this isn't my personal favorite option, it's easy to see how the model could work really well for some people and situations.
= = > Get The Mr. Pizza Pizza Oven Here
Blackstone Pizza Oven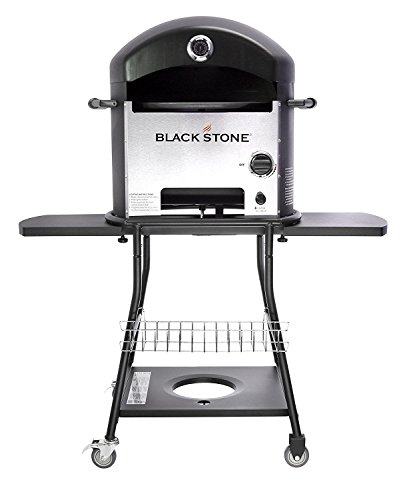 As you may have noticed, many of the propane pizza ovens are designed for the countertop – and you have to pay more if you want any type of stand. That style might be great if you have a table or counter in your backyard but it doesn't work so well for people who don't. This Blackstone Pizza Oven is one alternative, as it is designed to be a standalone product.
Unlike the products that have a leg kit or stand, this product is entirely one item, making it sturdier overall. At the same time, the design results in a stand that supports the gas bottle, while having side platforms and a basket. This style would make it more practical, especially as you can move the pizza oven and gas bottle at the same time.
Another interesting thing is the turntable. The pizza stone with this model is designed to rotate, helping your pizza to cook evenly. This means that you don't have to try and turn the pizza half way through cooking.
Finally, the pizza oven is larger than most other propane options. It allows you to cook up to 16-inch pizzas, while other products typically go up to 12 inches or 13 inches at the most. If you're feeding a large crowd, that difference in pizza size could have a significant impact.
= = > Get The Blackstone Pizza Oven Here
Final Thoughts
From these items alone, it's clear that there is no shortage of choice when it comes to pizza ovens. And realistically, this list barely scratches the surface. In fact, there are 5 different types of outdoor pizza oven that you can use and propane pizza ovens are just a subset of one of those types.
Still, all of the products on this list do make great pizza and they are also fairly portable. This makes them easy to use at home or on the go, even if you don't have much space available.
And, if nothing else, these options are a ton cheaper than an actual wood fire pizza oven.