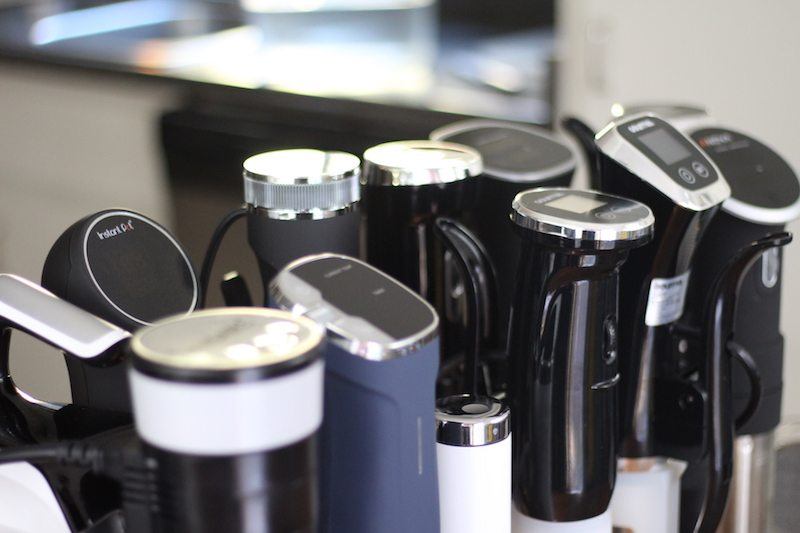 One of the most important decisions that you have to make for sous vide cooking is which immersion circulator to get. Now, for the most part, any immersion circulator will do "well enough" but if you're going to spend money, you want to get the best immersion circulator you can for your money.
Here are my top pics!
Best Immersion Circulators
ChefSteps Joule
Anova Precision
Gourmia GSV140
Kitchen Gizmo
GourmiaGSV130
I'll link to each of their individual reviews, plus include links to current pricing on this page. Beyond these 5 top choices, there are many different models to choose from and there can be significant differences between them.
Criteria For Best Immersion Circulators
Price
Function & Performance
Noise Level
Design
Extra Features (apps, cookbooks, etc)
For example, some immersion circulators have more powerful motors, while others may be able to keep in a narrower temperature range. There are also brands like PolyScience, which tend to be incredibly expensive and tend to be targeted at commercial users and enthusiasts. Some have a great design but a loud motor, and some come with WiFi connectivity.
So, with all of these different options, how do you choose?
Well, that's where I come in. I've personally tested 13 different immersion circulators, which you can read all about in the reviews across this site. Through my experiences, I've learned which truly are the best immersion circulators for home use and which ones are just a waste of money.
In this post, we're taking a look at my top 5 picks. These are immersion circulators that stand out from the crowd as "best" in at least one way, and are worth the investment. They are also in order, starting from my #1 choice.
Top 5 Immersion Circulators
Which model works best for you is going to partly depend on the specifics of what you need. Some sous vide cookers may be better for your situation than others.
So, let's take a look at what immersion circulators are worth your money. All of these are models that I have personally tested and they stand out above the competition.
1. ChefSteps Joule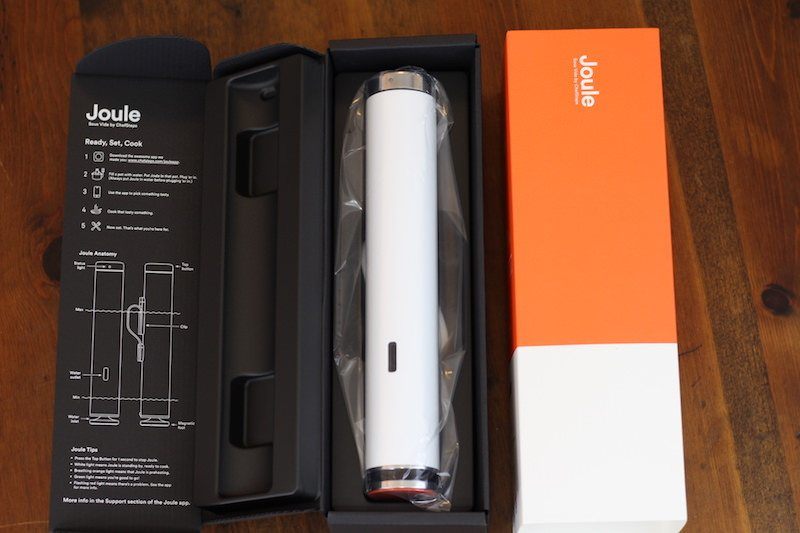 The ChefSteps Joule is an example of a company specializing in one type of device and doing so extremely well. Visually, the immersion circulator looks non-tradition compared to other sous vide machines. It is smaller, lighter, and looks more like an Apple product than a cooking device.
In fact, you might choose this model for appearance alone!
But, despite the size, this is also one of the most powerful circulators that I've used. In terms of specs, the Joule offers an 1100-watt heating element and is effective for up to 10 gallons of water. It has a temperature accuracy of 0.2°F (0.1°C). That accuracy is pretty standard among immersion circulators and would be about right for most uses.
The power of the Joule is nice and the machine itself consistently performs well. It also has the advantage of being quieter than most other models. That is another useful selling point because the noise of immersion circulators can sometimes be annoying, especially in a quiet house.
The Sous Vide App That Simple Rocks!
The Joule has wifi functionality. This allows you to control the device remotely via an app. The app is not only easy to use, it's frequently updated, and actually works. Surprisingly, many of the wifi-enabled sous vide devices I tried have not put much effort into creating a good user experience in their apps.
For example, recipes are often from users and contain inaccuracies, or there are inconsistencies in recommended cook time or measurement units.
ChefSteps does a great job of making both the app and the device easy to use. There is also plenty of guidance for beginners, including information on the cooking time and temperature for various types of food. This approach makes the immersion circulator useful for both beginners and experts. In fact, I still rely heavily on the app, even though my sous vide skills have improved over time.
Two Potential Issues With Joule
One problem to consider is that you must use the app to use the Joule. Most other app-enabled devices have a manual function, but Joule does not.
One other issue is the clamp on the immersion circulator itself. It functions basically like a paper clip, and it's a little tough to pry open. You may prefer the screw-style of the Anova shown below.
The good news is that it comes with a magnetic bottom, so you can have it free-stand in a metal pot if need be (this is another unique feature of this sous vide cooker!)
2. Anova Precision (Gen 2)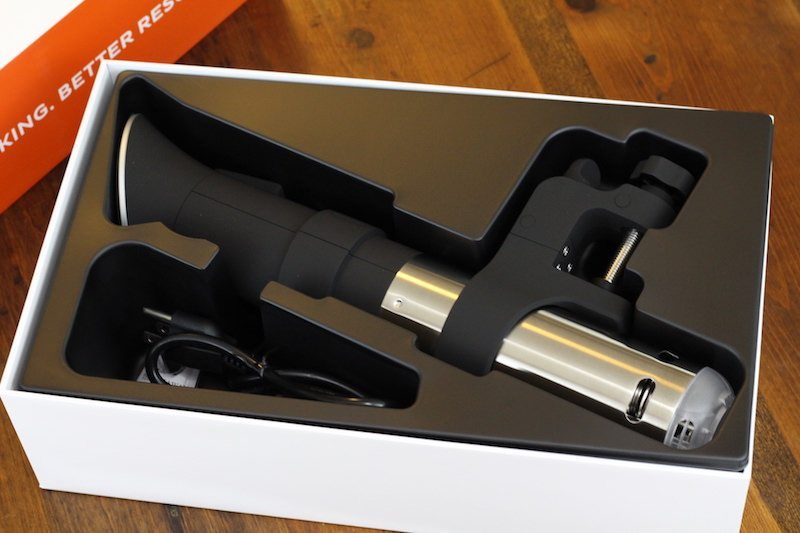 The Gen 2 Anova Precision is another exceptionally good choice for an immersion circulator. This is also a wifi-enabled device, although the overall style is more traditional than the ChefSteps Joule.
There is also considerable hype surrounding the circulator. For example, it has more than 1,600 reviews on Amazon and the vast majority of those are positive.
As with the previous model, the temperature accuracy is 0.2°F (0.1°C). However, the Anova Precision does have a heading element of 900 watts, versus 1100 for the Joule. The difference in heating element may mean that the Anova Precision isn't as powerful.
(In 2018 they released a new model, Anova NANO which is slightly smaller and slightly less powerful. I have it, but haven't even fired it up yet. After multiple delays in production and more than a year of waiting, I've settled in to using the Joule.)
For example, I found that it took much longer to heat the water through initially. However, the significance of this would depend on how much food you were cooking at a time and what the recipe was. In my case, I was making eggs, so I ended up having to wait much longer than I wanted to.
But, if you were cooking something that took 8 hours or more, the difference in time to initially heat the water wouldn't really matter.
As a wifi-enabled product, this immersion circulator lets you control the device remotely and it will give you notifications on your phone if you want them as well. However, the associated app isn't the best.
In particular, the app is confusing to use and much of the information comes from the community, rather than from the company. Likewise, there simply wasn't as much information as I would have liked. Personally, I prefer recipes and guides from experts as these are much more reliable and I feel that I can trust them more. After all, many members of the community are beginners.
Still, the app does work and it would be useful for many people. Besides, you could always rely on that for controlling the device and use another app for recipes and information.
Compared to the Joule, one key advantage of this model is the price. Both are still relatively expensive but the Anova Precision is around $40 cheaper. As they both have roughly the same functionality, some people may prefer to go with the less expensive option.
3. Gourmia GSV140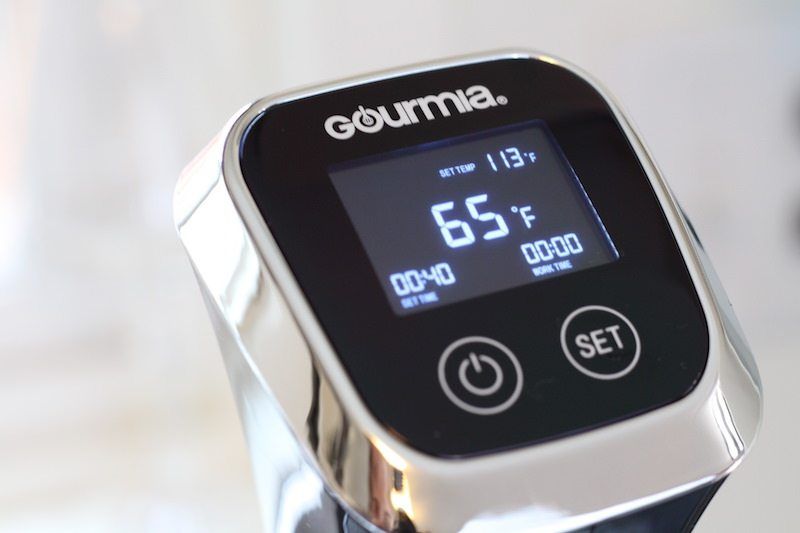 The ability to use wifi to control your device is extremely appealing but it won't suit everybody. And, if this doesn't interest you, then why not pick a model that doesn't have that functionality?
One particularly powerful alternative is the Gourmia GSV140 and this is probably the best pick for anybody who doesn't need remote control of their device. Now, this isn't the cheapest immersion circulator on the market but most lower priced ones simply aren't any good.
In contrast, the Gourmia GSV140 is a great balance of price and functionality, while also looking good and working effectively. In fact, the model is my favorite non-wifi immersion circulator, which should tell you just how much the product has to offer.
The power output of the device is 1200 watts, with an estimated 2.1 gallon per minute circulation. As with the ChefSteps Joule, the model is designed to go up to 10 gallons. It also has the standard 0.2°F (0.1°C) temperature accuracy.
There are a few little extra features with the device that make it easier to use and you can read about those in the full review. But, in general, the advantage is simply that this is a more powerful and effective immersion circulator than competing models in the same price range.
*Note: Available colors may vary. I bought black, but currently they have metallic blue, white, and silver available
4. Kitchen Gizmo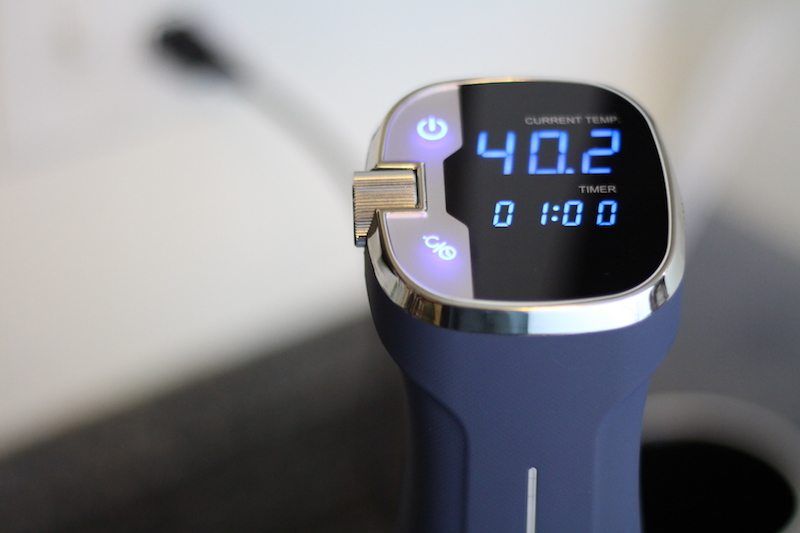 Kitchen Gizmo is a fairly obscure brand that doesn't have many other products. But, that doesn't stop this from being an interesting choice for an immersion circulator.
The key reason for recommending this model is simply the design. Most immersion circulators tend to look fairly similar to one another, typically black and industrial. But, the option from Kitchen Gizmo is more visually appealing than others and there are even multiple colors to choose from.
As for performance, the immersion circulator is fairly similar to other devices in the same price range. It does also have the standard 0.2°F (0.1°C) precision and the pump circulates at around 2.1 gallons per minute.
In terms of specs, the main limitation is that the power is just 800 watts, which is lower than every other item in this list. Additionally, the design doesn't work well for shallow vessels, although it does have a flat bottom, so you could stand it up rather than using side clamps.
Still, as I mentioned earlier, a lower power isn't always going to have a dramatic effect. This is particularly true if you tend to use a relatively small container of water or if you are only cooking for one or two people.
My own experience of the device was largely positive and it is certainly a good one to consider. While this isn't my favorite immersion circulator, the product is better than most. It may also be an interesting choice if the appearance of the device matters to you.
Finally, this is an inexpensive option and that may be another reason to go for this particular device. After all, if you don't want extra features, a product like this may be all that you need.
(note: Some color models are being sold at a deep discount!)
5. Gourmia GSV130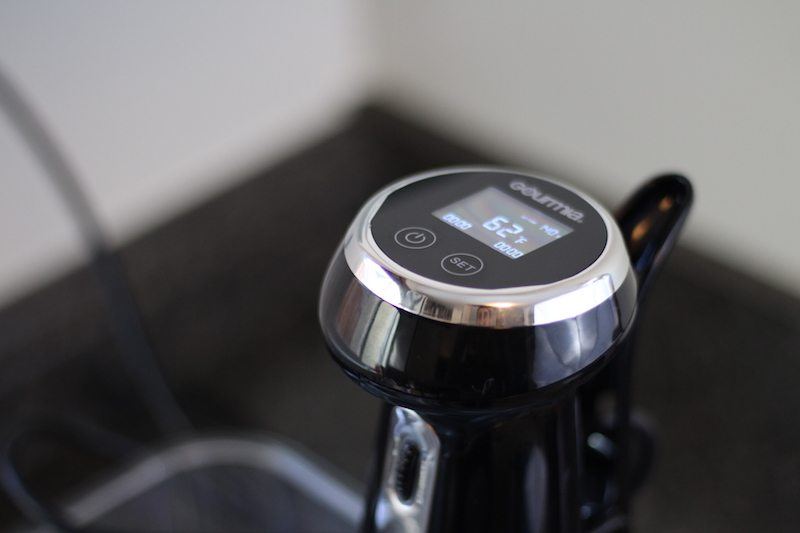 As the name may suggest, the Gourmia GSV130 is fairly similar to the GSV140 from before. This model is basically a step down from the GSV140 and is an older model overall. The visual style is a little different as well, although that isn't likely to make a major difference to cooking.
The differences between the various models from Gourmia aren't dramatic. In particular, the GSV130 still has the same 1200 watts of power, although it is only effective for up to 5 gallons of water (versus 10 gallons for the GSV140). The motor isn't as strong and the pump circulation is only 1.5 gallons per minute. But, the difference wouldn't even be noticeable for smaller containers of water.
However, because this is an older model, the price tends to be lower than the GSV140. There is variation over time in both cases (as there is for most products). But, generally speaking, you're likely to be able to get the GSV130 for a lower price and discounts are more common for this model as well.
The price difference alone may be a reason to consider this immersion circulator, especially if you do find a good discount on it.
Final Thoughts
Have you tried any of the immersion circulators above? Even two years after writing this review, my rankings and thoughts are still the same! In my opinion, the Joule is simply the best immersion circulator across the board, in all categories.