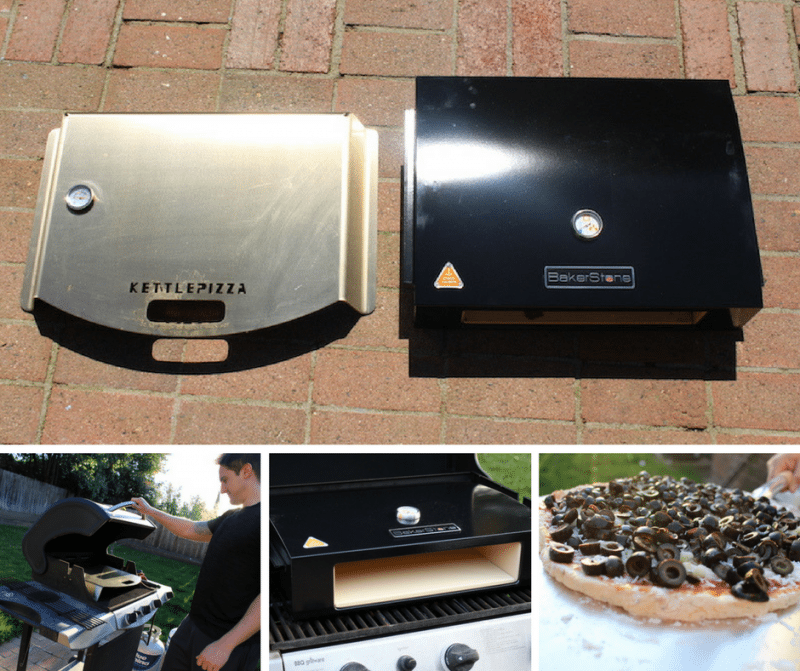 It's March, and I've already got grilling on the brain. Out here in California I also grill during the winter, just because I can, but it's not until Spring and Summer until it really starts to get enjoyable. That's when you can hang out by the barbecue and just enjoy the weather, along with friends, family, and a good beer. And did you know that you can grill pizza on a gas barbecue?
Sure, you've seen the wood-fired ovens. You can build one in your backyard if you have the space, time, and engineering knowledge. Or you can buy one for $6,000. No thanks.
The good news is that without those things you can still have your own outdoor pizza oven with a regular gas grill and either a BakerStone or KettlePizza accessory. They produce the same effect, but are pretty different products. So I bought both the BakerStone and the KettlePizza, and tried them on my grill to see what the results were.
Bakerstone VS KettlePizza
In this review I'm going to do a mini-review of each of these pizza-making product, then compare their attributes (size, weight, features), my personal cooking experience with each, as well as talk a bit about the pizza that was produced.
Spoiler: they are both good products. Which one you end up buying will depend on what features you think are most important. I'll talk about that at the end of the article.
Note: I own a standard 3-burner gas grill, and both of these devices fit perfectly for this type of grill. They will also work on larger grills. It would be very cool to cook pizzas on one side and something else on the other side!
BakerStone Pizza Oven Review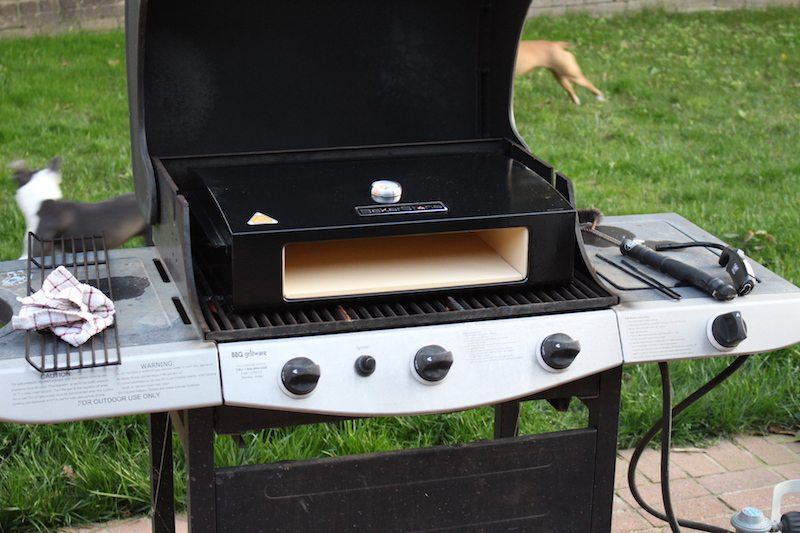 BakerStone makes a beautiful product. The Pizza Oven Box has a very "finished", i.e. sleek design that makes it look like a serious piece of outdoor pizza cooking equipment. I was actually surprised that it only costs a little more than a hundred dollars, since it looks like it might cost more than a couple hundred. Compared to outdoor brick pizza ovens or even gas pizza ovens that cost upwards of $1,000, that's a pretty good price.
Getting Started With BakerStone Pizza Oven Box
Unfortunately, this product requires some assembly. It's easy enough to put together, but it did take me about 20 minutes. I was very concerned about breaking the pizza stones, since you can't buy replacement stones in this shape, and you can't get a refund on stuff you break…even if it is an accident!
I also put some parts on backwards the first time around, so had to redo it. In the assembly process, I learned that there's a small space in the back of the box. I assume this is for air flow, but it also makes scraping out lost toppings or burnt stuff stuck to the pizza stone.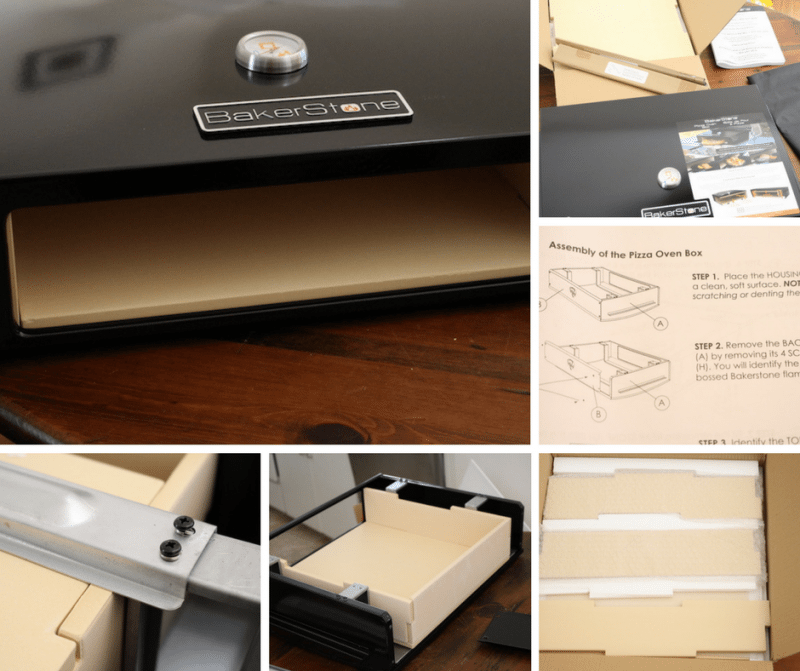 Making Pizza With BakerStone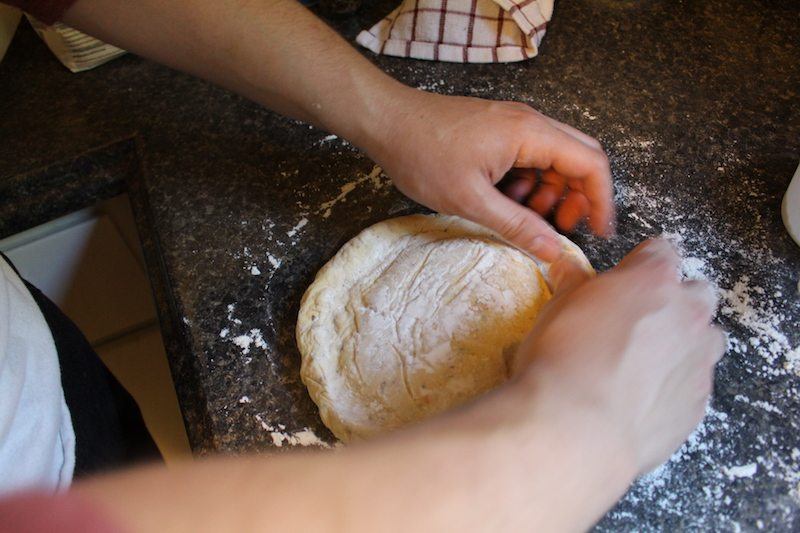 There are upsides and downsides to the design of the Pizza Oven Box. Its closed design means that there's no wiggle room. You can't lift the lid, or move the stone, or shake your peel very much to slide the pizza in the oven. You've got to get the pizza in and out with a relatively flat angle to your peel. That means you need plenty of flour on your dough and on the peel to ensure it doesn't stick. Even then, you need a pretty strong forward motion to get the pizza in there.
My girlfriend loves olives, and I load her pizza with them. I'm not even kidding. Check out the pizza I made with her instructions: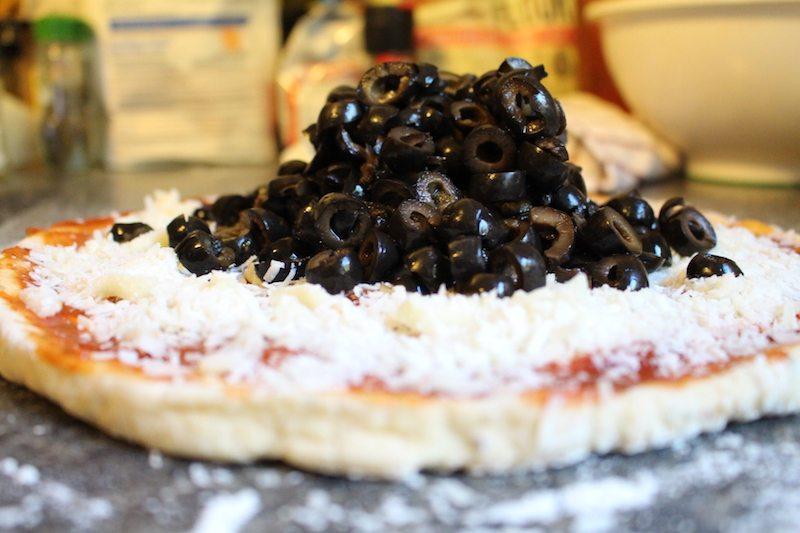 Of course I spread the olives out after the photo, but I just wanted to capture how crazy it was to show you guys. Anyway, the trouble was that with such a forceful forward motion from the peel a few of the olives flew off the pizza into the box or into the barbecue.
It's not a big deal, but if you plan on loading up your pizzas with a ton of loose ingredients like meatballs, capers, or pepperoncini peppers maybe cover them with some cheese to weight them down. Just a thought.
That was the downside. The upside of the design is that it's got a pretty wide mouth, so you can very easily get your pizza peel in and out, even with a loaded pizza. I found that the KettlePizza gas is pretty low, so that "mega supreme" pizza you've been thinking about making might not fit.
The wide mouth to the BakerStone box also means it's possible to bake other things like bread, or even meats and veggies as long as they're in a separate container. I'm not sure why you would want to do that when you could just use an oven or grill them, but the possibility is there. The main appeal of this device is definitely making pizza, so I wouldn't worry too much about trying to cook other things with this.
Cleaning Your Pizza Oven Box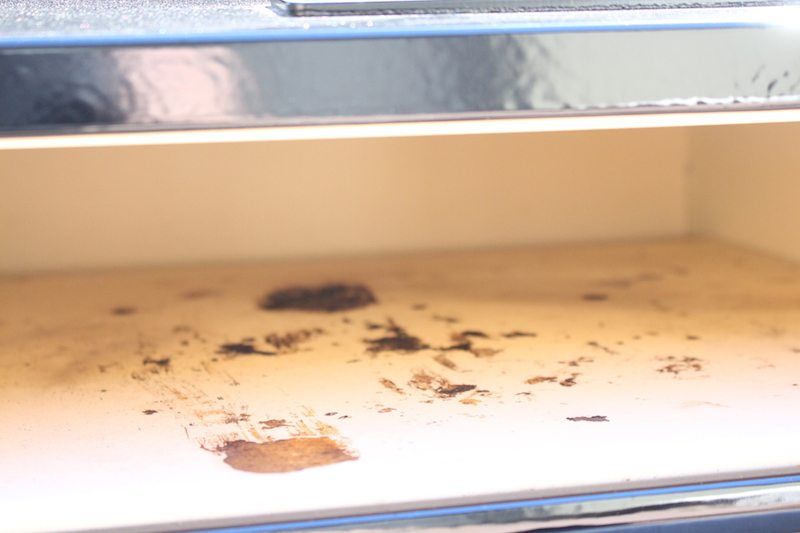 Pizza stones are meant to get dirty. There's going to be burnt flour, lost pizza toppings, and bubbled-over cheese that gets baked right onto your stone at 700 degrees. It's not coming off. Most of the time you can just get a metal scraper and scrape off the burnt-y stuff. Next time around, your pizza will taste just as good. In fact, it probably adds character to your outdoor pizza oven!
But cleaning the BakerStone box is a little difficult. Because there's no lid to lift off, and you need to unscrew the back to disassemble the device, cleaning means reaching your hand into the box to scrape off the junk. Of course, you should only do this when the box is COLD. But still, you need the right type of scraping tool, at the right angle to get the really gunky stuff. It's just hard to do, if not impossible as you can see from the cheese and black blob in the photo above.
My pizzas after this tasted fine, but it bugs me that I couldn't scrape this stuff out. With a separate pizza stone as with oven baking or with the KettlePizza, you can just get a flat scraper, grab the stone, and chip/scrape/dig however you want. If the stone gets dirty enough, just replace it.
I just finished writing up the full review of the BakerStone Pizza Oven Box, updated with more details, more photos, and more insight into this product. The mini-reviews on this page should suffice to make a decision on which product to buy, but if you want to dig deeper, I've done individual reviews for both devices.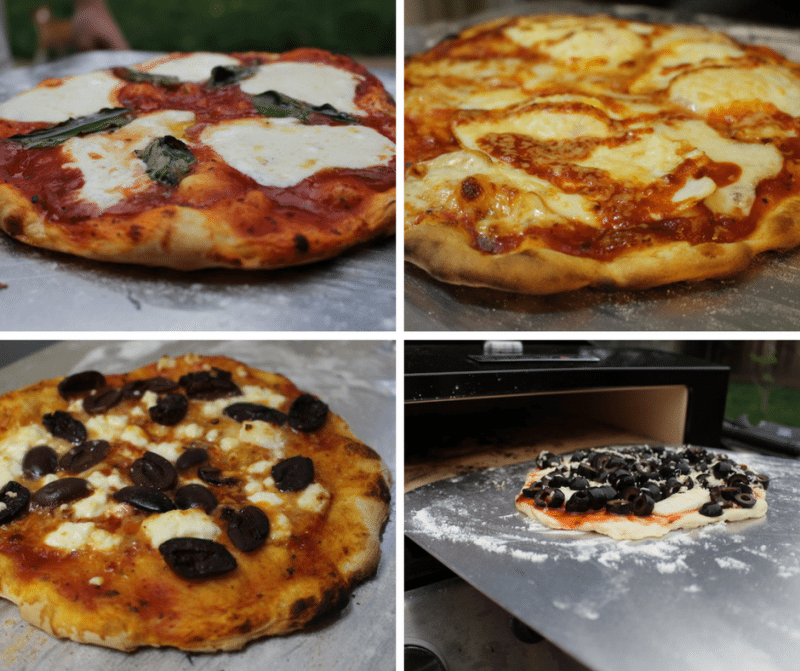 Pros
black box design looks "high end"
wide opening makes getting pizza on/off pizza peel easier
wide opening means you can also bake other food in tins, pans, etc
Cons
requires assembly
bulky to store
difficult to clean pizza stone
no precise temperature gauge
Video: The owner of BakerStone showcases his product!
(video of me using this product coming soon…still in production!)
KettlePizza Gas Pro Review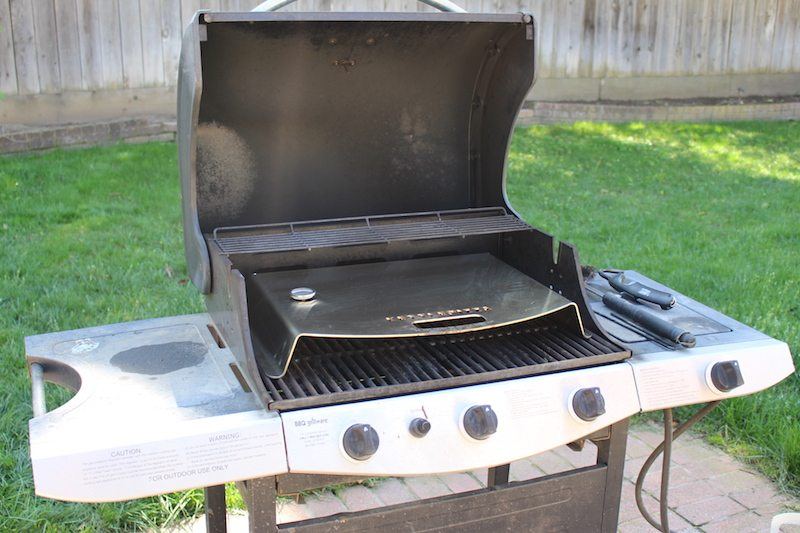 Getting Started With KettlePizza Gas
The KettlePizza gas came in a very unassuming box. It was basically a couple sheets of cardboard without any type of label. Maybe that was just the seller on Amazon, but I was pretty surprised there was so little fanfare for such a neat device.
The design of KettlePizza Gas is pretty smart. It's a single sheet of steel shaped to rest on your standard 3-burner grill. From the photo above you can see that it fits perfectly!
I tried this one first because it was so simple to get started. Instructions? Don't need 'em. All you need to do is attach the thermometer with wing nut (included) and you're good to go.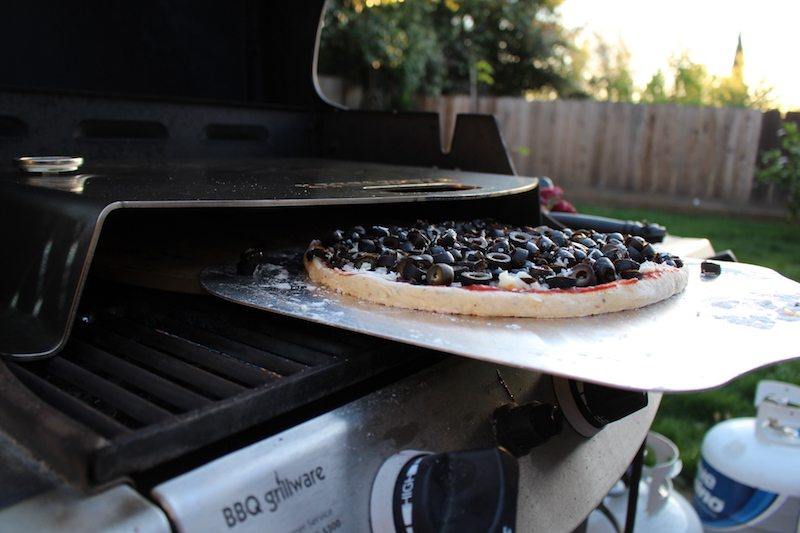 Place your pizza stone (also included) on the grill, then put the KettlePizza on top. My grill is super old, and the igniter doesn't work so I have to manually light the burners first, but if your grill still works properly you can start your grill at this point, close the lid, and get things heating up to 700ºF. It only takes a few minutes.
I'm going to do a time test in the near future and publish it on my full KettlePizza Gas Pro review when it's done. Regardless of the exact time, it takes only a few minutes, and it's faster than the BakerStone.
Making Pizza With KettlePizza Gas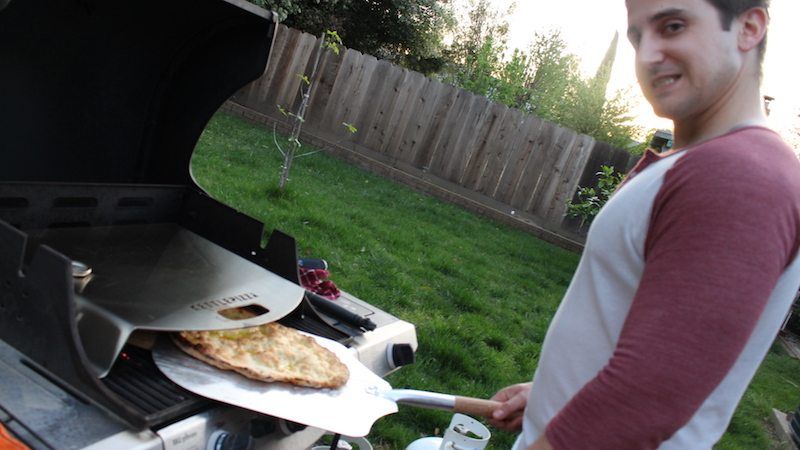 In this photo I'm actually making some flatbread. I baked 10 pizza in 5 days for my BakerStone VS KettlePizza testing so was sick of cheese and pizza sauce. All I did was take pizza dough, flatten it out, and top with salt, pepper, and olive oil. It was delicious, of course.
But you can see from the photo that the edges are a bit burnt. I found that with the KettlePizza it seems to get super hot near the back. You do need to turn your pizza once or twice during cooking. I also turned my pizza with the BakerStone Box, but that device took longer to cook so it was more out of boredom and impatience. Definitely keep your eye on the grill if you're cooking at the max 700 degrees with the KettlePizza!
Most of the time I was able to fully cook a pizza with just a two minutes on one side, then flip it around two minutes on the other side (approximately). Time will vary based on your dough thickness and pizza toppings!
Cleaning Your KettlePizza Gas
Cleanup is super easy. Just wait your KettlePizza to cool, then remove from the grill and store it somewhere out of the way. It's very sturdy, thick metal so won't be harmed by much except maybe rain. You could probably just leave it in the grill if you want!
The pizza stone can be removed and you can scrape off any gunk and throw it in the oven for easy storage.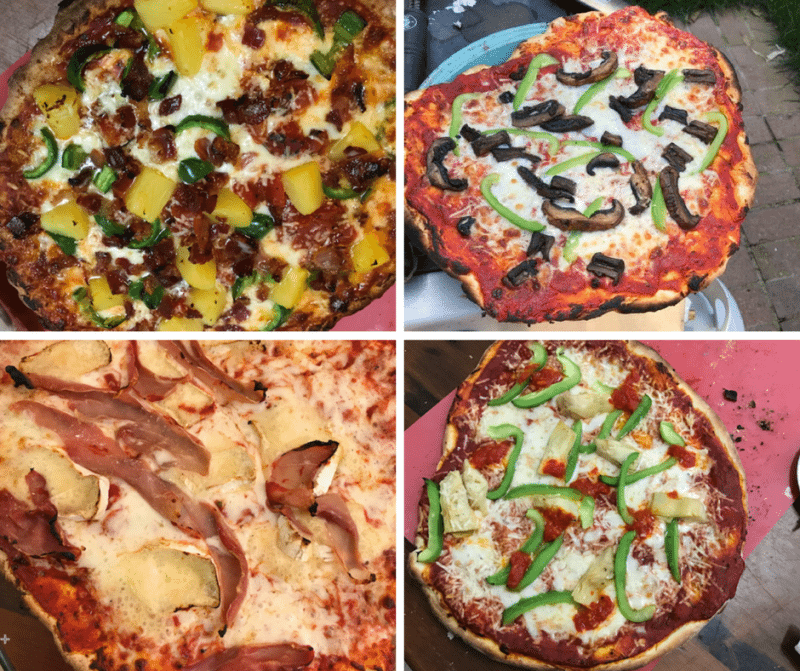 Pros
easy to use right out of the box
no assembly required
simple design
easy storage
durable material
precise temperature gauge
comes with pizza stone
wide opening for large pies
cooks pizza very fast
easy to clean or replace dirty pizza stones
Cons
small opening makes getting pizza on/off of peel more difficult
back of KettlePizza cooks hotter than front
Video: Watch Me Using the KettlePizza Gas!
BakerStone VS KettlePizza Stats Comparison
BakerStone
Full Device Height, Width, Depth: 6.18 x 22.8 x 16.3 (inches)
Weight: 28.5 lbs
Opening H x W x D: 3.13 x 15 x 14 (inches)
Max Temp: 750ºF +
KettlePizza
Full Device Height, Width, Length: 3.5 x 24 x 17 (inches)
Weight: 26.9 lbs
Opening H x W x L: 2.75 x 20 x 16 (inches)
Max Temp: 700ºF +
As mentioned above, the KettlePizza is slightly smaller than the BakerStone. This makes it easier to maneuver and store, but it also gives you less wiggle room for getting pizzas in and out of the oven.
Though the BakerStone claims to have a higher heating temperature range, I found the KettlePizza to cook hotter (I burnt more pizzas!). With the lid down on the KettlePizza, it can cook a thin crust pie in just two minutes. I usually turn it just once to crisp the other side and then it's done.
The ideal temperature for baking a pizza depends on the style you're making and the thickness of the crust, so don't get married to the idea that to have artisan pizzas, you need a 1000º chamber temperature like the wood-fired ovens from New York.
The nice thing about KettlePizza is that you can see the actual temperature! There's an actual number on the gauge so that you can measure, track, and improve your pizza making skills. With the BakerStone Box you have a nice graphic design to look at, but it's a little imprecise. You could get an infrared temperature gun, but that's just another piece of equipment you have to buy, store, and not lose.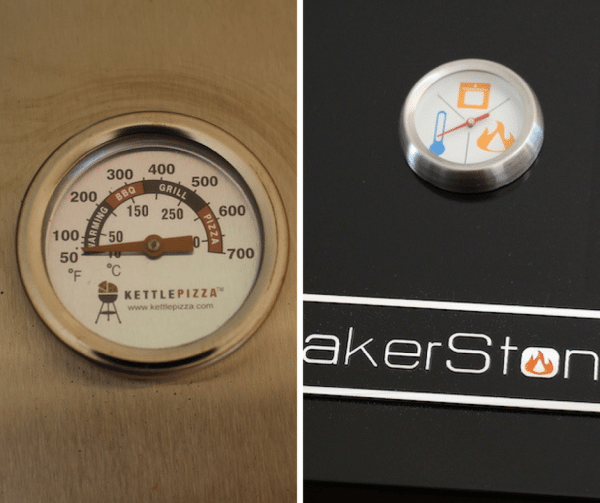 BakerStone VS KettlePizza Cooking Experience Comparison
Getting started with KettlePizza Gas was much more fun. I just tossed it on the grill and started within a few minutes of receiving the item. I already had a boxed pizza ready to go on the day of arrival. Even after I started making my own dough I still had fun tossing around the the KP Gas because I didn't have to worry about damaging it at all. I tended to be more careful with the BakerStone.
I was also concerned about getting cheese and toppings on the top of my BakerStone Box despite it having a wider opening. I guess I just didn't want to get something that looked nice dirty.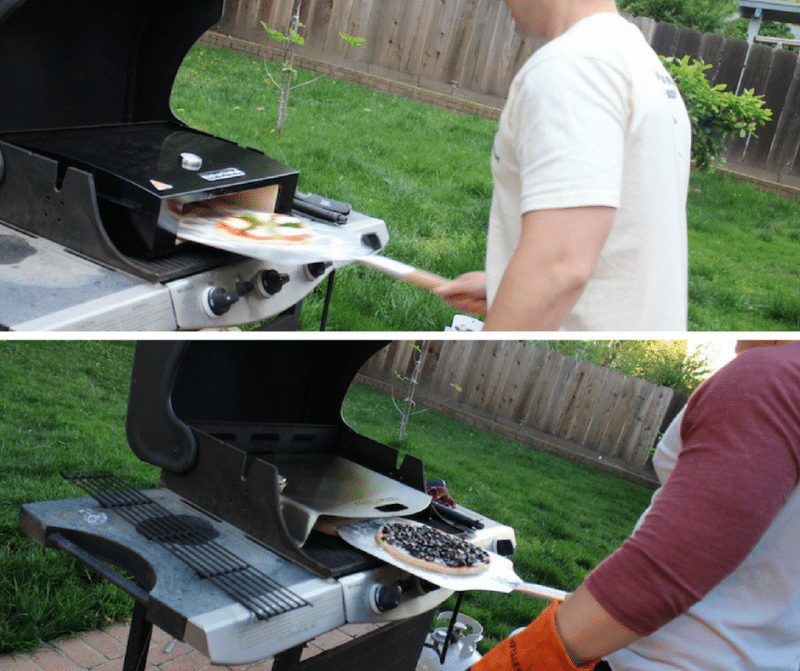 I find the KettlePizza heats up faster, cooks pizzas faster, and is easier for me to precisely track temperature of my cooking. Honestly, I think I enjoy using the KettlePizza more than the BakerStone. Just make sure to turn your pizza in time.
It'll burn faster at higher temperatures, and may not cook the middle all the way through if you are making thick dough. But you can also control the temperature by turning your gas grill up/down or leaving the lid on/off while cooking.
Update: So I did some testing, and so far, when heated under the same conditions, they heat up pretty similarly. On a cold day (60ºF), with the lid open, both heated up to about 400-500 degrees in 20 minutes. After I got impatient, and closed the lid, they then achieved about 700 in less then 10 minutes.
Although they were close, the KettlePizza was slightly hotter, and slightly faster. Coupled with the fact that you can just close the grill lid on the KettlePizza to achieve faster temperatures, KettlePizza wins here.
BakerStone VS KettlePizza Final Pizza Comparison
I really haven't made enough pizzas to see if one makes better pizza than the other. I've tried so many dough recipes as well as pizza recipes over the past few weeks that I can't say that one performs better than the other. However there are two main things that happened that are worth mentioning.
I burned more pizzas with KettlePizza
I waited around longer with BakerStone
Of course, with enough practice, you an dial in either of these devices, but that's been my experience so far.
KettlePizza Pizzas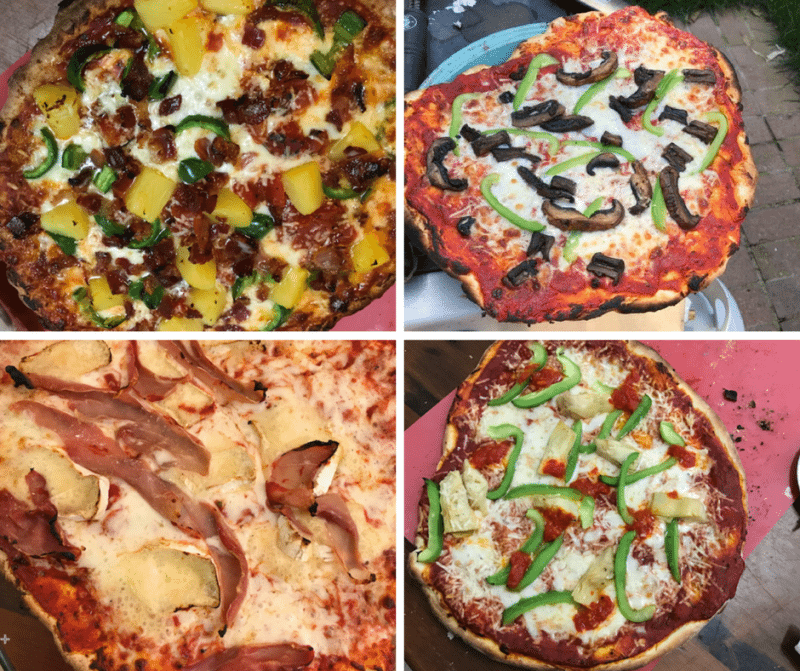 BakerStone Pizzas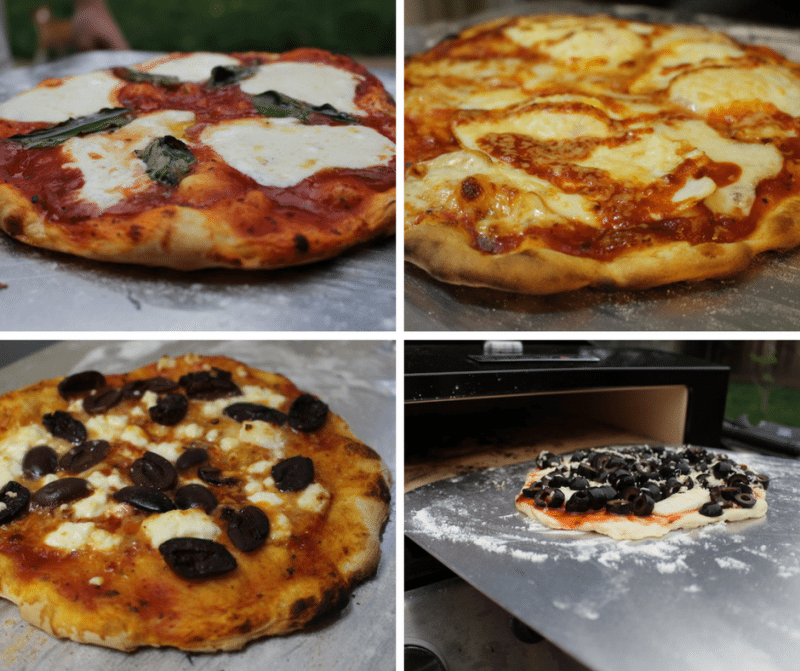 Keep in mind, I'm constantly altering my dough recipes and improving my pizza making skills. The second picture (Bakerstone) pizzas tasted the best so far, but they are my most recent batch. I allowed the dough to rise for a full 24 hours before making them, and made much smaller pizzas.
I think the flavor improvement has more to do with the dough preparation than the oven itself. So far, that's what I think. I'll continue to experiment and update as I get more data. We've got a whole summer to go!
Final Decision
The winner in my mind is the KettlePizza Gas.

Gas Grill Pizza Oven Kit – KettlePizza…
Gas grill pizza oven enclosure allows optimum cooking temperatures for cooking pizza outdoors
Made of the highest quality American Made stainless steel for years of use
Made in USA, Patented
Does not include grill, stone or pizza peel
I'm only going to be grilling a few months out of the year, and even then, there's only so many opportunities to make pizza outdoors. I want to be able to store this device somewhere convenient, then wipe it down and get ready to go immediately when I'm ready. It heats up much faster too, so the entire process of pizza making goes a bit quicker. What can I say, I'm pretty impatient.
I also want to be able to accurately see my cooking temperature without investing in an infrared temperature gun. I want to improve my pizza making skills over time, and part of that is being able to track variables like dough ingredients and cooking temperatures precisely.
The KettlePizza Gas Pro is what I'll continue to use this summer, so it's my top recommendation for outdoor pizza barbecue devices (for gas grills). That being said, the Bakerstone Pizza Box is still a great choice. Have you used either of these devices? What was your experience and which one would you recommend?