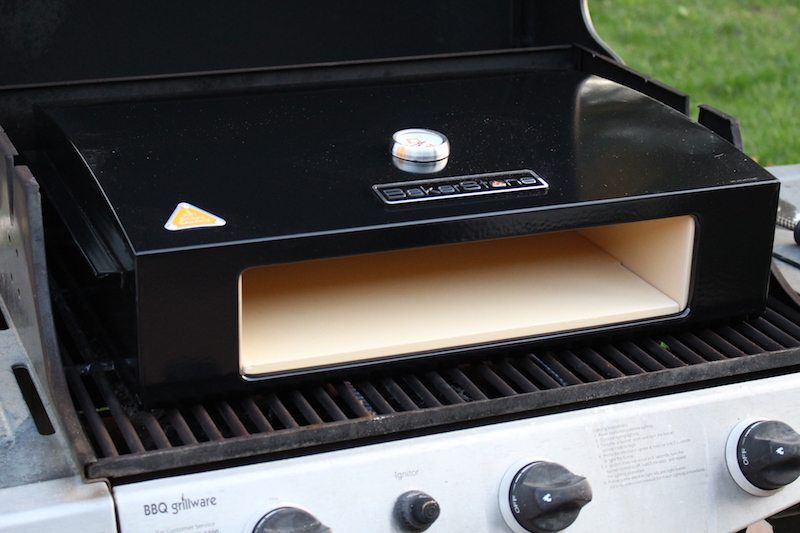 [no_toc]
BakerStone Pizza Oven Box Review
Quality - 100%
Features - 96%
Price - 100%
Personal Experience - 98%
Value - 99%
The BakerStone Pizza Oven Box was very easy to set up and get started cooking pizzas on my gas grill. Turning your gas grill into a 800º pizza oven to make homemade artisan (or just fun) pizzas in your backyard is a breeze. This is a very cool way to make your next backyard barbecue unique by turning it into a pizza party, or for having pizza night with the family.
I'd venture to say that most of us have some kind of fond memories about pizza. Maybe it was a pizza party after your sports events as a kid, surviving college amidst a dorm room full of empty pizza boxes, or having a homemade pizza night with your girlfriend/boyfriend.
Making pizza is perfect for everyone because it can be a simple as heating up a frozen pizza in the oven for 15 minutes, or making your own dough using local fresh ingredients to make your own artisan style pizza.
Well, now the pizza part has moved into the backyard, and you can actually cook your own pizza on a gas grill. Sure, you've probably seen those amazing wood-fired pizza ovens on Pinterest or Facebook…but those cost upwards of $6,000, or require some serious talent (and time) to construct yourself.
Not to mention the space! All of that sounds like a big commitment. That's why I opted for a little piece of equipment called the BakerStone Pizza Oven Box that converts any 3-burner gas grill into a 750ºF piping hot pizza oven!

BakerStone O-ABDHX-O-000 Original Box…
Simply place on a grill and bake gourmet pizza in 2-4 minutes (performance may vary by grill)
Bakes pizza, breads, roasts meats, vegetables and fish
Converts most 3 burner and larger gas grills and large charcoal or pellet grills into a pizza oven
Kit includes pizza oven box, wooden pizza peel and metal pizza turner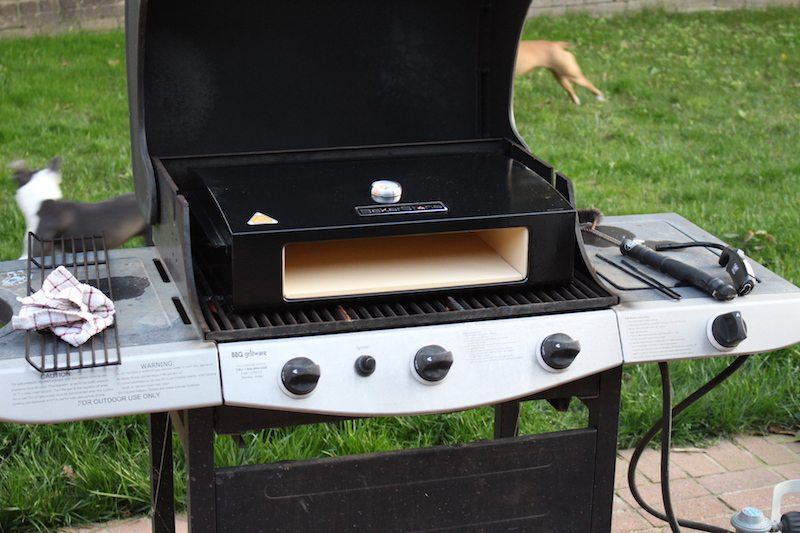 The BakerStone Pizza Oven Box is a really cool for your backyard barbecue collection because it costs just over a hundred dollars, doesn't require any technical skills to set up, and fits inside your current barbecue rather than requiring you to take up more space on your patio.
So in my review of the BakerStone Pizza Oven Box, we'll look at:
what it takes to get started making pizzas
how to use the device
the pros and cons
how it compares to similar products
whether it's a good purchase for you
I'll also introduce you to some other items related to barbecuing pizza in the backyard, so keep reading!
How The BakerStone Pizza Oven Box Works
The BakerStone Box does require a bit of assembly to get started. It's very simple. I think they just ship it this way so the pizza stones don't break. The entire inside of the box is made of cordierite pizza stone. You can see the assembly process below. All you need is a phillips head screwdriver to complete the assembly process.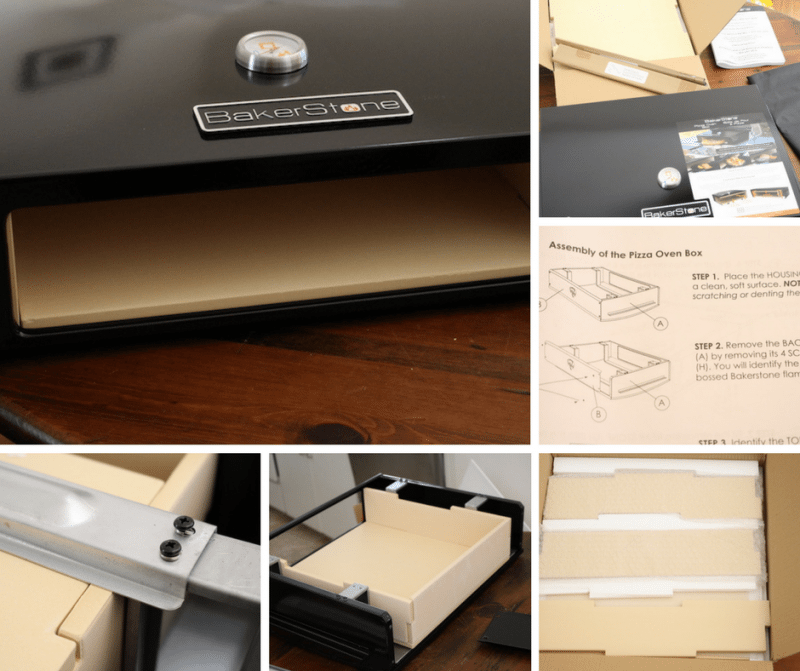 Once that's done, you're ready to start baking pizza! Easy right? Just set the BakerStone box on top of your grill, light the burners on high, and your'e ready to go. There should be a 1/2 inch space in front of your pizza box, and a 1-inch space on either side of the box as well for ventilation. I have a standard 3-burner gas grill, and it was a perfect fit.
One mistake I made, which I discovered after reading the instructions for this review, is that you should not close the grill while using the BakerStone Pizza Box. I'm not sure if this makes the internal temperature too hot, or if it can warp the metal from too much heat on the outside of the box. Leave your grill open, since the only part you want to get super hot is the inside of the Pizza Oven Box.
On the top of your pizza box is a visual guide of the temperature range of the oven.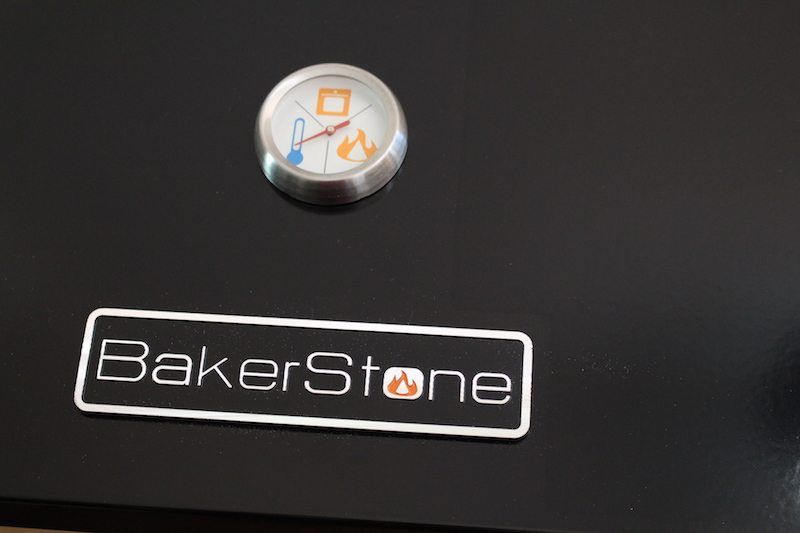 The "oven" picture means the temperature is between 200ºF – 500ºF. The "fire" picture means it's between 500ºF and 800ºF. After watching a few YouTube videos and even visiting the main BakerStone website, the max temperature seems to be somewhere between 750º and 900º. I wish it had a more precise temperature gauge so I could perfect my pizza cooking skills though. The graphics are fun, but it's hard to remember what temperature I cooked at previously so I can see which pizza crusts taste better.
Some professional wood-fired pizza ovens bake pies at around 1000º for 60 seconds or less, so being too hot isn't an issue, as long as you are prepared. But you may be more comfortable with a slower cook that allows your ingredients to bake along with the pizza. It's up to you. I like to bake as hot and quick as possible!
Once your cooking temperature is reached, you can place your pizza into the oven using a wooden or metal pizza peel.
Video: BakerStone Pizza Oven Box Tested & Reviewd
Cooking Experience
Preparing the pizza dough for the BakerStone Pizza Oven Box is just like preparing for a wood fired pizza oven. I made my dough in the afternoon, then let it rise for a few hours. I then divided it into two balls, an let it rise for another hour. Then I pinched a small crust around the edges and used gravity to help me stretch out the dough.
Many people, especially the true pizza enthusiasts will allow their dough to slow rise in a fridge for 24 hours for full flavor development. But for me, I'm impatient. Also, this is backyard pizza making, so I'm not too particular. I threw in some herbs into this dough to make an herbed pizza crust just to experiment! Part of the fun of grilling a pizza is that you can experiment with something new each time.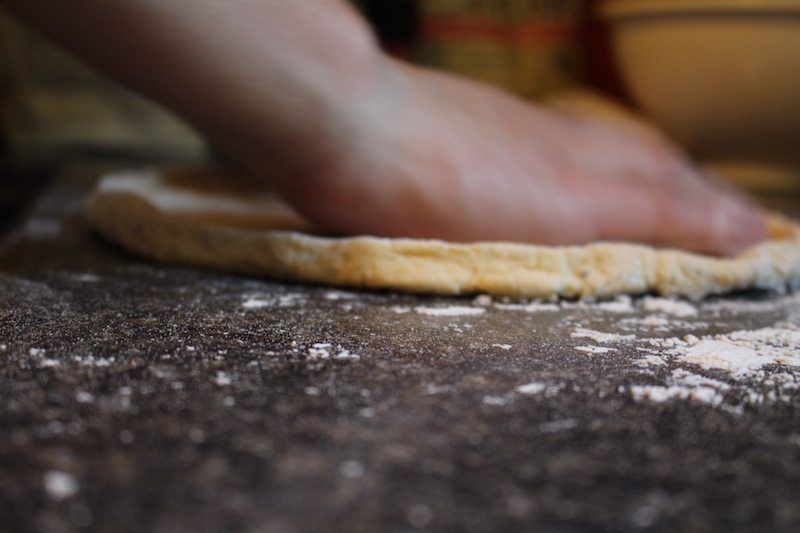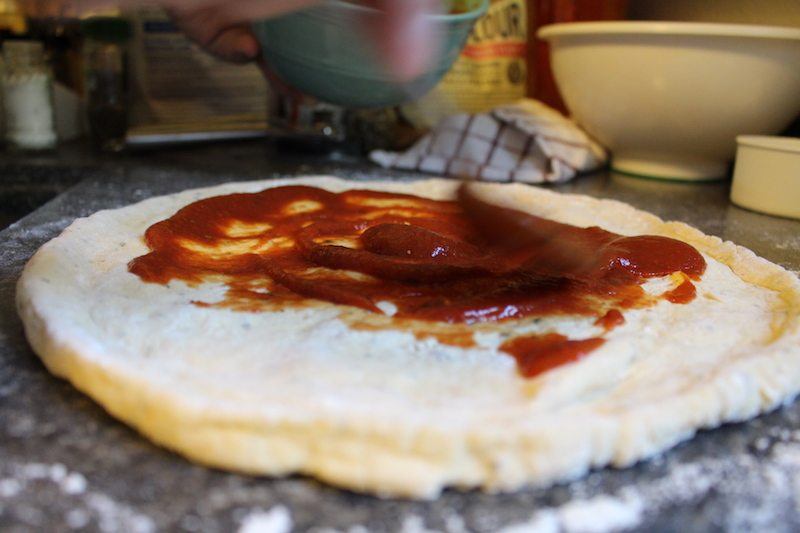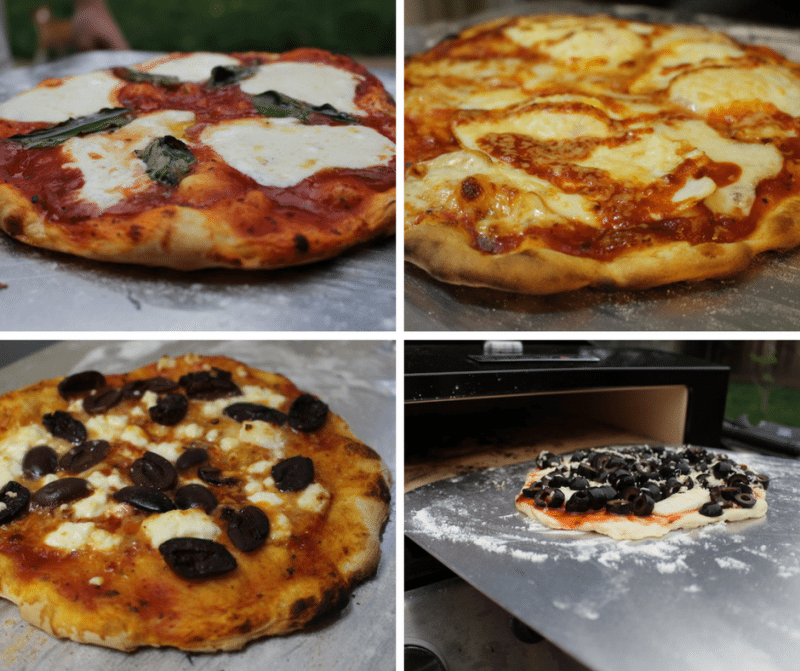 Be sure and put enough flour on your pizza peel before sending it into the BakerStone Pizza Oven. On one of my first tries with this oven, I didn't do this. It stuck to the peel. By the time I was able to shake it off the peel, I had lost a few ingredients that burned onto the pizza stone You can see below that I lost some cheese and pizza sauce (the black spot) somewhere on the way.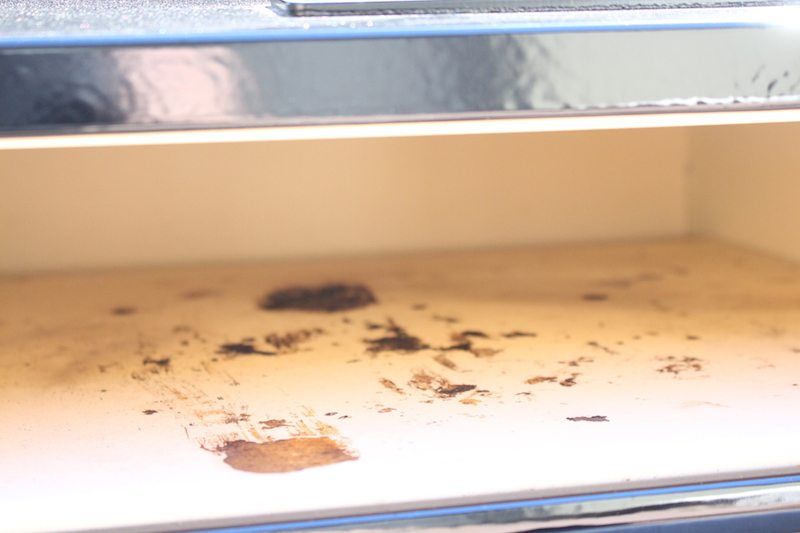 This is one of the downsides to the BakerStone box versus other gas grill pizza devices that have a separate pizza stone! Cleaning can be a bit difficult. They recommend leaving the box on the grill for another 15 minutes with the burners on high to char off any excess ingredients. you can then scrape and wipe the gunk off.
However, scraping the stuff off can be a chore because you have to stick your hand into the box (when it's COOL, not HOT!). Honestly, the burnt stuff won't affect your final pizza product so it's just a minor issue, but is worth noting if you're going to compare similar products.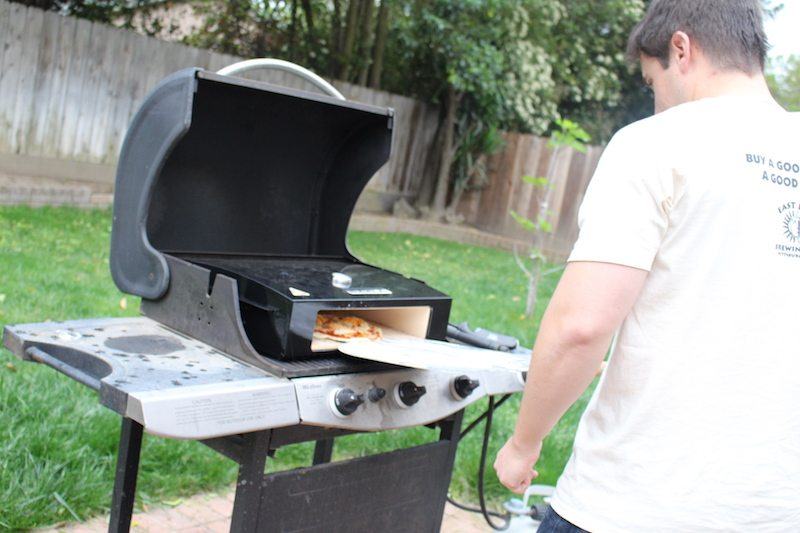 Technical Stuff
Unit Size: 6″h x 23″w x 16″d, 29 lbs
Max Temperature: 800ºF
Construction Material: Carbon Steel, C

ordierite
So the main BakerStone Pizza Oven Box is what I'm reviewing in this post. However, there are two other models that are available in different places on the internet. They are no longer available on the BakerStone official website, so I think they are out of production. I personally wouldn't recommend going for the older models since they're no longer being produced, but if they fit what you're looking for, you could definitely try it.
A smaller version of the black pizza box is available from Amazon. It's about 19 inches wide instead of 23 inches. Supposedly it fits on a 2-burner grill, although I haven't actually seen this in a photo.
There's a few issues with the product listing, so don't trust the photos or the specs. However, commenters have noted that it's not the full size pizza box. It is about 30% cheaper though, so I'm confident it's the smaller version. It also looks like supplies are limited, so it may not be available for long.
There is also a "professional" BakerStone box with a stainless steel top as seen here: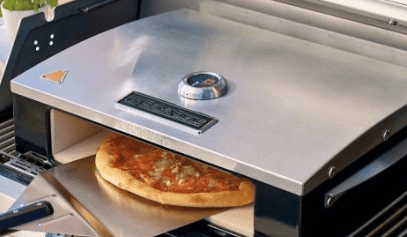 This version is more expensive than the black version, and is only available from 3rd party sellers, or even in stores like Costco.
It's no longer listed in the BakerStone official website. It's about 40% more expensive than the one I reviewed, but it's the same size, with the same features. Do you want to spend an extra $50 for a stainless steel top to your pizza box? Probably not, but it's up to you.
Comparing The BakerStone Pizza Oven Box To Other Gas Grill Pizza Cookers
KettlePizza Gas Pro
The only other gas grill pizza oven accessory that can really compare to the BakerStone Pizza Oven Box is the KettlePizza Gas Pro. I reviewed the KettlePizza Gas Pro over the past weeks alongside the BakerStone product, and there were some distinct differences between the two!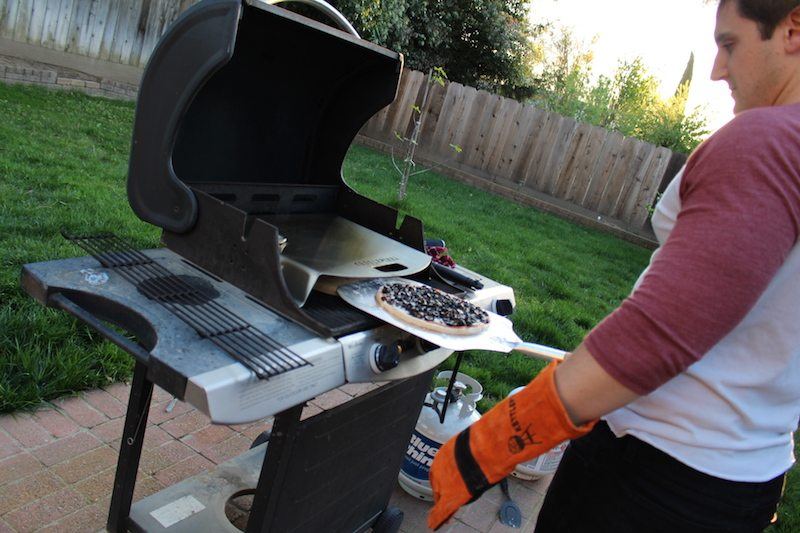 I felt that the KettlePizza got hotter faster, and it was easier to maneuver into the bbq as well as store and clean. It was a very convenient device! But the BakerStone sure did look sleek compared to the KettlePizza which was essentially just a piece of stainless steel metal! It's also twice the price of the BakerStone, which can be a tough pill to swallow for some.
You can read about the full comparison of BakerStone VS KettlePizza if you are considering one of these two gas grill pizza makers.
Camp Chef Italia Artisan Outdoor Pizza Oven Accessory
While looking for gas grill pizza accessories I ran into a product called the Camp Chef Italia Artisan Outdoor Pizza Oven Accessory. Wow, that was a mouthful. I almost bought it, thinking it was a normal grill-top pizza maker like the KettlePizza or the BakerStone. However, it's not. It's a device made specifically for a portable gas grill from the company CampChef.
It's smaller, so fits on the 2-burner gas grill, and is made for camping situations where you are taking your portable gas grill with you so you can make pizza while camping. Although this is definitely a cool idea, and I made review something like that in the future, it's not a true comparison to the KettlePizza or BakerStone products.
I did read that some users removed the grill grates from their barbecue and were able to cook pizza using the CampChef accessory, but that's not what it was created for, so I can't advise it. I can only recommend that you use products for what they were intended for. Since you already have two great choices, I'd stick with one of the other I've mentioned in this review.
Who Is The BakerStone Box Best For?
If you love making pizzas and want to enjoy baking them outside for a backyard barbecue, get together, event, etc then the BakerStone is a great buy. It's very inexpensive for what it allows you to do. For a parent, it's a great tool to teach your kids life skills!
It teaches them how to cook, how to handle dangerous equipment (barbecue, hot stone), as well as making a plan and executing it. Plus, it allows them to be creative by making their own pies. It's a great activity that the whole family can participate in. Imagine being a kid and making your own crazy pizza right in your own backyard.
For anyone else, it's perfect for parties and backyard events. Who wouldn't want to come over for pizza and beer? Make up a bunch of dough balls, cut up some fresh ingredients, and have everyone back their own pizza while you drink a couple beers on the porch.
Baking pizzas outside is not just for fun though! You can also use this as way to eat healthy. For people on special diets, like vegan, gluten free, dairy free, or paleo, it means you can can make your own food just how you like it without spending $100 for two people in specialty restaurants in the city. Yeah, gluten free pizza is not cheap to buy. I'm working on some gluten free dough recipes that
Oh, and by the way, I'll be publishing in the next few weeks!
If you have a really nice grill and want a really nice looking accessory then the BakerStone is for you.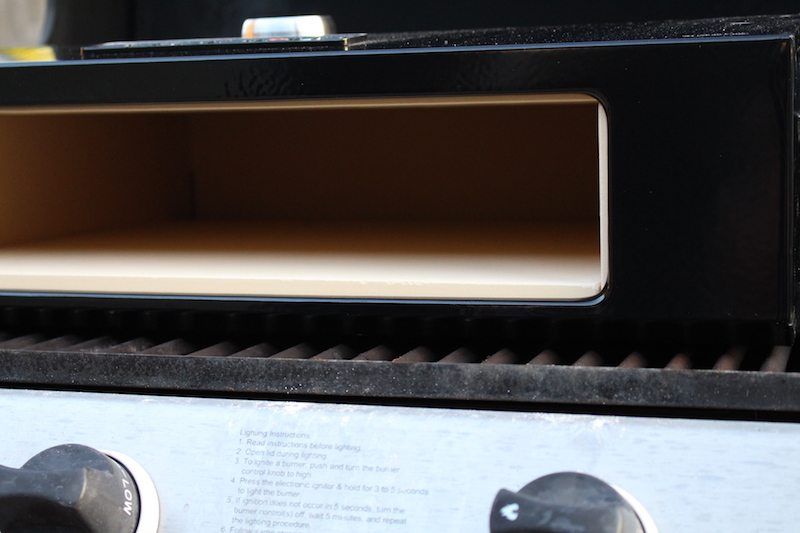 Conclusion
Baking pizzas outdoors is really fun, even if you do it just a few times a year. The BakerStone Pizza Oven Box makes it easy and cheap to do this in your own backyard, with very little time, money, or effort commitment.
Pros/Cons
Pros
very inexpensive
great style and looks
fits perfectly on 3-burner gas grill (or larger)
easy to assemble
cooks at up to 800ºF
wide opening makes getting pizzas in/out easy
Cons
some issues with cleaning the pizza stone
bulky item to store
imprecise cooking temperature gauge