If you're always on the move, whether you're hiking, tailgating, or taking a road trip, there will be plenty of times where you'll be hungry. There are going to be those times when you'll want that wood taste without having to wait a long time for the smoker to cook. In that case, it's time to take a look at some of the best portable propane smokers available today. By selecting a portable smoker, these units will be able to go wherever you go, without taking up too much room. For the most part, propane smokers have the size to be considered "portable".
Why propane you ask? Vertical propane smokers require a minimal amount of maintenance and don't need to be babysat as much as other fuels such as wood or charcoal. More often than not, you'll find propane smokers with an easy to start ignition via a push button. Think about it: you're looking for something portable because you're trying to smoke your food virtually anywhere. Why wait for the heating source to start up when you can just attach a propane canister to your smoker unit and get to work?
Propane is just as convenient as electric, without the requirement of electricity, which makes them even more portable!
Top 5 Portable Propane Smokers
Masterbuilt 20050116 Portable Propane Smoker
Masterbuilt Compact Portable Propane Smoker
Smoke Hollow Propane Gas Smoker
King Kooker Outdoor Chef's Smoker
Landmann Smoky Mountain Vertical Gas Smoker
1. Masterbuilt 20050116 Portable Propane Smoker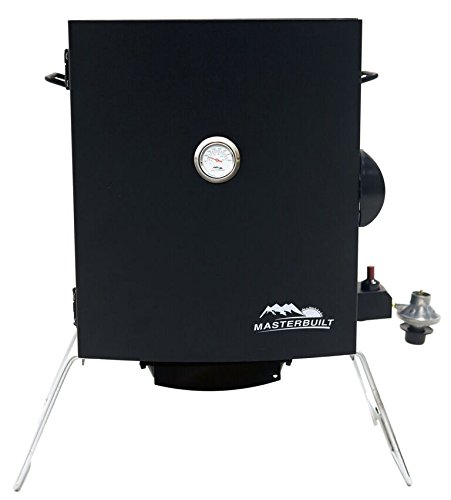 The Masterbuilt 20050116 is at the top spot for portable propane smokers. This unit is a great asset for camping, road trips, tailgating, or even just in the corner of your backyard. The fairly easy to read temperature gauge on the door will display the current temperature of the grill so that you can get an accurate idea of how hot it's getting inside.
In regards to the fuel source, you'll be able to attach a 1 pound propane cylinder for the smoker to work. For those who smoke their food often, you're probably asking "is that the highest quantity of propane I can attach to the smoker?" To answer that question, you can separately purchase an adapter for 20 pound propane tanks so that you can use them for your smoker instead. Just keep in mind that this large propane tank may make it difficult for you to move around as freely as you would like.
This grill is easily portable primarily because of its foldable legs. The smoker legs can fold effortlessly so that you can store or move your grill without any unnecessary hassles.  There are also two handles attached to the smoker itself so if you want to use those you have that option as well. Overall, the Masterbuilt 20050116 comes in at #1 because it is convenient to carry, reasonably priced, and applies enough heat to your food for a thorough and wood-flavored cook.
Positives
Inexpensive

Easy to read temperature gauge

Foldable smoker legs
Negatives
Some units have trouble staying lit
2. Masterbuilt Compact Portable Propane Smoker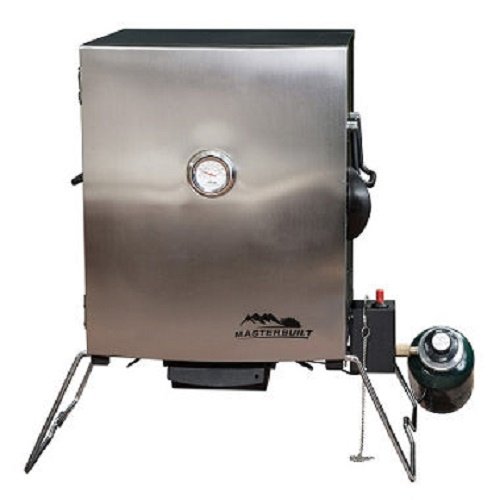 The Masterbuilt Compact portable propane smoker is a small-sized smoker that has the ability to cook large foods at high temperatures. Being a true portable smoker, this unit is best for tailgating, camping, road trips, and other instances where you will need to move the smoker around. In fact, this smoker has been known to reach up to 275 degrees fahrenheit after being heated for only a few minutes. The temperature gauge on the front of the smoker will clearly display how hot it is inside the smoker so you can get an idea of how long it will take to finish cooking. The removable water pan and wood chip tray will also make cooking much easier; smoking your food juicy and tender.
For those always on the move, having a portable propane smoker is important. The smoker you look for will need to have the features needed for a true portable grill. The Masterbuilt Compact smoker has foldable legs that will make it very easy to throw it in the back of the car or even in a closet. This propane smoker from Masterbuilt will be very convenient to use, and equally as convenient to transport and store when you're finished eating.
Positives
Small size

Easy to read temperature gauge

Folding smoker legs

Heats up quickly

Easy to assemble
Negatives
Getting the right temperature can be difficult

Temperature needs to be monitored
3. Smoke Hollow Propane Gas Smoker
The Smoke Hollow 26142G falls right in the middle at #3. There are debatable pros and cons about this smoker device, but ultimately it is something to consider if you're looking for a portable propane smoker. The stainless steel tube burner will emit about 8,000 BTU's, which should be just enough to create a reliable temperature for your meat to be cooked efficiently. The temperature gauge will be right on the door, so you won't have to worry about guessing how hot the smoker is getting. A big issue that has come up regarding this propane smoker is the consistency of the heat. Some people have claimed that their smoker didn't always stay at a consistent temperature, so it might be best to monitor the temperature during the first few times using this unit.
When the propane smoker finally does get hot, you won't need to put on any gloves to prevent burning your hands. The Smoke Hollow 26142G has a spring wire cool-touch handle that will ensure you that you won't get burned. One of the most appealing factors about the the Smoke Hollow 26142G is the price range. High quality smokers don't come cheap, so those who are concerned with price should look at this without question.
Positives
Heat resistant door handle

Integrated ignition system

Two chrome plated cooking grids

Inexpensive
Negatives
4. King Kooker Outdoor Chef's Smoker
The King Kooker propane smoker looks like your average smoker, but don't count it out just yet. You can cook basically anything with this smoker, from cuts of meat to vegetables. Using a one pound propane canister, you'll be able to produce up to 16,000 BTU's of heat so that you can cook everything thoroughly and evenly. The side handles will help you take this King Kooker smoker anywhere without feeling weighed down. Since this smoker isn't the biggest in the market, it shouldn't be too difficult to find a space in your garage or your trunk to put it in.
If you're wondering how long this propane smoker can last, you'll be glad to know that it's made with a durable steel. With this material, you won't have to worry about your smoker rusting and getting damaged when used outside in poor weather. Upon purchasing this propane smoker, you'll receive 2 smoking cabinet racks, a carrying bag, a cooking thermometer, a removable wood chip pan with a vented lid, and a removable water pan. These accessories will be very useful when you want to experiment with how you cook your meats. Overall, the King Kooker outdoor chefs smoker is a solid option when it comes to portable propane smokers.
Positives
Produces high level of heat

Durable

Handles make it easy to carry
Negatives
Difficult to fit in tight spaces
5. Landmann Smoky Mountain Vertical Gas Smoker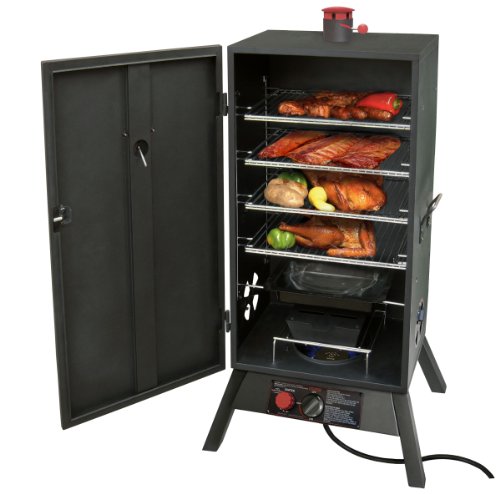 The Landmann brand provides avid grills with a high quality vertical gas smoker that offers a generous amount of cooking space. With the Landmann Smoky Mountain gas smoker, you'll have about 878 square inches of cooking area to work with. This will give you plenty of room to cook a variety of meats like fish, chicken, and steak. One of the first things you'll notice is the large door with welded hinges that will give you full accessibility when adding water and wood.
The heat control features are pretty easy to handle, so you'll be able to spend more time enjoying the outdoor atmosphere and less time messing with the controls. There is an adjustable top chimney as well as side damper vents for accurate temperature control. This smoker is good to use on almost any surface, as it has legs with a wide stance for superior stability. Whether you're on a flat surface like cement or something less stable like grass, the Smoky Mountain gas smoker will perform. Measured at 34 inches, this smoker is by far the maximum when it comes to portable propane smokers. Can you move it from point A to point B without straining yourself? Yes. But there are clearly other propane smokers that better fit the "portable propane smoker" title.
Positives
Has a lot of cooking space

Easy to adjust heat control

Wide stance legs provide stability
Negatives
Not the best option for budget buyers

Temperature is inconsistent for some users
Portable Propane Smoker Buying Guide
Smokers in general tend to look the same, especially if they're vertical, so you'll need to make sure that the ones you're looking for are best for your needs. One you qualify the smoker as portable, you'll want to go through a small checklist of features so that you know what's best for you.
Since we are focusing solely on 'portable' propane smokers, you will need to figure out how much storage space you have available. Portable smokers are thriving because they are convenient to take with you, so storage room whether it be at home or on the go is important. Analyzing how much room you can spare will help you determine what size smoker to purchase. Buyers with pick up trucks might want to select a larger smoker whereas buyers will smaller cars should find a more compact unit, like the Masterbuilt compact smoker at #2. Propane smokers are usually taken to campsites, picnics, and other outdoor areas because they are considered more portable than electric or charcoal smokers. All you'll need is a small propane tank and then you'll be good to go.
Next, think about your budget and the maximum amount of money you can spend on a portable propane smoker. Smokers in general are fairly cheap, but they do vary in price. Some smokers serve beginners well while others are better fit for an experienced smoker. Shopping around for the most convenient price might save you a few dollars. If you find yourself in a pinch financially, you should strongly consider the Masterbuilt 20050116 at the top of the list. This propane smoker has the cheapest price for the best quality.
Regardless of price, durability should come to mind when you begin to shop for a portable propane smoker. How can you measure durability? Look for the material that the smoker is made out of and see how strong that material usually is. You'll find that these smokers are made with a steel that will reduce the accumulation of rust without adding unnecessary weight.
Finally, how much food do you see yourself cooking at once? Are you cooking for your entire family or just a couple of people? This makes a big difference in what type of propane smoker you end up buying. The Landmann Smoky Mountain vertical gas smoker would be the best option for someone in the position where they need to cook high quantities of food, as it has a lot of cooking space.
About Portable Propane Smokers
Who said people always on the go can't use a smoker to cook their food?
Portable propane smokers are great because they are easy to transport, heat up relatively quick, and still offer that wood smoke taste. If you're typically on the go more often than not, you might want to invest in a portable propane smoker so that you can cook up great food and keep your day moving forward.
First, let's elaborate on what 'portable' truly means when it comes to propane smokers. When you think of portable grills, you're probably imagining a mini grill. Smokers are much different, as they are naturally large. So with that being said: how can you tell the difference between a standard propane smoker and a portable propane smoker? Portable propane smokers will typically have some feature that will imply that it's able to be moved easily. In a more general perspective, propane smokers are light and vary in size, so it shouldn't be long before you find the best one for you.
If the term 'portable' isn't already in the name, you'll be able to figure out what a portable smoker is by looking at the sides. Most portable propane smokers have handles on the sides so that you can just grab it, pick it up, and take it where it needs to go. Overall size also plays a factor into what's portable. Smokers tend to vary in size, but it shouldn't take much effort to notice what's considered portable and what's not. Basically, the smaller the smoker, the lighter it should be, which will eliminate stress from transporting a heavy item. Having a smaller smoker will also allow you to fit it in small spaces such as a car trunk or a congested broom closet.
Propane smokers in general are arguably the most efficient type of smokers. There are over a handful of advantages to using a propane fueled smoker. First off, you'll find that a majority of propane smokers are affordable compared to other types of cooking units. These smokers can be found for less than a few hundred dollars on average. While other types of grills can range from the same price to thousands of dollars, portable propane smokers will definitely give you your money's worth.
Efficiency is another reason why propane smokers have an advantage over other types of fuels. Propane smokers heat up quickly, most of the time with the push of a button, whereas grillers will have to wait until the right time when using charcoal or wood smokers. The latter smokers also tend to get messy. You'll typically find that charcoal and wood produce mass amounts of ash after they are done heating. This requires a lot of maintenance as you would find a place to dump the ash, and then proceed to dump it. Portable propane smokers require much less maintenance, as the gas smokers burn cleanly.
Whether you're smoking a ham, or a rack of ribs, whether you're in the backyard or a family reunion at the park, having a portable propane smoker is crucial. It will give you the ability to smoke your food on the go for a crisp wood-like taste.