Shopping at the store gives you the advantage of being able to see and touch an item. I enjoy that experience, for sure, but shopping online means that you can compare a variety of grills to find the best. Online, you can ensure you get the exact color, brand, style, and functions you are looking for.
If you're shopping for a grill for your next camping trip, there are a few considerations that will help you find the right grill. First, you should consider the convenience of propane.
Propane is arguably the most efficient heat source. If you think about it, grills that use propane take significantly less time to start in comparison to grills that use coals. This gives you more time to enjoy the outdoors or go for a hike.
Along with the heat source, you should consider portability. Since you're camping, you probably already have a car or truck loaded up with gear, including backpacks, sleeping bags, tents, and other items.
The following 5 options will give you a variety of portability and value, so you can choose the one that best fits your needs. Here are the top 5 propane camping grills.
Five Best Propane Camping Grills
Coleman Road Trip Propane Portable Grill LXE
Weber 54060001 Q2200 Liquid Propane Grill
Cuisinart CGG-18 Portable Gas Grill
Blackstone Portable Gas Grill and Griddle Combo
Char-Broil Portable Gas Grill
1. Coleman Road Trip Propane Portable Grill LXE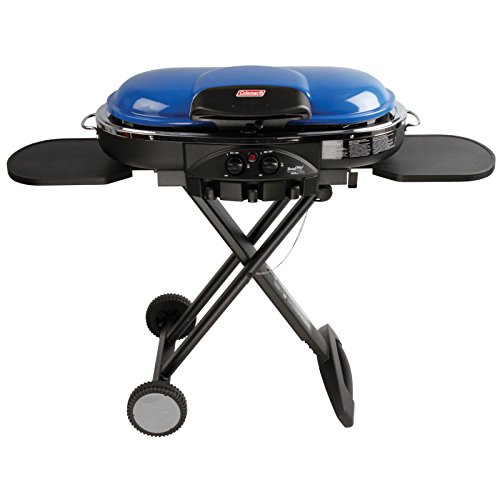 Coming in at #1 on the top 5 propane grill list is the Coleman Road Trip portable grill. This grill has all the essentials needed in order to have the ultimate grilling experience while camping. It is equipped with the Perfectflow Pressure Control System that consistently provides heat to the area, regardless of the temperature outside.
If you're constantly on the move, you'll be able to easily transport this grill thanks to the wheels and handle that will allow you to pull it wherever you need. This grill can also be folded into a small size so that it can easily fit into your car trunk or RV when you're finished.
You can also choose from a handful of colors. It comes in black, blue, green, maroon, orange, purple, red, and silver, so you can fashionably grill at your campsite with a grill that stands out!
The price of this grill typically fluctuates depending on the color, but the average price range is between $125 and $185. This price range is fair, as consumers will receive a an easy-to-clean, portable grill that will still provide that authentic grilling taste that you would experience using a charcoal grill.
Positives:
Easy to start

Comes in eight different colors

PerfectFlow Pressure System heats the grill easily, even in the cold
Negatives:
High priced

Not much room to clean
2. Weber 54060001 Q2200 Liquid Propane Grill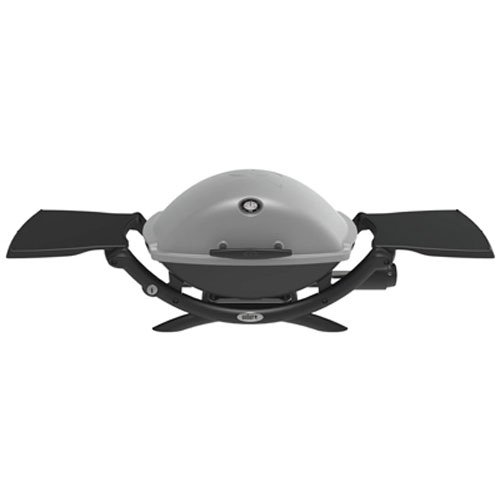 The Weber Q2200 is an easy to set up propane grill. This grill uses a stainless-steel burner that produces about 12,000 BTU-per-hour, which makes the surface hot very quickly. With the easy-start electronic ignition, users can easily start up the grill and heat every inch of the 280-square-inch cooking area.
One appealing perk is that this grill comes fully assembled right out of the box. No more wasting time reading instructions that will take you all day to follow. You can simply buy the grill, take it to the campsite, and start cooking right out of the box – after you attach a propane cylinder.
It works with 14.1 or 16.4-ounce propane cylinders. Since the required cylinder sizes are fairly small, this grill can be used for hiking trips when you're on the move as well as when you're stationary at an RV site. The plates on the side of the grill allows you to prepare food and store any cooking accessories or seasoning. This feature will save you a lot of space within your campsite.
The grey lid and body are made of a durable cast aluminum, so you can use this grill often in any camping environment without worrying about rust. It can also be purchased with a thermometer or an adapter hose that can be connected to a bigger propane tank, for stationary use.
Positives:
Table on each side allows you to place and prepare food

Grill doesn't need to be assembled

Easy to start
Negatives:
Takes up space

Arguably the most expensive grill on the list
3. Cuisinart CGG-18 Portable Gas Grill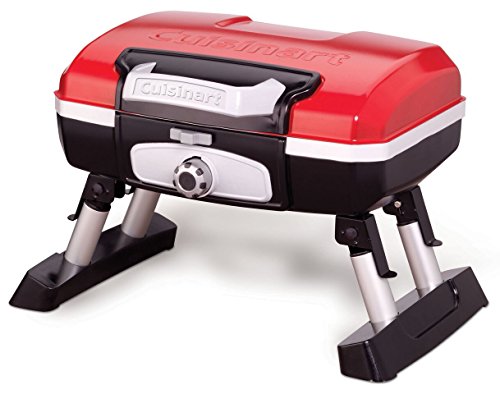 The compact design of the Cuisinart CGG-18 makes it a perfect grill to use when camping or on outdoor backpacking trips. Don't be fooled by the small size though. This portable gas grill has enough space to cook plenty of food.
You can choose from red, black, and stainless steel colors, so you can buy whatever style you like and start feeding your hunger with meat on the grill. The cooking surfaces provides enough space to cook about 8 hamburgers, 6-10 chicken breasts, or up to four pounds of fish, so it's safe to say that you will have plenty of room to cook despite the smaller size. This food will be heated by the 5,500 BTU stainless-steel burner and a porcelain grate.
The 13.5-pound propane grill is light enough where you can easily store it in a backpack or bag and take it with you. The aluminum legs and feet will allow you to stop wherever you are and set up the grill in a matter of seconds. The flat feet at the bottom of the legs will stabilize the grill so that it doesn't move while you're cooking.
Positives:
Inexpensive price

Compact size makes it easy to carry

Comes in three colors

Legs easily stabilize the grill against any surface

Lightweight
Negatives:
Legs rattle when being carried

Quality is average
4. Blackstone Portable Gas Grill and Griddle Combo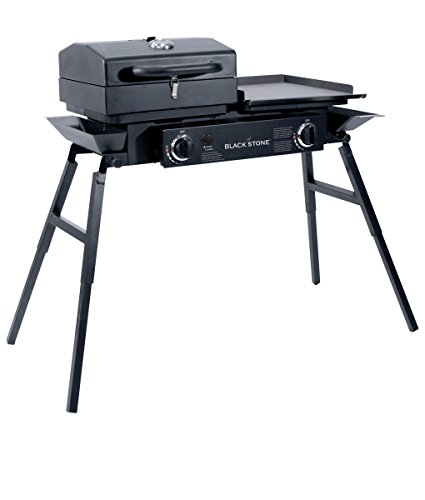 The Blackstone Tailgater gas grill has long legs that help stabilize the grill. You can easily adjust the legs so that it can adapt to a comfortable height for you to cook your hot dogs, hamburgers, and other camping foods no matter how uneven the ground.
There are two different independently controlled burners. The H tube burner can output about 15,000 BTU's, while the cast-iron burner will produce about 20,000 BTU's. This is more than enough power needed to quickly cook all your favorite foods.
This grill from Blackstone serves several uses. Having both a grill box and a griddle, users can set up their grilling station in a variety of ways. They can have both the grill box and griddle cooking together, one cooking next to an open flame, or take both off and have two open burners that can heat up pots or pans.
The durable grill box comes with handles and a vent. It also features a strong powder coat finish that is perfect for the outdoors. Whether you are in your backyard, going to the park for a family barbecue, or just hanging around at an RV campsite, this grill is a fantastic option.
Positives:
Adjustable legs make it easy to set up and put away

The grill and griddle offer plenty of cooking options
Negatives:
Takes longer than usual to heat
5. Char-Broil Portable Gas Grill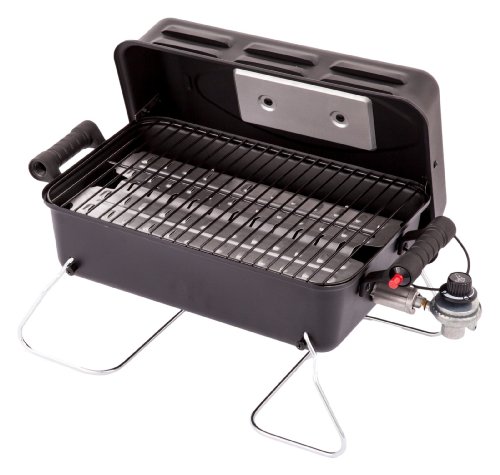 This portable gas grill from the Char-Broil brand will serve all your needs in a camping atmosphere. It is very durable and easy to transport thanks to its compact size. There are heat-resistant handles on each side of the grill that will allow you to move it wherever you need without having to wait for it to cool down after cooking.
This on-the-move propane grill can be easily put away thanks to the metal legs that can fold over the top of the lid, which locks it in place so things inside don't fall out or move around. It has a 187-square inch cooking surface, which will provide you with enough space to cook up to eight hamburgers at once! This grill also has a 11,000 BTU burner design that can be used with either a 14.1 ounce or 16.4 ounce propane cylinder.
You can typically find this grill for under $30, which is a steal if you consider how quickly you'll be able to cook your food with the lid down. While it might not be as flashy as other grills on this list, it has several advantages. It's easy to carry, durable, and one of the most affordable options.
Positives:
Easy to carry

Durable

Heat-resistant handles

Inexpensive price
Negatives:
Low heating temperature takes longer to cook food

Made with subpar quality material
Choosing the Best Propane Camping Grill
Propane camping grills come in different sizes and uses. So, which grill is best for your camping needs? Below, you'll find a few examples to help you understand your options.
For the active camper who likes to take hikes around the woods or down the side of a mountain, finding a lightweight, portable propane grill that can easily be set up is imperative. By having a grill that is easy to transport, these campers can take their grill wherever they go. In addition, on-the-move campers are going to prefer smaller propane cylinders because they will be less weight for them to carry.
Propane canisters come as small as 1-pound, but you may need a propane adapter depending on which grill you get. This adapter works converting a standard propane connector to accept a 1-lb tank.
The camper who likes to stay in an RV or at a regular campsite may prefer one of the larger grills. These grills are usually on the heavy side, but are easy to setup and fairly straightforward to use. Stationary campers will enjoy having a bigger grilling platform because it will be able to feed more people and cook longer if it allows a heavy propane tank. If you find yourself with a portable grill connection for a small Coleman style tank, you can convert to a Type 1 tank connection for a larger tank and longer grilling times!
Gas grills are desirable because they take minimal effort to start and provide the same cooked flavor as a charcoal grill would for the most part. There is still a fire underneath the cooking platform, the only difference is that it's charged by a gas substance opposed to the grey briquettes and lighter fluid.
If you're a camper on a budget, it would make sense to purchase a smaller grill that will be able to cook the same amount of food for a cheaper price. This will also benefit campers who enjoy being active while on their camping trip.
What's the Fuss with Propane Grills?
When it comes to propane-powered grills, there is a time and place where they are most valuable. These types of grills are most useful for camping because they will be used outdoors, and to be frank; they're just more convenient to use.
If you're grilling in the middle of the woods and decide to sit down and grill, it would be a hassle to clean up with a charcoal grill. On top of that, no one would want to hike with a heavy bag of coals! Instead, you can have a gas grill with the propane tank connected directly to the unit. Basically, having a gas-fueled grill is simply convenient.
Using propane is also going to be an advantage on windy days. A small propane grill will allow you to heat your food quickly and safely, without the possibility of coal chunks or flames accidentally starting a forest fire.
When it comes to propane grills, users won't have to wait more than a few minutes for the grill to start getting hot. Once the grill reaches a good temperature, you can simply take your food and place it on the grates so that it can start cooking. The best propane camping grill should also be reasonably compact and allow you to to use small propane cylinders as well as big tanks filled with propane.
There are different methods to using a gas grill to get the best taste. Some people use a cooking method called indirect grilling. With indirect grilling, food is placed to the side of the grill or further from the heat source so that the food cooks properly without making direct contact with the gas-fueled flame. Most of the time, people put their gas burners on low, although it will take longer to cook.
Indirect cooking is generally easier with larger grills you use in your backyard, but depending on which camp grill you use, it may allow more direct-heat cooking from the gas flames. Cook accordingly!
Regardless of where you want to use your grill, a high quality item will have more than one burner, so that you will be able to cook more servings at once or a couple different types of foods. Having multiple burners will allow you to become less dependent on a sole means of cooking, which should help you cook your meals a lot quicker.
The bottom line is that propane is a convenient solution for outdoor cooking. You don't need to deal with messy charcoal or constantly add more wood. You simply connect the propane tank, turn on the burner, and start grilling!