Having an RV is great for people who enjoy the relaxed, fun, nature vibe of camping but still want to have the same comforts that they have at home. When you start to get hungry, why not cook outside your RV and enjoy the outdoors? After all, grilling is one of the essentials of camping. Sure, you can easily stay inside your RV and cook your food on the stove, but what's the fun in that?
You went camping for a reason. Investing in a propane grill to use for your RV will keep you in the "camping" mood while still being able to cook anything that you would normally eat at home.
That's why the best propane grills for your RV will make you feel right at home! Propane grills will be able to start up instantly, so campers can start cooking whenever they become hungry. Having an easy to start propane grill by your side will save you more time than the traditional charcoal grill, so you can easily cook your food outside your RV and get back to enjoying what your camping environment has to offer.
We'll want our grills to be portable too, and we kept that in mind. The term "RV" is wide ranging in definition. Some people may own little more than a 1-bed van, and others may own a multi-bedroom house on wheels. If you don't have a cooktop in your RV, then a portable grill for RV camping is a must. We listed a variety of sizes, prices, and features in our top 5 picks.
There are five propane grills in particular that are most suitable for RV camping. Let's see what they are:
Char-Griller 3001 Grillin' Pro
Weber 46510001 Spirit E310
Coleman Road Trip Portable Grill LXE
Cuisinart CCG-240
Blackstone Portable Grill and Griddle
Top 5 Propane Grills for your RV
1. Char-Griller 3001 Grillin' Pro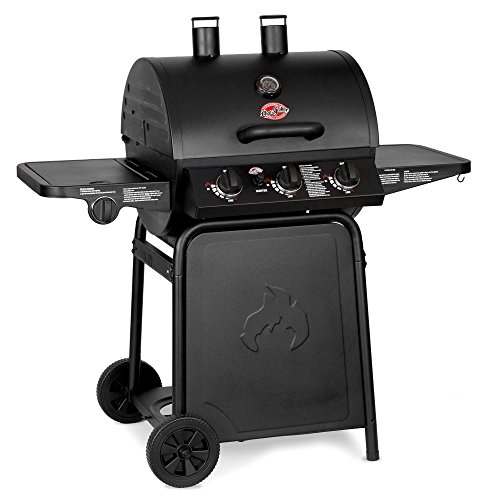 The Char-Griller 3001 Grillin' Pro is at the top spot on the list of propane grills for an RV. This grill offers the most convenience; saving campers the most time and providing a reasonable amount of space to cook with. There's no need to wait when starting up the 3001 Grillin' Pro. This grill is equipped with an electronic ignition, so whether you wake up hungry in the morning or just came back from a walk in the woods, this grill will be able to start almost instantly outside your RV.
This grill produces an impressive 40,800 BTU's; offering more than enough heating energy to cook your food at a fast pace. The primary grilling area is measured at approximately 438 square inches, so those with big families will have no problem cooking a lot of food within a short amount of time. Their family members could be at the beach, sitting at the table, or watching television in the RV while the delicious hot dogs and hamburgers will be cooking at the proper temperature.
The Char-Griller 3001 Grillin' Pro is also reasonably easy to move. Granted, this grill wouldn't be the best option for someone who is on the move for most of their camping trip, but for those who are idle at their RV site, this grill is ideal.
The two wheels located at the bottom will allow users to move the grill anywhere around their RV campsite with little-to-no effort! You can simply move the grill on an angle and wheel it to its next destination. At a price slightly below $200, it's safe to say that the Char-Griller 3001 Grillin' Pro is the most ideal propane option for any camper looking to gain a real camping experience while staying in an RV.
Positives:
Reasonably priced

Plenty of room to cook on

Electronic ignition prompts quick start

Durable
Negatives:
Doesn't come assembled

Assembly was difficult for most people

The coating tends to rust after being used often
2. Weber 46510001 Spirit E310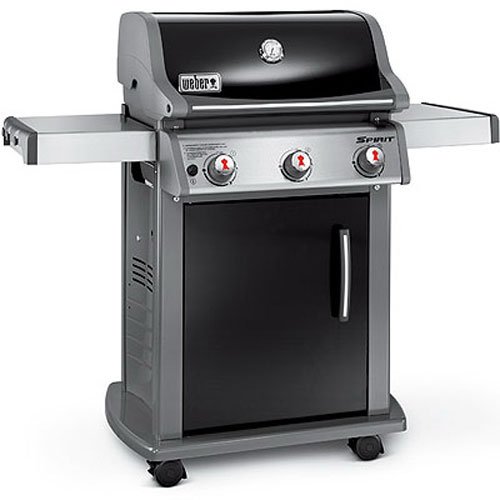 The Weber Spirit E310 is another highly recommended option for RV campers looking for a propane grill to use outside. You will be able to easily throw on some food and begin cooking thanks to the three stainless steel burners within the grill that supply roughly 32,000 BTU per hour! Similar to the Char-Griller 3001, the Weber Spirit E310 has an Electronic Crossover ignition system that can be started by simply pushing a button.
No more sitting outside your RV while waiting for the coals to turn grey. You can wake up in your bed hungry and go right outside minutes later and start cooking some breakfast with the Spirit E310. This grill comes in two varieties: 2 burner and 3 burner. While the 2 burner version is slightly less expensive than the 3 burner, it may make more sense to purchase the latter for the extra money because you will be able to cook more food. The only downside to the 3 burner option is that you will use more propane, which could demand you to purchase more of it to keep up.
One thing that will instantly stand out about this grill is the price. Most interested consumers will find this grill for well over $500. While this grill most definitely has a lot to offer, the price suggests it is more of an investment rather than a simple purchase.
Positives:
Easy to start

Durable grates

Plenty of room to cook

Fairly easy to assemble
Negatives:
Very expensive compared to other grills

Cosmetic quality is considered poor by select users
3. Coleman Road Trip Portable Grill LXE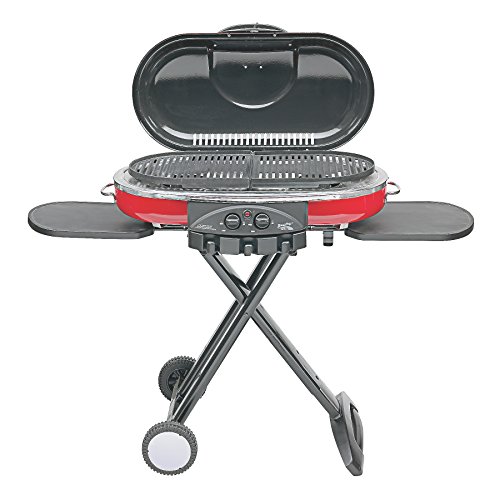 This versatile grill lands at #3 on the RV Propane Grill list. This grill is easy to start, lightweight, and affordable; elements that keep it within the top 5 of propane grills for an RV. It is very easy to start thanks to the instastart push button. All you have to do is set up the grill, push the button, and get ready to cook. Coleman applied something called PerfectFlow, which basically provides consistent heat regardless of the weather.
Something unique about this grill is that it has swaptop interchangeable cooktops which will allow you to use different methods of cooking, using the same unit. While the griddle, and stove grates are sold separately, it doesn't hurt to have more options at hand, especially if you have a large amount of friends and family socializing inside the RV waiting for their meal.
The Coleman Road Trip LXE comes in eight different colors: black, blue, green, maroon, purple, orange, red, and silver. Having color options isn't common when it comes to propane grills, but it's nice to have, especially if you want to match with the color of your RV! An issue which is likely common for RV users is the grill size. While it is perfectly fine to have a grill with more bulk, some campers may prefer something more portable. Luckily, this grill is very easy to move and put away.
The grill itself uses a collapsible stand as a platform, which compacts itself so that users can simply wheel the grill to its storage spot. There are two sliding tables (one on each side of the grill) that are meant to give the griller more space; something that will be appreciated by most.
Positives:
Available in 8 different colors

Fairly inexpensive

Quick startup

Portable

Easy storage
Negatives:
Cleaning in time consuming
4. Cuisinart CCG-240
One of the best things about the Cuisinart CCG-240 is that it can be used basically anywhere. From the backyard, to the park, to the parking lot of a football game, this grill has the mobility and cooking power to give you a bang for your buck. This is why it is great to use when going on an RV trip. The convenient TwistStart electric ignition will allow campers to start up the grill almost instantly.
This saves you a lot of time that would be used waiting for briquettes to be hot enough to cook food. There are two folding side tables made of stainless steel, which can be useful when cooking a variety of food or applying seasoning. The large wheels will also allow you to move the grill around to wherever it needs to go. Whether you are putting it away or taking it to your friend's RV, the CCG-240 will be able to move with no extra effort.
The cast-iron grill surface is measured at 240 square inches, with a 15,000 BTU burner that will cook food at a rapid pace. The grill doesn't take up much space, especially since it requires compact propane tanks ranging from 14.1 ounces to up to 16.4 ounces.
If you want to use the grill frequently, you can also purchase an adapter that will allow you to connect a 20 pound propane tank to the grill. With a fair price right under $170, the Cuisinart CCG-240 is priced at a great value. The only downside to consider about the CCG-240 is its durability. Select users have claimed that their grill didn't last more than a few months, as their parts began to rust and break apart. Despite these claims, if you take good care of your grill, it is likely that it will last longer than the norm.
Positives:
Portable

Fair price

Easy to use TwistStart electronic ignition

Temperature gauge allows consumers to keep track of food
Negatives:
5. Blackstone Portable Grill and Griddle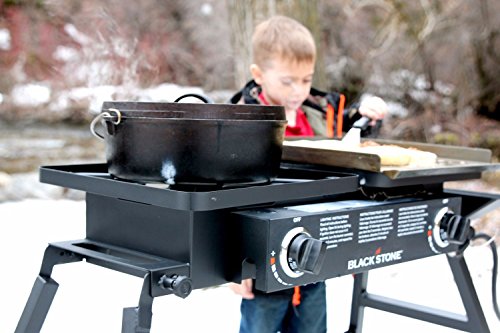 If you like having multiple cooking options, this grill is for you. The Blackstone grill is a good choice for campers who want to stay right in front of their RV for most of the day. They don't need to go cook from one place to the next, they just want to make some lunch and head back inside the RV. This grill has two controlled burners that can supply about 15,000 BTU's. There is also the cast iron burner that can contribute about 20,000 BTU's.
This Blackstone grill also has long legs that will keep it stable against any surface. Maybe you're cooking on grass, or maybe flat cement, no matter what it is you will be able to set up the grill and get started. This grill is very durable, as buyers will receive a vent, grill box, grill grates, and a handle that are made with high quality material that will last for a long time.
One of the only downsides of the Blackstone portable grill is that it is out in the open. Unlike most propane grills, this grill doesn't have a lid, which would be used to contain heat, keeping food hotter, at a faster pace in result. If you're alright with cooking in the open and having smoke flow within your camping area, the lack of a lid shouldn't be an issue.
Positives:
Griddle offers cooking options

Easily portable
Negatives:
Takes longer than usual to start up

Lack of a lid will take longer to cook
The Buyer's Guide for RV Propane Grills
Some people may question the significance of a propane grill that can be used for an RV trip. After all, isn't a grill just a grill? Of course not. There plenty of grills that offer certain features which are more valuable to some people rather than others. Some RV campers may prefer compact propane grills that can be easily stored whereas other campers will want to feel like they're in their backyard and cook on something with a little more space.
The power of your grill should also be strongly considered before making a purchase. Propane grills measure heat levels using BTU. The more BTU the grill offers, the stronger the heating power. If you're taking a trip in your RV with one or two people, you most likely won't need a grill that provides the amount of BTU's needed to cook for a family of five or six. In addition, campers who typically cook a lot of food when camping should strongly consider the surface area of their potential grill. Needless to say, a RV propane grill with a large surface area will be able to cook a lot more hamburgers and hot dogs in comparison to a more mobile, smaller grill.
A RV propane grill with side tables are a great option for grillers who like to have a lot of room to prepare their food. Food that is meant for a lot of people can take up a decent amount of time to prepare, so it could get annoying going back and forth between the grill and wherever your food is being seasoned. By having side panels within the grills structure, cookers can stay in the same spot and save time.
Price will almost always be a consideration when it comes to buying a new product. When looking for the right propane grill for your RV, be aware that a high price isn't always a reflection on quality. You need to figure out what you value in a grill and see what you can get for a reasonable price. The prices for a propane RV grill will vary between under $100 to over $500, so keep this in mind before pressing the purchase button.
The In's and Out's of Propane Grills for an RV
The best part about searching for a propane grill to use outside your RV is that you aren't as limited as you would be if you were staying inside a tent or going on a day long hiking session. Propane grills for outside an RV can be slightly larger than the traditional grill used for camping, since you are stationary throughout your trip. In other words, portability isn't a must.
If you're someone who can't physically lift over 50 pounds, or a camper who likes to move around during RV trips, it would be best to consider a smaller propane grill, such as the Coleman LXE. If you like having a large cooking platform that could feed the masses, something more bulkier would suffice. In most cases, the larger the wheels, the more mobile the grill will be from point A to point B. No matter what, you're going to have to transfer the grill from inside the RV to outside, and vice versa, so make sure it will be easy for you to take back and forth.
You're also going to want something that has a sense of durability. Grills made with different coats are vulnerable to rusting, which will decrease the lifespan of the grill. Grills made with stainless steel will be more likely to hold up in poor weather, although it is important for the griller to take care of their grill by covering it in storage. By having a grill that can be used often, you could essentially grill in front of the RV for every meal and not have to worry about any issues as long as you have enough propane. Also, most grills will be priced at well over $100. You're going to want a grill that lasts for years at a time, rather than months or weeks.
When it comes to having a propane grill specifically used for outside an RV, easy storage is crucial. Although RVs provide a sense of home comfort, they are very compact in comparison to a traditional house. This means that it is important to save as much space as you can. By having a propane grill that can fold and easily be stored, you won't have to deal with a random grill sitting in the living room, which in essence takes up a lot of open space.
Another highlight of having a propane grill is that you won't have to wait long for the grill to heat up. There are a few grills currently on the list that have a button start, so campers will be able to simply push the button and wait a few minutes for the grill surface to get hot. This adds a convenience factor to the consumer which is second to none. While propane can get costly if you grill often, it is a lot more convenient than charcoal.
Bags of charcoal are heavy for most people and an eyesore to have laying around, especially in an RV. Most people wouldn't want to have company over in their RV with a huge bag of charcoal laying on the couch. Charcoal also gets messy, as it has a smoky black residue to it. This will likely cause the inside of your RV to get dirty, which means for cleaning for you instead of going outside and enjoying the day.