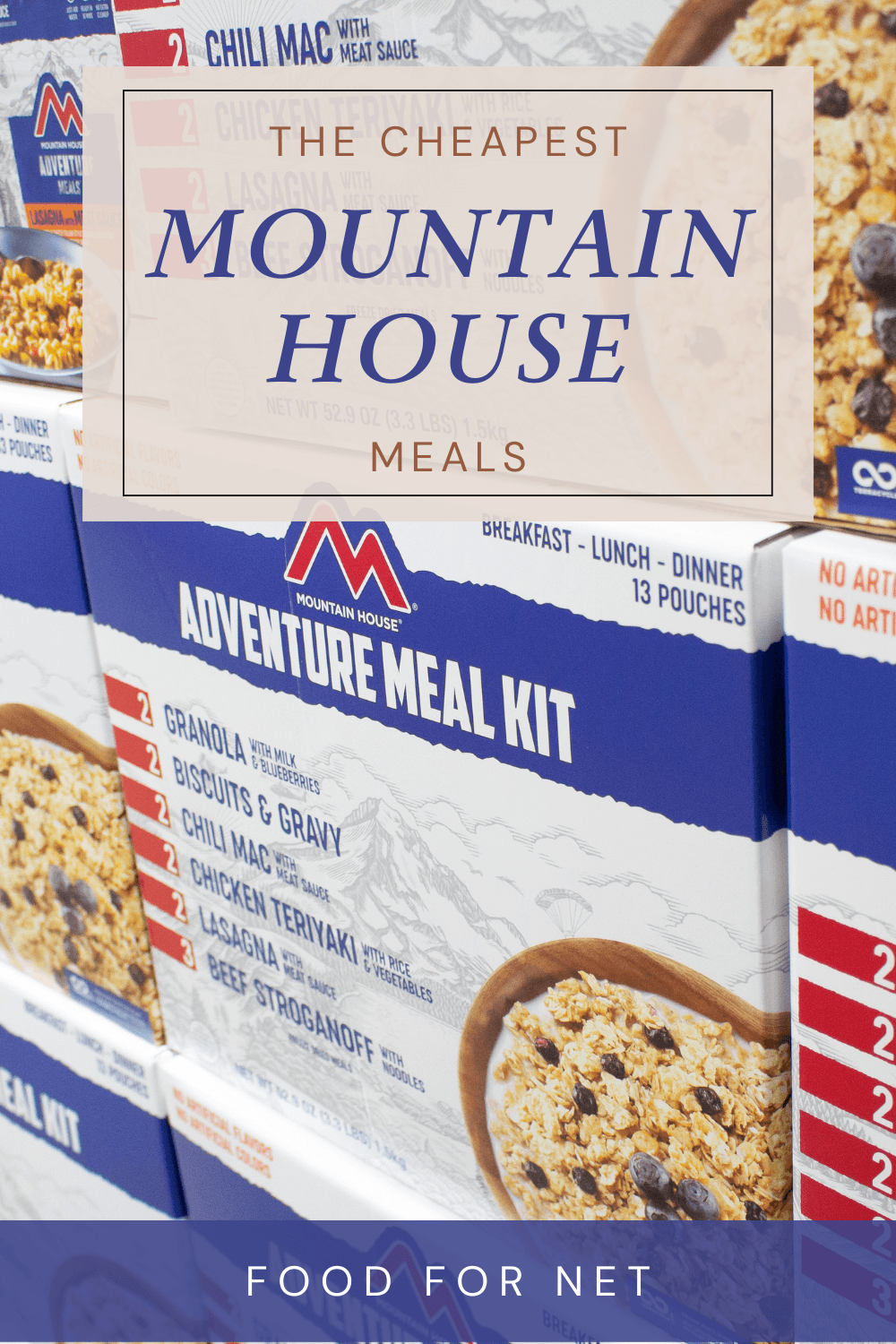 Mountain House is one of the most famous companies offering freeze-dried meals, which are perfect for camping, hiking, and emergency food storage, including food in case of a hurricane. These meals are beyond easy, as you just need to add hot water, stir it in, and seal the bag. You'll normally have a hot and pretty tasty meal in 10 minutes or less. They can be kind of expensive though, so I wanted to find the cheapest mountain house meals for camping, traveling, or emergency food.
So, what are the cheapest Mountain House meals? What I found out is that, if you're buying meals individually, the prices aren't dramatically different from one product to the next. If you're looking to save money by by seeking out the cheapest meals, you're going to have a pretty monotonous diet, and not save that much money.There are still some cheaper options though, which could be perfect if finances are tight.
The meals themselves aren't the only thing to consider. Where you buy them from matters as well. Sometimes you save a decent amount of money by simply choosing the right site or finding an amazing sale.
Cheap Meals From Mountain House
Granola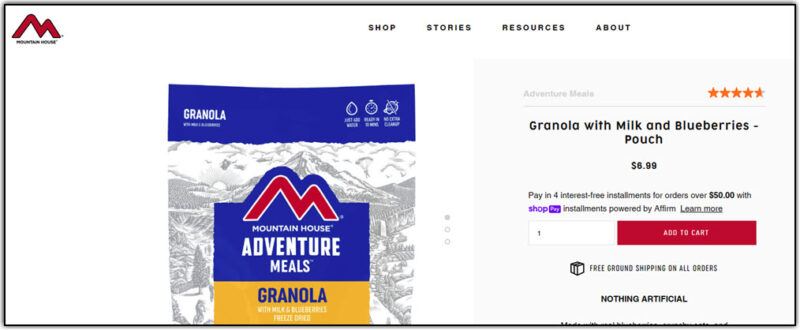 This is the cheapest meal from Mountain House – coming in at $6.99 on the Mountain House site. The low price isn't surprising, as the dish is simply oats, blueberries, and powdered milk. It comes in at 15 grams of protein per pouch, which isn't too bad, but might not be enough if you're looking for a filling breakfast.
Also, because there's milk in the mix for this product, it isn't vegan friendly. This pattern is true across most Mountain House products. As a result, vegans and even vegetarians may need to stick with another company instead.
Scrambled Eggs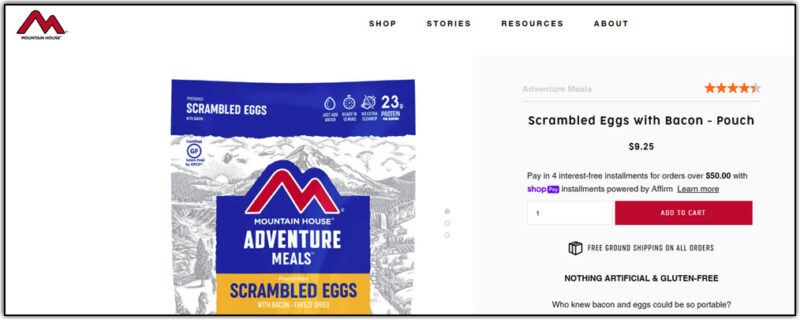 Up next is Scrambled Eggs, which costs $9.25 and even contains bacon. The bacon doesn't have added nitrate either, which is even better.
While this breakfast costs more than granola, it's also more filling as well, with 23 grams of protein per pouch. Besides, there's always something satisfying about eggs for breakfast.
Biscuits & Gravy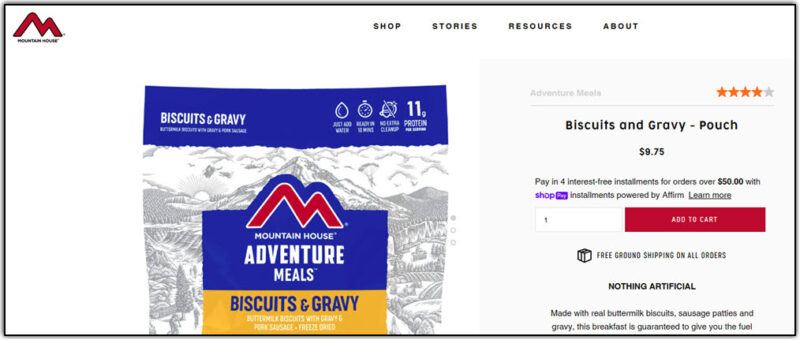 Mountain House has one more significant breakfast – Biscuits & Gravy. It's a little more expensive than the other two, at $9.75. However, it's also a more comprehensive breakfast, featuring buttermilk biscuits, pork sausage, and gravy.
It's another fairly satisfying meal too, with 22 grams of protein. That said, Mountain House provides nutritional details for the entire pouch and suggests that a pouch is enough for two people.
Pasta Primavera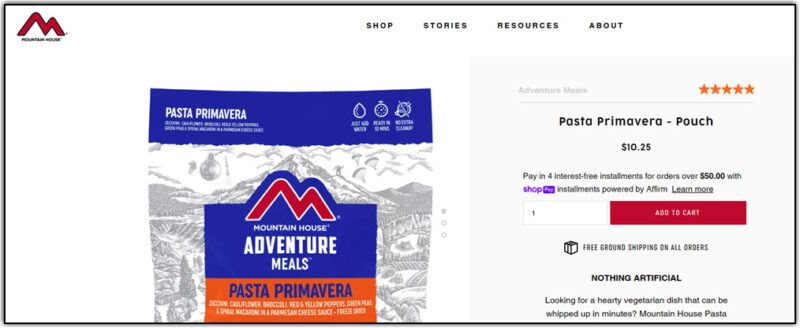 Mountain House's Pasta Primavera is a meat-free meal, featuring zucchini, cauliflower, bell peppers, cauliflower, and broccoli. These vegetables are complemented by macaroni and a parmesan sauce. The lack of meat might be why this is one of the cheapest full meals that Mountain House offers.
However, while this is a vegetarian meal, the use of parmesan sauce means that it isn't vegan friendly.
Chicken & Dumplings


This meal is a simpler one. It's a riff on the traditional Southern dish, featuring chicken, dumplings, white gravy, and vegetables. The familiar flavors are fantastic when you're hungry and away from home.
The white gravy here is likely to be similar to the one featured in the Biscuits & Gravy meal. However, the Chicken & Dumplings flavor is designed as a full meal and offers an impressive 33 grams of protein per pouch.
The protein content is important, as only a few other regular Mountain House Adventure Meals get close to this protein content. You'll get more protein from the Pro-Packs (like the Chicken & Rice Pro-Pack with 43 grams of protein). However, the Pro-Pack meals are also more expensive.
Creamy Macaroni & Cheese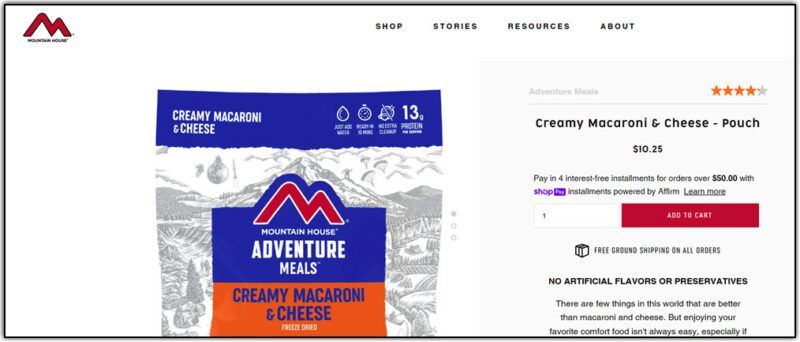 This meal is another comfort food choice and doesn't need any introduction at all. I mean, really, it's simply a freeze-dried version of macaroni cheese.
Interestingly, the protein content of this meal comes in at 26 grams. That's not incredibly high, but is much more than the Pasta Primavera, which only offers 16 grams.
Chicken & Mashed Potato Dinner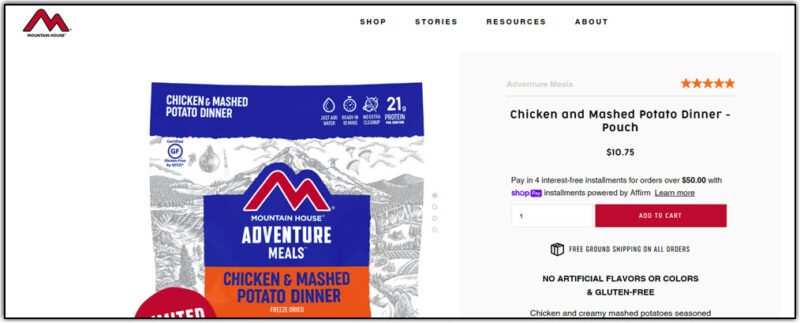 This meal is a very slight step up pricewise from the previous three examples. Those all cost $10.25 on the Mountain House site, while this one comes in at $10.75 instead.
This is also a limited release, so it might be tricky to find this flavor, especially if you're buying the meals from other suppliers. Still, it's a well-reviewed meal and offers 42 grams of protein per pouch.
Rice & Chicken


This meal costs $10.99 from the Mountain Home site. It's not as well reviewed as the Chicken & Mashed Potato Dinner, but still has plenty going for it.
Interestingly, the meal doesn't include many components, just rice, chicken, and pimientos. Everything is mixed together, so it's basically a stir fry that's been freeze-dried and sealed in a pouch.
Beef Meals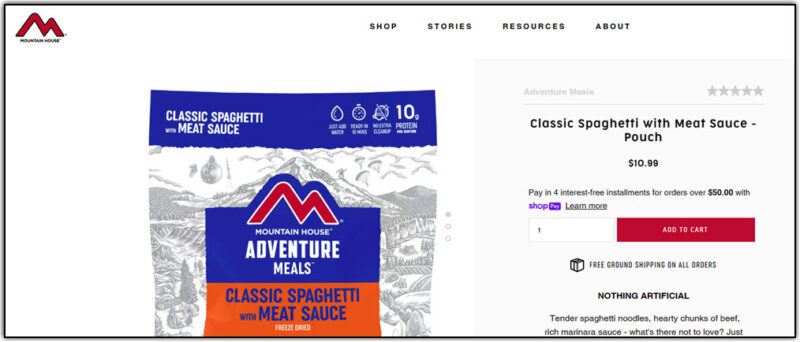 If you don't like chicken, there is a variety of meals at the same price, including Classic Spaghetti with Meat Sauce, Lasagna, Beef Stroganoff with Noodles, and Chili Mac with Beef. These all follow traditional styles and focus on red meat.
They're not as filling as you might expect though. For example, the spaghetti dish contains just 19 grams of protein per pouch, while the lasagna is a bit better at 23 grams. But remember, that calculation is for two servings. All of these meals end up between 10 grams and 12 grams of protein per serving, which isn't much at all.
Other Meals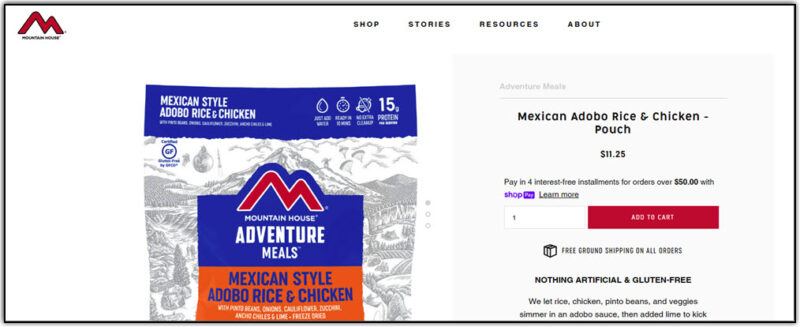 The featured meals all cost less than $11 per pouch from the Mountain House site. There are some slightly more expensive meals too, like Mexican Adobo Rice & Chicken for $11.25 and Chicken Fajita Bowl for $11.50.
$11.50 is as high as it gets for the regular single serving meals from Mountain House (although Pro-Packs and Classic meals cost more). This mightn't seem like much of a difference, given that many of the cheaper meals on this list cost close to $10 anyway.
If you're only buying a few meals for emergencies, then the price difference probably won't matter too much. But, if you're trying to stock up, then even $0.25 extra per meal will add up quickly.
Emergency Food Supply Kit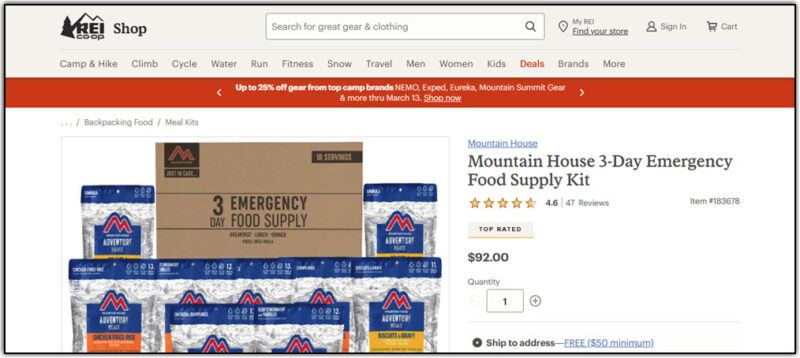 The Emergency Food Supply Kit isn't a single meal. Instead, it's a three day kit that includes freeze-dried meals for breakfast, lunch, and dinner – for $92 on the REI site. The kit contains 9 pouches, so it averages out to around $10.20 per meal. You might get the collection for an even lower price if you buy it through another site.
The meals include Chicken Fried Rice, Dumplings, Biscuits & Gravy, Granola, and more. The main limitation is that you don't get to choose your meals. You simply get whatever comes in the box. It could also be a little frustrating if you're just looking for dinner, as there are multiple granola pouches in the mix.
Essential Meal Assortment Bucket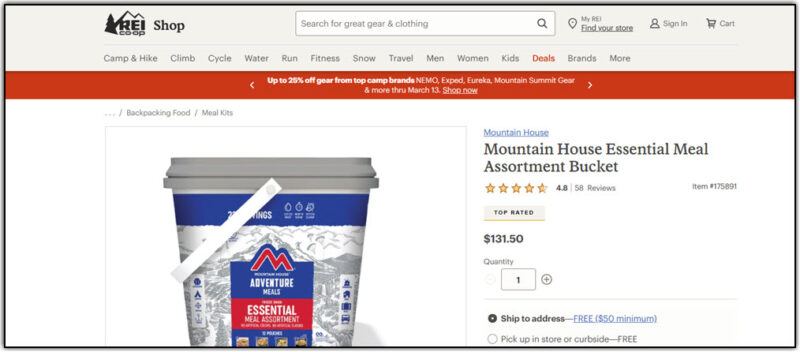 Here's another meal collection option. The Essential Meal Assortment Bucket costs $131.50 and comes with 12 pouches – averaging out to roughly $11 per meal. The price per meal is a touch higher than the Emergency Food Supply Kit, but you're getting more filling meals.
This time, there are two types of main meals: Beef Stew and Rice & Chicken, plus two types of breakfast Scrambled Eggs and Breakfast Skillet.
There's also a Classic Meal Assortment. This follows the same pattern – just with a different selection of meals. This time there's Granola as the breakfast choice, along with meals like Beef Stew, Beef Stroganoff with Noodles, Chicken Fried Rice, and Spaghetti.
There are 12 pouches here too and the collection comes in at $126. As such, it's a little cheaper per meal than the Essential version (probably because of the Granola). The difference isn't dramatic though.
Larger Emergency Packs


Finally, Mountain House has some seriously large emergency food kits. The smallest is their 30-day pack, which contains 90 freeze-dried pouches for around $699. This calculates to around $7.80 per meal. The price does vary depending on how you pay, but it generally works out to less than buying the meals individually.
Then there's a 3-month, 6-month, and 1-year version. Each of these is larger and should be even better value.
The 1-year version is the most dramatic example. It's not cheap on the face of it – costing more than $11,000 at full price (although Mountain House discounts this down to $7,999).
This counts as a cheap meal because of value for money. You get 1,080 pouches for this price, which is very impressive. The meals could theoretically feed you for a year, which makes them great for preppers.
Of course, these kits are only helpful if you plan to use a lot of Mountain House meals or if you want them for emergencies. If you only need the meals every so often, then it's best to buy the meals individually or in a smaller pack.
Where To Buy Mountain House Meals
Through Mountain House Itself
Mountain House products are easy to find. You can simply order them from the Mountain House website. Their site also has a store locator that helps you find which physical stores stock them.
Other Online Vendors
While Mountain House is the easiest place to find these meals, Mountain House often isn't your cheapest option. You can sometimes save a decent amount by doing a bit of shopping around first.
Take Rei Co-op as an example. Their initial prices are similar to Mountain House, but members get 10% cash back on many purchases. If you buy from this company often, the cash back is a little like saving money.
Sierra Trading Post is another good choice. This company offers a huge range of products and often has Mountain House meals at a fantastic price. In fact, they're one of the best places to find reliable Mountain House deals.
You can also check out Nitro-Pak. This company also has a decent selection of emergency food, including Mountain House products. Their base prices are similar to Mountain House itself, but you'll often find sales.
For example, at the time of writing, Mountain House has the Rice & Chicken for $10.99, while Nitro-Pak has the same product for $8.79.
Because sales change over time, it's best to check out each site when you're ready to buy. You may find that the best choice changes depending on the sales each is offering.
Amazon
Finally, there's Amazon. If you find a good seller or hit onto a sale, then the price per meal can be much lower than any other site. You need to be careful, though, as not all sellers are reliable.
Some are actually scam artists from start to finish. So, if you see a sale that looks too good to be true, it probably is.
That said, there are legitimate sales on Amazon too, including discounts for products that are close to their expiry date. So, if you shop around, you might find an amazing special.
Which Meals Are Best?
If you're looking for the best value for money, it's best to focus on inexpensive meals that are high in protein. The Chicken & Dumplings meal is a great example, as this costs $10.25 for a pouch and contains 17 grams of protein. Chicken and Mashed Potato is even better, costing $10.75 and offering 21 grams of protein per pouch.
Other products aren't nearly so good, like the Lasagna with Meat Sauce which costs $10.99 and only provides 11 grams of protein per serving.
You could also turn to the Pro-Pack meals. While these are more expensive, their protein content is higher.
This discussion of protein highlights another important point – Mountain House meals mightn't be enough on their own. They're lower in protein than you might expect and mightn't keep you full. You may need to have some filling snacks in your arsenal too, like nuts and jerky.
Finally, if you want the lowest price per meal, you'll need to buy in bulk. This is where the best savings are. Whether this approach works depends on how many Mountain House meals you actually need. After all, buying 500+ meals when you don't need them isn't going to help you financially.