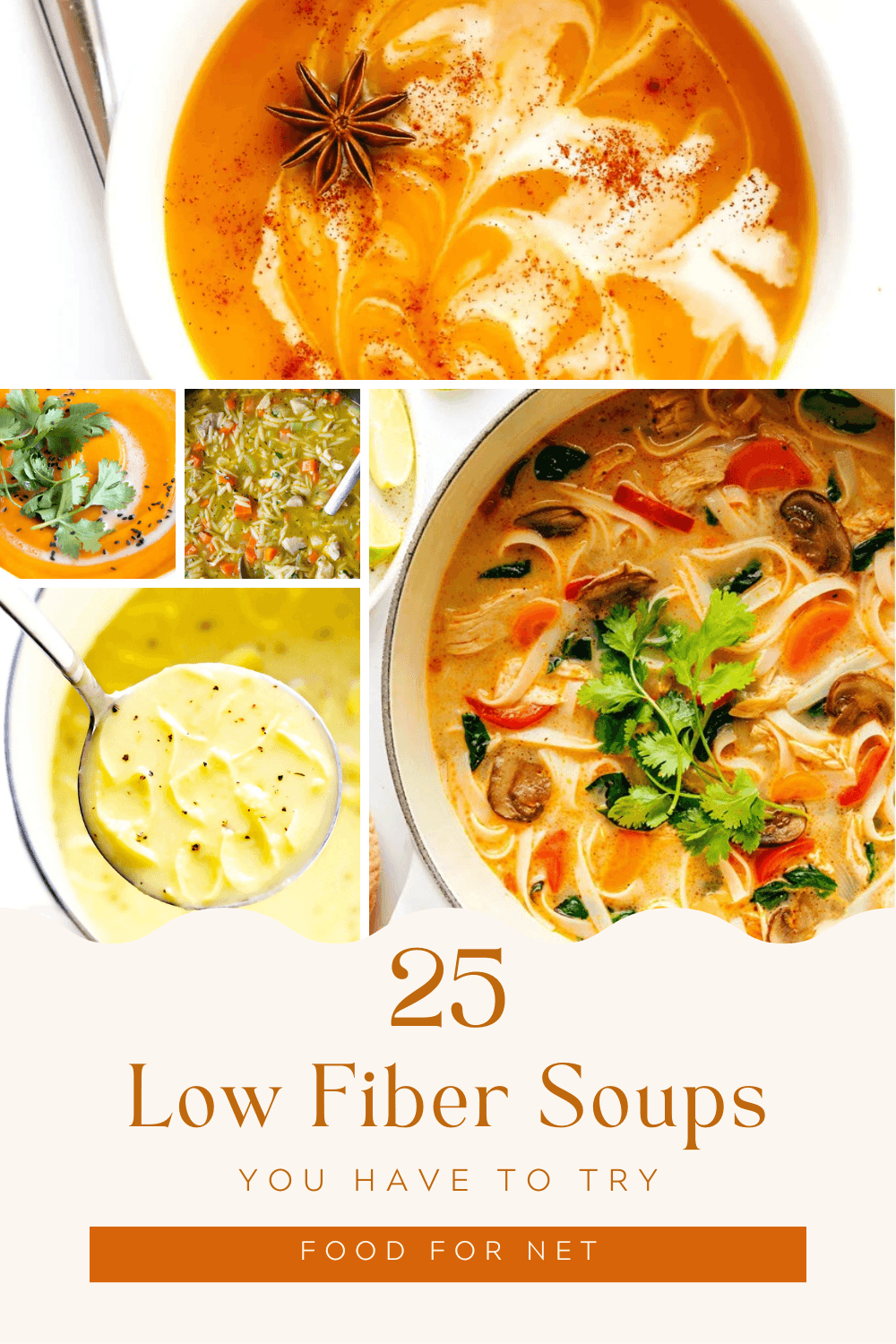 Fiber is generally a good thing. It's essential for healthy digestion and many of us need more of it in our diets, not less. However, sometimes you need to decrease the undigested food you excrete, which involves lowering your fiber intake. While low fiber diets can seem restrictive at first, you can still include plenty of your favorites – including a huge range of low fiber soups.
These soups come in many different styles and flavors. The main theme is that they focus on low fiber foods, including cooked carrots, pumpkin, rice, refined pasta, and chicken.
It's also important to pay attention to your specific needs. For example, onion is often allowed on a low fiber diet, as long as it is finely chopped and cooked well. Similarly, garlic is often allowed on a low fiber diet, but is excluded if you need to keep your residue intake low as well.
You may also find that your body responds poorly to some foods that should be safe. This is why it's always important to experiment. See what works for you and what doesn't.
Tasty Soups That Are Low In Fiber (With Pictures!)
Easy Potato Soup
This simple potato soup comes from gonnawantseconds.com and is a fantastic place to begin our list. The dish relies heavily on potatoes, chicken broth, flour, milk, and cream, with some added veggies as well.
However, you can't prepare the soup exactly as the recipe suggests – as it uses celery as an ingredient. You'll need to drop the celery out along with the spring onions used as a garnish.
Celery, onion, and garlic are some of the most common base ingredients for soups, so you'll find you need to make similar tweaks regularly. Don't worry, soups tend to be forgiving. You can change multiple ingredients without wrecking the dish.
Thai Chicken Soup
Chicken noodle soup might seem like a surprising addition, but you can have noodles on a low fiber diet, as long as they're made from refined flour (so whole wheat noodles are out). The mushrooms and carrots in this recipe, from gimmesomeoven.com, provide you with plenty of nutrients, while still keeping the fiber content low.
You might even be able to keep the red peppers in the recipe too, as long as you remove the skin first. Then there's the delicious Thai flavoring, which brings this whole soup together perfectly.
There's plenty of room for ingredient substitutions, so you can easily make the soup your own. Just pay close attention to your final serving size and the amount of fiber it contains – as you can still go overboard, even if you're focusing on low fiber vegetables.
Egg Drop Soup
Egg drop soup is a broth-based dish that relies heavily on eggs and chicken broth. Despite using relatively few ingredients, you end up with a rich and surprisingly filling soup.
This recipe from the-girl-who-ate-everything.com is a perfect way to try the soup out for yourself. Her recipe is very easy to follow and comes with plenty of pictures and recipe notes.
There's only one slightly problematic ingredient here – the green onions. Thankfully, these aren't essential at all. You can easily leave them out and still end up with a delicious soup.
Thai Pumpkin And Sweet Potato Soup
Let's move away from the broths and look at creamier options, like this Thai pumpkin and sweet potato soup from theforkedspoon.com. Though it may seem surprising, pumpkin and sweet potato are both low fiber foods, as long as they're peeled and cooked well.
The richness of this soup would be particularly good in the cooler months. The Thai flavor profile makes this soup more exciting than you might expect too. Seriously, it's a great one to come back to regularly.
Three Potato Soup
Speaking of starchy soups, why not try this delicious three potato soup from gimmesomeoven.com? There really are three types of potato in the soup too – sweet potatoes, Yukon gold potatoes, and red potatoes. Using three types of potatoes adds to the flavor and texture of the soup, making it much more exciting.
You'll need to peel all of the potatoes and cook them well to make them work on a low fiber diet. That's not a problem though, as they'll still taste delicious.
The recipe also provides different ways to mix up the recipe, like changing the seasonings, the types of cheese, or adding some extra protein. Such tweaks allow you to easily make the soup your own.
Creamy Potato Soup
Here's another riff on potato soup – this one from houseofyumm.com. The big difference is that in this one the ingredients are all blended together, which makes the soup rich and creamy.
Of course, you can choose the degree of blending. You might leave some chunks of potato or blend everything to create a very creamy broth.
The other thing to think about is the bacon, which adds flavor and provides protein. The pictured version of the soup uses crispy bacon as a garnish, but you might choose to cook the bacon more gently, especially if your gut is sensitive. You could even skip the bacon entirely. The soup would still taste delicious without it.
Carrot Ginger Soup
Jessica at theforkedspoon.com offers this recipe, which is much more interesting than regular carrot soup. For one thing, there's ginger in the mix, which makes the flavor profile much more exciting.
The recipe also calls for potatoes or cauliflower to provide creaminess. You'll want to take the peeled potato route on a low fiber diet, as the fiber content would be too high otherwise.
Chai Butternut Squash Soup
Here's another bright orange soup. This one comes from gimmesomeoven.com and uses butternut squash as the main ingredient. It takes an interesting seasoning approach, though, by relying on one to two bags of chai tea.
While tea might seem like a strange soup addition, the idea works incredibly well. It provides much more flavor than you'd normally get in chai soup, while perfectly complementing the rest of the flavors.
Lemon Chicken Orzo Soup
Orzo is interesting. It's basically refined pasta that's shaped like rice. It can be used in plenty of dishes, including salads, risotto, and even soup. And, because refining decreases fiber content, orzo can easily be included on a low fiber diet.
This recipe from damndelicious.net is a simple yet effective way to use the pasta. You're basically making a version of chicken noodle soup, just with orzo instead of noodles. There's some lemony juice in the mix too, which adds even more excitement to the flavor profile.
Creamy Spinach Soup
Spinach, particularly baby spinach, tends to work well on a low fiber diet. So, why not try this creamy spinach soup from gonnawantseconds.com? The spinach means that there are plenty of nutrients in the soup, but it's also a rich and creamy treat that's easy to love.
As Kathleen mentions, you will need to be careful when making the soup, as blending hot liquids is always a little dicey. It's very easy to spray burning hot liquid everywhere – which is the last thing you want.
You'll need to be careful with the garnish too. The pictured bread might contain too much fiber for your needs.
Lemony Artichoke Soup
I love this artichoke soup from gimmesomeoven.com. After all, soups tend to use the same ingredients over and over again, like butternut squash, carrots, or chicken. It's nice to see a recipe that takes things in a completely different direction.
This is also a very easy recipe, as it relies on common ingredients, like flour, chicken stock, and lemon juice. However, it's another recipe that relies on celery as one of the base ingredients. The celery is cooked and pureed, but even so, you'll probably need to avoid when following a low fiber diet.
Caldo de Pollo
Caldo de Pollo is essentially a more flavorful riff on chicken stock. It's something you can consume on its own or you can use it as the base for any recipe that normally uses chicken stock.
The recipe from gonnawantseconds.com makes the soup very easy to prepare. Plus, because it ends up as a clear liquid, it's naturally a good fit for a low fiber diet.
There are a few concerning ingredients in the mix, including celery and a jalapeno. However, you're not actually eating these vegetables directly. They're simply simmered in the broth to provide flavor. This approach is one way to still enjoy the taste of such vegetables, even on a low fiber diet.
Thai Carrot Soup With Basil
Including Thai flavors in soup is such a great idea. Doing so makes the soup much more interesting and the flavors aren't difficult to achieve either. This recipe, from minimalistbaker.com, is a classic example of the approach.
One of the most interesting ingredients is peanut butter, which is really what makes the soup special. This addition actually works on a low fiber diet too, as long as you stick with creamy rather than chunky peanut butter.
Easy Chicken And Rice Soup
Want something easy? This recipe from iowagirleats.com could be just the ticket. Chicken and white rice is always a fantastic combination, especially with some carrot in the mix as well.
The recipe doesn't even require any tweaking, as it doesn't rely on celery or any other high fiber ingredients. What could be better?
Clam Chowder
Did you know that clam chowder can easily fit onto a low fiber diet? This recipe from damndelicious.com is a particularly delicious way of doing so, as it relies on plenty of flavor-packed ingredients.
Another cool thing is the level of control. You could make this an incredibly creamy soup or make it runnier instead. There aren't any problematic ingredients either, although you might want to avoid making the bacon too crispy.
Three Ingredient Tomato Soup
How have we not mentioned tomato soup? Tomatoes themselves are completely suitable for low fiber diets, as long as you remove the skin and seeds. Doing so isn't too difficult. Or, you can just buy canned versions where the hard work has been done for you.
This particular recipe comes from inspiredtaste.net. It can be made with fresh tomatoes or canned tomatoes. Then there are just two other ingredients, water, and seasoning. That's it. What could be simpler?
Butternut Squash Soup
This butternut squash soup recipe uses coconut milk to provide plenty of creaminess. The rest of the ingredients list is pretty familiar, although you will need to drop the celery out to keep the fiber content low enough (don't worry, it's optional anyway).
The full details can be found at wholesomeyum.com. There are even details for preparing it both in the Instant Pot and on the stove top. You can choose whichever approach works best for you.
Roasted Beet Soup
Doesn't this beet soup look stunning? The recipe comes from seriouseats.com and is surprisingly easy to prepare. Most of the ingredients are completely fine, although you might need to skip the leek to keep this recipe truly low fiber.
Creamy Fall Soup
This fall soup, from minimalistbaker.com, was designed to be served in acorn squash bowls – although you could easily use a different type of squash or an alternative type of bowl. The soup itself can be made using sweet potato, butternut squash, or carrots – or some combination of the three types.
The recipe does call for a cup of red lentils to add some protein and fiber. However, you'll need to leave these out for a low fiber diet. They're optional anyway, so there's no harm in skipping them.
Cream Of Mushroom Soup
Why buy canned cream of mushroom soup when you can make your own version instead? This recipe, from cafedelites.com, is an excellent place to begin.
The recipe can be easily tweaked too, such as using regular milk or evaporated milk instead of cream or even making a dairy free version. There are instructions for all these variations, so you get a perfect dish every time.
Mushrooms are actually fantastic for a low fiber diet, as they contain surprisingly little fiber. They're also delicious and add plenty of richness to the soup.
South Carolina She-Crab Soup
This soup is seriously amazing. It comes from Laurie at forktospoon.com and can actually be prepared in an Instant Pot (or a slow cooker if you don't have an Instant Pot).
As the name suggests, the soup really does use crab meat as one of the main ingredients. This provides plenty of protein and an amazing flavor. Old Bay seasoning is also used, which makes the flavor that much more amazing.
Thai Sweet Potato And Carrot Soup
This soup comes from the site damndelicious.com – a website name that sums up the recipe very well. The recipe relies on plenty of zesty Thai flavors, along with the sweet potatoes and baby carrots.
Other ingredients provide flavor and plenty of creaminess. It's a soup you're certain to come back to time and time again.
Cream Of Chicken Soup
Kari from getinspiredeveryday.com offers this simple recipe that allows you to make cream of chicken soup for yourself at home. The recipe is much healthier than anything you'd buy in the can.
There are only a handful of ingredients to worry about, making this an incredibly easy recipe to try for yourself. Of course, you can easily add a few more things to make this even tastier.
Panera Copycat Creamy Tomato Soup
Laurie from forktospoon.com designed this recipe to mimic the creamy tomato soup from Panera. This is a great recipe when you're in a hurry, as it takes less than 10 minutes in a pressure cooker.
Not surprisingly, tomatoes are the main ingredient in the soup. But, there are some other crucial flavor ingredients as well. These bring the soup and make it even better.
Carrot Coconut Soup
Finally, we have this carrot coconut soup from everydayeileen.com. It's an incredibly versatile soup, as it's vegan and paleo friendly. It's also free from gluten and nuts.
There's just one catch – the celery (again!). You'll need to drop this out to make the soup suitable for a low fiber diet. Don't worry, the soup should still taste amazing even without the celery.