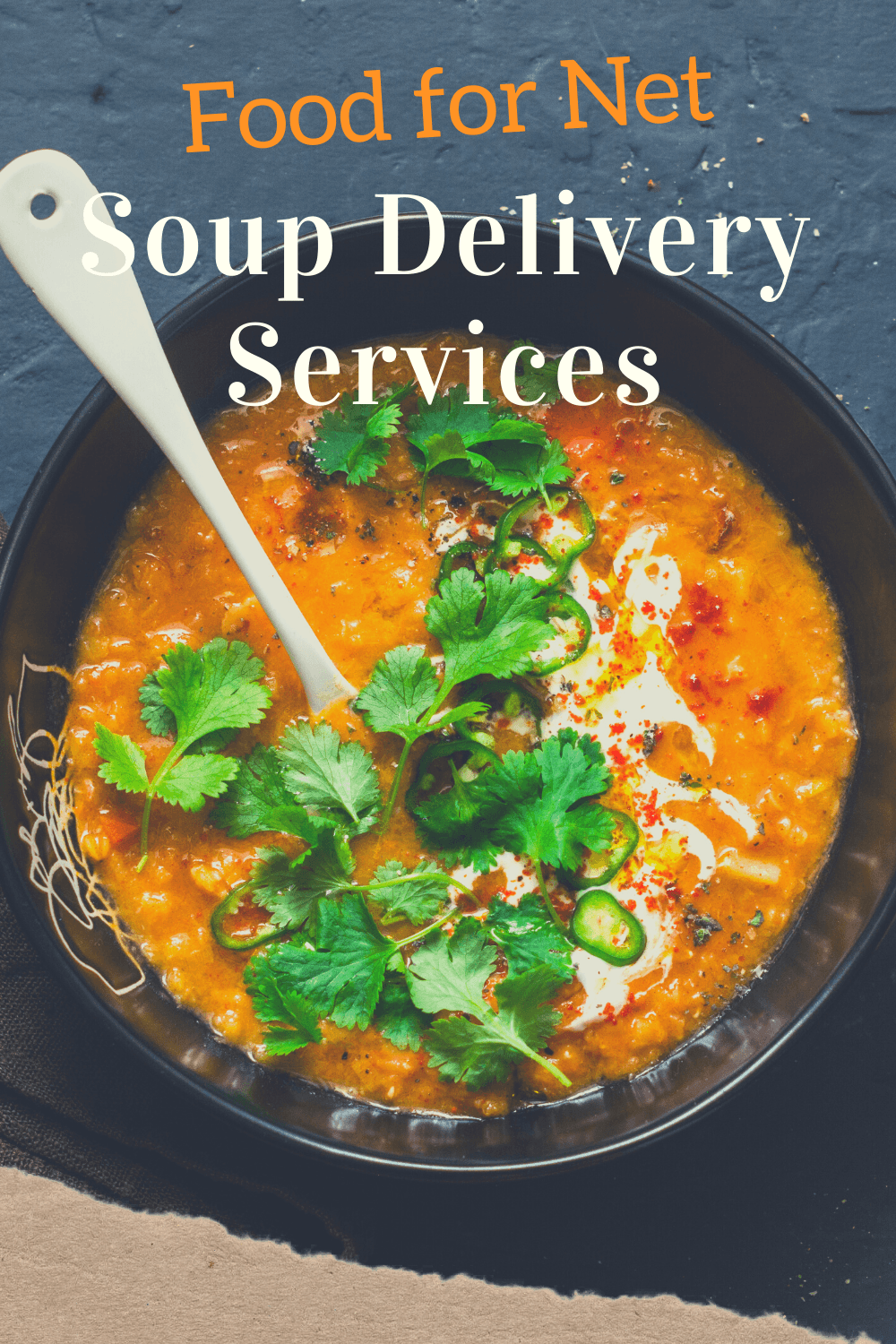 Soup is among the most versatile of foods. You can combine anything you want, add some broth, and you've got yourself a soup. There are also some traditional soups like chicken noodle, minestrone, tomato, etc. Some soups are rich in fiber, nutrients, and protein, while others have a different balance, including low fiber soups and broth-based options.
Whether you go classic or make your own, there's just something about soup that is so comforting. When made with the right ingredients, it also comes with many health benefits.
Because of this, many people like to have soup on a regular or even daily basis. This means you either have to stock up, or you're going out to get it often. It doesn't have to be this way, though.
If you're constantly searching for "soup near me" and sifting through the options, consider signing up for a soup delivery service instead. Many soup delivery services ship nationwide and will even set up recurring deliveries for you. You can combine these with other healthy options too, like vegetable, meal prep, or fresh fruit delivery services.

Soup Delivery Services
Spoonful of Comfort
Souper Girl
Grandma's Chicken Soup
Ramen Hero
Daily Harvest
Katz's Delicatessen
Magic Kitchen
Brodo
The Original Soup Man
Good Stock Soups
1. Spoonful of Comfort

Spoonful of Comfort was born when the founder's mother was diagnosed with cancer and her immediate reaction was to provide comfort. Her first thought was chicken soup – it's what comforted her as a kid, after all.
So, from that situation came Spoonful of Comfort. The idea is to use their soup or collections of soup as a way to comfort either yourself or someone else. Their soups include traditional chicken soup as well as a few other variations and options. They come in care packages with other thoughtful items such as cookies and special note cards.
If you want to go the extra mile for the person you have in mind, they also offer add-ons like honey, tea, heating pads, robes, and skincare items.
2. Souper Girl

Souper Girl was founded by two moms who are passionate about healthy and natural foods and wanted to take a stand against the movement towards processed and industrialized food. They decided to create a collection of soups because it's such a versatile food.
Soup is also a great way to ensure you're getting your daily servings of vegetables as you can throw a ton of them in there. Plus, they acquire their vegetables from local farmers and work hard to support their local community.
They are confident in their claim that their soups are some of the healthiest around and they ship nationwide so no one has to miss out.
3. Grandma's Chicken Soup

Grandma's Chicken Soup was founded by a chicken soup-loving grandma who was always told by her family that her soup was the very best. Plus, you just can't go wrong with chicken soup – it's good for any occasion or even just because.
If you love the soup you can set up automatic monthly deliveries, or you can send it as a gift. For a soup lover, this chicken noodle soup is a great alternative to flowers in any situation. If you want to send someone an even more extravagant gift they have several soup care packages as well with bread, sweets, cookies, and other add-ons to choose from.
4. Ramen Hero

Ramen Hero was born in 2015 when the founder moved from Tokyo to the United States. It wasn't long after his move that he began his ramen business. He grew up loving authentic ramen noodles, spending time in the shops as a kid just to watch it be made.
Now, he wants to bring this experience to North America. Each batch of noodles is made by real ramen chefs using only the best and most natural ingredients. It's then packaged and sent to customers ready to go – just boil water and add to the mixture of noodles, broth, and your chosen toppings. You'll be eating in less than ten minutes.
5. Daily Harvest

Daily Harvest is passionate about good, clean food, and the good it can do for us. They want to bring it to as many people as they can in a way that's convenient and easy without sacrificing nutrition.
They do this by sourcing only the best and healthiest ingredients and then doing most of the work for you. They prepare and package the foods and meals so that all you need to do is complete the last step – heating it up, mixing it, whatever it may be.
Available foods/meals include smoothies, oat bowls, chia bowls, and some delicious soup.
6. Katz's Delicatessen

Katz's Delicatessen began in 1888 as a small deli in New York. Today, it has evolved into a local favorite. Their entire menu is available for local delivery if you happen to live in the area. They have a separate menu of available items for those around the country that still want to experience their signature dishes.
For delivery, they offer chicken noodle, matzoh ball, and split pea soup. They also offer a selection of meats, desserts, and bagels/bread. If you really love their food, you can sign up for a subscription and have the food delivered regularly. Their minimum subscription deliveries are fairly large so you may have to get together with family and set up a group order.
7. Magic Kitchen

Magic Kitchen is a food and meal delivery service with a wide range of options. You can choose to have complete meals delivered which is a great option for large and busy families. You can also choose smaller deliveries with a selection of individual items rather than an entire meal.
Either way, they have a ton of options that cater to many special diets, including vegan, gluten-free, vegetarian, low-carb, and more.
If it's soup you're after the have a large selection available for delivery. This includes broccoli, bean, tomato, vegetable stew, and more. They also have a great selection of bread available that complement the soups nicely.
8. Brodo

Brodo offers a special type of soup that many people swear by – bone broth. Not only can bone broth be delicious but it's known for being extremely healthy for all. They've worked hard over the years to perfect their process and their broth to bring maximum benefits to their loyal customers.
Their broths are rich in minerals and are healthy for adults as well as developing babies. It helps them build strong bones while keeping mom's bones from wearing down. They've even partnered with a medical center in New York to get their bone broth to new and expecting mothers every day.
If you want regular bone broth, you can create your custom order and then set up automatic deliveries every two or four weeks.
9. The Original Soup Man

The Original Soup Man believes that nothing is more timeless, traditional, and comforting as soup. Soup is not only delicious but it can be extremely healthy when you add the right ingredients, and the Soup Man is dedicated to making their soup the best of both worlds.
They are constantly working to create new blends and recipes, while always adding their special, secret spice blend to add that signature splash of flavor.
You can pick and choose soups for a one-time order, or you can join their club and get a six-pack of your choice delivered every month.
10. Good Stock Soups

Good Stock Soups is a company of people that are passionate about soup and they simply want to share their passion with others. They pride themselves in being a modern soup company that still does things the old-fashioned way.
They only use the highest-quality vegetables, herbs, and meats from quality, local farms. Then, they cook it all the right way, without any artificial flavors, colors, or preservatives.
You can place individual, one-time orders with no commitment required. Or, you can save 10% by subscribing and setting up regular deliveries.
Things to Consider When Having Soup Delivered
While soup is a classic and traditional meal, there are so many options it can get overwhelming. Go through the following factors before deciding which soup delivery service to use.
Soup Variety
Since soup can literally be made from anything, you need to consider exactly what the company has to offer. Many love chicken noodle soup, for example, and as a result, some companies focus only on this.
If you're a die-hard chicken noodle soup fan, this is exactly what you want. If you're after some variety, keep looking.
Quality of Ingredients
Many people eat soup, at least in part, for the health benefits. If this is you, the quality of the ingredients used is a huge factor. Look into how they source their ingredients – does it come from a local farm? This is ideal.
You should also consider the type of ingredients. Are there are a lot of vegetables going into the soups? Lots of veggies are the best way to pack a ton of nutrients into one bowl.
Other Options
Lastly, consider what else they offer. Many things go well with soup – bread and crackers being a good example.
While some companies focus only on soup, some create entire care packages. These packages include everything from bread or crackers to tea, honey, sweets treats, and all kinds of other fun stuff.
These are great if you want to complete the soup experience for yourself, or send a nice variety of comfort food and items to a loved one.