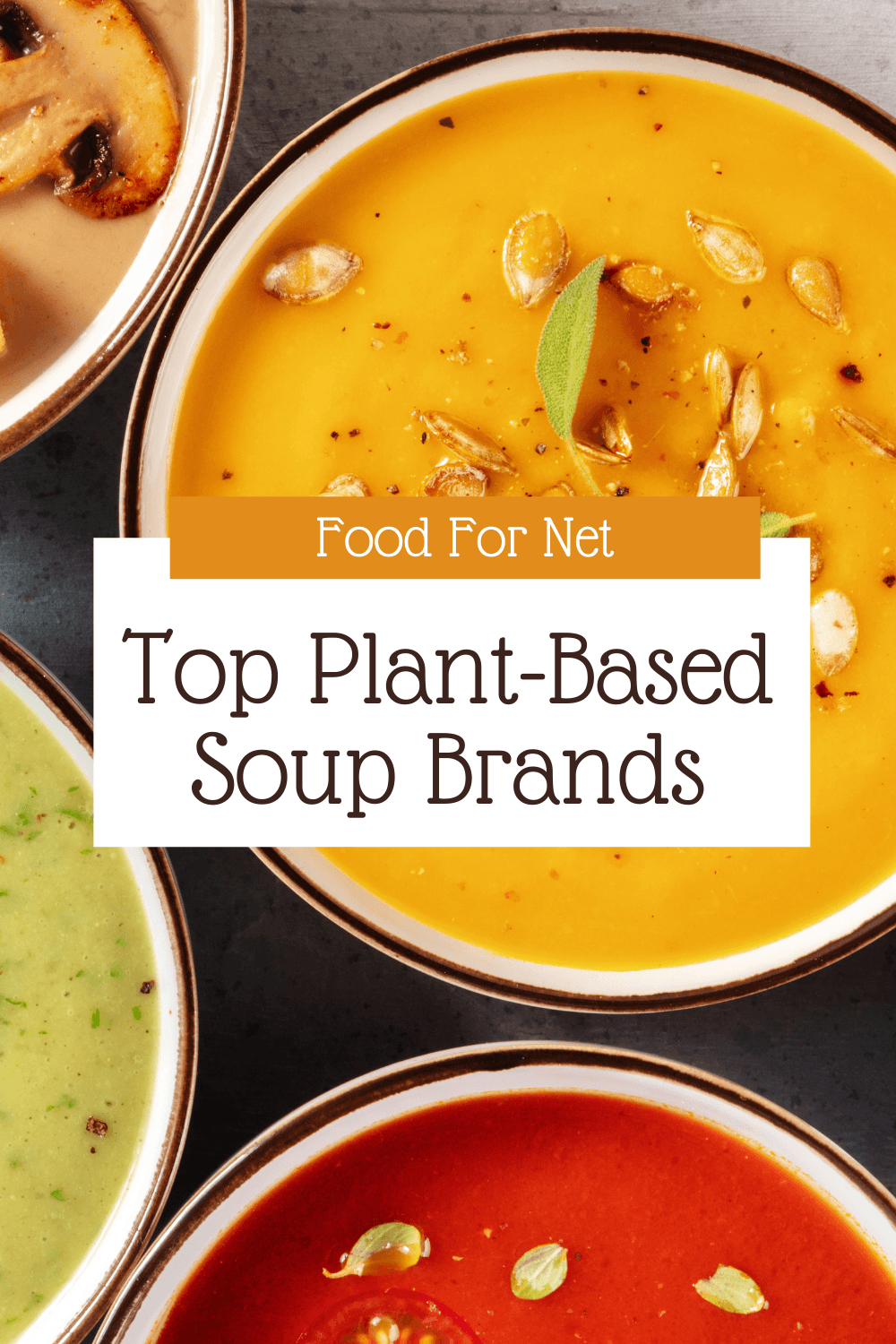 Not only can soup be wonderfully delicious and nutritious, but it's also a universal comfort food. Whether you're sick, sad, cold, tired, or anything else, there's something about a nice warm bowl of soup that makes you feel just a little better. You can even find soup delivery services, that's how popular soup is!
One of the best things about soup is its versitility. You can make a soup out of just about anything, and put anything you want in it.
The unfortunate part of many canned or store-bought soups, however, is that they're full of salt, sugar, and other undesirable things necessary to keep them stable on the shelf. Even if the soup is chock-full of veggies, the additives take away from whatever nutrition you may get from the few good ingredients.
If you're vegan, it can be even harder to find good plant-based soups, healthy or not. Sometimes, even "vegetable" soups that contain only veggies may still use preservatives or other fillers that contain animal byproducts. While truly plant-based soups might be harder to find, doing so isn't impossible. There are several brands here that have created genuinely wholesome and healthy soups that are entirely vegan and entirely delicious!
The Best Plant-Based Soup Brands
1. Amy's Kitchen Soup

Amy's Kitchen has an amazing selection of healthy, organic soups with all kinds of powerhouse ingredients to fuel your day, help you recover, or offer some healthy comfort food when needed. They have many recipes and flavors to choose from, but common ingredients include beans, lentils, quinoa, and of course, vegetables. They even have a no chicken noodle for those that crave the classic dish but don't want the meat.
In addition, almost all of their soups are organic. They are so passionate about serving up quality, healthy, and truly organic meals and ingredients that they were organic before it ever became an official certification. This means that they were doing it not for marketing or for the label, but because this is what they believe in.
They're also completely non-GMO and work closely with their local farmers to ensure the soil stays healthy and everything is done correctly, from planting it right to harvesting at the perfect time of year.
2. Campbell's Well Yes!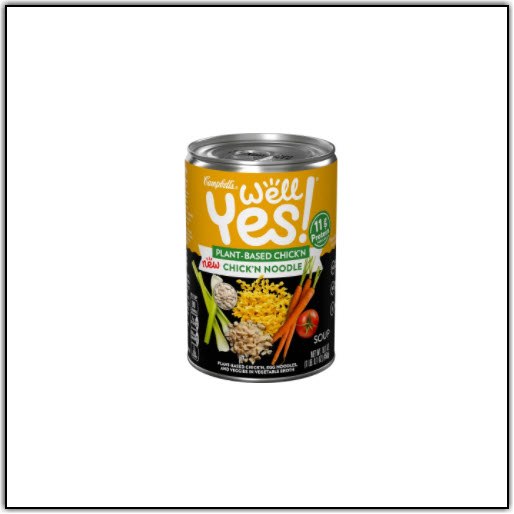 Campbell's is a well-known soup company that many people like and trust, so it's nice to see them coming out with healthier, plant-based soup options. The vegetarian Chik'n Noodle soup is among the most popular as it gives vegetarians access to a well-loved, classic flavor of soup with a plant-based meat replacement instead of the real thing.
They also have several veggie and grain-filled soups for the vegans who want something warm and hearty. Their Veggie Chili with Black Beans is the perfect example. The ingredients here include black beans, diced tomatoes, tomato juice, tomato puree, whole grain spelt, black barley, and a long list of vegetables. This veggie chili soup offers 13 grams of protein, lots of iron, and potassium, and is only 200 calories.
For those looking for a wholesome soup and convenience, they've also developed a few of these products into what they call "sipping soups." These soups are packaged in such a way that you can just heat them up and sip it right from the container. These are perfect for quick meals, work/school lunches, or long day trips where you need to maintain nutrition easily!
3. Pacific Foods Soups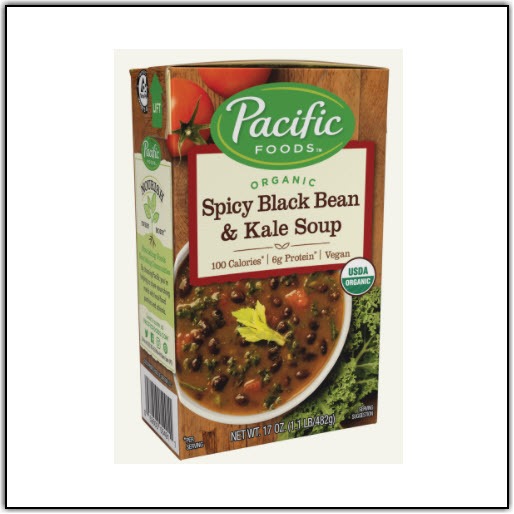 Pacific Foods has a huge collection of soups that they promise are just as healthy as they are delicious. They use a long list of wholesome ingredients to achieve this and have a soup for every need, diet, and lifestyle. This includes kosher, gluten-free, dairy-free, yeast-free, low-fat, soy-free, vegetarian, and vegan.
Their line of plant-based soups specifically is still a pretty good size, with more than ten flavors, such as sweet potato Thai, cumin carrot, tomato basil, cashew carrot ginger, and more. All of their vegan soups are also organic.
In addition to soups, they also have a great collection of plant-based nut milk and beverages as well as bone broths and stocks and bone broths. Whether it's broths or soups they're dedicated to using healthy, good-quality, and locally-sourced ingredients. They've always worked very closely with local farms to use and create healthy but also sustainable and eco-friendly farming practices to ensure quality and integrity runs through every aspect of their business.
4. Progresso Lentil Soup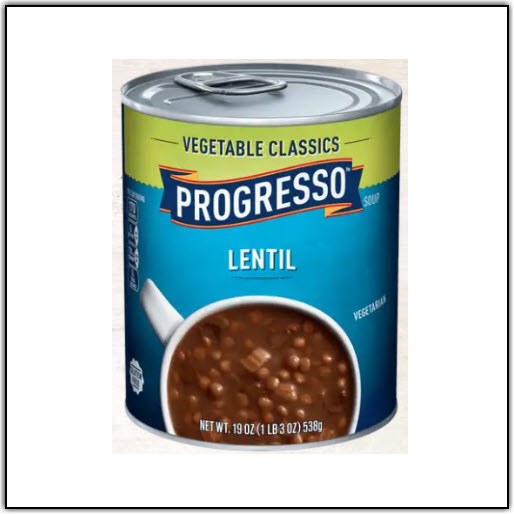 Progresso Lentil Soup is a delicious and extremely healthy option, with celery and spinach in there along with the lentils. Everything about this soup is wholesome and good – it's gluten-free, has no artificial flavors or colors, it's a great source of fiber, and each serving offers half a cup of veggies.
There are two servings per can, with each serving containing only 140 calories. There are four grams of fiber per serving and seven grams of protein. It also contains a good amount of potassium and a solid 25% of your daily required iron intake.
If you like this soup, Progresso has many others to offer, from classics like minestrone, chicken noodle, and tomato basil, to interesting options like ham and peas or dumplings. Their promise, regardless of the soup you choose, is that all ingredients are wholesome and non-GMO, there are no artificial flavors or colors, and everything is low in calories.
5. Gardein Plant-Based Soups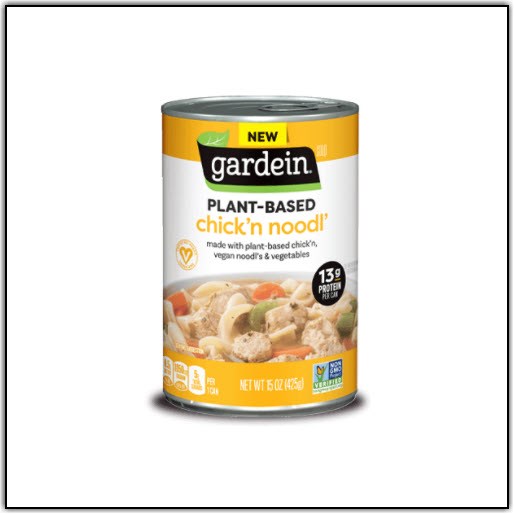 Gardein has many amazing plant-based products and meat replacements available, so it's no surprise their soups are just as good and just as wholesome. They've taken many classics that many know and love and turned them into wonderful plant-based creations. This includes a plant-based minestrone and sausage, plant-based chicken noodle, plant-based chicken and rice, and more!
The plant-based chicken noodle soup is made to be a perfect copycat of the classic, tasting just as good with just as much flavor. They use a delicious plant-based chicken along with plump, tender noodles and an abundance of carrots and celery. There are even 13 grams of protein in there and a serving is only 200 calories.
If you're loving the soup but want something a little thicker, they also have plant-based chili that you can try. They have an option with beans and one without, each equally delicious and entirely plant-based. The chili with beans has an impressive 28 grams of protein per serving.
Plant-Based Soups at Home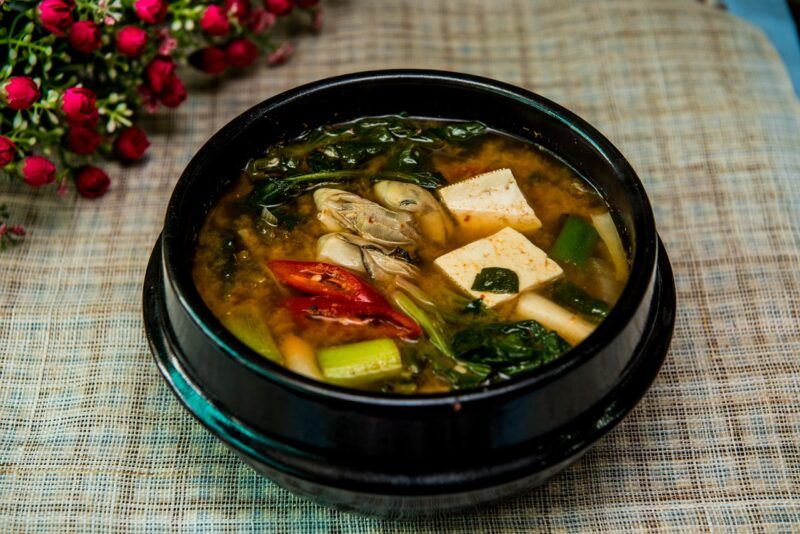 Even with all the amazing plant-based soup options out there from caring, wholesome companies, sometimes there's nothing quite like a nice bowl of homemade soup. When you're making soup at home, it's nice and easy to ensure that your recipes are vegan, gluten-free, and whatever else you may want or need, because you're in complete control of the ingredients.
Easy Lentil Soup
Lentil soup is a classic not only because it tastes great but because lentils are extremely healthy. They're a great source of protein, fiber, iron, zinc, potassium, and so much more. Lentil soup is also extremely versatile because once you have the base down, you can mix, match, add, and remove other ingredients as you wish.
This recipe is a great place to start as it helps you create a simple base of carrots, celery, potatoes, greens, and herbs. It's all made in one pot with easy-to-follow instructions. They even make a few suggestions for possible substitutions if you want to try something different or perhaps can't have some of the included ingredients.
Nutrition Powerhouse
If you like lentil soup and want a few more ideas, this post has five delicious, plant-based soup recipes, including two variations on lentil soup. Other recipes here include squash soup, beans and greens soup, and what they call a "sniffle soup" which is a powerful collection of herbs, spices, and veggies that are great to have when you're sick.
The beans and greens soup is particularly interesting here. Not only is it gluten and oil-free on top of being vegan, but it's so packed full of nutrients and superfoods with the inclusion of beans and greens – particularly kale. Kale is known to be one of the healthiest and most nutritious foods on the planet.
This recipe calls for about six or seven cups of it which is going to give you an amazing influx of nutrition. Other ingredients include potatoes, rosemary, thyme, marjoram, miso, bay leaves, and more. You could add some spinach for even more nutrition, and it'll taste and feel similar to the kale.
Kale is an excellent source of calcium, potassium, manganese, copper, and vitamins A, K, C, and B6, to name just a few. One cup also has only 33 calories so it's an extremely diet-friendly food. Other health benefits of kale include plenty of antioxidants, the potential to decrease cholesterol, the presence of cancer-fighting substances, and some harder-to-find nutrients that work to protect the eyes!