Salads are often touted as one of the healthiest things you can eat, but this depends entirely on what you put in (and on) it! A salad can just as easily become the least healthy part of your day and the culprit isn't always what you think. You can load a salad up with fresh lettuce and lots of veggies, but if you then smother it with a fattening, sugar-filled dressing, you're defeating the purpose. Many don't even realize how unhealthy their salad dressings are since it's just assumed that salads are healthy. 
If you want your salads to truly be good for you, you must look for the brands that care about your health, and most importantly, read those ingredients labels. The simpler the ingredients are usually better, meaning you'll find plenty of healthy plant-based salad dressings that are not only eco-friendly and vegan but offer plenty of nutrition to top off that salad with. 
The great thing about these plant-based dressings, too, is that the use of whole foods and real fruits and veggies means the flavors are even more potent, delicious, and authentic. Not only can your Caesar salad be truly healthy, but it'll taste better than you've ever had before. 
The Best Plant-Based Salad Dressing Brands
1. Daiya Creamy Ceasar 

Daiya is so passionate about plant-based eating and the good it can do they believe it can change the world – from the health of those who eat this way to the health and longevity of the planet itself. Their focus is on providing products that are bright and flavorful while also being nutritious and eco-friendly. 
Their Creamy Ceasar dressing is a great place to start as it easily replicates the classic salad dressing in a healthy, mindful way. It contains no dairy, gluten, soy, eggs, peanuts, tree nuts, or fish products. Instead, ingredients include oils, vinegar, cane sugar, chickpea protein, onions, and several spices to create the perfect flavor and texture.
One serving of the dressing has 120 calories, no cholesterol,  and a bit of calcium, and potassium. Mostly, it has the perfect taste for a classic but healthy Ceasar salad. Use the freshest lettuce you can find, chop up some tomatoes and throw in some gluten-free croutons for a great plant-based side to any meal. 
2. Simple Girl Citrus Ginger 

Simple Girl Citrus Ginger goes in a completely different direction than the creamy Caesar, but it's no less delicious and no less nutritious! The citrus ginger flavor offers a bright kick to any salad and goes well with toppings like tomatoes or fruits. The dressing is sugar-free and oil-free in addition to being organic and kosher. It also has only three calories, as well as no fat or carbs. All of these things combined mean that it's allowable within pretty much any set of dietary restrictions or lifestyle choices. 
The ingredients here include apple cider vinegar, onion powder, sea salt, garlic powder, stevia leaf extract, monk fruit extract, natural flavors, and a few spices. It's minimal, tasty, and makes for some of the healthiest salads you've ever had. If you want to mix things up a little, it can also double as a marinade! 
Lastly, many customers love purchasing from Simple Girl not only for their quality, plant-based products but because they are passionate about giving back. They support many different causes and charities with their profits, including sea turtle rehab efforts, camps for kids, marine animal rescues, and many more! 
3. Annie's Goddess Dressing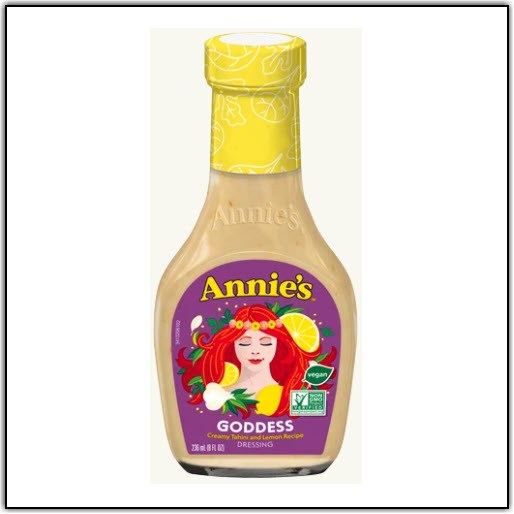 While Annie's is known for their delicious organic and healthier boxed pasta, it's not all they do. Annie's Goddess Dressing is an amazing and delicious way to make your healthy salads even healthier and keep them vegan and plant-based. 
The tangy, healthy dressing is made with natural, wholesome ingredients like chives, parsley, lemon, and creamy tahini. The dressing has many loyal fans and customers who use it for a variety of salads and call it "addictive" and "drinkable." To top it all off, it's also made with only non-GMO ingredients. There are only 120 calories in a serving which also contains no cholesterol and no trans fats. Even the carbs are very low and it contains a small amount of calcium and iron. 
Though this particular blend is among their most popular dressings, Annie's does have a few more flavors to pick from, including honey mustard, Italian, Caesar, and poppy seed. 
4. Organicville Non-Dairy Ranch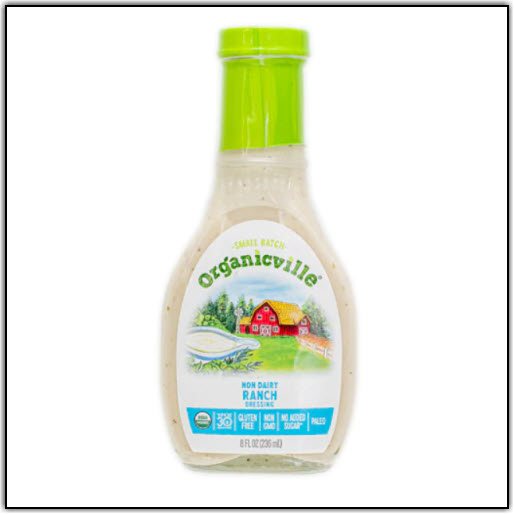 Organicville Non-Dairy Ranch is the perfect substitute for your favorite classic! Creamy Ceasar dressings are a favorite for their sharp, delicious flavor and thick, creamy texture. Caesar salads are served universally in restaurants, dinner parties, and even with family dinners. They're easy to make at home and healthy additions like tomatoes and mushrooms are common. The problem is, traditional Ceasar dressings are not healthy and put a major damper on an otherwise wholesome meal or side. 
This non-dairy, plant-based alternative mimics the flavor you've come to know and love while offering a healthy addition to your fresh, nutritious salad. Ingredients include sunflower oil, apple juice, coconut cream, lemon juice, salt, black pepper, parsley, and more. Regular Ceasar dressing also contains a high number of calories, but this plant-based version has only 100.
5. Follow Your Heart Honey Mustard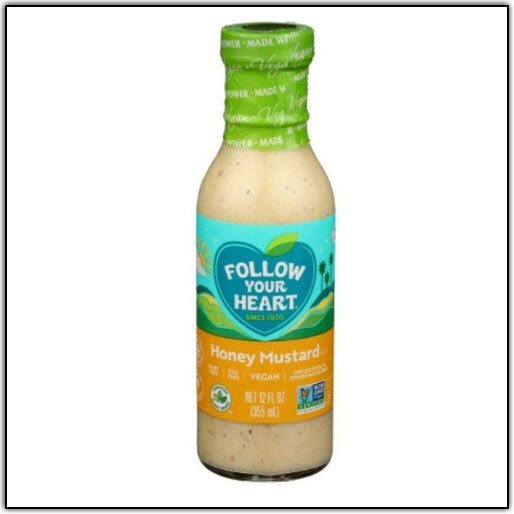 Honey Mustard is another popular dressing/dip flavor that is also often riddled with sugar, sodium, and other undesirable chemicals, additives, and preservatives. Follow Your Heart Honey Mustard is a healthier, vegan alternative that offers the same delicious taste you've come to know and love. 
The classic flavor is created from ingredients such as apple cider vinegar, agave nectar, mustard seeds, Dijon mustard, onions, spices, and more. The entire list of ingredients is vegan and offers plenty of nutrition. This means you can add this sweet, sharp flavor to your salads, use it as a dip, or even have it double as a nice marinade.
It has a moderate 110 calories per serving with no cholesterol and no trans fats. If honey mustard isn't your thing, Follow Your Heart also has other classics like Caesar, ranch, thousand island, and more – all vegan, plant-based, and much healthier than their counterparts! They also have other products such as plant-based cheese, mayonnaise, dips, spreads, and more. 
Homemade Plant-Based Salad Dressing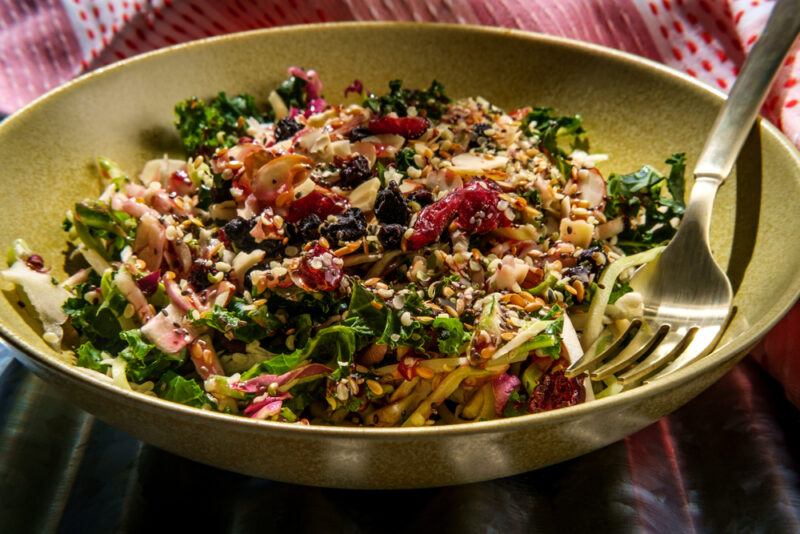 Like many things, there are plenty of convenient, store-bought salad dressings that are healthy and plant-based, but it's also more than possible to make your own! If you've got the time and don't mind the extra effort, making your own gives you even more control over the ingredients and therefore the health benefits you'll experience as well as the flavors and textures. Try some of these easy recipes to get you started! Once you master them, you can always alter them and add more complex flavors. 
Oil-Free Salad Dressing
This informative article outlines six delicious, vegan, and oil-free salad dressings if you'd rather avoid oils altogether. One of the recipes is a thousand island replica, using ingredients like tofu, ketchup, and lemon juice. Another super interesting one is the strawberry vinaigrette that uses just strawberries, red wine vinegar, agave syrup, and black pepper. 
There are other sweet, creamy, simple recipes to choose from, all of which are as healthy and wholesome as ever! 
Creamy Dill and Chives 
This creamy, delicious recipe is a unique combination of pureed corn and a variety of interesting spices that work very well together. The recipe calls for simple ingredients like lemon juice, yellow corn, fresh dill, mustard, black salt, pepper, and fresh chives. Though easy and seemingly basic, these things come together to create what could very well be your new favorite dressing. 
It's also quite versatile, doing just as well over greens and veggies as it is in a potato or pasta salad!
Wasabi Orange
This recipe is another extremely unique and innovative dressing that is surprisingly delicious if these ingredients are ones you like. The combination of oranges, wasabi, and peanut butter create an interesting dressing with a touch of smooth, savory, and spicy working together. It's great on salads, of course, but it also does well in a nice wrap!
The only other ingredients are tamari and dates. The total ingredients are only five and the method is just as simple. All you must do is put everything into a blender and blend it well. Once done, it does best when you chill it for about 30 minutes minimum before serving. In an airtight container, it'll stay fresh and delicious in the fridge for four or five days, so you can always make it ahead of time, too, or preserve any leftovers!