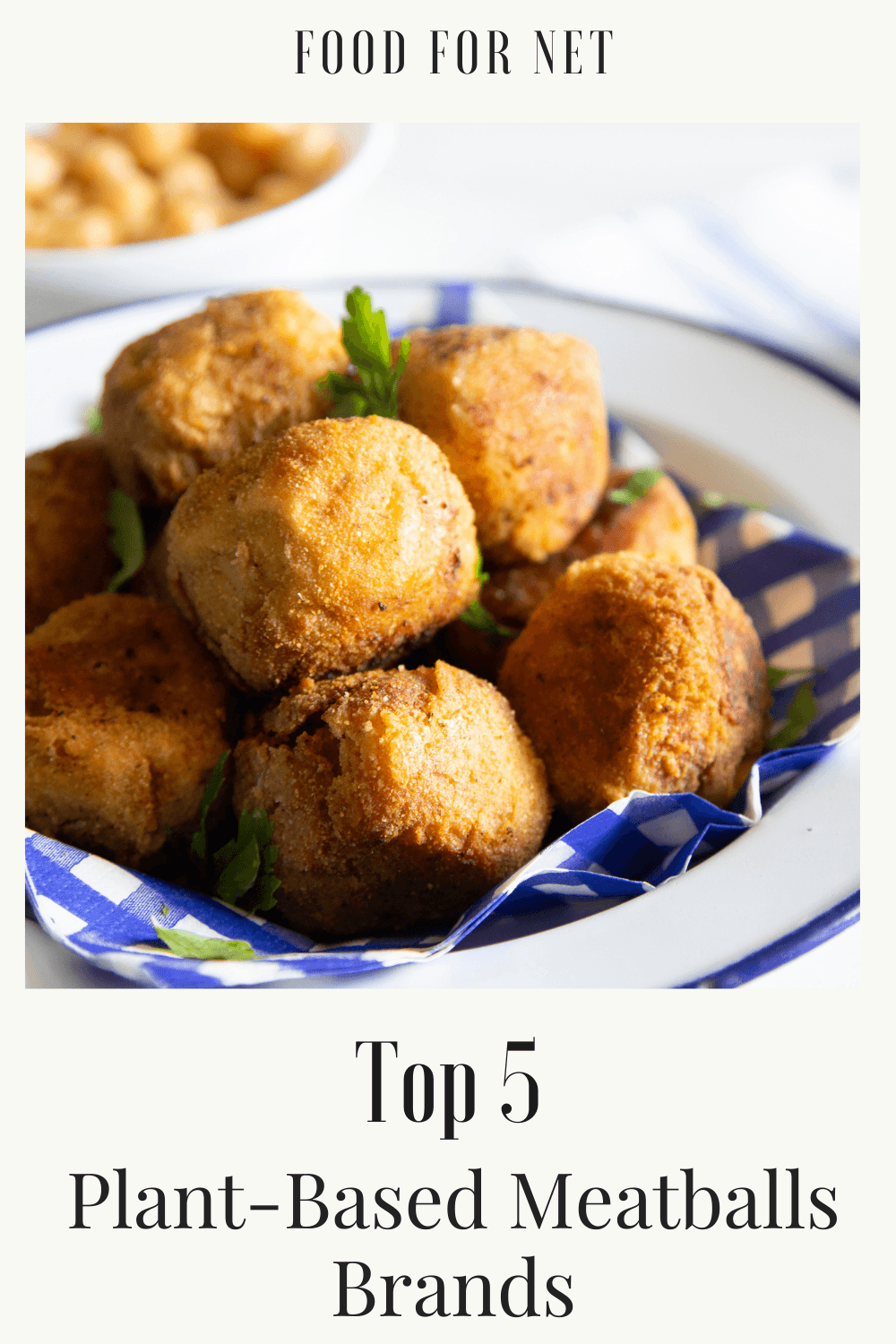 Meatballs are a versatile food, used in many meals but also perfect for a snack. The famous spaghetti and meatballs is perhaps the most well-known use, but the sky's the limit, really. Meatballs are great when thrown into any pasta dish, and they're also a popular potluck dish as they can be tossed in some sauce and used as a side dish to just about anything.
As with many types of meat and meat products, vegan meatballs do exist! Not only are there plenty of options to choose from when it comes to plant-based meatballs, but many of them are just as delicious as the "real thing." Whether you're getting pre-made meatballs or getting some ground "meat" to make your own, you're in for a treat. Not only will your experience be authentic, but the meatballs are often packed with much more nutrition than actual meat.
Plant-based meat has come a long way in recent years, to the point where many are indistinguishable from the "real thing." The texture is particularly important with meatballs, too, as they are small and it's important that they stay together. If they break up before you're able to eat them, the experience simply will not be the same. Creating the perfect plant-based meatball might be a difficult task, but these brands have done it right:
The Best Plant-Based Meatball Brands
1. Beyond Meat Meatballs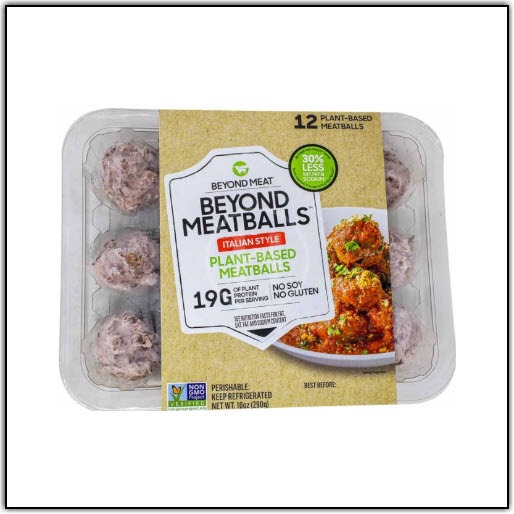 Beyond Meat Meatballs are the perfect example of a flavorful, authentic meatless meatball from a company that knows what it's doing. The meatballs are soy-free, kosher, gluten-free, non-GMO, and 100 percent plant-based. They use pea protein as the base with other ingredients including coconut oil, potato starch, apple extract, onion powder, carrots, and more.
One serving is considered five meatballs and it contains about 190 calories and 19 grams of protein. Other nutrients include calcium, potassium, and a good amount of iron. They can be cooked similarly to regular meat, doing well in a skillet or in the oven. It's not recommended to boil, deep fry, or microwave these meatballs, however.
Beyond Meat has all your plant-based needs covered when it comes to the world of meat. From sausages to ground beef to burgers, they've got it all. Everything is made with the same quality and attention to detail, so it's no surprise they've become the go-to for so many.
2. The Very Good Butcher's Meatballs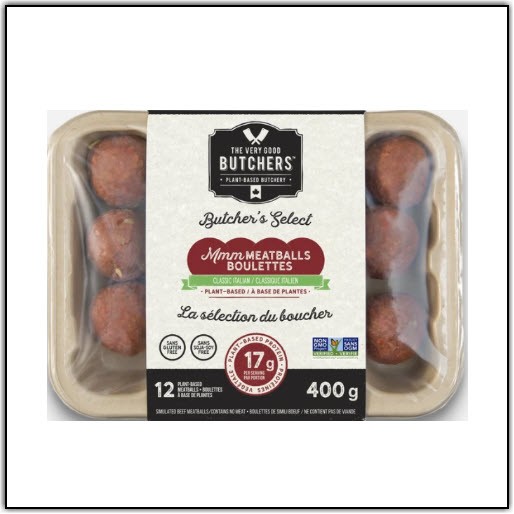 The Very Good Butcher calls themselves a "plant-based butchery." The name is slightly ironic as they don't actually butcher anything, but that doesn't mean they aren't, indeed, "very good." The name points to the fact that their plant-based meat products are perhaps healthier and more nutritious than meat from an actual butcher.
With pea protein as the base, their meatballs offer 17 grams of protein per three meatballs, at 230 calories. There is also a long and impressive list of other nutrients packed into these meatballs, including potassium, iron, calcium, zinc, folate, magnesium, a whole lot of B12, and many more.
These nutrients come from the healthy, wholesome array of plant-based ingredients, including additions like sunflower oil, coconut oil, mung bean protein, tomatoes, mushroom extracts, hemp hearts, apple cider, sunflower seeds, and much more. A solid assortment of spices also brings plenty of nutrition and flavor to the table. Whether you want a snack, side dish, or pasta topping, you truly can't go wrong with these meatballs.
3. Sol Cuisine Plant-Based Meatballs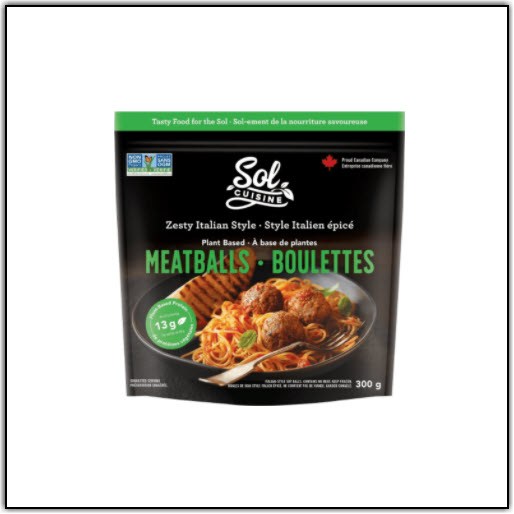 Sol Cuisine Plant-Based Meatballs are made with an Italian flair, meaning they've got no shortage of flavor and spice. They achieve this by using a carefully curated list of herbs and spices with soy protein as the base.
These zesty meatballs offer a solid 13 grams of protein per three meatballs, for 180 calories. You can also find decent amounts of potassium, calcium, and iron along with four grams of fiber. Other than the flavorful herbs and spices, the ingredients for these meatballs are pretty simple, using things like sunflower oil, dried onion, yeast extract, malt extract, and organic cane sugar to create the look, texture, and taste you're after.
Sol began in 1980, manufacturing high-quality tofu for vegetarian restaurants in Toronto. They've grown significantly from here, expanding into the retail space as well. Today, they've created an impressive collection of delicious plant-based meat alternatives, ranging from their yummy meatballs to burgers, to "chicken" wings, and more.
4. Gardein Plant-Based Meatballs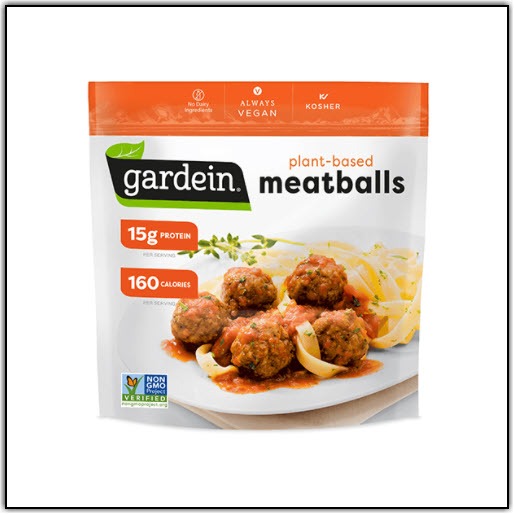 Gardein Plant-Based Meatballs is a simple product meant to replicate the taste and texture of classic meatballs. Delicious but not too fancy, perfect for a wide range of tastes, preferences, and dishes. They're not too spicy, so they're perfect for even the most sensitive palate, but that doesn't mean you can't spice them up if you want!
They're certified vegan, kosher, and dairy-free, and offer 15 grams of protein for every three meatballs, a serving that comes in at 160 calories. You'll also get a little calcium and potassium, and a good amount of iron.
They're made with soy protein as the base, with other ingredients like wheat flour, onion powder, barley malt extract, crushed red pepper, garlic powder, and a selection of spices and natural flavors.
If you're looking for inspiration, Gardein features a recipe for meatless meatball sliders. Sliders are a fun and easy way to make dinner for a big family or offer as appetizers at a get-together, and using meatballs is a unique way to mix your sliders up.
5. Heidi's Real Food Meatballs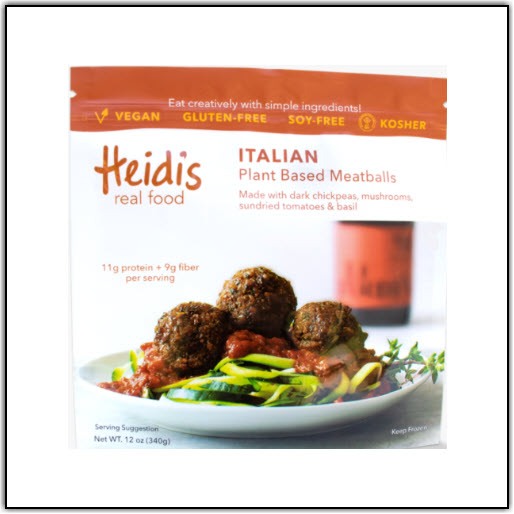 Heidi's Real Food Meatballs are a tasty and nutritious substitute for real meat and they come in three flavors. The Italian version is meant to remind you of Italy, with a zesty flavor achieved through the use of chickpeas, mushrooms, fresh basil, and sundried tomatoes.
The Persian flavor is the best of both worlds with a sweet start and a hot, exotic finish. Dates, spinach, chickpeas, and an array of spices are used here. Lastly is the Barbados flavor, a little lighter on the zest but not without incredible flavor! A lot is going on here with the use of sweet mango, kidney beans, mustard greens, and pumpkin seeds.
The three flavors all offer plenty of taste and nutrition, with 8-11 grams of protein per serving. They all also have either eight or nine grams of fiber per three meatballs, which is high compared to other similar products. Each flavor comes with suggested pairings and recipe ideas so you can easily create amazing snacks and meals every time!
Easy Homemade Plant-Based Meatballs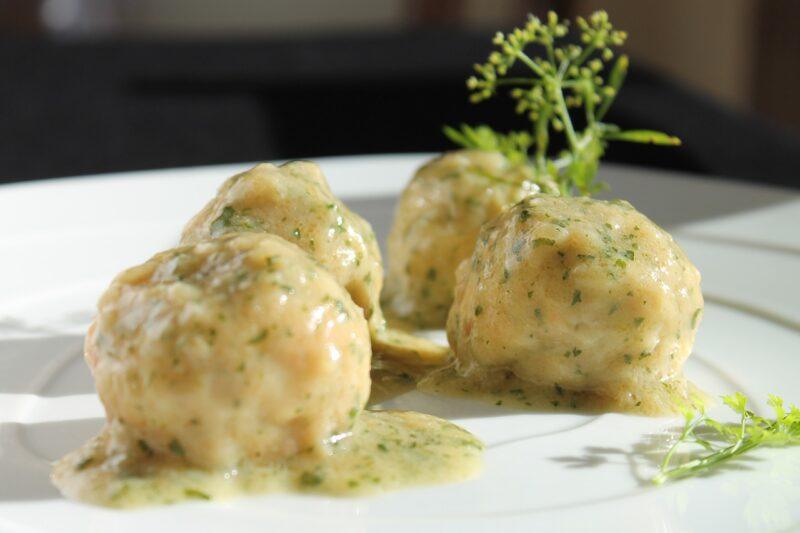 Pre-made plant-based meatballs come in many forms, from classic to spicy, and the ones listed here are well-made and high-quality. But, sometimes you may want something that's not available on the shelves – oversized meatballs, perhaps, or a special flavor. If that's the case, making your own vegan meatballs at home isn't too difficult if you know the right ingredients to use. Let these easy recipes act as a guide if you want to delve into making them yourself:
Basic Vegan Meatballs
This recipe calls for ten simple ingredients and takes only half an hour to prepare. With things like quinoa, fennel flakes, black beans, and garlic in the mix, the nutrients are plentiful and the ingredients are all available at most local grocery stores.
The recipe makes about 12 meatballs, with each one containing about 67 calories, 3.3 grams of protein, and small amounts of potassium, fiber, calcium, iron, and vitamins A and C. Done correctly, this recipe promises to produce meatballs that are firm but tender, full of flavor, and not mushy. It's also easy enough to add to this recipe if you'd like to change up the flavor with different or additional spices.
High Protein Tempeh Meatballs
Most plant-based meatballs, whether store-bought or homemade, will contain a decent amount of protein, often somewhere between 5-15 grams per serving. This is pretty good considering there's no meat to speak of. If, however, this isn't enough for you, try this high-protein recipe for an amazing 20 grams per serving.
With a list of simple ingredients and only about 40 minutes total to prepare them, they're the perfect addition to any weeknight meal and they'll keep in the fridge for a few days too if you have any leftovers. Their classic flavor is perfect on top of any pasta and they'll taste great with your favorite marinara sauce. Add a few extra spices if you're looking for more kick or just a different flavor!
The protein content makes them perfect for anyone who likes to frequent the gym and needs a quick post-workout snack or an easy protein-rich side dish. It's also easy to convert this recipe to be entirely gluten-free by simply substituting gluten-free breadcrumbs for another type.