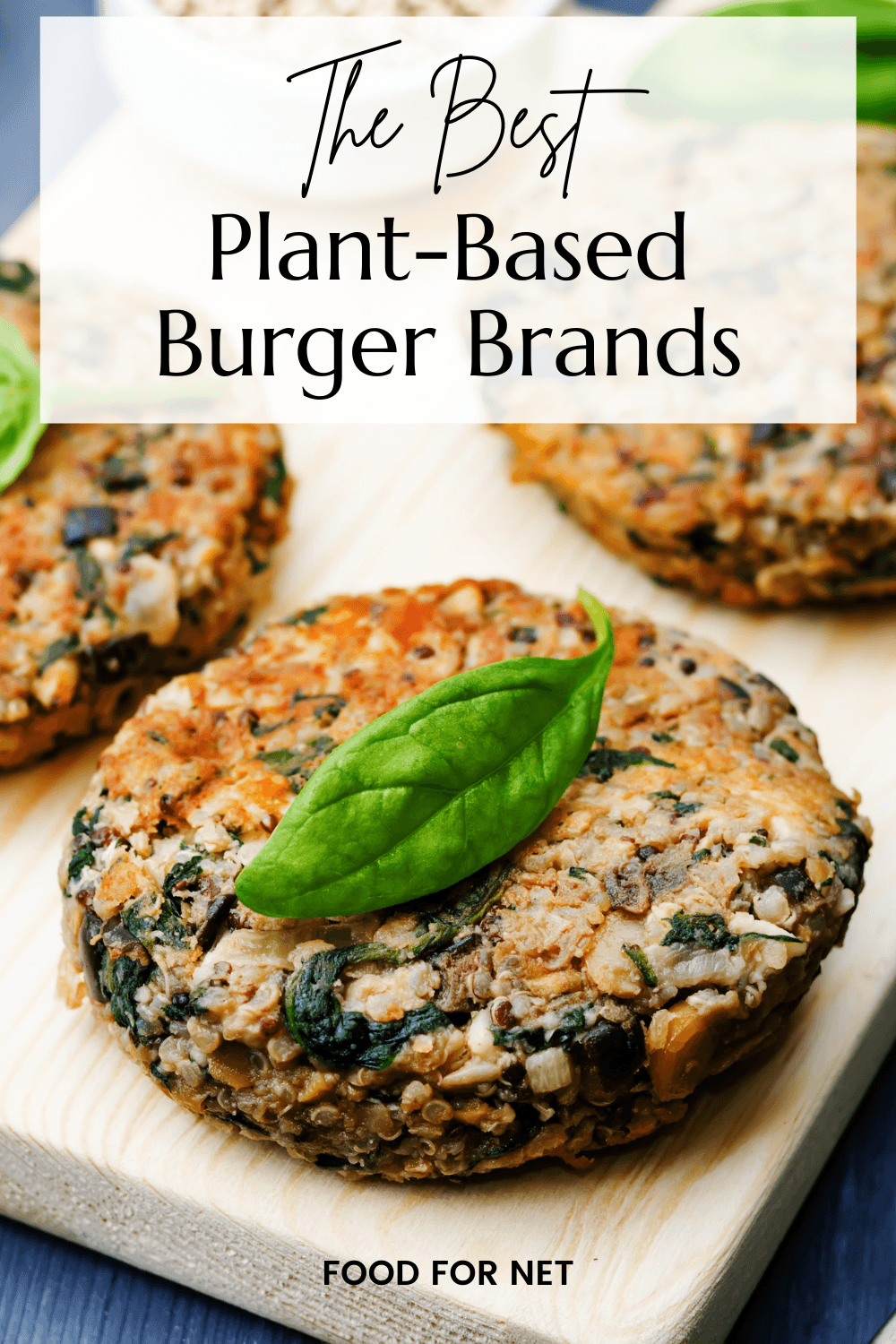 For many, one of the hardest parts about switching to a vegetarian or vegan lifestyle is giving up one of the classics – a hamburger. Hamburgers are easy, delicious, and the ingredients options are endless. The good news is that in recent years, plant-based burgers have started becoming more and more prevalent. Not only are they growing in popularity but they're getting better all the time.
In the beginning, plant-based meat was questionable at best and not many were a fan. Today, though, many products out there have improved exponentially and there are some plant-based burgers out there that mimic the original almost perfectly. When it comes to meat, you need to replicate not just the flavor but the texture, which is no easy feat.
You also need to replicate the nutrition. Good quality, healthy meat does contain many nutrients the body needs, so your plant-based alternative must deliver in the same way. From the classic beyond burger and more, here are some of the best-tasting plant-based hamburgers out there:
The Top Plant-Based Burger Brands
1. Dr. Praeger's Perfect Burger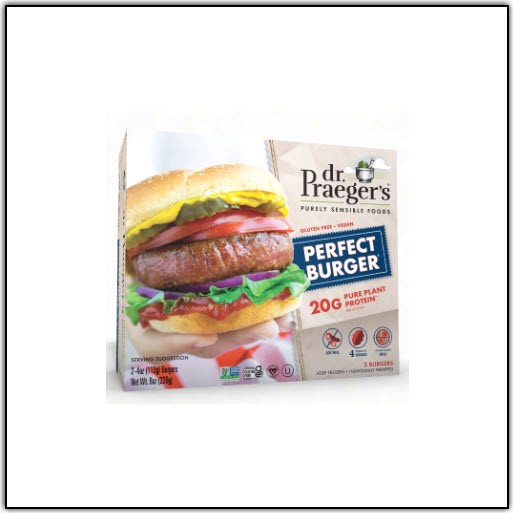 Dr. Praeger's business was founded by two heart surgeons. As doctors, they knew better than anyone the importance of good nutrition and so they decided to get into the industry to promote healthy, sensible eating. The goal was to use simple, quality ingredients and create things that were easy to prepare. Today, the business lives on through the founder's sons, who strive to carry on the legacy that their fathers started.
The original Perfect Burger looks and tastes just like meat and with 20g of protein per patty, you can't go wrong. It's made with sunflower oil and four different veggies. It's also free from soy and gluten while being non-GMO verified. Beyond this original patty, they've got other high protein options like the chicken spinach burger and the fiesta burger that's packed with extras like black beans, peppers, and corn. They also have options like the cauliflower or black bean burger. These are lower in protein but contain a wider variety of vegetables and therefore a longer list of additional nutrients.
Burgers aren't all they do, either. They offer seafood, breakfast products, and healthy snacks, too – all made with the same dedication to quality, health, and simplicity.
2. Beyond Burger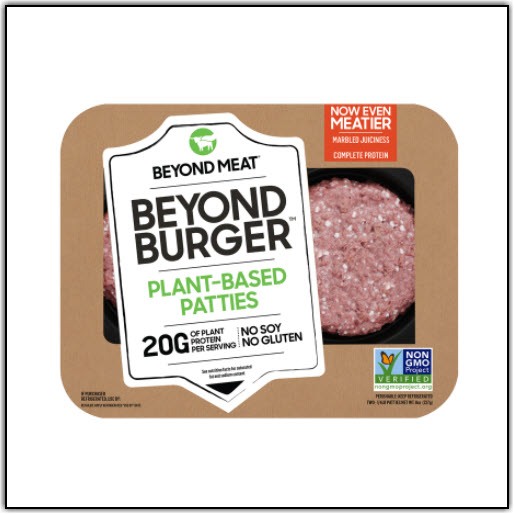 The Beyond Burger by Beyond Meat is a well-known brand that has always been passionate about their beyond meat products, always working hard to improve them, even when they're already great. Their most recent rendition offers an even meatier taste and less saturated fat than before.
These burgers look and taste just like beef while delivering 20 grams of plant-based protein along with many other important nutrients. This includes vitamin D and B12, calcium, potassium, and plenty of iron. They are gluten and soy-free as well as non-GMO and kosher.
In addition to looking the part, they cook up just like a regular burger, too, so if you're making the switch, nothing has to change other than the product you're using! Their collection of beyond meat products also includes sausages, ground meat, chicken, and meatballs.
3. Sweet Earth Awesome Burger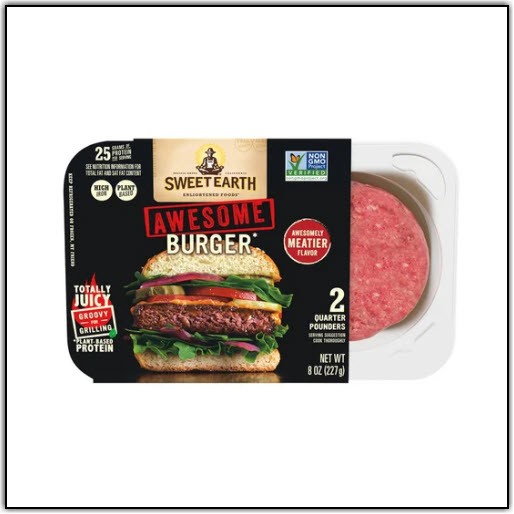 Sweet Earth makes their Awesome Burger and all other products with both you and the planet in mind. The goal is to make food that offers quality nutrition and great flavor while having as little impact on the planet and the environment as possible. Both The Food Network and Men's Health Magazine have recognized the brand with awards, giving you that much more confidence in their quality and flavor.
Their original Awesome Burger is non-GMO verified and it's one of the highest in protein, coming in at 25 grams. The burger is easy to cook on a grill or skillet and comes out just as juicy as its meaty counterparts.
Other meat alternatives from Sweet Earth include ground meat, bacon burgers, black bean burgers, deli meat, snacks, and more.
4. The Impossible Burger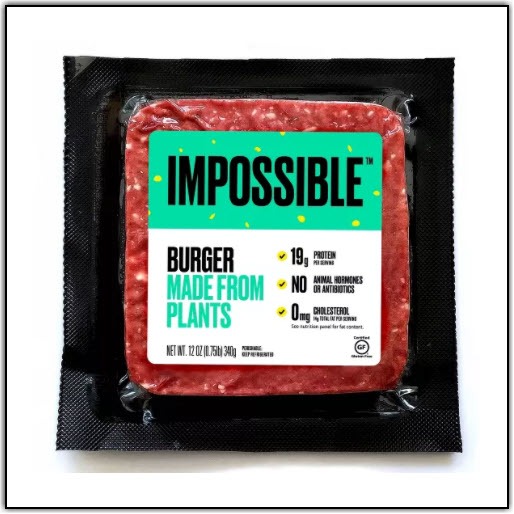 The Impossible Burger is another one that does a fantastic job at mimicking a real burger in taste, texture, and consistency. If you didn't know it was plant-based, you may not even notice the difference. It's juicy, meaty, tender, and cooks up just like actual meat.
The Impossible Burger and its other products were created not just to offer healthy food and quality meat alternatives, but to reduce the environmental footprint that meat often creates. They wanted to create something better for the planet and more sustainable long-term, and their meat-free burger is a great place to start. Making them uses about 96% less land and 87% less water and emits about 89% lower greenhouse gases than the making of traditional meat.
These are significant numbers and with enough people switching over, can start to make a real difference.
The impossible burger offers 19 grams of protein as well as other nutrients like potassium, iron, calcium, folate, vitamin B12, phosphorus, and more! It also has zero cholesterol and very little fat and sugar.
5. Lightlife Burger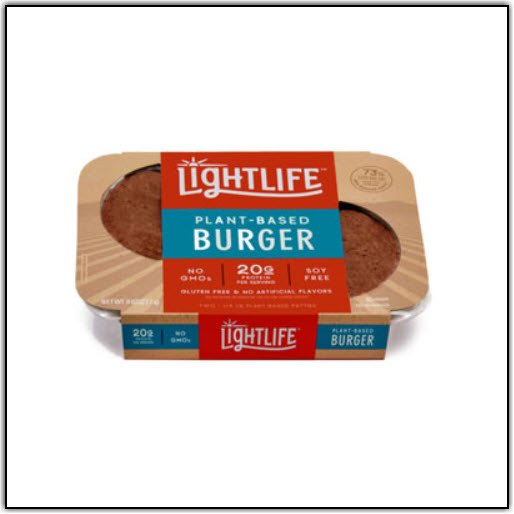 The Lightlife Burger is made with simple, healthy ingredients. Featuring pea protein, coconut oil, garlic powder, and beet powder, this guilt-free burger performs flawlessly on a grill or skillet, giving you a tasty and authentic burger experience every time.
Lightlife was founded in 1979 with their tempeh product, which became the first of its kind to hit the mainstream market. They soon began expanding into other products, and produced what is currently the number one selling plant-based hot dog in the United States. They also guaranteed non-GMO products in 1999, years before the official non-GMO Project began.
They are passionate about the quality of their products, the health of their customers, as well as the state of the environment. In addition to quality and taste, they are dedicated to remaining carbon-neutral and want to become the most sustainable plant-based protein company around.
If you want to get into plant-based products like Lightlife but don't know where to start, their website has a huge variety of recipes from innovative burger combinations to tacos, mac and cheese, delicious breakfasts, and so much more, all featuring their carefully-made plant-based meat products.
DIY Plant-Based Burgers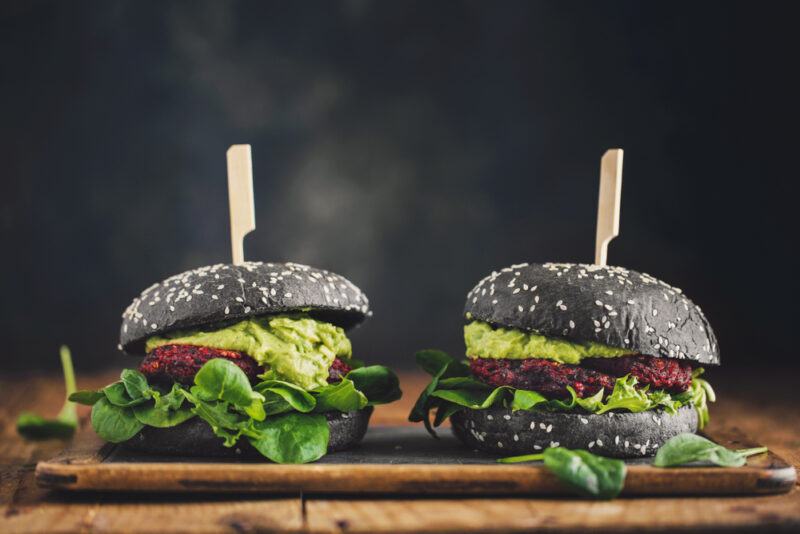 The great thing about plant-based anything is that there are so many options to reach the same result. The burgers on this list are fantastic, healthy, authentic options, but they may not be perfect for everyone. Perhaps you're allergic to some common plant-based ingredients? Or perhaps you'd simply rather spare the expense and make your own. This ensures you know exactly what's going into them and they'll be fresher than ever!
Making your own plant-based burger patties may sound like a grand and complicated undertaking, but in reality, it's likely not as bad as you think.
Start by following a recipe like one of the below, and after some practice, you can begin making substitutions and changes as you see fit to make something brand new and perfect for you!
Black Bean and Mushroom Patty
This delicious, nutrient-rich recipe is vegan, gluten-free, and features simple, easy-to-obtain ingredients. The author even includes a bonus recipe for a special mustard sauce that goes particularly well with the burger.
Mushrooms and black beans are the stars here, but it also calls for things like oats, flax seeds, and walnuts. These things not only contribute to the desired meaty texture, but they offer plenty of health benefits.
The creamy mustard sauce calls for ingredients like vegan mayo and cashews, in addition to mustard, of course. The sauce adds the perfect finishing touch to an amazing burger and even offers up some nutrients of its own.
The whole process of making these burgers takes just under an hour which isn't too bad for something completely homemade. It's a great option for a family dinner, or you can scale down the recipe and do it for yourself!
Sweet Potato and Quinoa Sliders
This is a great recipe if you want something a little quicker and easier. With only six simple ingredients, these little patties are reliable, tasty, and uncomplicated. Sweet potatoes, quinoa, and lentils make up the bulk of these patties and several spices work together to add the perfect flavor.
With this recipe, it's as easy as combing the ingredients and baking for a few minutes on each side. The author and creator recommend serving them on sliders with kale and smashed avocado, but you can modify this based on your taste! If you're feeling brave, you can try them as full-sized patties if you're not into sliders, or if you're only serving one or two people.
If you follow the recipe as is, the final product offers 60 grams of protein, which is a decent amount for any plant-based recipe. It also contains about 1,200 calories and only 10 grams of fat.
Related Content