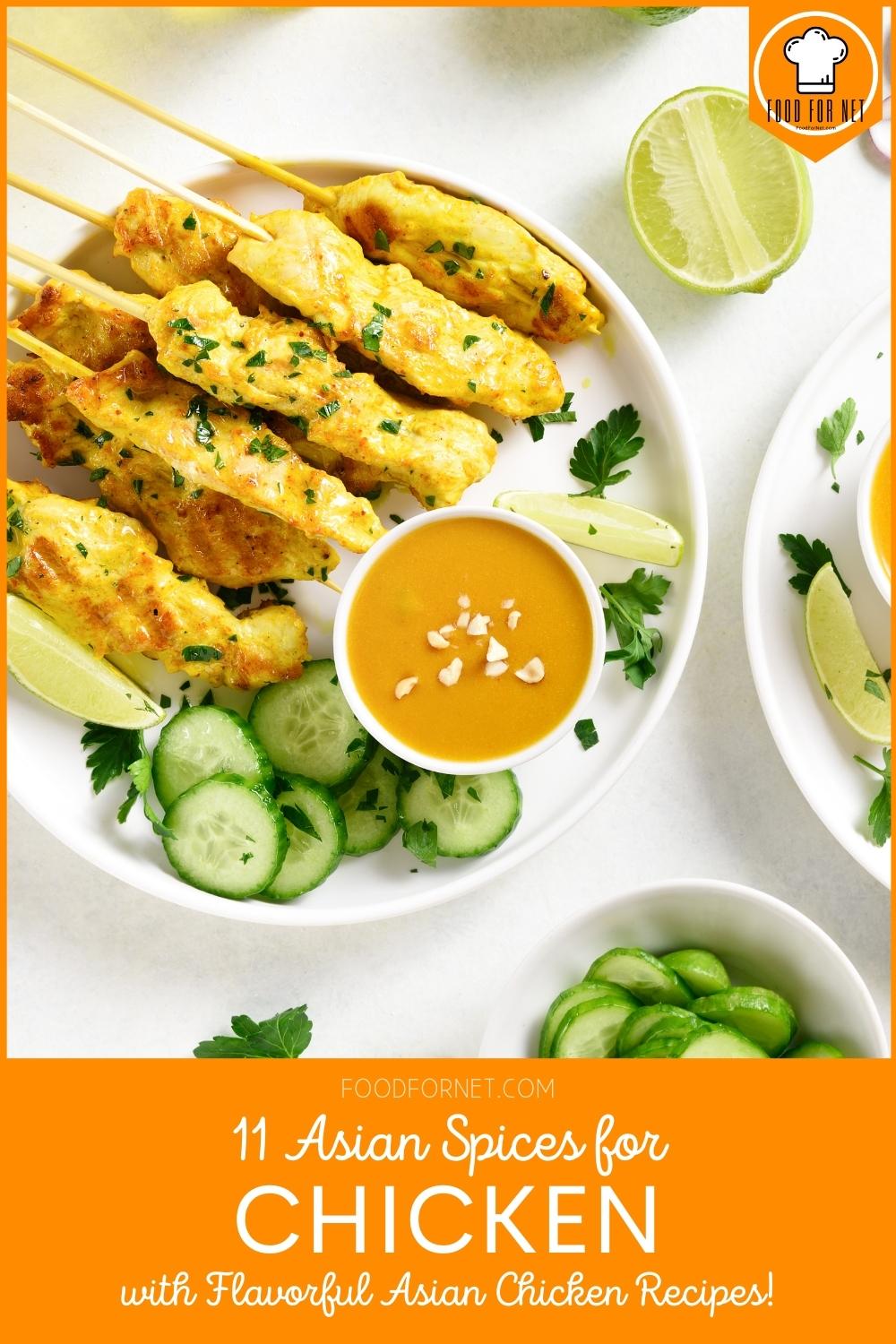 Chicken is absolutely one of the more popular protein sources in the United States. It's an excellent addition to a wholesome diet given that it's low in calories on top of course of its other nutritional contents. And it doesn't hurt that it's quite easy to cook as well. In fact, with just one or two Asian spices for chicken, you can already almost ensure a flavorful pack chicken dish in just a matter of minutes.
This protein can easily fit into a healthy diet. It can help you in losing weight by enhancing the feeling of fullness, boosting muscle growth as you undergo resistance training, supporting bone health through calcium metabolism, and producing energy, supporting DNA synthesis, and boosting brain health.
Chicken, aside from protein, is also rich in niacin, phosphorus, vitamin B6, and vitamin B12. It also contains riboflavin, zinc, thiamine, potassium, and copper. It has a rather mild taste, but that is what makes it a great canvas for spices – especially Asian seasoning. It takes flavor so well that nailing the spices for chicken is the key to amazing chicken dishes.
And worry not because it's so easy to work with Asian spices. You can go with the simplest combination of one or two spices, or go bold and try mixing or blending an array of Asian flavors to pack into one dish! Once you've made up your mind on what spices to use, all you need to do is prep your ingredients and your chicken, of course, and you're good to go!
Here's a list of Asian spices to get you started along with some really easy and flavorful chicken recipes that are packed with Asian goodness. But first, check out these websites if you would like to try buying chicken online. You can also raise your own chickens for meat, giving you a regular supply for the dinner table.
And if your spices supply is running low, perhaps you would like to try these websites as well, to buy fresh spices to replenish your stocks.
Asian Spices for Chicken
Shichimi togarashi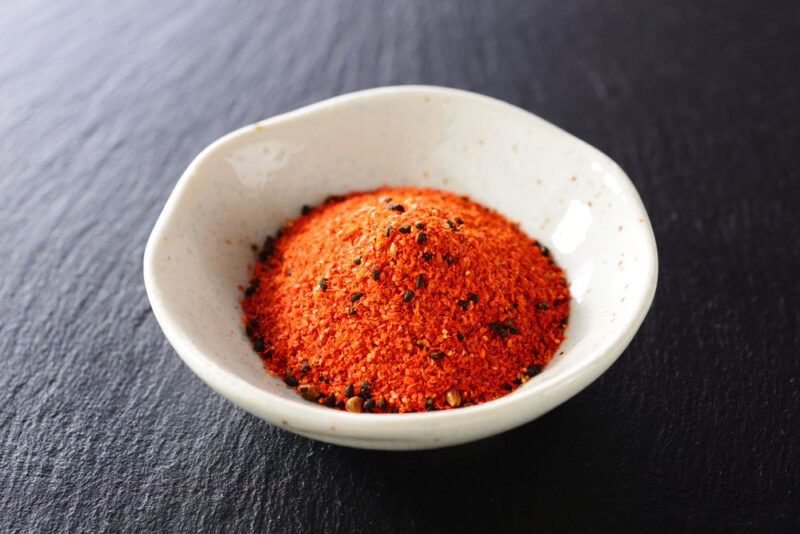 Shichimi togarashi is a Japanese spice blend with seven ingredients which are mainly chili flakes. It also has sesame seeds, poppy seeds, hemp seeds, ground ginger, seaweed, and roasted orange peel. There are a lot of pre-made ones ready for use but making a homemade one is quite easy as well.
It's an excellent source of B complex vitamins, and vitamins A, D, and E. It also contains calcium, magnesium, iron, potassium, and copper. Shichimi togarashi also has omega 3 fatty acids because of the hemp seeds in the blend.
This miso togarashi chicken skewers are oozing with an Asian flavor. From the marinate alone of miso, maple syrup, oil, garlic, chili paste, and ginger to the very Asian dipping sauce! And of course, the finishing touch of a heavy sprinkling of shichimi togarashi seasoning.
Magao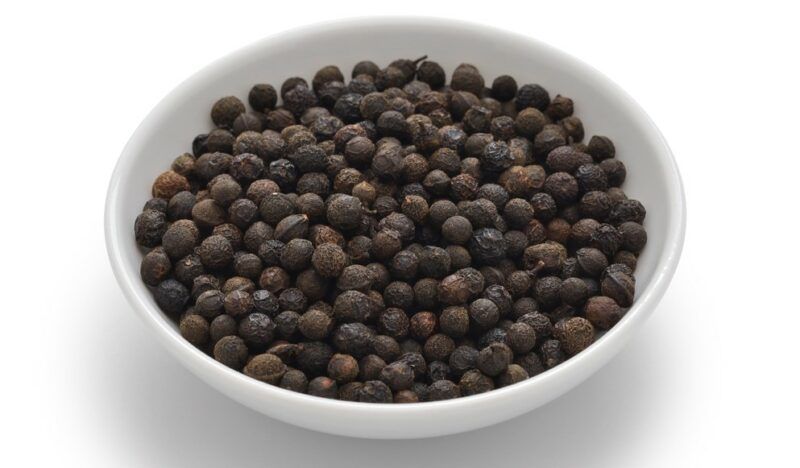 Magao or mountain peppercorn is a traditional Taiwanese spice. It has a slightly black pepper taste, with gingery notes and a hint of lemony aroma. It can be crushed and used in herbal tea infusions as fresh berries. But when used in cooking, it's generally dried first. Although it looks a lot like black pepper, it's actually softer and cannot be ground the same way you would a peppercorn – it's crushed instead to release its flavor.
These berries are rich in essential oils. It's an aborigines spice used by the Atayal tribe in Taiwan to relieve hangover headaches, treat indigestion, and increase appetite.
If you're craving a clear chicken broth with a minty lemony aroma, then this magao chicken soup is perfect for you. It's super easy to make it can easily become your go-to recipe for chicken soup! In this recipe, a steam rice cooker is used in cooking it but of course, you can always improvise and use your good old stovetop and pot instead.
Turmeric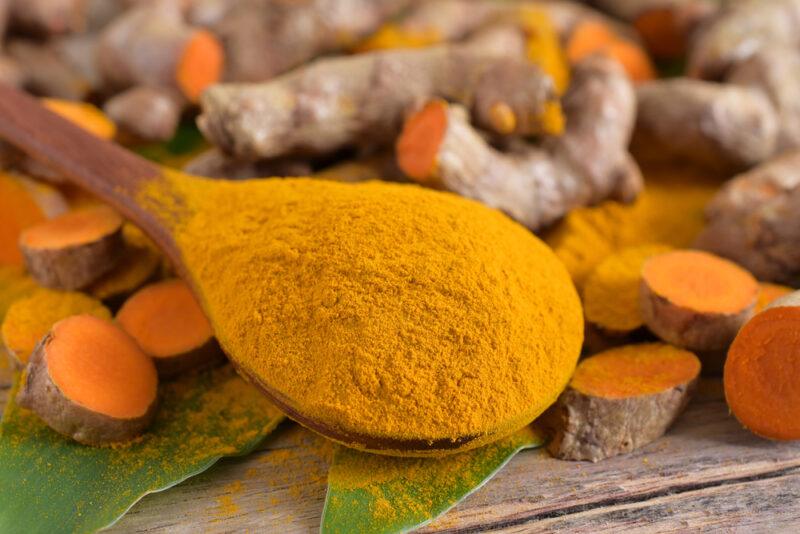 Turmeric powder is the spice that gives curry its yellow color. It has an earthy, bitter, slightly peppery, and almost musky taste. It contains curcumin which is a substance that has powerful antioxidant and anti-inflammatory properties.
Turmeric is rich in vitamin C and vitamin B6. It's also an excellent source of manganese, potassium, iron, omega 3 fatty acids, and dietary fiber. It also contains antioxidants.
This turmeric chicken and rice dish are not just bursting with colors but with flavors as well! Turmeric is just one of the amazing Asian spices used in this recipe. In addition to ginger, bay leaves, and fish sauce – very Asian, it's also flavored with curry powder, cinnamon, and cumin. So, saying this chicken is flavor-packed is an understatement.
Five-spice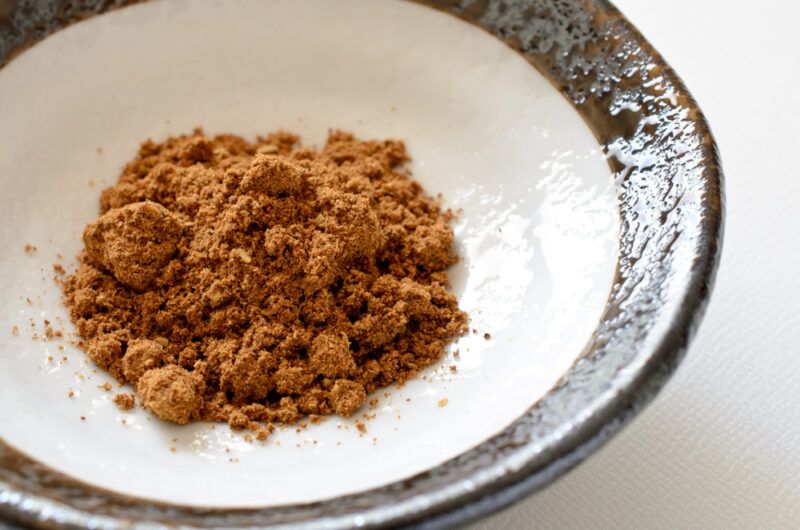 Five-spice is a spice blend of five or more spices – it has to have five flavors that refer to the five traditional Chinese elements (sweet, bitter, salty, sour, and umami). The spice blend usually contains Chinese cinnamon, star anise, fennel seed, cloves, and ginger, or Sichuan peppercorns, or white pepper.
The spices in the blend contain copper, iron, manganese, and an array of antioxidants.
Fried chicken is undeniably an all-time favorite and having some kind of variation from the classic from time to time will keep it from becoming a boring dish. Adding some Chinese flavor to it is a great way to make it interesting. This sous vide Chinese-style fried chicken recipe will give you a flavorful, crispy, and juicy fried chicken. Although it will take longer prepping the chicken using the sous vide method and all, I'm telling you, it's totally worth it!
Sichuan peppercorns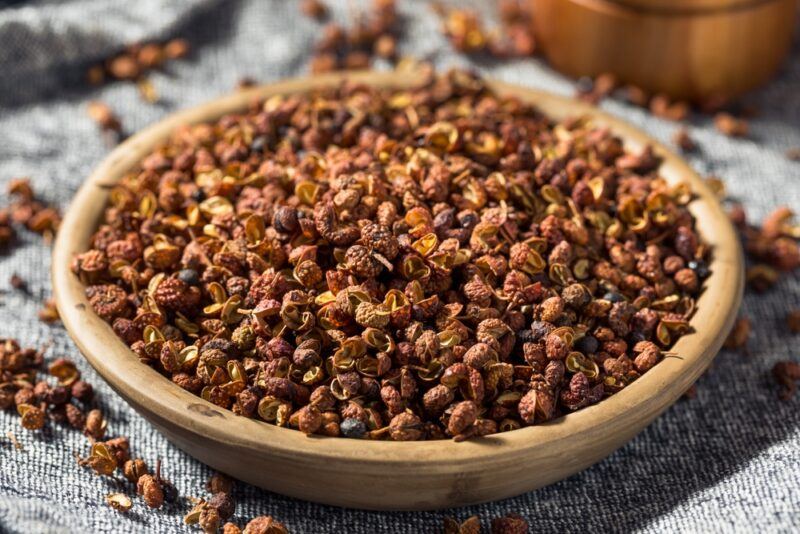 Sichuan peppercorns or Szechuan peppercorns are native to China and Taiwan. And in spite of its name and its odd similarity to peppercorns, it's not actually a pepper. It belongs to the rue or citrus family. It has a bitter and numbing heat with a hint of citrusy taste and aroma that is reminiscent of lavender. It's known for its numbing sensation effect around the mouth.
Sichuan peppercorns contain vitamin A, manganese, potassium, iron, copper, phosphorus, and zinc. It also contains high amounts of antioxidants.
If you love challenges then perhaps this Sichuan Mala Chicken is for you! It is basically chicken smothered in chili peppers, a lot of aromatics, and Sichuan peppercorns. It is spicy, yes. But not as spicy as it looks – I know, chilis everywhere, right? It's spicy but with a deeply savory taste. This particular recipe is already adjusted to tame the heat, but feel free to adjust more if it turns out to be too spicy still for your taste.
Ginger powder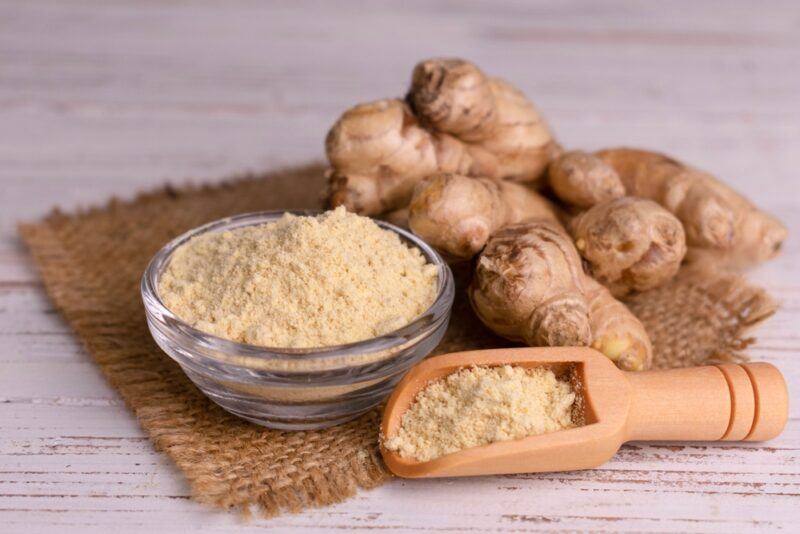 Ginger is a very common ingredient in Asian cuisine. It can be used both fresh and dried in cooking. And while fresh ginger can taste pungent, spicy, and sweet, ground ginger on the other hand has a milder pepper spice and sweetness. Gingerol, the active compound of ginger that provides its many health benefits is also reduced when ginger is dried and grounded into a powder.
Ginger is rich in phytochemicals, antioxidants, as well as other beneficial compounds that help digestion, boost brain function, protect against infection, and ease inflammation.
What is so amazing about this ginger chicken dish is that it's so easy to make and guaranteed even better than the ones in restaurants. Firstly, because you made it yourself, and secondly, it's a lot cheaper! The breading is simply seasoned with ginger and garlic powder, smoked paprika, salt, and pepper. And of course, the sauce is the deal-breaker here – a soy sauce-based sauce with sriracha, honey, red pepper flakes, pepper, and minced garlic and ginger. Yum!
Cardamom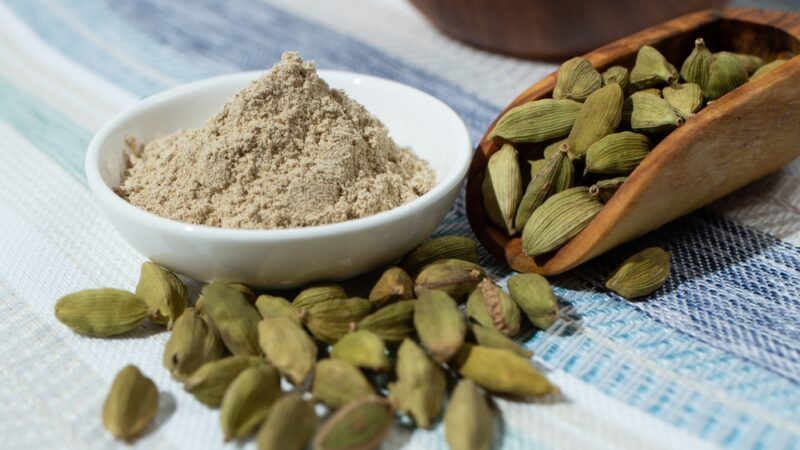 Cardamom, especially the green ones is the third most expensive spice in the world next to saffron and vanilla. It has a fruity, piney, and almost menthol-like flavor. The pale green cardamom has a delicate aroma while the black or deep brown ones has a strong and smoky aroma. This spice is used sparingly because it can become slightly astringent when used too much.
Cardamom contains potassium, calcium, magnesium, and some fiber. It's also packed with antioxidants.
This cardamom chicken with rice pilaf used chicken legs but opt for chicken breast if you prefer that cut. It's simply seasoned with cardamom, salt, and pepper, and then roasted in the oven. It is then served with rice pilaf (also seasoned with cardamom and salt) and a beautiful sauce made from apple juice, cardamom, salt, and drippings from the roasted chicken.
Fenugreek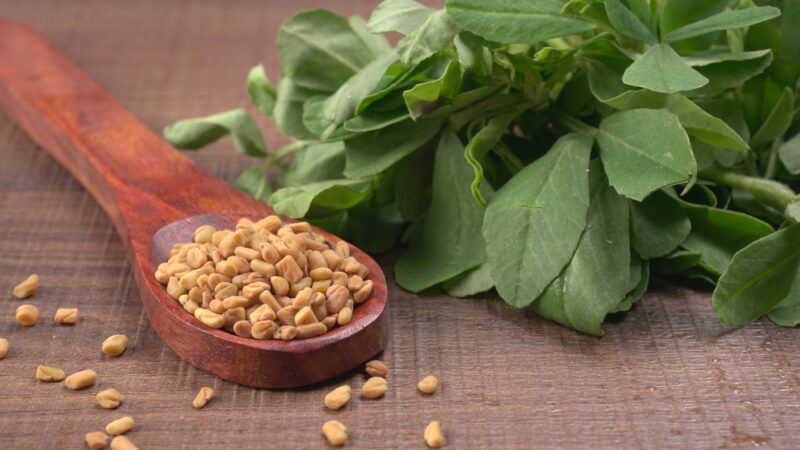 Fenugreek is an annual plant in which leaves and seeds are used in cooking especially in dishes from the Indian subcontinent where it's commonly known as methi. The seeds have a sweet, nutty, and flavor that is similar to maple syrup and burnt sugar. Its dried leaves have a slightly bitter and earthy taste with a kick of maple syrup as well.
Fenugreek is rich in thiamine, folic acid, niacin, riboflavin, and vitamins A, B6, and C. It also contains copper, potassium, iron, calcium, selenium, manganese, magnesium, and zinc. The leaves are particularly rich in vitamin K as well.
No doubt this dish is fragrant! It's super flavorful as well. And color-wise, it's absolutely vibrant. You'd be surprised at how you can actually pull off an amazing Indian Methi Chicken in just under an hour. And yes, you can make a big batch because they freeze pretty well. The recipe also used thick yogurt instead of cream, so it's lower in calories, too.
Cloves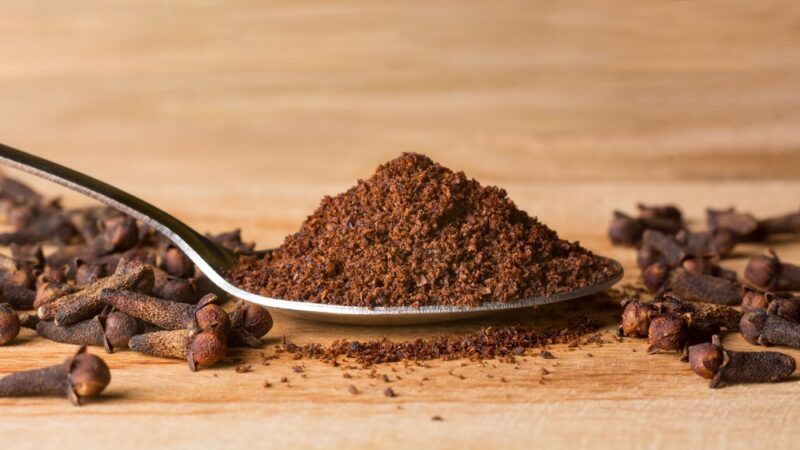 Cloves are the aromatic flower buds of the clove tree which is native to Indonesia. It can be used whole or ground in cooking. This intensely aromatic spice has a subtly bitter and sweet taste with an astringent and a decent amount of heat.
It's a good source of fiber. It also contains manganese, vitamin K, vitamin C, and trace amounts of magnesium, calcium, and vitamin E. It's also a great source of beta-carotene which helps give it, its rich brown color.
Flavoring a whole chicken to roast can be tricky – you want it seasoned thoroughly with the right mix of spices. This roasted chicken recipe is a great candidate if you're after a really Asian-spiced bird. It used cloves, cinnamon sticks, cayenne, sweet paprika, cumin, fennel seeds, salt, and pepper. It also used brown sugar to balance the flavor and cilantro and lemon for that touch of freshness.
Nutmeg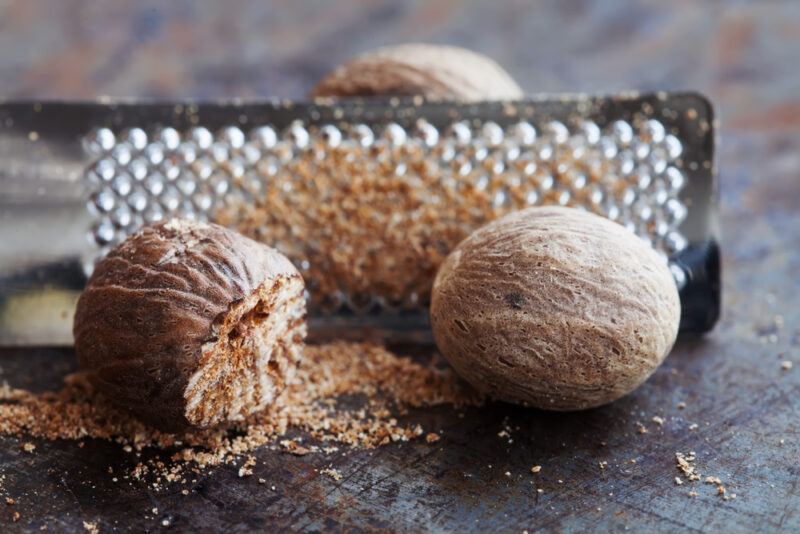 Nutmeg is not just for baking, it's also great for cooking. It complements meat and pairs wonderfully with root vegetables as well. It's also great in soups and stews. Whole nutmegs can be stored and kept almost indefinitely in airtight containers. You can simply ground them fresh when needed.
Nutmeg contains fiber, vitamins A, C, and E, manganese, magnesium, copper, phosphorus, iron, and zinc. It's also rich in antioxidants like phenolic compounds, essential oils, and plant pigments.
It can't get any simpler than this Creamy Nutmeg Chicken recipe. It's creamy alright, and flavorful for sure with all the seasonings in there – ground nutmeg, rubbed sage, dried thyme, and dried rosemary. This spice and herbs combination works perfectly with the creaminess of the mushroom soup, sour cream, and milk. The fresh parsley ties together all the flavors in one harmonious creamy and savory chicken dish.
Cumin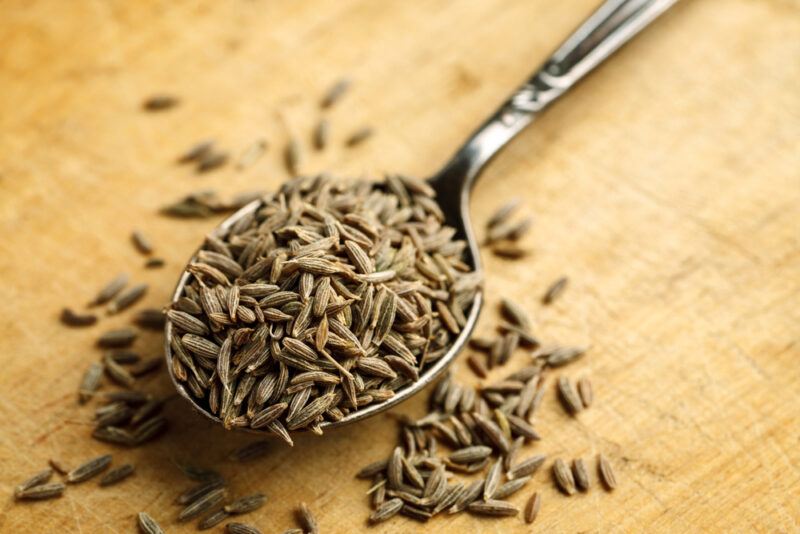 Cumin is another essential spice for Indian curries and chutneys. It's used in many other dishes as well because it works beautifully with stews, soups, bread, rice dishes, barbecue sauces, chili recipes, and more. It is, however, used sparingly because it can easily overpower a dish.
It's a good source of magnesium, calcium, iron, and phosphorus. Cumin is also rich in vitamins A, B6, C, E, and K. It also contains a compound called flavonoids which work as an antioxidant.
One that never ceases to delight those who are into Asian flavors is Thai Chicken Satay. You simply grill the chicken that is marinated ahead of time, preferably overnight but an hour will do just fine. The idea is to let it sit (the longer the better) and marinate in a flavorful concoction of coconut milk seasoned with cumin, ground turmeric, cilantro, garlic, ginger, fish sauce, red curry paste, brown sugar, and soy sauce. It is then served with creamy, sweet, and slightly spicy peanut dipping sauce.