Deciding what chickens to raise can be a surprisingly difficult task. There are now more than 60 recognized breeds (the exact number depends on the standard being considered), along with plenty that aren't officially recognized.
There's no single best type of chicken. Instead, the breeds all have different features, strengths, and weaknesses. This means you'll need to choose carefully. In particular, if you want to raise chickens for eating, you'll need to find the best meat chickens.
The breeds in this list all fit into that category. Some have been bred specifically for meat. These are often called broilers or fryers, particularly in the poultry industry. Others have been bred to provide plenty of eggs and meat. These often don't produce as much meat, but they're certainly more versatile.
There are also hybrid versus heritage breeds. Heritage chickens breed true and are often fairly robust. On the other hand, hybrid chickens are optimized for specific traits. Some are amazing for meat, but are prone to health issues and aren't great for eggs.
Best Meat Chickens
Cornish Cross

Let's begin with Cornish Cross, as this is an incredibly common breed. This is the one that's sold at grocery stores because it grows exceptionally fast. Well… freakishly fast is often the term used, as these chickens can be ready within six to eight weeks.
This hybrid species also has an exceptional amount of edible meat and is economical to raise. The chickens don't need much space either, which is another reason for its commercial popularity.
Breeding a species for such rapid growth has come with considerable downsides, as Cornish Cross chickens are prone to health problems and aren't very hardy at all. The chickens should also be killed as soon as they hit the desired weight, as their risk of health problems increases with age.
The health issues why many people ignore Cornish Cross chickens entirely and go with breeds that stay healthy as they grow.
Bresse

Bresse is an exciting chicken breed. It originally hails from France, but is becoming increasingly popular in the United States as well (however, this is currently an expensive breed and can be hard to find). This breed is even referred to as the queen of chickens, due to the amazing flavor profile.
Bresse chickens are smaller than many others on this list, coming in at just five to seven pounds at market weight. However, this meat is more flavorful than many other meat chickens.
This chicken breed is also easy to raise, especially as they will forage and aren't heavily feed driven. Plus, because these are purebred chickens, you can reproduce them.
Technically, Breese chickens are only considered as such if they are bred and raised in the Bresse region in France. Chickens bred in the United States are normally considered American Bresse instead. While the differences in environment will create some flavor differences, American Bresse chickens are still delicious.
Jersey Giant

Jersey Giant chickens really live up to their name. They regularly come in at between 11 and 14 pounds, which is impressive indeed.
That said, they're not the ideal chicken for meat, as they grow much more slowly than broiler chickens. The slower growth time also makes the feed-to-meat ratio less efficient, so raising these chickens will cost you more. Seriously, the chickens eat a lot and can get incredibly expensive.
They might still be worth it, given you get large eggs from the chickens. Jersey Giants are also a heritage breed, so you can raise new chicks yourself, rather than going back to hatcheries every time.
Delaware

Delaware chickens are another heritage breed. They're quite a bit smaller than the Jersey Giant, growing to between six and nine pounds once mature.
The smaller size isn't necessarily a bad thing. It means that the chickens require less feed, especially as they're also active foragers. They produce a decent number of eggs as well (often between 100 to 150 per year).
These are also excellent backyard chickens, as they have easy temperaments and interact well with humans. Their mostly white feathers are appealing too, as these don't leave a dark mark on the carcass once the feathers have been plucked.
Orpington

Orpington chickens provide a decent amount of meat, while also laying around 200 eggs per year. Despite being purebred, this breed can get as large as hybrid breeders and produces plenty of flavorful meat.
Their purebred nature means that these chickens are subject to fewer health issues. You can also reproduce these chickens yourself.
Still, there are some disadvantages. One is that the meat can be tougher because the chickens spend more time outside. There is also less edible meat than you might want (roughly 65% of the chicken's weight, versus 75% for the Cornish Cross).
Plymouth Rock

We can't forget about the Plymouth Rock breed. This is a popular chicken breed, partly because it is so versatile. You can turn to these chickens for meat and egg production. Plus, this is a low maintenance breed, making it perfect for beginners.
Plymouth Rock's are even good around kids as they are friendly. You might even find that they follow you around and are quite happy being stroked.
This is another purebred breed, so the chickens will reproduce true. The meat has a mild and delicate flavor, making it an easy choice for the dinner table.
There are multiple varieties to look for, including Barred, White, Blue, and Partridge. These varieties differ in their feather colors, so you can choose the type you like the most. You'll see a similar pattern with other chicken breeds as well.
White And Brown Leghorns

You've heard about Leghorns, right? White Leghorns are particularly distinctive, with their white plumage and red comb. The breed is excellent for backyards, as it is low maintenance and can be raised in confinement and also free range.
You can choose either White or Brown Leghorns here as the chickens are much the same. Both types lay a decent number of white eggs, making them an excellent dual purpose variety.
That said, this breed is mostly raised for eggs, so the amount of meat isn't as good as other breeds.
Turken

Turken (or Naked Neck) chickens are odd. They look like they're part chicken and part turkey, yet they're entirely chicken (and not at all related to turkeys).
These chickens were bred specifically for their bare neck, which is meant to make them easier to catch, pluck, and cook. Surprisingly, the chickens work well in many climates, even when it is quite cold.
Turken chickens work well for meat, as they hit maturity by 18 weeks and often sooner. The biggest catch is that this breed eats a lot, which can get expensive.
New Hampshire Red

This chicken breed should look instantly familiar, as it's incredibly popular. It's easy to see why too, as the chicken produces a decent number of eggs and is still excellent for meat.
Hens from this breed often weigh between five and seven pounds, while roosters are between six and eight pounds. They reach this weight early too, often by 14 to 16 weeks.
This is also a versatile breed that works well in confinement and free range. The chickens are also hardy and do well in cold weather.
Freedom Rangers

Freedom Rangers are a broiler chicken, although they mature more slowly than other broilers. This slower growth rate isn't entirely bad, as it means that the meat ends up much more flavorful. The breed also gets around some of the health issues of faster growing hybrid breeds.
Another catch is the chickens are relatively small. They still provide plenty of meat, just not as much as some other breeds.
Beyond this, these chickens are docile and willing to forage. Those traits are exactly what you want for domestic chickens.
Buckeye

Buckeye chickens have plenty going for them. Not only are they a decent source of meat, but can also lay more than 200 eggs per year and can withstand cold environments.
The big catch is that they reach maturity slowly. They typically reach between seven to ten pounds within 20 weeks. This can be frustrating. Still, you get plenty of eggs in the meantime.
This breed is excellent for free ranging, as they instinctually forage and tend to protect one another. The chickens do make more noise than many other breeds, so they're better on homesteads rather than in your backyard.
Chantecler

Now we come to Chantecler. This is a smaller breed that averages between five and eight pounds when mature. These chickens are best in cold environments, as they don't thrive in hot climates.
While the chickens are on the small side, they do reach maturity fast. They're great egg producers as well, often giving you 200 eggs in a year.
These chickens are also fairly hands off, as they free range well and regularly forage for themselves.
Buff Orpington

Buff Orpington is another breed that reaches maturity fast, sometimes within 18 weeks. You get a decent number of eggs within this time too, making this an excellent dual purpose breed.
These chickens are particularly good for small backyards, especially as they are docile and easy to care for. They have delicious and tender meat.
However, it's important to watch feeding with this breed, as the chickens can become obese. They also take up to 24 weeks to reach maturity, so you'll need to be patient.
Rhode Island Red

You've probably heard about the Rhode Island Red breed before, as this heritage breed is exceptional for eggs. They're not a huge breed, with chickens averaging between six and eight pounds when mature.
Their meat has a decent amount of marbling, which gives it a rich and amazing flavor. This feature alone makes the chickens worth raising.
Also, because this is a heritage chicken, it will breed true. This means you don't need to buy new chicks.
Ginger Broiler

Remember the Cornish Cross that we talked about earlier? The Ginger Broiler has a similar growth rate and can actually mature within eight weeks.
Unlike the Cornish Cross, the Ginger Broiler doesn't face common health issues, which makes them much easier to raise. The chickens don't need much attention either, as they will keep themselves active.
They are fairly small though, reaching just five to six pounds. Still, the fast growth rate helps to make up for this.
Kosher King

Kosher King is one type of Ranger broiler chicken. They grow fast, but not as fast as the Cornish Cross. That's a good thing, really, as the insane growth rate of the Cornish Cross contributes to some of the issues of that breed.
The size is pretty impressive too, and the chickens can often reach between eight and nine pounds within just a couple of months. Other breeds take much longer to reach the same weight.
Silkie

The Silkie is an unusual breed to raise for meat, as the chickens are very small. They're not good egg producers either. The most standout feature is that the chickens have black skin.
This coloring remains even after the chicken has been cooked, so it can make your meals look truly stunning. If you want something unusual, this is an excellent breed to experiment with.
Australorp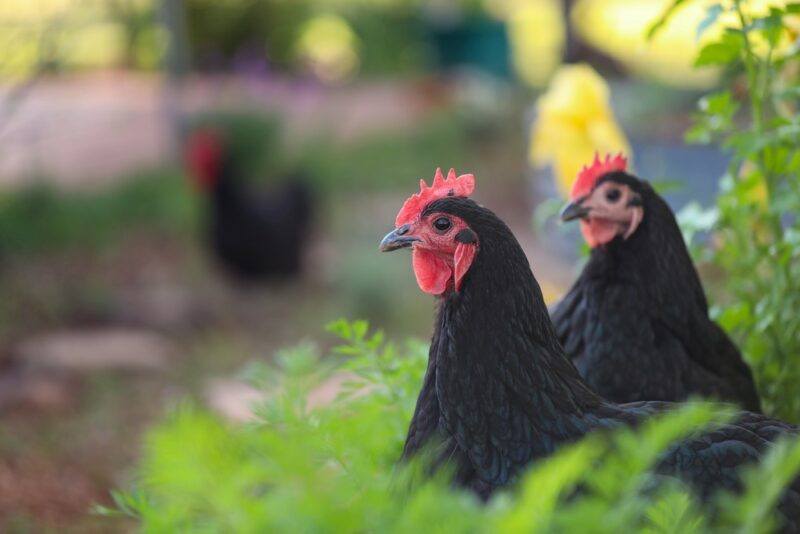 You might not be familiar with Australorps, as this breed of chicken hasn't been around for long. Still, they're a hardy breed that produces plenty of eggs and thrives in many environments.
They're decent as meat birds as well, often growing between eight and ten pounds. However, like some other breeds, these chickens grow fairly slowly. Don't worry, they're worth the effort, as the meat is very delicious.
Dorking

Dorking is a docile breed that comes in between seven and nine pounds and reaches maturity at around 16 weeks. They're a decent choice for eggs too, giving you more than 100 eggs per year. The meat itself is tender and packed with flavor.
There is a catch though, Dorkings aren't particularly resilient. You need to pay attention to make sure the chickens stay healthy and reach their full potential.
Egyptian Fayoumi

Here's an impressive addition to your backyard. Egyptian Fayoumi chickens grow quickly and typically reach between four and five pounds.
Like many breeds on this list, the Egyptian Fayoumi is dual purpose and produces a decent number of eggs. This is also a hardy breed that's disease resistant and can live in hot climates.
Brahma

Brahma chickens are impressive. They can grow between nine and 13 pounds, which is larger than many of the other breeds on the list.
They're a type of broiler chicken but do take longer to reach maturity than normal. You'll often need to wait between six and seven months. Still… with their impressive size, these chickens are certainly worth the wait.
Wyandotte

Wyandotte is one of those breeds that looks stunning. The chickens have solid feathers with bold contrasting colors. They're another great breed for eggs, producing around 200 eggs each year.
As for the meat, Wyandotte chickens typically reach between six and nine pounds, with the hens weighing less than the roosters. They're a low maintenance breed, which makes them perfect for backyard breeders.
Tips For Raising Chickens For Meat
The following approaches can help you grow healthy chickens with a good balance of lean muscle and fat. However, it's important to check the best practices for the breed you're looking at, as breeds have some differences.
Feed On A Schedule
Raising chickens for meat doesn't mean that you should feed them as much as possible. Doing that would give you a poor balance of fat and lean meat.
Instead, you'll typically need to feed your chickens on a regular schedule. This often means having food readily available for 12 hours and unavailable for the other 12. This way there's less risk that chickens will overeat.
Pay Attention To The Protein Content
Protein is essential for ensuring your chickens stay healthy and grow to a decent size. However, the ideal amount of protein varies depending on breed you're considering.
This issue is particularly relevant for fast growing hybrid varieties, like the Cornish Cross and even sometimes Freedom Rangers. If there's too much protein in the mix, the birds may grow too fast, which can cause leg problems.
Make Sure They Move
Exercise is important for ensuring chickens develop enough lean muscle. This is important, as chickens can be lazy and will often gravitate away from exercise.
Having food on the opposite side of the pen to water can help with this, as it ensures that the chickens move around somewhat. You may also want to consider a coop that has a chicken run or pasture raising your chickens instead.
What Chickens Are Best For Meat And Eggs?
Many of the chickens we've featured were bred specifically for meat and don't produce many eggs because of this. However, some breeds are excellent for both meat and eggs.
Rhode Island Red, Sussex, Plymouth Rocks, and Buff Orpington breeds all produce many eggs and are a decent source of meat as well. Those are just a few examples. Anything referred to as a dual purpose chicken is excellent for both eggs and meat.