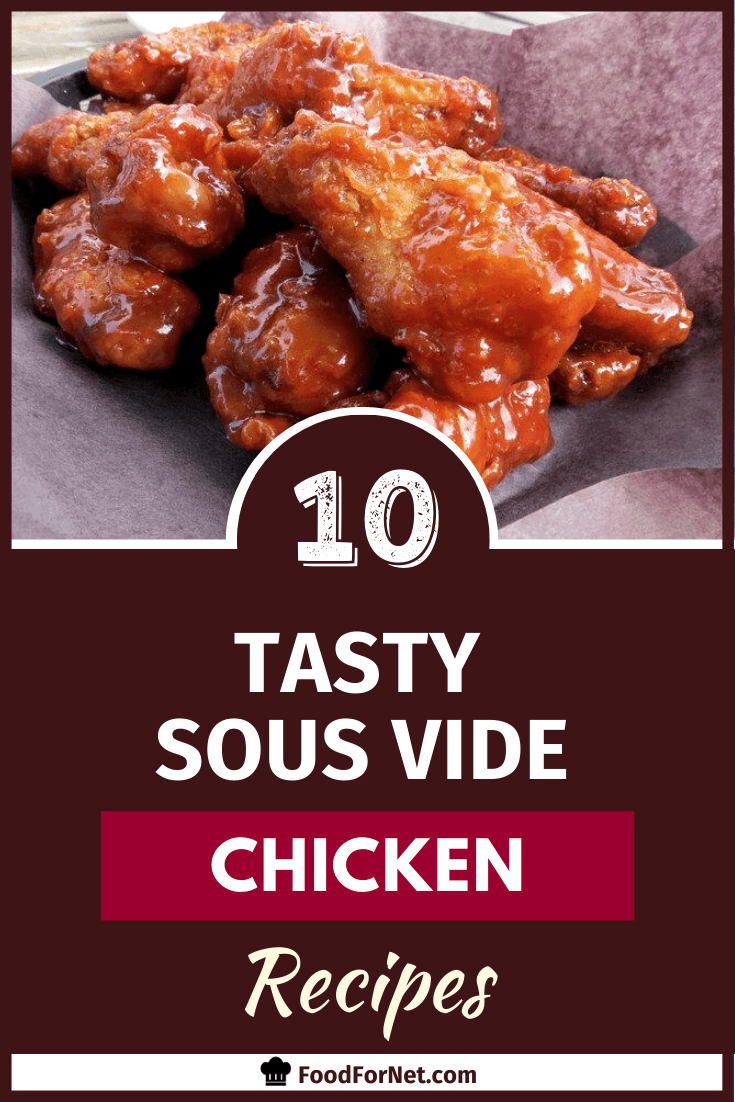 Chicken is an extremely common cooking ingredient – so much so that it often ends up being boring, bland and uninspired. Mix up your dinner recipe rut with one of these sous vide chicken recipes!
Part of the problem is that you must avoid undercooking the chicken. As a result, many people end up overcooking it instead. But, chicken doesn't have to be boring and it certainly shouldn't be difficult.
The main way to make sure you get perfect chicken every time is to control the temperature. And, the best method for doing that is with sous vide cooking. After all, sous vide lets you manage temperature right down to the degree, which isn't feasible with any other technique.
At the same time, sous vide cooking is a powerful way to keep moisture in your food and to infuse it with flavor. That's why all of the sous vide chicken recipes on this list end up tasting amazing. What's more, they are consistently good – so you know that the dish will turn out the same each time you cook it. That aspect alone is a key reason for trying the recipes out for yourself.
Sous Vide Chicken Recipes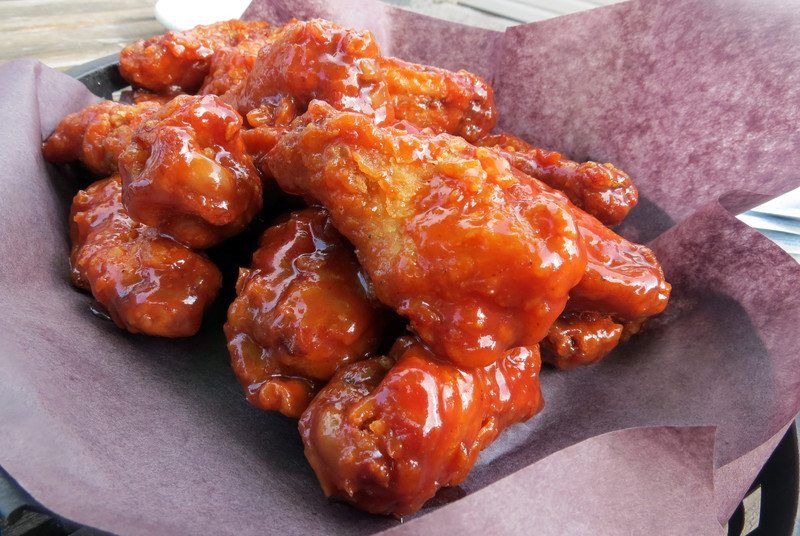 PS. Here's my #1 immersion circulator for cooking sous vide. Turn any container into your home into a water bath, and use regular ziplock bags for a super simple way to start with sous vide. No more expensive $700 water ovens!
Sous Vide Chicken Tikka Masala
Sous Vide Chinese-Style Fried Chicken
Sous Vide Cajun-Spiced Chicken Breast
Sous Vide Iberian Chicken Legs
Sous Vide Crispy Sous Vide Chicken Thighs
Sous Vide Chicken Ballotine
Sous Vide Filipino Chicken BBQ
Sous Vide Honey Sriracha Wings
Sous Vide Garlic Cilantro Chicken
Sous Vide Crispy Chicken Adobo
Sous Vide Chicken Tikka Masala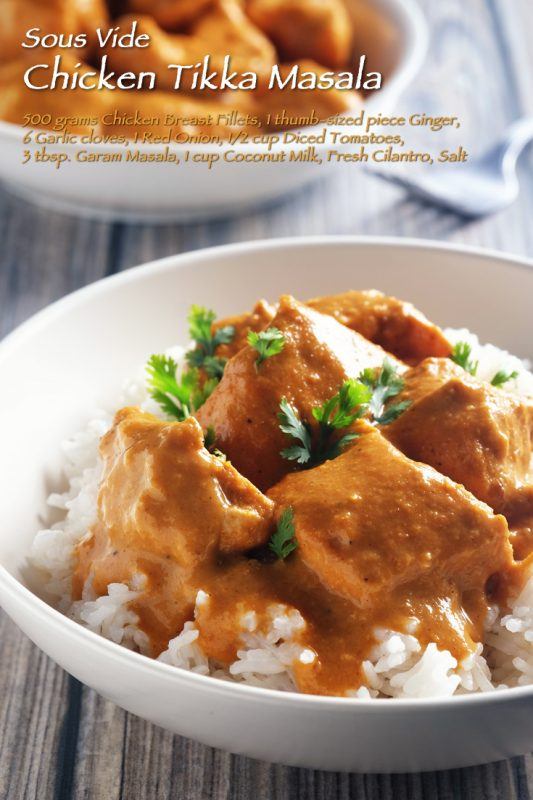 Chicken Tikka Masala is a great go-to for anyone who loves Indian food. Plus, it is a fairly simple dish to prepare, even using conventional approaches. But, this sous vide version of the dish makes some tweaks to the traditional recipe and takes it one step further. In particular, the chicken here ends up being much more tender than you would normally see, while still having that tikka masala flavor.
The dish is also great because it's ready to serve straight from the sous vide bag. As such, this is a meal that you can setup early, rather than having to do any cooking at dinner time. That's great for busy families and anybody wanting more time in the evening.
Sous Vide Chinese-Style Fried Chicken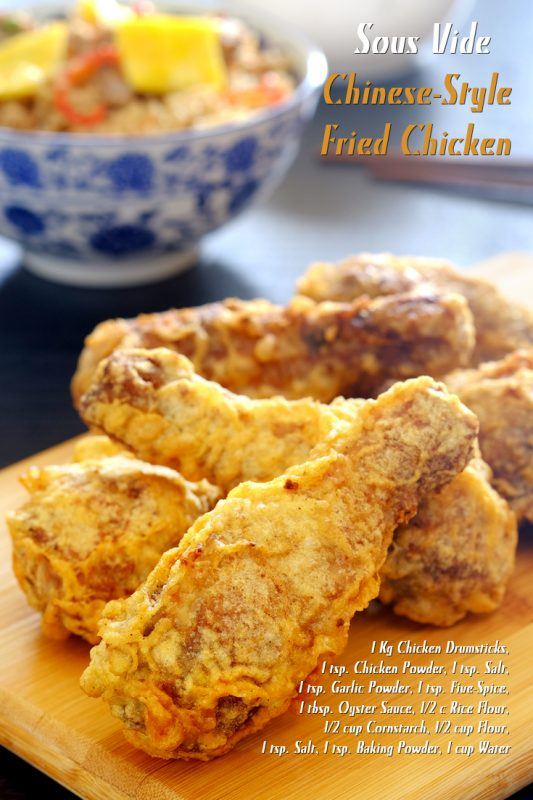 Fried chicken is always popular but it can get a little boring after a while. This Chinese-Style Fried Chicken recipe varies the idea up, giving you the taste and texture of fried chicken, with Chinese taste profile. Not only do the flavors work exceptionally well but the recipe results in a crispy batter with moist chicken inside.
Sous Vide Cajun-Spiced Chicken Breast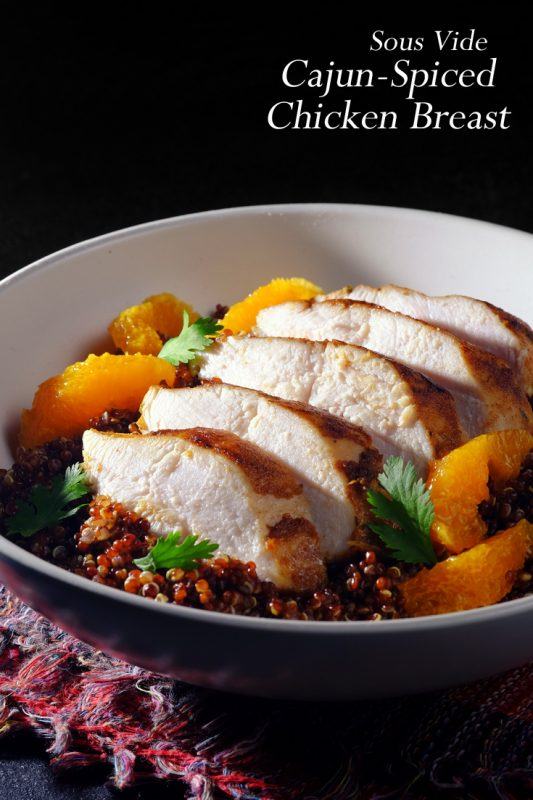 This Cajun-Spiced Chicken Breast is another recipe that is heavy on the flavor, while still producing moist chicken. Now, using Cajun spice on chicken is hardly a unique idea but the combination is popular because it works so well. With that in mind, it isn't the flavors themselves that make this recipe amazing. Rather, the key component is sous vide approach and you end up with chicken that is extremely tender while still being cooked all the way through.
The cool thing is that you don't have to stick with Cajun spices. Instead, you could change up the flavors based on your own preferences. As such, you can just use the recipe as a guide for getting perfect sous vide chicken breasts every time.
Sous Vide Iberian Chicken Legs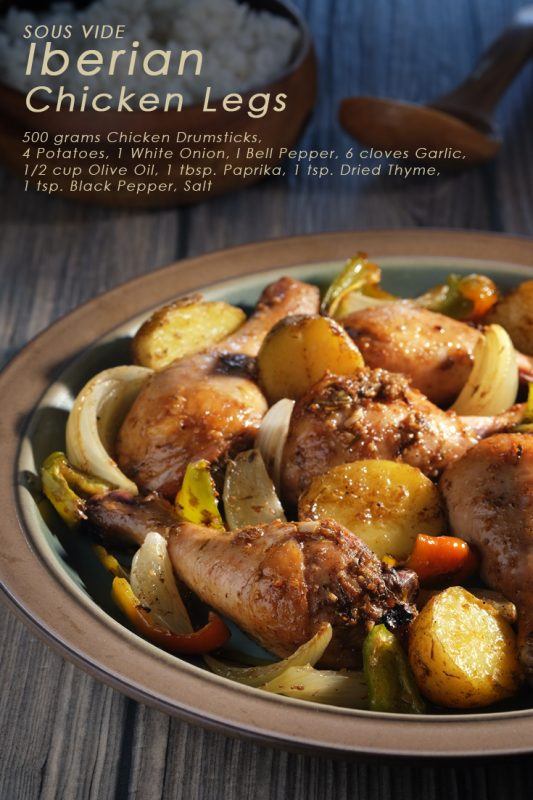 Another cut of chicken to consider is the legs, like these Iberian Chicken Legs. Now, chicken legs are fattier than breast meat, so they are easy to get right. But, there are still some advantages to cooking them in the sous vide.
In fact, this particular recipe is effective because it gives you an entire meal that is easy to prepare and involves few dishes. The various ingredients and flavors all work together very well and ensure that nobody will be disappointed.
Sous Vide Crispy Sous Vide Chicken Thighs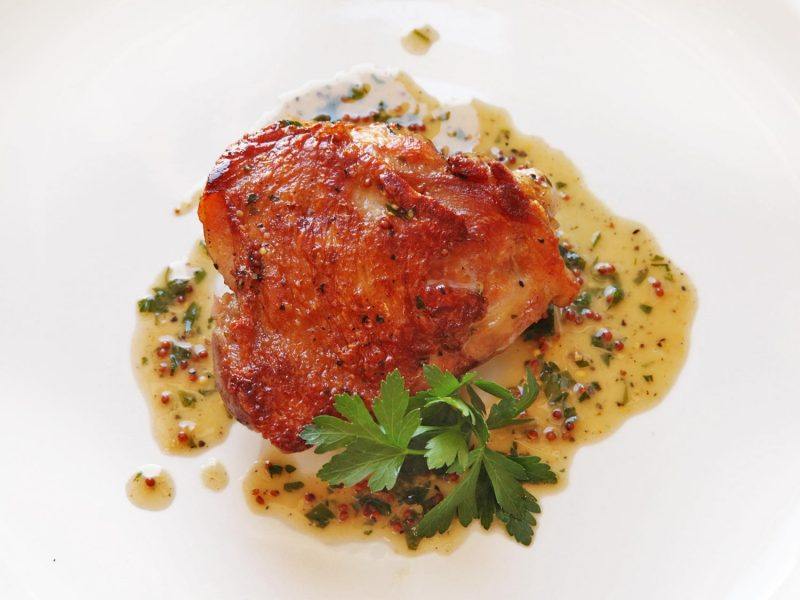 This Crispy Sous Vide Chicken Thighs recipe from seriouseats.com is another interesting option for making perfect chicken. As is often the case with recipes from the site, there is also considerable information about how to prepare the chicken, including whether you use bone-in or bone-out thighs, along with how different cooking times and temperatures result in variations in tenderness.
While the flavors of the recipe itself may be on the simple side, this one is well-worth trying out for the directions and extra information. If nothing else, the approaches may help you learn more about sous vide cooking overall.
Sous Vide Chicken Ballotine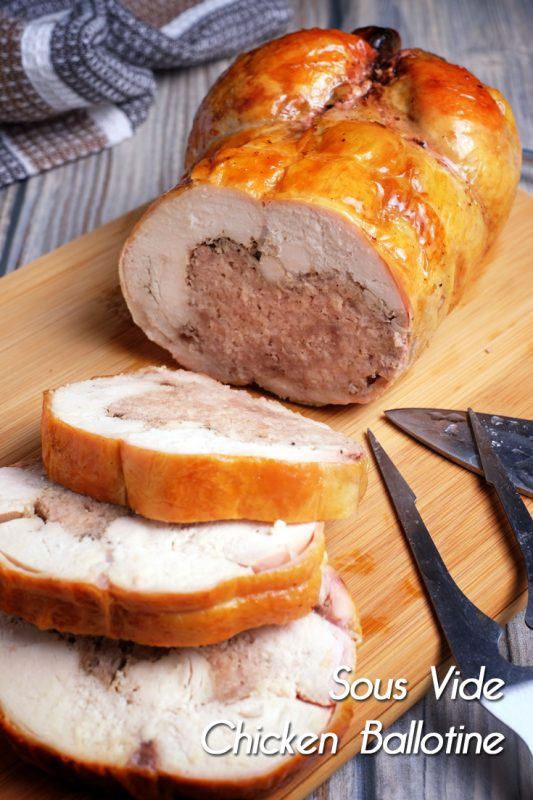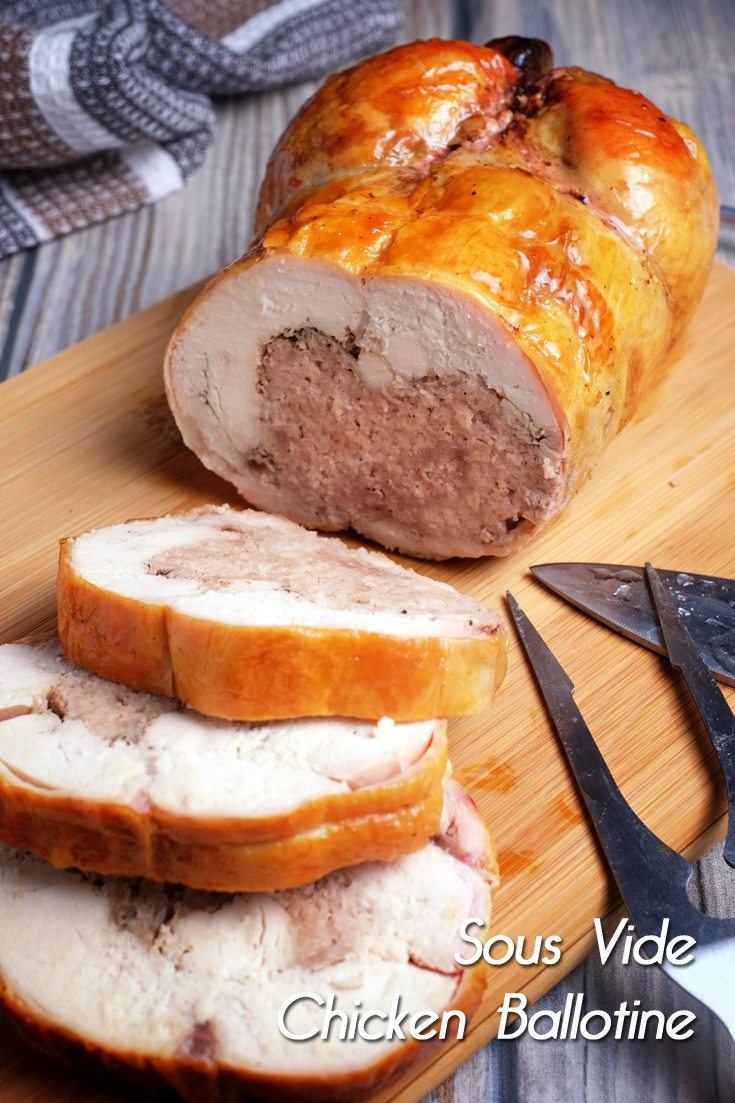 Most of the recipes on this list are fairly traditional chicken dishes – but, if you want something more unusual, try this Sous Vide Chicken Ballotine. For one thing, the dish itself looks amazing, making it a great way to impress friends or family members. At the same time, the chicken also tastes that much better, especially because the stuffing helps to create extra flavor and means the chicken is moister overall.
If you've never made something like this before, the process can seem a little difficult but it is still very achievable. The recipe offers information about all of the steps involved, including a video and many images. So, you can easily follow along and make this dish, even if you've never even heard of the idea before.
Sous Vide Filipino Chicken BBQ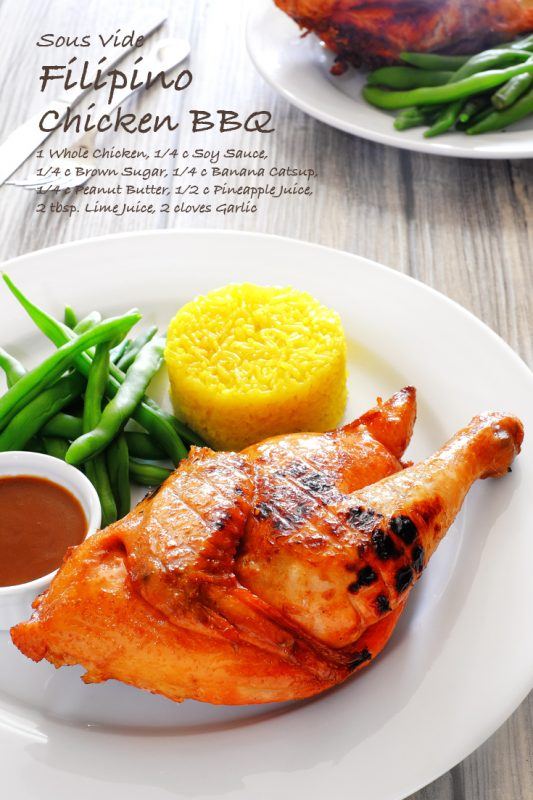 This Filipino Chicken BBQ is another dish that looks slightly unusual but is amazing in terms of the flavors offered. In fact, the flavor profile here is different than anything you may have tried before, especially as the ingredient selection includes fruit juice and peanut butter. I know that sounds strange but, trust me, the end result is truly worth it.
The final presentation is also impressive and makes this a fun meal to serve, especially with some brightly colored sides.
Sous Vide Honey Sriracha Wings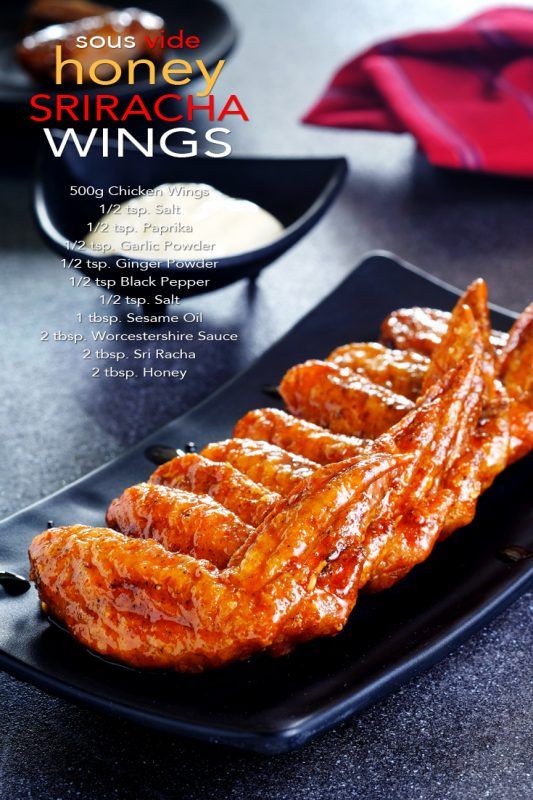 If you love chicken wings, then these Honey Sriracha Wings are too good to pass up. As the same suggests, the recipe gets its flavor from Sriracha, along with a range of complementary spices and ingredients. The use of sous vide ensures that you get the most out of those flavors, without drying out the chicken.
By finishing the wings off in a fryer, you end up with perfect wings for a party. Crispy on the outside, soft and tender on the inside, with a powerful depth of flavor – what's not to love? Don't forget you can sous vide some dipping sauce as well.
Need more spice in your life? Try a hot sauce box and get new flavors of hot sauce delivered each month.
Sous Vide Garlic Cilantro Chicken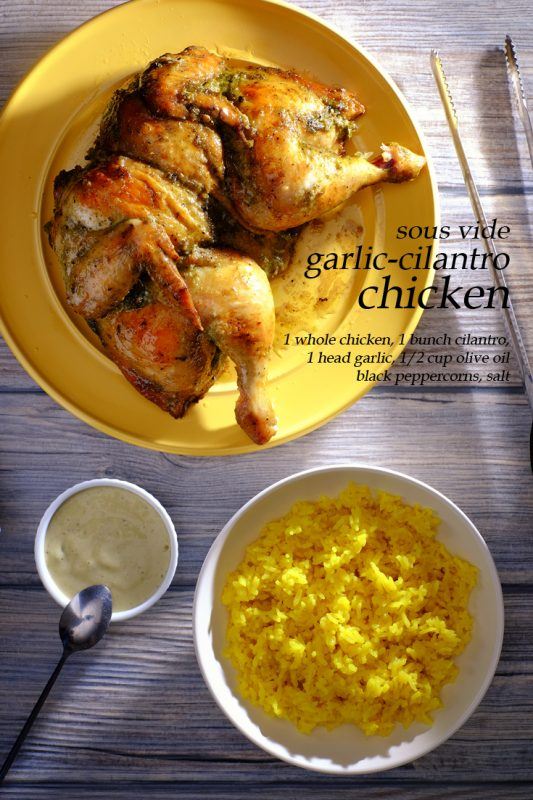 If you get bored of traditional roasts, then this Garlic Cilantro Chicken is well worth trying out. As with the other recipes, the reliance on sous vide means that you end up with tender and moist chicken every time, even if you're not that great at cooking chicken. At the same time, there is a significant depth of flavor, especially as both garlic and cilantro are fairly intense. And finally, this is another meal that simply looks amazing on the plate.
Sous Vide Crispy Chicken Adobo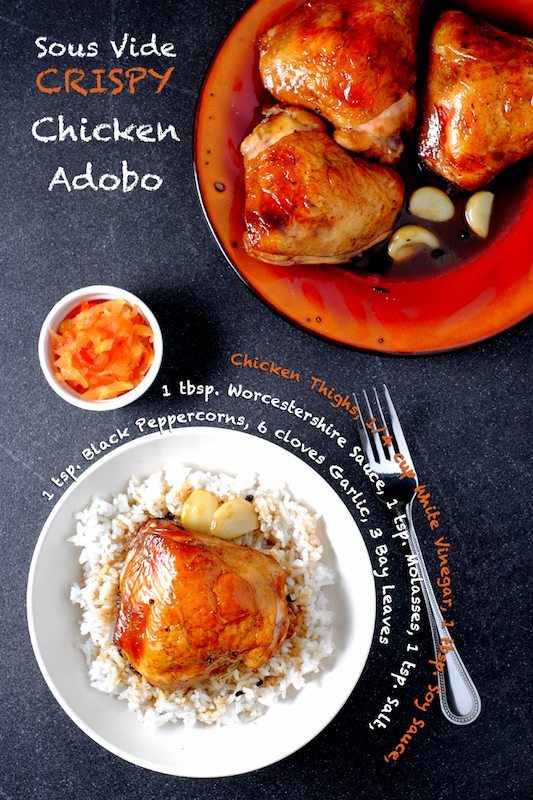 I've always loved the flavors of adobo and this style of dish is already extremely popular. So, why bother with a Sous Vide Crispy Chicken Adobo? Well, the simple answer is that sous vide really does make the dish taste better again.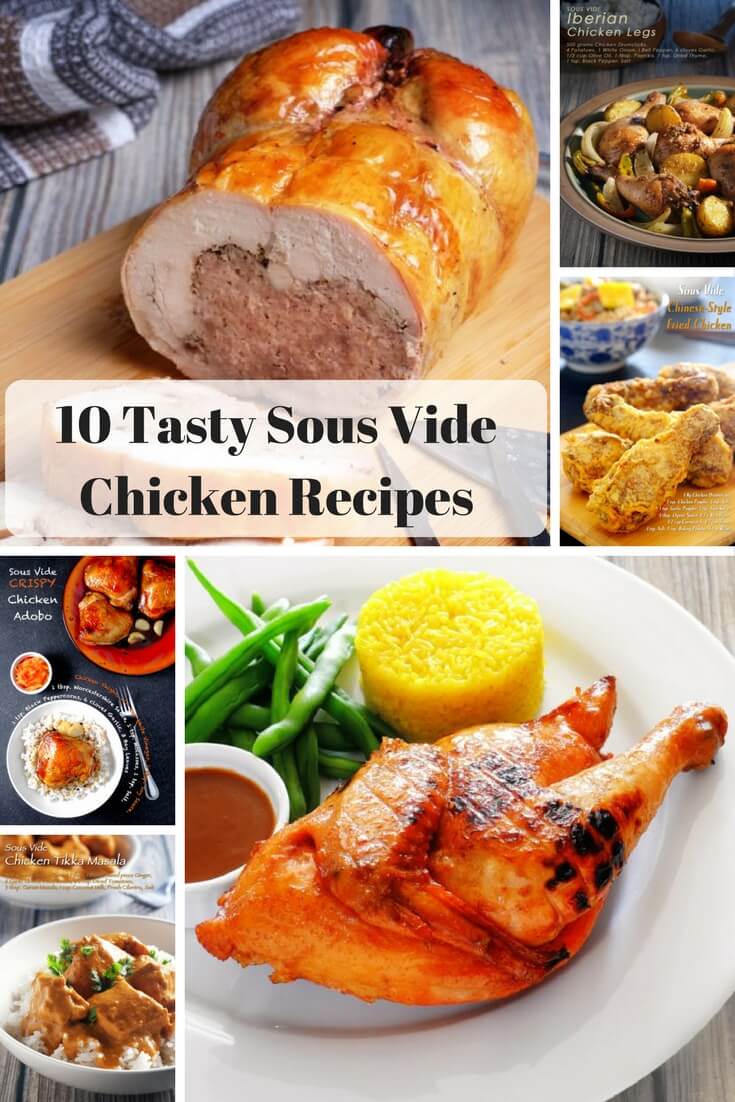 One key reason is that sous vide helps to ensure that the flavors are more intense overall. Plus, you do end up with very tender and moist chicken – an outcome that can be difficult to achieve with conventional approaches. Even if you're not sold on the idea, give it a go. After all, you never know how well a recipe is going to work until you try it out yourself.