I've always loved spicy recipes and countless other people do as well. There's something very enjoyable about the way that spices play on the palate and serve to make food that much more interesting. With that in mind, this post rounds up some of the best spicy sous vide recipes available online.
After all, sous vide can provide an intensity of flavor that is hard to beat. Why not take advantage of that feature to create some truly amazing spicy food?
The recipes in this post come from a range of sources, including many of my own. As a result, there is considerable variation in how spicy they are. In some cases, the dishes are genuinely hot and might be unsuitable for more sensitive palates. Other recipes have less heat and instead rely on the complexity of flavor that spices offer.
But, hot or not, all of these recipes are interesting meals that are bound to raise a few eyebrows (in a good way!).
Do you have a favorite brand of sous vide cooker? Mine is the brand new Joule from Chefsteps. They've married the tech of smartphones and bluetooth with the old-world cooking of sous vide. It's pretty amazing!
And if you love spice, you gotta try out these hot sauce subscription boxes, delivering new, flavorful, hard-to-find hot sauces every month. Ditch Tapatio & Sriracha and get the good stuff.
Spicy Sous Vide Recipes

Sous Vide Honey Sriracha Wings
Sous Vide Asian BBQ Pork Chops with Spicy Pickled Apples
Sous Vide Strawberry-Chili Vinegar
Sous Vide Cajun-Spiced Chicken Breast
Sous Vide Portuguese Peri-Peri Chicken
Pulled Pork Sous Vide
Sous Vide Chili-Butter Cobbler
Sous Vide Piri-Piri Pork Kabobs
Sous Vide Ox Cheek Kebabs
Sous Vide Pastrami
Sous Vide Honey Sriracha Wings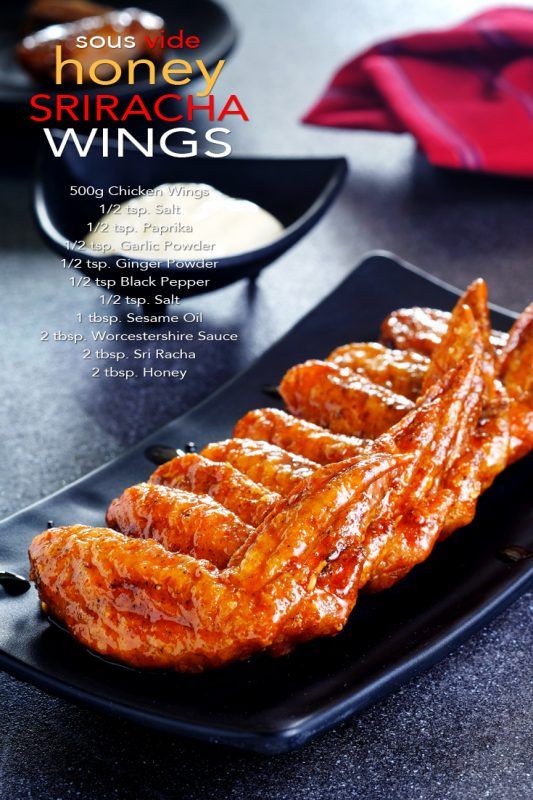 Chicken wings are easy enough to make but much harder to get perfect. This Sous Vide Honey Sriracha Wings recipe offers all the information you need to make amazing spicy chicken wings every time. The sous vide approach works wonders here, as it means the interior of the chicken remains moist and tender, even though the skin is crisp.
You can also adjust the flavors of this recipe however you would like. This offers the chance to add in more spice if you want something with heat or change the spices to create a different flavor profile entirely.
Sous Vide Asian BBQ Pork Chops with Spicy Pickled Apples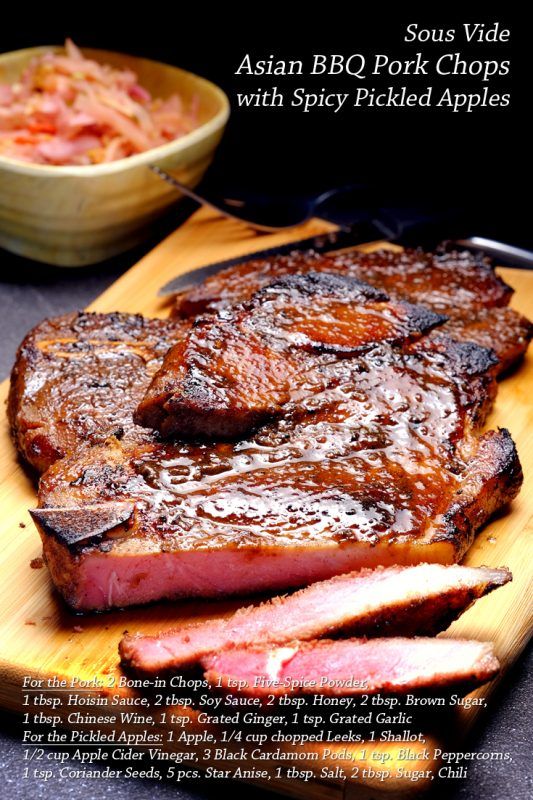 With these Asian BBQ Pork Chops, you're getting spice in two different ways. First of all, the meat itself is marinated in aromatics, including five-spice powder. This creates a unique flavor profile that is much more interesting than regular pork chops.
Additionally, the recipe includes information for a side of pickled apples, which truly are spicy. The two sets of flavors complement each other perfectly and also look good when you serve the meal.
Personally, I think this recipe would go good with steaks too.
Sous Vide Strawberry-Chili Vinegar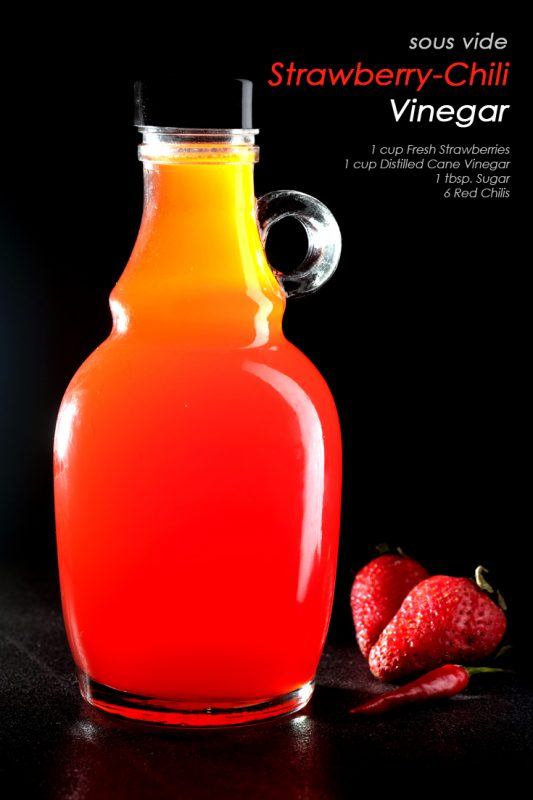 This Strawberry-Chili Vinegar is a little different because the recipe isn't for an entire meal. Instead, this is a type of infusion, where you are making plain white vinegar taste that much more interesting. The idea may not seem exciting on its own.
However, you end up with an intense vinegar that can be used in countless different recipes, including pasta, salad dressing and grilled food. For that matter, the vinegar works well for adding extra spice and flavor to meals that are typically fairly dull.
Sous Vide Cajun-Spiced Chicken Breast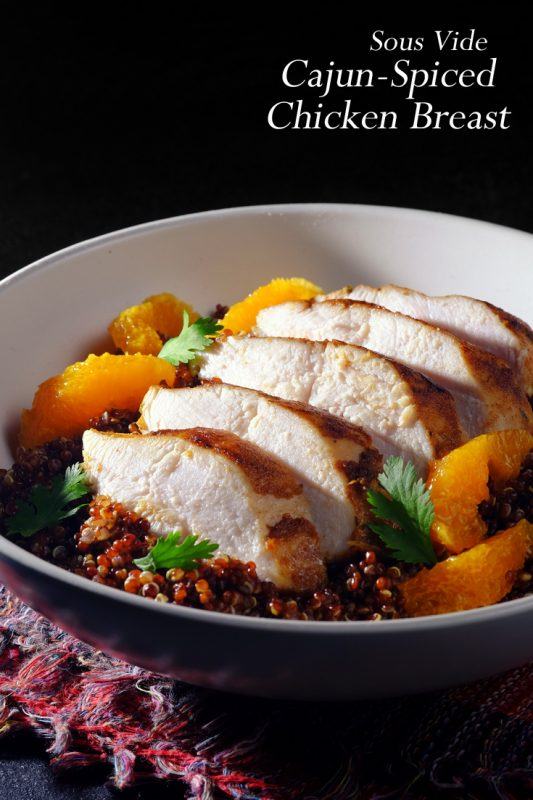 Using Cajun flavors with chicken is hardly a new idea but this Sous Vide Cajun-Spiced Chicken Breast is still a recipe worth trying. After all, the approach is so common because it works exceptionally well. In this case, the real beauty of the recipe isn't the taste at all – although that is fantastic.
Instead, the recipe is powerful simply for the cooking style. Chicken breast can often be a challenging cut of meat, as you can easily dry it out with conventional cooking methods. Using sous vide lets you get around this issue and you end up with moist and tender chicken, which also has an intense flavor.
Sous Vide Portuguese Peri-Peri Chicken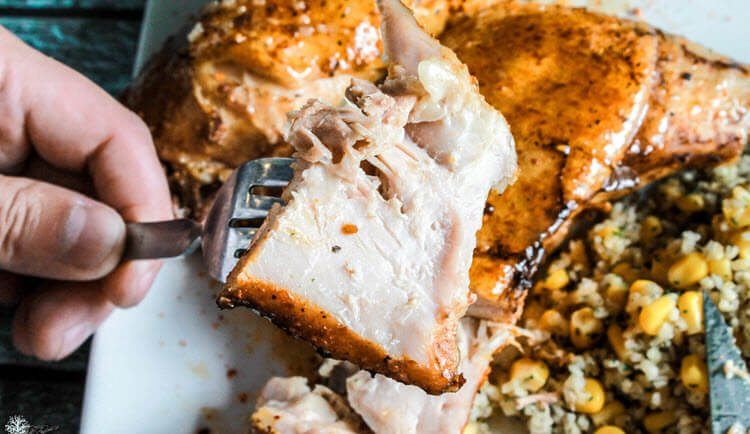 This Portuguese Peri-Peri Chicken is another great recipe for anyone who loves spicy food. In this case, the recipe is from almost-kosher.net and the post includes instructions for cooking the same dish in multiple ways. The entire recipe just comes together well and looks perfect on the plate. Plus, the information provided ensures that you end up with tender chicken legs or thighs every time.
Pulled Pork Sous Vide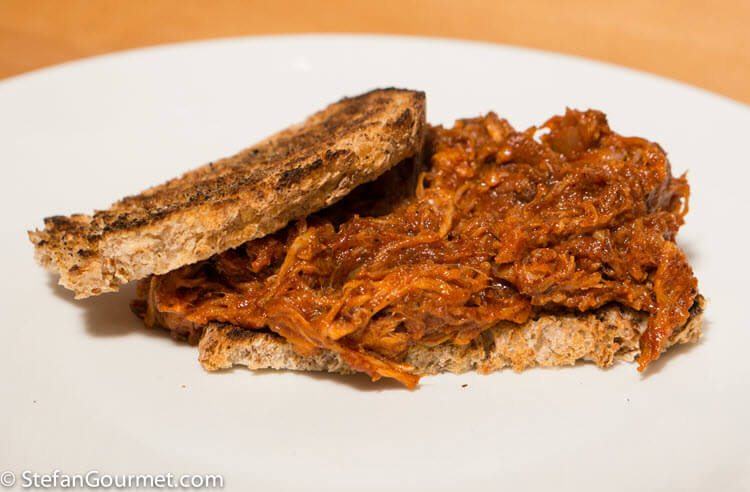 There are various ways to make pulled pork, although many people swear you need to use a smoker and/or a barbecue to get the right flavors. Nevertheless, this Pulled Pork Sous Vide recipe from stefangourmet.com is an alternative approach that is also effective.
The recipe itself still involves smoking, although only for around 15 minutes or so. That idea means you still get the smoky flavor that you want, without too much effort. The sous vide technique then works to get the spicy and smoky flavors deep into the meat, resulting in very impressive pulled pork.
Sous Vide Chili-Butter Cobbler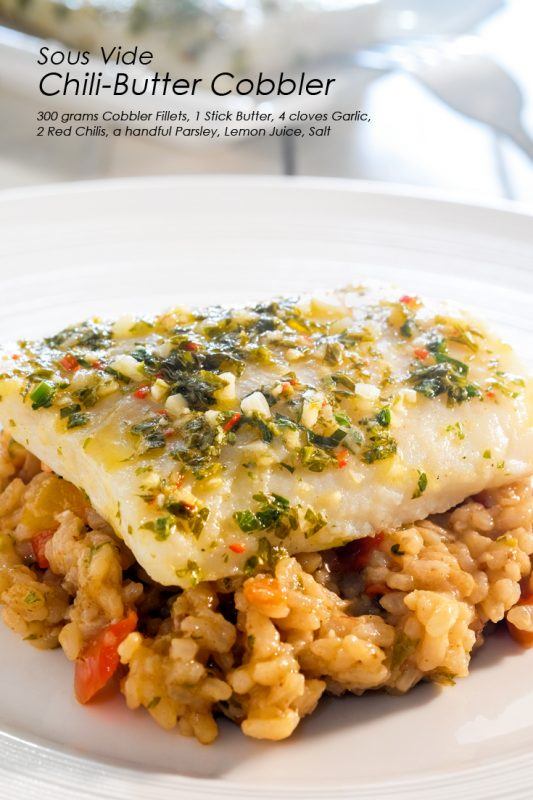 Spicy food doesn't have to be difficult or complicated and this Sous Vide Chili-Butter Cobbler is one simple option that is surprisingly effective. For the most part, the recipe just relies on two key components.
One of these is the sous vide cooking, while the other is homemade compound butter. That butter offers the perfect avenue for providing flavors to your fish without a large amount of effort.
Sous Vide Piri-Piri Pork Kabobs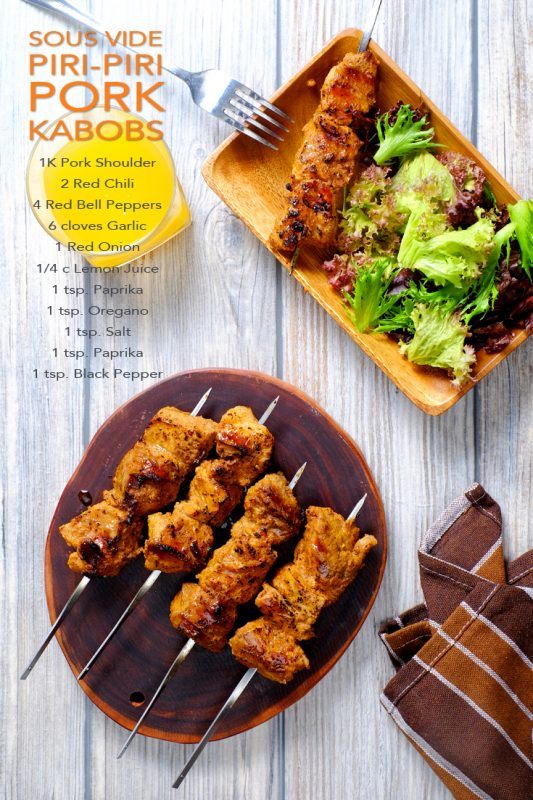 These Piri-Piri Pork Kabobs are another interesting recipe for a spicy dish. I actually find that the flavor combination works better with pork than with chicken, partly because there is more substance to pork. It's also nice to have something a little bit different.
I personally love the way these kebabs turn out, especially as the sous vide makes them tender and provides an intense flavor overall. You can also finish these on the grill, which gives a nice crispness and charred flavor.
Sous Vide Ox Cheek Kebabs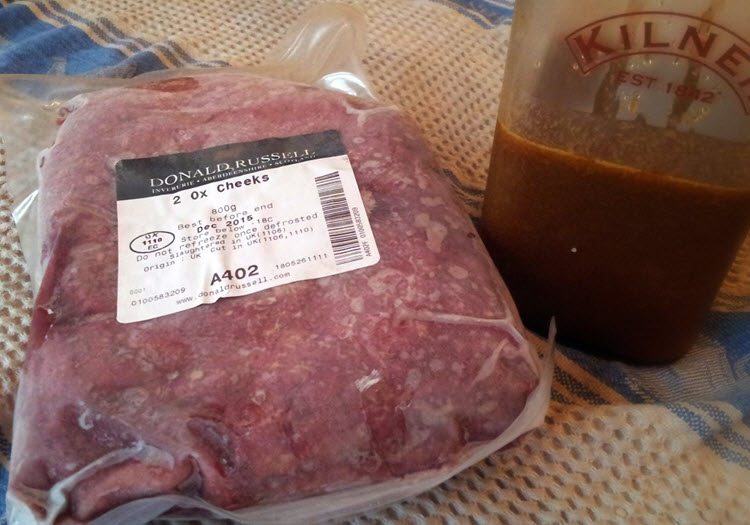 I found these Ox Cheek Kebabs at bigspud.co.uk and they are an interesting choice if you want to move away from conventional ingredients for kebabs. The meat actually works very well, as ox cheek has a more complex and interesting flavor than many other types of meat.
The recipe is also worth looking at for the other components. In particular, it contains information about making hummus and salsa, along with the glaze that goes on the kebabs. You could even just use some of these components to create your own variation on the recipe – or as part of an entirely different dish.
Sous Vide Pastrami
In most cases, pastrami is something that you buy at the store, rather than a recipe you attempt to cook yourself. But, this Sous Vide Pastrami recipe offers all the information you need to make your own pastrami from beef short ribs. This is an especially great choice if you're a fan of spicy foods, as there are multiple spices in use. Plus, you can alter the heat based on your own preferences.
Like some other recipes from www.chefsteps.com, this is a fairly complex dish, involving multiple steps and a considerable cooking time. In fact, this may be one of the longest recipes you ever make, taking an estimated 9 days (or more), although most of that time is spent soaking the ribs in brine.