Cinnamon is a fantastic way to make meals and snacks more interesting. This certainly applies to fat bombs. Cinnamon can sometimes act as the primary flavor in these treats. In other cases, it might be just one in a selection of different flavors.
Now, if you don't know, fat bombs are a common snack choice for the keto diet. They're high in healthy fats and contain very few carbs. This makes them a good energy booster and a way to help balance your macro intake.
In this list, we're featuring a selection of keto cinnamon fat bomb recipes from various food bloggers. These writers are often well-known for producing keto recipes. You can check out the links to visit their blogs and find other recipes.
Keto Cinnamon Fat Bomb Recipes
PS. There are plenty of other fat bomb flavors to try out, like chocolate almond, pumpkin and caramel.
PPS. Looking for something else? How about keto cheesecakes or keto mug cakes?
Spiced Cocoa Coolers (aka Frozen Fat Bombs)
These fat bombs, from ketodietapp.com, are more heavily spiced than most other types of fat bombs – with cinnamon being just one of the spices used. This style is entirely a good thing, as fat bomb recipes can sometimes be too simple or rich. You can make the recipe with or without dairy, depending on the type of diet that you follow.
Cinnamon and Coconut Fat Bombs
The combination of coconut and cinnamon is such a classic pairing. The two flavors complement one another well, while the coconut on the outside also creates an interesting texture. The recipe comes from grassfedgirl.com and makes ten servings at a time.
Sugar-Free Cinnamon and Coconut Bombs
Here's another recipe that relies on cinnamon and coconut. This time, it comes from joannafrankham.com. The most notable thing about this version is that the fat bombs are AIP compliant. This is an unusual feature and is perfect for anyone on an AIP diet.
Coconut Butter Pecan Fat Bomb Bites
This fat bomb recipe comes from ketosummit.com and it is a little different than normal. As part of her recipe discussion, Louise goes into detail about fat bombs, including the way that they rely on healthy fats, flavoring and texture as the key components. She also provides details about how to alter the recipe to entirely change the flavor.
Toasted Coconut Keto Bombs
The reliance on toasted coconut helps to create a less common flavor profile for these fat bombs. The recipe uses cinnamon too. This helps to highlight the coconut flavor, making the finished fat bombs taste amazing. You can find all the details that you need over at holistichollie.com.
Keto Golden Fat Bombs
Louise from ketosummit.com offers these unusual fat bombs. The bright color comes from turmeric, which is an anti-inflammatory spice that also has an appealing flavor. Turmeric is often part of a golden milk recipe. The title of this fat bomb recipe suggests that it was inspired by that drink.
Because of the turmeric, these fat bombs aren't just a good snack and a source of healthy fats. They also offer health benefits. Plus, they're an effective way to get turmeric in your diet every day.
Creamy Coconut and Cinnamon Fat Bombs
As the title suggests, these fat bombs are creamy and very enjoyable. Like some previous examples, they rely on the combination of coconut and cinnamon. There are a few other flavors added in too. These help to make the flavor profile more interesting again. You can find the full recipe at 5minutelife.me.
Nutty Coconut Fat Bombs
These fat bombs were created by Rachel at bakerita.com. I particularly love the combination of flavors and textures. Rachel has gone to great lengths to make these fat bombs amazing. This includes the use of cinnamon to complement the flavor profile and cacao nibs to provide a bit of a crunch.
Cinnamon Coffee Cake Collagen Fat Bombs
Here's another interesting recipe to consider. It comes from drkellyann.com and the fat bombs are more than a tasty snack. The combination of ingredients means that the fat bombs can help give you extra energy and even improve your health. They're also an appealing way to consume collagen.
The mix of cinnamon and coffee is also an interesting choice. Those two flavors do combine well together. They also create fat bombs that simply look amazing.
Gingerbread Fat Bombs Recipe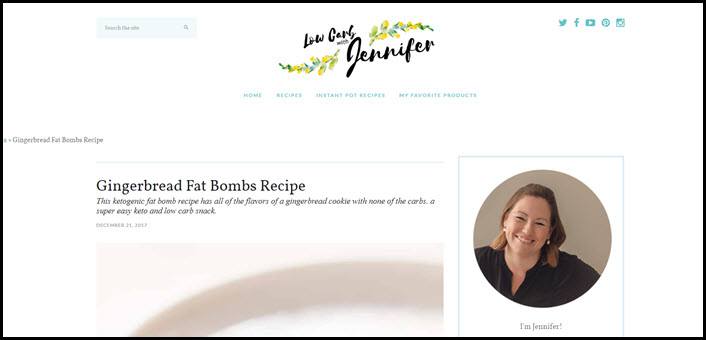 This fat bomb recipe has yet another flavor approach. This time the recipe comes from jenniferbanz.com and it has a similar flavor to gingerbread. The fat bombs look cool too, especially if create small balls out of them.
Unusually, this fat bomb recipe uses molasses as an ingredient. The choice helps to create the gingerbread flavor. As Jennifer mentions, you can leave the molasses out if you want to. Doing so would give the fat bombs a less significant gingerbread taste, but they would still work well.
Chocolate Cinnamon Roll Fat Bombs
Here's another fun combination of flavors – chocolate and cinnamon. The fat bombs are also designed to have a similar flavor profile to cinnamon rolls, which is a fun idea all around. Another interesting aspect is the servings. You're making between five and six fat bombs with the recipe. This stops you having too many fat bombs in the house at any one time. After all, fat bombs are high in calories.
The recipe itself can be found at recipes.instantpot.com. As that site name suggests, the fat bombs are designed to be made in the Instant Pot. Of course, you could do something similar without an Instant Pot too, you'd just need to tweak the recipe a little.
Apple Pie Fat Bombs
This recipe comes from theharvestskillet.com. It is an interesting style to try, as the fat bombs do end up looking like small apple pies. The fat bombs are also a little unusual as they have five grams of net carbs each. That's more than most fat bombs. Even so, these pies do seem to be more like desserts than snacks. In that context, the carb content mightn't be a problem.
Cream Cheese Gingerbread Spice Fat Bombs
These fat bombs from lowcarb-ology.com combine flavors well. There are various spices included that helps to create the traditional gingerbread flavor. The use of cream cheese leads to a creamy texture.
Marye also provides a collection of tips to help you make the best possible fat bombs. This includes stating that you can modify the sweetener level to match your own preferences. Marye has a preference for sweet desserts, so the fat bombs might be too sweet for some people. Decreasing the amount of sweetener should resolve that issue.
Snickerdoodle Cookie Dough Fat Bombs
Here's another interesting flavor to consider. This time, the recipe comes from paleomomnoms.com. The fat bombs have the same flavor profile as snickerdoodles, along with a texture that is similar to cookie dough.
The choice of ingredients means that each fat bomb contains roughly one gram of carbs. That's a perfect amount for many diets. Because the fat bombs are rolled, you can easily make them smaller or larger if you need to.
Cinnamon And Cardamom Ketogenic Fat Bombs
This recipe comes from acupuncturewellness.net. The flavor isn't as complex as the other entries but still tastes amazing. The main reason for this is the cardamom. While cardamom isn't a frequent inclusion in fat bombs, the spice compliments cinnamon well. The shredded coconut is a nice addition too.
CinnaBombs
It's easy to see why these fat bombs are called CinnaBombs – cinnamon is the main flavor. The spice is also responsible for the attractive color of the finished snacks. You can find the recipe for these at prettypies.com, along with links to other fat bomb recipes.
Emily does also give some advice about the molds. Choosing the right mold ensures that you're getting the same macros that are provided in the recipe. She states that you need molds that are one teaspoon in size.
Snickerdoodle Cookie Dough Fat Bombs
Most cookie dough fat bombs follow the traditional chocolate chip style. These ones from laurenrabadi.com take a different approach, using snickerdoodle flavors. It's easy to see why they'd be popular. Snickerdoodle is also a great way to use cinnamon – you end up with such a tasty flavor combination.
Maple Cinnamon Fat Bombs
Here's another flavor mix to consider. This one comes from betterthanbreadketo.com. It is a simpler version than many others, just relying on maple syrup (sugar free, of course) and cinnamon as the main flavors. There are no complicated layers to worry about either, making this an easy recipe to prepare.
Cinnamon Roll Fat Bombs
As the name suggests, these fat bombs evoke the flavor of cinnamon rolls. I love the way that they end up with two distinct layers, despite the way that the ingredients are all mixed together. A particularly interesting aspect is the use of coconut sugar. The ingredient is normally avoided on keto, but it can be included in small serving sizes like these.
Lauren, from runrunlolo.com, says that the coconut sugar helps create the distinct cinnamon roll taste. She does suggest an alternative that you can use if you want to avoid the coconut sugar entirely.
Cinnamon Roll Cheesecake Fat Bombs
Here's another cinnamon roll fat bomb to try. This one happens to be vegan and paleo friendly as well, which is an added bonus. A very interesting aspect is the filling. These aren't your basic fat bombs. They have an inner and an outer layer, along with a cinnamon sugar topping.
The overall style makes the fat bombs very appealing. They're not too hard to make either. You can find all the details you need at healthfulpursit.com.
Cinnamon Roll Fat Bombs
Speaking of cinnamon rolls, here's another style again (this is a popular idea after all). The recipe comes from realbalanced.com. It includes details for the fat bombs themselves and the frosting. There is even a video that you can follow.
Cinnamon Fat Bombs
Rachael from rachaelsgoodeats.com offers this entry that you can try. I particularly love the color of the fat bombs and how this contrasts with the cinnamon topping. This is another recipe that relies on coconut sugar as an optional ingredient. The sugar is only used for the topping, so you could easily exclude it if you don't want the carbs.