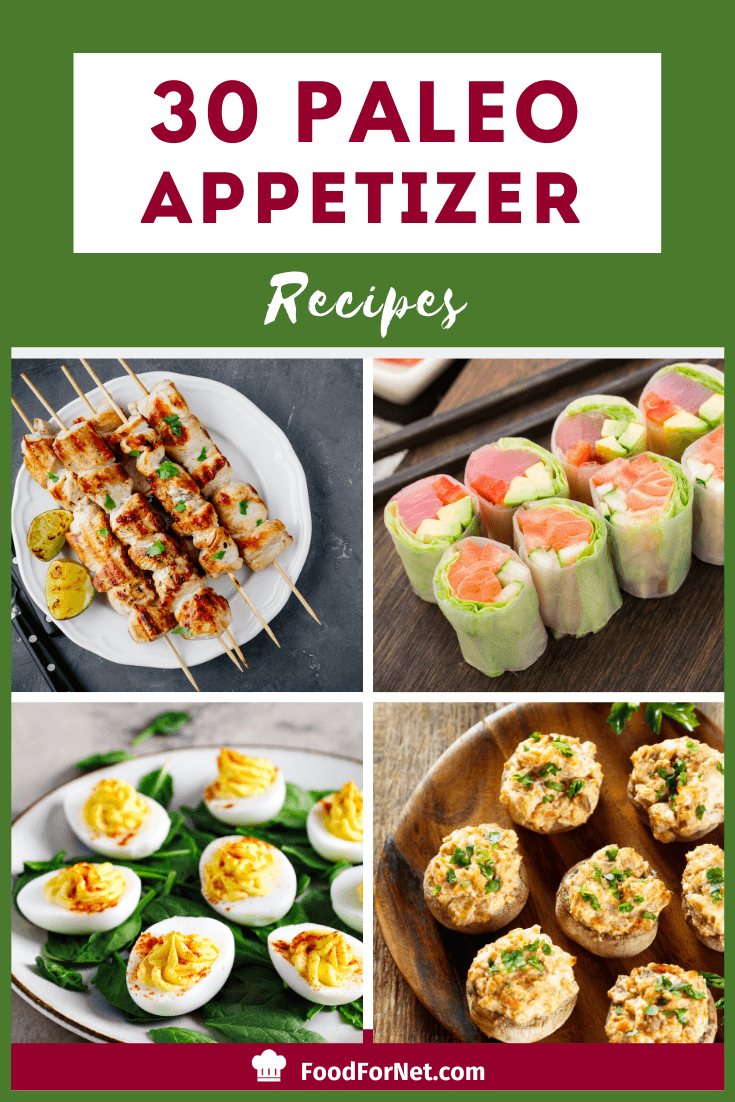 Appetizers and party food are usually full of non-paleo ingredients like cheese, gluten, and sugar. Well, not these appetizers! We've picked the best the web has to offer in paleo appetizer recipes so that your next big dinner can really wow your guests, without breaking your paleo diet.
These recipes are full of plenty of veggies and all of the goodness they bring. There are plenty of familiar dishes too, but done the paleo way! Life is busy so we've chosen plenty of quick and easy recipes that won't take too much time out of your day but will still give you the delicious 'wow' result that you want. Happy cooking!
Paleo Appetizer Recipes
You make the appetizer, but you can still have a paleo meal kit delivered for less work during dinner time.
Peanuts might not be paleo, but almonds certainly are, and they make up this yummy satay sauce. The chicken marinade is fresh and flavorful, and the sauce can be made as spicy or as mild as you like – simply adjust the amount of crushed red pepper that you add!
And you thought sushi was off the paleo menu! These fun cucumber alternatives are quick and tasty, not to mention healthy and refreshing. You can always substitute other fillings for the salmon and avocado – prawns, chicken, tuna, or eggs would work well!
Sweet and salty always go well together, and these stuffed pepper appetizers are no different. The sweet peppers really set off the rich smoked salmon and salty bacon, making them the perfect start to any meal. And not only are the delicious, they're quick and easy to throw together, too!
This paleo twist on an Asian classic has everything – crunch, sweetness, and rich, rich flavor. You get all the gorgeousness of sweet and sour sauce without the sugar, additives, or MSG. It's quick to cook too, with only 15 minutes prep time, and 15 minutes cooking time. Perfect!
This appetizer dish is light but filling, sweet but savoury, and delicious but healthy. What more could you ask for? It's tasty served either hot or cold so it can be made in advance if you're short for time. And it also works as a side dish instead of an appetizer!
With only four ingredients, plus seasoning, this flavorful appetizer could not be simpler, making it super easy to pull together in a hurry. As a bonus, you get a good dose of veggies too – and don't they look cute!
This is the perfect recipe if you're short on ingredients, as you'll likely already have all of them in your pantry and fridge! These deviled eggs are simple to make and sophisticated to look at – not to mention super tasty. Enjoy!
This recipe is a creative version of the classic Italian appetizer, using chicken in place of bread! This makes this a protein-packed snack with flavorful veggies on top. It can be eaten hot or cold, too, meaning that you can make them ahead if need be!
For something a little different, these shishito peppers could be the way to go. Literally, all you need are the peppers, oil, seasoning, garlic, and some lemon juice. You could even leave out the lemon and garlic, and you'd still have a delicious appetizer. Simple!
A simple classic gone posh – the kebab! These skewers are easy to throw together and quick to cook, so you really can't go wrong. Plus, salmon and tomatoes go so well together! Season well, and go enjoy!
What's better than steak for dinner? Steak to start AND steak for dinner! Joking aside, this really is a neat take on steak to use as an appetizer. It's a two ingredient recipe, too, plus seasonings, so it couldn't be easier to make – or to eat!
Salty versus sweet, crunchy versus soft – these aren't decisions you need to make if you're cooking this dish! These tasty bites are simple, delicious, and good for you. Whether you're making them for guests or just as a family snack, your audience will love them.
Get European with these Castelvetrano olives, which work perfectly with the fresh rosemary and thyme, along with yummy seasoned almonds. These are great as an appetizer or a quick snack, and you get your olive-y goodness, along with the protein from the nuts. Perfect.
Think bacon and egg sandwich without the bread, and you get the idea of what these cute little bites will taste like. They make great finger foods, or could even work as part of your lunch – after all, they're protein rich and full of salad!
Did you think you'd have to give up on blinis when you started eating paleo? Well, you don't! These paleo-friendly blinis are made from almond flour and coconut flour, so they're completely grain-free. Serve with the topping of your choice. Eggs, avocado, and smoked salmon is just one suggestion!
These protein-packed wraps would work well as a lunch or energy-boosting snack, as well as appetizers. And if you have store-bought or leftover meat, this is a no-cook recipe for a great appetizer that everyone will love! (shown above with pasture raised bacon!)
Another tasty recipe using paleo favorite zucchini! These blini lookalikes are made from eggs, coconut flour, and coconut milk, with cumin for some added flavor. They can be thrown together in around 15 minutes so they're perfect for even the busiest paleo eater!
We love using leafy greens in place of wraps. It means we still get to eat the same delicious food combinations as before, but know that we're doing the best for our bodies while we do it! These lettuce cups are a prime example! And if you love seafood and fruit combinations, you'll love these tasty bites. Enjoy!
These tasty appetizers come with the added bonus of being child-friendly – in other words, the kids will love them! But whether you make these as a dinner party appetizer or as a quick protein snack for the family, they're quick, easy, and full of flavor. You can't go wrong!
We're big zucchini fans over here! It picks up seasoning so well and is so versatile. These zucchini chips are a prime example. The paprika adds a little spice and the cool dill dip is, well, cool – and refreshing. These will go flying off any dinner table!
These Austria-inspired balls will appeal to kids and adults alike. With garlic, thyme, lemon, and pepper, they aren't short of flavor. Plus, they're full of goodness! Perfect as an appetizer, a snack, or a side dish.
The perfect amuse bouche, these pork and fig bites will fly off the table. And they look the part too, yet are simple to make, with only four ingredients – pork, figs, nutmeg, and parsley. Could they be easier?
These meatballs are gluten-free, grain-free, soy-free, and still absolutely delicious. The spicy, savoury bites work really well with the sweetness of the pineapple. Small and easy to eat, these are the perfect finger food for your next dinner party!
These deviled eggs are perfect little protein bites, with the goodness of avocado, tomato, and onion. Quick and easy to make, they can be whipped up in no time. Avocado is so flexible, and here's yet another use for that delicious, savoury fruit!
Okay, so perhaps pizza is technically a meal, but it would also make the perfect appetizer for both adult dinner parties and kids' parties alike. It is complete veggie goodness and, of course, completely grain-free, with a base made up of ground flaxseed, almond flour, and shredded eggplant. Yum.
If you're missing potato chips, you'll love this paleo alternative! Get your veggies and your salt fix in one with these kale chips. All you'll need is kale, olive oil, and salt, and you're well on your way to a super tasty appetizer or snack!
We all know that tomato and basil is the perfect flavor combination; add egg and avocado and you've got a flavorsome bite packed full of protein. Easy to through together from ingredients you'll likely already have in your fridge, you'll find yourself returning to these again and again.
These super simple skewers combine tasty scallops, salty prosciutto, and sweet maple syrup to create a flavor bomb in a bite! They're really simple to make, and if you can't get hold of any prosciutto, then streaky bacon or pancetta will work just as well.
Two ingredients are all you need for these sweet and salty treats – can you guess what they are? We can't imagine anything easier to make than these dates wrapped in bacon. And we think their plate will empty pretty quickly!
Pork and cocoa? No, we weren't expecting it either. But cocoa actually complements a wide range of flavors, savoury pork included. Once the belly is cooked, simply cut into cubes or bite-sized pieces and serve with cocktail sticks. Voila!
Related Content