Soup is a great way of satisfying your appetite, quickly and simply, whether it's for a main meal or simply a snack. You can make a soup as filling or as light as you like, and fill it with as much or as few proteins and vegetables as you need. This means that some soups end up being low fiber, while others are packed with vegetables instead.
So many soup recipes include cream, milk, grains, or sugars, meaning that paleo eaters either can't eat them, or have to hunt high and low for alternatives. But there are still lots of great ways to make soup, the paleo way, and we found the best from across the Internet. Happy cooking (and eating, of course)!
Paleo Soup Recipes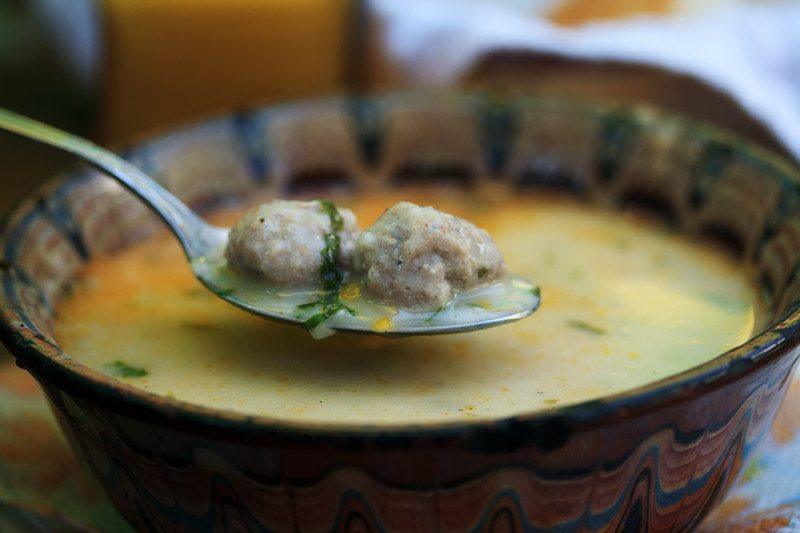 Hearty Paleo Vegetable Soup
Healing Chicken Soup
Paleo Crockpot Chicken Soup
Creamy Sausage & Kale Soup
Paleo Italian Sausage & Potato Soup
Beef Noodle Soup with Shitake Mushrooms & Baby Bok Choi
Tomato Basil Soup
Paleo Chicken Tortilla Soup
Easy Paleo Broccoli Soup
Sweet Curried Cauliflower Soup
No-Cream of Veggie Soup
Chicken & Vegetable Soup
Paleo Ham & No Bean Soup
Green & Lean Spinach & Leek Soup
Roasted Garlic & Zucchini Bisque
Pumpkin & Bacon Soup
Meatball Noodle Soup
Magnificent Gazpacho Soup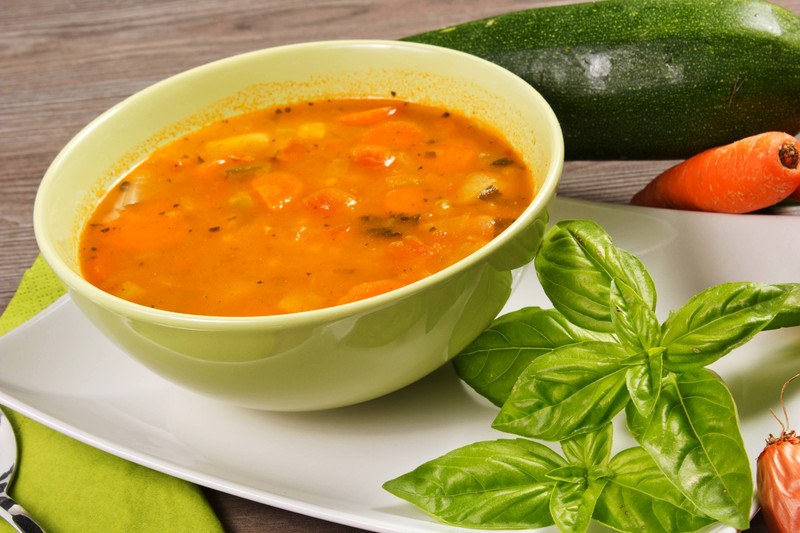 Well, it's in the name – this soup really is hearty! It's packed with plenty of gorgeous veggies, including zucchini, celery, and tomato, with carrots and sweet potato to make it really filling. This one's a proper winter warmer!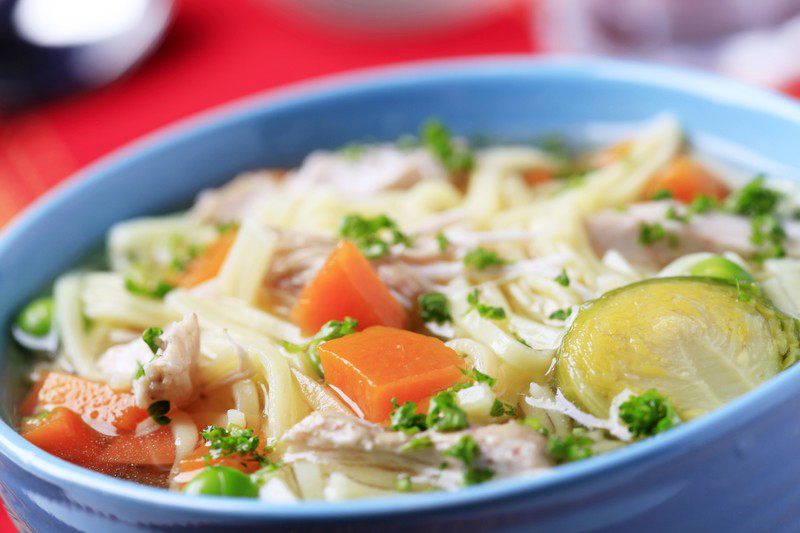 This is a slightly Asian take on a classic chicken soup, with the additions of ginger, shitake mushrooms, and fish sauce certainly adding flavor. The ginger and turmeric have anti-inflammatory properties, and the garlic antibiotic, so it's easy to see where it gets its name!
This simple soup is full to the brim (so to speak) of chicken, with just a handful of additional ingredients, most of which are seasonings. Veggies are kept simple, comprising only of carrot, celery, and onion. And when you're using a slow cooker, your work is minimal!
Sausage and kale aren't your typical ingredients for soup, but here they are, and they make for a yummy, creamy meal. Aside from the kale, vegetables include carrots, onions, and celery, whilst much of the soup's flavor comes from its garlic, fennel seeds, and bay leaf. Simply delicious.
Don't worry, it's sweet potato so it's totally paleo friendly. And the combination of coconut milk with chicken stock means that the soup has all of the smoothness of a creamy soup and all of the flavor of a broth. As for veggies, spinach and carrots provide plenty of nutrients to keep you going!
This gorgeous Asian broth has everything – it's tasty, nutritious, and filling. And there isn't a huge amount of prep involved; it looks like it'll be more way more work than it actually is. Oh, and is anyone else adding a spiralizer to their shopping list now?
Creamy tomato soup without any cream or milk…sounds too good to be true! But with coconut milk as the perfect substitute, and the additions of tomato paste and olive oil, this soup really is smooth and creamy. Super simple and super yummy! Perfect.
Love Mexican food? Well, if you can't get enough of those flavors, you'll love this Chicken Tortilla Soup. It's spicy, flavorful, and full of goodness. There's chicken for protein, and tomatoes, onions, and celery for plenty of veggie nutrition.
This delicious, healthy soup is made up of just four ingredients – broccoli, garlic, stock, and fat. Oh, and a little seasoning. So it really couldn't be simpler to make. Plus, the blending process gives it the creamy texture that we all love.
If you like sweet things with a little bit of a kick, this is the soup for you. Cauliflower can be deliciously smooth anyway, and the addition of coconut milk just adds to it. And for flavor, there's the sweetness of the apple and the honey, and the spiciness of the curry powder. Yum.
Vegetable soups pack so many nutrients into just one bowl, and this soup is no different, combining cabbage, broccoli, and celery. The blender does the creamy bit, so there are no creams or milks required. Enjoy!
This chicken soup is chockful of veggies, making it both tasty and colorful. The cauliflower, pepper, leek, zucchini, carrot, tomato, celery, and onion provide plenty of nutrition too. This is a great recipe for that leftover chicken from your roast!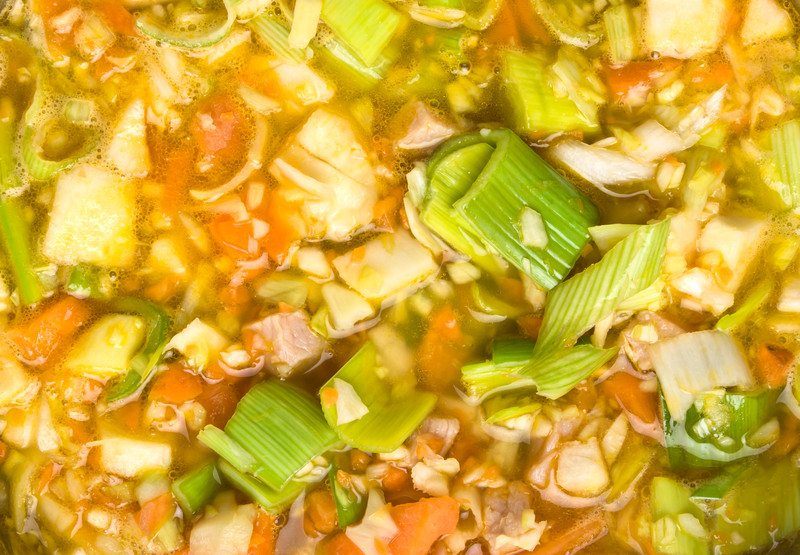 Simple and tasty, this ham soup is pretty much a full meal. Along with the ham, there's cauliflower and carrots – and that's pretty much it! Oh, and no beans, apparently. This recipe really couldn't be easier to make, and it's packed with goodness too.
This veggie soup is packed full of vitamins, minerals, and anti-oxidants in the form of leeks, spinach, cauliflower, and broccoli. For a full meal, or just some added protein, the recipe suggests adding some meat or fish, making it a really flexible dish.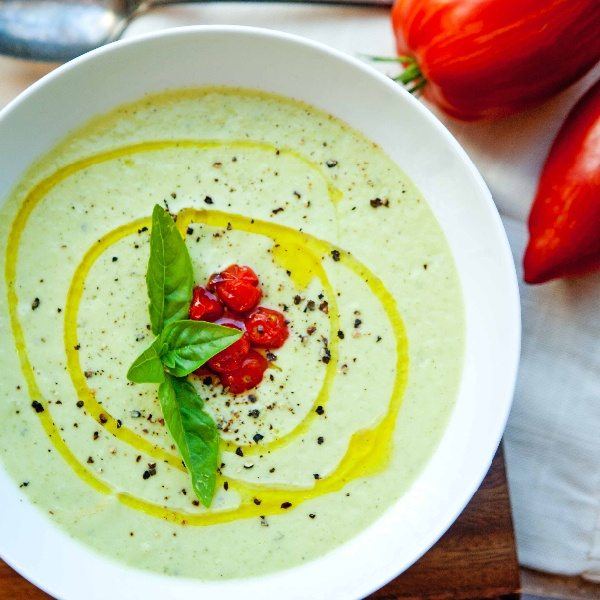 This garlic-based soup isn't one for vampires…but it is great for your stomach. Plus, zucchinis are delicious, and full of nutrients. The soup gets its creamy texture from the added coconut oil and yummy raw cashews.
Could there be anything better than the sweetness of pumpkin paired with the saltiness of bacon? This is such a simple soup to make too, with only six ingredients: pumpkin, bacon, onion, garlic, thyme, and broth. We're getting hungry just thinking about it!
Ever wondered what spaghetti and meatballs would taste like as a soup? No, neither have we. Luckily, someone did, and here it is, the paleo way. The spaghetti is made from butternut squash, which is both tasty and ingenious!
If you like your soup cold, you might want to try this Spanish gazpacho. Made up primarily of tomatoes and peppers, this soup really packs a punch in terms of flavor. And it really couldn't provide more vitamins and nutrients, with virtually every ingredient being plant-based!