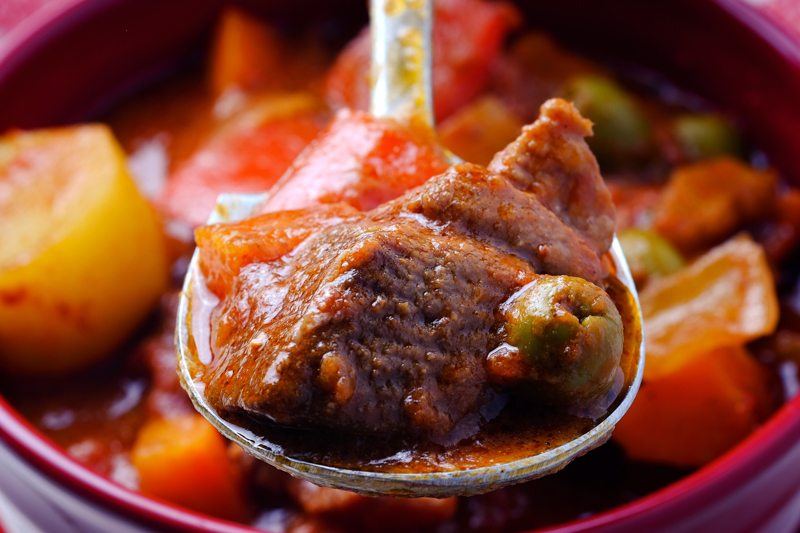 Slow Cooker Lamb Caldereta
Speed - 97%
Simplicity - 96%
Tastiness - 100%
A very rich one-pot stew of lamb and flavoring vegetables. The lamb came out perfectly tender and flavorful. This is a dish that's lovely to make a little more spicy if that's what you like, or you can back off on the seasonings and make a richer stew. Get creative with the veggies and invent something special!
This recipe is a must-try for any lamb lover like I personally am. To be honest though, I prefer cooking lamb with a very simple seasoning of salt and pepper so as not to mask that robust flavor I so love about this unique meat. This stew is excellent nonetheless and still definitely worth preparing.
Start off by marinating the lamb cubes in a little Worcestershire sauce and some black pepper. That slightly tangy and sweet flavor of the Worcestershire will give the lamb a deep flavor that will go very well with the gravy that the stew will end up with. Again, hold back on the salt until they're ready for searing to minimize any further loss of moisture.

You may use a variety of cuts for this recipe. I chose to use shoulder for a more robust lamb flavor and for being relatively cheaper in comparison to other prime cuts. This would work with other types of meat too. In fact, this is traditionally cooked with beef short ribs. Try it with pork, venison, offals, or any combination you wish. The stewing technique for this dish is actually pretty very basic and is really similar to that of French ragouts.
Next sear the lamb, which you should have salted lightly by now, in a very hot pan that you've lightly oiled. These will brown fairly quick as soon as those sugars from the Worcestershire sauce start to caramelize.

As soon as the lamb has browned beautifully, add in the onions, carrots, celery, olives, and bell peppers. Yes we're adding the vegetables this early, because they're actually there to flavor the stew rather than serve as vegetable components to this one-pot preparation. The sweetness and aroma from these vegetables will add so much depth of flavor to the resulting gravy.

Give them a minute or two to roast thoroughly before adding in the tomato paste. Then, continue roasting for another minute to reduce the acidity of the tomato paste and allow it to develop a deeper red color. Things will get sticking to your pan at this stage as the ingredients continue to caramelize. Just before the pan drippings totally burn, add the red wine to deglaze those drippings lose. Scrape constantly with a spatula to release all those flavors, at the same time removing excess acidity from the wine by allowing it to reduce.

Next would be to add in the tomatoes, liver pate, and beef stock. The reason we've held off the addition of the tomatoes late to this point is that their high moisture content would prevent searing and roasting from happening in the pan.

The addition of liver puree to this stew is what sets it different from its French counterparts. The liver adds a characteristic richness to this dish while slightly thickening the sauce.
Let the stew finish in the slow cooker together with the potatoes for 6 hours on a low setting. You may actually do away with four if you prefer the lamb pieces a bit on the tough side. I actually do. I just don't like eating lamb that has been cooked too tender. But you can go overboard too. We we want to eat meat, not meat flavored chewing gum!
Some variations of this dish call for the addition of any melting cheese towards the end of cooking making the Caldereta richer and creamier. I'd add in too if I've not used lamb which I really prefer cooking with the least amount of ingredients as possible.



Pinterest Image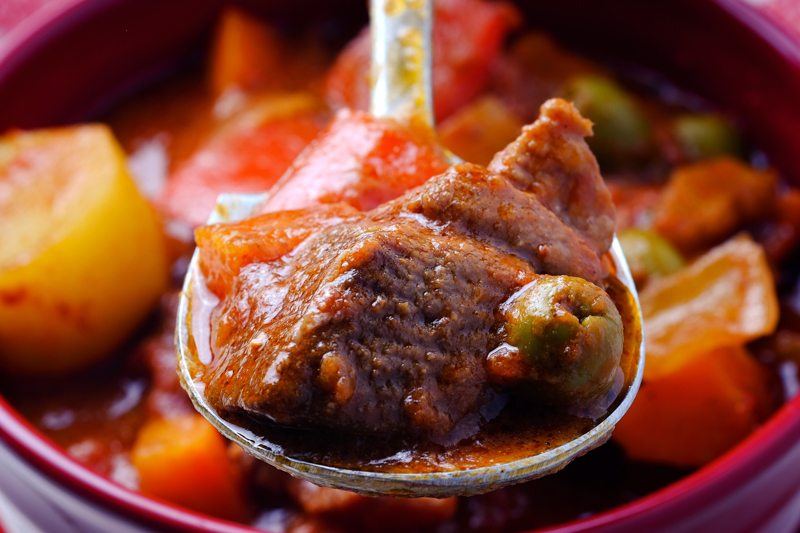 Ingredients
1/2

Kilogram

Lamb Shoulder

cut into cubes

2

Pieces

Potatoes

peeled, cut into cubes

1

Piece

Carrot

peeled, cut into cubes

1

Stalks

Celery

cut into chunks

1

Tablespoon

Tomato Paste

1

Can

Diced Tomatoes

1

Cup

Red Wine

1

Cup

Beef Stock

3

Tablespoons

Worcestershire Sauce

1

Piece

Bell Pepper

cored, cut into chunks

1

Cup

Pitted Green Olives

2

Tablespoons

Liver Pate

Salt

Pepper
Instructions
Marinate lamb in Worcestershire sauce and black pepper overnight.

Season lamb with salt and sear in a lightly oiled pan.

Add in carrots, celery, onions, olives, and bell pepper.

Add in tomato paste and roast for a minute.

Deglaze the pan with red wine.

Add in tomato sauce and stock. Bring to a boil.

Transfer to the slow cooker together with the potatoes and cook for 5-6 hours on low.